Word Count:
24000
Character Identities:
Gay
Summary:
Oswald Sattle has been sleeping in his Toyota Camry for the last two hundred and seventy-three days, the exact number of days since he discovered his fiancé cheating on him. Now, out of money and out of options, he's on his way to Nortown. Aiden, an acquaintance from his past, has offered him a job opportunity he can't turn down, no matter how much he'd like to. 
Joshua Roth moved to Nortown four years ago, and he has everything he needs—a job, friends, peace and quiet. He's not looking for a boyfriend; no one even knows he's gay, and he'd like it to stay that way. Everything changes when he offers Oswald a place to stay, though.  
Oswald looks like he wants to run away, and Josh finds himself suggesting things that will make him stay. All he wants is for Oswald to smile. Oswald has learned his lesson. He doesn't want to overstay his welcome, but nothing soothes his nerves like being with Joshua in his cabin. 
How long can Oswald stay before it's time to move on again? Can Joshua have Oswald staying with him without the whole town talking about them? Probably not, but does he care? 
Around Seven
Pairing: M-M
June 19, 2021
Word Count:
69,560
Character Identities:
Gay
Summary: Everything changes on the first day that Ben Watts arrives in Indian Harbour. Relocating to a new city means a fresh start. A new life. A chance for him to spend more time with his favorite person in the world, his eighty-eight year-old grandmother, Oma Anna. It also means a new place to live—a little pink bungalow complete with a pool out back. No more humdrum Kansas. No more lackluster relationships. And everything seems to be going pretty well… until it isn't. A little kitchen wire misfire leads angel-faced Ben straight into the arms of uber-masculine electrician, Jesse Solomon, his polar opposite in every way. For Ben, Jesse is straight out of his favorite kind of fantasy… rugged, hot, and virile… and inaccessible. Or is he? Jesse has never been that attracted to guys like Ben, but can't seem to stay away from the effervescent man, and starts to develop some fantasies of his own.
Benji and the Wireman
Pairing: M-M
October 30, 2019
Word Count:
16,000
Character Identities:
Gay
Summary: Countdown to Daddies - Countdown, book 1 ~~Matteo and Gabe have everything they could ever want out of life, except a family of their own. When Gabe's bossy twin sister offers to be their surrogate, it's too good to turn down. But with his sister running the show, the new dads-to-be begin to wonder if they're going to survive the nine-month countdown.~~
Countdown to Daddies
Pairing: M-M
June 18, 2021
Word Count:
230,861
Character Identities:
Gay
Summary: The tiny Sierra Nevada community of Stone Acres looks benign on the outside, but it's been a hive of activity since gay men from Silicon Valley began moving in. The Old Town establishment is up in arms as newcomers challenge the conservative community to move into the new millennium. Along the way, gay couples find true love and a new home. Contains the stories: What's in a Name?: When barista Jimmy is dumped and gets drunk on his 30th birthday, a handsome, hunky bartender takes care of him, but is mum about his real name. When Jimmy presses him, the bartender makes the quest a game, giving him seven guesses and promising romance each night. For every wrong guess, Jimmy has to forfeit a hot, sexy kiss. Sounds good, but what's the catch? Redesigning Max: Out and proud award-winning designer Fredi Zimmer takes on straight outdoorsman Max Greene's cabin renovation. When he finds out Max is closeted and wants to come out, Fredi helps Max remodel not only his cabin but his life. Angered that Fredi has turned him, Max's former friends intervene. Will Fredi and Max win the fight for their happiness? Behr Facts: After CEO Abe Behr discovers discrepancies in his construction company accounts, he hires CPA Jeff Mason to help him find the embezzler. Searching for the culprit, they become closer, and Abe realizes he's gay. However, coming out to a hostile family and community may break up the couple before they cement their happiness. With so much strife, will love prevail? When Adam Fell: Jason's drug addiction ripped them apart. Does Adam want to get back together now that his former lover says he's clean? Relative Best: When hotel owner Zeke Bandy meets Vic Longbow, he sees stars. But Vic is in town to attend a wedding and to open an office, not to fall in love. Are they doomed as lovers because they're both too busy for happily ever after? Frank at Heart: What will it take to make hardware store owner Frank update himself and his store? Could the new man in town be the key to unlock Frank's life and future happiness? Waking the Behr: Ladies' man and small town contractor Ben Behr is blindsided by his lustful feelings for San Francisco entrepreneur Mitch O'Shea. Can a country mouse and a city mouse bridge the gap in their upbringing and expectations to find love? Short Order: Amid the happiness of the Christmas season, horticulturist Fen Miller and his landlord sous chef John Barton have some serious decisions to make. Fen must decide on a career and John on eluding his grim past. Together can they support each other enough to discover their happily ever after?
Foothills Pride Box Set
Pairing: M-M
July 31, 2021
Word Count:
57000
Character Identities:
Gay
Summary: Can a French kiss persuade an uptight Englishman to leave his city behind and start a new life in rural France? Clean-cut London businessman Dale Calverley doesn't do relationships. Rugged French handyman Valentin Aubrey doesn't do city men. When Dale hires Valentin to help him fix up his inherited farmhouse estate in rural France and sell to the highest bidder, sparks fly. Complete opposites, can they really expect their insta-lust to last beyond the storm that forces them together? But how can Dale walk away from a man so alluringly rogue as Valentin Aubrey? And how can Valentin expect a man so money-orientated to throw away his career and stay in the wilderness with him? French Kiss (Flying into Love #1) is a Contemporary, Age-Gap, Hurt/Comfort, Forced Proximity MM Romance featuring an uptight English businessman with a preference for nameless hook ups and a rugged half-French handyman with a chequered past.
French Kiss (Flying into Love #1)
Pairing: M-M
May 30, 2022
Word Count:
72855
Character Identities:
Bisexual, Gay, Questioning
Summary: What's a straight guy to do when he falls for his new friend? Paramedic Connor Devlin is a stressed-out tower of a man. Hoping knitting will help him unwind, he visits a local craft shop, where he's overwhelmed by the yarn selection but more so by his feelings for shop owner Judah. Judah Bissel is tired of falling for unavailable men. He can't help his crush on Connor, though, or wanting to get closer to the big, gentle bear. And that just might spell trouble because pining for straight guys is not Judah's style. As a blizzard pummels the city, the men hunker down together to wait out the storm. When the spark between them ignites, will the revelation that Connor feels more than friendship for Judah bring them together or tear them apart? Hooked On You is a 72.8K friends-to-lovers MM novel. It features a stressed-out paramedic who's figuring out he's not quite straight, a yarn shop owner with a bad habit of falling for unavailable guys, lots of knitting and snowdrifts, and a sweet, happy-sigh HEA.
Hooked On You
Pairing: M-M
February 23, 2021
Word Count: Information not available
Character Identities:
Gay
Summary: Loveland, Colorado is a special place, a community of creativity and art, with scenic views and majestic mountains. The city brought Lucky and Jack together, but staying that way will take more than cold-air kisses and sweet valentines.~  Jack Canon should be over-the-top happy. He has a job that makes him proud, students who make him laugh, a studio that brings out his creativity, and a man who treats him like he walks on water. But shadows from his past keep coming between him and the joy that should fill his heart. Jack needs to reconcile some bitter loose ends, before he can move forward. Lucky Roberts is in love—hook, line, and kitchen sink. He wants to shout his feelings to the rooftops and scatter little handmade valentines all over the world. He thinks he's okay with not being perfect, and knows Jack isn't perfect either. But when his own past rears its ugly head, Lucky discovers that old habits die hard. Maybe opening his heart to Jack won't be enough— maybe he just isn't enough. Jack and Lucky risk getting caught in limbo between the past and present if they don't have the strength to share the skeletons in their closets. To move forward together, they have to find the courage to look back…together.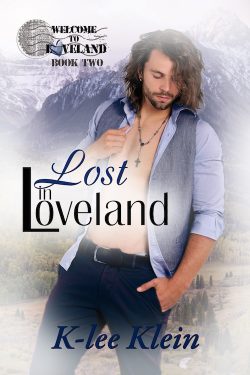 Lost in Loveland
Pairing: M-M
September 26, 2016
Word Count: Information not available
Character Identities:
Gay
Summary: Book 1 of the Welcome to Loveland series Loveland, Colorado is a special place all year round, a community of creativity and art, with scenic views and majestic mountains. But the town really shines once a year, on Valentine's Day. Lucky Roberts has lived in Loveland his whole life. He has good friends, strong family support, and is all about keeping his community fun and alive. The only thing Lucky has been "unlucky" with is love. But rather than avoiding February fourteenth in his hometown, he throws himself into helping others deliver their messages of love. Enter Jack Canon. Jack moved to Loveland for a fresh start, in both his personal and professional lives. After a tough year, he's finally hoping to just blend in, maybe carve a little niche for himself that his parents would have been proud of. What he didn't expect was a pseudo-lumberjack with a killer body and shy smile to turn his world upside down – and he sure didn't expect to like it so much. When Lucky meets Jack, he feels like a thirteen year-old with his first crush. He's clumsy, stammering, and the first greeting out of his mouth is a less than articulate, "Wow!" Words like adorable and manbun suddenly become part of his vocabulary as he discovers a deep, hidden need to romance the hell out of Jack. And what better way to do that than during the most romantic season in the City of Love?
Lucky in Loveland
Pairing: M-M
February 11, 2016
Word Count:
15298
Character Identities:
Gay
Summary: Blacksmith Butch has secretly loved his best friend, science nerd Jimmy, since grade school. Now their shops in Old Town Seven Winds, California, are only doors from each other. They're about to turn thirty, and Butch refuses to wait another day to make a decision: propose to Jimmy and start the family he's always wanted or forget his dream to avoid risking their friendship. Why can't the choice be as easy as creating decorative ironwork in his forge?
Making the Holidays Happy Again
Pairing: M-M
December 16, 2020
Word Count: Information not available
Character Identities:
Gay
Summary: "Ky's a fighter. Blue's an artist. But together they are truly magical."  Ky's fought his way to the boxing championship for the third time, but now the fight of his life isn't against an opponent in the ring. He's battling a darkness within himself that he can't ignore and can't control. If he fails, everything he's spent his life working for will be gone, and he can't see a path to victory. Only a hunch sends him looking for help in the most unusual places. Blue's a quiet guy, living for his family and the art of his tattoos. He's created his shop, Blue's Dungeon, to be a place for the celebration of art on skin—simple, friendly, and mostly uncomplicated—and Blue likes it that way. But when Ky shows up in Blue's tattoo studio, desperately searching for a lifeline, it's the beginning of something magical for both men…
Moonstone (Stone Magic, book 1)
Pairing: M-M
April 21, 2016
Word Count:
45000
Character Identities:
Gay
Summary: The Legend of the Ghost Train Today, people say that on a quiet night in the mountains of Virginia, Tennessee, and Kentucky, you can hear the far off shriek of a locomotive whistle and the rumble of the train's cars as they clamor across the tracks. The legend claims the train moves through the valleys and mountains searching for lost souls that need a lift to the other side. In the early Twentieth Century, railroads were not only a way to transport people, they also carried all types of goods across the country. Lumber from the forests of Tennessee, coal from the mines of Kentucky, and tobacco from the fields of Virginia were just a few of the industries that depended heavily on the railroad system. Even the Vanderbilt's built a train system to carry the products needed to construct the great Biltmore Estate. The Legend of the Ghost Train series will carry you off to a simpler time before WWII and the Great Depression. It's about the love between two men that wasn't spoken of and ghosts of past loves that still linger in the mountains. Some haunt the living looking for a loved one. Some want revenge for wrong doings. And, others are evil and will stop at nothing to repeat the past and kill again. Jesse Lawson was never afraid of the strange and unusual dreams he had. But lately, they were becoming darker leaving him with a need to discover why he was having them. He believed he would find answers at the site of logging camps in The Great Smoky Mountains. His great grandfather had lived and died there, and Jesse was sure it was Jackson Douglas haunting him. Carter Thompson never knew his great great uncle George Thompson, but he inherited his land, home, and money. George had come here to America to find work in the lumber camps. Meeting Jesse Lawson was about to turn his world upside down. Jesse's dreams somehow involved Carter, and the more they searched the closer they became. George left journals that could clear up many mysteries, including Jackson Douglas's death. Now it seemed that something was trying to destroy Carter and Jesse's growing attraction to each other. Whoever it is will stop at nothing to keep them apart, even if they have to repeat the past to do it.
Smoky Mist
Pairing: M-M
January 27, 2020
Word Count:
99000
Character Identities:
Bisexual, Pansexual, Polyamorous
Summary: All three titles in the first "Black Mountain Bears" trilogy are now available in one volume, PLUS a bonus epilogue. Gaia save the Queen… Emma Stonetree's father is missing. Worse yet, her uncle's gone too, leaving her and her two cousins, Jasper and Jade, floundering for an explanation. All Emma can think of are their fathers' stories—tall tales of magic, mystery, and a whole host of shifter races. Stories she might not have believed, if not for her own research into the matter—research that hardly prepares her for the trials of magic she and her cousins will endure as they set off that Midwinter's night to discover their roots. Nor does it prepare the three for what they find on the other side of the mystical portal their fathers disappeared into: the ursa, a fertility-focused race of bear shifters, with customs that defy their human sensibilities. Except the trio swiftly learn they aren't really human either, and once inside the ursa Sanctuary, they are just as bound by ursa laws as the earth is bound by the seasons. Emma and her cousins must make a choice: accept their legacies as ursa royalty, accept the love they find inside the sanctuary, or reject their passions and retreat to their safe, mundane lives, never to return to the realm they were meant to inherit. Publisher's Note: The "Black Mountain Bears" series is a parallel story to the "Sleeping Dragons" series by Ophelia Bell. You can read them independently, but the story will be enriched by reading them both.
Stonetree Trilogy
Pairing: M-M-F, 4+ or Other
August 29, 2016
Word Count:
16000
Character Identities:
Gay
Summary: Every summer Caedmon goes to a little town nestled in the Blue Ridge Mountains of North Carolina called Brasstown. While there, he spends time with his Grandma Annie, takes care of the property, and enjoys a respite from the big city where he lives. He's an eighteen-year-old virgin and a good boy, but this summer could be the one that changes his life forever. Darby is a loner. He used to have a nine to five job, a trophy boyfriend, and a nice condo in downtown Charlotte. But after his boyfriend Devin moved in, they quickly found out they were incompatible and wanted different things out of life. With a shattered heart, he decides to isolate from the world in Brasstown and pour all of his energy into making beautiful things from wood. But, he can't hide from love forever. When Caedmon starts coming by with treats from his Grandma Annie, they soon find out they have a lot more in common than either of them initially thought. Join Daniel Elijah Sanderfer for this sweet slow-burn story about finding love and second chances.
The Carpenter's Apprentice
Pairing: M-M
April 17, 2020
Word Count:
34000
Character Identities:
Gay
Summary:
Jason has one rule when it comes to holidays - work his shift behind the bar and then find a willing body to distract himself with. One night is long enough to satisfy his needs and still walk away with his heart intact. It has worked out fine for most of his adult life, but this Easter, he's trying something new. He's leaving the city to visit his friend, Aiden, who recently moved in with his boyfriend in the middle of nowhere, but one unfortunate incident leaves Jason without a place to sleep.
Tom doesn't do relationships, he rarely does hook-ups and never too close to home. Living on his own without attachments is far easier than having the whole town knowing about him. As the holiday approaches, his lonely house grows even quieter than normal - at least until his friend, Tristan, dumps an arrogant bartender in his lap.
As soon as Jason lays eyes on the gruff lumberjack whose home he'll be sharing, he knows who'll warm his bed for the weekend and help chase away any pending holiday gloom. Too bad Tom doesn't want to get with the programme. As much as he wants to let Jason close, he won't risk outing himself for a weekend fling. Will Jason trust Tom not to break his heart if he stays longer than a couple of days, and will Tom value their relationship higher than the town gossip?
The Egg Hunt
Pairing: M-M
April 3, 2021
Word Count:
61000
Character Identities:
Bisexual, Gay
Summary: Country singer turned rancher Brett Taylor fought his way out of the bottle so he could have JT Campbell in his life. JT's patience, intelligence, and humor broke through Brett's walls of depression, and now the once-isolated rancher and his young California guy in search of himself are together on Brett's Texas ranch. While Brett and JT are more in love than ever, they're still dealing with past baggage and learning how to move forward. Brett's former lover casts a long shadow over their lives—one JT tries to pretend doesn't bother him. Can Brett soothe his fears with the sort of sappy, sentimental Valentine's Day JT was taught to shun growing up—but secretly always wanted? When Halloween rolls around, a costumed night out at the local bar might lead to another romantic first. And on Christmas morning, JT awakes to some sweet loving and the most meaningful gift he could ever imagine. The New Year truly brings a new beginning—ushered in by some silly, sparkly, and sexy fun. One year. Four important holidays. Two men who have worked hard for the love and trust they share and the bright future that's finally within their grasp.
Unbroken Hearts
Pairing: M-M
March 30, 2020
Word Count:
11000
Character Identities:
Ace, Bisexual, Demisexual, Pansexual, Polyamorous
Summary: What happens when a stressed-out woman in a dead end job meets two handsome lumberjacks during her stay in a secluded cabin? She joins these men for dinner, which quickly takes on a scandalous turn. Soon Penelope finds herself knee-deep in a cuckolding scene, and the night has only just begun...
Wood Working
Pairing: F-F, M-M, M-M-F
May 13, 2019