Word Count:
37000
Character Identities:
Gay
Summary: Jules Rose leads a quiet life working as a librarian. He's happy to spend his spare time reading books and talking to his homicidal cat. What more could he wish for? But when his cozy Friday night is shattered by a friend request on his book community app, politeness gives him little choice but to accept. Jules doesn't want to talk to anyone, but he can't be rude. Besides, if he had to talk about something, books is the topic he'd pick. Phoenix Ford is dyslexic and avoids everything that has to do with the written word, but when the colleague he's trying to impress calls him stupid, he decides to convince the other man, he's mistaken. All he needs is the right book to make him look smart, a perfect balance between intelligent and short. And who better to ask for help than a guy who loves books so much, he labeled one boner-worthy on a book app? When Jules finds out Phoenix never has read a book from start to finish, he's on a mission. He will find the right book, the book that will make Phoenix fall in love -- with reading. Phoenix's plan might have been to listen to the book Jules picked for him to impress his colleague, but that was before he got to know him. Talking about books is a sure way to Jules' heart, but is it enough for him to agree to go on a date?f
#PictaBook
SALE
Pairing: M-M
February 20, 2021
Word Count:
69034
Character Identities:
Gay
Summary: Matthew Doner is starting over. After a five-year prison term that alters every aspect of his life, he receives a bequest from his aunt with the stipulation that he use the money to make things right. Breaking free of the long-standing role he's played and inspired by the few who support him, he decides to create a safe place where people like him can find purpose and start a new life. Julian Capeletti likes challenges. He is confident, brash, stubborn, and just what Matt needs. Desperate for work after a downturn of luck, he accepts the job to renovate Matt's crumbling building. Over the course of a year, romance simmers between them as they restore the house. But there's a bigger renovation that must take place in their hearts. To become better men, they need to learn to trust each other even with secrets and painful memories they fear may rip them apart.
-------------------------------------------------------------------------
69,034 words. 2nd edition. Revised and expanded.
A Better Man
Pairing: M-M
January 16, 2014
Word Count:
21534
Character Identities:
Bisexual, Gay
Summary: Josh has stepped back into the closet for a guy, but how long can he stay there? Life in a college town suits Josh Cassidy. He has good friends and neighbors, and the bookshop café he runs with his family is thriving. As the winter holidays begin, Josh finds himself enamored with police officer Alex Curiel, an old friend who has recently moved back to town. The trouble is, Alex isn't ready for the world to know he's attracted to men. At Alex's request, Josh agrees to closet their relationship, though the secrecy quickly becomes a burden. When Josh realizes he is falling for Alex, his ability to hide his feelings from the world begins to slip, and he's forced to decide if love is enough to keep him hiding behind closed doors. A Hometown Holiday is a 21.5K sex-buddies-to-lovers MM novella. It features a bookshop owner with a fondness for jazz music, a closeted cop who could be Mr. Right if only he'd give himself a chance, and the warm, fuzzy HEA that both guys deserve.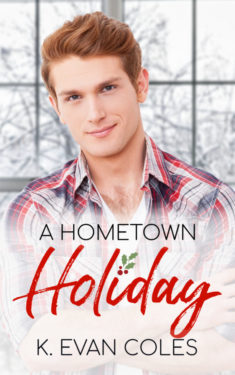 A Hometown Holiday
Pairing: M-M
December 12, 2018
Word Count:
111200
Character Identities:
Gay
Summary: After surviving ten years in prison, Cameron Pierce is attempting to put the past behind him. He tries to adjust to his newfound freedom with a place at the halfway house and a job. But one lesson he learned in prison keeps him guarded: hope is a dangerous thing. Hunter Donovan, Assistant State Attorney, is a man of justice who loves a challenge. After a lifetime of putting his career first, a milestone brings him to a harsh realization—he's lonely. Hunter's world changes when he meets Cam. The wary young man intrigues him and awakens a desire unlike anything he's ever experienced. When Cam's past resurfaces and threatens to rip them apart, their budding relationship is challenged and Cam's hope for a future begins to dim. These outside forces hunting Cam will stop at nothing to send him back to prison. But they'll have to get past Hunter first. ---------- NOTE: Word count: 111,200. This story is a romantic suspense/mystery novel and the second installment in The Men of Halfway House series. Although characters reappear from book one, this story can be read as a stand-alone.
A Hunted Man
Pairing: M-M
April 28, 2014
Word Count:
145000
Character Identities:
Gay
Summary: A story of healing and confronting demons… Detective Aidan Calloway is rock-solid strong. He's a man of justice—loyal to his friends, family, and job—even if it requires bending a law…or two. He shields himself behind an abrasive, fearless facade, until a phone call one night chips his armor and throws his perfectly planned, hollow life into a tailspin. Jessie Vega is the epitome of optimism. His carefully crafted attitude of hope and positivity protects him from a past filled with too much pain. When a ghost from a dark time resurfaces and nearly breaks him, he must tap into his inner strength or risk losing everything he's worked so hard to build. But Jessie can't do it alone. He must fight to break through Aidan's ironclad defenses to reveal the heart of the man hiding beneath the tough surface and mend his damaged spirit. Only then can they truly heal and become strong enough to battle the demons that haunt them and threaten their chance to finally be together. ---------- ***This book contains scenes and subject matter some readers may find distressing. It is only intended for adult readers.*** Word count: 145K Although part of a series and events from prior stories are referenced, this book can be read as a stand-alone.
A Mended Man
Pairing: M-M
April 28, 2016
Word Count:
117500
Character Identities:
Gay
Summary: Cole Renzo thinks his greatest challenge is to behave for the remainder of his term at Halfway House. Until he meets his new boss, Ty Calloway, a man who ticks off every box on Cole's list of interests. A sought-after restorer and customizer of exotic and collectible cars, Ty had enough confidence to command what he wanted in life, until one fateful night changed everything. Almost two years later, he's slowly rebuilding his life with great control. He's defied the odds and works tirelessly to be the man he once was—but he still feels broken. Cole's candor and unfiltered personality awaken Ty's barely-remembered desire to greet each new day with a smile, while Ty's unwavering acceptance of Cole's quirks and brash humor makes Cole feel as if he fits in for the first time in far too long. When a nemesis threatens Ty's personal restoration and the things he holds dear, Cole is determined to protect their relationship, even if that means sacrificing everything he's worked so hard to achieve. But Ty will have to let his guard down, surrender control, and admit he needs Cole first, even if that puts himself at risk of breaking beyond repair. ---- Word count: 117,600 This is book 3 in The Men of Halfway House series. Although part of a series, this book can be read as a stand-alone.
A Restored Man
Pairing: M-M
February 17, 2015
Word Count:
120100
Character Identities:
Bisexual, Gay
Summary: Two men. One sweet dream of family and forever. Gabriel "Bull" del Toro loves his fast-paced globe-trotting job, but aches for an honest relationship and the trust that comes with it. After a few too many heartbreaks, he's nearly given up hope of finding that special someone. Until Ben. Born deaf, Ben is used to working twice as hard for what he wants, but risking a newfound friendship on an impossible dream is scary. After all, there's one lesson he's learned: everything is temporary—freedom, friends, even family. Neither man expects the undeniable spark between them or for every moment together to fuel that connection. For the first time, a happily ever after is within reach, but they must trust that the dream of acceptance, family, and a place to call home is more than a sweet fantasy. It can be forever. ———— A Sweet Man is an interconnected standalone within The Men of Halfway House series. It is a story about the power of love, the meaning of family, and never giving up on a dream. It includes wounded hearts, an age-gap romance, and enough cake and sweetness to give you a toothache.
A Sweet Man
Pairing: M-M
June 16, 2020
Word Count: Information not available
Character Identities:
Bisexual, Gay
Summary: Getting involved with your dad's best friend is always off-limits.  Too bad Cooper has no problem pushing limits. Cooper Scott is a snarky twink with no filter. He has big plans for a successful future and falling for his dad's best friend is NOT on the agenda. No worries, they'll just keep it casual. Jesse Thompson is a widower and new father at the age of fifty. The offer of help from his best friend's son should have sent Jesse running. Instead, he finds himself in a predicament he's spent his life avoiding. Will Cooper and Jesse end up in a heartbroken crash-and-burn situation? Or can love overcome all and give them a happily ever after? **Adore is a steamy, age-gap, bi-awakening, dad's best friend M/M romance with a sassy smartass and a sexy silver fox. It's the first book in the Remington Place series and can be read as a stand-alone.**
Adore
Pairing: M-M
February 5, 2021
Word Count:
18000
Character Identities:
Gay
Summary: Escape with Leo and Zak in outback Australia as they discover it sometimes takes time, distance, and interfering family to amalgamate. After five years of living in the UK, it's time for Leo to return home to his dad's stud farm in outback Australia. He has no idea what to expect when he arrives. He didn't exactly leave with balloons and banners. Nope. His farewell involved destruction and his own heart split in two. He knows seeing the man who's always held his heart, Zak, is going to be awkward. The older farm manager made his feelings pretty damn clear when Leo hightailed it out of there. Leo quickly figures out life is going to get complicated and a whole heap more exciting as his trip home becomes so much more.  Amalgamated is a fun and steamy M/M short story in Becca Seymour's Coming Home collection. Stand-alone romances complete with heat, wit, and happily ever afters. 
Amalgamated
Pairing: M-M
September 28, 2019
Word Count:
16000
Character Identities:
Gay
Summary: A different kind of home invasion... When Adam Tyler's sister announced she was pregnant, Adam decided to move from Portland, Oregon, to Phoenix, Arizona, to fully embrace the uncle experience. However, he didn't count on the move being delayed until three days before Christmas--and three days before his sister's due date. And he definitely didn't count on finding a scorpion in his bedroom. Cue the panicked calls to exterminators. A different kind of knight to the rescue... Garrett Strong doesn't consider himself at all remarkable--his ex certainly didn't think so--and Garrett's pest-control business is circling the drain. Although Adam is his first new client in months, that isn't the only reason Garrett goes above and beyond for him. He feels a real connection to the younger man and intends to do everything in his power to make sure Adam feels safe and welcome in Phoenix--venomous intruders notwithstanding. An Everyday Hero is a short and sweet opposites-attract, age-gap rom-com featuring a fish-out-of-water geek (who still manages to get a bit soggy), a stand-up blue-collar guy (who can't see his own worth), unexpected additions to the holiday festivities (some less welcome than others), and more than one serious discussion about the true meaning of the word hero.
An Everyday Hero
Pairing: M-M
December 1, 2018
Word Count:
72579
Character Identities:
Bisexual, Gay, Non Binary
Summary:
A Dark Steamy Superhero Yaoi Romance
❤️former super-powered hotties returning to action!
❤️ second chance at love for a Hero and a Villain 
❤️ amazing secondary cast with their own love stories
BOOKS 1 - 6 NOW AVAILABLE ON AMAZON & KU
BOOK 7 - Series Finale - COMING IN APRIL 2021!
Several years past 50, Matt thought that his days as a Villain in the staged Chosen fights were long over.
But then his powers returned in the wake of a devastating attack that took the powers of all the active Chosen, perpetrated by a young Hero.
With no other choice, Matt goes to the one man who might understand what is happening to him - Colton. The man who was Matt's main rival back in the days of his fighting career. A man Matt hasn't seen since the day he burned out and walked away from the fights.
That would be complicated enough. But back then, they were also secret lovers. Matt walked away from that as well without a goodbye.
Now after nearly twenty five years, these two men are coming face to face for the first time. Can they handle their personal issues while trying to save the world from a Hero gone bad?
Trigger warnings for dub/noncon, super tragic backstories, explicit on page sex, angsty gay dudes, and cliffhangers.
Back Issues
Pairing: M-M
March 6, 2020
Word Count:
97,046
Character Identities:
Bisexual, Gay
Summary: Love, served behind the stick. Kyle McKee lives a charmed life. He co-owns Under, an uptown speakeasy, where he is chief mixologist. Friends poke fun at Kyle's tiny one-bed apartment in Chelsea, but they're the best support system a man could ask for. Unfortunately, Kyle's lackluster love life has led him to take a break from dating. Harlem resident Luka Clarke is a lieutenant with Engine 47, the Pride of Morningside, where he carries on his father's legacy with the FDNY. Luka, who is mixed race and bisexual, has his eye on Kyle, whom he met at a local burger joint and he just needs to make time to visit Kyle's bar. Before work one evening, Kyle is trapped inside the luncheonette when a fire breaks out. Luka's firehouse answers the call and he connects with Kyle again under the most unexpected of circumstances. When Kyle gratefully invites Luka and the firehouse squad to Under, the flirting between the two men leads to a date. Kyle and Luka quickly grow close, but Luka's mother and sister distrust Kyle for being both white and gay. Luka believes his family will come around and accept Kyle in the end, but Kyle is not optimistic and hides his disquiet as attraction blossoms into love. Kyle and Luka's near-idyllic bubble is shattered one evening after a hate crime leaves them scarred, inside and out. Shaken, they put on a strong front but struggle inwardly against fear and personal demons. As the emotions seething beneath the surface finally come to a head, both men must decide if they have the strength to find love enough to conquer hate.
Behind the Stick
Pairing: M-M, 4+ or Other
August 20, 2019
Word Count:
30,048
Character Identities:
Gay
Summary: Big, burly CEO Abe Behr is furious to discover someone—probably a relative—is embezzling from Behr Construction, a family-run business in the Sierra Nevada foothills outside Lake Tahoe. To confirm his suspicions, Abe takes the unprecedented step of hiring a non-family accountant, handsome Jeff Mason, to go over the books and help find the culprit. As they talk to Behr relatives and visit construction sites, Abe and Jeff are drawn to each other, bringing out new, softer emotions in workaholic Abe. Since he has sacrificed romance all his life to build the construction business, Abe's surprised by his feelings for the handsome Jeff. He's even more shocked when they come face to face with homophobia in the small foothills community where generations of Behrs have called home. Abe had always thought Stone Acres was a live-and-let-live kind of town. As he and Jeff get closer, he finds out how wrong he is when he comes out to both family and a community who think he's making a big mistake. Will being the head of a large, powerful family and a pillar of the community be enough to win Abe his happily ever after with Jeff?
Rainbow Award Honorable Mention book.
Behr Facts
Pairing: M-M
August 8, 2020
Word Count:
30000
Character Identities:
Bisexual, Gay
Summary: Kindergarten teacher, Troy Canter, fell hopelessly in love with leather and tattoos at the impressionable age of sixteen when cuddly, bad-boy Win interviewed for a job with the family business, Canter Handymen of all Trades. No one compared to the large man and never would. A decade later, Brent, Troy's father, falls ill and he needs to take over the business for a while. Interacting Day in and day out with sexy Win is a cruel punishment. Winston Sanchez hadn't done a thing right in his life, except interviewing for a handyman job for Brent Canter. He loved his job, but an attraction to Troy Canter complicates things. As Troy ran the business while Brent fights cancer, it has thrown the man right in his lap. When an unexpected development in the package of a four-year-old daughter throws Win into a panic, Troy comes to the rescue. Can a man who doesn't think he's worth much let go enough to open himself to the love of a man who thinks he's worth everything?
Black Leather & Knuckle Tattoos
Pairing: M-M
September 5, 2018
Word Count:
60000
Character Identities:
Gay
Summary: Standoffish Aiden is content keeping people at a distance and ensuring his boundaries are impenetrable. There's safety in not opening up, but there's also a loneliness he doesn't realise exists until he meets Riley, a new member of the LGBTQIA+ adventure group Outback Boys. Fascinated by the new guy, Aiden is quick to discover his flirtation skills are rusty and his sweet-talking is cringeworthy. But sweet and clumsy Riley doesn't seem to mind so much. Even though Riley doesn't quite know how to handle Aiden's intensity, he's willing to step out of his comfort zone and see how their tentative friendship unravels. Between a surf lesson that resembles a kangaroo on acid and paddle boarding that is trickier than walking a tightrope, Aiden and Riley discover love may be a possibility after all. Happiness relies on honesty and openness, though. And with both men holding on tightly to past struggles, their future together is at risk. Can the two Aussies bounce back and heal themselves and each other, or are some wounds too raw to recover from? Outback Boys is a sweet and sexy M/M romance series complete with bruised butts, rope burn, and overworked muscles… all in the pursuit of adventure, of course!
Trigger Warning: Contains themes (discussions) of mental illness and suicide.
Bounce
Pairing: M-M
March 27, 2021
Word Count:
65000
Character Identities:
Gay
Summary: One has the golden touch. The other buys whatever he wants. When love races in, which man will end up on top? Twenty-six-year-old Silver Cruz loves working on fast cars, but finding the right boy to care for eludes him. When a handsome older man's performance ride breaks down nearby, the hunky mechanic is quick to bring his magic fingers to the rescue and get him going. However, the pushy snob's expectation of a casual quickie makes Silver put a speed bump between him and a sizzling jump between the sheets. Forty-two-year-old billionaire CEO Donovan Fonterra's only friend is his wealth. So after his hot rod malfunction attracts a ripped young dude with a take-charge attitude, he can't resist flashing the green light for some high-octane thrills. But even though the younger man slams on the brakes, Donovan goes in hard for the pursuit. As Silver struggles to fend off his persistent admirer, he discovers this is a man in need of a firm hand. And when Donovan finally succumbs to Silver's skillful bedroom tools, he might just be ready to surrender control to the sexy wrench-wielding hunk. Will Silver and Donovan discover the key that turns their uninhibited passions into a forever love? Boy Issues is the first book in the seductive Command & Care MM romance daddy/boy series. If you like lovers who almost become enemies, a stubborn boy, reverse age gap and racy action, then you'll adore Morticia Knight's drive on the wild side. Buy Boy Issues to hear love's engine roar today!
Boy Issues
Pairing: M-M
July 30, 2020
Word Count:
118461
Character Identities:
Gay, Polyamorous
Summary: Saul Reynolds manages a busy bicycle shop in downtown Boulder, Colorado. A recent CU graduate, he's also a Dom, and has many friends his age in the scene. Saul's an old soul, and even at twenty-five, he's had enough experience to understand his own desires. He's had plenty of lovers and he's played the role of part-time Dom, but he's never found the perfect combination of lover and sub in one man. Troy Finch lost his lover in a rodeo accident twenty years ago, moved to Boulder, and has worked as a line cook in his friend Carter's diner ever since. He's attended many parties at Carter's home with couples in the BDSM lifestyle and feels comfortable in a submissive role, but without a Dom of his own, Troy hasn't explored what that really means to him. He has needs he doesn't entirely understand and finds his only outlet at the hands of Carter's husband, Geoff, a tattoo artist who has used Troy's skin as a canvas for as long as they've known each other, covering Troy in colorful, intricate triskelia. Troy doesn't know what he was thinking accepting a dinner invitation from a kid half his age, but everything feels right about their evening together, including Saul's Dominant side. The rules for a twenty-five year old gay cowboy from years ago, though, are totally different than for a twenty-five year old college grad in Boulder now, and despite Saul's confidence, Troy isn't sure whether they can make it work. Saul and Troy manage to bend a good many rules in the name of caring and compromise, but in the name of love, there are some rules they're just going to have to break.
Breaking the Rules
Pairing: M-M
September 22, 2020
Word Count:
35000
Character Identities:
Bisexual, Gay
Summary: Brent Canter lived forty-seven years content with his life to have it all disappear with one life-threatening diagnosis. Cancer without hope of survival, yet he'd beat the odds. He had a successful business and a family he loved, yet he was missing something. That something was an adorable, younger man, and he didn't know what to do. Miller Andrews loves the silver fox, Brent Canter. The older man is everything he'd wanted in a partner. Brent was smart, caring, affectionate, and sexy. He is damn near perfect. When he needed a favor, Brent was the only person he thought to ask. Can one pretend kiss turn into the love of a lifetime for a man who thinks he only screws up and the other who questions if he can have a second chance at love with a younger man?
Chance at the Impossible
Pairing: M-M
Word Count:
65000
Character Identities:
Demisexual, Gay
Summary: It's recent college graduate Zach Greenfeld's favorite time of the year and he's just received a temporary gig planning Lighthouse Bay's Christmas parade. Not only does it speak to his penchant for organization, it also puts him face to face on a daily basis with his unrequited crush—Holland Stone. But his new job starts off in disaster when the most important float—Santa's sleigh—gets damaged. Holland needs to win the Lighthouse Bay Christmas parade float competition in order to grow his new dollhouse-making business. The prize is an article in a major city newspaper, and nothing beats free advertising. Except, eager to help the adorable parade organizer, he volunteers to help fix Santa's sleigh, leaving no time to work on his own float, and putting his prize at risk. Damaged floats, snowstorms, and a last-minute parade emergency force Zach and Holland closer than ever. All they need is a little bit of Christmas magic to help them realize they belong together. Christmas Lane is a sweet, May/December, small-town Christmas romance with an HEA!
Christmas Lane
Pairing: M-M
November 29, 2018
Word Count:
40926
Character Identities:
Bisexual, Gay, Transgender
Summary: Nick Fabian never made it as a CSI. His idealistic vision of the police as an institution dedicated to serving justice died in the harsh light of day, and he quit to become a freelance private investigator, taking on cases nobody else wanted to touch. Enter Emily Bright, a woman with a score to settle. Her best friend Sabrina was murdered, but local law enforcement is dead-set on ruling it a suicide. Determined to get justice, she turns to Nick. Nick feels the pain of one of his own and takes on the mantle of finding Sabrina's killer.But Point Clear has skeletons in its closet. A married local school teacher, Connor Long, had an affair with the victim and isn't above threatening Nick to keep his secret safe. Local man Roy Constas took Sabrina home that night, but he swears nothing happened between them. Emily herself raises suspicions when she reveals she was in love with Sabrina, a sentiment that was not returned. If Nick wants to get to the truth, he'll have to cut through the small-town prejudice and lies surrounding Sabrina's death, but that's not easy when the entire system is determined to bury the case and chase Nick out of town...
Clear Motives
Pairing: M-M
November 13, 2020