Word Count:
70000
Character Identities:
Bisexual, Gay
Summary: Mal's first priority is giving his six-year-old son the best Christmas ever, a goal made trickier by a recent move to New England after losing his job. As a single dad, he's not looking for romance—especially not with a blond California boy ten years his junior. After being ridiculed at the family business, Luca sets out to prove himself by opening an eco-friendly gift-wrapping store in a small town with a hard-on for Christmas that's about as far from LA as he can get. Out of his comfort zone in snowy Maine, love is the last thing on his mind. But the magic of the season has other ideas. As Mal and Luca collide on wintery streets, will they let their first Christmas in Lighthouse Bay lead to happily ever after?
A Gift-Wrapped Holiday
Pairing: M-M
November 22, 2022
Word Count:
37,000
Character Identities:
Gay
Summary: Sheriff Avery O'Rourke has tried to obey his strict Christian faith and lead a "normal" life. In 1923 in a rural East Texas town, "normal" means heterosexual. A cholera outbreak has made Avery a young widower, so he is married to his job. When a murder investigation forces him to confront his truth, will he finally be able to accept being gay? Veterinarian Garland Sands has returned from Europe to take over his father's practice. Struggling with shellshock (PTSD) and heartbroken by the suicide of his French lover, he resigns himself to a quiet, solitary life as a country vet. But the murder of the town doctor brings the sheriff to Garland's doorstep looking for help with the investigation. Seeing Avery awakens dormant feelings. Can he love a man who hates what he is? This isn't the lavish 1920s of The Great Gatsby. This is the flip side of that coin—rural East Texas. No electricity. No indoor plumbing. No flappers. In 1923, the timber barons have left and racism, homophobia, and sexism thrive. A Little Sin is a realistic mystery with unlikely heroes and a timeless romance between lovers caught in a world where their love is forbidden. This book contains steamy sex scenes and is intended for adults only.
A Little Sin
Pairing: M-M
February 24, 2018
Word Count:
30000
Character Identities:
Gay, Transgender
Summary: Devin is enjoying his new ability to pass as male. Maybe a little too much. He's jumping from guy to guy leaving a trail of broken hearts behind him. When an attractive new guy Peter steals his heart, Devin realizes that he might want more. More than just another one-night stand or friend with benefits. Peter has just moved from Idaho to Portland, and is enjoying being able to openly date for the first time now that he no longer lives in a tiny conservative town. When the handsome Devin asks him out, he's ecstatic. Can Devin overcome his instinct to ride off into the sunset alone? And can Peter really settle for settling down? This 30,000 word novella has a fake relationship and is a low-stakes, homopobia-free feel good steamy story with two dudes who love each other and their new, open lifestyle. Each book in the T-Guides series stands alone and they can be read in any order.
A Roadie's Guide to Boyfriends
Pairing: M-M
March 2, 2022
Word Count:
32000
Character Identities:
Gay
Summary: Having survived one nightmare of a relationship, Justin Tesh thought he'd left the worst behind when he put his ex Peter behind bars. But when his new lover, Russell Pine, explodes in a fit of alcohol-fueled rage, Justin finds himself frozen with a fear he thought he'd long since worked through. While older, more experienced Russ is anxious to put the incident behind them, avoiding personal issues never works, and for Justin, his fear is an open doorway to demons both he and Russ need to confront. Despite their histories of loss and pain, Russ has faith in the promise of their relationship. But if he can't heal the wound he's inflicted on his lover's heart, he risks losing Justin forever to Peter's legacy of brutality.
A Wounded Promise
Pairing: M-M
March 4, 2015
Word Count:
48000
Character Identities:
Bisexual, Gay
Summary: Lee Starting over after fifteen years hadn't crossed my mind, but the reality hit me when the final divorce papers arrived. To process the end of my marriage, I'd escaped to the lake where I owned a home. I was determined to have everything figured out by the time I returned to the city. What happened instead was an ambush by my son, Taylor, and his friends. Dallas, the beautiful ginger man, who came with him, ruined my plans. He'd made me question everything I'd thought I knew about myself. Dallas There were a lot of things on my to-do list. The main one was trying not to burn out while I worked full-time and prepared for my last year of college. What hadn't made it to my list was walking in on one of my friend's fathers naked. Lee Porter intrigued me. When I returned home, a chance encounter brought us back together. Fascination turned to something else, and I was going to make the older man mine.
Acquainted with Vice
Pairing: M-M
June 24, 2022
Word Count:
67000
Character Identities:
Bisexual, Gay
Summary: A tale set in Stuart England, where the king's life depends on his most loyal of subjects. Anthony Redbourn, Earl of Crofton, delights in his reputation as a charming rogue. Life is never quiet at the court of King James I, especially with his good friend and secret lover, Sebastian Hewel, by his side. As an actor with the celebrated King's Men, Sebastian has his own admirers, but neither man has eyes for anyone else. When a plot against His Majesty is uncovered it threatens Anthony and Sebastian's charmed lives, and they are dragged into the political intrigue and the race to save the king from danger. Fear that a traitor is linked to the King's Men leaves Sebastian and Anthony with no choice but to stage a very public dissolution of their friendship, so Anthony can be free to be the patron of a new rising actor, and Sebastian can be the prodigy of another noble. It is a dangerous game they are playing to expose the plotters and still find a way to meet in secret, as Anthony is adamant that they will not sacrifice the love they have fought so hard to win. They will do whatever it takes to protect the king's life, and their commitment to each other.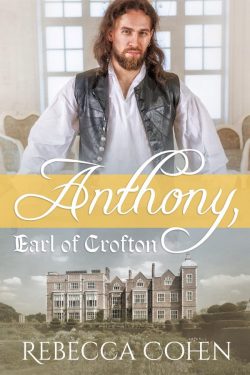 Anthony, Earl of Crofton
Pairing: M-M
April 25, 2019
Word Count:
52000
Character Identities:
Gay
Summary:
What's the perfect recipe for an emotional MMM romance? One autistic coffee shop owner, one morose mug maker, and a mostly cheerful police detective. Fie Morogh Russell goes off to war with a broken heart and returns with a shattered spirit. He hermits away in Bideford, Devon, making mugs, with his service dog, Haggard, for company. Post-traumatic stress turns every memory into a minefield, and life is dismal with one or two rare exceptions. Davet Heuse drags his younger brother to Bideford for a new start. Both autistic, the two siblings have fought hard to enjoy freedom by the seaside. While Davet runs a coffee shop from his tiny house, his brother pursues his dream at university. Detective Sidney Little has transitioned from military service to the police force easily. His unrequited crushes and his estranged father are the only points of frustration in his life. He hasn't quite figured out how to deal with either problem. When a tragic accident brings Davet's world crashing down around him, can Fie and Sid help him through the pain of loss? In this May-December romance with a twist, three men struggle through one obstacle after the other to somehow find themselves in love on the other side.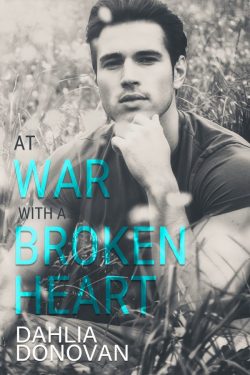 At War With A Broken Heart
Pairing: M-M-M
February 26, 2019
Word Count:
12000
Character Identities:
Gay
Summary: Finn's rugby career was brought to a premature end by a crunching tackle, shattering his confidence and leaving him shy and insecure about his sexuality, despite his size. But understanding how it feels to lose courage in the face of a shaky future, he volunteers at a homeless shelter. One night he gives up his shoes to a homeless man. Of course, that's the night he finally gets an opportunity to talk to Sam, the cute twink he's been crushing on. Shoeless, breathless, not at his best – it's no wonder Sam mistakes Finn for another man down on his luck. Previously published in the anthology 'A Taste of Honey'
Barefoot
Pairing: M-M
April 29, 2019
Word Count:
30000
Character Identities:
Gay
Summary:
Welcome to Bear Essentials, where caring for the outside of you from head to toe is our specialty.
​Basil Paddington is living his dream. He's built from the ground up a safe space for anyone to get the services they need to feel beautiful. He's very proud of the work he's done and the life he's built.
He has a successful business, friends, and a lovely cat named Arnold. What more could he possibly need?
Basil gave up long ago on finding love, much less someone who accepted who he was sexually. He has his kinks and a very healthy sex life, in his opinion. Little does he know that there is someone right under his nose that's perfect for him.
While Bear Essentials specializes in making the outside beautiful to each client's own eye, it's below the surface where we find the most surprises.
​Bear Essentials is a new series set in the same town as Kink Files. Join us as we follow the folks who work at Bear Essentials as they find love and their Happily Ever After.
​
Attention: This book contains explicit sexual content between consenting adults. There are depictions of sounding, needle play, and fuck machines.
​
Baring It All
Pairing: M-M
July 29, 2021
Word Count:
25000
Character Identities:
Gay
Summary: From the outside looking in, John leads a boring life by day as a professor at a small liberal arts school in San Francisco. His nights are saucy, sinful even, when he services clients as a sex worker. He's damned good at it, too, for reasons far surpassing simple technique, whether he's entertaining super-hunky coeds or fulfilling the fantasies of married men on the down-low. Because John has a secret. It's not that he's thirty-five and feeling washed-up or that he's got a crush on one of his clients. His secret could be he's buried his rural, Southern roots, or that Paul, his first lover and preacher from back home, still preoccupies his thoughts. Maybe it's the terrors he faced in conversion therapy as a teenager…but it's none of those things. John's secret is the Fountain, a mysterious well of energy within him he cannot control. Paul knows about the Fountain. So do John's parents. Despite their best efforts to protect their dogma, it will all come out now that Paul has called John home to Georgia. To Bethesda.
Bethesda
Pairing: M-M
November 5, 2019
Word Count:
92000
Character Identities:
Bisexual, Gay
Summary: In a world that is still getting used to shifters, where everyone thinks omegas are second class citizens, nature photographer and omega Braden Payne lets everyone think he's a beta. That way no one gives him a hard time and he doesn't have to live a repeat of his failed relationship. But when his car breaks down in the remote Blackwood forest in Western Australia, without the medication that lets him hide who he is, he's faced with what he fears most: an unmated alpha. Government forest guardian and alpha Coll MacDubhar is tired of illegal loggers, foolish tourists and people who underestimate the wilds of Western Australia. He discovers Braden lost and in need of medical assistance in the forest he protects and knows something's not right. But there's hidden depths to Braden that capture his interest, and no decent alpha would walk away when Braden's unwelcome past comes to visit.
Blackwood
Pairing: M-M
November 23, 2018
Word Count:
53660
Character Identities:
Gay
Summary: Kyle's best friend Marshall resurfaces and he's in a lot of trouble. Can the men at Kiss of Leather convince a former Dom to take on the mouthy sub? Master Derek and his new sub Corey have signed a contract and enjoy their first scene together. The love between them is strong and Derek is as protective of his boy as ever. The only thing left that would make their world perfect would be to bring Corey's ex-Dom and abuser to justice. The legal firm that represents Kiss of Leather is charged with hiring a private investigator to flush out the man who orchestrated Corey's gang rape. Stone Manning is hesitant to take the job, though. He was once wrongly accused in the death of a sub and swore never to enter a BDSM club again. But he owes attorney Glen Sharp his life after the lawyer got him acquitted. Their meeting is disrupted when Kyle's missing friend Marshall calls for help. Master Josh promises to help the mouthy Marshall get back on his feet under one condition—Marshall must sign a six month D/s contract as a full-time sub and prove he can fully submit to a man as well as learn to respect those around him. Stone Manning suddenly finds himself charged with taming the brattiest sub ever. In truth, the bigger the brat, the more his heart races with excitement. Marshall promises to be just the type of challenge to inspire Stone to be a Master again. As Stone learns more about him, he sees the pain that Marshall has always tried to numb with drugs and alcohol. Stone also sees a man he could love—if he can ever reach him. In the meantime, Stone and his investigative partner, Chuck, continue to search for Corey's attacker. The abusive Dom appears to have gone underground. But what they don't realize is that the closer they get to their prey, the more dangerous he becomes.
Bondage Rescue
Pairing: M-M
February 16, 2016
Word Count:
52,914
Character Identities:
Bisexual, Gay
Summary: It may be cold outside, but inside, the temperature is rising. When grad student Kevin Taggert goes home with his best friend for Thanksgiving, the last thing he expects is to drool over the guy's dad. Forty-eight-year-old Drew Freeman would love a relationship, but he never expected to find it with his son's best friend. When a last-minute change of plans leaves Drew and Kevin alone in a cabin the week before Christmas, the heat between them is too much to deny. Although they promise it'll only last the week, every day that passes brings them closer together. When Christmas Day arrives—along with Drew's son—can they salvage the relationship and the holiday?
Cabin Fever
Pairing: M-M
November 24, 2020
Word Count:
55 600
Character Identities:
Gay
Summary: Captain Merric A tale of pirates, lost love, and the fight for a happy ending.
After he's set adrift and left to die by his mutinous crew, the last person Royal Navy officer Daniel Horton expects to come to his rescue is Captain Merric. An infamous pirate, Merric is known as much for stealing his victims' hearts as their jewels. Daniel's world is about to be turned upside down when he recognises Captain Merric as none other than Edward Merriston, someone he thought he'd never see again. Edward can't believe Daniel Horton is aboard his ship. While Edward is willing to do anything he can to get a second chance at their happy ending, Daniel isn't interested in digging up the past. But Daniel is one priceless treasure Captain Merric isn't about to let go of without a fight.
Captain Merric
Pairing: M-M
April 6, 2018
Word Count:
80,000
Character Identities:
Gay
Summary: In 1888 Austin, Texas, a shy medium with clubfoot is visited by the horrific ghosts of murdered children and enlists the help of a rugged Texas Ranger to pursue their killer. As the two men hunt the murderer, they find themselves not only in the grip of a taboo love that could—at best—send them to prison, but also in danger of becoming the killer's next prey. In the twenty three years of his life, Thomas Carillon has known nothing but unrequited love. People don't notice him; they only notice his clubfoot. He has given himself up to a solitary existence with only the companionship of his cat and the ghosts who visit him. When a rare child ghost, her massive injuries evident, asks Thomas for help, the only law man that will listen is a hard-bitten Texas Ranger who reawaken's Thomas's secret desires. The two grow closer as they chase the killer, but can they hold onto their fragile, budding love in such hard times? Hadrian Burton thinks Thomas looks like an angel, except for whatever horror he's hiding in that strange boot. Temporarily leaving life on the range and his complicated past to track down a killer with Thomas, Hadrian finds himself doing something he vowed never to do again—falling in love. Their "congress," as Thomas calls it, is more intense than he has ever experienced. After a lifetime of virginity, the clubfooted man is going wild, and he doesn't balk at Hadrian's unconventional appetites. But they're too different; Hadrian fears he will only hurt Thomas in the end. And yet, he has never fallen so hard for another man. How can he keep both his and Thomas's hearts from being broken? And how can he bring the elusive Child Slayer to justice with only the help of a medium and ghosts? This erotic gay romance contains violence, period homophobia, period racism, period ableism, and graphic sex scenes.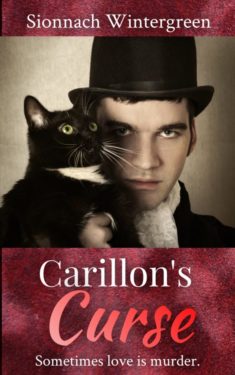 Carillon's Curse
Pairing: M-M
December 10, 2021
Word Count:
39400
Character Identities:
Bisexual
Summary: After Ryan lost his wife to cancer, leaving him with three kids to raise on his own, he never thought he'd find any kind of companionship ever again. Especially not with someone like Michael. The last time Ryan saw his little brother's annoying childhood friend, Michael, he'd been a geeky, pimply-faced thirteen-year-old. That was just before Michael and his family moved to New York. There was an eight-year age difference between them, and being in college at the time, Ryan had never wanted to waste his breath talking to some immature teenage kid when he could be doing homework or making out with his girlfriend instead. Sixteen years later, a chance meeting at a coffee shop in Denver changes both of their lives. Michael, recently divorced from his wife, has two kids of his own, and a thriving recording studio. Michael is no longer the Mikey Ryan remembers. Getting the whole brood together for a Thanksgiving crafting extravaganza, and their mutual love of the blues cements Ryan and Michael's friendship into something neither one of them could have ever expected. Christmas is fast approaching. How far will their newfound friendship take them?
Christmas Blues
Pairing: M-M
November 1, 2019
Word Count:
21000
Character Identities:
Gay
Summary: Morgan never thought being a vampire was a bad thing until he finds out the dragon shifters, who are the most prejudiced, are his fated mate's family. Morgan's life changed the day he was kidnapped and held captive. Even weeks after the rescue, he's still mentally processing all that has happened. Wingspan might seem like a safe place, but as a nurse, he's had to look after a few of the local bigots, so he knows looks can be deceiving. And then he meets his fated mate. Seamus seems too good to be true—a sexy, protective dragon shifter who can bake and smiles all the time. What's not to love? Despite the chemistry between them, Morgan finds it difficult to let others in, even his mate. Can he let Seamus be his safe haven?
Christmas Cookies
Pairing: M-M
November 27, 2020
Word Count: Information not available
Character Identities:
Bisexual, Gay, Transgender
Summary: What happens when you choose to throw fear aside and live unapologetically? I did just that and never looked back. Although, I'd thought I was content until my best friend asked for a favor, and it brought me face-to-face with a big, bearded bear of a man. It wasn't love at first sight, but it was something. I hadn't realized how overwhelming that feeling was until Anderson Mara wanted me to be his. This book was previously published in Dirty Daddies Anniversary Anthology 2020. This version only contains about 5k additional words.
Claiming Whisper
Pairing: M-M
August 19, 2021
Word Count: Information not available
Character Identities:
Ace, Bisexual, Pansexual
Summary: An unknown enemy wanted to take everything from us. Graves I'd spent all of my forty-plus years paying for mistakes when I'd simply been human. Living my life in the shadow of the happiness my friends from the Cold Case Unit found grew harder every day. I didn't mind being the odd one out; didn't mind being considered the unloveable straight-laced-ish one to their mayhem. Acceptance after a lifetime of not measuring up was nice. I'd found my rhythm and my place among the weirdness of my unit. That was until Marcel Douglas the new ego-manic in Homicide decided he had to pick apart every case I'd left behind. Douglas Leaving Chicago hadn't been in my plans, but my daughter needed me. I'd do about anything to make her happy. When her mother was transferred out of the States I'd moved so my daughter could stay with her friends—the place she'd come to love. Being at the bottom of the hierarchy and earning respect didn't sit right with my pride. I wasn't afraid to admit that. And I'd made one hell of an enemy. Graves and his Cold Case Unit frustrated me and I didn't understand their method. A series of body dumps brought me back to Graves for help, but he wasn't feeling charitable. We'd thought we were our biggest and bitterest enemies until the threats came, could we work together before the man gunning for us could finish the job?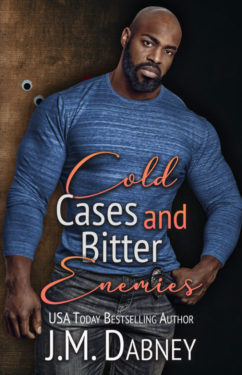 Cold Cases and Bitter Enemies
Pairing: M-M
April 5, 2022
Word Count: Information not available
Character Identities:
Gay
Summary: When your only goal is to save the world who's there when you need to be rescued? Boss Most of my life I'd been the savior and sought when anyone found themselves in trouble. It could be to atone for sins of my past or because I was a natural caregiver. Whatever it was I didn't understand how to do anything else. My Outreach Program cared for everyone in the city who needed help and I wouldn't say I hadn't made enemies, but when the protector needed protection I wasn't prepared for Dolan Sharp. Dolan No one did anything for free or out of the kindness of their hearts. That wasn't how the world worked and it was always survival of the fittest. I didn't care what anyone said about the man named Boss. When I witness Boss in action, what I thought I'd believed shattered and I didn't know how to handle that. There's always threats at every turn, it's just a matter of when they catch up with you, but when one jaded man and another with a seemingly deep death wish have to work together who's going to survive the aftermath? (TW: Mentions of childhood sexual, physical and mental abuses. Passive Suicidal Ideation, self-harm and mental illness. These are mainly off-page, but there are details flashbacks and conversations of said acts. Yet if these are triggering for you, please feel free not to read the story. Your self-care and mental health are more important. Thank you.)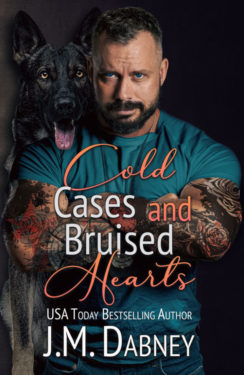 Cold Cases and Bruised Hearts
Pairing: M-M
July 5, 2022