Word Count:
14500
Character Identities:
Gay
Summary: Good and evil walk hand in hand. Hot, sexy times and instalove in mysterious places. Angels and demons love faster and harder for as long as they can because they know—a being more powerful can change their lives in the blink of an eye. Raziel Eden swiftly learns to blend in with humans and demons after being cast from Heaven by a stronger archangel who, for all his holiness, should reside in Hell. Raz's club, MystEden, is a den of iniquity frequented by beings from both realms. Earth has become his private playground and he delights in tasting its many fruits though Raziel would trade it all to travel heavenward. Then a monster from Hell walks into his club; a satanic minion who captivates Raz with beauty and innocence. Surge Oberon possesses knowledge of many enigmas but he yearns to sit at Lucifer's right hand wielding identical powers of an angelic counterpart, archangel Raziel, Heaven's excommunicated keeper of secrets. He must convince Raziel to trade one confidence, a tale Surge's master plans using to regain his throne in Heaven. What part will Surge play in Hell's hierarchy should Satan succeed? Two beings seeking a path home—only one can win their battle of wits. Contains religious themes some will find offensive. #drama #explicit #gay #HEA #instalove #lgbtq #paranormal #religerotica #shortstory #travel
Angel in Heat
Pairing: M-M
March 5, 2021
Word Count:
7700
Character Identities:
Gay
Summary: A lion sleeps in the hearts of brave men. When Prince Theodorin refuses to wed the general's youngest son because he loves another, he is trapped on a cursed island. He spends his days trying to escape, his nights listening to his lover's soothing voice echoing through the forest. His attempts to escape only lead back to where he started… until an encounter with a lion reveals a crack in the illusion. Theo has to believe, or he may never find his way home. ___________________________ Previously appeared in Wilde City Press' Bedtime Stories anthology
Click Your Heels
Pairing: M-M
February 14, 2018
Word Count:
78000
Character Identities:
Gay
Summary: A blind merman fleeing the sunken city of Atlantis is torn between the family he left behind and the love he swims toward. When Dax lost his family to a shark attack he swam away from everything he had ever known. Now he has come to Atlantis, hoping to reconnect with those he left behind. When he finds his birth clan torn apart, he realizes his journey is just beginning. Kai is an Oracle, a blind merman, who only has sight when he has a vision. Atlantis, a sanctuary for so many merpeople, is his prison. Desperation drives him to beg the Atlantean Goddess of Love for help. With the goddess's promise of love to tempt him, Kai persuades Dax to take him along when he leaves the sunken city. Although Dax has some reservations about traveling through the ocean with a blind merman in tow, he quickly discovers Kai isn't as helpless as he appears. Attraction comes easy, but Kai doesn't seem to feel the same way. Kai knows he must seduce Dax if he hopes to win his heart, but his inexperience may be his downfall. With Dax's former lover waiting at the end of their journey, he knows time is running out. A goddess can only help so much, especially when another immortal would see them part. If the two stubborn mermen want a life together, they will have to learn to communicate and fight for their love.
Dangerous Waves
Pairing: M-M
October 4, 2016
Word Count:
90000
Character Identities:
Bisexual, Gay
Summary: Can Declan's love anchor Elliot in the maelstrom of discovering his true nature?  Somewhere, out in the vast expanse of the Pacific, something tugs at Elliot. He feels its call in his blood and his bones, an insistent, inexorable siren's song tied to the moon, the tides, and the giant octopus from his childhood nightmares.  When the safe life Elliot's built on land shatters a second time, Declan is there to pick up the pieces again. Declan offers his ship, his crew, and his body to protect Elliot while they uncover Elliot's connection to strange creatures in the ocean's depths, even as doing so reignites their feelings for each other.   Embark on a high seas voyage where Victorian propriety dissolves into a tidal rush of passion and mystery. Curl up with DEVILFISH today.
Devilfish
Pairing: M-M
October 30, 2019
Word Count:
46000
Character Identities:
Demisexual, Gay
Summary: Royal dukes from rival countries, shipwrecked on a deserted island. The grudge match of the century—or a love story of super-heroic proportions? Sander Fiala, Duke of Roses, is fourth in line to the South Abarran throne, even though his rogue power earned him the nickname "The Monster of Roses" and got him banished from the Castle. But right before he's about to set off on his annual birthday sailing trip, the Queen asks him to meet with the notoriously volatile North Abarran Duke of Arles. Tarik Jaso, Duke of Arles, expects the worst from people because—let's face it—people are the worst. His superpower bombards him with any and all electronic transmissions, which…yeah, people suck. So when he's attacked and wakes up in the cabin of a stranded boat, he knows he's royally screwed. Because the man looming over him—the man he'd gone toe-to-toe with right before the attack—is the infamous Monster of Roses. Tarik is positive the Monster is behind his kidnapping. Sander is sure the whole thing is Tarik's fault. As they work toward rescue, Tarik realizes that the disturbingly hot Sander is no monster, and Sander discovers that Tarik's temper masks a caring soul wrapped in a cantankerous (though undeniably sexy) body. For their burgeoning connection to endure, they'll have to duke it out with political factions, dark conspiracies, and centuries of traditions that keep them on opposite sides of the border. But first? They have to get off this damn island. Duking It Out is a 46,000-word M/M enemies to lovers, opposites attract, superhero rom-com, featuring Only One Bed, a grumpy duke who should know better than to jump to conclusions, a self-doubting duke who's good with his hands (heh), gossipy seagulls, competent assistants, a guaranteed HEA, and (unfortunately) capes.
Duking It Out
Pairing: M-M
July 6, 2020
Word Count:
86500
Character Identities:
Gay
Summary: To save his clan from the ever-increasing shark attacks, merman Kyle seeks sanctuary for his people in the sunken city of Atlantis, even though he knows that as a homosexual merman he will be sacrificing his own chance for love. Love finds him anyway in the form of Prince Finn, the rebellious young heir to the Atlantean throne. When their relationship is discovered Kyle is the one to pay the price. Banished from the oceans he seeks shelter in England and finds a new love with human, Jake Seabrook. For Jake, Kyle is the chance to move on from the crush he has on his straight best friend. The strange man he found naked on the beach seems to fit into his life with ease.  If only Kyle weren't keeping secrets from him, Jake could see them having a future together. Things are not what they seem for either of the men and when Kyle discovers the truth about Finn he knows he must return to Atlantis. Three men, a tangled relationship, and one chance for happiness, if they can trust enough to take it.
Forbidden Waters
Pairing: M-M-M
August 29, 2014
Word Count:
149,000
Character Identities:
Bisexual, Gay, Genderqueer, Lesbian, Questioning, Polyamorous
Summary: I summon the lightning. I claim my power. The warlocks of Icarus Academy claim me. I start my night as a cat burglar in Singapore and I end up queen of the witching world. Too bad this rags-to-riches fairytale's a gig I never applied for and won't accept. My witchcraft is wild and lethal, so I've renounced my power. I'm a fish out of water at Icarus Academy. But these four sexy warlocks who rule the school just won't take no for an answer. They want me to claim my power. They want me to summon the lightning. And they want to claim me as their consort. Because the witching world is dying, and I'm their last chance. But there's a queen killer on the hunt. Unless I figure out how to claim my power before the killer claims my head, there's a global extinction event looming. With my name written all over it. One-click for an intense dark witch academy poly paranormal romance that delivers teacher-student forbidden love, steamy group encounters, possessive warlocks, sexy shifters, first-time M/M, bi awakening, a lightning witch heroine who doesn't have to choose, and enough MMMMF heat to set your Academy uniform on fire. (Contains M/M, M/F, and MMMMF encounters)
Gemini Queen
Pairing: M-F, M-M, M-M-F, 4+ or Other
July 26, 2022
Word Count:
79500
Character Identities:
Gay
Summary: Lost beneath the ocean, Atlantis has become a myth. When it rises from the deep everything will change for Kyle, Finn and the merpeople. Jake Seabrook, a human descendant of Medina, the Atlantean Goddess of Love, never asked for magical powers. Unfortunately, not only does he have them, but they are also growing stronger as more of the Atlantean gods wake from their long slumber. When Jake develops the power to hear the thoughts of anyone thinking about love, lust or sex, it is strange and embarrassing, but also reveals cracks in his relationship with his mermen lovers, Kyle and Finn. If they are going to continue to live as a ménage, they will have to learn to be honest with each other. With Jake's powers out of control and their relationship on shaky ground, the last thing any of them need is a crisis in the sunken city. The Atlantean gods want to regain the powers they lost when the Atlantean people were banished from the city, but the solution will leave the mer who live in the city no choice but to evacuate and search for a new home or risk exposing the existence of the mer to the whole world. Kyle and Finn return to Atlantis to help with the evacuation and insure the safety of their families, but time is not on their side. When Atlantis rises, the consequences could tear apart their ménage forever.
Hidden Depths
Pairing: M-M-M
October 30, 2018
Word Count:
43,000
Character Identities:
Bisexual, Gay
Summary: What do you do when your heart contradicts everything you know? Ieuan is a young morgen in a lot of trouble. The storm he sung up to soothe his broken heart attracted the attention of the Cursed One, an underwater sorcerer exiled from the morgen group for a terrible crime. But the Cursed One wants Ieuan's help to save a life -- that of Zane, a sailor shipwrecked in Ieuan's storm. Ieuan finds himself drawn into the Cursed One's impossible task against his better judgement. But as his morgen kin mount a search for him, Ieuan's help might be all of their undoing. Set in the same world as Deep Magic, Morgen Curse explores what happened to the morgen who left the Llyn Peninsula.  Morgen Curse is not a sequel, exactly. And it's not exactly a romance either. It's a beginning.
Morgen Curse
Pairing: M-M
May 30, 2016
Word Count:
56423
Character Identities:
Gay
Summary: Two young men try to reunite across the divide of ocean and against the tide of history. (A novel in The Renegade and the Runaway universe) Owl…it's the name given to Grant Fletcher by his close friends and allies, the Tuscarora Indians of North Carolina's Ocracoke Island. His best friend is Sky, a native son. When Grant is forced to leave the island—when his family comes to "rescue" him from the only home he's ever known—he must also leave Sky. His new father takes him to the tall dark city of Edinburgh, center of enlightenment, and of sinister shadows too. When the story opens, he's twelve and Sky is fifteen. But reality has a way of making boys into men, very fast. Sky is a native of an emerging country...America...an indigenous segment of the New World that its new settlers are trying to eradicate or to marginalize. What happens when this young Indian strikes a fateful bargain with a colonial icon named Daniel Boone? When he teams up with an African man once held in an iron collar? Owl & Sky is a story of young love, a continuation of the universe that began with "The Renegade and the Runaway" series (Unkilted and Unbroken, c. 2019 by Erin O'Quinn). This current novel shares many of the characters in that series.
Owl and Sky
Pairing: M-M
January 1, 2020
Word Count:
58000
Character Identities:
Demisexual, Gay
Summary: Two hot men. One deserted tropical island. Mr. Don't-Touch-Me Wade O'Rourke has never allowed anyone to get close to his heart, or into his bed. Perhaps he's not wired that way. He's not gay. He was brought up to know it's not possible in his family. But he's not attracted to women either. He keeps up appearances for the sake of his family because it's the thing to do— never mind his family traumas or that he hates his life. And he has reasons to hate his homophobic uncle, too. Outgoing, optimistic, and carefree Adam Bennet comes from a long line of earthy people— gardeners and farmers. After his parents died, he was raised by his wise grandmother. He helps her run her shop. When Wade and Adam meet on an airplane, they don't quite hit it off. They survive a crash landing on an island paradise where they have to join forces to survive. Will Adam take a chance on love with the seemingly straight man? When love blossoms, can it survive the rescue and return to their American small town? This full-length, standalone novel contains: Two hot guys and a deserted island. A man damaged by his homophobic upbringing. A virgin who never thought he'd want to be touched that way. Coming out in a small town. Steamy man on man love action and a happy ending. ***58,000 words. Available at many ebook stores.
Rescued From Paradise
Pairing: M-M
October 20, 2017
Word Count:
76000
Character Identities:
Gay
Summary: Can a merman and an Atlantean, separated by centuries and prejudices, find love together? Merman Delwyn is an Oracle of the past. He loves nothing better than observing the comings and goings of those who lived centuries before he was born. His favorite time period to visit is when both Atlantean and mer inhabited the sunken city of Atlantis, and his guilty pleasure is watching lovers come together in passion. Secure in the knowledge that no one can see him when he's viewing the past, nothing can prepare Delwyn for the moment Fabian, an Atlantean living in the past, speaks to him. Fabian is a man with divided loyalties. The demi-god son of the Goddess of Sea Creatures has sworn to serve the Goddess of Prophecy as her Oracle of the present. His unique status gives him the power to see anything in the present, including the mysterious merman voyeur from the distant future. Despite the centuries that separate them, Delwyn and Fabian find they have a lot in common and quickly form a friendship that both hope one day will become something more. But before they can be together in the present, Delwyn and Fabian must unravel the mysteries of the past. Only time will tell if truth about the long-since vanished Atlanteans will bring them together or tear them apart, as the battle for the sunken city of Atlantis begins.
Shifting Currents
Pairing: M-M
April 25, 2017
Word Count:
79000
Character Identities:
Gay
Summary: Justin is a merman who has been raised on land. He hates his fins and wants nothing to do with his heritage. Lucas is an ambitious merman who has lived his whole life in Atlantis. He has spent his adulthood hiding his sexuality because homosexual relationships are forbidden in the underwater city. Now he has been sent on a mission by King Nereus to locate his oldest son and return him to Atlantis to take his place as the heir to the throne. Although his mission seems impossible, Lucas finds help from the Atlantean Goddess of Love, little knowing she has her own reasons for bringing Lucas and Justin together. Justin is no stranger to immortals, having been raised by two of them, but he has no idea of the consequences of angering the Goddess of Love. When he insults her, she curses him to find love only to lose it forever shortly after. As the love 'em and leave 'em type Justin isn't overly concerned, at least until Lucas enters his life and he sees how the curse will end. Together they could have the greatest love of their lives, but only if they can appease the furious goddess before their time runs out.
Tempestuous Tides
Pairing: M-M
September 1, 2015
Word Count:
182253
Character Identities:
Gay
Summary: A disgraced Scot...  A misplaced Quaker (3-novel box set) In this box set of three novels, two men meet in a travelers' stop in Scotland and end up as trainer and student (Unkilted) before crossing the ocean together as sailors (Unbroken) and then hitting the road on horseback to discover America's wild blue-ridged mountains (Frontier Highlanders). At first their relationship is oil poured on water. Gregory MacGregor, who goes by the name Grier Black when the novel begins, is a Highland clansman and outlaw hiding from his tragic past. He distrusts strangers, but he hates Campbells and British "Sassenachs" even more. David Campbell (David Adamson), the son of a Philadelphia Quaker printer who's been kidnapped by unscrupulous men, is a naive young man whom Grier dismisses as a weak bairn. Only when he begins to train David does he discover the hidden steel in the lad's character…and under his trousers…and at last, unfortunately, his detestable last name. Each novel runs together like the Shee Waters, the burn where their romance begins, to form a whole. In Unkilted, Grier learns how to love. But his own melancholy nature gets in the way of happiness as he and David part in anguished misunderstanding. The central novel Unbroken recounts the sea adventures of these two would-be lovers—plus the harrowing story of Grier's Uncle Iain and his own lost love. The final novel Frontier Highlanders is about discovery—of a  frontier father, a rough and wild territory, complex people whose skin is not white, and their own honest needs.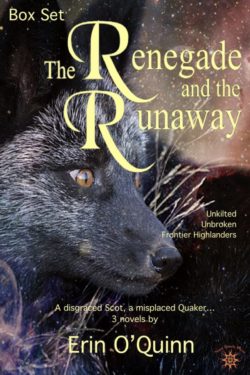 The Renegade and the Runaway: Box Set
Pairing: M-M
March 17, 2021
Word Count:
86000
Character Identities:
Gay
Summary: One merman. Two lives. A love so powerful it tore apart a city and broke the heart of a god. Caspian, the Atlantean God of Justice, has devoted his eternal life to protecting the merfolk. He has no time for romance, not even when the merman he now watches over is his former lover reincarnated. Phoebus, a merman living in the sunken city of Atlantis before the Atlanteans were banished, never intended to fall for Caspian, the most promiscuous of all the gods. Yet, when Caspian offers him immortality, Phoebus doesn't know if he can pay the price, even if refusing means breaking the heart of a god. Back in the present, Marin remembers the love he once had for Caspian, but he's not the same merman now. Caspian might have loved him as Phoebus, but he knows the god cannot give him what he needs. Marin doesn't want Caspian's protection. He wants revenge, and he is prepared to make the ultimate sacrifice to get it, even if it means breaking Caspian's heart a second time
Treacherous Seas
Pairing: M-M
June 11, 2019
Word Count:
66932
Character Identities:
Gay
Summary: A disgraced Scot...a misplaced Quaker (The Renegade and the Runaway 2) This sequel to Unkilted finds a young Quaker-trained man and a bitter Highland outlaw together again, and not by their own design. They meet again on a Dutch trader sailing to the king's colonies—uncharted land even more wild than Scotland's daunting Highlands. David is on a mission to the British-occupied colonies to find his true father, a well-known frontiersman. Grier is searching for his aunt, abducted twelve years earlier, held somewhere on the coast of North Carolina. Back in Edinburgh, Iain spins his quiet web to reunite with his beloved wife. More than seeking family members, the two younger men are searching for something they may find only when they finally understand themselves, and each other. Can a naive, scholarly youth cope with life on the high seas—and become a force against a killer? Will a deeply angry man ever forget that the man he most desires bears the name of his sworn enemy?  Slow-burn romance ~ Slow reveal ~ Family secrets ~ Action and Adventure ~ Humor
Unbroken
Pairing: M-M
March 25, 2019
Word Count:
88,115
Character Identities:
Bisexual, Lesbian, Straight
Summary: When secrets and lies threaten the throne, can a fierce champion tame her passion in time to stop a cruel enemy's ruthless march? Jutland, Early 11th Century. Viking Warrior Princess Lena craves revenge. Hunting a killer after her husband is brutally slain, she discovers a shadowy traitor is at play behind the scenes, working to disrupt the balance of power. But she places her need for vengeance on hold when the king falls gravely ill, and sails out along with the pretty slave she rescued to locate a fabled healer. Gunnar is loyal to the core. But when his lord orders him to sabotage the princess's royal mission, he's plagued by an unfamiliar sense of doubt. And after he witnesses the courageous woman and her crew save his life in a vicious storm, he's no longer certain he's fighting for the right side. Beset by foul weather and an uncharted island of trolls, Lena fears she'll never avenge her husband's death… even as her heart softens towards the lovely Celt girl she longs to embrace. And now Gunnar must decide where his fealty rests as the tides turn to war. Can Lena and Gunnar survive a bloody grab for power and find a true home for their hearts? Viking Quest is a breathtaking historical fantasy novel. If you like principled characters, battles of conscience, and tender F/F romance, then you'll love Edale Lane's action-packed epic.
Viking Quest
Pairing: F-F
June 28, 2021
Word Count:
147,000
Character Identities:
Gay
Summary:
Join Henry and Sam and an appealing supporting cast as they ride a rollercoaster of emotions when their lives are derailed before coming back on track, leaving Nash as collateral damage in the novel, Til Death Do Us Part, novelette From This Day Forward, and short story, Okay, Then. Nash takes an unusual path to his own HEA in To Love and To Cherish.
Contains the stories:
'Til Death Do Us Part: Henry and Sam Miller-Greene are living the dream, but their worlds are shattered when Henry's plane crashes and he's presumed dead. But Henry survives undetected on a remote, small, and insignificant island. Will Sam and Henry's love be able to survive, as well? When Henry and Sam face an accidental estrangement, and Henry is assumed dead, can their love endure the trials of one's fight for survival, and the other's new love interest? When Henry is rescued, will Sam be able to put aside his new love when he reunites with Henry?
From This Day Forward: Henry and Sam are enjoying life after Henry's rescue. With their nightmare separation behind them, Henry and Sam are anxious to renew both the intensity of their former intimacies -- now hampered by having a curious and still apprehensive child sharing their home -- and their commitment to one another. Will they be able to move their love forward now that they are together again?
Okay, Then: Sam and Henry's first date/encounter is mentioned in flashback in 'Til Death Do Us Part,but this short story fleshes it out. Relive the moment they first connect while on a research trip in Honiara in the Solomon Islands.
To Love and To Cherish: Jilted by his fiancé Sam just weeks before their wedding, Nash Marino's outlook on life in general, and love in particular, is jaded. Will Nash find love again? Of course he will. Will he go about it in the usual way? Now that's another story entirely. When Nash's marriage of convenience scheme is muddied by notions of love after a memory reboot, will their plans go awry, or will Nash's new outlook on life be just what the doctor ordered?
Available in ebook and audiobook formats!
Whispersync for Voice Ready!
Keywords: ebook, box set, collection, audiobook
Vows Box Set
Pairing: M-M
July 9, 2017
Word Count:
70144
Character Identities:
Gay
Summary:
When Henry and Sam face an accidental estrangement, and Henry is assumed dead, can their love endure the trials of one's fight for survival, and the other's new love interest?
Henry and Sam Miller-Greene are living the dream. They love their careers — which afford each of them opportunities to travel to exotic locations — they love their home, Sam's caring family, and each other. They disagree on the subject of adoption, but are fully committed to each other in marriage … 'Til Death Do Us Part.
The dream is shattered when Henry's plane crashes, and he's presumed dead. But four people — Henry, two other men, and a child — survive undetected on a remote, small, and insignificant island. Will Sam and Henry's love be able to survive as well?
Henry fights to endure in harsh conditions, never knowing when disaster will strike. Sam struggles with his loss, but with help moves on with his life. Will Sam be able to put aside his new love when he reunites with Henry?

Available in ebook, print, and audiobook formats!
Keywords: kindle unlimited, established couple, drama, stranded, deserted island, ebook, print, paperback, audiobook, child, children, kid, kids, separated, angst, adoption, novel
'Til Death Do Us Part
Pairing: M-M
April 3, 2016