Word Count: Information not available
Character Identities:
Lesbian
Summary: One ice queen who likes solitude. One firebrand crashing into her life. One snowstorm trapping them together. Ambitious journalist Amy Kelly has her big break at her fingertips. She's lined up an interview with Morgan Leithe—THE Morgan Leithe, the self-made billionaire who mysteriously vanished from the public eye three years ago. Amy only has to travel to the tiny New Zealand town Morgan's hiding in, nab that interview, and have it published before her big performance review. Wham, bam, thank you ma'am—that promotion is basically in the bag. But Amy didn't plan for the bone-chilling blizzard sweeping through the sleepy little town, and she definitely didn't plan to have to wait out a snowstorm with a woman whose piercing blue eyes seem to see right through her... Betrayed by those closest to her, brilliant philanthropist Morgan Leithe has made a new life for herself far away from the glitz and glamour. She'll keep everyone at arm's length to make sure that no-one can hurt her again. She's sworn off romance. All that she needs in life is a good book, her dogs by her side, and solitude. Life in her cosy mountain cottage is peaceful and quiet, just the way she wants it. But now a tenacious younger woman with sparkling eyes is awakening something in her that she's tried her hardest to bury. Four days. That's how long she'll have to wait before the snowstorm lifts and the stranger with the heart-stopping smile can leave for good. Four days of just the two of them, a crackling fire, and the wild New Zealand scenery around them. She can keep this professional, right?
A Dog Named Bella: A Lesbian Romance
Pairing: F-F
April 6, 2021
Word Count:
27223
Character Identities:
Gay
Summary:
Graham Hayes decided long ago he'd never be in a relationship. It was better to stay single than to fall in love only to be left alone, which he was certain would happen to him. He'd seen Alzheimer's ravage his family members all his life, leaving their loved ones to deal with the fallout. Some of them stayed, but some didn't. Graham isn't going to risk it.
When he hires nurse Sam Morgan to take care of his dad during the day, his pledge to stay single is put to the test. He soon finds it difficult to maintain a professional distance. Graham's guarded his heart for so long, but his resolve is crumbling. Will he be able to conquer his fear to give himself a chance at love? Can he trust Sam to stick around for better or worse?
A Love to Remember
Pairing: M-M
April 28, 2018
Word Count:
26000
Character Identities:
Gay
Summary: Being an OIL (Onsite Inter-species Liaison) for the Interplanetary Multispecies Pact has never been an easy job. In fact it's a crap job when stuck on a backwater nowhere planet like Earth. But cobra Yervath Sissal Naganos manages. The demotion was swift and heavy-handed, but he'll climb back out of this hell eventually. Humans don't meet his social needs, so, yes, it's been lonely and he tells himself he likes the solitude. That is, until IMP sends him an irritating  new assistant he never asked for. Now his peace is well and truly disturbed and his paranoid diplomatic reflexes have reawakened. The worst part is the kid didn't have to be so cute.
A Message From The Home Office
Pairing: M-M
August 25, 2020
Word Count:
149,000
Character Identities:
Bisexual, Gay
Summary: The star of the University of Virginia theater department, Aidan Emery is lusted after and admired for living out and proud. He uses his talent and good looks to his advantage and never sleeps with the same guy twice. But his glamorous patina has been carefully honed to hide the pain he carries inside. Aidan wasn't always such a player. He starts college naively romantic, hungry for the attention he can't get from his workaholic father and mentally ill mother. Unfortunately, that leaves him ripe pickings for predatory professor Rodney Montgomery. Rodney's flattering regard seduces Aidan into a dysfunctional relationship that destroys his innocence. Life looks up for Aidan when he finally breaks free of Rodney's pull and moves to New York City to make it as an actor. Meeting sweet fellow actor Patrick Jaymes seems like the start of a fairy tale. But before Aidan can rebuild his life into happily ever after, family secrets rip him wide open, leaving him easy prey when Rodney decides he's not willing to let Aidan go.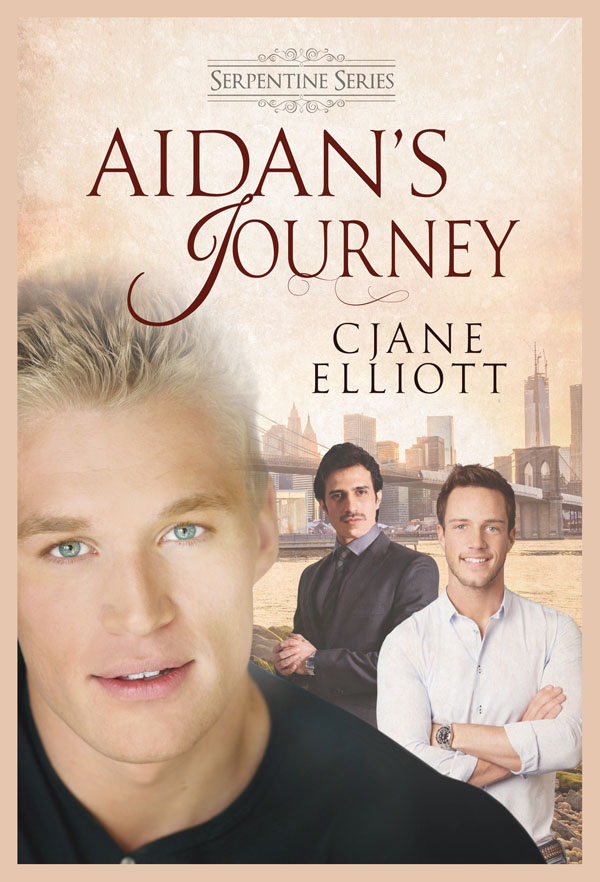 Aidan's Journey
Pairing: M-M
October 15, 2014
Word Count:
76000
Character Identities:
Gay
Summary: For Andrew Tuttleman, sex is a means to an end. With a mother too sick to pay the bills on her own and college bills to pay, Drew has spent years resorting to sex with strangers to keep a roof over his mother's head and keep himself at school, far away from the hell where he grew up. This summer, his usual tricks are still paying the bills. But there's a new one, Grant, who never got the memo that a trick is a no-strings deal. Convinced that Drew is the answer to a hopeless prayer, Grant seems ready to pursue Drew to the ends of the earth. Drew, on the other hand, isn't so convinced. Grant comes with trouble in the form of a wife and three kids, not to mention a single and unwavering requirement: that Drew give up his livelihood. Grant's kiss makes Drew ache for more, a romance that he never dreamed possible. He finds himself unexpectedly willing to try. Can Drew weather Grant's angry father, wife, and a daughter determined to kick him in the shins so hard that he'll leave Grant's life forever? It all relies on Grant's faith in an impossible prayer.
Andrew's Prayer
Pairing: M-M
September 27, 2017
Word Count:
98500
Character Identities:
Gay
Summary: The tall pines, the thick mist, the birdsong above his head...Barrett loves everything about living outside the remote mountain town of Lake Honor, but especially the peace and quiet. His days as a forest ranger are filled with unpredictable adventure, so home is the one place he knows he can count on. But even home has been a surprise of late, as his next door neighbor and good friend has suddenly passed away, and the house has been sold to someone new. He's not sure this change will be good. When the new neighbor, Ambrose, arrives, Barrett realizes that the man is a loner, like himself, and clearly not looking for a friend. Which is a pity, because Barrett finds him fascinating and incredibly good looking. Ambrose didn't move to the outskirts of nowhere to make a friend. But Barrett, his new neighbor, is kind and generous, and has soft brown eyes he can't stop thinking about. As he slowly warms up to Barrett, fate finds a way to push them together when danger and sabotage strike. Barrett saves Ambrose's life, and their bond is cemented. Ambrose isn't sure about letting in someone new, but Barrett hasn't proven to be anything but a good person. And a handsome one at that. As their lives entangle, and their relationship grows, neither man can ignore the attraction between them. But their pasts are complicated; an ex-boyfriend reappears, an estranged parent tries to get in contact, and Barrett's nephew falls ill. On top of that, the sabotage of forest ranger equipment grows more dangerous and Barrett is pulled into the investigation. Both men want to take their relationship slow, even with all the drama swirling around them. Ask Me For Fire is a love story drenched in atmosphere, suspense, and heartfelt connections. Tropes: forced proximity, slow burn, grouchy loners Content warnings: explicit sex; some violence and danger (mostly minimal and/or off-screen); mental health issues including anxiety and depression; abusive and manipulative family; neglectful family and past relationships
Ask Me For Fire
Pairing: M-M
August 1, 2022
Word Count:
32,000
Character Identities:
Gay
Summary: Tyler McCall made a mistake that cost him his job, his freedom and everything he'd worked for. Now he's living in the Black Hills of Wyoming, working two jobs and doing his best to not dwell on what he's lost. Linden Bourne is a no-nonsense FBI agent. His hunt for a killer takes him to Wyoming, he has questions for Tyler. Linden quickly realizes Tyler isn't a suspect, but the next likely victim. When he and Tyler they become trapped by a blizzard in an empty inn near Devils Tower they discover they're not alone. The killer has targeted Tyler and won't let a little detail like an unexpected visit by the FBI stop what they've planned to do. Linden is completely out of his element, but he's sworn to protect and that's exactly what he plans to do: protect Tyler at all costs.
Bait
Pairing: M-M
March 20, 2020
Word Count:
14000
Character Identities:
Gay
Summary: Espen Urso would rather stay inside and enjoy a nice, sweet cake than be out in the worst storm of the year. But there's a group of alpha shifters trespassing, and he needs to defend his territory and keep the people in his village safe. A group of wolf shifters he can scare off, but when he realizes they've hurt a defenseless little bird, he loses his patience. Arvid Rai is having a bad day. He's an omega on the run, with a group of alphas on his tail. If there hadn't been a storm, he could have easily flown away before the stupid wolves got their hands on him, or the angry bear noticed he was in his territory. But there is a storm, and the idiot who grabbed him broke his wing, so now he can't fly anywhere. Still, he deems it best to stay with the growly bear rather than having the other alphas fight over him. Espen has never believed in the myth of omegas, and it isn't until he takes Arvid in he realizes how much trouble he'll be in when shifters from near and far learn he has one in his home. Will he be able to keep Arvid safe from other shifters? Is it even possible to defend his territory with an omega in it?
Blown Away
Pairing: M-M
April 10, 2021
Word Count:
52,914
Character Identities:
Bisexual, Gay
Summary: It may be cold outside, but inside, the temperature is rising. When grad student Kevin Taggert goes home with his best friend for Thanksgiving, the last thing he expects is to drool over the guy's dad. Forty-eight-year-old Drew Freeman would love a relationship, but he never expected to find it with his son's best friend. When a last-minute change of plans leaves Drew and Kevin alone in a cabin the week before Christmas, the heat between them is too much to deny. Although they promise it'll only last the week, every day that passes brings them closer together. When Christmas Day arrives—along with Drew's son—can they salvage the relationship and the holiday?
Cabin Fever
Pairing: M-M
November 24, 2020
Word Count:
9000
Character Identities:
Gay
Summary:
Waking up dead sucks. And now it's up to the Ancient vampire who turned him to teach photography student Morgan how to live.
When faced with the loss of everything he's known, Morgan isn't sold on an eternity spent with an emotionless, 2,000 year old record producer with fangs. Trapped on top of a mountain in a vampire's retreat, Morgan must grapple with the reality of his demise. But the true challenge is whether to kill or kiss the one being walking the earth who can make his heart beat again.
Can Morgan face his new undead reality?
Chew Toy
Pairing: M-M
January 15, 2021
Word Count:
120000
Character Identities:
Gay
Summary: Slave. Assassin. Bodyguard. Draven has played many roles within the notorious Sapphire Guild, but one man has always controlled his destiny. After the man who shaped his world betrays him, Draven exacts his revenge and flees, pinning all his hopes on a promise of sanctuary made long ago. Director Cameron Asada is responsible for the safety of every psion affiliated with the Institute for Psionic Research. When a vid-clip of a psion destroying an industrial installation goes viral, the citizens of the Federation demand action. With anti-psion sentiment spreading too fast to contain, the last thing Cam needs is for a dangerous figure from his past to show up, drug-addicted, psi-damaged, and seeking to redeem a reckless promise Cam never should have made. Sheltering Draven could cost Cam everything he's worked for, but Cam owes the man his life, and Draven might be just what Cam needs to protect his people from an increasingly hostile government. When it becomes clear that it may take more than a job offer to secure Draven's trust, Cam finds himself walking a dangerous line as he struggles to reconcile his conflicting loyalties. Can Cam be the man Draven needs? Or is everything he's worked for destined to go up in flames?
Closing the Circle
Pairing: M-M
May 8, 2017
Word Count:
67000
Character Identities:
Bisexual, Gay
Summary: Murder, betrayal, love… ​Moving home after his father's death effectively forced Sheriff Mat Dempsey back into the closet, but he's happy enough. Right? Bitter and dispirited after years investigating homicides, Niall Hamarsson heads for the only place he's ever called home. A body is discovered in the waters off Piedras Island and Mat's first priority is investigating the murder. He doesn't need the help of the ex-detective, what he wants from the man is entirely different. Detective Niall Hamarsson remembers Mat Dempsey, but he'd prefer to avoid him. Too bad Mat is one piece of his past Niall can't escape… Their chemistry is electric, and two heads are better than one, but will Mat's pride get in the way? Conspiracy Theory is a dual POV about a broody introvert and a somewhat patient Sheriff. It's hard to come in from the cold when that's all you know. Hamarsson and Dempsey is a series following the same couple as they find their way to their happily ever after.
Conspiracy Theory
Pairing: M-M
October 7, 2019
Word Count:
19193
Character Identities:
Gay
Summary: Erik decides geocaching is the best way to heal himself after work and personal problems overwhelm him, but the trip goes horribly wrong. Falling down the side of a mountain deters Erik's plans for a quick cache find, but his rescuer is the one person who may be able to save Erik in more ways than he can imagine.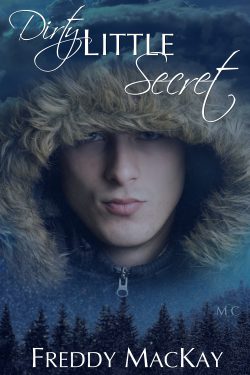 Dirty Little Secret
Pairing: M-M
September 21, 2013
Word Count:
30000
Character Identities:
Gay, Non Binary, Pansexual
Summary: Flee. Scatter. Take your mates and your offspring and run. The escape pods fall to Earth one by one over the course of weeks, a mysterious and diverse alien diaspora, each pod containing a different alien race and leaving the world's governments scrambling to deal with this unexpected immigration. Serge Kosygin, still grieving and isolated after his husband's death, watches events with gray disinterest until one day he witnesses a pod crash for himself while driving home. Two of the alien visitors have died, but one survives, badly injured, and Serge is determined that if this alien is also going to die, it won't be under the harsh lights of a government facility. Devastated by the loss of his life mates in their desperate effort to reach safety, the knowledge that Een is the last Aalana in this sector of the galaxy only compounds his sorrow. He wakes in an alien dwelling under the care of one of the native dominant builder species, a being who appears to share nothing with Een besides a bipedal structure. Slowly, with the help of his patient and kind host, he discovers they are more similar than he imagined as they share harmonies and his host assists him with language acquisition. Their tentative first contact soon evolves into a deepening friendship, a balm for two grief-weary souls. They'll need each other and their growing bond for the troubles lurking just ahead. Publisher's Note Eating Stars was previously published as part of Meteor Strike: Serge & Een as a novelette. It has undergone extensive rewrites and edits with over 10,000 words of new content added.
Eating Stars
Pairing: M-NB
May 26, 2020
Word Count:
41016
Character Identities:
Bisexual, Gay
Summary: Autumn has always been Zak's favorite season for hiking and camping. Not to mention breathing in all that crisp fall air and sitting around toasty bonfires. That all changed a year and a half ago when a rich prick high on prescription pills sideswiped Zak while he was out biking. Now his days are filled with pain and limited mobility. No more camping. No more trails. Zak's life as he knew it is gone forever. Back at his beloved stomping grounds, Zak is ready to say hello and goodbye one last time. But when a cry from the frigid Lake Superior waters throws him into the role of a rescuer, more than just his life hangs in the balance. Little did Zak know how much one person giving a damn mattered to him.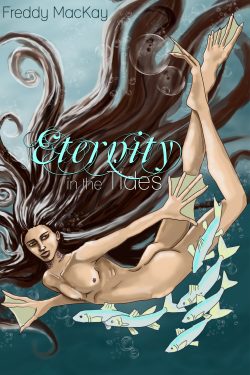 Eternity in the Tides
Pairing: M-M
February 26, 2016
Word Count:
36000
Character Identities:
Gay
Summary: [video width="1280" height="720" mp4="https://www.queeromanceink.com/wp-content/uploads/2019/01/Everlonging-Desires.mp4"][/video] Dustin is a sweet country boy who tends bar at the local gay bar in Shenandoah, Virginia. Every night, a mysterious man stops by after work to drown his sorrows. Skyler is a smoking-hot cowboy who works a hard job at the local factory. After a drunk driver took the life of his beloved fiance, Jimmy ten years ago, he isolated himself from the rest of the world. Since meeting Dustin two years ago, desires he thought were long dead have been re-awakened, but he's been too afraid of getting hurt again until now. Maybe Dustin is just what he needs to heal his grieving heart and satisfy his everlonging desires.
Everlonging Desires
Pairing: M-M
August 5, 2019
Word Count:
230,861
Character Identities:
Gay
Summary: The tiny Sierra Nevada community of Stone Acres looks benign on the outside, but it's been a hive of activity since gay men from Silicon Valley began moving in. The Old Town establishment is up in arms as newcomers challenge the conservative community to move into the new millennium. Along the way, gay couples find true love and a new home. Contains the stories: What's in a Name?: When barista Jimmy is dumped and gets drunk on his 30th birthday, a handsome, hunky bartender takes care of him, but is mum about his real name. When Jimmy presses him, the bartender makes the quest a game, giving him seven guesses and promising romance each night. For every wrong guess, Jimmy has to forfeit a hot, sexy kiss. Sounds good, but what's the catch? Redesigning Max: Out and proud award-winning designer Fredi Zimmer takes on straight outdoorsman Max Greene's cabin renovation. When he finds out Max is closeted and wants to come out, Fredi helps Max remodel not only his cabin but his life. Angered that Fredi has turned him, Max's former friends intervene. Will Fredi and Max win the fight for their happiness? Behr Facts: After CEO Abe Behr discovers discrepancies in his construction company accounts, he hires CPA Jeff Mason to help him find the embezzler. Searching for the culprit, they become closer, and Abe realizes he's gay. However, coming out to a hostile family and community may break up the couple before they cement their happiness. With so much strife, will love prevail? When Adam Fell: Jason's drug addiction ripped them apart. Does Adam want to get back together now that his former lover says he's clean? Relative Best: When hotel owner Zeke Bandy meets Vic Longbow, he sees stars. But Vic is in town to attend a wedding and to open an office, not to fall in love. Are they doomed as lovers because they're both too busy for happily ever after? Frank at Heart: What will it take to make hardware store owner Frank update himself and his store? Could the new man in town be the key to unlock Frank's life and future happiness? Waking the Behr: Ladies' man and small town contractor Ben Behr is blindsided by his lustful feelings for San Francisco entrepreneur Mitch O'Shea. Can a country mouse and a city mouse bridge the gap in their upbringing and expectations to find love? Short Order: Amid the happiness of the Christmas season, horticulturist Fen Miller and his landlord sous chef John Barton have some serious decisions to make. Fen must decide on a career and John on eluding his grim past. Together can they support each other enough to discover their happily ever after?
Foothills Pride Box Set
Pairing: M-M
July 31, 2021
Word Count:
32793
Character Identities:
Bisexual, Gay
Summary: Ten days to finally make the leap from friends to lovers…. Craig and Mitchell have been friends for years, but each of them reached a point where that camaraderie became… more. Mitchell's kept his feelings close to his chest. So has Craig, but now that they've graduated from UMKC, he knows it's his last chance to show Mitchell they're meant to be before their careers take them to opposite sides of the country. He insists they can't leave Missouri behind without one last adventure. Mitchell agrees to a road trip to visit all the touristy spots and say goodbye to their home state. As they spend their days and nights together, buried feelings rise to the surface and hope blossoms. When their journey ends with a dance beneath the Branson stars, will they find love and a future together at the end of the road?
Gateway to Love
Pairing: M-M
October 19, 2018
Word Count:
27000
Character Identities:
Gay
Summary: The Seventh Viscount of Torring, Randall Blair is more than disgusted with unfaithful lovers. When his last lover announces his engagement to the current reigning belle, Randall decides to suppress his true nature and follow suit. He is determined, once and for all, to forget the dark sailor who slipped in and out of his life five years before. Lady Prudence Wedgewood has, for a member of the fair sex, unquestioned beauty, and shows a surprising wit, which will entertain Randall, even if her well-proportioned body does not arouse his desires. The marriage should at least be, bearable. Lieutenant David Wedgewood has always been beyond discreet with his unnatural attraction to men. An attraction, which years ago, nearly set Randall's bed aflame for a blissful, torrid week. The Blair and Wedgewood wedding plans unfold flawlessly, until Lady Prudence's brother returns: Randall's long lost sailor. David returned for only one reason: to save his beloved sister from a marriage destined to bring nothing but pain. Marriage to a sod! He will kill Randall if that's what it takes to stop the wedding. And he is willing to seduce Randall, to prove that this marriage can only end in disaster and heartbreak.
His Second Chance
Pairing: M-M
June 23, 2017
Word Count:
90,000
Character Identities:
Gay
Summary: Soulmates across time. A love that was meant to be. In present day, Laurie, tired of corporate life, takes a much-needed vacation at Farthingdale Dude Ranch. The very first night a freak blizzard combined with a powerful meteor shower takes Laurie back to the year 1891. When he wakes up in a snowbank, his only refuge is an isolated cabin inhabited by the gruff, grouchy John Henton, who only wants to be left alone. His sense of duty prevails, however, and he takes Laurie under his care, teaching him how to survive on the wild frontier. As winter approaches, Laurie's normal fun-loving manner make it difficult for him to connect with John, but in spite of John's old-fashioned ways, the chemistry between them grows. Sparks fly as the blizzard rages outside the cabin. Can two men from different worlds and different times find happiness together? A male/male time travel romance, complete with hurt/comfort, true confessions, a shared bed, fireplace kisses, the angst of separation, and true love across time.
Honey From the Lion
Pairing: M-M
September 21, 2018