Word Count:
20302
Character Identities:
Bisexual, Lesbian
Summary: A Reverie of Flames is the new, spell-binding third installment of 'The Fae Souls' series. Born again into the mortal world, I'd hoped to escape the war between light and dark fae. I wasn't alone - Sorcha (my love) and Princess Saphira of the seelie (who we were sworn to protect) were with me. Rings gifted by Queen Carisse of the seelie ensured we were born in the same timeframe and we'd remain together. More than chance brought us to the city of Grayhaven. It was magic and destiny. Sorcha had returned to my life the day she saved me from an unseelie attack; that was when my memories had come flooding back. Now I found myself regaining my awareness of who I was and discovering how serendipitous fate can be at bringing you to the right place at just the right time. In the unique position of remembering our fae origins, Sorcha - now Angelica, a white witch who opposed unseelie interests in the city, and I had a lot to catch up on. As she brought me up to speed, I realised the depth of my feelings for her, and that I wanted to continue our romance into this, our next lifetime. Princess Saphira was reborn as Ayla: my sister. Now an 18 year old student and budding witch, she was a prime target for the unseelie who sought to overthrow the seelie royal family. We had to protect her, and Angelica and I would do our best to ensure she stayed safe. A Reverie of Flames is a romantic urban fantasy novella of just over 20,000 words, which contains strong steamy content and language.
A Reverie of Flames
Pairing: F-F
October 27, 2017
Word Count:
12,381
Character Identities:
Gay
Summary: English writing tutor Steve Smith only has two more semesters to graduate from Vermillion College in California. Then he hopes to get a top-paying job writing copy for a tech firm. Until he reaches his self-fulfilled dreams, however, he's working his way through school without borrowing from his successful Chinese-American parents. Vermillion football star Jason Woodard, on the other hand, grew up in a state-run home and is struggling to make his athletic scholarship and all that goes with it mesh with his academic requirements. He too is about to finish but, having put off first year English composition, has to rely on the writing lab where Steve works for help with an essay about love. Since Jase says he's never encountered love, he can't figure out how to write his essay. As they talk about love, they discover two things: falling in love is easier than talking about it and nobody in the school's athletic program wants two guys to fall in love. When the abuse of athletes across the country comes to light, Steve realizes Jase too has been abused and needs more help than a tutor can give.
A Short Essay on Love
Pairing: M-M
November 18, 2020
Word Count:
22150
Character Identities:
Gay
Summary:
Abs Lust Bare Rejection: MM Desire #204
NAKED, COLD, NUMB - WANDERING, STUMBLING, LOST, ALL ALONE! HELP ME TY!!!
How long before Garrett dies of exposure and hypothermia? Ty's parents reveal insights he never suspected. Is Garrett and Ty's secret at risk? Hank, Garrett's father, cites Garrett's sexual orientation as reason to throw him out of the house. Garrett struggles to survive nude in frigid weather. Where is Ty when Garrett desperately needs him? By not dealing with Hank decisively, Ty makes a costly error destined to haunt the boys for a lifetime. So Ty must put everything on the line to save Garrett and a handsome nurse from Hank's wrath. But in whose bed will Ty sleep? Will Ty's love be lost forever? *This book contains explicit scenes of a gay sexual nature by consenting characters who are over 18 years of age. It is intended only for readers who are 18+ years of age. If you are underage or may be offended by this topic, do not purchase this book.
Abs Lust Bare Rejection
Pairing: M-M
September 1, 2020
Word Count:
23200
Character Identities:
Gay
Summary:
ABS LUST BEACH ROMP: MM Desire #207
NO TAN LINES BEACH!!!
Adjust your shorts over and over as Ty and Garrett take you on a sun worshiping beach romp. A community college gift sends the boys on a week long vacation to a very nice hotel on Clearwater Beach, FL. Find out what shenanigans two super hot sexy boys can get into on a clothing optional part of the beach during their first unsupervised trip away from home. Garrett and Ty explore a late night nude beach party only to find themselves with no clothes to wear. Then how do they get past security cameras to get back into their hotel room? For these two, love is in the air, in the sand, in the surf, in the shower, in their bed, and on their balcony. Tantalizing scenery and sizzling hot play things will keep you turning the pages… *This book contains explicit scenes of a gay sexual nature by consenting characters who are over 19 years of age. It is intended only for readers who are 18+ years of age. If you are underage or may be offended by this topic, do not purchase this book.
Abs Lust Beach Romp
Pairing: M-M, M-M-M, 4+ or Other
November 15, 2020
Word Count:
13,750
Character Identities:
Gay
Summary: RIPPED ABS AND HOT SEX, THE BEST DEFENSE AGAINST GAY BASHING! "The descriptions, the scenes, the mood... I lost count of the many times I got excited, aroused and wanted to be there with Ty and Garret." Kyler B. Warhol, book reviewer and blogger. A PICTURE IS WORTH A THOUSAND WORDS! HOT CHAPTER PHOTOS of seductive gay college guys set the scene for each chapter in this book engaging book! The paths of two incredibly hot college freshman cross when gay bashing ensues out of an incredibly embarrassing locker room moment. Now Ty finds himself torn between his lustful desires for, Gio, his handsome life long friend whom he frequently imagines as his naked gay play toy and, Garrett, the gorgeous guy laying nude in the bed next to him. Which path is more tangled, his gay friend who is already involved with someone else or the naked straight guy who might out him? Are the cruel tortures of fate to blame for putting him next to this stunning man whom he can't touch or was it just his subconscious erotic lust for another man's sexy abs? Will the stress of homophobic gay bashing and a simple act of human compassion lead to a sharing of closely held personal perspectives, secrets, and carnal desires? Should either young man allow himself to be that vulnerable? If you enjoy this arousing escapade, get the 8 book set, Abs Lust: MM Desire Series, All 8 Books, for 30% off of the individual book prices. *This book contains explicit scenes of a gay sexual nature by consenting characters who are over 18 years of age. It is intended only for readers who are 18+ years of age. If you are underage or may be offended by this topic, do not purchase this book.
Abs Lust Embarrassment
Pairing: M-M
July 17, 2020
Word Count:
19400
Character Identities:
Gay
Summary:
ABS LUST EXPOSED: MM Desire #206
HOT BOYS, SUPER HOT BODIES, ULTRA HOT NAKED ESCAPADES Two hot guys together after a college formal (Prom) cannot wait to get into each other's pants, but when will Ty and Garrett find themselves truly alone? Who is to say a bit of public exhibition or two won't provide enough fun to tide them over? In the back row of a late night movie, what can happen is limited only by the imagination. Oooh, the cinema usher is really hot too! I wonder what antics they can talk him into before he kicks them out. And how late will the hotel hot tub be open? These are all very important concerns on the night after a formal dance. Stay on the edge of your seat! Don't worry about missing the movie, but try not to make a mess! *This book contains explicit scenes of a gay sexual nature by consenting characters who are over 19 years of age. It is intended only for readers who are 18+ years of age. If you are underage or may be offended by this topic, do not purchase this book.
Abs Lust Exposed
Pairing: M-M, M-M-M
October 15, 2020
Word Count:
19,100
Character Identities:
Gay
Summary: EVERYTHING IS MORE FUN NAKED! ESPECIALLY HOMEWORK! - You never know what might be considered HOMEWORK. Sign up for the most erotic tutoring sessions ever! Who could be motivated to study if your dad perpetually told you that you are too dimwitted to succeed? In spite of Garrett's brilliance, he genuinely believes he is stupid. Who could be motivated to succeed in school when each day is a gauntlet of homophobic hazing by the school bully and your ex girlfriend? Garrett just wants to curl up and disappear. Consequently, Garrett is doing poorly in his community college classes and failing in Algebra. Desperately afraid his poor grades will bench him from the basketball team, Garrett still shows no interest in Ty's offer to tutor him. Garrett knows he is a lost cause and tutoring will just be frustrating and painful. No Thanks!!! However, Ty believes the best homework motivator is your boyfriend's anatomy. Can Ty's use Strip Algebra and Algebra For Sex to tease out excellence? You want this book in your library. Someday, you just might need Ty's lustful manipulations. *This book contains explicit scenes of a gay sexual nature by consenting characters who are over 18 years of age. It is intended only for readers who are 18+ years of age. If you are underage or may be offended by this topic, do not purchase this book.
Abs Lust Homework
Pairing: M-M
August 1, 2020
Word Count:
27200
Character Identities:
Gay
Summary:
ABS LUST PLAYER: MM Desire #208
…Here we were three weeks later.

 

Garrett and I were checking out the island as our plane dropped toward a private airstrip at the end of an island in the Caribbean. As we disembarked from the jet, a driver greeted us and prepared to take us to our accommodations. "Welcome, gentlemen.

 

I'm Casey.

 

I will escort you to the estate and serve as your butler while you are visiting us." "Great, I'm Ty." "And I'm Garrett.

 

Nice to meet you, Casey."

 

"I only saw one building on the island when we were landing.

 

Are there others?

 

How many people live here?" I asked. "There is only one home on the island.

 

There are several other security buildings and maintenance buildings, but we have them very well camouflaged.

 

The owner and his husband live in the home part-time.

 

They are in Europe right now.

 

The security force is here full time.

 

We protect his island extremely well," the driver explained.

 

Holy shit!

The house was only one story, but it was massive.

 

When dad described the place as sprawling, he very much understated the reality of the place.

 

The rooms were enormous, and the house seemed to stretch on forever. There was a sea of marble everywhere, including on the floors of the master bedroom.

 

The house extended out onto a point of the island.

 

One step below the floor level, an integrated assembly of patios, decks, and gardens surrounded the house on three sides.

 

A multitude of chairs, chase lounges, tables, and hammocks were available for our leisure. A long serpentine swimming pool about 20 feet wide with an infinity outer border surrounded the decks, patios, and gardens.

 

The water level was but four inches below the level of the patios.

 

Water from the pool spilled over the infinity wall at various points, creating waterfalls as it dropped some 30 feet into a second pool surrounding the three sides of the estate.

 

The lower pool was at least twice as wide as the upper pool.

 

This was the largest privately owned pool complex I had ever seen. When I saw the smooth 30 foot shear wall with a finely textured surface, I wondered if in fact it might serve a secondary role as a security feature.

Hmm, no way to free climb that wall with no lips or edges on the infinity pool for a grappling hook to lodge on.

 

And the finely textured surface would prevent the use of suction cups to climb it.

 

This has to be a security feature.

Palm trees highlighted the house, the pool, and the beach in various locations.

 

The lavish landscaping created a perfect ambiance for the stunning master bedroom.

 

Besides the largest bed I had ever seen in the largest bedroom I had ever seen, it was on the terminal end of the house facing the end of the point toward the West.

 

We enjoyed breathtaking sunsets every evening.

 

The architect of the place had definitely planned it well. Floor to ceiling windows formed three of the walls of the master bedroom, providing a gorgeous panoramic view.

 

Pushing one button caused all the glass walls to disappear, allowing a comfortable light breeze to waft through the room.

 

We were inside, but it felt like we were going to be sleeping right on the beach.

 

We could hear the endless crashing of waves on the shore below us. Casey, our driver, put our luggage in the closet of the master bedroom while we walked to the dinning room for dinner.

 

Since we found no one there, we went into the kitchen where the chef immediately garnered our attention.

 

He was stunningly handsome, sported a lithe physique, and was only about 25 years old.

 

His attire of a chef's apron and nothing else definitely shocked our expectations.

 

The truly gorgeous bare ass of a man who actively engaged in fitness training shined through the back of his apron. When he turned and saw the rather stunned look on our faces, he said, "Hi guys, I'm Jordy, your chef.

 

We heard you guys like to spend a lot of time relaxing au naturel.

 

Casey and I are kinda fond of a free lifestyle as well.

 

We figured if we relaxed our clothing standards, you would feel much more comfortable about skittering around here in the buff as well.

 

You are the only guests on the island for the duration of your stay, so dress up, dress down, or undress as you see fit.

 

We are here to serve your needs in any way we can.

 

No matter what you might need, just call on us anytime."

Is he suggesting what I think he is suggesting?

"Thank you," I said to Jordy just as Casey came strolling in wearing nothing but a butler's apron.

 

Garrett and I immediately looked at each other, and our eyebrows bounced in a silent communication between us.

 

Clearly, we were thinking the same thing.

 

The next two weeks were going to be our chance to recreate our three days of nudity when we first met. After we finished a wonderful dinner, we went to our bedroom and removed all of our clothes.

 

As we strolled naked through various rooms of the house to explore our accommodations, the warm glow of the sun falling rapidly toward the horizon suddenly caught my eye.

 

The amber rays reflected beautifully off of the highly polished marble floor in the great room.

 

Suddenly, I couldn't resist the urge to lie down on my back in the middle of that picturesque scene and pull Garrett down on top of me. He had his legs folded up at my sides and his chest resting against mine.

 

I held his sexy toes in my hands as we kissed lovingly.

 

In no time, my throbbing…
Abs Lust Player
Pairing: M-M
December 15, 2020
Word Count:
19,400
Character Identities:
Gay
Summary:
ABS LUST PROM: MM Desire #205
PLAY NAKED! MAYBE YOU'LL GET CAUGHT!
Prom night essentials for great sex include super HOT boyfriends with great abs, great tushies, sexy feet, stunning smiles, and tantalizingly erotic tux attire. Ty desperately wants to take Garrett to the prom as his date, but neither wants to be out to classmates. This year's prom needs to be special, so Garrett manipulates this event in their favor. Special T-shirts with favorite sayings enhance the mood. Find yourself on the edge of you seat doing your best to ease your desires as Garrett allows Ty to relive what now seems like a wet dream premonition from a past… *This book contains explicit scenes of a gay sexual nature by consenting characters who are over 18 years of age. It is intended only for readers who are 18+ years of age. If you are underage or may be offended by this topic, do not purchase this book.
Abs Lust Prom
Pairing: M-M
September 15, 2020
Word Count:
20,750
Character Identities:
Gay
Summary: SEXY COLLEGE BOYS PLAYING NAKED IN A WINTERY HOT TUB? HMM! YUM!!! SO HOT IT WILL MAKE YOUR CARROT GROW TOO! - Although acquainted for several years, Ty and Garrett only recently came to know each other. Why had Ty never realized how adorable Garrett is? Now Ty can't take his eyes off of him. Everyone knows blizzards are great for snowmen and sex! Garrett loves the snow and becomes truly giddy when the first flakes fly. The biggest blizzard of their lives traps Garrett and Ty alone at Garrett's house. Garrett hopes the storm will provide a perfect opportunity for Ty to help him explore his gay urges, as well as learn a few tricks. Garrett's big questions are whether he is straight, bi, or gay and once he knows, will he tell the world or keep it to himself? Will Ty satisfy Garrett's erotic urning? "This book made me smile several times, but it is also highly arousing and provocative. Who knew a snowstorm could be this hot? Abs Lust Snowmen Play Naked gave me many good times, if you know what I mean." Kyler B. Warhol, book reviewer and blogger. *Explicit scenes portray gay sexual situations by consenting characters who are over 18 years of age. It is intended only for readers who are 18+ years of age. If you are underage or may be offended by this topic, do not purchase this book.
Abs Lust Snowmen Play Naked
Pairing: M-M
July 17, 2020
Word Count:
105,980
Character Identities:
Bisexual, Gay, Genderfluid, Questioning
Summary: Olympic-size dreams come at a price. Openly gay college swimmer Ian Harrington feels like he's fighting against a current of tragedy. He's grieving the loss of his parents and best friend, and now he's dealing with a toxic coach and judgmental brother. But he won't let that stop him from chasing his dream: Olympic gold. Ricky Chavez has just about everything he wants in life: a great career, a supportive family, and a side gig as drag queen Rosie Riveting. The only thing he's missing is a partner to share it all with. When the two men connect after Rosie's performance, they're immediately drawn to one another. But it's never that simple. Ricky isn't the type of man to hide, and with Ian's coach breathing down his neck, he can't openly love a drag queen without making waves. They'll have to brave deep waters to make it to the finish line.
Advance & Retreat: The Midwest Series Book 4 - Ian & Ricky)
Pairing: M-M
July 14, 2020
Word Count:
149,000
Character Identities:
Bisexual, Gay
Summary: The star of the University of Virginia theater department, Aidan Emery is lusted after and admired for living out and proud. He uses his talent and good looks to his advantage and never sleeps with the same guy twice. But his glamorous patina has been carefully honed to hide the pain he carries inside. Aidan wasn't always such a player. He starts college naively romantic, hungry for the attention he can't get from his workaholic father and mentally ill mother. Unfortunately, that leaves him ripe pickings for predatory professor Rodney Montgomery. Rodney's flattering regard seduces Aidan into a dysfunctional relationship that destroys his innocence. Life looks up for Aidan when he finally breaks free of Rodney's pull and moves to New York City to make it as an actor. Meeting sweet fellow actor Patrick Jaymes seems like the start of a fairy tale. But before Aidan can rebuild his life into happily ever after, family secrets rip him wide open, leaving him easy prey when Rodney decides he's not willing to let Aidan go.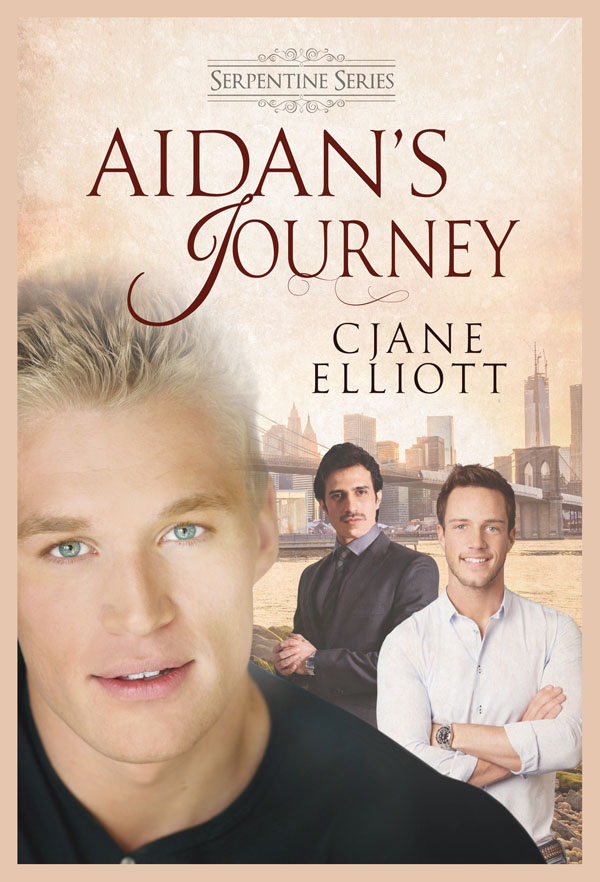 Aidan's Journey
Pairing: M-M
October 15, 2014
Word Count:
18000
Character Identities:
Bisexual, Pansexual
Summary: Alfie Adams comes at life sideways. After unexpectedly losing his job in television, and having the script he's worked so hard on unceremoniously dropped, Alfie turns up at his oldest friend, Jam's, birthday party drunk, pretty sure his world has ended, and that he's about to hit rock bottom with a bone-cracking thud. But it's funny how Jam's little brother, Benji, seems to know exactly what Alfie needs. For the past twelve months Alfie has thrown himself into his job and tried hard not to think about beautiful punk-loving Benji—tried not to see how the sweet kid he used to look out for, and who used to trail so adoringly after him, has grown up into a big lad with an even bigger heart. As Alfie sobers up, he begins to see things with a new perspective, and Benji has his full attention. If only Alfie can admit what it is he wants.
Alfie Adams Comes At Life Sideways
Pairing: M-M
October 4, 2019
Word Count:
76000
Character Identities:
Gay
Summary: For Andrew Tuttleman, sex is a means to an end. With a mother too sick to pay the bills on her own and college bills to pay, Drew has spent years resorting to sex with strangers to keep a roof over his mother's head and keep himself at school, far away from the hell where he grew up. This summer, his usual tricks are still paying the bills. But there's a new one, Grant, who never got the memo that a trick is a no-strings deal. Convinced that Drew is the answer to a hopeless prayer, Grant seems ready to pursue Drew to the ends of the earth. Drew, on the other hand, isn't so convinced. Grant comes with trouble in the form of a wife and three kids, not to mention a single and unwavering requirement: that Drew give up his livelihood. Grant's kiss makes Drew ache for more, a romance that he never dreamed possible. He finds himself unexpectedly willing to try. Can Drew weather Grant's angry father, wife, and a daughter determined to kick him in the shins so hard that he'll leave Grant's life forever? It all relies on Grant's faith in an impossible prayer.
Andrew's Prayer
Pairing: M-M
September 27, 2017
Word Count:
32723
Character Identities:
Gay
Summary: Bryce Harkless is unapologetic. He's raw, rude and arrogant but sweet, gentle and loving. He's a sexy college basketball player from Savannah, GA that everyone loves and wants to sleep with. His life, however, is full of conflicts. He is haunted by the past, yet afraid for the future. He loves his boyfriend, but hates him, too. To avoid facing his troubling past, he lies, cheats and engages in risky behavior. There are layers of pain inside of Bryce that are destined to destroy his life if he doesn't learn how to face them and move on. He was raised in the church, but he doesn't understand God's reasoning for treating him the way he does. He doesn't want to be gay, but women do nothing for him. In turn, he blames God for everything. He hates God. The month of March is the hardest time of the year for Bryce. During this time, he is forced to deal with an event from his past that shattered his young life into pieces. As if dealing with that situation isn't hard enough, an incident involving another man raises questions about his sexuality in the mind of his beloved auntie. However, everything comes to a screeching halt in just one phone call. There, he gets the news that undermines everything else. Come along for the ride in this novella, as the next few days are destined to turn Bryce's already rollercoaster life, even more upside down!
Bad Religion
Pairing: M-M
March 22, 2014
Word Count:
32518
Character Identities:
Gay
Summary: It's been three gut-wrenching days since Bryce received that life-changing phone call in Savannah. He has avoided dealing with the situation, but now that his spring break is ending, he has no choice but to attack and face his truth as he heads back to his college apartment in Atlanta. To Bryce, all of life's issues are hitting him at once. If dealing with the reality of that phone call wasn't bad enough, his closest family members are directly and indirectly questioning him about his sexuality. His conscience is eating him alive as a result of the decisions that he's making. To add insult to injury, his pastor accuses him of something unimaginable. All of this brings Bryce's internal conflict with God to an all-time high, leaving him at the point of no return—emotionally, mentally and physically.
Bad Religion 2: A Sinner's Denial
Pairing: M-M
August 23, 2014
Word Count:
46584
Character Identities:
Gay
Summary: It's summer 2016 and two years have passed since we've last seen Bryce Harkless. He has moved past that devastating but eventual false diagnosis, but has much changed in his life? Is he still doing the harmful things that caused that initial life-changing scare? As Bryce prepares to head into his senior year of college, he plans a relaxing vacation to travel up the east coast with his best friend. Something unexpected happens while on the trip, so they alter their plans and head to the Midwest. While on that journey, Bryce encounters another life-shattering event that will shake him to his core. This unforeseen circumstance will force Bryce into a decision that'll allow him the opportunity to seek vengeance for a previous wrong done to his family. Will Bryce do what his church upbringing taught him and leave it in God's hands, or will he go out and do his own thing? Where will his relationship with God stand when the dust clears? Jaxon Grant, author of the "Incidental Contact" and "Life of a College Bandsman" series, pens a masterfully woven tale of adventure, crime and consequence, lust, secrets, exploration, revenge and mind-blowing sex. In the final book of this trilogy, join Bryce on this two-week voyage as he learns the hard truth about himself—the truth that maybe he isn't even ready to discover.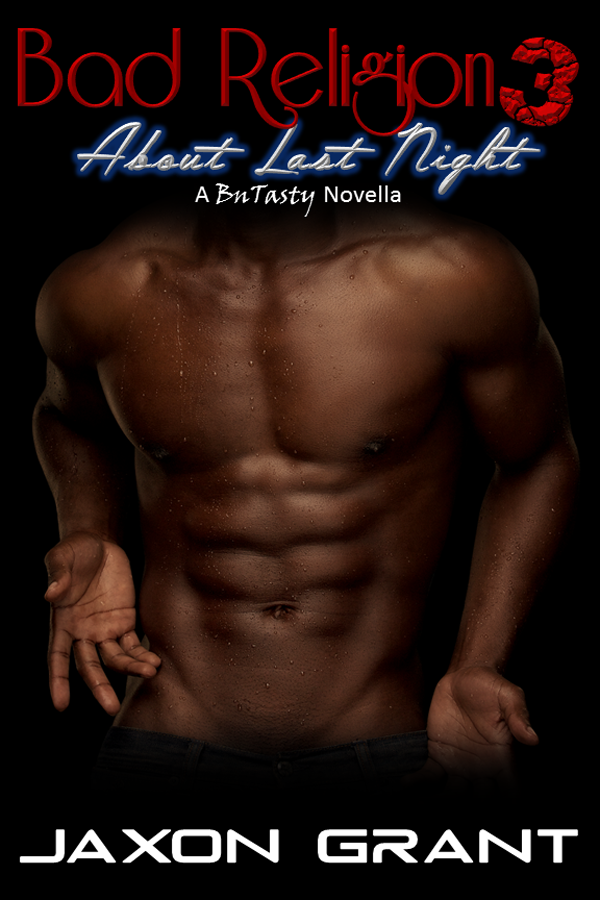 Bad Religion 3: About Last Night
Pairing: M-M
May 22, 2017
Word Count:
75000
Character Identities:
Gay
Summary: Rory Graeble returns to college determined to reinvent himself. Too many years have been wasted with masks, but becoming a student leader is a step Rory isn't sure he's ready for. A new identity takes more than just a new nickname, and Rory knows he has to take the chances that his old self would never risk. When that chance is a party that ends with an anonymous hot skater's tongue down his throat and a phone number in his pocket, Rory knows what he has to do. Danny Smits never expected to see stuffy lit geek Rory Graeble trying to be out, trying to be proud, trying to be… Rory. It's damned sexy, and too much for the entrepreneurial skater to resist. When Rory calls him back the day after the party, Danny knows Rory has changed. But will Danny's haunted past deter Rory? Or will Rory embrace the chance to experience everything the closet had stolen away? Danny believes in keeping things real, in a brutal honesty he knows means Rory will run screaming. But this time Rory isn't running.
Becoming Rory
Pairing: M-M
January 31, 2018
Word Count:
102700
Character Identities:
Bisexual, Lesbian, Questioning, Pansexual, Polyamorous, Straight
Summary: I never wanted to be queen. But I won't let just anyone take my place. Or my men. To defeat the Unseelie, our allies need their long-lost magic, and that means someone has to become queen. I had to leave both of my lovers behind in the human realm, and I can't return to them until I find someone worthy of the throne. Of course, nothing is ever easy, and I embark on a desperate plan to save the Fae by helping my fellow heir. Along the way, I'm drawn to another potential lover, even though we both know he should be off-limits. To become queen, Una needs one final consort, and she chooses one of my handsome, powerful guards. Suddenly, I'm not willing to surrender him. But who am I to stand in the way of our future queen? Note: 18+ only. In the six-book Our Fae Queen series, Glori will find limitless love with multiple Fae. Steamy group scenes in later books involve MFM, FMM, and MMFMMM. All intimate encounters are consensual. Mayhem. Magic. Romance. Expect unusual shapeshifters, new love and friendships, surprising betrayal, and two uncertain heirs finding their way in Bound to the Queen, the exciting third book of this new adult Why Choose romance and a turning point for Glori.
Bound to the Queen
Pairing: M-M-F, 4+ or Other
July 30, 2021
Word Count: Information not available
Character Identities: Information not available
Summary: WHAT CAN YOU DO WEARING ONLY A BOW TIE? Parker becomes more anxious with each passing minute as his desire to play with the guys overwhelms his principled reservations. Will Ty and Xander's steady hands be enough to get Parker through this shaky hormone surge? The university president acknowledges his trust in Xander and Ty, but he still refuses to reveal all he knows about their situation. If he continues to withhold information, does he really think Xander will suddenly start wearing clothes? Xander has a new scheme to make big bucks wearing his favorite bow tie. Reluctantly, Ty has to go along just to keep Xander safe. Is it crazy, fun, or both? A question to ponder: Will coaching Parker's exploration of his sexuality result in damage to Xander and Ty's relationship? *This book contains explicit scenes of a gay sexual nature by consenting characters who are over 18 years of age. It is intended only for readers who are 18+ years of age. If you are underage or may be offended by this topic, do not purchase this book.
Bow Tie Bois
July 19, 2022