Word Count:
37,000
Character Identities:
Gay
Summary: Sheriff Avery O'Rourke has tried to obey his strict Christian faith and lead a "normal" life. In 1923 in a rural East Texas town, "normal" means heterosexual. A cholera outbreak has made Avery a young widower, so he is married to his job. When a murder investigation forces him to confront his truth, will he finally be able to accept being gay? Veterinarian Garland Sands has returned from Europe to take over his father's practice. Struggling with shellshock (PTSD) and heartbroken by the suicide of his French lover, he resigns himself to a quiet, solitary life as a country vet. But the murder of the town doctor brings the sheriff to Garland's doorstep looking for help with the investigation. Seeing Avery awakens dormant feelings. Can he love a man who hates what he is? This isn't the lavish 1920s of The Great Gatsby. This is the flip side of that coin—rural East Texas. No electricity. No indoor plumbing. No flappers. In 1923, the timber barons have left and racism, homophobia, and sexism thrive. A Little Sin is a realistic mystery with unlikely heroes and a timeless romance between lovers caught in a world where their love is forbidden. This book contains steamy sex scenes and is intended for adults only.
A Little Sin
Pairing: M-M
February 24, 2018
Word Count:
47832
Character Identities:
Gay
Summary: A Hampton Road Club story. Angelo wonders if the Hampton Road Club will offer him a new beginning and whether he can love two men at the same time. Angelo escaped his family's farm to be with his first and only love in Los Angeles. He meets up with him at Walter's speakeasy, but their reunion is short-lived when Angelo discovers that his lover is embracing the Roaring Twenties with as many men and as much hooch as he can. With nowhere to stay and no job prospects, Angelo faces an uncertain and scary future. Ex-prizefighters Bruce and George enjoy their employment at the Hampton Road Club for more than one reason. They can indulge in their passion for sadomasochism and search for the boy who will be the submissive they keep forever. Unfortunately, none of the men at Hampton Road are good prospects. When they run into a forlorn Angelo in the alley outside a speakeasy, their protective instincts kick in. But will they want to do more than just protect Angelo? And will the shy and inexperienced man embrace a lifestyle he never knew existed?
A New Beginning For Angelo
Pairing: M-M-M
July 10, 2018
Word Count:
110000
Character Identities:
Gay
Summary: Welcome to another place in time...where one can be swept away into lands and eras long forgotten. This collection of short stories was birthed because a sworn "I don't like historicals" reader fell in love with what have become some of her favorite books by most of her favorite writers. Surprisingly, they were all historicals. Determined to make others feel the love, these authors were asked to contribute small tastes of how amazing historical storytelling can be. Along with a foreword written by Alex Beecroft, enjoy these original short stories that make up "Another Place in Time". Office Romance by Tamara Allen The post-war economy is at a standstill, much like Foster Wetherly's life until he's forced to do battle with irritatingly confident—and competent—fellow ex-doughboy Casey Gladwin for a position in their shrinking department at Manhattan Security Mutual. Introducing Mr. Winterbourne by Joanna Chambers Lysander Winterbourne appears to lead a charmed life. Handsome, amiable, and a renowned sportsman, he is the darling of London society. As far as Adam Freeman is concerned though, Lysander is just another spoiled aristocrat. A wealthy mill owner, Adam has no time for the frivolous world of the ton, but when his younger brother becomes engaged to Althea Winterbourne, he reluctantly agrees to be introduced to society–with the Winterbourne clan's golden boy as his guide. Resigning himself to a few days of boredom, Adam is surprised to learn that there is much more to Lysander than his perfect surface. But will Adam have the courage to introduce Lysander Winterbourne to his own secret self? The Ruin of Gabriel Ashleigh by KJ Charles Lord Gabriel Ashleigh is a ruined man. Last night he lost everything at the card tables to his brother's worst enemy, notorious gambler Francis Webster. Tonight, he's going back for one more game. Ash thinks he has nothing left to lose. But Francis sets the stakes, and they're higher than Ash could have imagined… Two Regency bucks. One game of cards. Everything to play for. Unfair in Love and War by Kaje Harper Many men lost brothers overseas in the summer of 1944. Warren Burch was one of them. For months he still clung to his big city life in Philadelphia, but finally he's made the difficult choice to return to his home town. Warren's polio-stricken leg won't let him serve, so the least he can do is be there for his mother, when brother Charlie never again will. Arriving home means a whole new life, constrained by the rhythms and prejudices of a small town. Fortunately, it's made more interesting by the mysterious and attractive young man next door. Carousel by Jordan L. Hawk When a child goes missing, is it a simple case of a young runaway, or are more sinister forces at work? "Carousel" is part of the Whyborne & Griffin series and takes place between the events of Stormhaven and Necropolis. It can be read as a standalone. Deliverance by Aleksandr Voinov This is a re-vamped, re-edited, improved version of "Deliverance". It's about William Raven, a templar, who thought he'd escaped his past. (Same character as in "The Lion of Kent".)
Another Place in Time
Pairing: M-M
October 1, 2014
Word Count: Information not available
Character Identities:
Gay
Summary: The only way to survive as a witch during Prohibition is to keep your head down. That's what Michael's been doing: his old ways of bending people's will to suit his whims are long over. Until notorious Mafia leader Cesare Pastore kidnaps him and binds him, all in a plot to bring a detective to his knees. Now Michael has to figure out how to fulfill Cesare's request, without becoming superfluous in the process. This 30k novella features dark themes and unhealthy relationships.
Binding Breath
Pairing: M-M, M-M-M
January 31, 2020
Word Count:
98000
Character Identities:
Bisexual, Straight
Summary: Six Dark Noir stories from Bill Kieffer's Aesop's World (anthropomorphic people) appear in this collection. Four of these stories are previously unpublished.
Shepard (previously unpublished): It's post Prohibition New Amsterdam and the world is full of conspiracies, syndicates, and crackpot cults. Cops have to be tough. Shepard is as hard headed and as hard hearted as they come. He has just one soft spot, an impossible love for Lynne Black, now married to a childhood friend. When Lynne calls to say her youngest boy was kidnapped, he drops everything to get the boy back. The boy that should have been his.
Brooklyn Blackie and the Dudeless Dude Ranch (previously unpublished): Blake Black is a former beat cop who also happens to be a cunning linguist with a lot of baggage. He goes to Las Vegas in search of a missing woman. Between public sex acts and fighting with his ex partner, the Wolf-Dog hybrid realizes the woman he's been chasing is more than likely dead and not a woman...
Brooklyn Blackie and the Rainbow in the Dark (unpublished): When a Dragon is fatally shot on his office steps, Brooklyn Blackie has to work with a Terrier detective that "heard things" about the Wolf-Dog and believes Blackie might be a vigilante. Despite his homophobia and (justified) suspicions of Blackie, he keeps the Hybrid close to keep an eye on him and take full advantage of his polyglot skills. This story explores the religion of the Chromatics.
Brooklyn Blackie and the Unappetizing Menu (Inhuman Acts, 2015): Out of funds, and ready to take an insurance job rather than starve, Brooklyn Blackie visits his closest Reptilian friend, Dice, to boost his spirits. Instead, he finds a tenement building of full of dead Repts, supposedly frozen to death. No one will believe that it was murder but the weirdo tenement owner. The Warm Blooded police force want to keep the case open only long enough for the coroner to sign the paperwork. But everything turns on a loose piece of coal, leading the Wolf-Dog down a darker path than simple murder, leading him down a world where cannibals wear tuxedos and dine in the darkest shadows.
Brooklyn Blackie and the Reverse Badger Game (unpublished, mature): Things are looking up for the bisexual Wolf-Dog and he's ready to start a life with his Otter and his Bitch. The Otter is mobbed up, but, he has an exit plan that will keep them all safe. And the first step is gang-raping Brooklyn Blackie to prove to his crew who the top dog really is.
Unbalanced Scales (Roar 7, 2016): Rap stars like St. George and Dr. Ice are on the cusp of making millions in record deals... and if they don't kill each other first, it might be the start of a new dynasty.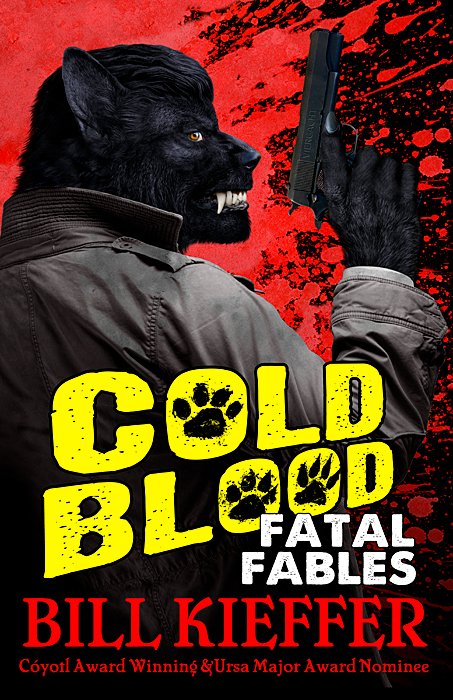 COLD BLOOD: Fatal Fables
Pairing: M-F, M-M, M-M-F
May 7, 2018
Word Count:
59357
Character Identities:
Gay, Questioning
Summary: Gay retro with a twist Two unlikely men meet in 1923 Ireland. Michael McCree seems to be a newspaperman, running from a past in Boston. He's a lover of men and a drinker of whiskey, and yet one with some surprising depths and one huge secret. Simon Hart is a surly, angry, altogether closeted and touch-me-not fellow, a Cambridge-educated private investigator whose business partner has been murdered. He meets Michael in a newspaper shop when turning in an obit notice. They clash. Fisticuffs fly. And before Simon knows what's happened, he's gained a new flat-mate, a new business partner, and a wanna-be lover. It's the "wanna-be" that drives the present story…and all that follow. First of the 5 Gaslight Mystery novels.
Heart to Hart
Pairing: M-M
April 1, 2016
Word Count:
57200
Character Identities:
Gay
Summary: Sam might be innocent, but the Roaring Twenties aren't… Sam is used to living with lots of secrets. He's always had to hide who he is or else incur the wrath of his strict and abusive father. After he's faced with a horrible ultimatum, he flees to Hollywood where he hopes he can escape the specter of his miserable upbringing. Aaron is a wealthy, sophisticated man who loses himself in painting portraits of bound men to stave off his loneliness and despair. Unable to find a lasting connection with anyone, he has resorted to paying lovers so he can indulge in his darker passions. Aaron's only respite is the Hampton Road sadomasochism club where he's a respected Dominant. Naïve in the ways men can please one another, Sam takes a job at a bathhouse where he first glimpses a handsome older man. Aaron has his interest sparked when he spies a shy towel boy watching him whenever he patronizes the Temple of Eros. When a traumatic event triggers Aaron's protective nature, he rescues the gentle Sam from the clutches of the disreputable establishment's manager. As their bond deepens and Sam is trained for his first night at the Hampton Road Club, an unknown danger lurks. Will Aaron's heart be crushed once again? Publisher Note: This book was previously published under the same title with a different publisher. It has been reedited, revised and expanded.
Hesitant Heart
Pairing: M-M
October 27, 2018
Word Count:
55689
Character Identities:
Gay
Summary: Gay retro with a twist For PIs Michael McCree and Simon Hart, life has become…if not humdrum, then unusually calm. Routine cases, daily training with their band of back-street urchins, the incessant games of sex and innuendo—all of it takes on a keener edge when they learn that an arch enemy has somehow slipped through a crack in Ireland's Old Chokey Prison. Instead of quietly leaving the country, their implacable opponent is out for blood…namely, the blood of two sleuths named Michael and Simon. The enemy is desperate, and greedy too. Some of the the ones fighting alongside the PIs are excellent, some are rather good, and a few are outright dishonest. Nothing stirs their imagination and, um, base instincts like raw danger. Both men find themselves sliding into more than one crack in the Roaring Twenties city of Dun Linden as they alternately evade and pursue, duck and dodge, parry and thrust—starting in the bedroom of their own Victorian flat.
Into a Crack
Pairing: M-M
May 19, 2021
Word Count:
151000
Character Identities:
Gay, Non Binary
Summary: Queer British Lovecraftian historical romantic suspense set in 1920s London. Lew Tyler is dragged from 2016 to 1920 by an accident with border magic whilst he's searching for his missing friend. He's struggling to get to grips with life a century before he was born.  Detective Alec Carter is trying to solve gruesome murders in his patch of London, weighed down with exhaustion and a jaded attitude to most of his fellow humans after four years of war. In the middle of a murder investigation that involves wild magic, mysterious creatures and illegal sexual desire, will Alec and Lew work out who is safe to trust? Sergeant Will Grant, Alec's right-hand man, is drawn to the mysterious Fenn. Is Fenn a man or a woman? Does Will care? And Fenn…Fenn has a secret. They live beyond the border between 1920s London and the magical Outlands and they need to get home. Are they prepared to achieve that by double crossing Alec, Will and Lew? Two couples hold the fabric of reality in their hands. Will it make them or break them? Buy London Calling now if you like murder, time-travel, grumpy detectives, the blues, magic, gay romance, m/enby romance, tea and not-quite-elves. It features Lost in Time, Shadows on the Border & The Hunted and the Hind (which are also available in audio and on sale at Authors Direct!)  "Wow, what a read… time-travel, fantasy, murder, MM-romance… everything I like, rolled in to one!"
London Calling Box Set
Pairing: M-M, M-NB
March 4, 2022
Word Count:
75000
Character Identities:
Demisexual, Gay
Summary: A dancer who cannot dance and a doctor who cannot heal must find in each other the strength to love.  History books will call it The Great War, but for Benjamin Holm, that is a misnomer. The war is a disaster, a calamity, and it leaves Benjamin profoundly wounded, his mind and memory shattered. A year after Armistice, still struggling to regain his mental faculties, he returns to Paris in search of his closest friend, Elias. Benjamin meets Louis Donadieu, a striking and mysterious dance master. Though Louis is a difficult man to know, he offers to help Benjamin. Together they search the cabarets, salons, and art exhibits in the newly revitalized city on the brink of les années folles (the Crazy Years). Almost despite himself, Benjamin breaches Louis's defenses, and the two men discover an unexpected passion. As his memory slowly returns, Benjamin will need every ounce of courage he possesses to recover Elias's story. He and Louis will need even more than that to lay claim to the love – and the future – they deserve.
Lost & Found
Pairing: M-M
October 4, 2019
Word Count:
56715
Character Identities:
Gay
Summary: Gay retro with a twist There is something evil afoot in the growing city of Dun Linden, Ireland (1924) where private dicks Michael McCree and Simon Hart have a PI agency. No one has hired them this time, as they find their neighbors and their own tiny spy network in grave danger from a group of thieves who would rather slit a throat than pick an honest pocket; and an old nemesis who has a score to settle with both of them. When the peril grows too grave for two men to handle, they call on a few trusted friends and some unusual weaponry to help in a case where they are outnumbered—but never outwitted. The always-edgy partnership of the two investigators also undergoes some twists and turns …of fate and canes alike. Even Simon is surprised to discover the true masters of cane in this novel of sex, crime, and punishment. The fifth Gaslight Mystery novel
Masters of Cane
Pairing: M-M
January 26, 2016
Word Count:
55000
Character Identities:
Gay
Summary: In the Junior students' dormitory at Oakschott Hall, a heavy gaslight falls from the ceiling, crushing the head of a student sleeping beneath it. Was it simply a tragic accident? To avoid publicity, the Headmaster asks Colin Revell, a young Oxford University graduate and former Oakschott student, to quietly investigate. While interviewing the faculty and staff, Colin meets Max Lambourne, a handsome don who was wounded and gassed in WWI. When Colin tries to help Max overcome his trauma and depression, the two men fall in love and begin an erotic affair. But when another student dies—diving at night into an empty swimming pool—murder is suspected. Students and faculty all come under suspicion, and rumors proliferate when Scotland Yard intervenes. Meanwhile, during all this confusion and wild theories, the murderer sees Colin and Max as threats. Unbeknownst to the two lovers, their lives are now in danger. Warning: This book contains sexually explicit material—graphic language and homosexual relations between adults—which may offend some readers.
Murder at Oakschott Hall
Pairing: M-M
February 19, 2019
Word Count:
38352
Character Identities:
Gay
Summary: A chance meeting they never forgot. Six years after meeting British soldier Aiden Foster during the Christmas Truce of 1914, Jochen Weber still finds himself thinking about Aiden, their shared conversation about literature, and Aiden's beautiful singing voice. A visit to London gives Jochen the opportunity to search for Aiden, but he's shocked at what he finds. The uniform button Jochen gave him is the only thing Aiden has left of the past he's lost. The war and its aftermath ripped everything away from him, including his family and his music. When Jochen reappears in his life, Aiden enjoys their growing friendship but knows he has nothing to offer. Not anymore. Author's note: This story was originally published in 2014 by another publisher. This edition has some added content, and uses UK spelling to reflect its setting.
On Wings of Song
Pairing: M-M
March 1, 2020
Word Count:
53,500
Character Identities:
Gay
Summary: Some rules should never be broken… The year is 1926 and as one of the founding members of the Hampton Road Club, Master Saul has enjoyed the charms of many willing submissives over the years. But the club's newest boy—the tall, muscular Kenneth—captures his attention more than any man has for a while. If only Kenneth didn't belong to another Master. After Kenneth's Master died, he allowed himself to be lured into a relationship as Master Preston's slave. As time went on, Preston became crueler to the point where Kenneth now fears for his life. When Preston joins a sadomasochism club, Kenneth begins to yearn for the handsome, older Master the other boys speak so highly of. But he despairs of ever escaping the clutches of Preston, so resigns himself to his miserable fate. Amidst turmoil at the club over whether there should be rules to keep the boys safe and in light of Preston's play for power, Saul searches for a way to save Kenneth from what he's sure is a deadly situation. However, there are several club members who refuse to give up the old traditions and insist that no restrictions be placed on their playtime. Saul might be desperate to protect an abused submissive from a vicious Master, but Kenneth is Preston's property and he swears he'll never let him go. Can Saul rescue Kenneth from a madman, or is it already too late? Publisher Note: This book was previously published under the title The Rules of Love with a different publisher. It has been re-edited, revised and expanded. Rules of Love is Book 2 in The Hampton Road Club series, with a satisfying HEA and no cliffhanger. This installment can be read alone, but is best enjoyed after Hesitant Heart (The Hampton Road Club 1). Trigger warning: On page physical and verbal abuse, attempted assault, a scene of violence and mention of suicide.
Rules of Love
Pairing: M-M
Word Count:
96200
Character Identities:
Gay
Summary: When tailor Marvin Gottschalk abandoned New York City for the brash boomtown of silent-film-era Hollywood, he never imagined he'd end up on screen as Martin Brentwood, one of the fledgling film industry's most popular actors. Five years later a cynical Martin despairs of finding anything genuine in a town where truth is defined by studio politics and publicity. Then he meets Robbie Goodman. Robbie fled Idaho after a run-in with the law. A chance encounter leads him to the film studio where he lands a job as a chauffeur. But one look at Martin and he's convinced he's likely to run afoul of those same laws—laws that brand his desires indecent, deviant... sinful. Martin and Robbie embark on a cautious relationship, cocooned in Hollywood's clandestine gay fraternity, careful to hide from the studio boss, a rival actor, and reporters on the lookout for a juicy story. But when tragedy and scandal rock the town, igniting a morality-based witch hunt fueled by a remorseless press, the studio brass will sacrifice even the greatest careers to defend their endangered empire. Robbie and Martin stand no chance against the firestorm—unless they stand together.
Silent Sin
Pairing: M-M
March 3, 2020
Word Count:
45000
Character Identities:
Gay
Summary: The Legend of the Ghost Train Today, people say that on a quiet night in the mountains of Virginia, Tennessee, and Kentucky, you can hear the far off shriek of a locomotive whistle and the rumble of the train's cars as they clamor across the tracks. The legend claims the train moves through the valleys and mountains searching for lost souls that need a lift to the other side. In the early Twentieth Century, railroads were not only a way to transport people, they also carried all types of goods across the country. Lumber from the forests of Tennessee, coal from the mines of Kentucky, and tobacco from the fields of Virginia were just a few of the industries that depended heavily on the railroad system. Even the Vanderbilt's built a train system to carry the products needed to construct the great Biltmore Estate. The Legend of the Ghost Train series will carry you off to a simpler time before WWII and the Great Depression. It's about the love between two men that wasn't spoken of and ghosts of past loves that still linger in the mountains. Some haunt the living looking for a loved one. Some want revenge for wrong doings. And, others are evil and will stop at nothing to repeat the past and kill again. Jesse Lawson was never afraid of the strange and unusual dreams he had. But lately, they were becoming darker leaving him with a need to discover why he was having them. He believed he would find answers at the site of logging camps in The Great Smoky Mountains. His great grandfather had lived and died there, and Jesse was sure it was Jackson Douglas haunting him. Carter Thompson never knew his great great uncle George Thompson, but he inherited his land, home, and money. George had come here to America to find work in the lumber camps. Meeting Jesse Lawson was about to turn his world upside down. Jesse's dreams somehow involved Carter, and the more they searched the closer they became. George left journals that could clear up many mysteries, including Jackson Douglas's death. Now it seemed that something was trying to destroy Carter and Jesse's growing attraction to each other. Whoever it is will stop at nothing to keep them apart, even if they have to repeat the past to do it.
Smoky Mist
Pairing: M-M
January 27, 2020
Word Count:
61654
Character Identities:
Gay, Questioning
Summary: Gay retro with a twist Something about Simon Hart's new PI partner Michael McCree—not to mention his secret vocation—invites trouble. Simon finds himself sparring with shadows: in the hidden bedrooms of a roaring twenties version of a gay bar…as a chained wall decoration in the flat of a thief and sexual deviant…as the quarry in a deadly confrontation in an exhibitionist's bed…and finally in a sewer tunnel beneath the streets of a 1923 city somewhere in Ireland. Above all, Simon is sparring with the shadow of his own secret urges. Michael will not allow him to turn away from a kind of private investigation of which he has not even dreamed, until now. Follow a fastidious, surly investigator and his randy yet secretive partner through the very cracks in a city of gaslights and vintage motorcars, into a hidden homosexual culture, as both men find themselves sparring with shadows. Second of the 5 Gaslight Mystery novels
Sparring with Shadows
Pairing: M-M
April 4, 2016
Word Count:
50,100
Character Identities:
Lesbian, Pansexual
Summary: The quiet village of Bradfield should offer Dr Sylvia Marks the refuge she seeks when she returns home from her time in a field hospital in France in 1918. However, she is still haunted by the disappearance of her ambulance-driver lover two years previously ,and settling down as a village doctor is more difficult than she realised it would be after the excitement of front-line medicine. Then curious events at a local farm, mysterious lights and a hallucinating patient's strange illness make her revisit her assessment of Anna's death on the battlefield. Lucille Hall-Bridges is at a loose end now her nursing work is finished. She felt useful as a nurse and now she really doesn't know what to do with her life. She hopes going to stay with her friend Sylvia for a while will help her find a way forward. And if that involves staying at Bradfield with Sylvia…then that's fine with her. Will the arrival of Lucy at Bradfield be the catalyst that allows both women to lay their wartime stresses to rest? Can Sylvia move on from her love affair with Anna and find happiness with Lucy, or is she still too entwined in the unresolved endings of the past? The first in the Bradfield trilogy, set in the Border Magic universe. See all the books on my website. CW: Mention of domestic violence.
The Fog of War
Pairing: F-F
August 14, 2021
Word Count: Information not available
Character Identities:
Bisexual, Gay, Genderqueer, Questioning, Straight
Summary: It was 1915.  Jack Walker had just arrived from Kansas City and the wild world of New York was just a little intimidating. Still in the train station, he met Gael McNeil, an Irishman of questionable repute. The love that grew between them would carry them through WWI, Prohibition, the Great Depression, and all the way to 1974.  The story is presented as a serial.
The Moon's Permission
Pairing: M-M
June 11, 2019
Word Count:
67429
Character Identities:
Gay
Summary: During the War to End All Wars, Roddy Sayer survived his trip down the Ruzizi with his beloved, Charlie Pearson. He survived the sinking of the Konigin Marie Christine he and Charlie engineered. But now it's 1922, his beloved is dead after working on a dig in Egypt to unearth royal tombs, and Roddy is alone, with odd, erotic dreams of an Egyptian prince ensnared by the machinations of a high priest. Is he losing his mind? Thomas Fortescue-Smythe, who flirted with Roddy and made advances toward him before, finds him again. Tommy persuades Roddy to come to his family home in England, and eventually, to share his bed and his body. But when Roddy sees an Egyptian man and knows it is the same man who was the high priest in his dreams, can he keep himself and Tommy safe?
The Most Loved of All
Pairing: M-M
April 7, 2018