Word Count:
12000
Character Identities:
Gay
Summary: The Caribbees, 1661 When Titus Kandel meets Sir Henry Polglase, an irrepressible fire smoulders between them. But Ty belongs to another man—the repulsive Jonkheer Van Wyck. Sir Henry swears he will rescue Ty from his master's clutches. Past disappointments have taught Ty to be wary of idle promises, but somehow he knows the English gentleman is different. Ty can trust him to keep his word. And then he discovers Sir Henry's true purpose in coming to the Caribbean… A Chevalier in Deed is the first installment in the Chevaliers & Charlatans series. Find out what the crew of the Audacious got up to before they became the Pirates of Port Royal!
A Chevalier in Deed
Pairing: M-M
March 9, 2018
Word Count:
12000
Character Identities:
Gay
Summary: The Caribbees, 1661 Sir Henry Polglase—Polly to his friends—cannot deny his desire for Titus Kandel. But there's a grave complication. Titus is a slave, and Polly is a slave trader. It seems unlikely Titus will ever forgive him, but Polly trusts to his luck, letting fate take a hand in the future he hopes they can make together. For hearts as well as fortunes can be won—or lost—on the turn of a card. A Scoundrel in Silk is the second installment in the Chevaliers & Charlatans series. Find out what the crew of the Audacious got up to before they became the Pirates of Port Royal!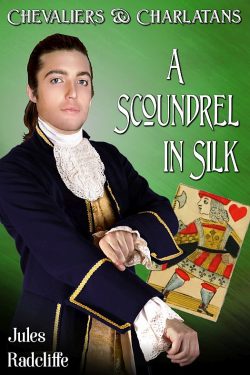 A Scoundrel in Silk
Pairing: M-M
March 8, 2018
Word Count:
7000
Character Identities:
Bisexual, Genderfluid, Transgender
Summary: A gender-fluid prince finds an unexpected ally in an arranged marriage with a transgender man. Prince Darian is willing to give up his penchant for gowns when he must wed for the sake of the kingdom. However, his intended bride has a secret of their own. A marriage of convenience may bring something neither expected—acceptance, and all that entails.
All That Entails
Pairing: M-NB
December 24, 2019
Word Count:
67000
Character Identities:
Bisexual, Gay
Summary: A tale set in Stuart England, where the king's life depends on his most loyal of subjects. Anthony Redbourn, Earl of Crofton, delights in his reputation as a charming rogue. Life is never quiet at the court of King James I, especially with his good friend and secret lover, Sebastian Hewel, by his side. As an actor with the celebrated King's Men, Sebastian has his own admirers, but neither man has eyes for anyone else. When a plot against His Majesty is uncovered it threatens Anthony and Sebastian's charmed lives, and they are dragged into the political intrigue and the race to save the king from danger. Fear that a traitor is linked to the King's Men leaves Sebastian and Anthony with no choice but to stage a very public dissolution of their friendship, so Anthony can be free to be the patron of a new rising actor, and Sebastian can be the prodigy of another noble. It is a dangerous game they are playing to expose the plotters and still find a way to meet in secret, as Anthony is adamant that they will not sacrifice the love they have fought so hard to win. They will do whatever it takes to protect the king's life, and their commitment to each other.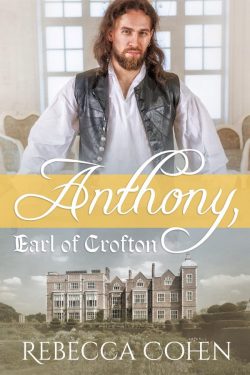 Anthony, Earl of Crofton
Pairing: M-M
April 25, 2019
Word Count:
58000+
Character Identities:
Gay, Questioning
Summary:
On a lush, tropical island inhabited by rogues, thieves and villains, where men take the law into their own hands, a father and son are thrust into tumultuous events that will change their lives forever.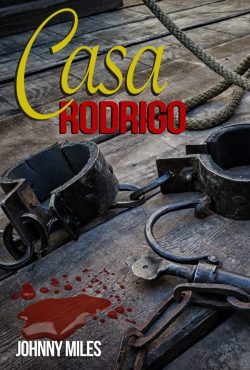 Casa Rodrigo
Pairing: M-M
December 1, 2018
Word Count:
62000
Character Identities:
Bisexual, Gay
Summary: Sequel to Duty to the Crown The Crofton Chronicles: Book Three Sebastian Hewel has never been happier. But after two years of playing the role of his twin sister Bronwyn, the wife of Anthony Redbourn, Earl of Crofton, his blessed life will never be the same. When rumours start circulating that Bronwyn is using witchcraft to enthral her husband, and false evidence is found planted at Crofton Hall, they need to act fast. If Bronwyn is questioned by the sheriff, even Sebastian's best performance won't keep their secret hidden. Forced to lay Bronwyn to rest and bring their ruse to an end, Sebastian and Anthony must prepare to face an unknown future together. Anthony is determined to track down whoever it was who started the rumours and will make them pay in the most terrible of ways, and Sebastian vows to help. Sebastian once more has to be put his acting skills to the test, not just to catch a traitor, but to return to his first love of the theatre, which will not be easy, even with Anthony as his patron. Second edition – previous edition published by Dreamspinner Press. Re-edited for publication.
Forever Hold His Peace
Pairing: M-M
October 30, 2019
Word Count:
13000
Character Identities:
Gay
Summary: A chance encounter with a handsome midshipman leaves Viscount Randall Blair planning a future for two. Randall never knew how fast and hard love could hit until he found the right person: David. The only problem is how to convince the young sailor that they are perfect together. His Midshipman is a stand-alone short story. Randall and David's story continues in His Second Chance, a novel by Stephanie Lake.
His Midshipman
Pairing: M-M
June 7, 2018
Word Count:
27000
Character Identities:
Gay
Summary: The Seventh Viscount of Torring, Randall Blair is more than disgusted with unfaithful lovers. When his last lover announces his engagement to the current reigning belle, Randall decides to suppress his true nature and follow suit. He is determined, once and for all, to forget the dark sailor who slipped in and out of his life five years before. Lady Prudence Wedgewood has, for a member of the fair sex, unquestioned beauty, and shows a surprising wit, which will entertain Randall, even if her well-proportioned body does not arouse his desires. The marriage should at least be, bearable. Lieutenant David Wedgewood has always been beyond discreet with his unnatural attraction to men. An attraction, which years ago, nearly set Randall's bed aflame for a blissful, torrid week. The Blair and Wedgewood wedding plans unfold flawlessly, until Lady Prudence's brother returns: Randall's long lost sailor. David returned for only one reason: to save his beloved sister from a marriage destined to bring nothing but pain. Marriage to a sod! He will kill Randall if that's what it takes to stop the wedding. And he is willing to seduce Randall, to prove that this marriage can only end in disaster and heartbreak.
His Second Chance
Pairing: M-M
June 23, 2017
Word Count:
86000
Character Identities:
Bisexual, Gay
Summary: A tale set in Restoration England, where the next Earl of Crofton must put his family first, despite the temptations of an enigmatic highwayman. James Redbourn enjoys all the pleasures King Charles II's Restoration court affords him. When James encounters the Chivalrous Highwayman in Epping Forest it ignites a delicious fantasy for the court, but it is the intriguing Adam Dowson, the son of one of the greatest Cavalier generals, who fires James's daytime desires. Unfortunately for James, Adam seems to be one of the few men who is impervious to James's charms, no matter how hard James tries. James is ill-prepared to become the 4th Earl of Crofton, so when his father succumbs to illness, issuing dire warnings on his deathbed, James must somehow learn what is expected of him, and discover what is happening at Crofton Hall that had troubled his father so deeply. James hopes he's not making a mistake, risking his family estate, and his already bruised heart when he turns to Adam for support. Together, they need to work to clear out the rotten core at Crofton Hall, and along the way secure a happy future for them both.
James, Earl of Crofton
Pairing: M-M
April 10, 2020
Word Count:
72000
Character Identities:
Gay
Summary: A strait-laced lieutenant. A free-living pirate. A hopeless love. Quinn has never met a man quite like Perry. Stern and cold on the outside, burning up inside with secret passion. Yearning for a mastery only Quinn can satisfy. But Perry is no outcast—he's a respectable officer in His Majesty's navy. Reluctant to test his love for a pirate, Quinn baulks at asking him to give up everything he holds dear. Though Perry has no regrets about their night of glorious sin, he sees no future with Quinn. Unlike the pirates of Port Royal, he isn't free to love where he pleases. If word of his illicit affair came to the ears of Commodore Pobjoy, his career would be at an end. And the disgrace might mean he could never return home to England. With war on the horizon, the Caribbean is a hotbed of intrigue. Quinn is betrayed and thrown into Monte Gris, an impregnable dungeon even the fearsome Brethren of the Coast aren't strong enough to breach. Perry is stunned. Everything he valued is hollow and meaningless without his master. Willing to risk all to get Quinn back, he refuses to abandon hope and plots a daring and dangerous rescue. But he can't do it alone. He'll need every scrap of ingenuity at his disposal to persuade the Black Wolf and the crew of the Audacious that his plan will work. This time, it's not just Perry's career and reputation at stake. If he fails, men will die. And both he and Quinn will suffer a gruesome fate at the hands of a terrifying acolyte of the Spanish Inquisition.
Pirate Master
Pairing: M-M
July 25, 2020
Word Count:
28000
Character Identities:
Gay
Summary: Press-ganged as a boy, Job Wright must learn how to live as a free man. Exploited and degraded by a crooked merchant crew, Job has been a captive for years. Until the day his ship is attacked by the English buccaneer ship Audacious, captained by the notorious Black Wolf. Job thinks he's been rescued at last. He's badly mistaken. As an Englishman aboard a Spanish ship, he's branded a traitor and an enemy. But just when pirate justice is about to be delivered, Garrett Dubh intervenes. The musketeer speaks in Job's defence and saves his life and Job is given his life but is recruited to the Brethren of the Coast, a fearsome brotherhood of free men who owe allegiance to no one but themselves. Fearful of finding himself the plaything of his new shipmates, Job finds protection under Garrett's wing. He's ready to do anything for the handsome pirate—things he'd never willingly do for another man. But Garrett ignores Job's shy overtures. He believes Job is too traumatised by his past. Too young to know what he wants. And nothing Job says will change his mind. Job is determined to show Garrett he can take care of himself, if it's the last thing he does. He leaves the safety of the Audacious and joins the most ruthless Brethren crew in the Caribbean, led by the enigmatic and cruel Rusé. But in the French pirate haven of Tortuga, thoughtless actions can have fatal consequences, something Job is about to discover. And this time, Garrett isn't there to save him.
Pirate's Promise
Pairing: M-M
May 12, 2020
Word Count:
80000
Character Identities:
Bisexual, Gay
Summary: How he'd kept his cool, Ben will never know, but learning he owes the bank £5million thanks to his mother's gambling debts means he must act fast if he doesn't want to lose his beloved family home. To save Crofton Hall, Ben Redbourn, the 16th Earl of Crofton, is going to need all his charm, lots of hard work, and not a small amount of luck. But he can't do it alone, Ben needs help—and he needs it now. Enter Ashley Niven, events manager extraordinaire, and best friend of Ben's little sister. Ashley might once have been a dweeby teenager, but he's grown up nicely and Ben needs to remember he's the boss, and that means keeping his hands to himself. But Crofton Hall has many untold stories, and she's hiding a secret dating back four hundred years to the 1st Earl of Crofton, Anthony Redbourn, which might just change all their lives. Benjamin Redbourn is the modern-day descendant of Anthony Redbourn, the 1st Earl of Crofton from the mm historical romance series The Crofton Chronicles. Previously published, this second edition has been re-edited for release.
Saving Crofton Hall
Pairing: M-M
April 3, 2021
Word Count:
84,200
Character Identities:
Gay
Summary: In 1605, Robbie Elliot—a Reiver and musician from the Scottish borders—nearly went to the gallows. The Witch of the Hermitage saved him with a ruse, but weeks later, she cursed him to an ethereal existence in the sea. He has seven chances to come alive, come ashore, and find true love. For over a century, Robbie's been lost to that magic; six times love has failed. When he washes ashore on the Isle of Skye in 1745, he's arrived at his last chance at love, his last chance at life. Highland warrior Ian MacDonald came to Skye for loyalty and rebellion. He's lost once at love, and stands as an outsider in his own clan. When Ian's uncle and laird sends him to lonely Skye to hide and protect treasure meant for Bonnie Prince Charlie's coffers, he resigns himself to a solitary life—his only companion the eternal sea. Lonely doldrums transform into romance and mystery when the tide brings beautiful Robbie Elliot and his broken harp ashore. A curse dogs them, enemies hunt them, and war looms over their lives. Robbie and Ian will fight with love, will, and the sword. But without the help of magic and ancient gods, will it be enough to win them a future together?
The Harp and the Sea
Pairing: M-M
July 27, 2020
Word Count:
52000
Character Identities:
Gay
Summary: William, Viscount of Crofton, is missing, feared taken. Anthony Redbourn, 1st Earl of Crofton, is beside himself with worry and anger, and sets out with his lover, Sebastian Hewel, to find his fourteen year old son and bring him home. Only William hasn't been stolen away by a gang preying on the heirs of nobles. Enthralled by the theatre, he's run away to join a troupe of travelling players, and all goes well until someone realises who he really is... This novel is to mark ten years of my Crofton men. Anthony and Sebastian first appear in The Crofton Chronicles, and this story is set several years after Anthony, Earl of Crofton chronologically.
The Love and the Anger
Pairing: M-M
November 17, 2022
Word Count:
90000
Character Identities:
Gay
Summary: Will Perry follow his heart? Or his duty? After peaceful months ashore, Perry and Quinn are ready to return to the life they love—roving with the Brethren of the Coast aboard the pirate ship Audacious. But Quinn is still haunted by his torture in a Spanish dungeon. Perry hopes being back at sea will restore his matelot to his old self. But to Perry's dismay, Raphe Ashburn of Night Hawk has returned to Port Royal. Charming, aristocratic, witty—Captain Ashburn is everything Perry wishes he could be. Once, he and Quinn burned up Port Royal with their passion. Now he wants Quinn back, and he's not above any dirty trick to achieve his aim. But with England on the brink of war, Perry is reluctant to challenge, and perhaps lose, a valuable ally in the coming conflict. And then a rival from Perry's old ship reappears when he's least expected. Perry is forced to return to the navy and renounce his pirate brethren. And he can't tell anyone the truth lest he puts them in grave peril. Perry fears he'll never see his matelot again, for Quinn is not the man to brook such a betrayal. And the dashing Captain Ashburn is waiting in the wings…
The Penitent Pirate
Pairing: M-M
August 31, 2020
Word Count:
27000
Character Identities:
Gay
Summary: A strait-laced lieutenant. A free-living pirate. Enemies from the first. Lieutenant Thomas Peregrine is outraged when he's ordered to leave his ship and join the Brethren of the Coast. But Perry knows the folly of disobeying the tyrannical Commodore Pobjoy. He enlists with the Audacious, a pirate ship bound for the high seas in search of the Spanish treasure galleons. Aboard his new ship is sailing master Gabriel Quinn, the most beautiful man he's ever laid eyes on. Perry, a devout Puritan, is dismayed by his desire for a godless pirate, and an Irishman withal. He blurts out a shocking insult. And though he tries to apologise, it's too little, too late. There can be nothing between them but bitter hatred. Then one night, in a rowdy Port Royal tavern, Quinn stops him from making a stupid mistake. But there are consequences for carelessness. Perry's orderly world is about to be turned upside down.
The Puritan Pirate
Pairing: M-M
May 12, 2020