Word Count:
17081
Character Identities:
Gay, Pansexual
Summary: In a world where magic is hated and feared, sometimes the bravest thing a man can do is trust. Daymon is the second prince of a kingdom in which Evokers—those who possess intuitive magical abilities—have long since been treated with fear and mistrust. Marked as an Evoker himself, Daymon is captured by those who wish to take advantage of these powers. Now, the prince must put his faith in Rhyder, the captain of his guards—and the man Daymon has claimed as his own—to free him.
A Trust to Follow
Pairing: M-M
May 25, 2018
Word Count:
121000
Character Identities:
Gay
Summary: A child's memory. A journey's end. Lance doesn't remember the time before Ulfr found him. It's a dark pit in his mind that he avoids at all costs. And yet, despite his best efforts, pieces start to fall, and echoes from the past begin to ring. However, he has little time to comprehend their meaning, since the Captain of the Imperial Army herself has come to collect him and bring him to the capital city of the Nifdem Empire. Whisked away to the gilded streets and glittering court of the Hill of Tarran, and then to the snowy reaches of Swenen, Lance and Gust will learn the answers to questions they've had from the start. And be forced to acknowledge their roles in the survival of the empire and the ripple effects of their actions. But such knowledge can come at a steep price. As allies and enemies begin to step from the shadows, Lance will learn the truth of his past and the price of his redemption, and all the pain that comes with them. While Gust will have to decide what he's willing to sacrifice to safeguard the one he loves.
Avenging Lance
Pairing: M-M
September 29, 2020
Word Count:
35300
Character Identities:
Gay
Summary: Being invisible makes it really hard to get laid. When half-human Kai Schiffer steps into the Interstices—the post-creation gaps between realms—his supernatural half kicks in and he literally disappears unless…well, don't ask. But in a stroke (heh) of good fortune, Kai finally has a chance to show his face (and other parts, stars willing) to his long-time crush Jovan Kos—Interstitial Law Enforcement agent, wolf warrior, occasional berserker, and best man at their mutual best friends' Imbolc wedding. Jovan, who's half in love with Kai already, is grateful his best man duties are light enough that he can focus all his attention on Kai. After all, with Enchanted Occasions Event Planning handling the Olesson-Pakulski wedding, what could possibly go wrong?
Best Beast
Pairing: M-M
January 15, 2021
Word Count:
102700
Character Identities:
Bisexual, Lesbian, Questioning, Pansexual, Polyamorous, Straight
Summary: I never wanted to be queen. But I won't let just anyone take my place. Or my men. To defeat the Unseelie, our allies need their long-lost magic, and that means someone has to become queen. I had to leave both of my lovers behind in the human realm, and I can't return to them until I find someone worthy of the throne. Of course, nothing is ever easy, and I embark on a desperate plan to save the Fae by helping my fellow heir. Along the way, I'm drawn to another potential lover, even though we both know he should be off-limits. To become queen, Una needs one final consort, and she chooses one of my handsome, powerful guards. Suddenly, I'm not willing to surrender him. But who am I to stand in the way of our future queen? Note: 18+ only. In the six-book Our Fae Queen series, Glori will find limitless love with multiple Fae. Steamy group scenes in later books involve MFM, FMM, and MMFMMM. All intimate encounters are consensual. Mayhem. Magic. Romance. Expect unusual shapeshifters, new love and friendships, surprising betrayal, and two uncertain heirs finding their way in Bound to the Queen, the exciting third book of this new adult Why Choose romance and a turning point for Glori.
Bound to the Queen
Pairing: M-M-F, 4+ or Other
July 30, 2021
Word Count:
113000
Character Identities:
Bisexual, Gay
Summary: A twist of fate changed both their destinies. The wyrbears, once a long-lived species, were being lost to the forest in their prime. A people borne of a curse, their abilities not a gift but something wrongly taken, they nonetheless live in harmony with their animal spirits. But over time the curse they lived under changed, mutated, and now what once was a refuge from the world when they became too weary is culling mathan in their prime. Ewen mhic Friscalach, the leader of his peoples, lost his father too early and is now a widower with four children. The vow he made as a youth to break the curse afflicting wyrbears has been buried by grief and responsibility. Roi mhic Alric, a priest of Cerridwen and seer, watched his fellow priests slaughtered and his temple desecrated. The only thing that kept him going the last three horror-filled years was the vision Cerridwen had granted him of his emancipation. If freedom came at the cost of his life, well, he was more than ready for the Otherworld. A fated meeting upon a bloody field of battle. A wrong done long ago. Their choices could save a people… or send them into extinction. Either way, their love will be legend.
Caledonia Destiny
Pairing: M-M
July 9, 2018
Word Count:
83,806
Character Identities:
Gay, Lesbian, Straight
Summary: When chaos strikes at the heart of Milan, it is up to Florentina's alter-ego the Night Flyer to stop it. As Florentina and Madelena's love deepens, so does the well of danger surrounding them. The race is on to discover the mysterious Shadow Guild and uncover who is behind the deadly rampage, but Florentina's mission is threatened by a gang of assassins. Can the Night Flyer prevail, or will Maddie's love be ripped from her arms? Chaos in Milan is the third book in Edale Lane's Night Flyer Trilogy, a tale of power, passion, and payback in Renaissance Italy. If you like action and suspense, rich historical background, three-dimensional characters, and a sweet romance, then you'll want to complete the Night Flyer saga. Order your copy of Chaos in Milan today!
Chaos in Milan
Pairing: F-F, M-F
December 21, 2020
Word Count: Information not available
Character Identities:
Ace, Bisexual, Lesbian
Summary:
A long forgotten god. An abandoned Temple full of undead. Can the Favor of Isadon really bring the dead back to life?
The Age of Mortals temporarily forgotten, Elise Bresch and Ragan Ermolt regroup to focus on returning their friend and companion, Athala Dohn, from the Nether. Or wherever Meodryt's fateful bite sent her. Following instructions that are little more than campfire tales leads them to Marska, a long-abandoned city full of rumors - and bandits. Finding the fabled Temple of Isadon - a relic of centuries past - is easy, but getting inside proves to be a bit tougher. Elise and Ermolt refuse to leave empty handed; their goal is to retrieve the Favor of Isadon, a magic relic of the forgotten God of Death, and use it to bring Athala back. But the guardians of the Temple - including the fearsome Champion - refuse to just let them take it. Will Elise and Ermolt overcome the trials of Isadon's Temple, or will the long-dead God of Death gain two new servants?
Crossroad
 is the fourth book in the Heroes by Necessity saga of sword and sorcery fantasy novels. If you like magical Dungeons and Dragons inspired worlds, multifaceted and diverse characters, and pulse-pounding action, then you'll love Riley S. Keene's epic tale.
Crossroad
Pairing: F-F
March 31, 2019
Word Count:
45400
Character Identities:
Bisexual, Gay
Summary: Ethan Roam has faced a lot of nightmarish challenges—finding out he's a sandman, falling in love with the man who once hunted him, and thwarting attacks from The Order of Azoth, a secret occult organization set on using his bloodline to conquer the universe by controlling immortality. And the battle is far from over. To defeat The Order and its leader, Phantom, Ethan must first find the original Sandman and then bring the fight to the Dream World. Saving the universe might be too tall an order for one dream creature, but with the help of his friends and some Celestial beings with questionable motives, Ethan just might be able to weave a trap of surreal proportions.
DREAM WEAVER
Pairing: M-M
April 27, 2020
Word Count:
100000
Character Identities:
Bisexual, Gay
Summary: A Tragic Story Comes to Light. At last, Caelan and his companions are heading to see a long-time ally of Erya. But New Rosanthe soldiers have already moved into the city, and nothing is quite as it seems. Even as old betrayals reveal new enemies, Caelan's main goal remains the God of Wisdom and the truth. The only problem is that time is running out and the Dead God is waiting to claim him. Embrace the Light is the fifth book in the six-book Godstone Saga fantasy series and is not a standalone. The story contains danger, secrets, bossy gods, stolen kisses, a new king finding his way, a possessive boyfriend, magic, and lots of delicious angst.
Embrace the Light
Pairing: M-M
April 29, 2022
Word Count:
50,730
Character Identities:
Gay, Pansexual
Summary: (Scrolls Book Five) Agent Pan has spent most of his adult life protecting shapeshifters from the Knights—an organization bent on their annihilation—and keeping the secret war in the shadows where it belongs. But the Knights are growing bolder, and a new threat has resurfaced after being buried in the ocean for centuries. An ancient scroll, a key to a devastating weapon, is now in the hands of a recalcitrant Russian hawk shifter named Viktor. As a bird shifter, he knows his duty is to protect the scroll, but he wants nothing to do with the war. He leads a quiet life and wants to keep it that way. But when agents come knocking on his door, he finds it difficult to resist the charms of Agent Pan, especially since this isn't their first meeting. Three years earlier they spent a passionate weekend together, neither aware of the other's true identity. Viktor never really got over Pan. Now with sexual tension at its peak, they must learn to trust each other and work as a team to protect not only their loved ones, but every shifter in the world. Second Edition with revised text.
Feather and Scroll
Pairing: M-M
September 7, 2021
Word Count:
21000
Character Identities:
Lesbian, Pansexual
Summary: Aurora Rose slumbers in the city of Oldpass, a cursed kingdom once allied with Grimvein. The victim of a malicious spell, she is powerless to control her own fate. At least, that's how the story goes. Now, as Grimvein faces attack, Prince Amir has been tasked with the life-threatening rescue of Aurora, his parents hopeful he will marry the princess and secure safety for their kingdom. Talia, the strongest spell-caster in the known lands, protects and guides the prince in his quest to save a woman that threatens to change their lives forever. In finding Aurora, the pair will realise the truth about themselves and each other, coming to understand just what – and who – they really want in life.
Finding Aurora
Pairing: F-F
December 24, 2018
Word Count:
18000
Character Identities:
Gay
Summary: First love has never been so dangerous. War is in love with Denver, but he discovers his boyfriend is more than he seems when he turns into a supernatural creature made of fire. Denver has grown up on his Aunt's made-up stories of demons and sin, but he never wanted to believe her until he turns into a firebird. He has to give up everything, including his boyfriend, War. This new ability threatens to tear their love apart. #shifterromance #firstlove #virginromance
First Fire
Pairing: M-M
March 5, 2021
Word Count:
92000
Character Identities:
Gay
Summary: A tragic secret. A trial of pain. Gust holds a secret close to his heart, and it festers like an infected wound. While part of him wants to tell Lance so they can deal with it together, he fears what it will do to his friend. The last thing he wants to do is hurt the man he is falling in love with. And it never seems the right time as they pursue Ulfr's warriors and elude hunting parties of royal soldiers. Lance wants nothing more than to confess his love and undying loyalty to Gust. But he fears rejection. He has Gust's friendship and dares not ask for more. He's not yet a man worthy to ask for more. And as he continues on his self-imposed mission to cut down Ulfr's warriors, he begins to wonder if he will ever find the redemption he so fiercely seeks. When word of a new Scourge reaches them, their journey brings them to the war-ravaged kingdom of Grekenus. It is there that Lance is forced to face the actions of his past, and once again his life hangs in the balance. Now it is only Gust who can defend him against those thirsty for blood… and to Lance himself.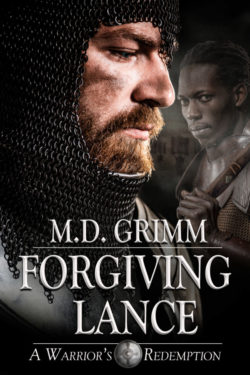 Forgiving Lance
Pairing: M-M
August 25, 2020
Word Count:
114,539
Character Identities:
Gay
Summary: The Blackwood Pack saga continues… This is part of an on-going series by Amazon Bestselling Author, Mary Rundle, and catching up on previous titles is advised. Readers of the past books will enjoy meeting old friends once more as the pack does what it does best ̶ caring for one another and helping shifters everywhere. David spent most of his life as a prisoner, beaten countless times as he was taught by the Sisters of the Four Gods. After learning the truth about what they had planned for him, he escaped and eventually landed in Scotland where he was rescued by kind shifter who gave him a job and a bed. His feeling of safety ended abruptly when he was discovered by the ones he fled. Zane, the Blackwood Pack's genius computer programmer, joined his brothers and friends in Scotland on his very first vacation. It had been a long and hard road for him since parents and younger siblings were massacred, but his life was finally coming together Not expecting anything more than fun and sightseeing, he was stunned to find his Fated Mate there. Before they can claim each other, they find themselves in a terrifying game of cat-and-mouse, trying to elude brutal pursuers who want to capture David and kill Zane. As they fight to stay one step ahead of them, Zane sets out to win David's heart and restore his confidence and also becomes his protector and lover. Learning about each other's abilities and gifts—and about the gods' plans for David's formidable new role in the shifter world—they form a unique bond with undying trust and a deep love that will bind them forever together as one. Narrow escapes, kidnappings, battles, rescues and the revelation of unique gifts from the gods will keep you turning page after page as Mary Rundle weaves another thrilling tale of love and adventure.
Ghost Walker
Pairing: M-M
January 29, 2019
Word Count:
67000
Character Identities:
Bisexual, Gay
Summary: There's nothing scarier than the truth... Noel's got issues. Like, he doesn't know what to call his lover. Are they boyfriends? A fling that got out of control? Something more? Even worse, he may sometimes get waylaid by a random ghost or two. Or else he's losing his mind. Now Adam? He's stable and solid and warm; the kind of guy Noel never knew he wanted. He's also the historian on Haunts and Hoaxes, which gives him a professional interest in Noel's "special talent". When the ghosthunting crew turns up something weirder than normal at a Louisiana plantation, Adam convinces Noel to check it out. Instead of finding a haunt, they uncover a mystery. Noel used to be a cop and he grabs the chance to investigate something real. DNA is evidence. No matter what Adam says, the ghosts don't prove anything. But the past is done hiding and the spirits are going to have their say. Noel better figure out how to listen, because Adam's job, their relationship, and even his sanity are at risk.
Harrowed
Pairing: M-M
October 15, 2020
Word Count:
81000
Character Identities:
Gay
Summary: A baby's laughter. A mind uncaged. Lance is known as Scourge, the warrior in the black armor, the dog of the warlord Ulfr Blackwolf. He was just a boy when Ulfr found him and molded him into the perfect weapon. He slaughters and pillages on command, merciless and numb, devoid of emotions. Then a baby girl laughs at him during a raid. And everything changes. When Gust, a talented healer, is out deer hunting and stumbles across a magnificent horse bearing a mortally wounded rider, he has no idea that his life is about to change forever. Gust applies all his skills to his patient, determined to save the rider's life, and is rewarded when the man opens his eyes. As friendship, and more, bloom between warrior and healer, so does the danger over the horizon. Ulfr has not forgotten, and Lance must take his first steps on the long road to redemption.
Healing Lance
Pairing: M-M
July 28, 2020
Word Count:
110840
Character Identities:
Lesbian, Straight
Summary: When Robyn's father and brother are killed in the Third Crusade, she is banished from her manor home and branded a traitor by the Sheriff of Nottingham. Disguised as a boy, she joins Little John and the rest of the gang in Sherwood Forest—and soon finds herself their leader. Queen Eleanor suspects Prince John is up to no good, and colluding with Sir Guy and the Sheriff of Nottingham. To learn more, she engages Maid Marian as a spy—and unwittingly reunites Marian with her old childhood friend, Robyn. Together, the women help the queen acquire the funds needed to free King Richard and help Nottinghamshire—and perhaps fall in love along the way.
Heart of Sherwood
Pairing: F-F
October 19, 2018
Word Count:
79500
Character Identities:
Gay
Summary: Lost beneath the ocean, Atlantis has become a myth. When it rises from the deep everything will change for Kyle, Finn and the merpeople. Jake Seabrook, a human descendant of Medina, the Atlantean Goddess of Love, never asked for magical powers. Unfortunately, not only does he have them, but they are also growing stronger as more of the Atlantean gods wake from their long slumber. When Jake develops the power to hear the thoughts of anyone thinking about love, lust or sex, it is strange and embarrassing, but also reveals cracks in his relationship with his mermen lovers, Kyle and Finn. If they are going to continue to live as a ménage, they will have to learn to be honest with each other. With Jake's powers out of control and their relationship on shaky ground, the last thing any of them need is a crisis in the sunken city. The Atlantean gods want to regain the powers they lost when the Atlantean people were banished from the city, but the solution will leave the mer who live in the city no choice but to evacuate and search for a new home or risk exposing the existence of the mer to the whole world. Kyle and Finn return to Atlantis to help with the evacuation and insure the safety of their families, but time is not on their side. When Atlantis rises, the consequences could tear apart their ménage forever.
Hidden Depths
Pairing: M-M-M
October 30, 2018
Word Count:
49,620
Character Identities:
Bisexual, Gay
Summary: (Scrolls Book Six) Agent Poe loves being part of the Agency—an organization devoted to protecting shapeshifters—and he especially loves his mate of only a couple of months, Nordik, the nigh immortal master bear shifter. He has the best of both worlds—the man he loves and the job he loves. But when Nordik reveals he's ready to rejoin society and accompany Poe on his missions, Poe must take the next step and make them a full partnership. After the Agency intercepts a message from Arcas, the leader of the Knights of the Dawn—a cult bent on the annihilation of shifters—meant for his followers, their job gets a whole lot harder. The Knights don't bother keeping their activities hidden anymore, stretching the Agency's resources thinner than ever. After a near-fatal mission almost costs Poe his life, Nordik insists on a break for both of them. They visit Poe's family in Ireland and learn that true danger lies not without, but within. There's no greater betrayal than that of a loved one. Second Edition with revised text.
Kindred Truths
Pairing: M-M
September 21, 2021
Word Count:
38000
Character Identities:
Demisexual, Gay
Summary: Stories tell of great fire-breathing beasts large as castles, fierce and deadly, capable of magicks that no human can match. The Kingdom of Kentaine once allied itself with the dragons of old, but eventually, the dragons were lost to time and fell into legend. Sir Gawain, First Knight of the Realm, is tasked by his older sister the Queen to travel to the edges of their kingdom, where a beast is flaming villagers and has the locals ready to form a mob and hunt it down themselves. His mission is to find the dragon, stop the violence, and do what he needs to maintain the peace. His journey puts him in the heart of a confrontation with the dragon, but instead of saving the villagers, it is the dragon that needs rescuing. Zephyr, a fire dragon and an escaped slave, needs protection, time to heal, and a chance at a life full of hope. Gawain can do no less than offer his sword, his shield, and his heart. Evil is hunting Zephyr, and it will not stop until it has reclaimed its prize. Beyond the legends lies the truth, and love, like fire, consumes everything it touches.
Knight's Fire
Pairing: M-M
May 29, 2019