Word Count:
37,000
Character Identities:
Gay
Summary: Sheriff Avery O'Rourke has tried to obey his strict Christian faith and lead a "normal" life. In 1923 in a rural East Texas town, "normal" means heterosexual. A cholera outbreak has made Avery a young widower, so he is married to his job. When a murder investigation forces him to confront his truth, will he finally be able to accept being gay? Veterinarian Garland Sands has returned from Europe to take over his father's practice. Struggling with shellshock (PTSD) and heartbroken by the suicide of his French lover, he resigns himself to a quiet, solitary life as a country vet. But the murder of the town doctor brings the sheriff to Garland's doorstep looking for help with the investigation. Seeing Avery awakens dormant feelings. Can he love a man who hates what he is? This isn't the lavish 1920s of The Great Gatsby. This is the flip side of that coin—rural East Texas. No electricity. No indoor plumbing. No flappers. In 1923, the timber barons have left and racism, homophobia, and sexism thrive. A Little Sin is a realistic mystery with unlikely heroes and a timeless romance between lovers caught in a world where their love is forbidden. This book contains steamy sex scenes and is intended for adults only.
A Little Sin
Pairing: M-M
February 24, 2018
Word Count:
14000
Character Identities:
Gay
Summary: Reverend Jesse Dixon has always been "the helper." He's the living definition of the expression beauty for ashes. He's experienced a lot of heartbreak in his forty-some years on this earth, including the suicide of his first lover. But he didn't let it define his life or make him bitter. Steven is the exact opposite. Abandoned as a baby on the steps of a west-end church; he grew up in a house for orphan and wayward boys. When a tragic accident happens that takes the life of the home's overseeing Reverend, the church finds itself placing an ad for a new one. One who can handle the challenges of running the church and the boy's home. Steven is eighteen and the former Reverend and he had an arrangement that permitted him to keep living at the home, despite the fact he's too old to be adopted. However, that security come into question when he learns the church has hired a new Reverend, Jesse. At first, he doesn't know what to make of the man. But he decides for fun and games he'll make Jesse sweat a little by shamelessly flirting and teasing him. But Jesse resists his flirtations for the sake of his calling. The last thing on his mind is taking advantage of someone he's mentoring. But just how long can the good Reverend resist Steven's teasing before something happens between them? Join Daniel Elijah Sanderfer for the long-awaited sequel to his best-selling novella, A Prayer For Love.
A Prayer For Love 2
Pairing: M-M
May 1, 2020
Word Count:
117500
Character Identities:
Gay
Summary: Cole Renzo thinks his greatest challenge is to behave for the remainder of his term at Halfway House. Until he meets his new boss, Ty Calloway, a man who ticks off every box on Cole's list of interests. A sought-after restorer and customizer of exotic and collectible cars, Ty had enough confidence to command what he wanted in life, until one fateful night changed everything. Almost two years later, he's slowly rebuilding his life with great control. He's defied the odds and works tirelessly to be the man he once was—but he still feels broken. Cole's candor and unfiltered personality awaken Ty's barely-remembered desire to greet each new day with a smile, while Ty's unwavering acceptance of Cole's quirks and brash humor makes Cole feel as if he fits in for the first time in far too long. When a nemesis threatens Ty's personal restoration and the things he holds dear, Cole is determined to protect their relationship, even if that means sacrificing everything he's worked so hard to achieve. But Ty will have to let his guard down, surrender control, and admit he needs Cole first, even if that puts himself at risk of breaking beyond repair. ---- Word count: 117,600 This is book 3 in The Men of Halfway House series. Although part of a series, this book can be read as a stand-alone.
A Restored Man
Pairing: M-M
February 17, 2015
Word Count:
123,974
Character Identities:
Bisexual, Pansexual
Summary: When a glorified space pirate turned entrepreneur rescues a vulnerable orphan, a chain of events sets chaos in motion. At war with his compassion for the toddler, loyalty to the king, duty to the Guild, and the bright lure of freedom he's coveted for centuries, Luc seeks the right path. A hard choice for any man. For an immortal whose inner monster can destroy on sight? Impossible. A pirate with a monstrous past can never be trusted with an innocent child. Luc must ensure the child is protected, safe, nowhere near danger. Nowhere near him. Even if this little boy has already stolen his heart...
A Stolen Heart
Pairing: M-F, M-M
May 11, 2020
Word Count:
32000
Character Identities:
Gay
Summary: Having survived one nightmare of a relationship, Justin Tesh thought he'd left the worst behind when he put his ex Peter behind bars. But when his new lover, Russell Pine, explodes in a fit of alcohol-fueled rage, Justin finds himself frozen with a fear he thought he'd long since worked through. While older, more experienced Russ is anxious to put the incident behind them, avoiding personal issues never works, and for Justin, his fear is an open doorway to demons both he and Russ need to confront. Despite their histories of loss and pain, Russ has faith in the promise of their relationship. But if he can't heal the wound he's inflicted on his lover's heart, he risks losing Justin forever to Peter's legacy of brutality.
A Wounded Promise
Pairing: M-M
March 4, 2015
Word Count:
120000
Character Identities:
Gay
Summary: May-December love is sweet… but December doesn't last forever. Tim Davis always knew he'd likely outlive his older husband. He just thought they'd have more time. He also never imagined that their final years together would revolve around a grueling and protracted battle with cancer. Eighteen months later, he's still coming to terms with his loss and his new life. Where does he go from here? Alex Ouellette is drowning in grief and survivor's guilt, constantly reliving the moment his world stopped. Then a friend suggests that a change of scenery and the company of men who've been through similar losses could do him some good. Alex is dubious, but he agrees to go. Neither man has high hopes for this widowers' retreat. Grief and loneliness have been constant and unwelcome companions, though. At this point, they'll try anything. The last thing either anticipates when they get there? A powerful spark of attraction. Friendship blooms. Then more. They bond over their grief, but also find joy, laughter, and a connection neither expected to ever feel again. As their broken worlds collide, both Tim and Alex finally have unexpected hope that there's life after loss. But grief's dark clouds are never far behind, and the past could be the one thing standing in the way of a happy future. After December is a 120,000-word standalone gay romance novel.
After December
Pairing: M-M
October 19, 2022
Word Count:
73,141
Character Identities:
Gay
Summary: Time travel. For mages, it violates their number one rule: what the Mother has written, let no one unwrite. The Mother writes the destinies of the creatures on the world of Karishian. If her writings were undone, it is feared that Creation itself could be undone. The dark mage Morgorth takes this rule to heart, but there are others who do not. Morgorth is about to claim a stone of power when it is stolen from him by a female mage he hasn't seen in decades. As they struggle for the stone, she activates it, and Morgorth is unwillingly plunged into another time and another place. It isn't long before he realizes what time he's found himself in and there are a few familiar faces. Most notable is a much younger version of Aishe. His mate. Living with a tribe who will be massacred, caring for a young lad who will become his mate, and fighting a battle against a mage who can travel from past to future at a whim—Morgorth's life has never been easy but now he must contend with the will of the Mother. Unable to change the future and the tragedies of Aishe's life, he must decide what his role in his mate's past will be, and ask himself one vital question: how does one defeat time?
Agate: Then and Now
Pairing: M-M
May 2, 2017
Word Count:
12900
Character Identities:
Gay
Summary: As a soldier, Dustin Cooper survived his unit being blown up. His twin brother didn't survive the blast, and Dusty knows he's lucky just to be alive. He doesn't feel lucky. Crippled and scarred in the explosion, Dusty can't even go to the local grocery store without being called a monster by any kid who gets a good look at what's left of him. When Dusty collapses in the aisle, he wakes to an angel looking down on him. Benjamin Newell offers hope, offers help. That he's gorgeous only makes the whole situation more tense. But Dusty is determined to overcome his injuries and the trauma of the past without any charity from a stranger. There's only one thing he wants from his grocery store savior—a date.
American Pride
Pairing: M-M
March 1, 2017
Word Count: Information not available
Character Identities:
Gay
Summary: Wolf shifter Aspen is exhausted and needs a break from the high-fashion, celebrity world of runway modeling. The visions he's experienced all his life are getting worse, making him feel even more peculiar and disconnected. And while he doesn't want to be a burden to anyone, when he's invited to stay with his adopted brother Wulf's small pack of misfits, Aspen relishes the idea of finding a place to belong. When Gabe's military career ends due to life-changing injury, he has no idea where to go and gratefully accepts a place with his old friend Cory and his mate, Wulf. Immediately drawn to the beautiful and unearthly Aspen, Gabe fears he is not good enough for him, and avoids Aspen until he can't stay away any longer. As danger stalks their pack, Aspen and Gabe must overcome their insecurities to recognize they just might be mates and learn who they really are to protect those they love.
Aspen's Song
Pairing: M-M
April 27, 2021
Word Count:
52000
Character Identities:
Gay
Summary:
What's the perfect recipe for an emotional MMM romance? One autistic coffee shop owner, one morose mug maker, and a mostly cheerful police detective. Fie Morogh Russell goes off to war with a broken heart and returns with a shattered spirit. He hermits away in Bideford, Devon, making mugs, with his service dog, Haggard, for company. Post-traumatic stress turns every memory into a minefield, and life is dismal with one or two rare exceptions. Davet Heuse drags his younger brother to Bideford for a new start. Both autistic, the two siblings have fought hard to enjoy freedom by the seaside. While Davet runs a coffee shop from his tiny house, his brother pursues his dream at university. Detective Sidney Little has transitioned from military service to the police force easily. His unrequited crushes and his estranged father are the only points of frustration in his life. He hasn't quite figured out how to deal with either problem. When a tragic accident brings Davet's world crashing down around him, can Fie and Sid help him through the pain of loss? In this May-December romance with a twist, three men struggle through one obstacle after the other to somehow find themselves in love on the other side.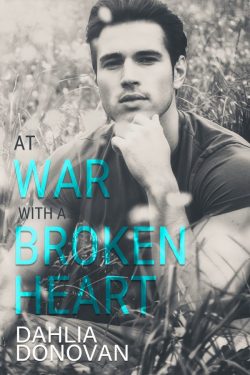 At War With A Broken Heart
Pairing: M-M-M
February 26, 2019
Word Count:
121000
Character Identities:
Gay
Summary: A child's memory. A journey's end. Lance doesn't remember the time before Ulfr found him. It's a dark pit in his mind that he avoids at all costs. And yet, despite his best efforts, pieces start to fall, and echoes from the past begin to ring. However, he has little time to comprehend their meaning, since the Captain of the Imperial Army herself has come to collect him and bring him to the capital city of the Nifdem Empire. Whisked away to the gilded streets and glittering court of the Hill of Tarran, and then to the snowy reaches of Swenen, Lance and Gust will learn the answers to questions they've had from the start. And be forced to acknowledge their roles in the survival of the empire and the ripple effects of their actions. But such knowledge can come at a steep price. As allies and enemies begin to step from the shadows, Lance will learn the truth of his past and the price of his redemption, and all the pain that comes with them. While Gust will have to decide what he's willing to sacrifice to safeguard the one he loves.
Avenging Lance
Pairing: M-M
September 29, 2020
Word Count:
78000
Character Identities:
Ace, Demisexual, Gay, Pansexual, Polyamorous
Summary: In the final installment in the SoulShares series, author Rory Ni Coileain weaves together the myriad threads of this compelling paranormal romance in a climax that crosses time and space. Sometimes Fae love stories aren't what you expect. The Marfach—devourer of magick, long-imprisoned mortal enemy of the Fae race—is free of its Antarctic prison. The Demesne of Purgatory—Fae, humans, a Fade-hound puppy, a Gille Dubh, and a darag—is all that stands between the monster and the power it needs to destroy both the Fae Realm and the human world. The only clue they have as to how to kill the unkillable is a cryptic note from the Loremasters: "Osclór, Nartú; Tobar, Soladán; Nidantór, Breathea; Glanadorh, Coromór, Farthor; Scian-omprór, Nachangalte; Crangaol, Síofra; Gastiór, Laoc, Caomhnór; Fánadh, Ngarradh." Opener, Strength; Wellspring, Channel; Unmaker, Judge; Cleanser, Equalizer, Sentry; Blade-bearer, Unbound; Tree-kin, Changeling; Binder, Warrior, Guardian; Wanderer, Sundered. As they rebuild Purgatory from the rubble the Marfach left behind, they have to stand together, using everything they know—everything they are to their partners, lovers, husbands. Everything SoulSharing has made them. And not everyone who enters the final battle will leave it.
Back Door Into Purgatory
Pairing: M-M, M-M-M
October 2, 2019
Word Count:
26,550
Character Identities:
Gay
Summary: How can they get together with a monster in their way? The warrior-priest. Gossamer wants true love. But his faery godmonster, a gigantic, winged, two-headed beast named Puff-puff, is determined to keep him "safe"--even from a broken heart. The necromancer. Pox is a sexy fugitive. An exiled aristocrat, his ego is as big as a dragon's maw. He has no time for love. Still, that brawny Gossamer might make a fine manservant. **This gay romantic comedy contains four graphic, sexually explicit scenes and is intended for adults only. (It also contains crude humor, a love story, and a big scary monster.) This collector's edition features a brand new cover, improved formatting, and the first chapter of the second book in the Chainmail and Velvet series!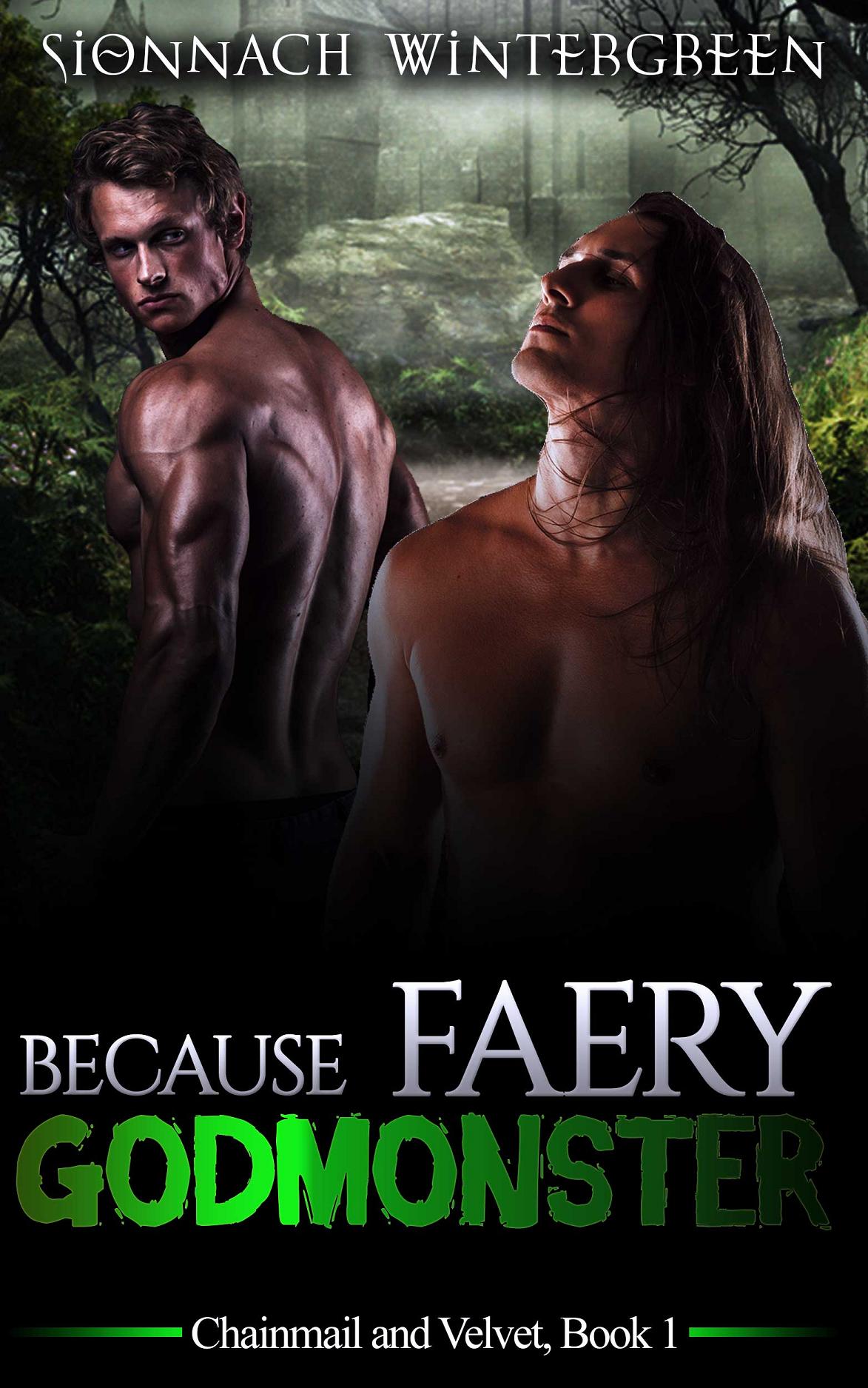 Because Faery Godmonster (Collector's Edition)
Pairing: M-M
August 25, 2017
Word Count:
95000
Character Identities:
Gay
Summary: It's good to be the Boss. That's what I thought my whole life. Now I am the Boss. I'll shoulder that responsibility with my beloved husband beside me. As long as I have Finch, I can handle whatever life throws at me. But what they say is true: Be careful what you wish for. My Family has been decimated. My allies are few. I'm holding onto power by a thread. And the truth is, my husband is more vulnerable than ever. He's always been a lost soul, and now he's suffered yet another crushing loss. I can't protect him from Fate's cruel blows. But I'm determined to protect him from our enemies, no matter what it takes—as soon as I get my own house in order. Because I'm starting to wonder if there's a traitor in the Morelli Family… If I can't even trust my own men, how can I keep my beloved safe?
Beloved by the Boss
Pairing: M-M
August 26, 2020
Word Count:
99.927
Character Identities:
Gay, Straight
Summary: It's a fine line with power, it can be positive or it can be negative, depending on the person wielding it. Paden had been thrown off his planet of Eiravia, given the name of Darius, and left to forget his race and his family. Years have passed since then and he has made his way back to Eiravia and the man he loves. With Finnal's help, and that of his growing clan, he will make Eiravians feel pride again. His growing power is becoming known throughout the universe and he is slowly being talked about in hush tones as the Jewel, a shining star who can create wonders from changing a race to fixing a planet. Nothing much is known about him from the outside world, only the rare few that have the opportunity to understand his fears, hopes, and loves truly understand. Throughout the story, one man's journey is interwoven into Darius's. Vega is a cornerstone to the clan. He is a man who helps him work out issues and chase the shadows away. He helps him become something that is talked about in tales by firesides.
Beyond the Norm
Pairing: M-M
April 19, 2017
Word Count:
60000
Character Identities:
Gay
Summary: Standoffish Aiden is content keeping people at a distance and ensuring his boundaries are impenetrable. There's safety in not opening up, but there's also a loneliness he doesn't realise exists until he meets Riley, a new member of the LGBTQIA+ adventure group Outback Boys. Fascinated by the new guy, Aiden is quick to discover his flirtation skills are rusty and his sweet-talking is cringeworthy. But sweet and clumsy Riley doesn't seem to mind so much. Even though Riley doesn't quite know how to handle Aiden's intensity, he's willing to step out of his comfort zone and see how their tentative friendship unravels. Between a surf lesson that resembles a kangaroo on acid and paddle boarding that is trickier than walking a tightrope, Aiden and Riley discover love may be a possibility after all. Happiness relies on honesty and openness, though. And with both men holding on tightly to past struggles, their future together is at risk. Can the two Aussies bounce back and heal themselves and each other, or are some wounds too raw to recover from? Outback Boys is a sweet and sexy M/M romance series complete with bruised butts, rope burn, and overworked muscles… all in the pursuit of adventure, of course!
Trigger Warning: Contains themes (discussions) of mental illness and suicide.
Bounce
Pairing: M-M
March 27, 2021
Word Count:
102700
Character Identities:
Bisexual, Lesbian, Questioning, Pansexual, Polyamorous, Straight
Summary: I never wanted to be queen. But I won't let just anyone take my place. Or my men. To defeat the Unseelie, our allies need their long-lost magic, and that means someone has to become queen. I had to leave both of my lovers behind in the human realm, and I can't return to them until I find someone worthy of the throne. Of course, nothing is ever easy, and I embark on a desperate plan to save the Fae by helping my fellow heir. Along the way, I'm drawn to another potential lover, even though we both know he should be off-limits. To become queen, Una needs one final consort, and she chooses one of my handsome, powerful guards. Suddenly, I'm not willing to surrender him. But who am I to stand in the way of our future queen? Note: 18+ only. In the six-book Our Fae Queen series, Glori will find limitless love with multiple Fae. Steamy group scenes in later books involve MFM, FMM, and MMFMMM. All intimate encounters are consensual. Mayhem. Magic. Romance. Expect unusual shapeshifters, new love and friendships, surprising betrayal, and two uncertain heirs finding their way in Bound to the Queen, the exciting third book of this new adult Why Choose romance and a turning point for Glori.
Bound to the Queen
Pairing: M-M-F, 4+ or Other
July 30, 2021
Word Count:
100000
Character Identities:
Bisexual, Gay
Summary: Clay Green A brotherhood? Monsters? Goddesses? Magic? The world has become a strange place. After a life on the run, Clay Green is rescued by a crazy old lady with a shotgun and an even crazier story about monsters, goddesses, and a secret brotherhood. Gifted with the power of the earth, Clay must locate his missing "brothers" before invading monsters can destroy everything. As if that's not enough to contend with, Clay can't keep his hands off the man trying to rebuild the plantation house he's temporarily living in. Dane Briggs Something strange is going on… Dane knew restoring the old plantation house wasn't going to be an easy job, but at least none of the clients were going to be underfoot. Since losing his wife and child, the only way Dane can keep going is to focus on the work. But that focus crumbles the second Clay appears covered in blood and barely hanging on to life. Mystery and danger cling to Clay and the other men who suddenly show up. A smart man would walk away. Dane chucks smart out the window in favor of hungry kisses and the silken slide of skin against skin. He doesn't understand what's happening, but there's no question that Clay needs him. He's just not sure his heart can survive being broken again if something happens to Clay. Broken Warrior is the first book in The Weavers Circle series. It includes fast-paced action, explosions, hurt/comfort, sexy times, animal shenanigans, wounded hearts, three crazy old ladies, and magic!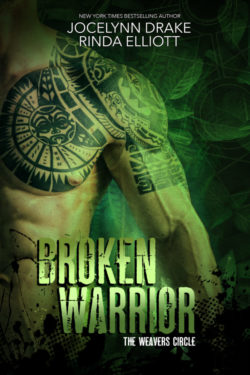 Broken Warrior
Pairing: M-M
April 24, 2020
Word Count:
45873
Character Identities:
Gay
Summary: This is book 1 of the Eternal Flames series, Centuries ago the Phoenix and Dragons were a force no one could penetrate. They fought together, mated together, and worked side by side, and then all that changed. The children of the leaders were dead and war had practically destroyed them all. The fighting stopped and they both went their separate ways. Daytona was the Captain of the Crystal fire department. He loved his small town and he loved his job. However, what none of the small town knew was that he was also a dragon. Crystal was a small location just outside Denver, and it was also the home to the Phoenix. He had lived amongst them for years, hiding his scent, until the day came that he could no longer keep his secret. When a fire claims his mother's life, Ethan rushes home. Having your mother being a victim of an arson is not something he was prepared to face, but discovering he wouldn't have to do it alone, should have been a relief. The thing is...that relief came in the form of a dragon, and the town believes that his mate is the cause of all the fires around town. When the arsonist strikes close to home, Day knows he must clear his name and find the culprit that is now trying to kill his mate.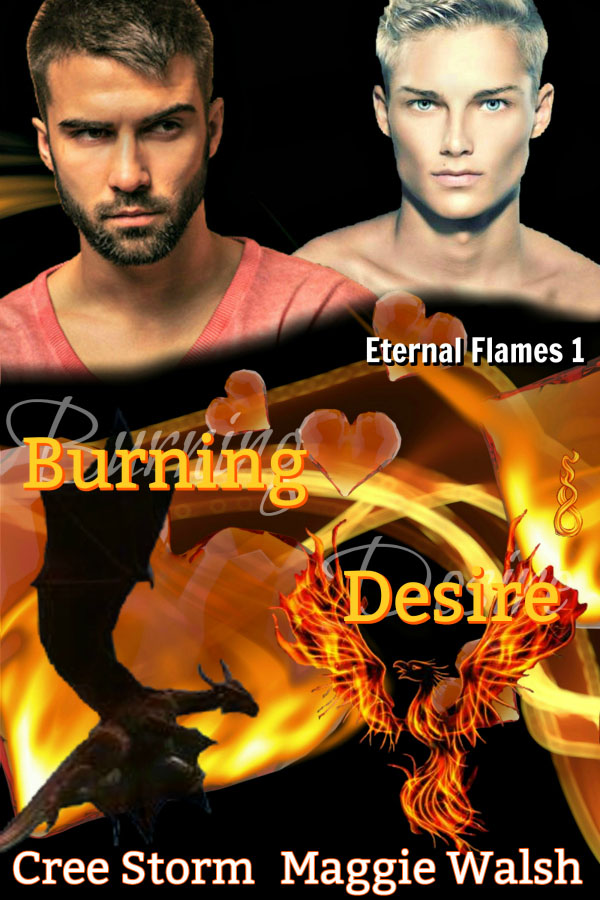 Burning Desire
Pairing: M-M
May 25, 2016
Word Count:
80000+
Character Identities:
Bisexual, Gay
Summary: Sereno Hidalgo, newly divorced from his husband, flies to San Juan, Puerto Rico to reconnect with Esteban, an estranged cousin who owns a coffee plantation. But with Hurricane María only days away, the reunited Hidalgo cousins—together with Esteban's wife—are forced to prepare for the worst storm to strike the island in a century. As with any natural disaster, there is invariably something to grab you by surprise, something to take you by storm. For Esteban, it's the shock of a family scandal long kept secret, but revealed by an unusual acquaintance. For Sereno, that surprise is Augusto Toro, the splendid personification of African, Native American, and Spanish cultures that produce the great majority of Puerto Ricans. As María churns in the Atlantic, ever closer, Sereno finds himself inexplicably attracted to the handsome man everyone calls Chocolate, pronounced Cho-koh-lah-teh. Sereno was never noted for detecting red flags in his affairs. The only thing he was ever good at was running away once trouble become clear. Now he can't. He's too far gone, in too deep, and the hurricane is way too close to run. Sereno must find a way to cope with both the fear of loving a bisexual man and handling the mind-numbing, horrifying impact of the ravaged land called La Isla del Encanto.
Café y Chocolate
Pairing: M-M
February 3, 2019