Word Count:
37700
Character Identities:
Bisexual, Gay
Summary:
Long ago, the village of Shrind sacrificed people to the monsters in the forest. Now the howling has started again, and a village elder has chosen Parton to be the next sacrifice. Left to die for having shared a kiss with the elder's son, Parton receives more compassion from the supposed monster than from those who had been his friends and neighbours. In the heart of the woods, learning to accept himself may be a harder lesson than learning to accept the monster.
A Monster's Kindness
Pairing: M-M
October 19, 2019
Word Count:
21000
Character Identities:
Ace, Gay
Summary:
Alistair Click set out to lay to rest the superstitious fears about the Mad Prince's clockwork tower. If that meant he might bring the ghost city of Avalonia back to economic life, connecting the western kingdoms once again, so much the better. So what if no adventurer who'd entered the tower in the last century of desolation had ever re-emerged? They didn't have his skill and wit. He could do better.
The tower turns out to be far more than Alistair expected, however. Not only are there clockwork puzzles to open every door, but one of them drops a boy from a strange world into his lap—figuratively speaking, if only just. Marco Murphy was just gaming in his New Jersey apartment, and now he's stuck in what feels like a never ending LARP nightmare.
The deeper they delve into the Mad Prince's tower, the darker the secrets they uncover. They're not entirely sure they'll ever be able to get out again, either. It'll take all Marco's charm and Alistair's cleverness, plus the strange bond growing between them, to get them out together... and alive.
Blood and Clockwork
Pairing: M-M
March 16, 2016
Word Count:
46000
Character Identities:
Gay
Summary: Do something new today. Why he looks at his horoscope every day, Elias Hood doesn't know. It's all garbage, and no nickel fortune ever helped him climb all the way up the corporate ladder. He's about to make Vice President. Rocking the boat with "something new" is the last thing on his mind. But there's this guy. Ty Green can make friends with a tree and Elias can't help falling for his easy-going vibe and his perfect smile. He's a fellow Capricorn, like Elias, but that's as far as their similarities go. Ty works to live—he doesn't live to work. When Elias takes his horoscope's advice and asks Ty out, both men are in for a shock. But as Elias's walls start to come down, they might just realize that they have more in common than they think. In fact, they might even want the exact same thing. Who knows? Maybe horoscopes aren't just trash after all. [Elias was originally published as Picture Winter in 2017. This second edition has a brand new title and cover, but no new content.]
Elias
Pairing: M-M
May 12, 2020
Word Count:
12811
Character Identities:
Bisexual, Pansexual
Summary: Ryen Justice lives a quiet existence in Sequim, Washington, running a successful horse farm with his twin brother and sister-in-law. Still, something nameless in him yearns for more. An old barn on the farm becomes Ryen's haven where he spends evenings watching the moon and stars. With Halloween approaching, he volunteers to decorate the barn for a party, knowing the job will guarantee him more time alone. One night as Ryen labors, a man walks out of the woods. Ryen knows he should feel apprehensive, but he is intrigued by the dark-haired stranger who calls himself Kamer. What Ryen doesn't know is that lurking beneath Kamer's handsome face lies something that could prove dangerous to both Ryen's body and soul.
Moonlight
Pairing: M-M
October 23, 2018
Word Count:
30000
Character Identities:
Gay, Polyamorous
Summary:
A dying lover. A demonic foe. One confession could save them all...
Damon knows he shouldn't need aid to stay at his dying lover's side. But as Byrne deteriorates, Damon bolts to take solace in his friend and fellow molly, Rogers. Rogers will always be there for Damon – if Damon would ever open up. He even risks a trip home to cheer him up, only to be stalked by his old demonic foe. But when Damon invites him into their home, Rogers can't keep the skeletal demon a secret. Not when the demon threatens to steal Byrne's precious last days. Damon and Rogers must band together to stop it – if they can ever admit they need the other's help.
Necromancer Vow
is the fifth book in the gay historical fantasy Damon Snow series. If you love deep emotional tension, Regency-era London and deviant romance, then you'll love this latest story of love, hurt and comfort from Olivia Helling.
Buy Necromancer Vow to continue Damon's lessons today!
Necromancer Vow
Pairing: M-M, M-M-M
February 3, 2017
Word Count:
46,000
Character Identities:
Gay
Summary:
A vampire mage, a Romani young man, and a love that won't be denied.
Lord Taliesin Solitaire was born albino, cursed mute by the fey, and betrayed by a vampire lover. For two hundred years the vampire mage has vowed never to love again and has only used sex as a means to a meal. Until a palm-reading gypsy finds himself in peril and Taliesin can't resist rescuing the beautiful young man.
Pesha Sinclair is the eldest but smallest son of King Vaida Sinclair, the oppressive ruler of the Kåle Romani Compania. Deemed impure by his father, Pesha is shunned and mistreated by his band and four half-brothers, and one brother in particular wants him dead. His pale, silent savior gives him safety, security and a love he never could have imagined. As Pesha falls in love with his handsome white knight, his half-brother does the unthinkable.
Can Taliesin rescue Pesha from the cruel clutches of his half-brother a second time?
Sleight of Heart
Pairing: M-M
March 14, 2016
Word Count:
20000
Character Identities:
Bisexual
Summary:
A muerte, a mystery, and a pocket full of marigolds.
Officer Gillian Pepperpot suspects a series of petty thefts are pointing like a marigold-bright arrow toward Stubborn, a sleepy town with a crime rate softer than a kitten up a
tree. A town that's about to unveil an ancient magical manuscript, the Rose Grimoire.
Vicente de la Cruz, a man as warm and colorful as the music he composes, catches her attention, but she's determined to never let her heart be stolen again. Especially by
Vicente who could be her prime suspect in a theft and a murder—or the next one to fall victim to the grimoire's dark magic.
The Case of the Rose Grimoire: A Pepperpot Mystery
Pairing: M-F, M-M
December 29, 2020
Word Count:
14693
Character Identities:
Gay
Summary: M/M erotica wrapped in mystery The holidays are too damn close to pull a cop away from duty. For a hard-nosed undercover cop, love is a rare treasure to bring out when he can, to polish off, and to tuck away for a time when he's not tracking the bad guys. But the enigmatic, sultry Burns is not a man to wait until Thomas has a day off. It's all about kilts and commitment for detective sergeant Thomas Fitzgerald and his lover, the mysterious scholar Burns. Meeting in a place of monster horses, the men track down a lawbreaker while taking their love affair to a new level. Can these men's love survive the physical distance—and the more subtle, more challenging differences—between the two of them? It's a matter of clashes and kilts, as a cop and a scholar collide in a storm of distrust...and then spiral apart, felled by the devil of misunderstanding.
The Devil in Falkirk
Pairing: M-M
November 30, 2015
Word Count:
34000
Character Identities:
Gay
Summary: Dwyn is a young man in the small, isolated town of Manicouga, son of the Minstor, who is betrothed to marry Kessa in a few weeks' time. Mael is shepherding the remains of his own village from the north, chased out by a terrible storm that destroyed Land's End. Both are trying to find their way in a post-apocalyptic world. When the two meet, their love and attraction may change the course of history.
The Great North
Pairing: M-M
June 14, 2017
Word Count:
52000
Character Identities:
Bisexual, Demisexual, Lesbian, Non Binary, Polyamorous, Transgender
Summary: One young man desperate to make things right for the monks who raised him. Another looking to escape the limelight. The two best friends stuck in time because of promises. A couple looking to make a bigger unconventional family—one young woman who wants to help the world become a more beautiful place, one transwoman looking to put down roots for the both of them. Love isn't always easy, but the good kind is worth fighting for, even when others don't understand it. The story of what becomes of their love is what will be passed down into legend. Because stories like this, people remember. When Jira, Boon, Areeya and Fon come together to celebrate Yee Peng and Loy Krathong, sparks fly and dreams coalesce. But that's only the beginning…
Waiting for the Rain
Pairing: F-F, M-F, M-M, Includes NB, 4+ or Other
February 5, 2019
Word Count:
82298
Character Identities:
Gay
Summary: "You are only a prisoner when you surrender." The second novel in The Iron Warrior series continues the edgy pairing of Gristle and Wynn. The former soldier's young lover has been too shamed to admit he'd been raped when he'd been ambushed and almost killed by two villainous druids. Throughout a series of adventures, the men are kept from a healthy partnership by Wynn's harboring his secret and by Gristle's own jealousies and superstitions. The two lovers find adventures both perilous and humorous in their trip from Derry to the seacoast of Ireland, then on to Wales and finally to Tara, the scene of Wynn's recent capture. Into the uneasy relationship steps another warrior…Dub, the Wise Man (Ollamh) of the high king of Ireland, who had befriended and healed Wynn in the earlier book. Weakened by jealousy, the unconquerable Gristle lowers his guard, and he is savagely attacked. Now Wynn must join with his old mentor Dub in trying to save his life. And even if Gristle can be saved, how can the lovers ever be happy under the shroud of suffocating jealousy and buried shame?
Warrior, Stand Tall
Pairing: M-M
January 1, 2018
Word Count:
34650
Character Identities:
Gay
Summary: When Kirk Stanford moves into his new home, strange things begin to happen. Messages appear in the steam on his mirror, warning him of a nameless threat. Then someone keeps breaking into his house, looking for something Kirk can't identify. With the help of his boyfriend, Damon, Kirk digs into the house's history, and discovers not just the previous owner's brutal murder, but threatening letters written to him from someone named Sam. As the intruder strikes again, Kirk and Damon find themselves fighting not only to solve the mystery, but to keep from being murdered themselves.
Wicked Reflection
Pairing: M-M
March 25, 2017
Word Count:
104000
Character Identities:
Bisexual, Gay, Polyamorous
Summary: Ghost, once known as the cub Luca, is finally home. Back among his kind and learning what it means to be both a man and a shaman, Ghost battles the expectations of his people, his family, and the pressures of a society that is both foreign and familiar. His power is greater than any seen before, dwarfing that of even the legendary Shaman Gray Shadow—and his union with Kane places him in the center of a controversy that rattles wolfkin society around the world. Kane, greater alpha and Heir to Black Pine Clan, has finally defeated the traitor and murderer that destroyed the heart of Black Pine years before. Freed at last from guilt and pain, Kane has a new enemy to face: his own people. Placed on trial for violation of Law and blasphemy, Kane will have to fight to the death to preserve his bond with Ghost and keep his mate and people safe. The soulbond between Ghost and Kane is forged by the creator and Goddess of the wolfkin. Usually, a sacred and treasured union that honors the pair and their clans, this soulbond is seen not as a gift, but a threat to eons of tradition and Clan Law. The union of a Shaman and Alpha is anathema—but how to reconcile that belief when it is the wolfkin Goddess who forged it? Can Ghost and Kane save themselves, preserve their bond, and find a new future when the laws of the ancient past threaten to tear them apart? **This book is part of a series and is not standalone. Prior books should be read to understand content. 104,000 words. Brief flashbacks of sexual assault and abuse. Mature content and violence.*** Gay Paranormal Shifter Romance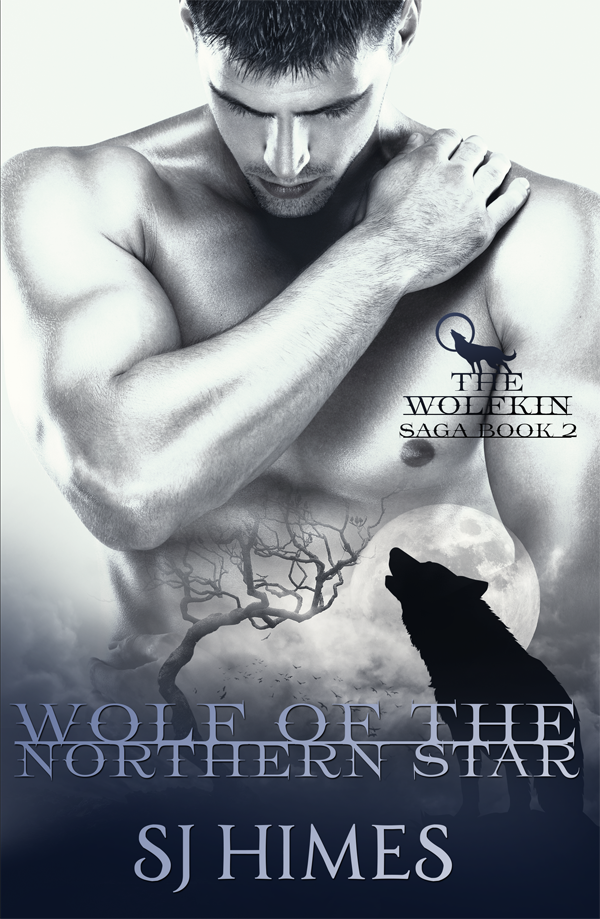 Wolf of the Northern Star
Pairing: M-M, M-M-F
June 15, 2017