Word Count:
55000
Character Identities:
Bisexual, Gay, Pansexual, Transgender
Summary: Can a chance encounter lead to true love? A one-night stand with the sexy plumber who saves me from a leaky toilet sounds more like the setup to a corny porno than the secret to a lasting romance. Still, I can't get Tate out of my head after he rocks my world. When he walks into my life again where I least expected to find him, it's got to mean something. I never planned to fall in love with the first guy I met when I moved to a new city, but Tate might be the perfect boy for me. The only catch is that his past makes him wary of relationships. Can I earn his trust and prove that some things are worth taking a leap? Service Call is a daddy kink M/M romance between Rory, a trans daddy who is new in town, and Tate, a dyslexic little who is used to guarding his heart after getting out of an unhealthy relationship with his ex. It's book three in the Summer of Adventures series and it includes age play/ABDL, caretaking, and tickling.
Service Call
Pairing: M-M
April 28, 2022
Word Count:
45000
Character Identities:
Bisexual, Gay, Genderqueer, Non Binary
Summary: Grey I was just a divorced, small town, hardware store owner, and the man most people considered a gentleman. A slip up in my strict routine would send the town gossips into a frenzy. Yet I'd grown up in that town and everyone knew everyone. No secrets were safe, but I carried one that would send my world into chaos if I let it. I was falling for a town transplant and one of my best friends, Sugar. He was everything I wasn't. Spontaneous, fun, and knew exactly who he was. What would he see in a boring man like me? Sugar (Shug) I was that fat, nonbinary person who hadn't known the inside of a closet in my life. With a mom like mine, she taught me to never live with regrets, but I had a massive one. I fell in love with my straight, gentlemanly best friend. Grey was everything I wasn't. Thankfully, he was clueless, but our shared friend group wasn't. How long could our friends stay silent in a town as small as ours?
Shug's Daddy
Pairing: M-NB
March 31, 2021
Word Count:
44000
Character Identities:
Gay, Polyamorous
Summary: Eric and Ellison Gant, better known as Sin and Saint, were opposite sides of the same coin. They epitomized the nicknames given to them by their friends in the band Executioners. One thing Sin and Saint did well was fight, and being inseparable meant they had a lot of disagreements, but one thing they agreed on was that Sheriff Camden Pelter was theirs. The older, stoic man didn't agree, yet they were determined to change his mind. jCamden Pelter had the daunting job of turning the Powers Sheriff Department around. The residents of the Georgia town didn't have much faith or respect in the deputies serving them. That's where he came in, and he was determined to do his job. That was easier said than done with two annoying brothers, Sin and Saint, who dogged his every step. No way in hell was he getting mixed up in the chaos that were the Gant Twins. Now if only if he could get them to listen and realize they didn't have a chance of changing his mind.
Sin & Saint
Pairing: M-M-M
December 26, 2017
Word Count: Information not available
Character Identities:
Gay
Summary: After fate cock-blocks Ezra Taylor in the worst way possible on New Year's Eve, he sprints home in shame. Ever the introvert, he had no business being out on that particular night, anyway. That's what he gets for trying to be the good guy and help his suddenly single best friend make it through the holidays. But fate proves that it's not quite done with him when the source of his embarrassment becomes his new downstairs neighbor. Suddenly, home isn't the haven it's always been.

Luckily, Lincoln doesn't seem to remember Ezra. Or does he? ___________________________________________________ If you adore sexy men in lingerie and the daddies who love them, this might be the novella for you! Sweet with lots of heat...
Snow Place Like Home
Pairing: M-M
January 1, 2021
Word Count:
40000
Character Identities:
Bisexual, Gay
Summary: With both his sons now living their own lives, Lawson Hayes thought hooking up would become easier. But nothing involving his sex-life came easy for Lawson, not after his ex-wife distorted his fantasies into something sick and perverted and made him afraid to go after the fantasy he'd always dreamed of—to become someone's Daddy—until he met Taylor. Taylor Black had known a lot of Daddies but was still looking for his Mr. Right-Daddy. He'd done everything they asked of him, hoping they'd be able to heal the pain of his past, but none could prevent his dark thoughts from overtaking him—until he met Daddy Law. When Lawson first set eyes on Taylor, he'd known the boy was special; he'd never seen anyone wear vulnerability the way Taylor did. Learning that Taylor had demons to battle, didn't dampen his need for the boy; if anything, he wanted him even more, wanted to help him fight and conquer them. Daddy Law is a dream come true for Taylor; he's equal parts calm and loving, playful and flirty, and dominant and kinky. But does Taylor deserve to be happy after sparking the tragedy he blames himself for? Will his subconscious, self-sabotaging behavior become too much for Daddy Law to handle? And how will Lawson explain his new role as a Daddy to his sons, with whom, he's always had an uneasy relationship? Author Note: male/male romance, can be read as a standalone. Contains sexual acts between consenting adults—a boy who just needs someone to help him, and a Daddy willing to do anything to be that person.
Sorry Daddy
Pairing: M-M
March 4, 2021
Word Count:
14000
Character Identities:
Gay
Summary: Wes has a past, one mired by drugs and alcohol abuse. He once had a guy and a place to call home. Now, he's all alone, running a leather shop in America's cigarette butt tourist destination, South of the Border. He's not looking for much out of life but to get by. That is until a cute trust-fund twink's motorcycle breaks down in town. Blakely was born with a silver spoon in his mouth. From the wealthy side of Wilmington, he wants to see the world, meet the people, burn rubber on the highway through the heartland. There's just one problem, while Blakely is stranded in town, a friendship begins to bud between him and a mysterious biker dude... Wes. He might have the money to fix his bike, but it'll take a lot more than cash to fix Wes's heart. Join best-selling author Daniel Elijah Sanderfer for this sweet daddy/boy, friends to lovers romance about happy coincidences and second chances.
South of the Border
Pairing: M-M
December 31, 2020
Word Count:
54000
Character Identities:
Bisexual, Gay
Summary: Kit has two questions: When did he start becoming attracted to men? And why does that man have to be his stepbrother? When Kit's mom married Gareth's dad, six years and zero interest in each other existed between them. But that all changes when Kit starts noticing what a cool guy Gareth is. A bit of hero worship sets in, but that's the extent of his feelings toward his brother. Or so he thinks… Gareth never paid much attention to the little brother he inherited when his Dad got remarried. The kid was nice enough, but whatever. He had plenty of fascinating activities to capture his attention—the type of activities that a teen becoming a man hides from his family. After a stint in the Marines and a growing career in Motocross, Gareth has set himself up nicely in Vegas. All his favorite pursuits are at his fingertips. And as much as he loves racing bikes, he loves his downtime as a respected Daddy Dom even more. One night, Gareth is stunned when his younger brother shows up at his door unannounced. He's even more shocked at how much Kit has grown in all the best ways possible. How will he keep his greedy hands off his hot stepbrother? If only Kit didn't need his help so badly, maybe Gareth would stand a chance…
Step Daddy
Pairing: M-M
May 28, 2021
Word Count:
25000
Character Identities:
Gay
Summary: Jeannie is a sexy southern bombshell with a problem. She inherited the farmhouse and trailer park her mother spent her life making a home. But she doesn't want it. In disrepair and just a memory in her mind, she sells it all away to a sexy businessman from Roanoke Virginia. A savvy property owner and manager from what would be considered the big city by the residents of Magnolia Ridge and Appalachia Virginia. At 35 He just wants to settle down in the mountains and live a nice private life with some income from the fast-paced life he has lived. But his plans are changed when he meets a smoking hot country boy who has a trailer trash demeanor harder than the boy's ass. With a heart broken many times before can Travis trust a kid from the Virginia mountains to repair his broken heart and the forgotten farmhouse? When Jeannie met Jacob, she had no idea he would be the man she was going to spend the rest of her life with. But when unresolved feelings threaten to ruin their future and the death of a beloved friend take them back to Magnolia. Jeannie finds herself back at Magnolia, where everything started. Leaving Jacob alone to deal with his emotions on his own, he chooses to end it all. But fate has other plans. Shane is a nurse and surfer in his free time, with the looks of a supermodel and a personality sweeter than a ripe summer peach. He's not looking for love but when he meets Jacob, he is determined to show Jacob that life is worth living? Join Daniel Elijah Sanderfer for the re-release of his first two best selling novels including previously unreleased storyline and a fresh new look.
Stories From Magnolia Ridge
Pairing: M-M
July 4, 2018
Stories From Magnolia Ridge 3
Pairing: M-M
August 3, 2018
Word Count:
40000
Character Identities:
Gay
Summary: A Sexy Southern Lawyer, A Hunky Young Cop, A Small Town Murder, and An Undeniable Attraction... When a murder occurs in the small town of Appalachia Virginia; it's all anyone in town can talk about. The first major crime in thirty years brings a media circus of news reporters, FBI agents, and a sexy silver fox lawyer by the name of Charles Elliott from the posh nearby town of Smith Mountain Lake. With Levi's newfound half-brother, Officer Shawn McClain working at the police station, it's inevitable that Charles and his paths would cross. There's an instant undeniable attraction between them that cannot be ignored, and when Charles invites Shawn for a weekend getaway to his lake house; what started as the embers of innocent flirtations soon erupts into a burning affair; maybe even a taboo romance between the senior aged lawyer and young Shawn. But, Charles has a secret past life including an ex-wife, kids, and a grandchild that when Shawn finds out about leads to an epic comfrontation between Charles' ex-wife and himself. Join Best Selling Author Daniel Elijah Sanderfer and the whole cast of characters you have come to love for this exciting spinoff from The Best Selling Magnolia Ridge series.
Stories from Magnolia Ridge 8
Pairing: M-M
February 8, 2019
Word Count:
45000
Character Identities:
Gay
Summary: Hello again, Mr. No here, communications agent for T.A.G. and your inside source to your favorite agents. Our next file is on Operation Gingersnap and none other than Agent Code name Mr. Kr, aka Connor Foley Turgenev, our snarky and hyperactive computer genius. Connor gets hit with a blast from the past that he'd thought was long dead. Yoshi and the rest of Upper Management must scramble to save him before his situation turns dire. In the meantime, will nearly losing Connor push our gentle giant of a Chef, Asbjorn Sternberg, to open himself up to Connor and truly be the Daddy and partner that Connor wants and needs? Or will he let injuries obtained while serving in the Norwegian Army fuel his self doubt? Find out this and exciting news that might change the face of T.A.G.'s future in this next installment from the archives. The Assassins' Guild Series are enclosed stories but they are all connected and best read in order. T.A.G. You're Seen T.A.G. You're Heard T.A.G. Family Christmas T.A.G. You're Found (Coming Dec 21st)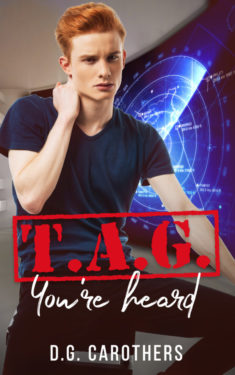 T.A.G. You're Heard
Pairing: M-M
February 2, 2020
Word Count:
48600
Character Identities:
Gay, Polyamorous
Summary: "Tell me a story Daddy." Kikoi, xolos wrangler by night and King Talos' snuggle monster by day, demanded. "What story do you want to hear tonight, baby boy?" Talos, Vampyr King and Supernatural Council Member, asked while he pulled Kikoi onto his lap. "I want to hear about when you met Daddy Bayne." Almost three hundred years old and Kikoi would never get tired of story time. "Again?" Talos arched an eyebrow with amusement. "Yes! It's a good one." Kikoi beamed at Talos. Talos leaned against the headboard of their bed as Bayne, former assassin but still looked damn good in armor, joined them and began... The Age of Man has passed, and a new age is upon the Earth. An age of magic and technology ruled by the supernatural beings that once hid amongst humanity has begun. Bayne is thrust into a world he thinks he knows but quickly discovers his whole life has been built on lies. Talos, perfectly happy ruling his corner of the world, is faced with an unexpected and unwelcome change that comes with the mate chosen by Fate. Together they must discover how to live and, in the end, love one another. Fate has more in store for them than learning to love someone they should hate. Will they be open to all the possibilities Fate lays out for them? Bloodlines of Fate is a new urban fantasy series set in a world destroyed by humans and resurrected by supernatural beings. Fate has many plans for the vampires, unicorns, therianthropes, elves, and humans of this new world. While their mates may be fated, love isn't that easy. This book contains depictions of gladiatorial combat, snarky fem twinks who will cut you, kings in stilettos, and awkward heats with a pinch of daddy kink. Talos is part one of a two-part story arch that tells the love story of two triads (MMM). It does end in an HFN with a HEA tied into the second part. This is a type of omegaverse with mpreg
Talos
Pairing: M-M-M
September 8, 2020
Word Count:
16000
Character Identities:
Gay
Summary: Every summer Caedmon goes to a little town nestled in the Blue Ridge Mountains of North Carolina called Brasstown. While there, he spends time with his Grandma Annie, takes care of the property, and enjoys a respite from the big city where he lives. He's an eighteen-year-old virgin and a good boy, but this summer could be the one that changes his life forever. Darby is a loner. He used to have a nine to five job, a trophy boyfriend, and a nice condo in downtown Charlotte. But after his boyfriend Devin moved in, they quickly found out they were incompatible and wanted different things out of life. With a shattered heart, he decides to isolate from the world in Brasstown and pour all of his energy into making beautiful things from wood. But, he can't hide from love forever. When Caedmon starts coming by with treats from his Grandma Annie, they soon find out they have a lot more in common than either of them initially thought. Join Daniel Elijah Sanderfer for this sweet slow-burn story about finding love and second chances.
The Carpenter's Apprentice
Pairing: M-M
April 17, 2020
Word Count:
66k
Character Identities:
Bisexual, Gay
Summary: Nick says what he wants, wears what he wants, and does what he wants. He had enough of Jeo "Hung" Mendoza when he worked as the biker/porn star's assistant—he doesn't need to go out with the guy. Besides, Jeo's got a rep as a love-him-and-leave-him type, and Nick wants a Daddy who will stick around. But, somehow, the biker's wheedling his way into Nick's life…and he's turning out to be everything Nick never knew he needed.
The Diva and his Daddy
Pairing: M-M
December 23, 2019
Word Count: Information not available
Character Identities:
Gay
Summary: Larry and Chet are going strong. Everything is gearing up around the lodge for a Christmas to remember, that is until Chet gets a call from his mom. She and his dad are coming for a visit. There's just a couple of problems with that. One, they still don't know Chet is gay, and two, that he's living with his boss and lover, Larry. Luckily for Chet, Larry is happy to oblige until Chet's over-the-top parents push him too far. While he retreats to the Ranger Station to sort things out, Chet stays behind to smooth things over with his folks. Can Chet and Larry work everything out before Christmas, or will it all prove to be an unreconcilable mess? Join best selling author Daniel Elijah Sanderfer for this heartwarming Christmas novella about the importance of honesty and being true to yourself at Christmas. The sequel to the #1 bestseller, The Ranger's Boyfriend.
The Ranger's Boyfriend 2
Pairing: M-M
December 18, 2020
Word Count:
17000
Character Identities:
Gay
Summary: Wally's dying, but once he's gone, he doesn't want his daddy Mickey to be alone. So, he sets out to find a boy for him to fall in love with just like they did. Posing as his son, he begins scouting for candidates worthy of Mickey's love, but all Mickey wants is to enjoy the time he has left with Wally. Can Wally find a replacement or will all his efforts prove to be a waste of time? Join Daniel Elijah Sanderfer for this sweet daddy/boy story that is sure to warm your heart and bring tears to your eyes.
The Replacement
Pairing: M-M
August 21, 2020
Word Count:
26000
Character Identities:
Gay
Summary: Abel Kensington the Fifth, aka TheFifthAbel – Accountant, Germaphobe, Service Submissive turned Daddy Dom, and resigned to being alone. Mired in his routines that keep the worst of his fears and obsessive behaviors at bay, Abel has given up finding someone who will look past his sanitized bubble. Little does he know that someone is watching him and has a plan to slip into his world and take care of him for a change. Darius MacLeod aka JuicyDare – Coffee House Owner, Scottish Transplant, New Daddy Dom, and finding love is the last thing on his mind. While his roots are still firmly in his homeland, Darius has started a new life in his father's hometown. When a seemingly shy and prim older man starts frequenting his café, Darius' interest is piqued and his instincts kick in. Wanting to get past the barrier that Abel has erected, Darius dives feet first into a whole new world he knows little about. Abel and Darius will both need to find sure footing on this new path before them as Abel gets back to his submissive roots and Darius explores a new but natural lifestyle. Attention: This book contains depictions of dominance, submission, boot worship, trampling, and adults in footie pajamas
Tread
Pairing: M-M
April 20, 2020
Word Count:
14800
Character Identities:
Gay
Summary: Brock and Wyatt have graduated high school. Now it's time for them to figure out what they want to do with their lives. Wyatt wants to go to college in the city, and he wants Brock to go with him. Unfortunately, Brock's not quite ready to leave Chrisney. How can he find the strength to tell the love of his life that he doesn't want to leave the place he's always known as home? Meanwhile, Joey and Storm are falling deeper in love every day. When they leave town for a camping getaway, Joey has an ulterior motive. There's something important he needs to ask Storm that will change both of their lives forever, depending on his answer. Join Daniel Elijah Sanderfer for the final book in the best selling Untamed Desire series.
Untamed Desire 3
Pairing: M-M
November 6, 2020
Word Count:
32000
Character Identities:
Gay
Summary: What happens when your best friend's son comes home and he's all grown up? Devon Hoffman has a secret. He's wanted a Daddy all his own, but when you're pushing fifty, you're completely over the hill. Newly divorced and trying to be single again after an almost thirty-year relationship, he's lost and needs someone to ground him. Except he's anxious and his depression intensifies until Bern returns after leaving the service and the younger man suddenly takes an interest. Can he let his guard down and risk losing his best friend or should he do whatever is needed to keep his secret safe?
Waited So Long
Pairing: M-M
June 18, 2019
Word Count: Information not available
Character Identities:
Gay
Summary:
Ultra-preppy Liam McAllister and purple-haired high school dropout Dimitri Cirillo know a thing or two about the whole "opposites attract" adage. The two men wouldn't likely be friends, much less lovers, yet their mutual attraction is all-consuming. When Liam, heir to the McAllister Construction fortune, falls for a heavily inked go-go dancer known as Dimmy, he realizes it might take his all-important image down a notch (or ten) to admit this romance to his upper-crust family. Liam is sure this unsuitable pairing won't go over well, especially with his father, Colin – who is obsessed with building a family legacy. Dimmy sees Liam as a man who will take care of his needs in a manner his callous father Gregory never did. Demanding that his son earn his keep, Gregory insists that Dimmy dances provocatively each night at his seedy gay bar. By day, Dimmy provides masseuse services (and more) to relative strangers, for which his disreputable father confiscates the cash. Though Gregory is far from an ideal role model, Dimmy lives in hope of receiving his father's rare smile. Windermere is a small town, and unsurprisingly, Colin McAllister and Gregory Cirillo's business interests clash, causing their sons' lives to dangerously collide. Dimmy reluctantly lets his guard down to trust in his white knight, but Liam still struggles with fulfilling his duty to his father. He hides his blossoming relationship with Dimmy, who doesn't fit the bill for a suitable partner, leaving Dimmy at risk. When the right side of the tracks meets the oh-so-very wrong side, lives are shattered.
Whatever He Needs
Pairing: M-M
May 4, 2021