Word Count:
82000
Character Identities:
Gay
Summary: Tate Mackenzie has signed on for a weekend of kinky fun at the hands of respected Dom, James Lucas. However, James has invited another man, twenty-four year-old Sebastian Doucette, to join in. Thrown together under James' expert tutelage, the two men experience an instant attraction and begin a tentative relationship on their own time. But James hasn't been entirely honest with the boys and soon Tate finds himself the focus of two infatuated men. How will he choose the man he wants or the lifestyle he desires to pursue?
Beyond The Edge
Pairing: M-M, M-M-M
September 21, 2012
Word Count:
88500
Character Identities:
Gay
Summary: They both loved an evil man. In a wrenching journey to redemption, leaning on each other will change their lives forever. Grief-stricken Tate Myers can't believe his Daddy and Master is gone. Reeling from the discovery of his dead lover's secret life as a serial killer, he seeks answers from the one person who could help heal his heart. But when coffee shop chats with his Daddy's best friend turn into an intense attraction, Tate wonders if he's found the man to complete his recovery. Former undercover cop, Rogan Steele, is completely blindsided when he learns his long-time buddy was a sadistic murderer. And with his own judgment now in question, he strongly empathizes with the grieving young man left traumatized and helpless. However, as their meetings fan the growing flames between them, Rogan is terrified he can't fill the unfamiliar dominant role that Tate so desperately needs. As their passion overpowers their hesitation, Tate aches to fully succumb to the older man's control. If only Rogan doesn't run away from what he was born to be—then they might stand a chance at forever. Will the shellshocked pair surrender to their destiny and accept love's risk? Or will the scars from their shared tragedy destroy their future as Daddy and boy? Born Daddy is the second book in the steamy Command & Care M/M romance Daddy/boy series, but can be read as a standalone. If you like wounded heroes, dark themes, and triumphs over tragedy, then you'll adore Morticia Knight's decadent descent into deep desire.
Born Daddy
Pairing: M-M
October 30, 2020
Word Count:
65000
Character Identities:
Gay
Summary: One has the golden touch. The other buys whatever he wants. When love races in, which man will end up on top? Twenty-six-year-old Silver Cruz loves working on fast cars, but finding the right boy to care for eludes him. When a handsome older man's performance ride breaks down nearby, the hunky mechanic is quick to bring his magic fingers to the rescue and get him going. However, the pushy snob's expectation of a casual quickie makes Silver put a speed bump between him and a sizzling jump between the sheets. Forty-two-year-old billionaire CEO Donovan Fonterra's only friend is his wealth. So after his hot rod malfunction attracts a ripped young dude with a take-charge attitude, he can't resist flashing the green light for some high-octane thrills. But even though the younger man slams on the brakes, Donovan goes in hard for the pursuit. As Silver struggles to fend off his persistent admirer, he discovers this is a man in need of a firm hand. And when Donovan finally succumbs to Silver's skillful bedroom tools, he might just be ready to surrender control to the sexy wrench-wielding hunk. Will Silver and Donovan discover the key that turns their uninhibited passions into a forever love? Boy Issues is the first book in the seductive Command & Care MM romance daddy/boy series. If you like lovers who almost become enemies, a stubborn boy, reverse age gap and racy action, then you'll adore Morticia Knight's drive on the wild side. Buy Boy Issues to hear love's engine roar today!
Boy Issues
Pairing: M-M
July 30, 2020
Word Count:
59123
Character Identities:
Gay
Summary: A human, a wolf-sprite, and a Sandman. How could life for these three go wrong? Darren Carpenter is running from his love of Samuel and his future as the Coimeádaí of a Sandman. Samuel Tolliver just wants what he wants and is willing to raise a little mischief to get it. Dailon knows he is more than human but has no clue what he is or what he needs. But the Fates have a plan for them, even if family, friends, and fairy royalty must get involved. When everything goes wrong, can they make it right again?
Broken Dreams
Pairing: M-M-M
October 7, 2021
Word Count: Information not available
Character Identities:
Bisexual, Lesbian, Transgender
Summary: Toni At thirty-three, I was hopelessly in love with my best friend and roommate, Aisling Butcher. She was everything I wanted but could never have because I wouldn't break that barrier. My fear of losing her was too much to transcend. That didn't mean I didn't live for every adoring expression when she looked at me. Yet how much longer could I remain strong before I revealed my secret? Butcher My baby sister's best friend, Toni, was flawless. She was everything I'd always wanted but knew I couldn't possess. She was always my Babygirl. Her happiness and safety my only concern in life. That's why I wouldn't make my feelings known. I wasn't good enough. I wouldn't let my demons touch her perfection. But when teasing kisses turn to more, am I brave enough to claim what's mine?

 (Previously published in Dirty Daddies Pride Anthology. This doesn't contain any new content.)
Butcher's Babygirl
Pairing: F-F
January 4, 2022
Word Count:
41000
Character Identities:
Gay
Summary: Michael Bourgeon is a talented artist, young and gorgeous, a stinking rich heir from a well-connected family. He's the infamous libertine behind the most extravagant parties in Manhattan, and his exploits often lead to juicy tabloid stories. Enjoying his wealth and freedom to the fullest, Michael has the world at his feet. Until someone tries to kill him. Repeatedly. After a security breach among his own staff, he has run out of options where to hide while the FBI hunts the killer. A high-profile private security expert Vincent Nowak is supposed to provide the miracle solution. And while Michael struggles with nightmares and anxiety due to the looming threat, Vincent becomes not only the ultimately reliable protector, but a wonderful distraction, too... A small cabin in the woods, a cocky brat with a soft heart, his gruff, controlling bodyguard, and weeks of tension in a confined space. A standalone novella, based on the original short story Yes, Daddy.
Cabin Fever
Pairing: M-M
June 18, 2020
Word Count:
35000
Character Identities:
Bisexual, Gay
Summary: Brent Canter lived forty-seven years content with his life to have it all disappear with one life-threatening diagnosis. Cancer without hope of survival, yet he'd beat the odds. He had a successful business and a family he loved, yet he was missing something. That something was an adorable, younger man, and he didn't know what to do. Miller Andrews loves the silver fox, Brent Canter. The older man is everything he'd wanted in a partner. Brent was smart, caring, affectionate, and sexy. He is damn near perfect. When he needed a favor, Brent was the only person he thought to ask. Can one pretend kiss turn into the love of a lifetime for a man who thinks he only screws up and the other who questions if he can have a second chance at love with a younger man?
Chance at the Impossible
Pairing: M-M
Word Count: Information not available
Character Identities:
Bisexual, Gay, Transgender
Summary: What happens when you choose to throw fear aside and live unapologetically? I did just that and never looked back. Although, I'd thought I was content until my best friend asked for a favor, and it brought me face-to-face with a big, bearded bear of a man. It wasn't love at first sight, but it was something. I hadn't realized how overwhelming that feeling was until Anderson Mara wanted me to be his. This book was previously published in Dirty Daddies Anniversary Anthology 2020. This version only contains about 5k additional words.
Claiming Whisper
Pairing: M-M
August 19, 2021
Word Count: Information not available
Character Identities:
Bisexual, Gay
Summary: Cary Lederman reads a lot more these days, ever since he discovered the Playground, a great LGBTQ bookstore with an intriguing young owner. He only ducked in to get out of the rain the first time, but now along with his new reading habit he has someone to watch. Or watch over. Benjamin Harrison is starting over after tragedy changes his life in Texas and becomes too much to bear. In Boston, he pours his heart and soul into his bookstore and the sparkly, comfortable apartment above it. When his deal to rent part of his store as a coffee shop falls through, though, Benjamin isn't sure how much longer his dream will last. Cary impulsively offers to fund and run the coffee shop because he knows he's found exactly what he desires, mainly in Benjamin. The boy is all jangled nerves and confusion, and Cary loves to be the kind of Daddy who gives his boy guidance as well as showering him with love. Will Cary be just the kind of man Benjamin needs and never knew how to ask for?
Coffee & Ink
Pairing: M-M
September 24, 2021
Word Count: Information not available
Character Identities:
Gay
Summary: When your only goal is to save the world who's there when you need to be rescued? Boss Most of my life I'd been the savior and sought when anyone found themselves in trouble. It could be to atone for sins of my past or because I was a natural caregiver. Whatever it was I didn't understand how to do anything else. My Outreach Program cared for everyone in the city who needed help and I wouldn't say I hadn't made enemies, but when the protector needed protection I wasn't prepared for Dolan Sharp. Dolan No one did anything for free or out of the kindness of their hearts. That wasn't how the world worked and it was always survival of the fittest. I didn't care what anyone said about the man named Boss. When I witness Boss in action, what I thought I'd believed shattered and I didn't know how to handle that. There's always threats at every turn, it's just a matter of when they catch up with you, but when one jaded man and another with a seemingly deep death wish have to work together who's going to survive the aftermath? (TW: Mentions of childhood sexual, physical and mental abuses. Passive Suicidal Ideation, self-harm and mental illness. These are mainly off-page, but there are details flashbacks and conversations of said acts. Yet if these are triggering for you, please feel free not to read the story. Your self-care and mental health are more important. Thank you.)
Cold Cases and Bruised Hearts
Pairing: M-M
July 5, 2022
Word Count: Information not available
Character Identities:
Gay
Summary: Time Didn't Heal All Wounds and the Scars were About to be Ripped Open Stevenson When I'd moved from Homicide to the Cold Case Unit my friends headed, I'd thought it would be a new start. The minute my marriage fell apart I'd lost my purpose. Years passed and I hadn't found myself until I'd helped my friends catch a serial killer, but I'd also found friends and family. As I'd searched for a case among dusty boxes, a decades' old murder and missing person case caught my attention. The autopsy report send me to the M.E.'s office and the man I'd avoided for months. Doc Making death my job didn't allow for normal friends, but the dead needed an advocate and it was the only purpose I'd known. Being an Medical Examiner was all I'd had for decades and I didn't know what to do outside my job. I had a group of friends, all worked in law enforcement and forensics, but one thing was missing. Short, adorable middle-aged men weren't getting swept off their feet. When my secret crush, needed my help with a case to the detriment of my sanity I said yes. All I had to do was not be my weird self and blurt out everything in my head. When a missing person case turns out to be more than it appears can Stevenson keep Doc safe from a twenty year old threat? (TW: Mentions of childhood sexual, physical and mental abuses. Passive Suicidal Ideation, self-harm and mental illness. These are mainly off-page, but there are details flashbacks and conversations of said acts. Yet if these are triggering for you, please feel free not to read the story. Your self-care and mental health are more important. Thank you.)
Cold Cases and Dark Secrets
Pairing: M-M
February 22, 2022
Word Count: Information not available
Character Identities:
Bisexual, Gay
Summary: Life and Death sometimes made you believe in second chances Robert One thing I was sure of in my life was I'd never start over after my marriage of thirty years ended. Yet when our kids formed lives of their own, we'd grown apart. I'd signed the papers and tried to move on. My work as a Homicide Detective became my life. It left me with no time to think, but I couldn't exist for my job alone. All that changed when they assigned Remy Bosley as my new partner. He was too good to be true, but in a short time, he became my friend—maybe something more. Remy For twenty-eight years, I'd worked to leave my past behind. Although, when the horrors shaped you into the person you were, there was no escape. Being a cop for me was making sure no one else turned out like me. My partner, Robert Kauffman, made it clear how far I'd shoved my dreams down. I was too old and damaged for fairy tales, yet that's exactly what I wanted. In a few short years, his family became mine, and I couldn't lose that no matter how much I wanted more than friends. When he was in danger, I did what needed to be done, and nothing was ever the same. When a serial killer makes Remy's old turf his hunting ground, how far will he go to protect the innocent? (TW: Mentions of childhood sexual, physical, and mental abuses. Passive Suicidal Ideation, self-harm, and mental illness. These are off-page, but there are detailed flashbacks and conversations of said acts. Yet if these are triggering for you, please feel free not to read the story. Your self-care and mental health are more important. Thank you.)
Cold Cases and Second Chances
Pairing: M-M
October 26, 2021
Word Count:
64548
Character Identities:
Bisexual, Non Binary, Transgender
Summary: What if cyborgs suffered body dysphoria? In his mid-forties, former cop turned career bureaucrat Nolan Rogers is diagnosed with terminal cancer. His best friend Elly Takahara convinces him to undergo the process of body conversion, where his brain is transplanted into a robotic body. The operation is successful, but Nolan quickly finds himself adrift in a body that doesn't eat or physically react to emotion. For the first time in years, he's suffering from a new kind of body dysphoria, a sensation he hoped to have left behind when he transitioned to male decades ago. During this crisis, he meets Tallis, a proud nonbinary body convert who sued his parents for the right to give up his flesh and blood body. Tallis is fire to Nolan's water, and whereas Nolan just wants to fit in, Tallis is determined to stand out in a world where being a cyborg marks one for discrimination and worse. Despite hitting it off poorly, an undeniable attraction blossoms between the pair, and they become entwined in a complicated relationship. Nolan can't understand Tallis, but he wants to. Trapped in his own narrow confines of what he believes the world to be, Tallis challenges everything he thought he knew. Can Nolan learn to love who he is now, or will he find himself drawn into the ranks of the Regretters, an organization of cyborgs campaigning to outlaw body conversion altogether?
Conversion Dysphoria Blues
Pairing: M-NB
May 24, 2022
Word Count:
18,000
Character Identities:
Gay
Summary: James Lawrey is a CEO with plenty of cred in corporate circles and plenty of cash to go with it. Privately, though, he's learned the hard way that it might be impossible to find the one thing he can't buy--a young man to look after who wants and needs a real Daddy, not just a sugar daddy.  Textile artist Rye Henry's last relationship went up in flames when his ex told him it was time to grow up. Rye's got a lucrative business of his own, so he needs a lover who isn't going to try to change him, a Daddy who wants his true devotion. Both men drop a pretty penny to experience a few days at the AirB&D, a swanky vacation home in Maine, for a fantasy that's exactly what they're looking for even if it only lasts one weekend. But can they get more than their money's worth? Of course. Just leave it to the matchmaker.
Daddy's Sunshine
Pairing: M-M
February 26, 2021
Word Count: Information not available
Character Identities:
Gay
Summary: Giles Martin is tired of feeling like he's not real. He might be a successful author, but he hasn't had the best track record with love. After all, his ex, who is also his agent, is the one who arranges his fantasy weekend with a Daddy at the AirB&D. How pathetic is that? And worse, he needs a man equipped to handle his issues and his Daddy turns out to be younger. Much younger. Lake Lewis knows he's younger than his fantasy boy expected him to be, but he knows what he wants, and he thinks his weekend with Giles is going to be epic. He's not exactly sure how to unpack all of Giles's baggage, but he's confident he can help his boy feel real. In fact, Lake comes to feel like Giles might be the one person in his life who actually needs him. How will Lake convince Giles that age is just a number, and that the matchmaker never makes a mistake?
Daddy's Surprise
Pairing: M-M
July 30, 2021
Word Count:
52500
Character Identities:
Gay
Summary: Dear Santa, For Christmas this year, may I please get my very own Daddy who is looking for a boy to keep? Because I'm a little, I need lots of cuddles and attention. So, a Daddy who can only see me on occasion, or who's never been a Daddy before, probably won't want me. Maybe I need two Daddies? I promise I'll be the bestest boy ever! I pick up my toys, do my chores and take my naps without argument. And since I'm not little all the time, I can also keep my Daddy happy in other ways. I hope you can find me a Daddy who was meant for me. I haven't had anyone take care of me in a long time and I'm feeling lost. Santa, I've been a very good boy this year, so pretty please can you make my Christmas wish come true? Love, Eric Dear Daddy, Please Keep Me is part of the Naughty or Nice multi-author series. From this installment, you can expect a healthy dose of fluff, a large Squishmallow collection, inappropriate peppermint stick usage and two silver fox Daddies. Each book in the Naughty or Nice series can be read as a standalone, but there are so many boys hoping that holiday magic will bring them their perfect Daddy, why not grab them all?
Dear Daddy, Please Keep Me
Pairing: M-M-M
January 8, 2021
Word Count:
88,500
Character Identities:
Gay, Questioning
Summary: DECEPTION – PALM SPRINGS is the first in a new series taking Mark Farrell and his partner, Dan Fortunato from their dangerous positions as homicide detectives in the LAPD to a new life together as private investigators in the Palm Springs area of Southern California. Comfortable in their professional roles, which have Mark as the lead detective/investigator and Dan is the junior, they continue extreme to explore the reverse in private, where Dan is the dominant Leather Master and Mark is the submissive 'boy' in their BDSM lifestyle. It may confuse their friends, but not the two men themselves. With their very first case, as Palm Springs private eyes, they discover that deception takes many forms, especially when man sex is involved. Mark is hired to locate a US Marine who comes back into his gay father's life after twenty-two years of enforced absence, before disappearing again. Just who is the real Donald Bates and what's his game? From gay Palm Springs mansions to Kansas City's leather bars Mark uncovers some surprising, some shocking and some wonderful answers. Meanwhile Dan's been following a well-known Palm Springs architect, a husband who's alleged to be unfaithful – but is it with a woman or a man? Deception can lead you into sexual, wonderful, strange and dangerous places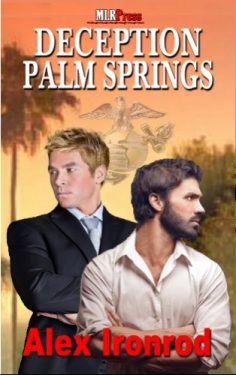 Deception - Palm Springs
Pairing: M-M, M-M-F, M-M-M
March 6, 2014
Word Count:
16000
Character Identities:
Bisexual, Gay
Summary: What happens when a lonely single dad meets a beautiful broken boy? Roger Richards isn't a typical dad, he's recently had a gay awakening at forty; talk about your mid-life crisis. He's always been attracted to broken people and has this inescapable desire to be needed. But when he gets a call in the middle of the night from a troubled boy he's only met once before, it might be more than he bargained for. Van Wishnevski has a troubled past, he's been in and out of foster homes for as long as he can remember. But when his current guardians kick him out, he ends up calling the only person he knows that might can help him, Roger. At first, things between Roger and Van are rocky, to say the least. Van's looking for someone to help guide him into adulthood like a father guides a son. But Roger is reluctant to love someone who is only a year older than his son. Can Roger and Van get past their reservations to create something beautiful or will their differences prevent them from embracing love? Join Daniel Elijah Sanderfer for the long-awaited sequel to his best-selling book Diary of a Bakers Son.
Diary of a Bakers Son 2
Pairing: M-M
May 22, 2020
Word Count:
128000
Character Identities:
Bisexual, Questioning, Polyamorous
Summary: When friendly competition turns four disparate car enthusiasts into speed-addicted street racers, they find out they share more than just an addiction to adrenaline... In bustling metropolitan Manzano Springs, New Mexico, four friends (Chris, a contract welder, Brandon, an architect, Jason, a corporate executive, and Eric, a college student) suddenly find themselves navigating self-discovery in both their professional and private lives while sharing nothing in common save their love of fast cars—or so they thought. When lifelong friends Chris and Eric embark on a seemingly light-hearted, fun string of intimate encounters, their carelessness leads them into getting caught by one of their other lifelong connections, Brandon. In the embarrassment, Chris can't figure out why it bothers him so much that Brandon saw him. Worse yet, why Brandon reacts completely different from what he would have expected. Old feelings for Brandon surface as Chris and Eric continue their "situationship." That is, until their new friend Jason nearly catches them entangled in each other's arms. Eric's newly awakened appetite makes his eyes wander and Jason seems all too happy to oblige, causing Chris to suddenly re-evaluate his feelings for Brandon Will Jason and Eric's passion for each other burn out before it has time to truly bud into love? Will Brandon and Chris' past finally clear up why they've been a "Missed Connection" for most of their lives and allow their slow burn to finally ignite? Fast cars instigate a lot of drama, and these boys are always up for the challenge; whether that challenge be on the road, in the bedroom, or from outside of their group.
E85: Compression
Pairing: M-M, M-M-M, 4+ or Other
May 8, 2018
Word Count:
24702
Character Identities:
Gay
Summary: Sequel to A Love to Remember Graham's best friend Marc Byrne has been in a self-imposed dry spell for the past six months, reevaluating his life. Tired of the bar scene, he wants something true and lasting like Graham found with Sam. He wants to find Mr. Right. When Marc meets the gorgeous, motorcycle riding, tattooed man of his dreams at a lake party, he falls hard and fast. Reminding himself that was how he was hurt before, he puts the man out his mind. Easier said than done. Aiden Wright is blown away by Marc and wants to get to know him better, but he keeps running and Aiden can't figure out why. The attraction between them is intense and Aiden is sure he can give Marc what he wants, if he'll just take a chance.
Everything He Wants (The Men of Wesley Lake #2)
Pairing: M-M
June 9, 2018