Word Count:
117000
Character Identities:
Bisexual, Gay
Summary:
Brent Weyland was the life of the party until an injury ended his hockey career. Now he's retreated alone to a lakefront house, trying to make sense of a life and body that don't feel like his anymore. Jon Norquist was happily married right up until he wasn't. Now a single father in his forties, he's trying to figure out what comes next. In the meantime, he pours his heartache and regret into the lyrics he sings for the wine bar crowd a couple of nights a week. When a friend coaxes Brent out for a night of wine and music, he puts Brent and Jon on a collision course. Their chemistry is instantaneous. Jon gives Brent's battered body a much-needed remedial lesson in pleasure. And Brent gives Jon a reason to smile again. Multiple reasons, actually. Neither man wants anything serious, but love has a habit of showing up whether it's welcome or not. No matter how hard they try, the two can't help having feelings for each other, even as life continues to throw them curveballs. But they've both got baggage to unpack and hurt to move past, and if they can't leave their pasts in the past, they might just miss out on an amazing future.
Aftermath
Pairing: M-M
March 29, 2021
Word Count:
81000
Character Identities:
Gay
Summary: Matt There's nothing quite like a night with one of the Gentlemen of the Emerald City. No strings. No complications. I've been burned by love, and I'm not going there again. Unlike my teammates who fell for their Gentlemen, I know how to keep emotions from coming into play. At least… I used to. Andre I used to love this job. The money doesn't matter—just the thrill. But that thrill is gone now. That is, until I meet Matt. And that's before he starts looking at me like that. And booking me more often. And making my heart do things it's not supposed to do when I'm on the clock. How do I convince a jaded man that love is worth another try? Gentlemen of the Emerald City Andre is Book 5 of Gentlemen of the Emerald City, a sexy series centered around the high class, high-dollar Gentlemen of Seattle's most exclusive escort service. Each book is full of snark, sass, and sweetness, and like any Emerald City client, you're guaranteed a happy ending.
Andre
Pairing: M-M
September 15, 2021
Word Count:
117000
Character Identities:
Gay, Polyamorous
Summary: A rookie, his teammate, and his best friend from a rival team. What could possibly go wrong? Seattle Snowhawks rookie Justin Reid has it bad for his teammate Shawn Kelleher. It's just his luck that Shawn's got a crush too… on Justin's best friend, Vancouver Narwhal center Keith Adams. When Shawn lets it slip at the worst possible moment that he wants Keith, Justin is hurt, but what can he do? He steers Keith in Shawn's direction and lets chemistry do the rest. What Justin doesn't know is that while Keith is into Shawn, he's also secretly wanted Justin since forever. After some stumbling, they realize there's something very hot and very mutual going on between all three of them. It's fantasies coming true left, right, and center, and it just doesn't get any better than this. Except this scorching hot triad is anything but simple. Not while the closeted son of a hockey legend is fighting to make his own name in the shadow of his deeply homophobic father's legacy. Not in the midst of grueling schedules and a team's fraternization rules. Throw in pesky emotions showing up where they aren't wanted, and it's a play that's doomed from the start. Shawn, Keith, and Justin all fought their way into professional hockey. Is what they have together worth fighting for too? Or will fear let heartache win this game? ASSIST is approximately 117,500 words. It's book 2 of the Pucks & Rainbows series, and can be read as a standalone.
Assist
Pairing: M-M, M-M-M
December 26, 2019
Word Count:
15000
Character Identities:
Bisexual, Gay
Summary: Attending his daughter's holiday dance recital should be easy for pro hockey player Patrick Barnes. Showing up in a tutu, however, wasn't exactly part of the plan. And yet the holidays get even more interesting when he bumps into Lee, the man he let get away in high school. Ballet instructor Lee can't believe who just walked into his studio. He also can't believe how quickly the flare of attraction between he and Patrick resurfaces, despite the decade that's gone by since they last spoke. In high school, they let opportunities get away. Now, almost twenty years later, is it possible they'll have a chance to pursue the spark that has come back to life after just one conversation? Holidays are a time for giving, and neither Patrick nor Lee are about to take this particular gift for granted.
Ballerina Dad
Pairing: M-M
December 11, 2017
Word Count:
75230
Character Identities:
Gay
Summary: Should falling in love really get in the way of your lifelong dreams?  Sebastian Saunders is 3000 miles away from home. Working for his father's expanded business in New York, he's left behind the music career he craved, the friends he relied upon and possibly the love of his life. In a city that never sleeps, how can the nights cure a broken heart? Jay Ruttman is in London, throwing himself harder into football and his quest to make it on the professional playing field. Locking himself back in the closet, how can he ever open the door, and his heart, again? A chance encounter in New York where Jay and Seb rekindle their lost romance sets them both on a path to self-discovery and coming to terms with their past, their present and their future. This is the second part of the District Line serial, where half-time oranges are swapped for the Big Apple.
Break Through
Pairing: M-M
May 29, 2018
Word Count:
120000
Character Identities:
Gay
Summary: Changes series, book 2 Three men, one summer of media, mentorship, and murder. There's a reason Scott Edison came out as gay and poly on national TV— now no one can try to push him back into the closet. But as his men and his hockey team deal with the fallout from fans and paparazzi, moving forward isn't as easy as he'd hoped. Will Rice was looking forward to a quiet summer, sharing the work with his guys and giving Scott a refuge from the spotlight. He's hired a couple of young ranch hands, and finally feels ready to give back some of the mentoring that turned his life around decades ago. But good fences won't be enough to keep trouble off the ranch. Casey Barlow left the Sheriff's Department on his own terms, out and proud. But when the new sheriff is murdered— and Casey's one of the few with a watertight alibi— he's asked to investigate, and he can't resist. He's determined to solve the murder, and still take care of his men on the home front. Then one murder becomes two… It's a summer of risks and challenges, and working together is the only way they'll make it through.
Changes Going On
Pairing: M-M, M-M-M
March 26, 2020
Word Count: Information not available
Character Identities:
Bisexual, Gay
Summary: Can Tennant show Jared that age is just a number, and that love is all that matters? The Rowe Brothers are famous hockey hotshots, but as the youngest of the trio, Tennant has always had to play against his brothers' reputations. To get out of their shadows, and against their advice, he accepts a trade to the Harrisburg Railers, where he runs into Jared Madsen. Mads is an old family friend and his brother's one-time teammate. Mads is Tennant's new coach. And Mads is the sexiest thing he's ever laid eyes on. Jared Madsen's hockey career was cut short by a fault in his heart, but coaching keeps him close to the game. When Ten is traded to the team, his carefully organized world is thrown into chaos. Nine years his junior and his best friend's brother, he knows Ten is strictly off-limits, but as soon as he sees Ten's moves, on and off the ice, he knows that his heart could get him into trouble again.
Changing Lines
Pairing: M-M
July 12, 2017
Word Count:
57000
Character Identities:
Bisexual, Gay
Summary: You can never escape from yourself. Zac McKenzie is an ex-professional footballer with a secret he gave up his career to protect. Several years ago, he fled to his home in the North East of Scotland to avoid being outed as gay. Now, he owns a successful hotel and restaurant, but is it time to finally come out into the open? Seth Pritchard feels he's damaged goods. He comes to Scotland to escape memories of the accident that left him injured, his bullying stepbrothers and a life of lies. For their whole lives, Zac and Seth have denied who they truly are to themselves as well as others. When they meet, each man is forced to confront his fears and tear them down one by one.
Choosing Home
Pairing: M-M
July 12, 2016
Word Count:
80000
Character Identities:
Gay
Summary: Parker This pro hockey thing is amazing! I'm playing in the big leagues. I have money for a change. And suddenly all the men who wouldn't give me the time of day are falling all over themselves to hook up with me. The only problem is that I've never been with anyone. That's just what I need—some random hookup leaking it to the press that I'm a virgin who's lousy in bed. Maybe what I need is a little help from a professional. Cole Clients who want to lose their virginity are a dime a dozen. There's something about Parker, though. Something that makes my heart go a little wild every time he books me, and it isn't the money. He's better in bed than he thinks. He needs confidence, not guidance, and I'm happy to give him both. But is it wrong to wish he'll never stop coming back? Gentlemen of the Emerald City Cole is Book 2 of Gentlemen of the Emerald City, a sexy series centered around the high class, high-dollar Gentlemen of Seattle's most exclusive escort service. Each book is full of snark, sass, and sweetness, and like any Emerald City client, you're guaranteed a happy ending. Content warning: Moderate on-page struggles with disordered eating.
Cole
Pairing: M-M
July 7, 2021
Word Count:
19162
Character Identities:
Gay
Summary: Hugh McPherson, son of a Nevada rancher, goes to Scotland in search of his family roots. Fate brings him to the castle door of oversized, cranky Graeme Guthrie. After getting off on the wrong, er, boot…the men find something about each other to delve into more deeply. But fate can be a cruel matchmaker. What happens to make Hugh and Graeme careen off each other and run in opposite directions, just when they seem to be on the verge of solving a centuries-old mystery, one that centers on both of them? Finding the Loch Ness monster…a gay romance-fantasy novella.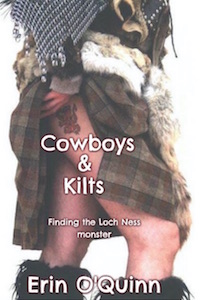 Cowboys and Kilts
Pairing: M-M
April 15, 2016
Word Count:
120,000
Character Identities:
Gay
Summary: Blurb Crossing The Touchline by Jay Hogan What if you've worked your whole life for a dream, to play rugby for the most successful sports team on the planet, the New Zealand All Blacks? What if that dream is so close you can smell it? What if you meet someone? What if you fall in love? What if your dream will cost the man who's stolen your heart? And what if the dream changes? Reuben Taylor has a choice to make. Cameron Wano is that choice. Part of the Auckland Med. series that includes 'First Impressions' Can be read as a standalone.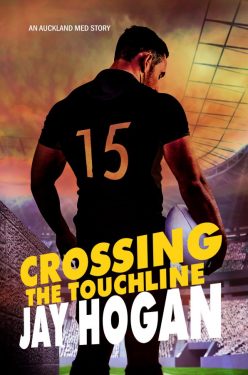 Crossing the Touchline
Pairing: M-M
December 16, 2019
Word Count:
72683
Character Identities:
Gay
Summary: Brett Rocha retired from pro-hockey while still at the top of his game. Co-owner of a chain of restaurants and an inherited ice skating academy, he seems to have it all. Despite his fame, wealth, and good fortune, though, Brett suddenly finds himself painfully alone. Ex-Olympic figure skating star Rylan Hennessy transitioned to professional ice dancing with Celia, Brett's sister and Rylan's lifelong partner on the ice. Then tragedy strikes, and Rylan's world is turned upside down, too. With the unexpected death of Celia, Brett and Rylan are drawn together through their mutual grief. Their bond strengthens when Brett introduces Rylan to BDSM, a lifestyle Rylan has never experienced before. While the mystery of Celia's murder still needs to be solved, a second tragedy threatens to tear them apart. Will their relationship survive, or will love be enough to see them through this life altering, harrowing change?
Edge Jump
Pairing: M-M
June 16, 2018
Word Count:
68,000
Character Identities:
Gay
Summary: Mahiro became a professional figure skater for one reason—to be near the object of his lust from the time he was a teenager, Alex Breschi. But he never advanced far enough for Alex to notice him. Now Alex is retired from skating and working as a thriller author, while Mahiro gracefully bowed out of competition years before to become a successful app developer and practicing Dom in New York City. Reality and fantasy collide at a penthouse play party when Mahiro meets his idol. Alex is researching a book, and he wants to learn more about the lifestyle. In fact, he wants to be trained as a submissive. By Mahiro. Mahiro knows it's a terrible idea. He's hardly objective, and Alex is a novice. Still, all those years of longing shatter his reserve, and he cannot refuse to have the man of his dreams in his hands.  Alex will certainly notice him now, and since Alex is returning to Russia in a few months, Mahiro can have some fun without divulging his past… or his obsession. What does he have to lose? Just his heart.
Florentine
Pairing: M-M
August 19, 2020
Word Count:
102000
Character Identities:
Bisexual, Gay
Summary: Scott I've done a lot of soul-searching this season. I've been in denial about myself and a jerk to everyone else. I don't even know where to start to fix it all. I don't know what to feel about anything. How am I supposed to handle falling in love? Hunter I'm good at faking it most of the time. No, not that. I mean faking like I'm okay. Like something doesn't always hurt, especially when I'm trying to earn my pay. He gets it. More than anyone I've ever met, he gets it. But he's got pain no one can touch. Not doctors. Not me. How do I convince him that shutting me out won't take away that pain? Gentlemen of the Emerald City Hunter is the sixth and final book of Gentlemen of the Emerald City, a sexy series centered around the high class, high-dollar Gentlemen of Seattle's most exclusive escort service. Each book is full of snark, sass, and sweetness, and like any Emerald City client, you're guaranteed a happy ending.
Hunter
Pairing: M-M
October 6, 2021
Word Count:
101995
Character Identities:
Bisexual, Gay
Summary: NBA Superstar CJ Wright is still lying on the floor, unconscious, with blood gushing from his body. As he edges ever so closely to death, he continues to recall everything that brought him to this fateful day. In this segment, CJ enters his senior year at the University of North Carolina at Chapel Hill, where he deals with the issues of his lover. He engages in new life experiences that come back to haunt him. As CJ moves to the NBA, he is thrust into the life of the rich and famous. While things look good on the outside, he still battles the internal demons of his past. As CJ finally starts to become ok with his new reality, a situation disrupts everything, abruptly changing the course of his life. Join CJ in the second entry of this trilogy, as he comes into adulthood, and encounters more twists and turns that help to bring him to the unforgettable day of January 11, 2011.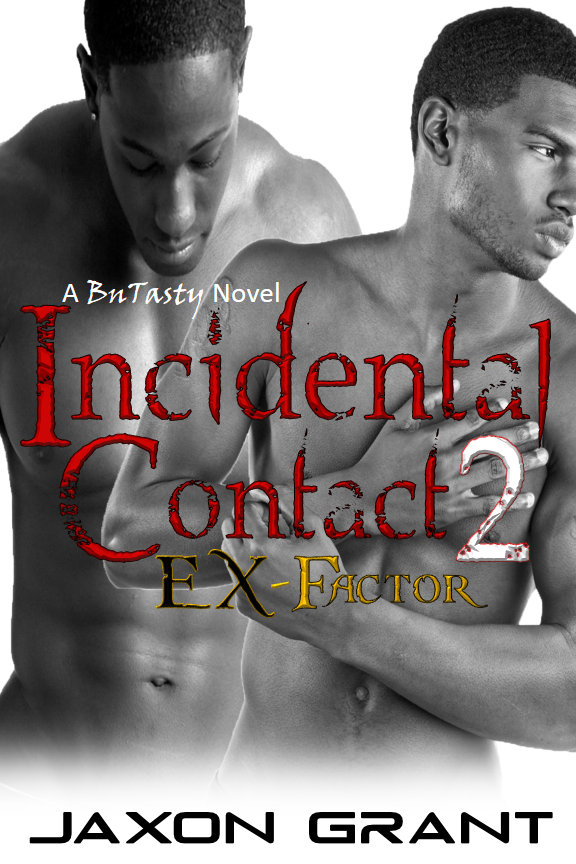 Incidental Contact 2: EX-Factor
Pairing: M-F, M-M
September 23, 2014
Word Count:
58000
Character Identities:
Gay
Summary: An NHL All-Star A workaholic entrepreneur One irresistibly tempting opportunity KYLE I can't believe I let my best friend talk me into being auctioned off for charity. But when I get a look at the guy who placed the winning bid, I feel like I'm the one who snagged the top prize. AUSTIN I didn't get to where I am by letting opportunities slip through my fingers. When I learn that Kyle Pressgrove will be part of the bachelor auction taking place during All-Star weekend, that's the kind of chance that you grab ahold of, and I have no intention of letting go. This book is part of the Hockey Allies Bachelor Bid series, which also features books by RJ Scott, V.L. Locey, Susan Scott Shelley and Chantal Mer. The books can be read as standalones in any order.
Keeping Kyle
Pairing: M-M
April 7, 2020
Word Count:
154047
Character Identities:
Bisexual, Gay, Questioning, Straight
Summary: In the final book of this epic, memorable, mind-blowing series, Zach makes a choice regarding his long-term future. Will he pick Dray, Dwight or neither? Zach also comes face-to-face with his father and that interaction could have long-lasting impacts on the brewing relationship with his brother. In a series of heart-to-heart conversations with his mother, he learns the truth of his childhood foundations which shaped him into the man he is today. Dwight is on the search for liberation as he comes clean to the people he loves the most. He is determined to see his divorce through to the end and doesn't care what all it might cost him. Kris and Rozi come to a resolution about the issues that plague their marriage. While Rozi is forced to deal with her shattered past, she learns more unwanted news about her family. Will Rozi and Kris make it through the fire or has too much damage been done? While Raidon is trying to put his life back together after Micah's devastating situation, Tony makes an announcement that will forever change their relationship. TJ finds himself in a serious bind as Eli plots to remove Trae from their lives. As Dray continues his sessions with the therapist that brings him closer to healing, Phoenix deals with a situation from his past that can cause imminent danger to his livelihood. Join Zach and the crew for one final ride as these characters are forced into decisions that will forever shape their destiny as all of their lives finally come full circle.
Life of an EX College Bandsman 11: The Finale
Pairing: M-F, M-M
February 21, 2018
Word Count:
84000
Character Identities:
Gay
Summary: Ethan Hockey season is over, and that means one thing—returning home to my empty condo. With nothing to distract me from this loneliness, it's going to be a miserable summer. Then I hire Luca for one night. At least, it was supposed to be one night. Luca Ethan isn't like my other clients (not that I have many these days). He's nice. He's genuine. He doesn't treat me like I'm here to earn my pay. When he asks me to make this a regular thing for the summer, my wallet doesn't leave me much choice. But I'm pretty sure my heart isn't supposed to get involved. Gentlemen of the Emerald City Luca is Book 1 of Gentlemen of the Emerald City, a sexy series centered around the high class, high-dollar Gentlemen of Seattle's most exclusive escort service. Each book is full of snark, sass, and sweetness, and like any Emerald City client, you're guaranteed a happy ending.
Luca
Pairing: M-M
June 16, 2021
Word Count: Information not available
Character Identities:
Gay
Summary: Book 1 of the Welcome to Loveland series Loveland, Colorado is a special place all year round, a community of creativity and art, with scenic views and majestic mountains. But the town really shines once a year, on Valentine's Day. Lucky Roberts has lived in Loveland his whole life. He has good friends, strong family support, and is all about keeping his community fun and alive. The only thing Lucky has been "unlucky" with is love. But rather than avoiding February fourteenth in his hometown, he throws himself into helping others deliver their messages of love. Enter Jack Canon. Jack moved to Loveland for a fresh start, in both his personal and professional lives. After a tough year, he's finally hoping to just blend in, maybe carve a little niche for himself that his parents would have been proud of. What he didn't expect was a pseudo-lumberjack with a killer body and shy smile to turn his world upside down – and he sure didn't expect to like it so much. When Lucky meets Jack, he feels like a thirteen year-old with his first crush. He's clumsy, stammering, and the first greeting out of his mouth is a less than articulate, "Wow!" Words like adorable and manbun suddenly become part of his vocabulary as he discovers a deep, hidden need to romance the hell out of Jack. And what better way to do that than during the most romantic season in the City of Love?
Lucky in Loveland
Pairing: M-M
February 11, 2016
Word Count:
47500
Character Identities:
Gay
Summary: Jason Gibbons: As an ace sports reporter, Jason is revving up for his next big story—Ryker Brennan, Supercross star, sexy and solid. He captivates Jason like no one else ever has. "Despite having told myself not to get worked up, I am. And it pisses me off. Ryker Brennan is under my skin, and nothing good is going to come from that." Ryker Brennan: Motorcycles are his passion. He's a little sweet and a heck of a lot of wild rolled into a 250 racer who's always primed for the next big win. Then Jason Gibbons rolls into Ryker's life, and now his wheels are spinning. "I fell and got a mouth full of dirt. That's racing. The bike just got away from me, kind of like Jason did after that kiss. So why was I still thinking about him?" When life gives them a gnarly track to follow, they have to get dialed in for the next jump. Will they accept the challenge?
Magazines and Motorcycles
Pairing: M-M