Word Count:
31000
Character Identities:
Gay
Summary: Michelin Empyrean, a rare white raven, has lived for centuries and he's tired of loneliness. What makes life more burdensome is increasing responsibility and leadership of socially inclined corvid shifters. Preventing his kind, ravens, and especially crows, from robbing and menacing humans who remain unaware of their existence takes its toll. When one wayward creature's thieving antics come to his attention, Mich decides to personally take the man to task. Terrel Slade is a crow. Practically everything he owns is stolen. His stash of pretties, and the fact he's never been caught, makes him proud as a peacock. As much as he'd like to be the beautiful bird he struts around imitating, he believes his crow is sexier. Terre is no more than an omnivorous crow shifter with a penchant for shiny objects. A cunning bird, his existence is crammed with innovative ways to irritate his archenemy, the raven. That's about to change. When Michelin halts Terrel's lifestyle, more than sparks fly—the whole damn forest might burn to the ground. #darkfantasy #drama #enemiestolovers #gay #HEA #paranormal #religerotica #romance #shifters #travel #violence
A Silver Raven's Tale
Pairing: M-M
February 5, 2021
Word Count:
55275
Character Identities:
Gay
Summary: Ben De Santis I manage a small Western art gallery, where I've flirted on and off for years with Devin, an Arizona ranch owner, and a scruffy sexy artist. I know he likes what he sees but is too shy and never says much to me. Not one soul here knows I'm a witch, but today things suddenly sparked into life, and now Grandpa is calling, and I have no clue what he wants. Devin Hunter I sell my Cowboy art at a small gallery in Carefree, that has a crazy handsome manager, and he is it for me. He's always been friendly but seems quiet so I've left him alone. Now however, I need to make my move, since I'm going to start my own art gallery and want him to come along. When I finally approached him and shook his hand, I had the shock of my life, and soon his phone was ringing. Nero De Santis My grandson Bennie a good boy, respectful, and dense about his fated soulmate, but so is Devin. I felt them connect but they still had no clue what was going on, and I soon filled them in. I scanned Devin naturally, and something is way off with that cowboy. His deadbeat witch parents are a joke, so his immense power makes no sense. I need to consult Agnes as something is very wrong over there. Agnes Granville As a witch dealing with the Magnus coven, I received a concerning call from Nero, about his grandson's fated soulmate Devin. I checked him out as a favor, and while quite powerful, he is unaware he is under a spell, and has no apparent pedigree to back up his dangerous power. I need Vito and Craig to help me sort this out, and do some sniffing around, sorry Craig, no pun intended.
Ben De Santis
Pairing: M-M
October 8, 2020
Word Count:
93000
Character Identities:
Genderfluid, Lesbian, Non Binary, Pansexual
Summary: When a change in collective conscious sends the Outsiders, a group of aliens, to the shadows below the city, humans reason that the demonization of their peers is simply more "humane." There's no question, nor doubt. Just acceptance. Lydia had embraced that sense of "truth" for as long as she can remember. The daughter of a powerful governor, she has been able to live her life with more comforts than most. Comforts can be suffocating, though, and when the opportunity to teach Outsider children in their private, "humane" community becomes available, she takes it. What she finds beneath the city is far from the truth she had grown to know. There she meets Alessia, an Outsider with the knowledge and will to shake the foundation of all those who walk above ground. The two find a new and unexpected connection despite a complete disconnect from the technological world. Or perhaps in spite of it. Still, it takes a lot more than an immutable connection to change the world. Lydia, Alessia, and a small group of Outsiders must navigate a system of corruption, falsehoods, and twists none of them ever saw coming, all while holding on to the hope to come out alive in the end. But it's a risk worth taking, and a future worth fighting for.
Beneath the Surface
Pairing: F-F, M-F, M-M
January 19, 2018
Word Count:
25000
Character Identities:
Gay
Summary: From the outside looking in, John leads a boring life by day as a professor at a small liberal arts school in San Francisco. His nights are saucy, sinful even, when he services clients as a sex worker. He's damned good at it, too, for reasons far surpassing simple technique, whether he's entertaining super-hunky coeds or fulfilling the fantasies of married men on the down-low. Because John has a secret. It's not that he's thirty-five and feeling washed-up or that he's got a crush on one of his clients. His secret could be he's buried his rural, Southern roots, or that Paul, his first lover and preacher from back home, still preoccupies his thoughts. Maybe it's the terrors he faced in conversion therapy as a teenager…but it's none of those things. John's secret is the Fountain, a mysterious well of energy within him he cannot control. Paul knows about the Fountain. So do John's parents. Despite their best efforts to protect their dogma, it will all come out now that Paul has called John home to Georgia. To Bethesda.
Bethesda
Pairing: M-M
November 5, 2019
Word Count:
82000
Character Identities:
Gay
Summary: Tate Mackenzie has signed on for a weekend of kinky fun at the hands of respected Dom, James Lucas. However, James has invited another man, twenty-four year-old Sebastian Doucette, to join in. Thrown together under James' expert tutelage, the two men experience an instant attraction and begin a tentative relationship on their own time. But James hasn't been entirely honest with the boys and soon Tate finds himself the focus of two infatuated men. How will he choose the man he wants or the lifestyle he desires to pursue?
Beyond The Edge
Pairing: M-M, M-M-M
September 21, 2012
Word Count:
65000
Character Identities:
Gay
Summary: One has the golden touch. The other buys whatever he wants. When love races in, which man will end up on top? Twenty-six-year-old Silver Cruz loves working on fast cars, but finding the right boy to care for eludes him. When a handsome older man's performance ride breaks down nearby, the hunky mechanic is quick to bring his magic fingers to the rescue and get him going. However, the pushy snob's expectation of a casual quickie makes Silver put a speed bump between him and a sizzling jump between the sheets. Forty-two-year-old billionaire CEO Donovan Fonterra's only friend is his wealth. So after his hot rod malfunction attracts a ripped young dude with a take-charge attitude, he can't resist flashing the green light for some high-octane thrills. But even though the younger man slams on the brakes, Donovan goes in hard for the pursuit. As Silver struggles to fend off his persistent admirer, he discovers this is a man in need of a firm hand. And when Donovan finally succumbs to Silver's skillful bedroom tools, he might just be ready to surrender control to the sexy wrench-wielding hunk. Will Silver and Donovan discover the key that turns their uninhibited passions into a forever love? Boy Issues is the first book in the seductive Command & Care MM romance daddy/boy series. If you like lovers who almost become enemies, a stubborn boy, reverse age gap and racy action, then you'll adore Morticia Knight's drive on the wild side. Buy Boy Issues to hear love's engine roar today!
Boy Issues
Pairing: M-M
July 30, 2020
Word Count:
7700
Character Identities:
Gay
Summary: A lion sleeps in the hearts of brave men. When Prince Theodorin refuses to wed the general's youngest son because he loves another, he is trapped on a cursed island. He spends his days trying to escape, his nights listening to his lover's soothing voice echoing through the forest. His attempts to escape only lead back to where he started… until an encounter with a lion reveals a crack in the illusion. Theo has to believe, or he may never find his way home. ___________________________ Previously appeared in Wilde City Press' Bedtime Stories anthology
Click Your Heels
Pairing: M-M
February 14, 2018
Word Count:
18,000
Character Identities:
Gay
Summary: James Lawrey is a CEO with plenty of cred in corporate circles and plenty of cash to go with it. Privately, though, he's learned the hard way that it might be impossible to find the one thing he can't buy--a young man to look after who wants and needs a real Daddy, not just a sugar daddy.  Textile artist Rye Henry's last relationship went up in flames when his ex told him it was time to grow up. Rye's got a lucrative business of his own, so he needs a lover who isn't going to try to change him, a Daddy who wants his true devotion. Both men drop a pretty penny to experience a few days at the AirB&D, a swanky vacation home in Maine, for a fantasy that's exactly what they're looking for even if it only lasts one weekend. But can they get more than their money's worth? Of course. Just leave it to the matchmaker.
Daddy's Sunshine
Pairing: M-M
February 26, 2021
Word Count: Information not available
Character Identities:
Gay
Summary: Giles Martin is tired of feeling like he's not real. He might be a successful author, but he hasn't had the best track record with love. After all, his ex, who is also his agent, is the one who arranges his fantasy weekend with a Daddy at the AirB&D. How pathetic is that? And worse, he needs a man equipped to handle his issues and his Daddy turns out to be younger. Much younger. Lake Lewis knows he's younger than his fantasy boy expected him to be, but he knows what he wants, and he thinks his weekend with Giles is going to be epic. He's not exactly sure how to unpack all of Giles's baggage, but he's confident he can help his boy feel real. In fact, Lake comes to feel like Giles might be the one person in his life who actually needs him. How will Lake convince Giles that age is just a number, and that the matchmaker never makes a mistake?
Daddy's Surprise
Pairing: M-M
July 30, 2021
Word Count:
94000
Character Identities:
Gay
Summary: In this sequel to Deviations: Submission, Dom Tobias and Sub Noah are back, learning more about each other and their relationship, and testing the boundaries of what they can and can't handle, both together and apart. Tobias works at becoming more comfortable and finding his balance as a full-time Master again. His work brings out the true submissive in Noah, who faces some of his greatest fears, and his greatest secrets, finally confessing to Tobias about a terrible time in his past. But Noah is not the only one who has a rough time. Tobias breaks down and shows Noah he's not all Dominance, too, which sends shockwaves through their romance, leaving them to wonder if they can hold onto their balance together. Dominations is a deep exploration of the BDSM scene, with secondary characters who enhance the story and a central romance that has the reader rooting for Tobias and Noah to work through their obstacles and come out stronger.
Deviations: Domination
Pairing: M-M, M-M-M
December 29, 2019
Word Count:
96000
Character Identities:
Gay
Summary: Tobias Vincent is a big animal vet, and also skilled and seasoned Dom. City beat cop, and sub Noah desperately needs to find a man to help him work through a block but has yet to find someone who can take him where he needs to go. Through a series of encounters in the world of bondage and discipline, Noah reveals why he has trouble trusting, and why he needs such a firm, steady hand. Tobias is confident he can help Noah, but he has trouble letting himself love. Still, Tobias can't resist Noah's charms, and the two of them set about making a scene for themselves, one that works for them and their unique set of challenges. They learn to love, but how will they stay together while they explore each other's secrets, in an environment where all is laid bare and emotions run high?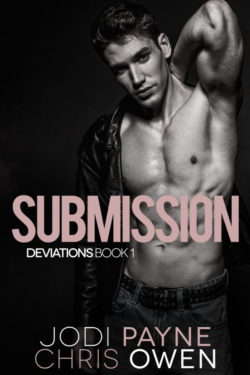 Deviations: Submission
Pairing: M-M
December 30, 2019
Word Count:
60000
Character Identities:
Gay
Summary: In the conservative East Texas town of Black Creek, you're either old money or you work for them. Redmond Cole is the latter. The long hours he spends fixing fancy cars in the local garage are barely enough to support himself, let alone his sixteen-year-old half-sister, Katie. All he wants is a better life for the both of them, one that's easy and real, but he has a secret. One that could blow up the meager existence he's worked so hard to maintain. Red is gay. He doesn't want to lie, especially to Katie, but Black Creek isn't the most hospitable environment to those who are different. His secrets keep them safe. He's all but resigned to a life in the closet until he's propositioned by the dashing, wealthy Victor Itachi. What follows is a secret and intense sexual relationship that challenges everything Red believes about himself. But when Victor's craving for dominance starts to affect his submissive partner's real-life relationships, Red must decide what's more important: his power or his secrets.
Drive
Pairing: M-M
April 20, 2020
Word Count: Information not available
Character Identities:
Gay
Summary: First Rodeo, The Cowboy and the Dom, Book One When a killer strikes, Texan and former rodeo cowboy, Sam O'Reilly, loses his older brother. Unbeknownst to Sam, James was also the lover and sub of a sophisticated New York City Dom named Thomas Ward. Sam comes to the city determined to stay until he can bring the murderer to his own brand of justice, while Thomas' more ordered mind is hoping for a legal solution. Neither man expects their connection to the other, but having each lost someone irreplaceable, their hearts are crying out for comfort almost as loudly as their bodies are screaming for each other. Some yearnings refuse to be ignored, but transcending their differences to explore the fragile connection between them will prove to be a steep a hill to climb--the first of many. As Sam and Thomas take the first tentative steps on the rocky path that might lead to a relationship, the killer steps out of the shadows...And this time, his sights are set on Sam. Note to our readers: Each of the three books in The Cowboy and the Dom Series has a fully realized, romantic ending. However, the overarching suspense element will leave readers on a cliffhanger after books one and two, to be fully resolved in book three.
First Rodeo (The Cowboy and the Dom, Book 1)
Pairing: M-M
October 15, 2019
Word Count:
107000
Character Identities:
Bisexual, Gay
Summary: Second Place in the 2016 Rainbow Awards for Category: Gay Historical! In this sequel to Dominus, Gaius Fabius Rufus, the victorious general of Rome's brutal Dacian Wars, finds his loyalties and his affections pulled in different directions. Should he return to Rome and secure his claim to the imperial throne, or remain at his seaside villa and protect his pleasure slave, the fierce Dacian prince, Allerix? Retaliation for the murder of his beloved friend beckons him home, but his desire for justice could put both him and Allerix in mortal danger. As Gaius's deceptions multiply, another tragedy strikes. Will the Lion of the Lucky IV Legion be forced to sacrifice his besotted heart to achieve his aspirations for supreme power? Every moment since Allerix's violent capture has tested the young prince's fortitude and cunning. If he can kill the triumphant emperor who decimated his Dacian nation, revenge and immortality will be his glorious, everlasting rewards. But to realize his scheme for vengeance, he must deceive the Roman master whose body he lusts, the handsome, arrogant man whom he has grown to adore and admire. Can two former enemies—the conqueror and the conquered—find trust and true love, or are the consequences of war destined to tear them apart? Can Gaius and Allerix survive the perilous games of Rome? Dominus is a plot-packed erotic m/m historical fantasy set in ancient Rome during the reign of Emperor Trajan (AD 98-117). Games of Rome is the second book in this alternative history saga—a tumultuous journey of forbidden love, humor, sex, friendship, political intrigue, deception, and murder.
Games of Rome (Dominus Book 2)
Pairing: M-M, 4+ or Other
November 18, 2015
Word Count:
100000
Character Identities:
Gay, Pansexual
Summary: This is a STANDALONE story, OR it can be read as Book 4 of the Closer Than Blood series. Thirty year old Tino Santini, is a good man, caring and loyal to his family, but he's disillusioned with his job. After being trapped in the company elevator with his terrifying CEO, Tino is offered the role of his personal assistant. It seems a night of scorching, unexpected sex can do wonders for a flagging career. Richard Mason is the pansexual businessman who wants more of Tino's talented mouth and organisational skills. He seems to have it all, but a former female lover and a murky past all threaten to destroy his chance of happiness. Neither he or Tino expect their relationship to be anything other than business, until a personal tragedy means Richard needs Tino more than ever. Meanwhile, Richard's demons have a nasty habit of resurfacing at inconvenient moments. As trouble looms on the horizon, both men embark on a hedonistic journey of sex, murder and possibly love. This book contains graphic scenes suitable for adults only.
Going Down
Pairing: M-M
January 13, 2020
Word Count:
67,992
Character Identities:
Bisexual, Gay
Summary: All Jawk has to do is seduce Luc, the most powerful man in the empire. And then betray him. Easy mission. Until he discovers that Luc has a heart... Jawk spies on the enigmatic Luc Saint-Cyr, known empire-wide as the Harbinger. People who cross "the Man" tend to disappear. Undercover as a waiter in Luc's favorite haunt, Jawk gets a break when Luc seeks to hire him for a one-night ménage with his current lover, Wulf. Jawk agrees, and things go well until Wulf and Luc fight, and Jawk is dismissed. He must get back in the man's good graces. When Luc seeks to make Wulf jealous by taking Jawk on a long trip, the means to gather intel is too good to pass up. Meanwhile, a forbidden dalliance between Wulf and another Chosen tests the bounds of trust between the immortals and their humans. The elicit affair threatens to rupture the eons-old alliance forever, and subject every last mortal and immortal to risk...
Jawk
Pairing: M-M, M-M-M
August 20, 2021
Word Count: Information not available
Character Identities:
Bisexual, Gay, Questioning, Straight
Summary: Nira. Astrum Industries' newest charted planet. Freshly discovered. Wholly unexplored. But that won't be the case for long. Led by Captain Alec Hamlin, a team of explorers make an emergency landing and are soon confronted by their first Niran native. A huge male Kríe packed with muscle, baring small, black horns and fangs. Fortunately, he's friendly. Or so he lets them believe. With the help of his pack, the Kríe takes Alec's team captive, intending to sell them for profit. But these Nirans aren't just shrewd, they're arrogant and domineering. And most of all, extremely sexual. Which explains why, on their journey to peddle their new wares, they feed Alec's team a powerful aphrodisiac. Nothing like some decadent entertainment on the side. Soon the team finds themselves feverishly trying to resist the growing urge to mount their seductive captors. But as passion prevails and unexpected bonds form, so much more is suddenly at stake. With no time left, will a shift in Kríe perspective be enough to change the fate of Alec's team? Warning: Contains mild dub/con elements, and explicitly scorching gay sex with exotic and shamelessly kinky males of otherworldly descent.
Kríe Captivity
Pairing: M-M, M-M-M
February 29, 2016
Word Count: Information not available
Character Identities:
Gay
Summary: The Mob sent him to kill me, but he owed me a debt… Years ago I saved his life, and we spent one hot night together before he disappeared. Now this bad boy's all grown up, and living a dangerous life. But when his Family decides to send a message to my father, it's my life on the line. Only he can't bring himself to do it when he realizes who I am. He bargains for my life. He argues to keep me as a hostage instead of killing me. He even agrees to marry me, but not for love. Marrying me is the only way he can repay the blood debt he owes me. He tells me he'll keep me alive only as long as his Boss allows it. What he doesn't know is that I've loved him since the first moment I laid eyes on him. I'll take him any way I can get him. Sleeping with the enemy never felt so good... But is there someone else who wants me dead?
Married to the Mobster
SALE
Pairing: M-M
March 31, 2020
Word Count:
65000
Character Identities:
Lesbian
Summary: Fast cars, motorcycles, and one-night-stands have been Mac's life since she left the military. Bitter over a lost love and never one to gamble, she ends potential relationships with surgical precision to avoid another heartache. After her flight to Italy is delayed by a wicked storm she intervenes when a drunk passenger threatens the desk agent. Impressed with her courage, fellow passenger Lana Baroni offers to buy her a drink. One coffee and an upgrade later, they spend the fight to Italy talking cars and racing. When a site-seeing date with Lana turns into an afternoon tryst, Mac has to choose: hit the brakes, or roll the throttle and risk everything to win Lana's love.
One
Pairing: F-F
November 6, 2017
Word Count:
40300
Character Identities:
Bisexual, Gay, Questioning
Summary: There are certain truths evident in the new state of the world: humans are less than nothing, supernatural beings reign supreme... and Elias Ivers always gets what he wants. When he finds out his prized human slave has been snatched away from him by Khaz, a low class whore, and made a vampire, he doesn't care what he has to destroy to claim Noah as his own. If that includes the budding feelings between Khaz and Noah, so be it. The fight for the fledgling is fierce and hot, but in this game of sex, pain and intrigue, can anyone other than Elias truly be a winner? ### Now that supernatural beings have seized control of the world, life has become a struggle for the humans who once held power. Witches, vampires, and werewolves determine the fate of every single human, but their moral compasses have long since been shattered. Rebels, free humans, and slaves all share dreams of hope, mercy, love, and more. But with their fate so uncertain, survival isn't enough... and they may have to sacrifice what is nearest and dearest to them if they want to change their lives. Bought, Ravel, and Recoil feature different characters whose lives begin to come together in Owned and Temper. 1. Bought: Jace & Elias. [Revised 01/2017] 2. Ravel: Ashton & Reese. [Revised 01/2017] 3. Recoil: Khaz & Noah. [Revised 01/2017] 4. Owned: Khaz & Noah, Jace & Elias. [Revised 03/2017] 5. Temper: Ashton & Reese, Jace & Elias.[Revised 03/2017] 6. Refraction: Khaz & Noah, Ashton & Reese (Jace & Elias)[Revised 04/2017] *Please note that the Fate of the Fallen (previously Ripples in the Status Quo) world has little place for humanity, and as a result, content in these works may contain graphic scenes of depravity, cruelty, and violence -- sexual or otherwise -- that could be offensive and potentially triggering to some readers.*
Owned
Pairing: M-M
April 29, 2016