Word Count:
33588
Character Identities:
Gay
Summary: Bain never thought he'd escape the prison he'd lived in for the last five years. He spent his days chained up like an animal, and his nights…they were better not spoken about. Until one day Antonio came stumbling into his darkness, lighting a fire in his soul and giving him a chance at a new life. Antonio loved his position as a Bellator, and he loved his brother Luc; it was Luc's friends he could do without. When he came upon an emaciated and beaten boy at his brother's best friend David's house, he knew he had to get him out of there. Risking his place on his team, his relationship with his brother, and even death was something he'd never regret. After all, Bain was Antonio's sodalis vitae, and soulmates were forever. The small problem of Bain being a member of the Tenebrix, the Bellators' mortal enemies, was nothing compared to what could happen if David found out where he was. But Antonio won't let anything—race, being hunted by his own kind, or Bain's fears—keep him from finally claiming his mate. This novella is a standalone in The Bearer of Truth world and takes place three years before Shadowing the Light. Antonio and Bain do appear in The BoT series as side characters, but you do not need to have read those books to read this one or vice versa.
A Blaze in the Dark
Pairing: M-M
February 7, 2019
Word Count:
63000
Character Identities:
Gay
Summary: Does Fate Grant Wishes? Ryan O'Shaughnessy, owner of the Top o' the Morning Coffeehouse, is convinced of it. Besides brewing the best coffee in Rothcote and baking delicious pastries and cakes, he helps Fate with her errands, never minding that it's always someone else's turn to catch a bit of happiness. Not until he meets a man who takes his breath away. Detective Sergeant Ben Hobart has made a career of helping others. He never asks help for himself. Not even when a bad breakup leaves him with only his cat for company. Until he sets foot into Ryan's coffeehouse to investigate a break-in and finds what's missing from his life. Fate may grant wishes, but she doesn't hand them out for free. Can Ben let go of the past? And will Ryan find the courage to make a wish of his own? A sweet, sexy mm coffeeshop romance with a touch of magic and a cat.
A Box of Wishes
Pairing: M-M
October 20, 2022
Word Count:
33500
Character Identities:
Gay
Summary: The Christmas Eve Dance six years ago was the scene of angry words and heartbreak. This Christmas, it's time for forgiveness and second chances. Hunter Cavendish fled his hometown six years ago and has avoided returning ever since. Now an up-and-coming designer, he succumbs to family pressure and agrees to come home for Christmas. But the fates must be conspiring against him, because the very first person he runs into is Aaron McBride—the man he's never been able to resist. The man who broke his heart. Aaron McBride loves his small town, loves the gift store he owns, and absolutely adores Christmas—it's his favorite time of the year. That is, until this year. This year he's forced to work alongside the infuriating and entitled Hunter Cavendish on the Christmas Eve Dance decorating committee. There's no way he's going to fall under the spell of his charms again—absolutely not. But the Christmas spirit weaves its magic, bringing the two of them together and providing the perfect opportunity for apologies, fresh starts, and falling in love again. So long as they can put the past behind them… A Christmas Reunion is a cute, feel-good holiday romance featuring enemies-to-lovers, forced proximity, second chances, lots of Christmas sweetness, and a well-deserved happy ending.
A Christmas Reunion
Pairing: M-M
December 1, 2020
Word Count:
16000
Character Identities:
Gay
Summary: Librarian Gavin MacCauley isn't expecting any surprises this holiday season. It's the usual rush of helping patrons, and knitting items to donate to the local hospital. But his world is turned upside down by the cutie who walks into knitting club looking to learn how to crochet a scarf. Jonathan Mercier has just moved to town and is desperate to find a new craft for his traditional, handmade gift for the aunt who adopted him. When his elderly neighbor strong-arms him into attending the library's knitting and crochet club, he falls hard for the kind (and hot!) librarian running the class. But with Christmas coming, and time running out to finish the gift, will these two find the time for each other?
A Christmas Yarn
Pairing: M-M
December 11, 2019
Word Count:
~67000
Character Identities:
Gay
Summary: Sometimes the perfect man can be found in the most unexpected place…. Martin Carmichael owns a security firm and is part owner of Club Whisper. He's a Dom in search of the right guy, and when his car breaks down on a lonely stretch of road, he thinks he might have found him. Artist Collin Malloy is talented, easygoing, but somewhat insecure. Still, he has a big heart and is quick to offer help when he sees Martin in need. To thank him, Martin invites Collin to dinner, where the attraction between them becomes harder to resist. But what will become of their budding relationship when Martin reveals that he likes his men bound, submissive, and in pain? Is it something Collin can accept… and possibly enjoy exploring? Even if he can, Collin has a secret of his own—a secret he doesn't even realize he's keeping.
A Dom and His Artist
Pairing: M-M
April 10, 2018
Word Count:
12079
Character Identities:
Gay
Summary: Guard your heart, or Jack Frost will freeze it. Jack Frost is all about the freezing cold, and he not only wants to freeze the earth, but he also wants to freeze people's hearts. When he sees two lovers kissing under the mistletoe, he vows to split them up. Teddy and his husband, Kirk, are still in love. Will they let a little frost come between them?
A Frostbite Christmas
Pairing: M-M
December 9, 2018
Word Count:
24000
Character Identities:
Gay
Summary: What surprises await Vic and Kellan when their egg finally hatches? Kellan's new life in the magical town of Vale Valley is filled with more love and joy than he'd ever dared dream of. Even more thrilling is the new life growing inside the egg he and his Alpha wolf mate watch over night and day. When their hatchling still fails to appear after several weeks, Kellan fights his growing fears about the uncertainty of a swan mating with a wolf. All Vic wants is to keep his beautiful swan omega and their egg safe. He'd despaired of ever finding the one who was meant for him, and he'll do everything within his power to protect his true love and their baby. Vic might still be bewildered by nesting and swan cuisine, but whatever his omega wants, Vic makes sure he gets. As Valentine's Day draws near, Vic's plan to do something special for their first celebration of the holiday doesn't seem possible. The egg isn't showing any signs of hatching and no one—not even the avian fertility specialist—knows why. Then, the last person they want to see makes an unexpected appearance. Vic is about to discover how tough his sweet little swan truly is… Note: A Hatchling for Valentine's is the 8th book in Season Two of the multi-author series about Vale Valley, a small magical town open to everyone in need of love and a home. Each installment in the series can be read as a standalone, however, Kellan and Vic's story is a continuation from Season One's A Swan for Christmas. This mpreg romance novella features a swan and wolf who are fated mates and are anxiously awaiting the birth of their first tiny hatchling. So grab a box of chocolates, a glass of champagne and put your feet up and enjoy a sweet dose of smexy mpreg.
A Hatchling for Valentine's
Pairing: M-M
February 8, 2019
Word Count:
24000
Character Identities:
Bisexual, Demisexual, Gay
Summary: A HISTORY OF TROUBLE A Beacon Hill Sorcerer Collection A collection of brand-new short stories, featuring characters from The Beacon Hill Sorcerer Series by bestselling author SJ Himes. Red Wine and Blood The Blood Wars raged for centuries across Boston. Witness a brief glimpse into the brutal history of the Wars with Ignacio Salvatore and the vampire he loves, Ashwin Metcalfe, in 1897. A History of Trouble Angel was joking when he asked O'Malley if someone resurrected a mammoth. Little did he know that was exactly what someone did. Experience the untold story of what happened that unfortunate night at the Boston Public Museum. A Dragon in the City What happens when Eroch goes adventuring in Beacon Hill without Angel? Chaos, pure chaos. Fae's Gold Daniel is helping the newly-resurrected fae Ruairi Brennan become accustomed to modern-day living. A boring trip to the bank quickly escalates, and Daniel calls Angel for help. The day goes downhill from there but ends in a comfy meal in a pub for an ancient fae warrior and a necromancer's apprentice. This is an collection, featuring vignettes and short stories from the universe of The Beacon Hill Sorcerer series. For full enjoyment, the Beacon Hill Sorcerer Series Books 1 through 3 should be read before reading this collection.
A History of Trouble
Pairing: M-M
February 25, 2019
Word Count:
21534
Character Identities:
Bisexual, Gay
Summary: Josh has stepped back into the closet for a guy, but how long can he stay there? Life in a college town suits Josh Cassidy. He has good friends and neighbors, and the bookshop café he runs with his family is thriving. As the winter holidays begin, Josh finds himself enamored with police officer Alex Curiel, an old friend who has recently moved back to town. The trouble is, Alex isn't ready for the world to know he's attracted to men. At Alex's request, Josh agrees to closet their relationship, though the secrecy quickly becomes a burden. When Josh realizes he is falling for Alex, his ability to hide his feelings from the world begins to slip, and he's forced to decide if love is enough to keep him hiding behind closed doors. A Hometown Holiday is a 21.5K sex-buddies-to-lovers MM novella. It features a bookshop owner with a fondness for jazz music, a closeted cop who could be Mr. Right if only he'd give himself a chance, and the warm, fuzzy HEA that both guys deserve.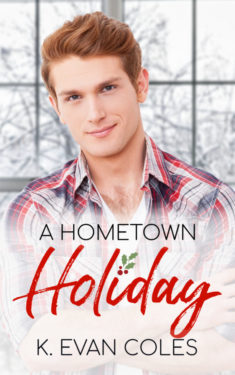 A Hometown Holiday
Pairing: M-M
December 12, 2018
Word Count:
21000
Character Identities:
Gay
Summary: Ethan Carson can't bring his father back, but he can give his widowed mom a perfect Christmas. He's spent all his savings on her wish list and found an epic tree. But when he starts to decorate with the family heirlooms, he finds her favorite ornament, the one his father bought on their honeymoon, is broken. The last time glassblower, Nico Kazan celebrated Christmas his boyfriend died. He woke up in the hospital alone and guilt-ridden. When Ethan, the object of his secret crush, asks him to recreate a broken Murano ball, the last thing he wants is to recreate a symbol of love—not when he knows love doesn't last. With Christmas orders coming in, only Ethan can convince Nico there's more to life than money. And only the magic of Christmas can open a heart sealed up tight. It'll take more than skill to recreate the Murano ball. It'll take a Christmas miracle.
A Hundred Promises of Love
Pairing: M-M
December 8, 2017
Word Count:
37500
Character Identities:
Gay
Summary: When a young girl implores Edgar Finch to marry her older brother because "Charlie is unhappy," Edgar is at first amused. But Charlie is nephew to the horribly abusive Lord Fitzhannon, whom Edgar has set himself against, and the lad is suffering under Fitzhannon's cruelty. Marriage is not in Edgar's plans, but he'll save the lad if he can—and marriage may be his one shot. Charlie is nineteen, wild and wounded, and extraordinarily beautiful. The marriage of convenience to Edgar is just what he needs to get free of his awful uncle, and to protect his innocent little sisters. A rocky alliance between Edgar and Charlie grows into something more companionable, from reluctantly relying on one another to trusting and warm. But Edgar's heart is set on revenge against Fitzhannon, who is responsible for the death of the only man he ever loved. Nothing must get in his way. He would rather not drag his young husband down with him, much less develop feelings for the brat. Now, if only Charlie would have the good sense not to fall in love with him...
37,500 words
A "Marrying Men" story. These pseudo-historical tales feature men marrying one another in various worlds and ways. Happy ending are to be expected.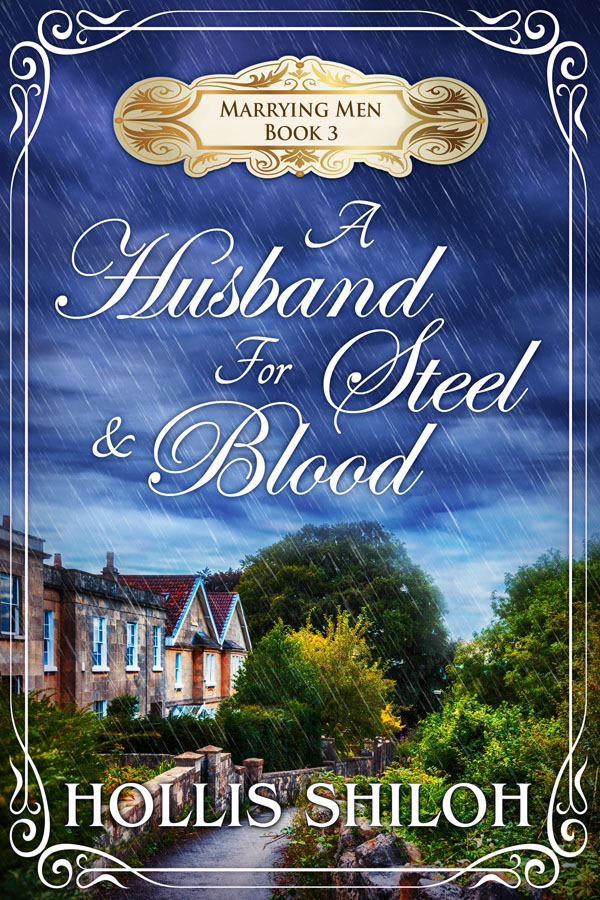 A Husband for Steel and Blood
Pairing: M-M
September 14, 2018
Word Count:
6,609
Character Identities:
Gay
Summary: When former tagger Eric hears a cute fellow student named Joel protesting to a woman that he's gay, Eric goes to his rescue and gives him a big kiss and hug in a City College hallway. Even though sparks fly between them, Eric doesn't expect any reward for saving the guy from being hit on in public, so he's surprised when undercover cop Joel asks him to become his pseudo-boyfriend. How bad can it be for a former high school dropout, who's been to juvie more times than class, to pretend he's a cop's lover?
A Kiss in Time
Pairing: M-M
November 4, 2020
Word Count:
37,000
Character Identities:
Gay
Summary: Sheriff Avery O'Rourke has tried to obey his strict Christian faith and lead a "normal" life. In 1923 in a rural East Texas town, "normal" means heterosexual. A cholera outbreak has made Avery a young widower, so he is married to his job. When a murder investigation forces him to confront his truth, will he finally be able to accept being gay? Veterinarian Garland Sands has returned from Europe to take over his father's practice. Struggling with shellshock (PTSD) and heartbroken by the suicide of his French lover, he resigns himself to a quiet, solitary life as a country vet. But the murder of the town doctor brings the sheriff to Garland's doorstep looking for help with the investigation. Seeing Avery awakens dormant feelings. Can he love a man who hates what he is? This isn't the lavish 1920s of The Great Gatsby. This is the flip side of that coin—rural East Texas. No electricity. No indoor plumbing. No flappers. In 1923, the timber barons have left and racism, homophobia, and sexism thrive. A Little Sin is a realistic mystery with unlikely heroes and a timeless romance between lovers caught in a world where their love is forbidden. This book contains steamy sex scenes and is intended for adults only.
A Little Sin
Pairing: M-M
February 24, 2018
Word Count:
27223
Character Identities:
Gay
Summary:
Graham Hayes decided long ago he'd never be in a relationship. It was better to stay single than to fall in love only to be left alone, which he was certain would happen to him. He'd seen Alzheimer's ravage his family members all his life, leaving their loved ones to deal with the fallout. Some of them stayed, but some didn't. Graham isn't going to risk it.
When he hires nurse Sam Morgan to take care of his dad during the day, his pledge to stay single is put to the test. He soon finds it difficult to maintain a professional distance. Graham's guarded his heart for so long, but his resolve is crumbling. Will he be able to conquer his fear to give himself a chance at love? Can he trust Sam to stick around for better or worse?
A Love to Remember
Pairing: M-M
April 28, 2018
Word Count:
30000
Character Identities: Information not available
Summary: Christmas has come on the ridge, Levi and Travis are busy getting ready for the biggest celebration the old farmhouse has seen in years. But a cloud of sadness still haunts Levi after losing both of his parents only a month ago. Meanwhile, Jeannie is seven months along in her pregnancy and has a bad case of the holiday grumps, and when the city council asks her to play The Virgin Mary in the town Christmas Parade she must decide whether she wants the responsibility, and when her husband Tony has to work; she asks her ex-fiance Jake to play Joseph, making his husband Shane jealous. Back At Magnolia, While he is searching for decorations in the attic he discovers a secret his father had kept hidden from him and his mother for years; he has a half-brother, and it's someone he and Travis have met before. Join Daniel Elijah Sanderfer and the cast of characters you have come to love for the epic seventh book in the Best Selling Magnolia Ridge Series. Even if we aren't feeling the holiday cheer, Christmas still lives in all of us. We just need help finding it sometimes.
A Magnolia Christmas
Pairing: M-M
December 17, 2018
Word Count:
7200
Character Identities:
Ace, Gay, Genderqueer
Summary: Part of the "A Holiday to Remember 2017 Series" On the colony planet Vega III, everyone knows Beck—outgoing, fabulous, and genderqueer—and nobody notices Anil, the quiet plant biologist. But when Anil finds Beck hiding in his greenhouse, lonely and missing Earth, it's Anil who is able to comfort Beck by letting them talk about what they miss most—the feeling that comes with celebrating the holidays with loved ones, especially New Year's Eve. ​The two of them are drawn to one another, but both of them are hiding secrets about their sexuality. With trust between them already on shaky ground, Anil's elaborate plans to cheer Beck may well backfire. A Holiday to Remember Freddy MacKay - Watermelon Kisses Foster Bridget Cassidy - But to Love More Toni Griffin - Corey's Christmas Bundle Angel Martinez - Safety Protocols for Human Holidays Nicole Dennis - Secrets & Silk Kassandra Lea - Winter Home Jill Wexler - The Christmas Eve Craigslist Killer Jayne Lockwood - New Beginnings Tray Ellis - A Piece of Ourselves J. Scott Coatsworth - I Only Want to Be With You Siri Paulson - A New Year on Vega III
A New Year on Vega III
Pairing: Includes NB
December 30, 2017
Word Count:
20,000
Character Identities:
Bisexual, Gay
Summary: Can a man with a dark heart heal a man with a broken one? Logan Perry was offered a job caring for an elderly lady a thousand miles from his home in Iowa. Looking for a place to hide, it seems to be the perfect opportunity to escape. So Logan runs to Texas. All he wants is a roof over his head and food in his stomach. So moving into the amazing McFarren Manor he believes is all he needs. Bradley McFarren is only looking for someone to care for his aging grandmother. Too busy with the family multi-billion dollar real estate firm, he just doesn't have time. With no personal life to speak of, Bradley has kept his heart safe. As long as Gail, his beloved grandmother, is cared for, he thinks it's all he needs. But what both their hearts truly desire is a place to belong.
A Place to Belong
Pairing: M-M
June 26, 2018
Word Count:
14000
Character Identities:
Gay, Questioning
Summary: Jesse is a pastor just sent to a small town Bible college in the midwest. David is an in the closet Bible college student coming to terms with his sexuality.
When they meet, he finds that Pastor Jesse has a secret too. As Jesse helps him come to terms with his sexuality and comforts him after a series of horrible events, their feelings toward one another cannot be denied any longer. But when a former boyfriend turns up at David's in the middle of the night confessing his true love, he is left with an impossible decision. Pursue a relationship with the man who was there for him when he needed someone or run back into the arms of the boy he once loved. Join Daniel Elijah Sanderfer for the re-release of this inspirational tale of coming out and falling in love.
A Prayer For Love
Pairing: M-M
November 8, 2019
Word Count:
56,700
Character Identities:
Gay
Summary: One Orphan. Two New Dads. And One Scary-ass holiday...coming up.  When Nathan and Og fell in love, little did they realize their union would end up in an unexpected adoption: that of the six-year old runaway child they found at Hope House. Now her first Christmas is fast approaching, and everything is hard for the orphan who's never had a real family. She's still dealing with ghosts of the past, and she's trying to do it alone. How can Nathan, Og, and the whole gang at Hope House, show her everything Christmas can be, in a forever family? Most importantly, how can they make sure that the Refuge Bay community's unparalleled Christmas magic will work its special miracle…on her? Come and celebrate with all of Refuge Bay this holiday season!
A Refuge Bay Christmas #1: Their Daughter's First Christmas
Pairing: M-M
December 14, 2020
Word Count:
32100
Character Identities:
Gay
Summary: An Alpha wolf and an omega swan can't be fated mates… Right? Abandoned by his swan herd and lost in a snowstorm, Kellan has nowhere to go. When he's near death, he's discovered by a wolf shifter in the woods surrounding a mysterious town filled with magic and hope. Could there also be love? Vic, the owner of Vale Valley Inn and Restaurant, has been alone since a virus claimed the lives of most of his pack. He's found acceptance and built a good life for himself in the beautiful town that has become his home. Still, facing another Christmas without a mate is heartbreaking, even if he's accepted that he'll never find his true wolf omega. When Vic rescues Kellan, he plans to do anything he can to help the skittish man forge a new life in Vale Valley. He's all too familiar with having to start over. But as they grow closer, something else starts happening that he's not familiar with—the mating pull and a swan's heat. A Swan for Christmas is the fourth book in a multi-author series about Vale Valley, a small town open to everyone in need of love and a home. Each installment can be read as a standalone. This mpreg romance story features an omega virgin desperate for love, a lonely Alpha who is perplexed by the mechanics of nesting and a whole lot of hurt/comfort and smexy times.
A Swan for Christmas
Pairing: M-M
December 7, 2018