Word Count:
48870
Character Identities:
Gay
Summary: (Beginnings Book Three) In Haven, Montana, the shifters and their human allies are safe—for now. But that safety hinges on the town's location remaining a secret, and it's about to be compromised. Cougar shifter Travis Kuger spent the past several years alternating between craving revenge and wishing he could forget his painful past. Ever since the shifter-hating Knights blinded him and killed his family, Haven—and Sheriff Jack Ulger—have been Travis's refuge. Travis and Jack know their friendship could be much more, but Jack is part of Haven's ruling wolf shifter pack. If he takes a non-wolf mate, he could be banished forever. But when a knight infiltrates Haven, love becomes the least of their problems. Second Edition with updated and revised text.
Blind Devotion
Pairing: M-M
May 4, 2021
Word Count:
82000
Character Identities:
Gay
Summary: Attraction for Adam was not a handsome face, a striking smile, or beautiful eyes, but a scent that would drive him to distraction or a voice that could make his heart beat faster. When the combination of the two walked into his life in Luke, Adam couldn't help but want him. But how was he supposed to know if Luke felt the same attraction? He had no prior experience, no past encounters, nothing to help him. Not even his sight. One look at Adam and Luke wanted him. Sensual, gorgeous, kind, with a strength that Luke was drawn to, Adam was everything Luke desired. Being in Adam's arms, showing him the pleasure of a man's body, being touched, held, and desired in return, had Luke wanting more, had him wanting what he knew he couldn't have. It didn't matter to him that Adam was blind, but Adam deserved more than someone like him. Luke was a man with a broken past and falling in love with Adam was a foolish thing to do, especially because Adam would never love him back if he found out what Luke was hiding.
Blind Passion
Pairing: M-M
February 14, 2018
Word Count:
98000
Character Identities:
Bisexual, Gay
Summary: Grey Ackles The Soul Weaver feels useless. A burden endangering his brothers. The last battle with the pestilents cost Grey his sight and powers. Now he's dependent on his vision rehabilitation therapist Cort to learn how to function on a daily basis. But as he grows closer to Cort, Grey is left wanting his powers back for a new reason—how will he ever know if the man he's falling for is actually his soul mate? Cort Newton There is some really weird stuff going on at that house. Spell books, guns, and a giraffe in the backyard? But no matter how strange it gets, Cort is not going to leave the grumpy writer. Adjusting to sudden blindness is hard for everyone, but Grey clearly has deeper reason for needing his vision back at any cost. Cort just wished Grey would confide in him. Even with Grey's secrets, Cort has never been drawn to a man like he is with Grey and he will do anything to keep this man safe. Blind Warrior is the third book in the Weavers Circle series. It includes fast-paced action, running through Savannah, secrets, shapeshifting, brainwashed assassins, a gorilla, sexy times, fun with water, insecurity, three crazy old ladies, and magic!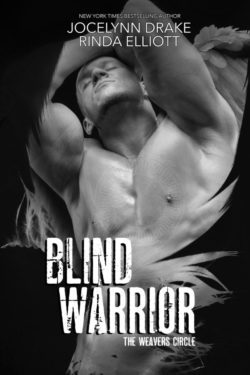 Blind Warrior
Pairing: M-M
November 20, 2020
Word Count:
110000
Character Identities:
Aromantic, Bisexual, Demisexual, Pansexual, Polyamorous
Summary: Shattered by betrayal, Aria's Companions have separated. Aven and Del have retreated to the safety of the Water tribe, leaving Owyn and Treesi behind on land to stand with Aria and help their wounded Heir heal. Despite their best efforts, Aria retreats, rejecting them both. Owyn knows that he and Treesi can't do this alone. He starts riding out to the coastal villages surrounding Terraces, sending messages out to the deep, begging Aven to come back, telling him that the Heart can reach the Heir. Then he returns from one such trip to find Aria and Treesi have left Terraces, leaving him behind. Abandoned, Owyn leaves Terraces. Instead of following Aria, he goes north, trying to find a way to contact the Water tribes. Trying to find a way to save everything before it's too late. To do that, he must face his deepest fear, risk losing his heart, and accept help from the most unlikely of allies.
Bones of Earth (Heir to the Firstborn, Book 3)
Pairing: F-F, M-M, M-M-F, 4+ or Other
May 26, 2020
Word Count: Information not available
Character Identities:
Ace, Bisexual, Pansexual, Polyamorous, Straight, Transgender
Summary: Weeks into the Progress, and with months still to go, Aria and her Companions have left their allies behind as they move into unfamiliar territory. Awaiting them are friends and enemies, long-buried secrets and truths finally revealed. And a Seer, a son of Earth, who wanders the hills and speaks of the Child, a baby born of all four tribes. Aria's child. The Seer's visions say that the Child will bring peace to the world. But at what cost?
Children of Dreams (Heir to the Firstborn, Book 6)
Pairing: F-F-M, M-F, M-M, M-M-F, M-M-M, 4+ or Other
November 15, 2022
Word Count:
78000
Character Identities:
Gay
Summary: A blind merman fleeing the sunken city of Atlantis is torn between the family he left behind and the love he swims toward. When Dax lost his family to a shark attack he swam away from everything he had ever known. Now he has come to Atlantis, hoping to reconnect with those he left behind. When he finds his birth clan torn apart, he realizes his journey is just beginning. Kai is an Oracle, a blind merman, who only has sight when he has a vision. Atlantis, a sanctuary for so many merpeople, is his prison. Desperation drives him to beg the Atlantean Goddess of Love for help. With the goddess's promise of love to tempt him, Kai persuades Dax to take him along when he leaves the sunken city. Although Dax has some reservations about traveling through the ocean with a blind merman in tow, he quickly discovers Kai isn't as helpless as he appears. Attraction comes easy, but Kai doesn't seem to feel the same way. Kai knows he must seduce Dax if he hopes to win his heart, but his inexperience may be his downfall. With Dax's former lover waiting at the end of their journey, he knows time is running out. A goddess can only help so much, especially when another immortal would see them part. If the two stubborn mermen want a life together, they will have to learn to communicate and fight for their love.
Dangerous Waves
Pairing: M-M
October 4, 2016
Word Count: Information not available
Character Identities:
Gay
Summary: "Don't let his adolescent behavior darken your soul, Mijo. You have the uncanny ability to see the heart of a person, despite your blindness. Randy needs you." Adrian Treadwell knows nothing darkens a soul more than losing your sight at nineteen to homophobes. When his family turns him away, after his hospital stay, he's left with one choice—relocate to New Mexico, and let his friend Mico's family assist him. With their promises of a new life, the opportunity to relearn his independence, and the potential of making a new friend, Adrian's future is looking brighter. Once he meets Randy, the possibility they will get along diminishes, as he uses every chance to undermine Adrian's newfound confidence. The afternoon Randy Martinez first spies him, Adrian's dressed in a crop-top, and his jeans are low-cut, barely hanging on his hips, while he dances. He undulates his cut abs like a snake, making Randy's mouth water. When the music stops, Adrian's smile has Randy's heart in his throat. Then, he remembers—he's not gay. Rejecting all of Adrian's overtures of friendships, Randy runs with the local gang to keep himself straight. With Randy on the path to nowhere, and Mico away at school, Adrian fills his time with Braille translations and learning to cope in a sighted world. If he's lonesome, he keeps it to himself. His world is small, but Mico's family loves him and has given him a home. It doesn't seem right asking for more. Then one year it all came crashing down… Darken Not My Soul tells how contentious Randy wins the heart of gentle Adrian. Intertwined amid the tragedy of Mico's paralysis, Randy struggles to overcome Adrian's distrust of his motives, his reservations over Randy's youth, and his fear that his disability will burden and steal his future. Darken Not my Soul complements Love's Tethered Heart, but can be enjoyed as a stand-alone novel
Darken Not My Soul
Pairing: M-M
May 11, 2017
Word Count:
426
Character Identities:
Gay
Summary: Sometimes the best thing about living in New York is leaving it. When January Bell takes a risk on a business trip to Denver and introduces himself to the hot as fire cowboy across the bar, he has no idea what he's in for. Hawk is like nobody he's ever met, and Jan finds he is intrigued enough to want more than just one night with the deceptively complex man. Hawk Destry is working hard to wring every moment he can out of his bull riding career. He's used to beating the eight second clock, but a life-long degenerative disease is causing him to slowly lose his sight and he doesn't have a lot of years left in the sport. None of that seems to matter, though, when Hawk meets January, who treats him like he's worth more off a bull than on one, and who's willing to work just as hard to be with him. The two men have to deal with the distance, unexpected challenges when Hawk visits New York, family on both sides, and neither of them sees any of it coming. Eventually even Hawk's dangerous job is thrown into sharp relief when tragedy strikes. How will January and Hawk find their way when they're flying blind?
Flying Blind
Pairing: M-M
July 28, 2020
Word Count:
117000
Character Identities:
Bisexual, Pansexual, Polyamorous, Straight
Summary: Owyn had learned one lesson early – no one wanted him. Then he discovered that he was the Fireborn, and in an instant went from nameless slave to one of the most important people in the world. One of the most sought after. And one of the most hunted. Faced with a tantalizing link to his own unknown past, and the growing fear that the promised haven may be nothing more than a pretty trap, Owyn must learn to stand on his own in a race against treachery and time. He has to uncover the truth…. A truth that might destroy his hopes for a future.
Forged in Fire (Heir to the Firstborn, Book 2)
Pairing: M-F, M-M, M-M-F
October 22, 2019
Word Count:
20101
Character Identities:
Gay
Summary: (A Shifter Chronicles Story, Sequel to Blind Devotion) Wolf shifter Sheriff Jack Ulger and cougar shifter Travis Kuger protect the shifters and their human allies living in Haven, Montana. They have known each other for almost two decades but weren't always friends. One Halloween night, as teenagers, that changed when Travis saved them both from an abandoned mill and the ghosts haunting it. Years later, it's Halloween again, and Travis never shared the ghostly experience with anyone, least of all the skeptic Jack. But he soon regrets the omission when Jack becomes trapped in the same abandoned mill while trying to find two lost kids. Jack must now protect the children, fight off a spiritual attack, and find a way to freedom. Travis knows something is wrong and enlists the help of their friends, and he can only hope they'll be in time to save Jack from the dark entities. Second Edition with revised text.
Ghosts of Halloween Past
Pairing: M-M
November 23, 2021
Word Count: Information not available
Character Identities:
Bisexual, Gay
Summary: In one tragic night Steven loses everything: his lover, his dreams, and his sight, but he gains the compassionate, caring dominant he has always longed for. He starts to rebuild with Nick, a fellow survivor of the tragedy, and together they discover new heights of love and ecstasy, and the real magic they can create together. Nick must teach Steven not only how to have a healthy and consensual BDSM relationship, but how to navigate the ways of magic. You see, Nick is secretly a mage, and the longer they're together, the more obvious it becomes that Steven is one, too. But as Steven begins to wield his new--and terrifyingly strong--powers, he draws the attention of evil beyond our world. The ancient enemies of the faerie courts have banded together under a cruel, calculating leader, and Steven is the only one standing in his way. Only Steven can defeat this threat... And he doesn't have the first clue where to start.
Heart's Master
Pairing: M-M
December 15, 2016
Word Count:
35, 600
Character Identities:
Gay
Summary: Summer fireworks were undeniable, but Warwick needed time to deal with his past, so in fall, he and Dom went their separate ways. Even though fate intervened with an unplanned reunion on a flight to Europe that ended in a kiss, Warwick still took the planned break once back in England. With his head clear by winter, Warwick knows what he wants -- Dom. Dom feels the same, but his opera diva mother, who swears by romantic fables and love mythology, claims the third time is no charm. In fact, a third reunion, according to her, is always cursed. As the three embark on a Christmas concert tour, the prophecy seems to be coming true. Sfortuna, bad luck, follows them from city to city. Is Warwick and Dom's relationship really doomed before it begins, or will mythology and Christmas spirit provide a way around the jinx?
Jingle Bells and the Jinx
Pairing: M-M
December 11, 2021
Word Count:
53,445
Character Identities:
Gay
Summary: Book seven in the Roughstock series You don't need the use of your eyes to see forever. After his head injury leaves him blind, professional bull rider Jason Scott can only think of one thing. He desperately needs to win the title in the big leagues of bull riding so he can retire and start a new life—one he can live with his best friend and lover, Andy Baxter. Andy—or Bax, as his friends call him—wants to keep Jason safe and alive, but he would never ask his man to be less than he is. With the help of their best friends, they start out on a path that will lead them back to the major events and to a deception that might lose them all their jobs. There's no way the league officials would let Jason ride if they knew he was blind, so Jason and Bax have to figure out how to get Jason back to the top of the leaderboard without any kind of advantage or cheating being called. Meanwhile, they have to figure out what their new life is going to look like and what they'll be if they're not bull riders any longer. Will they get what they want? Or will the whole thing just be a case of the blind leading the blind?
Leading the Blind
Pairing: M-M
June 8, 2021
Word Count:
7460
Character Identities:
Gay
Summary: Jesse is tired of being handicap, and desperately wants his independence. But his well-meaning, meddlesome older brother, Caleb, has other ideas. Their relationship gets even rockier when Jesse starts dating an old schoolmate of Caleb's who used to bully and torment Caleb's friends. This story was published as a part of the Being Me anthology.
Losing Sight
Pairing: M-M
March 28, 2019
Word Count:
4800
Character Identities:
Non Binary, Polyamorous, Transgender
Summary: Tahl promised Enfys ice bears for Midwinter, but ey neglected to tell him that ey and eir kin were the ice bears. ___________________________ Written for the Rainbow Advent Calendar 2018
Midwinter Bears
Pairing: M-NB
December 22, 2018
Word Count:
50,000
Character Identities:
Gay
Summary: One last heist. It should've been easy. Crack a safe, steal from a villain, and go on vacation. The last thing Mack and Toshiro expect is to descend into a nightmare of betrayal. Mack Ueda-Easton loves three things: his husband, heists, and his odd family of friends. He lives life on the edge. The only cloud on his horizon is the degenerative disease stealing his sight. Toshiro Ueda-Easton tries to juggle his husband, his autistic sister, his interfering mother, and all of their heists. He knows they're spiraling out of control and the journey they're travelling can't last. What neither of them expect is to get catapulted straight into a dangerous conspiracy. They're now in a race to come out on top. If they fail, the consequences are unimaginable.
One Last Heist
Pairing: F-F, M-M
May 26, 2018
Word Count:
76000
Character Identities:
Gay
Summary: Can a merman and an Atlantean, separated by centuries and prejudices, find love together? Merman Delwyn is an Oracle of the past. He loves nothing better than observing the comings and goings of those who lived centuries before he was born. His favorite time period to visit is when both Atlantean and mer inhabited the sunken city of Atlantis, and his guilty pleasure is watching lovers come together in passion. Secure in the knowledge that no one can see him when he's viewing the past, nothing can prepare Delwyn for the moment Fabian, an Atlantean living in the past, speaks to him. Fabian is a man with divided loyalties. The demi-god son of the Goddess of Sea Creatures has sworn to serve the Goddess of Prophecy as her Oracle of the present. His unique status gives him the power to see anything in the present, including the mysterious merman voyeur from the distant future. Despite the centuries that separate them, Delwyn and Fabian find they have a lot in common and quickly form a friendship that both hope one day will become something more. But before they can be together in the present, Delwyn and Fabian must unravel the mysteries of the past. Only time will tell if truth about the long-since vanished Atlanteans will bring them together or tear them apart, as the battle for the sunken city of Atlantis begins.
Shifting Currents
Pairing: M-M
April 25, 2017
Word Count:
139,317
Character Identities:
Gay
Summary: Luc is the most powerful man in an intergalactic empire of 22 planets—but he's alone, life after life. Izzorah survives by hiding both his illegal status and his blindness for fear of banishment. Luc's immortal blood can heal Izzorah's sight—but what will it take to heal Luc's heart? Luc might risk violating the highest law among the immortals by sharing his blood, but that means revealing what he is, and risks baring every damning secret, every twisted fact, and twelve thousand years' worth of dirty hidden lies. With no guarantee their love can survive that kind of truth... An immortal alpha male. An illegal, near-blind rock musician. And twelve thousand years' worth of dirty hidden lies...
Surrender Love
Pairing: M-M
February 20, 2021
Word Count:
128000
Character Identities:
Aromantic, Bisexual, Demisexual, Pansexual, Polyamorous
Summary: At last, it looks like the end may be in sight. Aria has all of her Companions by her side, and the Usurper Mannon has abdicated and sworn his allegiance to her as Heir to the Firstborn. The time has come to leave Terraces and claim the Palace, and Aria's place on the throne. As they lay their plans, news comes from the north – the Palace has been attacked by Risha and her forces. People have been killed, and it is clear that something has been taken from the Palace. Discovering what has been stolen, and what secrets lay within the Palace walls will lead Aria and her Companions into a twenty-five year tangle of conspiracy and betrayal that will change everything that they believe, and everything for which they have been fighting.
Wings of Air (Heir to the Firstborn, Book 4)
Pairing: F-F, M-M, M-M-F, 4+ or Other
March 23, 2021
Word Count:
62,335
Character Identities:
Bisexual, Gay
Summary: With his career threatened and his life at risk, Wulf must seek help from the one man he swore he would never trust again, Luc Saint-Cyr, a.k.a. the Harbinger. An enigmatic man whose legendary power makes him the most feared person in the empire. For the Harbinger, saving Wulf is a simple matter of asserting his will. Luc's ties to the Thieves' Guild grant him access anywhere. He can protect Wulf without difficulty. Until Luc brings Wulf home for safekeeping, and discovers the real reason for the threats. Protecting Wulf has not only put his and Wulf's lives at risk, it's also risked the life of Luc's teenaged son. This is beyond protection, now. To the Harbinger, this is personal...
Wulf
Pairing: M-M
March 2, 2021