Word Count:
12,381
Character Identities:
Gay
Summary: English writing tutor Steve Smith only has two more semesters to graduate from Vermillion College in California. Then he hopes to get a top-paying job writing copy for a tech firm. Until he reaches his self-fulfilled dreams, however, he's working his way through school without borrowing from his successful Chinese-American parents. Vermillion football star Jason Woodard, on the other hand, grew up in a state-run home and is struggling to make his athletic scholarship and all that goes with it mesh with his academic requirements. He too is about to finish but, having put off first year English composition, has to rely on the writing lab where Steve works for help with an essay about love. Since Jase says he's never encountered love, he can't figure out how to write his essay. As they talk about love, they discover two things: falling in love is easier than talking about it and nobody in the school's athletic program wants two guys to fall in love. When the abuse of athletes across the country comes to light, Steve realizes Jase too has been abused and needs more help than a tutor can give.
A Short Essay on Love
Pairing: M-M
November 18, 2020
Word Count:
50000
Character Identities:
Gay
Summary: Three stories of gay bears living their best lives, including: Rough Cut Football players can be gay, too. Chris Hodak, a former college football defensive lineman, never came out. He didn't think big, burly football players could be gay, but he also never got over his crush on Rohan Moore, a hunky teammate with whom he had a fumbling make out session one night after a game. Twenty years after that fateful night, Chris, who is now in his 40s, again meets Rohan, an out and proud big, gay hairy bear who owns a barber shop catering to bears. Rohan is still beautiful but isn't interested in Chris because he hates closet cases. For Chris that spark is still there, and it gets even stronger when he sits in Rohan's chair for a shave and a haircut. In order to get Rohan back, Chris must be braver and tougher than he ever was on any football field. Twinks in Bearland Can a twink fall in love with a bear and keep his friends? The friends of pretty blue-eyed Dustin Garber are about to find out he has a secret. He loves bears, big hairy gay men. None of them know it, but he's just booked them all into the annual Gay Bear Ski week. Craig, beautiful, black and Jewish, is initially indifferent to the fact that he is spending a week with big hairy men. He already has a hook up planned of his own, although that man turns out to have a bizarre secret. Patrick and Ethan, two bear-hating twinks who have been secretly in love with each other for years, take much longer to come around to the idea that bears can be good guys too. Dustin isn't so sure his friendship with them will survive the trip. And then Dustin meets Nate, a big blond bear who is forever single but ready for something a little different. Nate's friends, Casey and Ryland, are fighting about Ryland's porn career. Nate's friend Gil is busy with a Canadian couple, but together Dustin and Nate get lost on a backcountry trail. Deep in the snow away from everyone they may just find the love they've been seeking and the understanding they didn't know they needed. Spooky Ginger Love In one scary weekend, love can set a man free. Keith Norwood, a handsome African American gay bear, came to Camp You-Mee's Bears Haunted Halloween Boo-Nanza Extravaganza for some cheesy holiday thrills and a little ass. A fan of the one-night stand, he thought all he wanted was to get laid. The camp's cute assistant manager with a fantastic butt was Keith's first choice. Instead, he loses his way in the haunted woods. He finds his way and himself with the help of Ronnie Gans, a big, friendly, hairy redhead. But he's unlike any one-night stand Keith has ever had.
Bearland Tales Boxed Set Books 1-3
Pairing: M-M
June 5, 2020
Word Count:
212000
Character Identities:
Ace, Bisexual, Gay, Straight, Transgender
Summary:
On the Right Track
A scandal tore apart the boy band, Vocal Growth, leaving Ru in disgrace. Hiding out in a midwestern suburb, he comes face-to-face with a high school student he hopes can look beyond his past. Can a former pop star find romance with the boy next door? ♥♥♥♥
Unicorns and Rainbow Sprinkles
Dane joined a boy band to escape a rough childhood, only to have it all fall apart when the band broke up. When he lapses into the depths of his eating disorder, fellow bandmate, Tommy, sends a friend to help, filling Dane's life with glitter, sprinkles, and unicorn magic. Will Dane's unwanted guest become his savior? ♥♥♥♥
Tommy's Song
The band fell apart and everyone turned to Tommy, but when he caves to the pressures of celebrity life, who will save him? Lost in the depths of alcoholism and drug addiction, Tommy finds his friends hurt and distant, his family at war amongst themselves, and himself locked away in a rehab facility. His biggest supporter is a girl he barely remembers, who hides a few secrets of her own. Can Tommy work through his past to find a future?
(This novella has never before been released!)
♥♥♥♥
Double Exposure
Tory spends his life snapping pictures, hiding behind the lens, and trying to see the world like everyone else. Autistic and with a strong dislike for being touched, he is surprised when a boy he admires kisses him. Confused by the feelings, Tory is launched into the chance to step out from behind the camera, explore who he is, and find love and acceptance.
Note: Stories feature teens in love with boy band stars or other teen celebrities and real life issues. Sweet romance, teen romance, LGBTQIA+ on the spectrum for teen readers. Novels are re-edited and expanded, previously published under the pen name Sam Kadence. See the look inside for possible content triggers.
Boys Next Door
Pairing: M-M
November 24, 2021
Word Count:
66,000
Character Identities:
Demisexual, Gay
Summary: Cameron Hayes believed himself to be a dedicated friend and a good son but destined to be alone. Because in his twenty-one years, he'd never fallen for anyone. Dating never appealed to him when he would rather spend a night at home. Despite his friend's best intentions for Cameron to find a hookup for the night, he stayed at the bar as he nursed a beer. And that's when Cameron spotted him and everything he knew evaporated with one look. Rylan Ellis wanted one night out without complications. To forget about his overwhelming responsibilities and stress at home. He loved to lose himself in the music and ignore everyone around him. But when he happened a glance at the bar and spotted the tall, broad, and sexy-as-sin man, he felt drawn to him. Soon, Cameron and Rylan learn about each other and establish their lives together. They also have to deal with a group of well-meaning friends, loving parents, and unexpected friendships. But most of all, a dangerous threat that could tear their lives apart. Will a chance meeting turn into something more? This novel contains heavy attraction at first sight and first-time gay sex between two men. There is no cheating or cliffhangers and ends with a happily ever after. *Contains a brief mention of a prior sexual assault and violence in later scenes.
Cameron & Rylan
Pairing: M-M
March 26, 2019
Word Count:
30663
Character Identities:
Bisexual, Gay, Questioning, Transgender
Summary: Tough times are ahead for the gang of best friends. Despite everything that is happening in each of their personal lives, they must come together to support one of their own during this trying time. Will this unexpected event bring some of the friends closer, or pull them further apart? As Raheim reflects on his life, he is afraid of what could happen to his relationships if his damaging secret were exposed. While hiding his own dirt, he mistakenly comes across another friend's secret. What will Raheim do with this information? Will he hold on to it, or will he expose it? Qier's mental stability is troubling. He's dealing with so many personal issues he wants and needs his cousin to be there for him. Qier feels Keston is never there anymore and his arch nemesis is at the root of it all. Could this be the start of a mental breakdown for Qier? In the sixth entry of a nine-book short story series, two familiar and well-loved Jaxon Grant characters appear, revealing their relationship to Phoenix. While Phoenix and Keston continue to enjoy their spring break together, other pieces are unknowingly being thrown into the mix that could damage what they are building. After showing Keston what life could be like with him, Phoenix is tired of the games and is ready to push this ongoing courtship into a relationship, but is Phoenix ready for Keston's response? After some drastic moves, Phoenix believes he has finally rid himself of all the extra baggage named DT and Damon. Is this relationship going to happen or are outside influences messing up everything? With what Damon has planned, he is still an imminent threat to Phoenix's wellbeing and Phoenix has no idea.
Could You Be
Pairing: M-M
September 30, 2015
Word Count:
94887
Character Identities:
Gay, Questioning, Straight
Summary: Twenty days. Nothing will ever be the same for these friends again in exactly twenty days. TJ's past transgressions are coming back to haunt him in a big way. But the big question still remains – what exactly did TJ do? On the other hand, Elijah's trip to Florida will turn his life around and have him standing on stable ground, but will it last? Will Elijah's secrets finally catch up to him? While these acquaintances are going through their everyday routine, unbeknownst to them, a storm is brewing in the background. In the days following the passage of this storm, the pieces of the puzzle will start to fit together as the entire buildup of this book finally takes shape. How is Seven connected to both TJ and Elijah's unfortunate events? Everybody is playing a dangerous game but at what cost? In the final analysis, lives will be shattered. People will be exposed. Death will be upon us. Join TJ, Elijah, and Seven in this meticulously crafted second entry to this series, as the group of friends embark upon challenges that will shape the rest of their lives. And then on the twentieth day, the chain reaction of all these dangerous games will go up in flames! Who goes to jail? Who will receive devastating news? Most importantly, whose door does death pay a visit to?
Dangerous Games
Pairing: M-M, M-M-M
May 29, 2020
Word Count:
30979
Character Identities:
Bisexual, Gay, Questioning, Transgender
Summary: In the fourth entry of a nine-book short story series, Phoenix has been put in an intense situation and he has some tough decisions to make. With the pressure mounting, will he be able to wiggle out of harms way without giving himself up? To make matters worse, Phoenix's ghosts of Mississippi are haunting him. What will he do? Keston wants to take a leap on faith and enter a relationship with Phoenix, but something Qier said is lingering in his mind, causing Keston to pull back. With Qier away at the NFL Scouting Combine, Keston feels this is the perfect time to take a chance on love. He wants to move forward, but after Keston's previously failed relationship, he doesn't know if he can completely trust Phoenix. Not only that, Cheyenne drops two big bombshells on Keston that is guaranteed to rock some worlds. A friend of Raheim enters the story and is destined to ruffle some feathers. He's young, sexy, outspoken and a firecracker waiting to explode. And when it's revealed who exactly he's connected with—all hell is going to break loose.
Don't Look Back
Pairing: M-M
August 3, 2015
Word Count:
31076
Character Identities:
Bisexual, Gay, Questioning, Transgender
Summary: The most important days of Qier's life are here—his graduation from college and the NFL draft. As Qier celebrates his achievements with family and friends, Kookie is determined to be in the mix. Will Qier give into his fears and introduce the love of his life to his family, or will Kookie crash the party and introduce herself? Will Qier's life ever be the same after this weekend? Keston is still dealing with everything he learned about Phoenix. He wants to look past it and continue on with their relationship, but will the current events surrounding their situation keep him from his true love? Will Keston finally understand his self-worth? Phoenix is learning the hard reality about life—to tell the truth at all times, but is it too late? Also, a planned night out with his best friend will have dire consequences for many parties. Raheim's friendship with Izzy is on the brink of disaster. Will Raheim reveal his truth to Izzy? Will Izzy confess to his wrongdoings? Can this friendship be repaired, or has it gone too far? Will Keston, Qier, Raheim and Izzy still be able to call themselves best friends once all the dust clears? The unthinkable happens as we reach the final book of this nine-book short story series. Lives will be forever changed. Relationships and friendships will be forever ruined. Nothing will ever be the same after this event! Nothing!
Exit Wounds
Pairing: M-M
January 8, 2016
Word Count:
33178
Character Identities:
Bisexual, Gay, Questioning, Transgender
Summary: Family is the root of all our beings, but Keston's issues with his family are starting to put suicidal thoughts in his mind. While Keston's strained relationship with his brother troubles him, the relationship with his father is starting to spiral out of control. Things are starting to get testy with Qier because of Keston's newfound love. Will Keston be able to have it all? Will he put his happiness on hold to please family? Will Keston's family be able to accept his truth? Qier can only see trouble in Keston's future. On the surface, it seems that Qier is just an overprotective cousin who only wants to save Keston from going down the wrong road, but is that really it? What is Qier's motivation for interfering into his cousin's love life? Why doesn't Qier want this impending relationship to happen? How far will Qier go to stop Keston's relationship from blooming? Phoenix's love life is finally on the right path. On Keston and Phoenix's first date, Phoenix lays everything out on the line, telling his new love all of his secrets—well almost all of his secrets. Making a decision to keep that one secret from his new love is going to haunt Phoenix sooner than he thinks. What is Phoenix keeping from Keston? What is Phoenix's connection to Izzy? In the third entry of a nine-book short story series, unexpected guests arrive, revealing some truths, but tangling the web with more secrets, jealousy and lies. Tensions are thick and fireworks are ready to explode! The ending sequence of events is guaranteed to leave you speechless. Still don't be fooled—everything isn't always as it seems.
Finding Your Love
Pairing: M-M
June 17, 2015
Word Count:
131676
Character Identities:
Gay
Summary: Choices. You cannot escape the consequences of your choices. TJ's choices have landed him in a whirlwind of trouble. Legal trouble. As he faces the biggest challenge of his life, he is also demanding answers about his past. Will TJ beat this case that is moving through the criminal justice system, or will his future come tumbling down? Will TJ have to reap the consequences of what he has sown? The choices Seven made are haunting his mind. Several people believe he was responsible for the Jaquez situation and that choice he made will return some grim results. While Seven tries to shake off the mistakes of his past, a new love interest develops. The choices he makes with this love interest can also come at a costly price. For Seven, do the ends justify the means? Insert Elijah. His past choices have led him to his new truth which causes the relationship with his mother to take a drastic turn for the worst. But why? What is really causing these problems in his home? What is really at the core of Elijah's issues? Is his mother to blame? Or is it something deeper? What will Elijah do when the demons in his head take him to a place of no return? While the friends tackle these storms in their lives, something more sinister is at work. A plan is being crafted to destroy them at their core. Dark secrets will be revealed. The ultimate betrayal will occur. Someone will meet their untimely death. In their world, all bets are off. Who can you trust? Who do you trust?
Free Yourself
Pairing: M-M
February 24, 2022
Word Count:
30278
Character Identities:
Bisexual, Gay, Questioning, Transgender
Summary: Oh, what a tangled web we weave, when we first practice to deceive! Book eight of the nine-book short story series, immediately jumps back into Qier's devastating news! How does he proceed knowing this new information? His livelihood is on the line with this recent revelation from his deeply hated foe. Does this mark the end of his seven-year relationship or does he find a way to rise above and finally admit his truth? Keston and Phoenix are having the time of their lives until Keston receives a phone call that changes everything. Will Keston be able to move past the secret he learns? Is this the final straw? Izzy is still grieving the loss of his mother, but fakes his feelings so no one would know just how bad he's hurting. He tries to take his mind off his issues when some friends come to visit. Instead of relaxing, he learns more shocking information that impacts the lives of everyone close to him, forcing him to take an unpopular stance. Revenge is the name of Raheim's game! He's still hurting over the ultimate betrayal by someone close to him and he's determined to get that person back for what they've done. The real question is how far is Raheim willing to go to make someone else's life a living hell? Just how low would he stoop?
Guilty Conscience
Pairing: M-M
December 15, 2015
Word Count:
60000
Character Identities:
Gay
Summary: NFL football player Isaiah Blackwell lost his husband three years ago and is raising their teen son alone. He lives his life as quietly as his job allows, playing ball to support his family but trying not to draw unwanted attention. His quiet life is shaken up when a mutual friend introduces him to Victor, a visiting principal ballet dancer who is everything Isaiah is not. Brash and loud, Victor Aleksandrov has applied for political asylum to avoid returning to Russia, where gay men are targeted and persecuted. He's been outspoken about gay rights in his home country, and if he doesn't get asylum, going back to Russia is a death sentence. Their one-night stand turns into a tentative friendship, a relationship they both agree is temporary…until Victor's denied asylum. Isaiah can't offer Victor a happily ever after, but he can propose something that'll keep Victor in the US and safe...marriage. He just doesn't expect his new husband to dance away with his heart.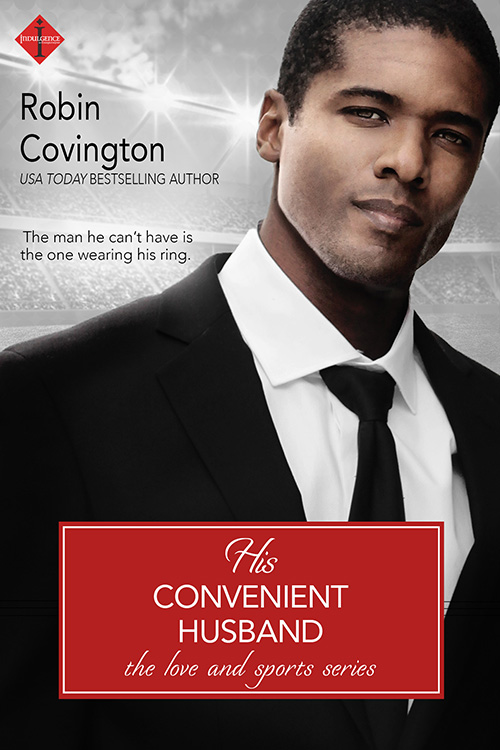 His Convenient Husband
Pairing: M-M
October 9, 2017
Word Count:
130972
Character Identities:
Bisexual, Gay, Straight
Summary: Zach is returning to Tallahassee to start his second year of college and his second year in the world famous FAMU Marching '100' band. At the end of his first semester in college, a certain relationship ended roughly, but now he's back and picking up the pieces to his young life. In the second entry of a venturesome eleven book series, the gang of characters continue to grow. Dwight and Zach's relationship are taken to higher heights. A certain situation occurs between them making it hard for one of the friends to separate fact from fiction. Tony celebrates the birth of his son, moves to Tallahassee to play football for the Florida State Seminoles and meets a potential, unexpected lover. Micah does something so crazy that could possibly change the course for the rest of his life and threaten the relationship he's building with Kris. Back in Norfolk, the Harris' family troubles are only scratching the surface. Raidon is dealt a major blow, while the rest of the Harris clan deal with the turmoil created by their mother and father. In an unbelievable move, Chaz and Ra'Jon team up to do the unthinkable which could have disastrous, murderous results. The mix of old and new characters, the twists and turns, and the secrets and revelations only add to the excitement and drama, making this entry one crazy ride. Join Zach and his friends, as the second book in this series is guaranteed to leave you speechless, posing the question—is this love?
Life of a College Bandsman 2: Is This Love
Pairing: M-M
October 26, 2015
Word Count:
132448
Character Identities:
Bisexual, Gay, Straight
Summary: Zach's grandmother has been warning him about an evil presence in his life from the moment he stepped foot on the campus of Florida A&M University. That evil shows its face in book four. Also, Zach's faith is put to the ultimate test as he takes several major blows to his life. Will he come up standing after all the dust settles or will he drown in his pity? Dwight is at a crossroads in his life. What will he do when he can no longer hide from himself? What will become of Zach and Dwight's relationship? Will they finally take it to the next level? Three major events happen in Tony's life over the next five months that will rock him to his core. Everything that he has worked so hard for could be gone in a matter of seconds. What will Tony do when the world turns its back on him? Will he survive this terrifying time in his young life or will he succumb to the pressure? Micah takes a turn for the worse as some of his darkest secrets are exposed. The stress of life is wearing him down as he continues to battle being in a dysfunctional relationship. He is silently crying for help, but is anyone listening? Will someone be able to save him or is it already too late? All hell breaks loose in the fourth book of this eleven-book series. The ending sequence of events is guaranteed to leave you shocked. The lives of all of these characters will be forever changed! Nothing will ever be the same after this.
Life of a College Bandsman 4: Hell on Earth
Pairing: M-M
February 11, 2016
Word Count:
31359
Character Identities:
Bisexual, Gay, Questioning, Transgender
Summary: Things are only heating up after Qier's earth-shattering hit knocked his teammate out. Qier is destined to protect his family at all costs. Qier's loyalty to his family and friends is unmatched, but will he be loyal enough to reveal his secret to the people he loves the most? In the midst of all the drama in his life, an unexpected character throws Qier a curveball. Is Qier being set up or is someone being shady? What will Qier do? Could Keston's desire to have relationships like his best friends finally be in his reach? One chance encounter at a bus stop could change everything for him. Could this be the love Keston's been yearning for? Raheim's and Izzy's friendship is taking a turn for the worst. Both are holding on to secrets that could easily destroy lives. What are the two friends hiding from each other? Will they be able to repair what's broken? Phoenix wants to settle down and he thinks he's found that dude. The only issue is Phoenix's current boyfriend. In addition to Phoenix's love life stressing him, his past is haunting him. What really happened in Mississippi? What is he running from? Why is he really in Orlando? In the second entry of a nine-book short story series, the web of intricate secrets, lies and jealously continue to tangle, but Qier's unbelievable dark secret is destined to turn your world upside down. Just remember—everything isn't always as it seems.
Nobody Knows
Pairing: M-M
May 19, 2015
Word Count:
29762
Character Identities:
Bisexual, Gay, Questioning, Transgender
Summary: Sexual thoughts are flooding Keston's mind. He wants to push the situation with Phoenix forward, but he's still cautious not to hurt himself. In an effort to test things, Keston makes an impromptu, bold decision that could forever change his ongoing courtship with Phoenix. Qier is starting to have second thoughts about his relationship with Kookie. With the NFL draft approaching, he wonders if he can really keep her real identity a secret. He's also dealing with the unending issues with his position coach, Yusuf. Qier is upset with something that Yusuf did. Can their secret relationship be repaired, or is it over for good? Finally—the big question—what did Phoenix do? What happened in Mississippi? Why is Phoenix in Orlando? Who exactly is Damon Massey? What is his connection to Phoenix? Who are the people in Phoenix's nightmares? In the fifth entry of a nine-book short story series, all of that is answered as Phoenix's secret is finally revealed!
Old Terror
Pairing: M-M
August 18, 2015
Word Count:
40,500
Character Identities:
Bisexual, Gay
Summary: It's Christmas time, so 'tis the season to be jolly, right? Well, Zach and Dwight beg to differ. As autumn turns into winter, this couple is in for the fight of their lives. This season will challenge them to their core. While Zach is preparing for a major change to his family, Dwight is trying to grasp the severity of his personal situation. As the happy couple travels up to mountains to spend the Christmas holiday, tensions will rise. Quite frankly, all hell breaks loose. Someone is holding on to a secret that can affect the rest of their lives. And once that secret is revealed, bombs will explode. Join us in the twelfth edition to the Life of a College Bandsman series as Jaxon Grant brings two of his top fan-favorite characters back to life as they embark on another unforgettable journey. Old flings will resurface. New life will form. However, when it's all said and done, will Zach and Dwight stand this new test, or will this union go up in flames?
Seasons Change
Pairing: M-M
January 3, 2020
Word Count:
21,000
Character Identities:
Gay
Summary: Forced roommates, fake boyfriends, fiery attraction, and a secret or two… are they fooling themselves or falling in love? Life is good for Eric Brown, a happily single theater major with a great group of friends. But then Will Butler—fellow senior, co-RA, and the cutest guy Eric's ever seen—becomes his roommate. Will seems very straight and has an off-campus sweetheart. That doesn't keep Eric from growing closer to him every day. Will has never believed in himself. But meeting Eric changes everything. Eric believes in his talent and is fast becoming Will's best friend. Soon Will wishes he had been honest with Eric from the start. The secrets start to grow. To protect himself from Will's hotness, Eric persuades his ex to pretend they're still together. And Will is also hiding some big things, not only from Eric, but from himself. Will they be able to get through the lies to the love that awaits them? If you love college guys, friends to the rescue, and music and drama geeks, you'll love this feel-good friends to lovers romance. Second Edition, no major changes
The Kinsey Scale
Pairing: M-M
May 8, 2020
Word Count:
30668
Character Identities:
Bisexual, Gay, Questioning, Transgender
Summary: Book seven of the nine-book short story series picks up with Keston's shocking revelation to Phoenix. Was it just a simple misunderstanding or was it something deeper? Will they be able to work through it or was that the beginning of the end? Qier's world is changing right before our eyes and he doesn't know how to deal with it all. His relationship with Keston is only getting worse and he doesn't see a good ending in sight. To top it off, he's still battling his internal demons with Kookie. In Qier's time of distress, he thinks back to his past with Phoenix. Why has Phoenix been a thorn in Qier's side? Why does Qier hate Phoenix so much? What did Phoenix do? What exactly happened in Miami all those years ago? Qier's issues with Phoenix, coupled with his problems with Keston and Qier's relationship with Kookie, is all leading Qier towards a nervous breakdown. Will he get the help he needs in time or does what Qier mistakenly stumble upon push him over the edge? Nothing will ever be the same after this shocking jaw-dropper. While the intricate web of secrets, lies and jealously continue to tangle, you must remember that everything isn't always as it seems—or is it?
Thought You Should Know
Pairing: M-M
November 11, 2015
Word Count:
38442
Character Identities:
Bisexual, Gay, Questioning, Transgender
Summary: Secrets destroy lives. Dishonesty ruins relationships. Keston, Qier, Raheim and Izzy are four gay best friends who grew up together in Miami, Florida. Even though the four friends are away at college in two Florida cities, they remain as tight as ever, or so they pretend. While they claim they keep nothing from each other, each friend has a dark secret that threatens the relationships they cherish the most. Qier, a college football star who's destined for the NFL, has one of the most damaging secrets of them all. He's afraid if his secret is exposed, he might have to leave the country. He's determined to do everything in his power to keep his secret, a secret. The game changes when Qier's most hated enemy, college basketball star Phoenix Cummings, resurfaces. Phoenix poses a direct threat to Qier's livelihood—in more ways than one. This relationship is a ticking time bomb, waiting to explode. In the opening entry of a nine-book short story series, the ground work for an intricate web full of secrets, lies, jealously and crime will begin to tangle right before your eyes. Don't be fooled—everything isn't always as it seems.
What Webs We Weave
Pairing: M-M
April 15, 2015