Word Count:
17081
Character Identities:
Gay, Pansexual
Summary: In a world where magic is hated and feared, sometimes the bravest thing a man can do is trust. Daymon is the second prince of a kingdom in which Evokers—those who possess intuitive magical abilities—have long since been treated with fear and mistrust. Marked as an Evoker himself, Daymon is captured by those who wish to take advantage of these powers. Now, the prince must put his faith in Rhyder, the captain of his guards—and the man Daymon has claimed as his own—to free him.
A Trust to Follow
Pairing: M-M
May 25, 2018
Word Count:
62000
Character Identities:
Bisexual, Gay, Pansexual
Summary: College was supposed to be about figuring out careers and goals, not what turned you on in the bedroom. When a class project pushes a confused Adrian in an interesting new direction, he's not sure what to do. His focus in college has always been on grades, but he doesn't know if he's ready to do what it takes to get an A in his Human Sexuality course. Watching Adrian stumble into the world of puppy play and kink shouldn't interest Owen as much as it does. The fact that they don't really know each other doesn't matter, not when they're technically too close to even think about one another that way. But something won't let Owen walk away from a floundering Adrian. When an embarrassing situation meets a sarcastic remark, sparks fly in the most unusual way. 62k Words Story Contains: Puppy play, and M/M sexual content of a taboo nature that some readers may find objectionable. Please read the sample or check out the authors' websites for a larger excerpt.
Almost Strangers
Pairing: M-M
March 23, 2018
Word Count:
16500
Character Identities:
Bisexual, Gay
Summary: When he agreed to take the fall for his pack leader's failed attempts to help the Rebellion, Jace knew he wouldn't live long enough to regret it. However, instead of the noble end he envisioned for himself, the werewolf finds himself at the mercy of a witch and his depraved games. Though he clings to his conviction that he can withstand anything his new master can dish out, it isn't long before he realizes pride has no place in his life as the pet of the controlling Elias Ivers. ### Now that supernatural beings have seized control of the world, life has become a struggle for the humans who once held power. Witches, vampires, and werewolves determine the fate of every single human, but their moral compasses have long since been shattered. Rebels, free humans, and slaves all share dreams of hope, mercy, love, and more. But with their fate so uncertain, survival isn't enough... and they may have to sacrifice what is nearest and dearest to them if they want to change their lives. Bought, Ravel, and Recoil feature different characters whose lives begin to come together in Owned and Temper. 1. Bought: Jace & Elias. [Revised 01/2017] 2. Ravel: Ashton & Reese. [Revised 01/2017] 3. Recoil: Khaz & Noah. [Revised 01/2017] 4. Owned: Khaz & Noah, Jace & Elias. [Revised 03/2017] 5. Temper: Ashton & Reese, Jace & Elias. [Revised 03/2017] 6. Refraction: Khaz & Noah, Ashton & Reese (Jace & Elias) [Revised 04/2017] *Please note that the Fate of the Fallen (previously Ripples in the Status Quo) world has little place for humanity, and as a result, content in these works may contain graphic scenes of depravity, cruelty, and violence -- sexual or otherwise -- that could be offensive and potentially triggering to some readers.*
Bought
Pairing: M-M
March 21, 2016
Word Count:
55000
Character Identities:
Gay
Summary: In a world where humans are genetically designed, altered and sold for pleasure and breeding, a young prince of the powerful Cassian Dynasty decides to take a mate and sire heirs. Not wishing to saddle himself with royal and meddlesome in-laws, and a wife he would have no desire to bed, Prince Edward goes to Heritage Breeders, and finds far more than just a warm body to carry on his lineage. Percy is the result of a master DNA architect designing himself his own personal slave and breeder. Yet when his creator and Master dies, leaving Percy alone at the mercy of the callous stable masters and the new owner of Heritage, he fears his future. Afraid he'll be bought by a wretched old man or a deviant monster, Percy is terrified when he is dragged from his cell and presented to the most prestigious client Heritage has ever welcomed...a Cassian Royal. Prince Edward is immediately infatuated with the shy, nervous and enchantingly beautiful Percy, and claims him for his own. Yet not everyone is pleased by a royal purchasing a breeder, especially one like Percy, and tensions rise both in Heritage and in the palace. Torn between need, duty, a king's command and the innermost desires of their hearts, Edward and Percy are set on path that is anything but easy. Can Percy trust Edward with his heart as he does his body? Can Edward keep an angry king and unseen enemies away from the young slave who is steadily stealing his heart? And what happens when Nature takes its course, and Percy's true purpose is fulfilled?
Bred For Love
Pairing: M-M
April 21, 2015
Word Count:
27000
Character Identities:
Gay
Summary: When Mateo tries to call off their relationship and leave his twin behind, Devin takes extreme measures to keep him close. All bets are off, and all the taboo and kinky fetishes he's wanted to explore with his brother are now on the table -- whether Mateo wants them to be or not. Devin doesn't accept "no" for an answer, and as he explores each and every new torment, Mateo gets dragged deeper and deeper into hell...
Brother Dear
Pairing: M-M
July 18, 2019
Word Count:
16000
Character Identities:
Bisexual, Gay, Straight
Summary: Alexander LaFon lives a nightmare, but he deals with it. Deals with the fact that his mother abandoned him as an infant, deals with the fact that his father is never home, and deals with the fact that his older brother, Jeremiah, tortures him. He dreams of escaping his mobile-home prison and finding a normal life. Of breaking free of his agony, finding a woman to love, becoming a teacher. But some horrors you can never outrun. There's nowhere to hide. Some nightmares chase you in your sleep and steal your freedom like a brutal thief. Some brothers never give up and never answer why.
Brothers LaFon, Part One: Crucial Lessons
Pairing: M-M
February 28, 2015
Word Count:
80,000
Character Identities:
Gay
Summary: In 1888 Austin, Texas, a shy medium with clubfoot is visited by the horrific ghosts of murdered children and enlists the help of a rugged Texas Ranger to pursue their killer. As the two men hunt the murderer, they find themselves not only in the grip of a taboo love that could—at best—send them to prison, but also in danger of becoming the killer's next prey. In the twenty three years of his life, Thomas Carillon has known nothing but unrequited love. People don't notice him; they only notice his clubfoot. He has given himself up to a solitary existence with only the companionship of his cat and the ghosts who visit him. When a rare child ghost, her massive injuries evident, asks Thomas for help, the only law man that will listen is a hard-bitten Texas Ranger who reawaken's Thomas's secret desires. The two grow closer as they chase the killer, but can they hold onto their fragile, budding love in such hard times? Hadrian Burton thinks Thomas looks like an angel, except for whatever horror he's hiding in that strange boot. Temporarily leaving life on the range and his complicated past to track down a killer with Thomas, Hadrian finds himself doing something he vowed never to do again—falling in love. Their "congress," as Thomas calls it, is more intense than he has ever experienced. After a lifetime of virginity, the clubfooted man is going wild, and he doesn't balk at Hadrian's unconventional appetites. But they're too different; Hadrian fears he will only hurt Thomas in the end. And yet, he has never fallen so hard for another man. How can he keep both his and Thomas's hearts from being broken? And how can he bring the elusive Child Slayer to justice with only the help of a medium and ghosts? This erotic gay romance contains violence, period homophobia, period racism, period ableism, and graphic sex scenes.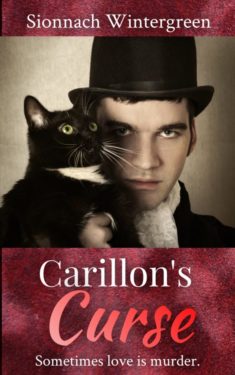 Carillon's Curse
Pairing: M-M
December 10, 2021
Word Count:
8175
Character Identities:
Gay, Questioning, Straight
Summary: Cowboy lust, hot—dirty, and unstoppable Dirk's family cattle ranch seems wholesome enough. Unless you were to wander into the horse barn Dirk uses for his side business of breeding and training stock horses. Then you might find him bulldogging Garrett, the ranch's head stockman. Wanting to explore their sexual appetite further, Dirk and Garrett have started cruising. Hitting the rodeo circuit. Partially because they love bronc riding and steer wrestling, and partly because the rodeo grounds and local country bars are prime hunting grounds for tracking down straight guys who are willing to walk the line with them—experiment. How far are these wranglers prepared to go to fulfill their rough stock lust? Book 3 of the Rodeo Boys series. Dirk and Garrett are placing well in their events, cruising and competing in the rodeo. Exhausted, but ready for anything, an unexpected revelation about a fellow cowboy, along with the allure of leather chaps atop bare flesh, add some heat to an already sweltering day.
Chaps
Pairing: M-M, 4+ or Other
November 10, 2018
Word Count:
170,000
Character Identities:
Gay, Questioning
Summary: In 1846 London, Oliver Twist has one desire: to own a bookshop and live a simple, middle-class life as far as possible from his workhouse-shadowed past. One thing stands in his way, Jack Dawkins--The Artful Dodger--who's just returned to London and wants to reconnect. Jack's visits cause Oliver nothing but trouble with his master, but he finds himself drawn, time and again, to their shared past, Jack's unguarded honesty, and those bright, green eyes. Oliver craves respectability, and doesn't think he will find it with a forbidden love. Can Jack convince Oliver that having one doesn't mean losing the other? Fagin's Boy: The Further Particulars of a Parish Boy's Progress is the first book in Christina E. Pilz's Oliver & Jack series, a gay historical romance. If you like Dickensian characters who fall in love in spite of themselves, and beautiful flowering romance occurring in all the wrong places,  then you'll love Fagin's Boy, so pick up a copy today!
Fagin's Boy: The Further Particulars of a Parish Boy's Progress
Pairing: M-M
January 1, 2014
Word Count:
58000
Character Identities:
Bisexual, Gay, Straight
Summary: Previously on Dragon War Chronicles, our heroes recovered and were preparing to take the fight to a still unknown enemy. Meanwhile, startling breeding experiments were revealed. Three sites are discovered in Russia that could hold all the answers they've been looking for. Three strike teams are assembled led by Xander, Kollin, and Tyler. Three simultaneous attacks are combined to make one devastating first strike against their hidden enemies. What horrors will they discover? What plans will be revealed? Why is a member of the Dragon Council showing up on Danica's doorstep with ultimatums? Find out in the next exciting installment of Dragon War Chronicles. Warning: This book contains explicit sexual contact between consenting adults. There are romantic, BDSM, and purely sexual relations shown that are MM and MF. There is also high sexual tension and alpha male posturing that will make you laugh and roll your eyes along with plenty of snark and definite teasing of dwarf-like dragons. Dragon War Chronicles is a continuous series. It is best read in order. SYN Consulting Secrets Revealed First Strike Dragon's Hoard
First Strike
Pairing: M-F, M-M
March 12, 2019
Word Count:
149,000
Character Identities:
Bisexual, Gay, Genderqueer, Lesbian, Questioning, Polyamorous
Summary: I summon the lightning. I claim my power. The warlocks of Icarus Academy claim me. I start my night as a cat burglar in Singapore and I end up queen of the witching world. Too bad this rags-to-riches fairytale's a gig I never applied for and won't accept. My witchcraft is wild and lethal, so I've renounced my power. I'm a fish out of water at Icarus Academy. But these four sexy warlocks who rule the school just won't take no for an answer. They want me to claim my power. They want me to summon the lightning. And they want to claim me as their consort. Because the witching world is dying, and I'm their last chance. But there's a queen killer on the hunt. Unless I figure out how to claim my power before the killer claims my head, there's a global extinction event looming. With my name written all over it. One-click for an intense dark witch academy poly paranormal romance that delivers teacher-student forbidden love, steamy group encounters, possessive warlocks, sexy shifters, first-time M/M, bi awakening, a lightning witch heroine who doesn't have to choose, and enough MMMMF heat to set your Academy uniform on fire. (Contains M/M, M/F, and MMMMF encounters)
Gemini Queen
Pairing: M-F, M-M, M-M-F, 4+ or Other
July 26, 2022
Word Count:
100000
Character Identities:
Gay, Pansexual
Summary: This is a STANDALONE story, OR it can be read as Book 4 of the Closer Than Blood series. Thirty year old Tino Santini, is a good man, caring and loyal to his family, but he's disillusioned with his job. After being trapped in the company elevator with his terrifying CEO, Tino is offered the role of his personal assistant. It seems a night of scorching, unexpected sex can do wonders for a flagging career. Richard Mason is the pansexual businessman who wants more of Tino's talented mouth and organisational skills. He seems to have it all, but a former female lover and a murky past all threaten to destroy his chance of happiness. Neither he or Tino expect their relationship to be anything other than business, until a personal tragedy means Richard needs Tino more than ever. Meanwhile, Richard's demons have a nasty habit of resurfacing at inconvenient moments. As trouble looms on the horizon, both men embark on a hedonistic journey of sex, murder and possibly love. This book contains graphic scenes suitable for adults only.
Going Down
Pairing: M-M
January 13, 2020
Word Count: Information not available
Character Identities:
Gay
Summary: Turnabout is fair play. Tavi Mirza has been operating under that principle for a few months now, but both he and his brother Rex are keenly aware they can't avoid the consequences of their actions forever. Sooner or later, the facade will crumble, and when someone ultimately finds out their secret, Tavi's life will be over. The fates have converged to ensure that the twins don't remain untouched by its claws, and they must determine where their true loves and loyalties lay. Can Tavi and Rex protect each other? Or will they allow the past to dictate the future instead of moving forward together? ### *This is NOT a standalone and should be read after Want (The Need Trilogy #1) and Take (The Need Trilogy #2). This dark taboo tale contains several kinks that may offend or trigger some readers, including (but not limited to) age play, ABDL, spanking, and humiliation. Not every dynamic or element is 100% consensual. Though The Need Trilogy is set in The Fate of the Fallen world, the trilogy can be read separately from the series and other books. The main characters do not (yet) appear in the FotF/SQ books, and there are minimal spoilers for the series or other books set in the universe.
Have: A Dark Taboo Tale
Pairing: M-M
September 21, 2018
Word Count:
68,000
Character Identities:
Gay
Summary: Gabriel Hunter wants one thing. Joel Reading. Joel is alone in the world and down on his luck. When he's forced out of his apartment with nowhere to go, handsome stranger Gabriel swoops in and saves the day. He gives Joel a place to stay, food to eat, and most importantly, something to hope for. It's taken extensive planning, but Gabriel finally has Joel right where he wants him. Joel didn't mean to fall for his wealthy savior, but Gabriel knows him too well. He has Joel's favorite coffee, favorite books, and he knows exactly how Joel likes to be touched. It's almost too easy to fall in love with the mysterious man who happened to be in the right place at the right time. Gabriel's omissions come back to haunt him and he's left hoping Joel can see through the deceit to the man he really is. The man he wants to be. As he's getting comfortable with his new life, Joel's happiness is snatched out of his grasp. With his world spiraling out of control, there's only one person he wants to catch him, because... Joel Reading wants one thing. Gabriel Hunter.
His Kind of Love
Pairing: M-M
January 14, 2018
Word Count:
11000
Character Identities:
Gay
Summary: Corey is a certified nerd harboring a secret. He has loved Jamie since high school. When he was rescued by him from a beating. But when Jamie finds out his secret will he freak out or be flattered? Jamie is an Alpha Male who drives a Harley and plays lead guitar in a local punk rock band. Can Corey handle the response he gets when his secret is blown? Join Daniel Elijah Sanderfer for this kinky and demented game of cat and mouse. It's the quiet ones sometimes that harbor the darkest fantasies...
If You Seek Jamie
Pairing: M-M
July 9, 2018
Word Count:
3850
Character Identities:
Bisexual, Polyamorous
Summary: I came home early from work to find my twins in bed together. What could I do but join in? My son and daughter really do love their daddy!
Inside My Twins
Pairing: M-M-F
October 27, 2021
Word Count:
71,000
Character Identities:
Gay
Summary: Erik Odegaard is beautiful, successful, and runs with an A-list Hollywood crowd. He's the aggressive bedmate of twenty-eight-year-old Mason's dreams. Their whirlwind romance turned into a picture-perfect wedding in Maui and a new home for the two of them on the beach in Malibu. Sometimes it feels like everything Mason ever wanted, though Erik's intense, private, and dominant personality has drawbacks outside of the bedroom. Then Erik's twin brother Lucas shows up at their doorstep needing a place to crash while he rebuilds his life after serving time. Erik calls his brother a walking train wreck, but he's actually everything Mason hasn't been getting from Erik. Lucas is kind and adorably playful, and he doesn't take himself so seriously. There's an undeniable physical attraction, and when Erik starts giving signals he wouldn't mind if Mason and Lucas explored that, Mason has got a lot to reevaluate about the kind of life he imagined for himself. But a slow drip of secrets from the past sheds a new light on the Odegaard brothers and their true intentions.
Killer Twins
Pairing: M-M, M-M-M
May 4, 2021
Word Count:
70000
Character Identities:
Gay
Summary: It's 1985, but different.... Frank Hope is a troubled high school senior. Being gay in a small Texas town in the eighties is hard enough, but Frank's also fighting to win back his ex-boyfriend, trying to graduate while hating school, and struggling to care for his sick mom. Despite his cynical nature, he tries to remain, well, hopeful. Everything he desires seems beyond his reach—until a newfound ability promises financial success and prestige. But success always comes with a price. What is Frank willing to sacrifice? Kasimir is—humans would call Kasimir a demon. Kasimir's people refer to themselves as the Eternals, who are engaged in a centuries' long conflict with the mortals from another world. But Kasimir, sensitive and idealistic, can't hate humans because he fell in love with a human boy named Frank while watching him through an interdimensional window when they were children. Now, as a priest scholar specializing in the study of humans, he's set on finding his old crush. However, his boy has grown into something feared by all beings of the Eternal Realm. Taking place in an alternative 1985 where demon essence fuels everything from mopeds to the space shuttle, this story of star-crossed lovers combines elements of fantasy and dystopian genres with gay romance while weaving together themes of surviving past trauma, breaking obsessions, and the transformative power of love. Warning: period homophobia, hate speech, suicidal ideation, past suicide, explicit language, sex, violence, child abuse, drug abuse, smoking
Know Thy Demons
Pairing: M-M
August 22, 2020
Word Count:
12150
Character Identities:
Bisexual, Gay, Questioning
Summary: I thought bringing my son to work with me would be fun. But, I didn't realize exactly how much fun it could get until the worksite is closed down to due to missing logging permits, leaving the eight of us with nothing to do but wait. I don't know if my son's ass will ever be the same again.
Logjammin'
Pairing: 4+ or Other
February 17, 2022
Word Count:
23000
Character Identities:
Questioning
Summary: I was home, alone on a Saturday . . . . . . boredom is dangerous. Then my roommate's friend called. We'd never met. He was bored, too. That one day opened my eyes to a world I never knew existed. I never knew it could feel so . . . You'll love this story because everyone wants to feel that way again. Get it now. My Accidental First Date is the first volume in the hilariously cheeky, best-selling Raised by Wolves series, a contemporary MM romance series about a newborn gay finding himself. It has hurt/comfort, found family, sexual awakening, first time gay, and a guy who finally realizes who he is and what he wants. What readers say about My Accidental First Date: ★★★★★ "Storytelling at its best. . . laugh out loud funny. . ." ★★★★★ ". . . cute, innocent coming out storyline." ★★★★★ ". . . absolutely charming, humorously self-deprecating. It's the beginning of his journey, funny, sad, and touching."
My Accidental First Date
Pairing: M-M
August 22, 2021