Word Count:
47053
Character Identities:
Gay
Summary: It's the last straw when three prudish pigs play a nasty trick on the set. So where else would Wolf go to plan the perfect payback, but Harry's Behind the Scenes Bar, Baths & Grill? Soaking wet when he arrives at the back door, Harry's dragon-magick fireplace soon gets Wolf's fur mostly dry. Shifting to his human, silver-hair-to-his-bare-butt self, he's almost done when the door opens again. And what to his wondering eyes does appear but a trio of boorish boar brothers—without a single reindeer!—all in a row from short to not-very-tall: Guy, Gresham and Grant Graham. Wolf's idea is so brilliant, it's definitely dawn coming up like thunder, "outer China 'crost the Bay." (Wolf really likes Kipling). A maybe mean, surely sneaky, snake-in-Eden idea. Payback is a dish best served hot...and hard. Join the fun as payback plays out. There's help from Tom Thumb, fine food, expensive bottles of Harry's Dragon's Own Special Reserve wine (the only thing which gets a shifter drunk), Death by Chocolate, Lady Flame, a private tour of the baths. Plus rooms of straw and sticks and bricks, and an Easter Egg, which might be hiding in Manhattan. Fair warning: there's a lot of huffing and puffing as part of the plan. Just not at doors. 47,053 words in the story
3 Boars & A Wolf Walk Into A Bar...
Pairing: M-M, M-M-M
December 11, 2019
Word Count:
47832
Character Identities:
Gay
Summary: A Hampton Road Club story. Angelo wonders if the Hampton Road Club will offer him a new beginning and whether he can love two men at the same time. Angelo escaped his family's farm to be with his first and only love in Los Angeles. He meets up with him at Walter's speakeasy, but their reunion is short-lived when Angelo discovers that his lover is embracing the Roaring Twenties with as many men and as much hooch as he can. With nowhere to stay and no job prospects, Angelo faces an uncertain and scary future. Ex-prizefighters Bruce and George enjoy their employment at the Hampton Road Club for more than one reason. They can indulge in their passion for sadomasochism and search for the boy who will be the submissive they keep forever. Unfortunately, none of the men at Hampton Road are good prospects. When they run into a forlorn Angelo in the alley outside a speakeasy, their protective instincts kick in. But will they want to do more than just protect Angelo? And will the shy and inexperienced man embrace a lifestyle he never knew existed?
A New Beginning For Angelo
Pairing: M-M-M
July 10, 2018
Word Count:
73000
Character Identities:
Bisexual, Gay, Lesbian, Polyamorous
Summary: It's been five years since James, Tate and Sebastian moved in together to enjoy a three-way BDSM relationship and James is turning fifty. After enjoying a surprise party and thoughtful gift, the health crisis of a close friend necessitates a trip to Montreal, followed by a snowy Christmas getaway in Mont Tremblant. Soon, an unexpected event challenges the dynamics of the relationship. Will the sudden appearance of family members, old friends, and new acquaintances cause insurmountable problems or present an opportunity to demonstrate the real meaning of togetherness?
A Numinous Light
Pairing: M-M, M-M-M
March 27, 2015
Word Count:
68500
Character Identities:
Gay
Summary: Adal has always loved Shiv. But when he declares that love, Shiv walks away and leaves him behind. Adal's father isn't interested in whether his only son finds love or not. In his mind Adal is the means to increase the size of the family farm and gain the grandchildren he wants. Adal is so much stronger than that and isn't going to allow himself to be used in such a way. Rather than submit to an arranged mating, he takes to the stars to find Shiv and make him listen. Shiv thought he was doing the right thing when he walked away from seventeen year old Adal ten long years ago. He couldn't believe Adal would be able to deal with the fact he was one of the elite Brethren, men trained in the art of delivering death. When he finds out Adal has been searching for him all this time, living through events that would have broken a weaker man, he feels responsible and just can't forgive himself. Jastl has only ever wanted to be one of The Brethren. And Shiv. When chance throws Adal and him together, he finally sees a way to have the man he's always wanted. His solution is for Adal to become his mate, at least temporarily, so they can win Shiv over together. Three men on a collision course with destiny. Alone, they merely existed, yearning for something more. Together, they just might learn that love can handle the worst life throws at you, and leave you stronger.
A Warrior's Strength
Pairing: M-M-M
October 19, 2015
Word Count:
25000
Character Identities:
Bisexual
Summary: Zachary Cullen has ignored Josette Patrice's overtures for years, but she agrees to take on his latest protégé-slash-arm-candy Meghan Keenan in her off-Broadway workshop theater. Though the girl has incredible talent, Josie would stake her reputation on that little thing being a switch-hitter, like herself, and she doesn't want Zach to be duped. Josie sets out to seduce Meg and expose her for what she is, but all bets are off when Meg turns the tables on Josie to hook her up with Zach.
A Woman for Zachary
Pairing: F-F, F-F-M, M-F
August 4, 2017
Word Count:
23200
Character Identities:
Gay
Summary:
ABS LUST BEACH ROMP: MM Desire #207
NO TAN LINES BEACH!!!
Adjust your shorts over and over as Ty and Garrett take you on a sun worshiping beach romp. A community college gift sends the boys on a week long vacation to a very nice hotel on Clearwater Beach, FL. Find out what shenanigans two super hot sexy boys can get into on a clothing optional part of the beach during their first unsupervised trip away from home. Garrett and Ty explore a late night nude beach party only to find themselves with no clothes to wear. Then how do they get past security cameras to get back into their hotel room? For these two, love is in the air, in the sand, in the surf, in the shower, in their bed, and on their balcony. Tantalizing scenery and sizzling hot play things will keep you turning the pages… *This book contains explicit scenes of a gay sexual nature by consenting characters who are over 19 years of age. It is intended only for readers who are 18+ years of age. If you are underage or may be offended by this topic, do not purchase this book.
Abs Lust Beach Romp
Pairing: M-M, M-M-M, 4+ or Other
November 15, 2020
Word Count:
19400
Character Identities:
Gay
Summary:
ABS LUST EXPOSED: MM Desire #206
HOT BOYS, SUPER HOT BODIES, ULTRA HOT NAKED ESCAPADES Two hot guys together after a college formal (Prom) cannot wait to get into each other's pants, but when will Ty and Garrett find themselves truly alone? Who is to say a bit of public exhibition or two won't provide enough fun to tide them over? In the back row of a late night movie, what can happen is limited only by the imagination. Oooh, the cinema usher is really hot too! I wonder what antics they can talk him into before he kicks them out. And how late will the hotel hot tub be open? These are all very important concerns on the night after a formal dance. Stay on the edge of your seat! Don't worry about missing the movie, but try not to make a mess! *This book contains explicit scenes of a gay sexual nature by consenting characters who are over 19 years of age. It is intended only for readers who are 18+ years of age. If you are underage or may be offended by this topic, do not purchase this book.
Abs Lust Exposed
Pairing: M-M, M-M-M
October 15, 2020
Word Count:
27200
Character Identities:
Gay
Summary:
ABS LUST PLAYER: MM Desire #208
…Here we were three weeks later.

 

Garrett and I were checking out the island as our plane dropped toward a private airstrip at the end of an island in the Caribbean. As we disembarked from the jet, a driver greeted us and prepared to take us to our accommodations. "Welcome, gentlemen.

 

I'm Casey.

 

I will escort you to the estate and serve as your butler while you are visiting us." "Great, I'm Ty." "And I'm Garrett.

 

Nice to meet you, Casey."

 

"I only saw one building on the island when we were landing.

 

Are there others?

 

How many people live here?" I asked. "There is only one home on the island.

 

There are several other security buildings and maintenance buildings, but we have them very well camouflaged.

 

The owner and his husband live in the home part-time.

 

They are in Europe right now.

 

The security force is here full time.

 

We protect his island extremely well," the driver explained.

 

Holy shit!

The house was only one story, but it was massive.

 

When dad described the place as sprawling, he very much understated the reality of the place.

 

The rooms were enormous, and the house seemed to stretch on forever. There was a sea of marble everywhere, including on the floors of the master bedroom.

 

The house extended out onto a point of the island.

 

One step below the floor level, an integrated assembly of patios, decks, and gardens surrounded the house on three sides.

 

A multitude of chairs, chase lounges, tables, and hammocks were available for our leisure. A long serpentine swimming pool about 20 feet wide with an infinity outer border surrounded the decks, patios, and gardens.

 

The water level was but four inches below the level of the patios.

 

Water from the pool spilled over the infinity wall at various points, creating waterfalls as it dropped some 30 feet into a second pool surrounding the three sides of the estate.

 

The lower pool was at least twice as wide as the upper pool.

 

This was the largest privately owned pool complex I had ever seen. When I saw the smooth 30 foot shear wall with a finely textured surface, I wondered if in fact it might serve a secondary role as a security feature.

Hmm, no way to free climb that wall with no lips or edges on the infinity pool for a grappling hook to lodge on.

 

And the finely textured surface would prevent the use of suction cups to climb it.

 

This has to be a security feature.

Palm trees highlighted the house, the pool, and the beach in various locations.

 

The lavish landscaping created a perfect ambiance for the stunning master bedroom.

 

Besides the largest bed I had ever seen in the largest bedroom I had ever seen, it was on the terminal end of the house facing the end of the point toward the West.

 

We enjoyed breathtaking sunsets every evening.

 

The architect of the place had definitely planned it well. Floor to ceiling windows formed three of the walls of the master bedroom, providing a gorgeous panoramic view.

 

Pushing one button caused all the glass walls to disappear, allowing a comfortable light breeze to waft through the room.

 

We were inside, but it felt like we were going to be sleeping right on the beach.

 

We could hear the endless crashing of waves on the shore below us. Casey, our driver, put our luggage in the closet of the master bedroom while we walked to the dinning room for dinner.

 

Since we found no one there, we went into the kitchen where the chef immediately garnered our attention.

 

He was stunningly handsome, sported a lithe physique, and was only about 25 years old.

 

His attire of a chef's apron and nothing else definitely shocked our expectations.

 

The truly gorgeous bare ass of a man who actively engaged in fitness training shined through the back of his apron. When he turned and saw the rather stunned look on our faces, he said, "Hi guys, I'm Jordy, your chef.

 

We heard you guys like to spend a lot of time relaxing au naturel.

 

Casey and I are kinda fond of a free lifestyle as well.

 

We figured if we relaxed our clothing standards, you would feel much more comfortable about skittering around here in the buff as well.

 

You are the only guests on the island for the duration of your stay, so dress up, dress down, or undress as you see fit.

 

We are here to serve your needs in any way we can.

 

No matter what you might need, just call on us anytime."

Is he suggesting what I think he is suggesting?

"Thank you," I said to Jordy just as Casey came strolling in wearing nothing but a butler's apron.

 

Garrett and I immediately looked at each other, and our eyebrows bounced in a silent communication between us.

 

Clearly, we were thinking the same thing.

 

The next two weeks were going to be our chance to recreate our three days of nudity when we first met. After we finished a wonderful dinner, we went to our bedroom and removed all of our clothes.

 

As we strolled naked through various rooms of the house to explore our accommodations, the warm glow of the sun falling rapidly toward the horizon suddenly caught my eye.

 

The amber rays reflected beautifully off of the highly polished marble floor in the great room.

 

Suddenly, I couldn't resist the urge to lie down on my back in the middle of that picturesque scene and pull Garrett down on top of me. He had his legs folded up at my sides and his chest resting against mine.

 

I held his sexy toes in my hands as we kissed lovingly.

 

In no time, my throbbing…
Abs Lust Player
Pairing: M-M
December 15, 2020
Word Count: Information not available
Character Identities:
Bisexual, Gay
Summary:
A witch doesn't always wear black, sometimes he wears snark and blood.
Sam is well known for his attitude and now that he's a vampire, he's not taking crap from anyone. Not his mentor Gabe, his rival Seiran, or even his roommate Constantine. He wants to be left alone to be the brooding monster the media promised he could be. But war is on the horizon between vampires and humans. Sam barely has control of his bloodlust, especially when he's not even certain how to stalk the night without becoming a revenant. When his cibo, a blood donor meant to control the beast, arrives to help, Sam finds Luca irresistible, but tied to another powerful vampire. Sam's mentor begins to unravel as the vampires start to rage. Sam can either join the puppets of the darkness, or find his own way. When the magic of vampires and witches collide, Sam hopes the firestorm of his newly awakened powers can save them all.
Absolution
Pairing: M-M, M-M-M
August 23, 2019
Word Count:
149,000
Character Identities:
Bisexual, Gay
Summary: The star of the University of Virginia theater department, Aidan Emery is lusted after and admired for living out and proud. He uses his talent and good looks to his advantage and never sleeps with the same guy twice. But his glamorous patina has been carefully honed to hide the pain he carries inside. Aidan wasn't always such a player. He starts college naively romantic, hungry for the attention he can't get from his workaholic father and mentally ill mother. Unfortunately, that leaves him ripe pickings for predatory professor Rodney Montgomery. Rodney's flattering regard seduces Aidan into a dysfunctional relationship that destroys his innocence. Life looks up for Aidan when he finally breaks free of Rodney's pull and moves to New York City to make it as an actor. Meeting sweet fellow actor Patrick Jaymes seems like the start of a fairy tale. But before Aidan can rebuild his life into happily ever after, family secrets rip him wide open, leaving him easy prey when Rodney decides he's not willing to let Aidan go.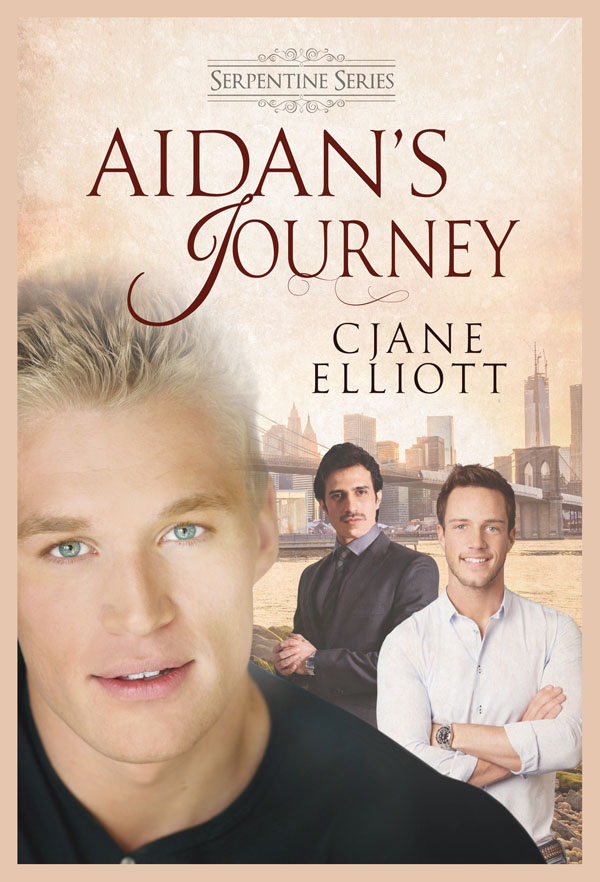 Aidan's Journey
Pairing: M-M
October 15, 2014
Word Count: Information not available
Character Identities:
Bisexual, Gay
Summary: Zain was just a dog walker. It was an unconventional job for a werewolf, even a brand new one, but he liked dogs and they liked him. It only seemed to make sense… right up until the point a vampire called him in to take care of his human pup. When his life collided with Liam and Caleb's, none of them were prepared for the directions it could take. Especially Zain. But between the sexy pup and the vampire's creativity, the power struggles pitting dominance against submission — and acceptance — the two might be too intriguing to just walk away from… When M.A. Innes, bestselling author of sweet taboo romance, and R. Phoenix, author of playful dark erotica, paranormal romance, and horror team up, you should leave your expectations at the door. The duo responsible for Almost Strangers, a sweet contemporary romance with more than a few taboo themes, has collaborated again to bring you something from the other side of the force. That said, here are a few notes from Raissa: This is not an alpha / omega / beta tale, at least not in the usual sense (designation at birth, slick, heats, mpreg, primary focus on the werewolf part, etc.). Alas, "Alpha" in this universe is completely different and refers more to status. I hope you'll give it a shot anyway, but please don't expect A/B/O dynamics! (Though there are plenty of Big Os in here. Just saying.)
Alpha
Pairing: M-M, M-M-M
April 25, 2018
Word Count:
52000
Character Identities:
Bisexual, Gay
Summary: Has kidnapping Zeus ruined Dargon and Alpha's chance at love? The sole survivor on a science vessel adrift in deep space, Zeus was adopted by the Emperor and Empress of the Mar'Sani, though he is both human and blind, and seen by many as unfit to join the royal family. Though they were able to repair his vision, Zeus does not trust his eyes, and the nobles of his parents' court refuse to ever trust a frail and treacherous human. Dargon Kal-Turak, along with his symbiote and lover, Alpha, command one of the most dangerous ships in the stars. After narrowly escaping a trap, they dock in a space port to make repairs but find that the Psionics hunting them are closing in fast. In desperation they kidnap the port's master mechanic, unaware that the man they've brought on board is more than he seems and will bring far more upheaval to their ship, their lives, and the stars than any of them could have imagined. **Alpha Trine is a 52k sci-fi romance. It was re-edited July 2018 and some concepts were expanded upon. Neither the plot nor characters were changed.
Alpha Trine
Pairing: M-M-M
August 9, 2019
Word Count:
73,000
Character Identities:
Intersex
Summary: Thomas escaped his ex and has settled in at Pine Wood Falls. He found himself a nice job, has a cute little house, and his twins are now four months old. The last thing he wants or expects is to go into heat again so soon. He tries to fight the urge but can't hold off any longer. Campbell catches the scent of his fated omega. He finally found the one and can't wait to start a family. So he goes to one of Pine Wood Falls get-togethers to do what nature wants of him, what he wants -- to mate with his fated one, but the situation gets turned on its head when there's another alpha there that wants his omega. All Griffin wants is a good time. He doesn't believe he's fated for anyone, that's all in the past. He just wants his needs met, but another alpha stands in his way. Luckily, they all come to an agreement. The three of them together. They don't think they can both get the young omega pregnant. Thomas doesn't think he's fated for either of them, but when he ends up pregnant with quads, they all have some things to work out.An
An Extra Alpha
Pairing: M-M-M
February 25, 2019
Word Count:
15500
Character Identities:
Gay, Polyamorous
Summary: When Dominick has to attend a six-day dragon mating ceremony, he wants to avoid speaking to anyone for fear his severe stutter will send possible suitors running. However, Lysander and Zachary, both from different cultures with a thing for redheads, refuse to let him hide. Worse, they actively pursue him, even after Dominick mucks up their first encounter. Against the backdrop of a ceremony that takes testing endurance, strength, and acoustics to new heights, differences between languages, customs, and expectations create an obstacle course where any misstep could send the men home… alone.
An Invitation To Love
Pairing: M-M-M
February 13, 2020
Word Count:
117000
Character Identities:
Gay, Polyamorous
Summary: A rookie, his teammate, and his best friend from a rival team. What could possibly go wrong? Seattle Snowhawks rookie Justin Reid has it bad for his teammate Shawn Kelleher. It's just his luck that Shawn's got a crush too… on Justin's best friend, Vancouver Narwhal center Keith Adams. When Shawn lets it slip at the worst possible moment that he wants Keith, Justin is hurt, but what can he do? He steers Keith in Shawn's direction and lets chemistry do the rest. What Justin doesn't know is that while Keith is into Shawn, he's also secretly wanted Justin since forever. After some stumbling, they realize there's something very hot and very mutual going on between all three of them. It's fantasies coming true left, right, and center, and it just doesn't get any better than this. Except this scorching hot triad is anything but simple. Not while the closeted son of a hockey legend is fighting to make his own name in the shadow of his deeply homophobic father's legacy. Not in the midst of grueling schedules and a team's fraternization rules. Throw in pesky emotions showing up where they aren't wanted, and it's a play that's doomed from the start. Shawn, Keith, and Justin all fought their way into professional hockey. Is what they have together worth fighting for too? Or will fear let heartache win this game? ASSIST is approximately 117,500 words. It's book 2 of the Pucks & Rainbows series, and can be read as a standalone.
Assist
Pairing: M-M, M-M-M
December 26, 2019
Word Count:
52000
Character Identities:
Gay
Summary:
What's the perfect recipe for an emotional MMM romance? One autistic coffee shop owner, one morose mug maker, and a mostly cheerful police detective. Fie Morogh Russell goes off to war with a broken heart and returns with a shattered spirit. He hermits away in Bideford, Devon, making mugs, with his service dog, Haggard, for company. Post-traumatic stress turns every memory into a minefield, and life is dismal with one or two rare exceptions. Davet Heuse drags his younger brother to Bideford for a new start. Both autistic, the two siblings have fought hard to enjoy freedom by the seaside. While Davet runs a coffee shop from his tiny house, his brother pursues his dream at university. Detective Sidney Little has transitioned from military service to the police force easily. His unrequited crushes and his estranged father are the only points of frustration in his life. He hasn't quite figured out how to deal with either problem. When a tragic accident brings Davet's world crashing down around him, can Fie and Sid help him through the pain of loss? In this May-December romance with a twist, three men struggle through one obstacle after the other to somehow find themselves in love on the other side.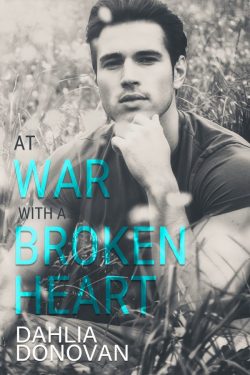 At War With A Broken Heart
Pairing: M-M-M
February 26, 2019
Word Count:
79,000
Character Identities:
Bisexual, Questioning, Pansexual, Polyamorous, Straight
Summary: A rebel princess. An atomic arsenal. And three galactic heroes hot enough to singe any cybergirl's circuits. After seven days of danger and desire in a race through space against five hundred sexed-up suitors, a galactic mating contest is nearing its climax. Rebel princess Kaia defies centuries of sacred ritual to choose not one mate, but three to bring peace to her war-torn galaxy. Together, the space pirates' hellraising head honcho, the ice-cold imperial enforcer who stalks him, and the galaxy's most lethal telepath will rule at her side—and consummate their blazing passion in her bed. But Kaia's tyrannical father, worshipped as a god by billions, views her unconventional choice as the ultimate betrayal. In a universe where adversaries pretend to be allies and enemies transform into lovers, Kaia must defeat a cunning rival with a nuclear arsenal primed and pointed at her homeworld and enough atomic firepower to incinerate the galaxy she's sworn to protect. Will the fragile trust growing between Kaia, Dex, Zorin and Nero prove strong enough to avert the ultimate apocalypse? Will their risky alliance expose the secret truth to defeat her vengeful father? Or will he command his faithful fanatics to obliterate Kaia and all three of the men she loves? Atomic Angel is a steamy, angsty, enemies-to-lovers, fast-burn MMMF sci fi poly action romance and completes in the Astral Heat Romance series. Laura Navarre delivers turbocharged outer space action with three bi heroes, plenty of M/M and MMMF action, a fearless heroine, a completed cliffhanger series with a guaranteed happily-ever-after ending, and a whole lot of heat.
Atomic Angel
Pairing: M-F, M-M, M-M-F, M-M-M, 4+ or Other
February 8, 2022
Word Count:
14000
Character Identities:
Bisexual, Gay
Summary: After months of furtive assignations, Ash's lover leaves him for a life of riches and respectability. Angry and heartsore at his rejection, Ash has no one to confide in. Neighboring farmers Seth and Dougal accidentally discover his secret. They know Ash has been taken advantage of and decide to teach him what real love is. Can Seth and Dougal help Ash mend his broken heart?
Barn Dance
Pairing: M-M-M
May 8, 2015
Word Count: Information not available
Character Identities:
Bisexual, Gay, Lesbian, Polyamorous, Straight
Summary: Love is complex. Love is beautiful. Love is diverse. Love is for all. Beautiful Skin is an anthology of short stories from a diverse group of authors who believe love, in all its many colors, shapes, and forms, is simply stunning. This collection features tales from genres such as contemporary, erotica, paranormal, interracial, M/M, F/M, M/F/M, and M/M/M romance. Allow us to take you on a journey that will enthrall your mind and leave you desiring more from these authors. Fifty percent of the proceeds from this anthology will go to a charity with a great initiative: aiding in the fight against sickle cell. Please be advised that all stories are intended for a mature audience of readers who are 18+ years. Featuring: Angela Roe, Remmy Duchene, Isabel Raven, T.B. Bond, Nichelle Gregory, BLMorticia, Theresa Hodge, ML Preston, BA Tortuga, Eloreen Moon, Kait Gamble, Sara York, Kiarra M. Taylor, Sade Rena, Katy Swann, Hadley Raydeen, Kendra Mei Chailyn, Kharma Kelley, AM Cosgrove
Beautiful Skin: A People of Color Anthology
Pairing: M-F, M-M, M-M-F, M-M-M
August 23, 2018
Word Count:
105000
Character Identities:
Bisexual, Gay, Polyamorous
Summary: A Lambda Literary Awards Finalist for Bisexual Fiction (2019) London, 1906 Lucien Saxby is a journalist, writing for the society pages. The Honourable Aubrey Fanshawe, second son of an earl, is Society. They have nothing in common, until a casual encounter leads to a crisis. Aubrey isn't looking for love. He already has it, in his long-term clandestine relationship with Lord and Lady Hernedale. And Lucien is the last man Aubrey should want. He's a commoner, raised in service, socially unacceptable. Worse, he writes for a disreputable, gossip-hungry newspaper. Aubrey can't afford to trust him when arrest and disgrace are just a breath away. Lucien doesn't trust nobs. Painful experience has taught him that working people simply don't count to them. Years ago, he turned his back on a life of luxury so his future wouldn't depend on an aristocrat's whim. Now, thanks to Aubrey, he's becoming entangled in the risky affairs of the upper classes, antagonising people who could destroy him with a word. Aubrey and Lucien have too much to hide—and too much between them to ignore. Rejecting the strict rules and closed doors of Edwardian society might lead them both to ruin… but happiness and integrity alike demand it.
Behind These Doors
Pairing: M-M, M-M-F
June 22, 2018