Word Count:
45,000
Character Identities: Information not available
Summary: A Dom learns to love while Scotland Yard claims his time and a sociopath lays a trap for his sub. This is book 2 Vasquez Inc, a spinoff series from the popular Vasquez and James series. Jackie Vasquez knows he needs to submit to a Dom he can trust—just as much as he needs to manage his own life. He found the right Dom in Brian Harrison, and then romance beckoned them both beyond bindings and safewords. They take the first steps toward a life together in London, where Brian is pursuing his dream career at Scotland Yard, and Jackie is working toward a master's degree. Their private hours deep in the night brim with both heat and beauty as Brian's artful vision for bondage makes a masterwork out of Jackie, body and soul. But time together becomes scarce as a series of horrific gaslight crimes keeps Brian at work and out of reach for Jackie much of the time. Though Jackie is faithful, he isn't the type to sit and wait for his lover's attentions. His self-assured ways and his geocaching hobby lead him to a dangerous discovery—all is not as it seems at the University. Trapped in the Gaslighter's web, he'll need to use every trick he knows to stay calm and buy time. But will Brian unravel the knot of mystery in time to save the man he loves?
A Shot of Fear
Pairing: M-M
November 21, 2019
Word Count:
45,000
Character Identities:
Gay
Summary: Gay American Dom with a fabulous sub juggles romance and bondage with Scotland Yard police work. Book 1 in the the Vasquez Inc series, spinoff from Vasquez and James. When Brian Harrison first met Jackie Vasquez at a Hawaiian wedding, Jackie was sixteen and troubled. Six years later they meet again; Brian's career at Scotland Yard is budding with promise, while Jackie's student days at the University of Nebraska are rolling toward a strong finish. Magnetic mutual attraction pulls them insistently toward one another, but the ocean separating their lives makes for a simmering romance. When the waiting ends and they get together for a weekend in Denver, Dom Brian and sub Jackie both know they've tapped into something scalding hot, and much deeper than sharing an artful session. Shibari, lust, and love are all on the agenda -- but for Brian, so is his police career, and a strange series of crimes seems poised to threaten their romance -- and maybe their lives.
A Shot of J&B
Pairing: M-M
November 1, 2019
Word Count:
17081
Character Identities:
Gay, Pansexual
Summary: In a world where magic is hated and feared, sometimes the bravest thing a man can do is trust. Daymon is the second prince of a kingdom in which Evokers—those who possess intuitive magical abilities—have long since been treated with fear and mistrust. Marked as an Evoker himself, Daymon is captured by those who wish to take advantage of these powers. Now, the prince must put his faith in Rhyder, the captain of his guards—and the man Daymon has claimed as his own—to free him.
A Trust to Follow
Pairing: M-M
May 25, 2018
Word Count:
22150
Character Identities:
Gay
Summary:
Abs Lust Bare Rejection: MM Desire #204
NAKED, COLD, NUMB - WANDERING, STUMBLING, LOST, ALL ALONE! HELP ME TY!!!
How long before Garrett dies of exposure and hypothermia? Ty's parents reveal insights he never suspected. Is Garrett and Ty's secret at risk? Hank, Garrett's father, cites Garrett's sexual orientation as reason to throw him out of the house. Garrett struggles to survive nude in frigid weather. Where is Ty when Garrett desperately needs him? By not dealing with Hank decisively, Ty makes a costly error destined to haunt the boys for a lifetime. So Ty must put everything on the line to save Garrett and a handsome nurse from Hank's wrath. But in whose bed will Ty sleep? Will Ty's love be lost forever? *This book contains explicit scenes of a gay sexual nature by consenting characters who are over 18 years of age. It is intended only for readers who are 18+ years of age. If you are underage or may be offended by this topic, do not purchase this book.
Abs Lust Bare Rejection
Pairing: M-M
September 1, 2020
Word Count:
23200
Character Identities:
Gay
Summary:
ABS LUST BEACH ROMP: MM Desire #207
NO TAN LINES BEACH!!!
Adjust your shorts over and over as Ty and Garrett take you on a sun worshiping beach romp. A community college gift sends the boys on a week long vacation to a very nice hotel on Clearwater Beach, FL. Find out what shenanigans two super hot sexy boys can get into on a clothing optional part of the beach during their first unsupervised trip away from home. Garrett and Ty explore a late night nude beach party only to find themselves with no clothes to wear. Then how do they get past security cameras to get back into their hotel room? For these two, love is in the air, in the sand, in the surf, in the shower, in their bed, and on their balcony. Tantalizing scenery and sizzling hot play things will keep you turning the pages… *This book contains explicit scenes of a gay sexual nature by consenting characters who are over 19 years of age. It is intended only for readers who are 18+ years of age. If you are underage or may be offended by this topic, do not purchase this book.
Abs Lust Beach Romp
Pairing: M-M, M-M-M, 4+ or Other
November 15, 2020
Word Count:
13,750
Character Identities:
Gay
Summary: RIPPED ABS AND HOT SEX, THE BEST DEFENSE AGAINST GAY BASHING! "The descriptions, the scenes, the mood... I lost count of the many times I got excited, aroused and wanted to be there with Ty and Garret." Kyler B. Warhol, book reviewer and blogger. A PICTURE IS WORTH A THOUSAND WORDS! HOT CHAPTER PHOTOS of seductive gay college guys set the scene for each chapter in this book engaging book! The paths of two incredibly hot college freshman cross when gay bashing ensues out of an incredibly embarrassing locker room moment. Now Ty finds himself torn between his lustful desires for, Gio, his handsome life long friend whom he frequently imagines as his naked gay play toy and, Garrett, the gorgeous guy laying nude in the bed next to him. Which path is more tangled, his gay friend who is already involved with someone else or the naked straight guy who might out him? Are the cruel tortures of fate to blame for putting him next to this stunning man whom he can't touch or was it just his subconscious erotic lust for another man's sexy abs? Will the stress of homophobic gay bashing and a simple act of human compassion lead to a sharing of closely held personal perspectives, secrets, and carnal desires? Should either young man allow himself to be that vulnerable? If you enjoy this arousing escapade, get the 8 book set, Abs Lust: MM Desire Series, All 8 Books, for 30% off of the individual book prices. *This book contains explicit scenes of a gay sexual nature by consenting characters who are over 18 years of age. It is intended only for readers who are 18+ years of age. If you are underage or may be offended by this topic, do not purchase this book.
Abs Lust Embarrassment
Pairing: M-M
July 17, 2020
Word Count:
19400
Character Identities:
Gay
Summary:
ABS LUST EXPOSED: MM Desire #206
HOT BOYS, SUPER HOT BODIES, ULTRA HOT NAKED ESCAPADES Two hot guys together after a college formal (Prom) cannot wait to get into each other's pants, but when will Ty and Garrett find themselves truly alone? Who is to say a bit of public exhibition or two won't provide enough fun to tide them over? In the back row of a late night movie, what can happen is limited only by the imagination. Oooh, the cinema usher is really hot too! I wonder what antics they can talk him into before he kicks them out. And how late will the hotel hot tub be open? These are all very important concerns on the night after a formal dance. Stay on the edge of your seat! Don't worry about missing the movie, but try not to make a mess! *This book contains explicit scenes of a gay sexual nature by consenting characters who are over 19 years of age. It is intended only for readers who are 18+ years of age. If you are underage or may be offended by this topic, do not purchase this book.
Abs Lust Exposed
Pairing: M-M, M-M-M
October 15, 2020
Word Count:
19,100
Character Identities:
Gay
Summary: EVERYTHING IS MORE FUN NAKED! ESPECIALLY HOMEWORK! - You never know what might be considered HOMEWORK. Sign up for the most erotic tutoring sessions ever! Who could be motivated to study if your dad perpetually told you that you are too dimwitted to succeed? In spite of Garrett's brilliance, he genuinely believes he is stupid. Who could be motivated to succeed in school when each day is a gauntlet of homophobic hazing by the school bully and your ex girlfriend? Garrett just wants to curl up and disappear. Consequently, Garrett is doing poorly in his community college classes and failing in Algebra. Desperately afraid his poor grades will bench him from the basketball team, Garrett still shows no interest in Ty's offer to tutor him. Garrett knows he is a lost cause and tutoring will just be frustrating and painful. No Thanks!!! However, Ty believes the best homework motivator is your boyfriend's anatomy. Can Ty's use Strip Algebra and Algebra For Sex to tease out excellence? You want this book in your library. Someday, you just might need Ty's lustful manipulations. *This book contains explicit scenes of a gay sexual nature by consenting characters who are over 18 years of age. It is intended only for readers who are 18+ years of age. If you are underage or may be offended by this topic, do not purchase this book.
Abs Lust Homework
Pairing: M-M
August 1, 2020
Word Count:
27200
Character Identities:
Gay
Summary:
ABS LUST PLAYER: MM Desire #208
…Here we were three weeks later.

 

Garrett and I were checking out the island as our plane dropped toward a private airstrip at the end of an island in the Caribbean. As we disembarked from the jet, a driver greeted us and prepared to take us to our accommodations. "Welcome, gentlemen.

 

I'm Casey.

 

I will escort you to the estate and serve as your butler while you are visiting us." "Great, I'm Ty." "And I'm Garrett.

 

Nice to meet you, Casey."

 

"I only saw one building on the island when we were landing.

 

Are there others?

 

How many people live here?" I asked. "There is only one home on the island.

 

There are several other security buildings and maintenance buildings, but we have them very well camouflaged.

 

The owner and his husband live in the home part-time.

 

They are in Europe right now.

 

The security force is here full time.

 

We protect his island extremely well," the driver explained.

 

Holy shit!

The house was only one story, but it was massive.

 

When dad described the place as sprawling, he very much understated the reality of the place.

 

The rooms were enormous, and the house seemed to stretch on forever. There was a sea of marble everywhere, including on the floors of the master bedroom.

 

The house extended out onto a point of the island.

 

One step below the floor level, an integrated assembly of patios, decks, and gardens surrounded the house on three sides.

 

A multitude of chairs, chase lounges, tables, and hammocks were available for our leisure. A long serpentine swimming pool about 20 feet wide with an infinity outer border surrounded the decks, patios, and gardens.

 

The water level was but four inches below the level of the patios.

 

Water from the pool spilled over the infinity wall at various points, creating waterfalls as it dropped some 30 feet into a second pool surrounding the three sides of the estate.

 

The lower pool was at least twice as wide as the upper pool.

 

This was the largest privately owned pool complex I had ever seen. When I saw the smooth 30 foot shear wall with a finely textured surface, I wondered if in fact it might serve a secondary role as a security feature.

Hmm, no way to free climb that wall with no lips or edges on the infinity pool for a grappling hook to lodge on.

 

And the finely textured surface would prevent the use of suction cups to climb it.

 

This has to be a security feature.

Palm trees highlighted the house, the pool, and the beach in various locations.

 

The lavish landscaping created a perfect ambiance for the stunning master bedroom.

 

Besides the largest bed I had ever seen in the largest bedroom I had ever seen, it was on the terminal end of the house facing the end of the point toward the West.

 

We enjoyed breathtaking sunsets every evening.

 

The architect of the place had definitely planned it well. Floor to ceiling windows formed three of the walls of the master bedroom, providing a gorgeous panoramic view.

 

Pushing one button caused all the glass walls to disappear, allowing a comfortable light breeze to waft through the room.

 

We were inside, but it felt like we were going to be sleeping right on the beach.

 

We could hear the endless crashing of waves on the shore below us. Casey, our driver, put our luggage in the closet of the master bedroom while we walked to the dinning room for dinner.

 

Since we found no one there, we went into the kitchen where the chef immediately garnered our attention.

 

He was stunningly handsome, sported a lithe physique, and was only about 25 years old.

 

His attire of a chef's apron and nothing else definitely shocked our expectations.

 

The truly gorgeous bare ass of a man who actively engaged in fitness training shined through the back of his apron. When he turned and saw the rather stunned look on our faces, he said, "Hi guys, I'm Jordy, your chef.

 

We heard you guys like to spend a lot of time relaxing au naturel.

 

Casey and I are kinda fond of a free lifestyle as well.

 

We figured if we relaxed our clothing standards, you would feel much more comfortable about skittering around here in the buff as well.

 

You are the only guests on the island for the duration of your stay, so dress up, dress down, or undress as you see fit.

 

We are here to serve your needs in any way we can.

 

No matter what you might need, just call on us anytime."

Is he suggesting what I think he is suggesting?

"Thank you," I said to Jordy just as Casey came strolling in wearing nothing but a butler's apron.

 

Garrett and I immediately looked at each other, and our eyebrows bounced in a silent communication between us.

 

Clearly, we were thinking the same thing.

 

The next two weeks were going to be our chance to recreate our three days of nudity when we first met. After we finished a wonderful dinner, we went to our bedroom and removed all of our clothes.

 

As we strolled naked through various rooms of the house to explore our accommodations, the warm glow of the sun falling rapidly toward the horizon suddenly caught my eye.

 

The amber rays reflected beautifully off of the highly polished marble floor in the great room.

 

Suddenly, I couldn't resist the urge to lie down on my back in the middle of that picturesque scene and pull Garrett down on top of me. He had his legs folded up at my sides and his chest resting against mine.

 

I held his sexy toes in my hands as we kissed lovingly.

 

In no time, my throbbing…
Abs Lust Player
Pairing: M-M
December 15, 2020
Word Count:
19,400
Character Identities:
Gay
Summary:
ABS LUST PROM: MM Desire #205
PLAY NAKED! MAYBE YOU'LL GET CAUGHT!
Prom night essentials for great sex include super HOT boyfriends with great abs, great tushies, sexy feet, stunning smiles, and tantalizingly erotic tux attire. Ty desperately wants to take Garrett to the prom as his date, but neither wants to be out to classmates. This year's prom needs to be special, so Garrett manipulates this event in their favor. Special T-shirts with favorite sayings enhance the mood. Find yourself on the edge of you seat doing your best to ease your desires as Garrett allows Ty to relive what now seems like a wet dream premonition from a past… *This book contains explicit scenes of a gay sexual nature by consenting characters who are over 18 years of age. It is intended only for readers who are 18+ years of age. If you are underage or may be offended by this topic, do not purchase this book.
Abs Lust Prom
Pairing: M-M
September 15, 2020
Word Count:
20,750
Character Identities:
Gay
Summary: SEXY COLLEGE BOYS PLAYING NAKED IN A WINTERY HOT TUB? HMM! YUM!!! SO HOT IT WILL MAKE YOUR CARROT GROW TOO! - Although acquainted for several years, Ty and Garrett only recently came to know each other. Why had Ty never realized how adorable Garrett is? Now Ty can't take his eyes off of him. Everyone knows blizzards are great for snowmen and sex! Garrett loves the snow and becomes truly giddy when the first flakes fly. The biggest blizzard of their lives traps Garrett and Ty alone at Garrett's house. Garrett hopes the storm will provide a perfect opportunity for Ty to help him explore his gay urges, as well as learn a few tricks. Garrett's big questions are whether he is straight, bi, or gay and once he knows, will he tell the world or keep it to himself? Will Ty satisfy Garrett's erotic urning? "This book made me smile several times, but it is also highly arousing and provocative. Who knew a snowstorm could be this hot? Abs Lust Snowmen Play Naked gave me many good times, if you know what I mean." Kyler B. Warhol, book reviewer and blogger. *Explicit scenes portray gay sexual situations by consenting characters who are over 18 years of age. It is intended only for readers who are 18+ years of age. If you are underage or may be offended by this topic, do not purchase this book.
Abs Lust Snowmen Play Naked
Pairing: M-M
July 17, 2020
Word Count:
51000
Character Identities:
Bisexual, Gay
Summary:
Can a night of passion lead to a happily ever after?
Yakuza captain Hayato's life is a mess. His boyfriend broke up with him, changed the locks, and kept all his stuff. He can't crash at his brother's because his girlfriend is moving in. And just when Hayato thinks things can't get worse, he accidentally gets blackout drunk and wakes up in the arms of a clingy underling.
Masuo believes he and his boss made a deep connection, but when he's blown off the next morning, he feels lied to. Assigned to run a failing pachinko parlor, Masuo is determined to turn it around to prove himself to everyone…especially his sexy superior.
When Hayato realizes he's falling for the young parlor manager, he is more than ready for fun. But as Hayato's tragic past comes back to haunt him, Masuo wonders if he's ready to carry all Hayato's baggage.
Can the unlikely pair learn to accept each other and find their way to happiness even while new challenges arise, or is their love destined to fall like balls through a pachinko machine?
Buy Addicted to Lust to find love in crime today!
Addicted to Lust
Pairing: M-M
September 1, 2021
Word Count:
149,000
Character Identities:
Bisexual, Gay
Summary: The star of the University of Virginia theater department, Aidan Emery is lusted after and admired for living out and proud. He uses his talent and good looks to his advantage and never sleeps with the same guy twice. But his glamorous patina has been carefully honed to hide the pain he carries inside. Aidan wasn't always such a player. He starts college naively romantic, hungry for the attention he can't get from his workaholic father and mentally ill mother. Unfortunately, that leaves him ripe pickings for predatory professor Rodney Montgomery. Rodney's flattering regard seduces Aidan into a dysfunctional relationship that destroys his innocence. Life looks up for Aidan when he finally breaks free of Rodney's pull and moves to New York City to make it as an actor. Meeting sweet fellow actor Patrick Jaymes seems like the start of a fairy tale. But before Aidan can rebuild his life into happily ever after, family secrets rip him wide open, leaving him easy prey when Rodney decides he's not willing to let Aidan go.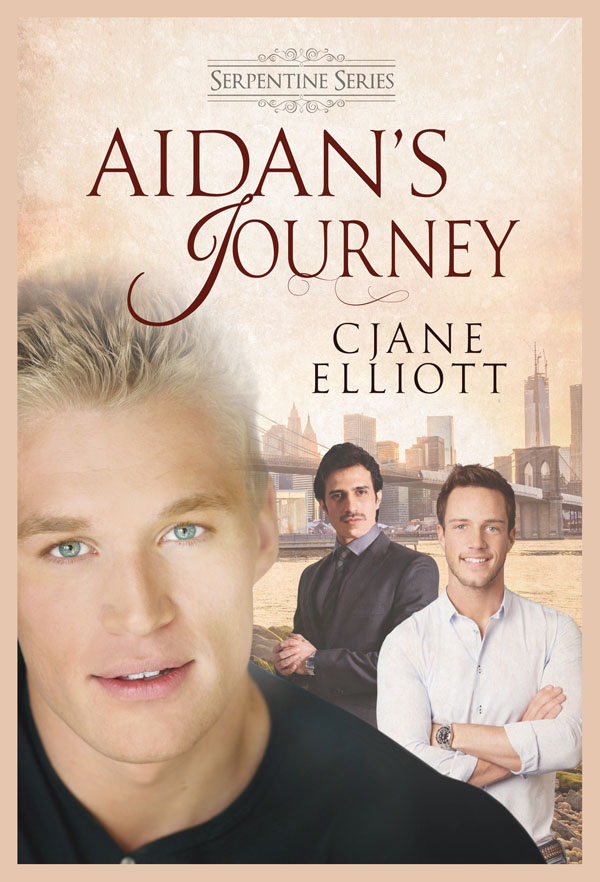 Aidan's Journey
Pairing: M-M
October 15, 2014
Word Count:
20,000
Character Identities:
Bisexual, Questioning, Polyamorous
Summary: On an alien world that crucifies men for prohibited desires, two boyhood best friends risk the ultimate punishment to explore a forbidden passion. Nero: Dex Draven's the most intimidating guy at our intergalactic next-gen leaders' camp, and his psycho galactic tyrant of a dad has a crucifixion fetish. Our two races are deadly enemies, but Dex was my boyhood best friend. Suddenly this summer, he's all grown up—and suddenly he can't seem to stop staring at me. I don't know whether to be afraid that it's all a figment of my telepathic imagination…or that every dangerous desire we're forbidden to acknowledge is real. Dex: I'm one combat-to-the-death away from the imperial command I've determined to achieve. All I need to do is keep my junk in my pants. Besides, Ben the most gorgeous, most maddeningly unattainable, most sought-after guy at leaders' camp. There's no way he'd ever look twice at a buttoned-tight, hypercompetitive, compulsive overachiever like me. Until the night I blunder in on Nero in the shower. Which is a total catastrophic mistake. Now I've heard how sounds moaning my name…how in blazes can I resist him? Because letting Ben Nero in close, the way I'm burning to do, means risking the ultimate punishment. For both of us. Anticipated Angel is a steamy, angsty, friends-to-lovers, first-time MM New Adult sci fi novella and the prequel to the award-winning Astral Heat Romance Series.
Anticipated Angel
Pairing: M-M, 4+ or Other
April 1, 2022
Word Count:
117000
Character Identities:
Gay, Polyamorous
Summary: A rookie, his teammate, and his best friend from a rival team. What could possibly go wrong? Seattle Snowhawks rookie Justin Reid has it bad for his teammate Shawn Kelleher. It's just his luck that Shawn's got a crush too… on Justin's best friend, Vancouver Narwhal center Keith Adams. When Shawn lets it slip at the worst possible moment that he wants Keith, Justin is hurt, but what can he do? He steers Keith in Shawn's direction and lets chemistry do the rest. What Justin doesn't know is that while Keith is into Shawn, he's also secretly wanted Justin since forever. After some stumbling, they realize there's something very hot and very mutual going on between all three of them. It's fantasies coming true left, right, and center, and it just doesn't get any better than this. Except this scorching hot triad is anything but simple. Not while the closeted son of a hockey legend is fighting to make his own name in the shadow of his deeply homophobic father's legacy. Not in the midst of grueling schedules and a team's fraternization rules. Throw in pesky emotions showing up where they aren't wanted, and it's a play that's doomed from the start. Shawn, Keith, and Justin all fought their way into professional hockey. Is what they have together worth fighting for too? Or will fear let heartache win this game? ASSIST is approximately 117,500 words. It's book 2 of the Pucks & Rainbows series, and can be read as a standalone.
Assist
Pairing: M-M, M-M-M
December 26, 2019
Word Count:
120000
Character Identities:
Gay
Summary: Death threats drove him from his country. Can he ever find asylum from his past? Hernán had family, college, and a future in El Salvador. Until a vicious gang targeted him as gay. Threatened with murder, he braved a nightmare journey toward a new life. Now, haunted by his trek, he hides from immigration trouble as well as his enemies. He prays to pass in Provincetown unnoticed. But a handsome man with a secret like Hernán's is vulnerable to predators. Colin is in town for a wedding when he falls into the harbor. The man who rescues him is dark-haired, dark eyed and gorgeous. He's also a target because of his immigration status. Colin owes a debt, and wants to repay it by helping his savior escape the monsters who would exploit him. Hernán yearns to trust the kind man who offers him sanctuary. Will his demons destroy his chance at a future with Colin? Asylum is a standalone gay romance novel but contains spoilers for the prior novel, September. Trigger warnings for brief references to off-page sexual abuse of a child and adult.
Asylum
Pairing: M-M
April 2, 2018
Word Count:
30000
Character Identities:
Gay
Summary:
Welcome to Bear Essentials, where caring for the outside of you from head to toe is our specialty.
​Basil Paddington is living his dream. He's built from the ground up a safe space for anyone to get the services they need to feel beautiful. He's very proud of the work he's done and the life he's built.
He has a successful business, friends, and a lovely cat named Arnold. What more could he possibly need?
Basil gave up long ago on finding love, much less someone who accepted who he was sexually. He has his kinks and a very healthy sex life, in his opinion. Little does he know that there is someone right under his nose that's perfect for him.
While Bear Essentials specializes in making the outside beautiful to each client's own eye, it's below the surface where we find the most surprises.
​Bear Essentials is a new series set in the same town as Kink Files. Join us as we follow the folks who work at Bear Essentials as they find love and their Happily Ever After.
​
Attention: This book contains explicit sexual content between consenting adults. There are depictions of sounding, needle play, and fuck machines.
​
Baring It All
Pairing: M-M
July 29, 2021
Word Count:
99.927
Character Identities:
Gay, Straight
Summary: It's a fine line with power, it can be positive or it can be negative, depending on the person wielding it. Paden had been thrown off his planet of Eiravia, given the name of Darius, and left to forget his race and his family. Years have passed since then and he has made his way back to Eiravia and the man he loves. With Finnal's help, and that of his growing clan, he will make Eiravians feel pride again. His growing power is becoming known throughout the universe and he is slowly being talked about in hush tones as the Jewel, a shining star who can create wonders from changing a race to fixing a planet. Nothing much is known about him from the outside world, only the rare few that have the opportunity to understand his fears, hopes, and loves truly understand. Throughout the story, one man's journey is interwoven into Darius's. Vega is a cornerstone to the clan. He is a man who helps him work out issues and chase the shadows away. He helps him become something that is talked about in tales by firesides.
Beyond the Norm
Pairing: M-M
April 19, 2017
Word Count:
78500
Character Identities:
Gay, Straight
Summary: Josh Stanton's mother has been held prisoner by the vampire Balthazar for fifteen years. As Balthazar has turned the residents of Belkin's Pass into vampires under his control, Josh, his lover Dex, former saloon girl Glory, and US Army Sergeant Walker Maxwell, fight to contain the undead uprising. The group is pursued to the abandoned Fort Emmerick where Josh learns to better control his power to raise the dead. There they make plans to take the battle to Balthazar's cave, but will all of them live to see the light of day ever again?
Blood & Stone
Pairing: M-M
March 24, 2017
Word Count:
11500
Character Identities:
Gay
Summary: When two lives entwine, death becomes abhorrent. Hail Patrascu, an ancestor of Transylvania's Draculesti family line, wields unique powers as the world's oldest living vampire. Searching for death, he becomes something phenomenal after drinking venom infused blood. Not only does he possess vampiric powers, he's been imbued with those of an even older creature—a serpentine. A snake, heretofore unable to change form, is animated with Hail's vampire blood and now the monster seeks life of its own! McCall Stephens had one drink; not nearly enough to imagine what he witnesses after being accosted in an alley. A beast so fiendish, it took the life of a man right before Call's eyes. Now it stalks him. He haunts Call with eroticism, each encounter tugging him closer to a dark abyss with impossible promises. Giving in, he may lose everything—including his life! Or will Call's wildest dreams come true? Take his blood—lose your life! A standalone short paranormal MM romance with coarse language, masturbation, explicit sex, abuse flashback, and a little bloody horror. But there's an HEA and no cliffhanger!
Bloodied Venom
Pairing: M-M
April 1, 2019