Word Count:
56,025
Character Identities:
Bisexual, Lesbian
Summary:
Annie Slocum is a bisexual woman struggling to make a living as a freelance writer. Stuck in a rut, she feels bored with her career, her relationships—her life. A chance meeting with Siobhán at a gallery adds a bright spark to her dull life.
Siobhán Murray is a lesbian Irish painter living in Boston. She loves her career, loves her life, but she's missing the one piece that will make her life complete—a partner. She falls hard for Annie and is delighted to realize Annie inspires her work. But a string of failed relationships has left her wary of bisexual women and wondering if she can trust that Annie won't leave her.
When Siobhán's past comes back to haunt them, they'll have to decide if the new relationship is something that will burn bright and end quickly or if it's meant to last.
A Brighter Palette
Pairing: F-F
June 30, 2017
Word Count:
25000
Character Identities:
Bisexual
Summary: Zachary Cullen has ignored Josette Patrice's overtures for years, but she agrees to take on his latest protégé-slash-arm-candy Meghan Keenan in her off-Broadway workshop theater. Though the girl has incredible talent, Josie would stake her reputation on that little thing being a switch-hitter, like herself, and she doesn't want Zach to be duped. Josie sets out to seduce Meg and expose her for what she is, but all bets are off when Meg turns the tables on Josie to hook her up with Zach.
A Woman for Zachary
Pairing: F-F, F-F-M, M-F
August 4, 2017
Word Count:
110000
Character Identities:
Aromantic, Bisexual, Demisexual, Pansexual, Polyamorous
Summary: Shattered by betrayal, Aria's Companions have separated. Aven and Del have retreated to the safety of the Water tribe, leaving Owyn and Treesi behind on land to stand with Aria and help their wounded Heir heal. Despite their best efforts, Aria retreats, rejecting them both. Owyn knows that he and Treesi can't do this alone. He starts riding out to the coastal villages surrounding Terraces, sending messages out to the deep, begging Aven to come back, telling him that the Heart can reach the Heir. Then he returns from one such trip to find Aria and Treesi have left Terraces, leaving him behind. Abandoned, Owyn leaves Terraces. Instead of following Aria, he goes north, trying to find a way to contact the Water tribes. Trying to find a way to save everything before it's too late. To do that, he must face his deepest fear, risk losing his heart, and accept help from the most unlikely of allies.
Bones of Earth (Heir to the Firstborn, Book 3)
Pairing: F-F, M-M, M-M-F, 4+ or Other
May 26, 2020
Word Count:
43000
Character Identities:
Bisexual, Lesbian
Summary: Sky's crush on her best friend has always been unrequited… until they're stuck in quarantine together and sparks fly. Sky's high school bestie is moving back to the area and staying with her for a few weeks. Easy, right? Not when she'd held a torch for the woman since high school. The moment Mia walks through Sky's door, those unrequited feelings return full-force. So, when a spreading virus keeps them confined in Sky's apartment even longer, Sky is screwed. Mia returns home after a bad breakup, but Sky is the only one who offers a safe place to land. However, the seven years they spent apart has her looking at her best friend through a different lens, attraction sparking with every inside joke, shared dinner, and cuddle on the couch. That flare of desire fast turns physical. They can't get enough of each other. Yet, whenever Mia tries for the "where is this going" talk, Sky dodges. Sky lost her sister in high school, and ever since, she's become ace at keeping dates at a distance. Yet if she doesn't manage to push past her own fears, she might lose her one shot at happiness with the woman she's waited a lifetime for.
Confined Desires
Pairing: F-F
March 27, 2021
Word Count:
52551
Character Identities:
Bisexual, Lesbian
Summary: When Lorrine runs off with a wild mage, she leaves behind a woman in tears, whose shattered life may not be worth repairing. Will Kama recover? Will Lorrine ever grow up and recognize her own feelings? Or will wild magic bring an end to them all...
Desert Rose
Pairing: F-F, M-F
March 10, 2015
Word Count:
87000
Character Identities:
Bisexual, Gay
Summary: In AD 107, after a grueling campaign against Rome's fierce enemy, the kingdom of Dacia, Gaius Fabius returns home in triumph. With the bloody battles over, the commander of the Lucky IV Legion now craves life's simple pleasures: leisurely soaks in fragrant baths, over-flowing cups of wine, and a long holiday at his seaside villa to savor his pleasure slaves. On a whim, he purchases a spirited young Dacian captive and unwittingly sparks a fresh outbreak of the Dacian war; an intimate struggle between two sworn enemies with love and honor at stake. Allerix survived the wars against Rome, but now he is a sex slave rather than a victor. Worse, the handsome general who led the destruction of his people now commands his body. When escape appears impossible, Alle struggles to find a way to preserve his dignity and exact vengeance upon the hated Romans. Revenge will be his, that is, if he doesn't lose his heart to his lusty Roman master. Dominus is a plot-packed erotic m/m historical fantasy that transports readers back to ancient Rome during the reign of the Emperor Trajan (98-117). This is the first of four books in an alternate history saga—a tumultuous journey filled with forbidden love, humor, sex, friendship, political intrigue, deception and murder.
Dominus (Dominus Book 1)
Pairing: M-M, M-M-M
April 21, 2014
Word Count:
159,200
Character Identities:
Bisexual, Gay, Polyamorous
Summary: The speed of their cars has made them famous, but when Jason's past catches up to them, speed is not the only thing that gets tested on the highways of Manzano Springs, New Mexico... Chris, Brandon, Jason, and Eric continue their speed-addiction and friendly street racing pursuits under their new group moniker "E85." A night spent with Marissa precipitates confusion for Jason and Eric. Jason sees her as an asset, but also as an old friend that could make everyone a little more at ease in their bisexuality, even if he may only be thinking about himself. However, her presence flares up some old insecurities inside all of them that forces some awkward situations. Brandon and Chris have forged an incredibly tight bond, and with the presence of Jason's ex-turned-re-girlfriend, their lives and the feelings they have for each other, and their younger friends, gets complicated even farther. Polyamory is more confusing than either of them realizes, and it's a journey to unpack what everything means. They work cautiously to untangle their confusion and discover love they never knew could exist. Meanwhile, just as everything seems to be settling in for a comfortable life, Jason's past catches up to them. Jason and Eric lose a substantial part of their investment in each other, and Jason's vengeful search for who caused it gets all of them put in the crosshairs of an underground organization bent on controlling Manzano Springs' automotive world, putting all of their lives in danger. Will they be able to uncomplicate their love lives in the midst of everything else? Will Jason's past get them all killed? When drama, violence, and unearthed secrets rock their core, their devotion to each other may be the only thing that can thwart the machinations trying to tear them apart. Manzano Springs finds out that "E85" is a group with which one should not go to war.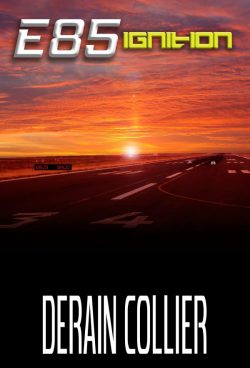 E85: Ignition
Pairing: F-F, F-F-M, M-M, M-M-F, 4+ or Other
December 28, 2018
Word Count:
20975
Character Identities:
Bisexual, Pansexual
Summary: Grad student Andrea is mostly self-assured and quite open to whatever the world might bring her way. She's sensible, but she's got a quiet belief in the supernatural and a daytime interest in studying history, and finds herself surprised to be falling head over heels for the older woman she just met. Liz is thrilled to have made a new best friend. Overjoyed with how well they click, how well her son likes Andrea, how much fun they have together, and how easily she can open up, Liz finally considers it might be more. Blissfully in love, Liz relishes in how all this makes her feel, and how it's almost made her forget that high school boyfriend she's been grieving over for a couple decades. But maybe things are too good to be true? A family dinner brings up questions for Liz. Questions that prove difficult to answer, and possible answers that defy logic and reason.
Eternally Yours
Pairing: F-F
July 15, 2020
Word Count:
107000
Character Identities:
Bisexual, Gay
Summary: Second Place in the 2016 Rainbow Awards for Category: Gay Historical! In this sequel to Dominus, Gaius Fabius Rufus, the victorious general of Rome's brutal Dacian Wars, finds his loyalties and his affections pulled in different directions. Should he return to Rome and secure his claim to the imperial throne, or remain at his seaside villa and protect his pleasure slave, the fierce Dacian prince, Allerix? Retaliation for the murder of his beloved friend beckons him home, but his desire for justice could put both him and Allerix in mortal danger. As Gaius's deceptions multiply, another tragedy strikes. Will the Lion of the Lucky IV Legion be forced to sacrifice his besotted heart to achieve his aspirations for supreme power? Every moment since Allerix's violent capture has tested the young prince's fortitude and cunning. If he can kill the triumphant emperor who decimated his Dacian nation, revenge and immortality will be his glorious, everlasting rewards. But to realize his scheme for vengeance, he must deceive the Roman master whose body he lusts, the handsome, arrogant man whom he has grown to adore and admire. Can two former enemies—the conqueror and the conquered—find trust and true love, or are the consequences of war destined to tear them apart? Can Gaius and Allerix survive the perilous games of Rome? Dominus is a plot-packed erotic m/m historical fantasy set in ancient Rome during the reign of Emperor Trajan (AD 98-117). Games of Rome is the second book in this alternative history saga—a tumultuous journey of forbidden love, humor, sex, friendship, political intrigue, deception, and murder.
Games of Rome (Dominus Book 2)
Pairing: M-M, 4+ or Other
November 18, 2015
Word Count:
127000
Character Identities:
Aromantic, Bisexual, Pansexual, Polyamorous
Summary:
The Progress has begun. The route is mandated by the deepest lore of Adavar. Following the steps that Axia took at the beginning of time, the Progress cannot be changed, cannot be broken. Once begun, there is no turning back. Aria and her Companions must leave the safety of the Palace behind and make the ritual journey that is the next step of securing Aria's place as Heir. Along the way, they hope to find the answers that will lead them to Risha and to their missing loved ones, and to a path that will end Risha's threat and reunite their people. But the lore says that they to survive the journey first...
Heir to the Firstborn: The Crossroads (Heir to the Firstborn, Book 5)
Pairing: F-F-M, M-F, M-M, M-M-M, 4+ or Other
November 30, 2021
Word Count: Information not available
Character Identities:
Bisexual, Lesbian, Questioning
Summary: When the perfect little stumbles into your life, what are you to do? Lindy Rubin performed every task per her strict routine. She was speeding towards forty and becoming bored with her orderly life. When she began to assess the emptiness of her personal life, she hadn't expected the surprise destined to arrive. Was it fate that brought her a beautiful girl with teary, azure eyes to her doorstep? If so, who was she to deny her Little Love help in her moment of need? Author's Note: This Lesbian Romance contains elements of Age Play and Domestic Discipline (D/s), if those are subjects you find objectionable please don't read.
Little Love
Pairing: F-F
November 12, 2019
Word Count:
51000
Character Identities:
Bisexual, Non Binary
Summary: The books in the Fatal Fidelity series are best read in order. This summary contains spoilers for Love Kills Twice (Fatal Fidelity #1). With her husband dead, Justine finds herself balancing newfound freedom and a blossoming relationship with Campbell. They steal her away to a slice of paradise in France, but it's a working holiday, and their new contract is a heavy hitter. A local diplomat wants her ex-boyfriend—also her ex-bodyguard—dead. He's been stalking her for weeks, and his years of experience as a Special Forces interrogator make him a hard target to catch. He'll kill anyone who gets too close: Campbell included. Campbell is used to giving up everything for the job, but old memories and old friends leave a weakness to exploit. Justine takes Campbell back from the brink of a violent collapse, but it comes at a dire price. What survives afterwards will change them both forever.
Love Bleeds Deep
Pairing: F-NB
May 10, 2021
Word Count:
35000
Character Identities:
Bisexual, Lesbian
Summary: Jane always thought she'd live a fairly ordinary life. Then the world broke and changed everything. Jane never expected to be the one running the local unofficial orphanage. But while it wasn't what she had planned, she wouldn't trade it for anything. She loves her kids and the life they've all built. She's happy just trying to stay under the radar while keeping them all fed and out of the clutches of the local militia. Things are going well until her kids surprise her with an unconscious woman on the kitchen table, not even an hour after the militia was in the front yard looking for the same woman. Jane has no issue hiding someone from the militia as long as they aren't an actual criminal, so together the household nurses Livy back to health. It doesn't take long for Livy's bright smile to start chipping away at Jane's short but sturdy walls. Can Jane let down her guard enough for Livy to slip through? And what will Livy do if she does? She wasn't ready for her world to change again…but love has a mind of its own.
Loving Olivia
Pairing: F-F
November 9, 2020
Word Count:
93000
Character Identities:
Aromantic, Bisexual, Pansexual, Polyamorous, Transgender
Summary: When it comes to love, Mack Whitman prefers to limit it to writing songs and poetry. Aromantic, he's content to have quality friendships and people who sometimes also share his bed. He's never considered himself the jealous type. But when he sees everyone in his life, from his best friends to his occasional partners, moving toward more settled lives, it leaves him frustrated, disappointed, and worried he'll be left behind. Amelia Roberts doesn't care about the genders of her partners as long as she follows her one rule: Don't ever fall in love. It's worked out well for her, since that's a line she knows she'll never cross with Mack. He's as happy as she is to keep things as they are. The only trouble with her philosophy is that she didn't count on meeting the one person who might change her mind. Jomari O'Brien's supportive family made it smooth for him to transition several years ago. Since then, he's been in and out of love, and other people's beds, plenty of times, and he has no regrets. Each one is a small part of a larger symphony. Becoming involved with two people at once is a more complicated harmony, but it's one he's willing to learn as long as they are. Their individual melodies become discordant as they struggle to make them fit together. But if all three can learn to play with each other instead of against, they may yet hit all the right notes.
Minuet
Pairing: M-F, M-M, M-M-F
September 1, 2019
Word Count: Information not available
Character Identities:
Bisexual, Lesbian, Pansexual, Transgender
Summary: Bartender-extraordinaire Amy Thompson loves her job at Sappho's Kiss, but grows weary of the party lifestyle she lives. A decade has passed since she'd taken her life into her own hands and said enough was enough.That didn't mean a lifetime of programming changed overnight and concealing her pain from others was a habit she held to with a steely, white-knuckled grip. That is until she caught sight of big, azure eyes across a coffee shop. Psychologist Maya Chamberlain tells herself she's content with her life since she was widowed years before. The same crash that took her husband left her with a limp and a loathed cane. She loves her job at the LGBT Youth Center in Colton, Maine's Pride District until an over-sized, blonde ego plops down across from her in Pink's Diner. Can two women who hide what they desire from the rest of the world find freedom and acceptance in each other's arms?
More Than What They See
Pairing: F-F
October 5, 2016
Word Count:
107000
Character Identities:
Bisexual, Polyamorous
Summary: Note: These erotic novels were originally published with Samhain Publishing through my pen name, Dani Worth. Only the cover has changed. The content is the same. KITHRA (The Kithran Regenesis Volume 1) Lux Moyans likes piloting missions for The Company–exploring new galaxies, searching for the next precious metal. When her second-in-command, Kol Frega, informs her they've been ordered to Kithra, she's furious. A year grounded on an uninhabitable planet? But the ship–the one Kol designed–is the only one that can withstand the planet's gases…and Lux is one of the few pilots who can navigate the debris fields caused by the explosions that killed most of the planet's inhabitants. Kol and a Kithran survivor will be her only company on planet. When they pick up Egan Lothbrun, Lux knows there will be trouble. Already something is brewing with Kol and her attraction to both men would be a problem with anyone else. But Lux doesn't do exclusives. Or so she thought. And when she learns Kol and Egan share a painful past, she realizes getting Kithra livable won't be her only challenge. Keeping her heart intact might be harder. REPLICANT (The Kithran Regenesis, Volume 2) Jarana Gothbrun is the best Tracker in the galaxies, famous for tagging Replicants—the elusive shape-shifting aliens who can take on humanoid forms once they have someone's DNA. For Jarana, it's personal. A Replicant kidnapped her right before massive explosions destroyed her world. Grief made her hard and a thirst for revenge has fueled her every move since. Her current job? Bag two Replicant escapees from a high-security prison planet. Unfortunately, one of them is in deep hiding on Kithra. That means returning to her destroyed planet and facing the loss of everyone she loved. When Jarana uses an untested device to force the well-loved Maska's shift to his native form, it puts him in grave danger. It also pisses off everyone in the small, growing community working to rebuild Kithra. Her plan for a quick exit is ruined and not only does she have to deal with angry former friends, she also has to fight her attraction to both Maska and Erik, a man with his own issues because he had no idea his fiancé is actually a man. CATALYST (The Kithran Regenesis, Volume 3) Vala Gorun's family was off planet when Kithra exploded. Although she's back home helping with the rebuild, something she saw all those years ago still haunts her. So she hires a Tracker to find the human man she once loved—the one who betrayed her in the worst possible way. Jackson Canfield can't afford to be found. Not now, when his revenge is almost complete. Unfortunately, instead of the Tracker on his trail, his hired guns grab Vala and a young Gwinarian man instead. Trapped on a pirate vessel with Bastian, a ridiculously attractive but younger man, Vala has more than enough to occupy her. When the pirates leave them as unwilling guests of the very man she'd driven crazy with her teen crush all those years ago, Vala learns Jackson is not who she thought he was. And now the three must work together to reveal the truth behind Kithra's destruction—if they can control the explosive passion that erupts between them.
Regenesis
Pairing: M-M-F
June 3, 2017
Word Count:
50000
Character Identities:
Bisexual, Lesbian, Pansexual, Polyamorous
Summary: In 1860, four brothers on a mission from God tunneled beneath the surface in Nevada territory, looking to find the next Comstock Lode. Legend has it they went down into the Earth as honorable Christian men but returned as something more sinister, their good intentions abandoned. There they became possessed and altered by an evil force, and their hold on the residents of what was known then as Lake's Crossing allowed them to gain unfathomable wealth and power. Youngest brother Jonah ran from that evil and has been in exile under an alias for nearly 70 years. He spends his existence as Jimmy Manwaring, playing piano nightly to the rough-and-tumble saloon crowd in Fort Bragg, California, with the final words of his beloved deceased wife constantly on his mind. "When hope comes, you must protect them." An act of violence thrusts barmaid Hope Johnson, her unborn twins, and her lover, Bonnie, into his world, and he swears to protect them, but not even one with the power of Sight could predict the series of events that threaten their safety. Will Jonah receive the absolution he seeks, or will his new family suffer for the sins of the Bane brothers?
The Absolution of Jonah Bane
Pairing: F-F-M
July 1, 2022
Word Count:
53539
Character Identities:
Bisexual
Summary: Andrea Missanaugh lives on dystopian Earth's exploration ship the HAND-5500. Lost in deep space and subjected to the monotony of survival under a regime that still holds the distant ship in its iron grip, Andrea has lost all hope of living a happy life and waits for her silent mental rebellion to be discovered and the inevitable death that will follow. Then she's whisked away from the HAND-5500 by two curious aliens from a planet called Evalaque: the President's daughter, Ledieven, and her gentle partner in crime, doctor and scientist Jacq. Ledieven wants more than friendship, however, with Jacq and Andrea – something that is forbidden on Evalaque, where a fertility crisis has taken hold. Ledieven is one of the last fertile women on Evalaque and her mother will go to great lengths to press her into a socially acceptable marriage. But Andrea's done with settling for less.
The Best Of Both Worlds
Pairing: F-F-M
September 23, 2019
Word Count:
317000
Character Identities:
Bisexual, Gay, Pansexual, Polyamorous
Summary: For the first time, the entire Lonely Hearts Series is available in one box set. Including never before published epilogues for each of the four stories and a bonus short story, Time to Play. His Kind of Love Joel Reading is lonely, and Gabriel Hunter has been waiting years for the right man. The Colors Between Us Roland Wilson is a haunted man, and Adonis Smith wants something he can't have. Love Comes After Bennet James's world is imploding, Aiden Hennessey is devastated, and Chris Wheeler doesn't do emotions. Until You Say Otherwise Richard Harrington is tired of saying goodbye, and Sam Sanders is determined. TIme to Play Athena Smith is ready for her time in the spotlight with Wesley and Grant.
The Lonely Hearts Series
Pairing: M-M, M-M-F, M-M-M
December 26, 2018
Word Count:
68,500
Character Identities:
Bisexual, Polyamorous, Straight
Summary: Recently widowed and in her early forties, Merry Delany is about to plunge into a self-discovery journey that takes her places she's never imagined, much less hoped for. Once passion is unleashed, can it be stopped? The millennium arrived with such promise—will it deliver for recently widowed Merry Delaney? So much for all the anticipation about the new millennium. Merry Delaney's life is still in a rut and shows no signs of changing. Sex? A fading memory, gone long before her husband actually died. Excitement? Hardly the hallmark of an accountant's life. At forty-two, what can she look forward to? Until her best friend takes Merry's predicament into her practiced hands. One passionate kiss unleashes possibilities Merry never dreamed of—and she wants to sample them all. Men? Women? Young? Old? Ménage? Toys? Yes, to all, to pleasure, to making up for lost time. Enter Chicago Detective Jim Barnes, who solicits Merry's help with a mob funds-skimming case. Can the scorching passion that soon smolders between Merry and Jim survive the escalating mob threats of exposure? Having discovered a zest for sex, will Merry ever again be satisfied with one man?
The Merry Widow
Pairing: F-F, F-F-M, M-F
February 7, 2020