Word Count:
90000
Character Identities:
Bisexual, Gay
Summary:
Dominic Blake spent his teen years being a punching bag for the school's leading athlete, Tristan Jones. That was years ago. He shut down his heart. Never letting anyone in. Only trauma and pain awaited anyone who made it past his icy exterior. With his wit and talent for electronics he rose through society to become a respected inventor. He hadn't heard or thought about his teenage tormentor since he graduated. - Tristan Jones had always been a top performer in any sport he attempted. It didn't matter what it was. If it used muscles, he excelled at it. Home life for him wasn't all peaches and cream, though. He threw himself into sports in order to spend as little time as possible at home. Being around so many who expected him to be manly meant doing what they thought he should. Even if it meant giving the school nerd the beating of a lifetime. When his teammates took it too far, Tristan left and never turned back. - What happens when Tristan falls right into Dominic's world in the most unexpected way?
All Things to Ashes
Pairing: M-M
January 6, 2022
Word Count:
97,046
Character Identities:
Bisexual, Gay
Summary: Love, served behind the stick. Kyle McKee lives a charmed life. He co-owns Under, an uptown speakeasy, where he is chief mixologist. Friends poke fun at Kyle's tiny one-bed apartment in Chelsea, but they're the best support system a man could ask for. Unfortunately, Kyle's lackluster love life has led him to take a break from dating. Harlem resident Luka Clarke is a lieutenant with Engine 47, the Pride of Morningside, where he carries on his father's legacy with the FDNY. Luka, who is mixed race and bisexual, has his eye on Kyle, whom he met at a local burger joint and he just needs to make time to visit Kyle's bar. Before work one evening, Kyle is trapped inside the luncheonette when a fire breaks out. Luka's firehouse answers the call and he connects with Kyle again under the most unexpected of circumstances. When Kyle gratefully invites Luka and the firehouse squad to Under, the flirting between the two men leads to a date. Kyle and Luka quickly grow close, but Luka's mother and sister distrust Kyle for being both white and gay. Luka believes his family will come around and accept Kyle in the end, but Kyle is not optimistic and hides his disquiet as attraction blossoms into love. Kyle and Luka's near-idyllic bubble is shattered one evening after a hate crime leaves them scarred, inside and out. Shaken, they put on a strong front but struggle inwardly against fear and personal demons. As the emotions seething beneath the surface finally come to a head, both men must decide if they have the strength to find love enough to conquer hate.
Behind the Stick
Pairing: M-M, 4+ or Other
August 20, 2019
Word Count:
93000
Character Identities:
Genderfluid, Lesbian, Non Binary, Pansexual
Summary: When a change in collective conscious sends the Outsiders, a group of aliens, to the shadows below the city, humans reason that the demonization of their peers is simply more "humane." There's no question, nor doubt. Just acceptance. Lydia had embraced that sense of "truth" for as long as she can remember. The daughter of a powerful governor, she has been able to live her life with more comforts than most. Comforts can be suffocating, though, and when the opportunity to teach Outsider children in their private, "humane" community becomes available, she takes it. What she finds beneath the city is far from the truth she had grown to know. There she meets Alessia, an Outsider with the knowledge and will to shake the foundation of all those who walk above ground. The two find a new and unexpected connection despite a complete disconnect from the technological world. Or perhaps in spite of it. Still, it takes a lot more than an immutable connection to change the world. Lydia, Alessia, and a small group of Outsiders must navigate a system of corruption, falsehoods, and twists none of them ever saw coming, all while holding on to the hope to come out alive in the end. But it's a risk worth taking, and a future worth fighting for.
Beneath the Surface
Pairing: F-F, M-F, M-M
January 19, 2018
Word Count:
99.927
Character Identities:
Gay, Straight
Summary: It's a fine line with power, it can be positive or it can be negative, depending on the person wielding it. Paden had been thrown off his planet of Eiravia, given the name of Darius, and left to forget his race and his family. Years have passed since then and he has made his way back to Eiravia and the man he loves. With Finnal's help, and that of his growing clan, he will make Eiravians feel pride again. His growing power is becoming known throughout the universe and he is slowly being talked about in hush tones as the Jewel, a shining star who can create wonders from changing a race to fixing a planet. Nothing much is known about him from the outside world, only the rare few that have the opportunity to understand his fears, hopes, and loves truly understand. Throughout the story, one man's journey is interwoven into Darius's. Vega is a cornerstone to the clan. He is a man who helps him work out issues and chase the shadows away. He helps him become something that is talked about in tales by firesides.
Beyond the Norm
Pairing: M-M
April 19, 2017
Word Count:
81000
Character Identities:
Genderfluid, Lesbian, Pansexual, Straight
Summary: Alessia is an Outsider—a member of the not-quite-human community that has recently been released from their underground prison. Shortly after their liberation, Alessia is given an ultimatum: obey all the United Earth Alliance's demands, or her mother will forever remain a hostage—a mother she'd believed dead for fifteen years. Reluctantly, she agrees, though she has no idea what those demands may be or how she will balance her obligations to the UEA with her responsibilities to her people and her family. As the UEA tightens its grip on humans and Outsiders alike, it becomes clear that meaningful social change will not be possible without a revolution. Alessia and her peers embark on a mission to discover just how far the government is willing to go to maintain their monopoly on power. What Alessia and her comrades discover, however, goes much deeper than they'd ever anticipated. Who are the Outsiders, really? What secrets of their destiny lay hidden within a top-secret space station? And why are the Outsiders linked to an emerging disease the UEA seems desperate to keep secret?  As they delve deeper, it isn't only Alessia's identity that will be called into question, but the fate of the entire planet.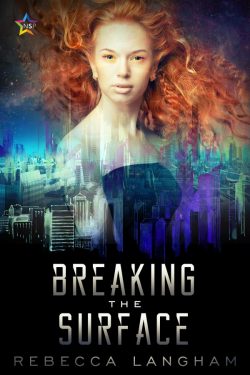 Breaking the Surface
Pairing: F-F, M-F, M-M
January 13, 2020
Word Count:
45873
Character Identities:
Gay
Summary: This is book 1 of the Eternal Flames series, Centuries ago the Phoenix and Dragons were a force no one could penetrate. They fought together, mated together, and worked side by side, and then all that changed. The children of the leaders were dead and war had practically destroyed them all. The fighting stopped and they both went their separate ways. Daytona was the Captain of the Crystal fire department. He loved his small town and he loved his job. However, what none of the small town knew was that he was also a dragon. Crystal was a small location just outside Denver, and it was also the home to the Phoenix. He had lived amongst them for years, hiding his scent, until the day came that he could no longer keep his secret. When a fire claims his mother's life, Ethan rushes home. Having your mother being a victim of an arson is not something he was prepared to face, but discovering he wouldn't have to do it alone, should have been a relief. The thing is...that relief came in the form of a dragon, and the town believes that his mate is the cause of all the fires around town. When the arsonist strikes close to home, Day knows he must clear his name and find the culprit that is now trying to kill his mate.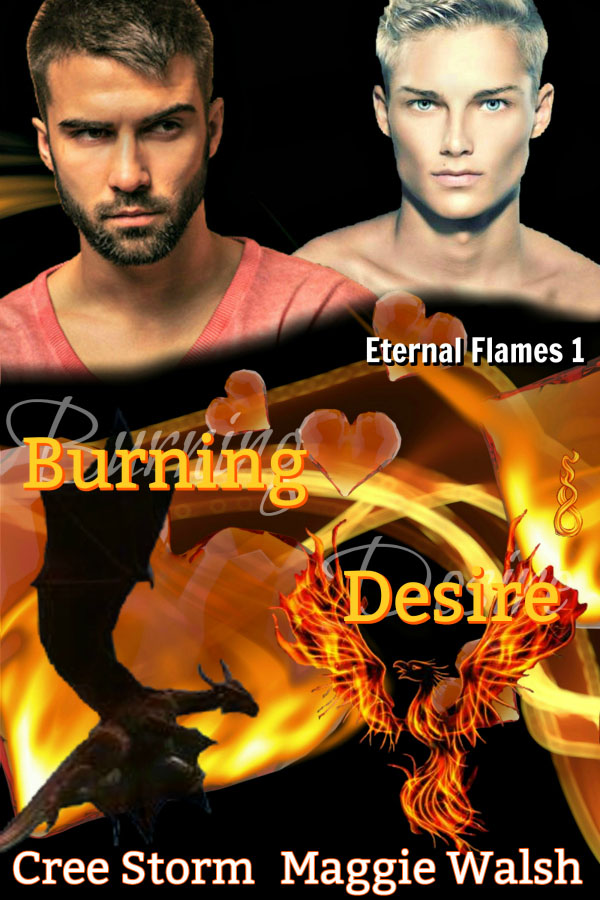 Burning Desire
Pairing: M-M
May 25, 2016
Word Count:
40926
Character Identities:
Bisexual, Gay, Transgender
Summary: Nick Fabian never made it as a CSI. His idealistic vision of the police as an institution dedicated to serving justice died in the harsh light of day, and he quit to become a freelance private investigator, taking on cases nobody else wanted to touch. Enter Emily Bright, a woman with a score to settle. Her best friend Sabrina was murdered, but local law enforcement is dead-set on ruling it a suicide. Determined to get justice, she turns to Nick. Nick feels the pain of one of his own and takes on the mantle of finding Sabrina's killer.But Point Clear has skeletons in its closet. A married local school teacher, Connor Long, had an affair with the victim and isn't above threatening Nick to keep his secret safe. Local man Roy Constas took Sabrina home that night, but he swears nothing happened between them. Emily herself raises suspicions when she reveals she was in love with Sabrina, a sentiment that was not returned. If Nick wants to get to the truth, he'll have to cut through the small-town prejudice and lies surrounding Sabrina's death, but that's not easy when the entire system is determined to bury the case and chase Nick out of town...
Clear Motives
Pairing: M-M
November 13, 2020
Word Count:
51828
Character Identities:
Bisexual, Gay
Summary: Leo should have looked where he was going. He shouldn't have run after his customer, who left behind his coffee in a rush. He should have seen that car coming… Leo wakes up in the hospital and realizes that his handsome nurse is the very same customer he rushed after … the customer he's had a crush on for nearly a year now. When Andy flirts with him, Leo can hardly believe his luck, but before anything can truly spark between them, Leo's life is thrown into complete chaos when he nearly becomes the victim of an illegal deportation scandal. Will his and Andy's budding relationship survive?
Coffee-to-Go
Pairing: M-M
September 18, 2018
Word Count:
25,056
Character Identities:
Gay, Transgender, Genderfluid
Summary: PHOTO DESCRIPTION: Two half-snake men, one a green anaconda and one a brown python, sit coiled together on rocks with their eyes half-lidded. The anaconda is sitting higher than the python. The python man is holding the anaconda man at the waist, and one hand lower on the scaly lower half. He has a tattoo on his upper right arm. The anaconda man is holding the python man's face, while he looks down with tenderness. He has a tattoo on his left shoulder. See the photo here STORY LETTER: Dear Author, That dark-headed man, who is looking up at his lover, is me. We have been through a lot of heartache and trials, but we have finally made our relationship permanent. As two different types of snake shifters, we had to overcome some major obstacles. Our families put us through a lot of headaches trying to keep us part, but we overcame it all. Can you tell us how we managed to overcome those differences and our families to get us to where we are now, happy and so deeply in love? Triggers: rape, incest Sincerely, Ashley STORY INFO: Genre: paranormal Tags: snake shifters, shifters non-wolf-cat, angels/demons/gods, mythology, magic, corporate espionage, reunited, soulmates/bonded Word Count: 25,056
Coil Me Up
Pairing: M-M
October 13, 2015
Word Count:
40671
Character Identities:
Bisexual, Gay, Transgender
Summary: Nick Fabian has settled into life in the small Maine town of Point Clear with his boyfriend Roy Constas, but work in the P.I. business is slow. Struggling for money and a sense of purpose, he considers working at the local laundry with Emily, but the news that his old crush Lieutenant Scott Mordis has been murdered in Philadelphia ignites a deep yearning he'd been trying to snuff out. With their last parting a bitter one, Nick is conflicted about returning to Philly, but is driven by the force of his emotions to obtain justice for Scott. Roy insists on tagging along for the ride, refusing to be left behind. He's jealous of Nick's affection for his former mentor and boss, and the two men face their first major hurdle as a couple. Nick's journey will plunge him back into a cold case—that of Aiden Winters, the murder that drove a wedge between him and Scott in the first place—and he'll unearth connections between the two cases better left buried in the past…
Cold Winters
Pairing: M-M
June 30, 2021
Word Count:
64548
Character Identities:
Bisexual, Non Binary, Transgender
Summary: What if cyborgs suffered body dysphoria? In his mid-forties, former cop turned career bureaucrat Nolan Rogers is diagnosed with terminal cancer. His best friend Elly Takahara convinces him to undergo the process of body conversion, where his brain is transplanted into a robotic body. The operation is successful, but Nolan quickly finds himself adrift in a body that doesn't eat or physically react to emotion. For the first time in years, he's suffering from a new kind of body dysphoria, a sensation he hoped to have left behind when he transitioned to male decades ago. During this crisis, he meets Tallis, a proud nonbinary body convert who sued his parents for the right to give up his flesh and blood body. Tallis is fire to Nolan's water, and whereas Nolan just wants to fit in, Tallis is determined to stand out in a world where being a cyborg marks one for discrimination and worse. Despite hitting it off poorly, an undeniable attraction blossoms between the pair, and they become entwined in a complicated relationship. Nolan can't understand Tallis, but he wants to. Trapped in his own narrow confines of what he believes the world to be, Tallis challenges everything he thought he knew. Can Nolan learn to love who he is now, or will he find himself drawn into the ranks of the Regretters, an organization of cyborgs campaigning to outlaw body conversion altogether?
Conversion Dysphoria Blues
Pairing: M-NB
May 24, 2022
Word Count:
87000
Character Identities:
Bisexual, Genderfluid, Genderqueer, Non Binary, Pansexual
Summary: Dalí Tamareia has everything--a young family and a promising career as an Ambassador in the Sol Fed Diplomatic Corps. Dalí's path as a peacemaker seems clear, but when their loved ones are killed in a terrorist attack, grief sends the genderfluid changeling into a spiral of self-destruction.Fragile Sol Fed balances on the brink of war with a plundering alien race. Their skills with galactic relations are desperately needed to broker a protective alliance, but in mourning, Dalí no longer cares, seeking oblivion at the bottom of a bottle, in the arms of a faceless lover, or at the end of a knife. The New Puritan Movement is rising to power within the government, preaching strict genetic counseling and galactic isolation to ensure survival of the endangered human race. Third gender citizens like Dalí don't fit the mold of this perfect plan, and the NPM will stop at nothing to make their vision become reality. When Dalí stumbles into a plot threatening changelings like them, a shadow organization called the Penumbra recruits them for a rescue mission full of danger, sex, and intrigue, giving Dalí purpose again. Risky liaisons with a sexy, charismatic pirate lord could be Dalí's undoing--and the only way to prevent another deadly act of domestic terrorism.
Dalí
Pairing: M-M, Includes NB
August 7, 2017
Word Count:
94887
Character Identities:
Gay, Questioning, Straight
Summary: Twenty days. Nothing will ever be the same for these friends again in exactly twenty days. TJ's past transgressions are coming back to haunt him in a big way. But the big question still remains – what exactly did TJ do? On the other hand, Elijah's trip to Florida will turn his life around and have him standing on stable ground, but will it last? Will Elijah's secrets finally catch up to him? While these acquaintances are going through their everyday routine, unbeknownst to them, a storm is brewing in the background. In the days following the passage of this storm, the pieces of the puzzle will start to fit together as the entire buildup of this book finally takes shape. How is Seven connected to both TJ and Elijah's unfortunate events? Everybody is playing a dangerous game but at what cost? In the final analysis, lives will be shattered. People will be exposed. Death will be upon us. Join TJ, Elijah, and Seven in this meticulously crafted second entry to this series, as the group of friends embark upon challenges that will shape the rest of their lives. And then on the twentieth day, the chain reaction of all these dangerous games will go up in flames! Who goes to jail? Who will receive devastating news? Most importantly, whose door does death pay a visit to?
Dangerous Games
Pairing: M-M, M-M-M
May 29, 2020
Word Count: Information not available
Character Identities:
Bisexual, Gay, Pansexual
Summary:
Two young men haunted by their pasts. One bond that can save them both. 
Sarcastic loud-mouth, Silas Brigs is used to taking care of himself. He's done it for years, after all. But the too-perfect Ben Adams has other plans. Against all odds, the California diver has worked his way under Silas's prickly exterior, and Silas is left to wrestle with the simmering attraction building between them. When their feelings can no longer be ignored, Silas and Ben must work together to navigate their insecurities and trauma, or risk the delicate relationship they've come to rely on. But Silas's life is filled with more than simple high school drama, and being his friend—let alone more—puts Ben in danger. Monsters from Silas's past refuse to sleep, and the secrets are piling up. Unfortunately for Silas, some truths don't stay hidden.
Every Hidden Truth
Pairing: M-M
March 27, 2020
Word Count:
31000
Character Identities:
Gay
Summary: A coldhearted murderer yearning to be had and a pretty boy who wants to have him. Sage Crawford makes a living eliminating people and he prospers from jobs well done. Business is business until he contracts to exterminate a mark in his small hometown. Hasn't been within a hundred miles of where he grew up since he left deserting his best friend whose family practically raised Sage. His idea of reconnecting nose dives when he realizes his target is the friend's younger brother. Skewing matters, while tracking his prey, Sage begins to hope for something he has endlessly searched for. Emory Welton never hid being gay. His life is good until an encounter goes awry with the son of a gubernatorial candidate who wields power. The wealthy candidate will stop at nothing to be elected including keeping his son's sexual preference concealed. Things don't improve when Em finds himself attracted to an old family friend whose secret will devastate his family. And just when he thinks things can't get worse, Emory is kidnapped. Embers smolder, sparks fly and heat grows igniting a fire that can't be smothered before flames become all-consuming. Fire Inside Me rages with shades of John Wick, a pinch of Pretty Woman and a dash of 365 Days. And there's a kitty cat! No furry animals are harmed in this book. Content/warning: #drama #enemiestolovers #gay #HEA #murder #romance #violence
Fire Inside Me
Pairing: M-M
July 13, 2020
Word Count:
131676
Character Identities:
Gay
Summary: Choices. You cannot escape the consequences of your choices. TJ's choices have landed him in a whirlwind of trouble. Legal trouble. As he faces the biggest challenge of his life, he is also demanding answers about his past. Will TJ beat this case that is moving through the criminal justice system, or will his future come tumbling down? Will TJ have to reap the consequences of what he has sown? The choices Seven made are haunting his mind. Several people believe he was responsible for the Jaquez situation and that choice he made will return some grim results. While Seven tries to shake off the mistakes of his past, a new love interest develops. The choices he makes with this love interest can also come at a costly price. For Seven, do the ends justify the means? Insert Elijah. His past choices have led him to his new truth which causes the relationship with his mother to take a drastic turn for the worst. But why? What is really causing these problems in his home? What is really at the core of Elijah's issues? Is his mother to blame? Or is it something deeper? What will Elijah do when the demons in his head take him to a place of no return? While the friends tackle these storms in their lives, something more sinister is at work. A plan is being crafted to destroy them at their core. Dark secrets will be revealed. The ultimate betrayal will occur. Someone will meet their untimely death. In their world, all bets are off. Who can you trust? Who do you trust?
Free Yourself
Pairing: M-M
February 24, 2022
Word Count:
64800
Character Identities:
Bisexual, Demisexual, Straight
Summary: LOVE IS LOVE, NO MATTER WHERE YOU FIND IT! Architect Justin Bailey has been alone for over 20 years.  The love of his life, Rachel, died at 25, just three years into their marriage.  Ever since that loss, Justin had been unable to find love with another woman – nor was he sure he really wanted to.  His life revolved around his family and his dogs.  For him, day-to-day life was a routine, and romance was the memory of his wife and her captivating smile. Freddy Jameson was a loner when it came to affairs of the heart.  Sure, he had friends, but in his over 20 years of life, he never found someone he felt romantically attracted to – female or male.   He dreamed of loving someone, but he could never see the face, only the comforting green eyes.  He was content to work his coffee shop job and plug away at veterinary school, a few classes at a time. A chance decision by Justin to try a different coffee shop put him face-to-face with a young male barista, whose smile reminded him of Rachel.  For Freddy, the man he was serving had the very eyes he had been dreaming of.  Is it possible that the love of Justin's life lived on in this young man, born the day his wife died?  Could this handsome older man be the one Freddy was born to love? Join these two men as they navigate a relationship that neither expected, but each seemed destined to be a part of.  What they find on the way to their "Happy Ever After", is that even with "divine intervention", love will find its own way.  Love truly is love.
Hello Again
May 30, 2019
Word Count:
78000
Character Identities:
Gay
Summary: Ex-necromancer Frank Hope risked his life to help his demon lover Kasimir return to his homeland, a dimension humans call Hell and Kasimir calls the Eternal Realm—a beautiful medievalesque land. Now, because Kasimir is the heir apparent to a vast, wealthy kingdom, the two live in luxury in a palace by the sea. But darkness haunts them. Necromancers, humans sworn to capture and slay demons for Earth's energy corporations to use as fuel, continue to strike the Eternal Realm. Strife between the Eternals' kingdoms grows as well. When war breaks out with a neighboring land, Frank and Kasimir are forced to make hard choices that threaten their relationship—and even their lives. Is their love truly meant to be? Will the universe that once smiled upon them turn against them? This is the final book in the Love Songs for Lost Worlds trilogy and combines elements of fantasy, paranormal, and gay romance within the framework of an alternate 1980s world. Explicit sex, violence, suicide attempt, sexual assault
Infernal Hope
Pairing: M-M
May 2, 2021
Word Count: Information not available
Character Identities:
Gay
Summary: Can love follow someone through time itself? When non-caste dock worker Madoc meets Josh, a man from the future, he little realizes it will be the catalyst to change his world. Madoc is typical of his kind, with red hair and a fiery temper to match, and everything that makes sense to him is forbidden by the castes. Josh seems to be the perfect caste with his pale skin, dark hair and self-confidence, but his tales of another time fuel a fire in Madoc - a fire to change everything that's so wrong with his life. But the fight comes at a price. Too soon, Josh returns to his own time, and Madoc is left to follow his love as best he can. Will he find Josh in a brave new future of his own? Or will he have to accept that Josh was only ever a visitor? This bittersweet short story was originally published in 'Queer Dimensions' by QueeredFiction and has now been rewritten, expanded and published as a standalone book.
Just Visiting
Pairing: M-M
May 23, 2020
Word Count:
11000
Character Identities:
Gay
Summary: Jacob and Marcus, an interracial interfaith couple, are fighting about everything: coming out, monogamy and marriage. Then one dark night, they encounter the Golem who has protected Jacob's family for generations. The giant but handsome man made of clay and dirt saves their lives, and his kiss just may save their relationship.
Kissing the Golem
Pairing: M-M, M-M-M
June 2, 2015