Word Count:
12000
Character Identities:
Gay
Summary: The Caribbees, 1661 When Titus Kandel meets Sir Henry Polglase, an irrepressible fire smoulders between them. But Ty belongs to another man—the repulsive Jonkheer Van Wyck. Sir Henry swears he will rescue Ty from his master's clutches. Past disappointments have taught Ty to be wary of idle promises, but somehow he knows the English gentleman is different. Ty can trust him to keep his word. And then he discovers Sir Henry's true purpose in coming to the Caribbean… A Chevalier in Deed is the first installment in the Chevaliers & Charlatans series. Find out what the crew of the Audacious got up to before they became the Pirates of Port Royal!
A Chevalier in Deed
Pairing: M-M
March 9, 2018
Word Count:
32000
Character Identities:
Bisexual
Summary: Tekokwa runs. He runs from his past, he runs from his future. He runs from himself. He runs so far from civilization that he should be the only human around, but instead he finds himself living with Kwaotli, a mysterious young man who is one contradiction upon another. He's a spoiled lordling one moment, a humble weaver the next. He tells stories like nobody Tekokwa has ever known, and yet won't share his own. And above all, his moods swing: from fun and carefree to manic and angry. Despite everything, Tekokwa can't defend himself against Kwaotli's advances. Kwaotli seems determined force Tekokwa to face himself, to let out the darkness that Tekokwa has tried so hard to suppress all his life. A Coward, A Warrior is a 30k novella with no happily ever after.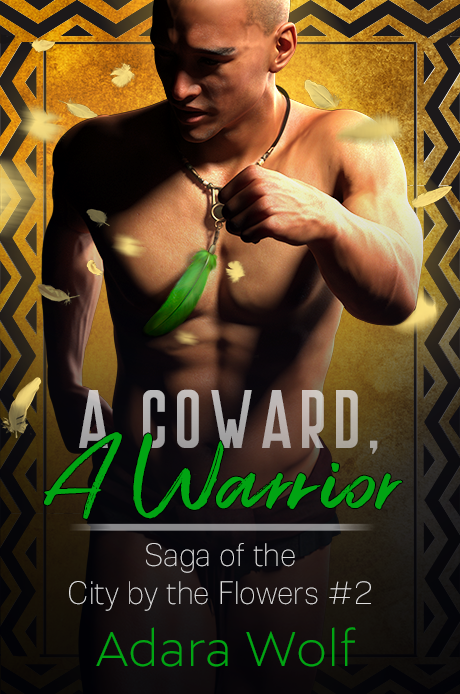 A Coward, A Warrior
Pairing: M-M
August 27, 2018
Word Count:
12000
Character Identities:
Gay
Summary: The Caribbees, 1661 Sir Henry Polglase—Polly to his friends—cannot deny his desire for Titus Kandel. But there's a grave complication. Titus is a slave, and Polly is a slave trader. It seems unlikely Titus will ever forgive him, but Polly trusts to his luck, letting fate take a hand in the future he hopes they can make together. For hearts as well as fortunes can be won—or lost—on the turn of a card. A Scoundrel in Silk is the second installment in the Chevaliers & Charlatans series. Find out what the crew of the Audacious got up to before they became the Pirates of Port Royal!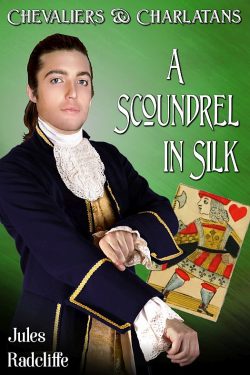 A Scoundrel in Silk
Pairing: M-M
March 8, 2018
Word Count:
80000
Character Identities:
Gay
Summary: Every being has a true name, a name that must be held close with magic. To be born without magic means to lose one's name, and a person without a name can't survive: their soul splinters apart, piece by piece, until they die. The only salvation is servitude, hoping that a kind person will bestow a name and keep the Nameless soul in one piece—at the cost of freedom. How many names has he had now? Far too many to remember. His new saviors are his only hope. They give him a name and a home, but navigating a household where he needs to please two people instead of one is far more complicated than he expected. He knows how to look pretty and how to be enticing—but he doesn't know how to follow their contradictory orders and keep them both appeased. He doesn't know how to keep the jealousy from eating at him as he watches these two men who are so in love. All he can do is mold himself to fit their ideals for the smallest scraps of affection. If he doesn't figure it out fast, he'll die the same agonizing death that befalls any Nameless who is cast free for too long. This M/M/m novel contains dark themes; read at your own discretion
Blue Storm
Pairing: M-M, M-M-M
July 25, 2019
Word Count:
56000
Character Identities:
Bisexual
Summary: In a near-future United States where slavery is alive and controlled by an organization known as the Circle, Avery Tulano is up for sale yet again—and it might very well be his last time on the auction block. As a young man, he signed his life away in a contract willingly, driven by the desire to escape his life. Now, eight years later, he's broken, battered, and sick from a life of unspeakable horrors. When the bidding starts as low as $200, it may as well be a death warrant. Enter Conrad Fisher, a corrupt ex-cop discharged from the force who runs a failing private detective business. His wife died chasing one final high and he's been in a state of isolated depression ever since. He's only at the auction to help his journalist daughter Christina get a scoop on the Circle. When he sees Avery up for bid at such a low price, however, it's an offer he can't refuse and before he knows it, he's walking out of the auction house as Avery's new owner. It's a mistake. Slavery is wrong. Conrad can't afford to keep him anyway, no matter what strange connection they find in each other. But even if a real relationship was possible, a life of drugs, alcohol, and bad decisions is rapidly catching up with both of them—if the Circle doesn't kill them first.
Break The Chains
Pairing: M-M
March 27, 2019
Word Count:
55000
Character Identities:
Gay
Summary: In a world where humans are genetically designed, altered and sold for pleasure and breeding, a young prince of the powerful Cassian Dynasty decides to take a mate and sire heirs. Not wishing to saddle himself with royal and meddlesome in-laws, and a wife he would have no desire to bed, Prince Edward goes to Heritage Breeders, and finds far more than just a warm body to carry on his lineage. Percy is the result of a master DNA architect designing himself his own personal slave and breeder. Yet when his creator and Master dies, leaving Percy alone at the mercy of the callous stable masters and the new owner of Heritage, he fears his future. Afraid he'll be bought by a wretched old man or a deviant monster, Percy is terrified when he is dragged from his cell and presented to the most prestigious client Heritage has ever welcomed...a Cassian Royal. Prince Edward is immediately infatuated with the shy, nervous and enchantingly beautiful Percy, and claims him for his own. Yet not everyone is pleased by a royal purchasing a breeder, especially one like Percy, and tensions rise both in Heritage and in the palace. Torn between need, duty, a king's command and the innermost desires of their hearts, Edward and Percy are set on path that is anything but easy. Can Percy trust Edward with his heart as he does his body? Can Edward keep an angry king and unseen enemies away from the young slave who is steadily stealing his heart? And what happens when Nature takes its course, and Percy's true purpose is fulfilled?
Bred For Love
Pairing: M-M
April 21, 2015
Word Count:
58000+
Character Identities:
Gay, Questioning
Summary:
On a lush, tropical island inhabited by rogues, thieves and villains, where men take the law into their own hands, a father and son are thrust into tumultuous events that will change their lives forever.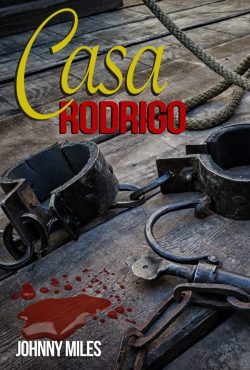 Casa Rodrigo
Pairing: M-M
December 1, 2018
Word Count: Information not available
Character Identities:
Gay
Summary: It seemed so simple, cross a train yard, hop a train and Todd and Nick would be free, on their way home to Elk's Ridge in Yellowknife. Nothing is ever simple or easy for the Ruger men, however. Captured by Vice-Chancellor Raleigh, Todd is imprisoned, leaving Nick alone and seeking a way to free his mate. Help comes from an unlikely and unexpected ally. Todd's freedom places the Rugers yet again into the Chancellor's debt. He sends them on a fact finding mission to the small village of Eldrid, the same village where Nick was raised a slave. There they discover how past events led to their present society, the origins of sentries and slaves and what made some of them so special. They also uncover a conspiracy spear-headed by Vice-Chancellor Raleigh. An attempt at stopping him isn't as successful as they'd hoped when old enemies are confronted. The realities of war, and why some people don't survive, are hard lessons for both Todd and Nick to learn. Through firefights, explosions and a vicious attack from a seemingly unbeatable supernatural being, one thing is reinforced over and over—the most important thing each one has is each other. Will they survive or join an ever growing list of casualties?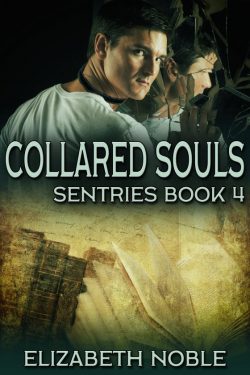 Collared Souls
Pairing: M-M
January 11, 2020
Word Count:
88,500
Character Identities:
Gay, Questioning
Summary: DECEPTION – PALM SPRINGS is the first in a new series taking Mark Farrell and his partner, Dan Fortunato from their dangerous positions as homicide detectives in the LAPD to a new life together as private investigators in the Palm Springs area of Southern California. Comfortable in their professional roles, which have Mark as the lead detective/investigator and Dan is the junior, they continue extreme to explore the reverse in private, where Dan is the dominant Leather Master and Mark is the submissive 'boy' in their BDSM lifestyle. It may confuse their friends, but not the two men themselves. With their very first case, as Palm Springs private eyes, they discover that deception takes many forms, especially when man sex is involved. Mark is hired to locate a US Marine who comes back into his gay father's life after twenty-two years of enforced absence, before disappearing again. Just who is the real Donald Bates and what's his game? From gay Palm Springs mansions to Kansas City's leather bars Mark uncovers some surprising, some shocking and some wonderful answers. Meanwhile Dan's been following a well-known Palm Springs architect, a husband who's alleged to be unfaithful – but is it with a woman or a man? Deception can lead you into sexual, wonderful, strange and dangerous places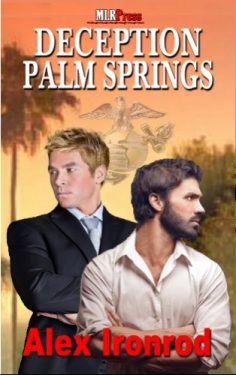 Deception - Palm Springs
Pairing: M-M, M-M-F, M-M-M
March 6, 2014
Word Count:
55000
Character Identities:
Gay
Summary: Can a chance meeting rekindle their incendiary attraction? While cutting through the Interstices—the post-creation gap between realms—Smith, half-demon tech specialist for Enchanted Occasions Event Planning, spies the person he yearns for daily but dreads ever seeing again: the ifrit, Hashim of the Windrider clan. On their one literally smoldering night together, Smith, stupidly besotted, revealed his true name—a demon's greatest vulnerability. When Hashim didn't return the favor, then split the next morning with no word? Message received, loud and clear: Thanks but no thanks. Although Hashim had burned to return Smith's trust, it was impossible. The wizard who conjured him holds his true name in secret, and unless Hashim discovers it, he'll never be free. When their attraction sparks once more, the two unite to search for Hashim's hidden name—which would be a hell of a lot easier if they didn't have to contend with a convention full of food-crazed vampires on the one day out of the century they can consume something other than blood. But if they fail, Hashim will be doomed to eternal slavery, and their reignited love will collapse in the ashes. Luckily Smith is the guy who gets the job done—and Hashim is never afraid to heat things up. Devouring Flame is a 54,000-word enemies-to-lovers, second-chance paranormal rom-com featuring a down-at-heels carnival with sinister undertones, a minotaur with an affinity for flowers, a prima donna goblin berserker chef with serious knife skills, and a guaranteed HEA.
Devouring Flame
Pairing: M-M
January 8, 2019
Word Count:
7100
Character Identities:
Gay
Summary: DOMINATION-LEATHER MASTERS and slaves is the eagerly awaited sequel to Alex Ironrod's highly successful SUBMISSION -LEATHER MASTERS and slaves. It continues the story of Tarquin and Paul in their turbulent relationship within the BDSM Leather world of Los Angeles. In graphic detail,  Alex spells out the challenges of the Master-slave lifestyle, as the two men work out their real feelings for one another. In addition to the heavy sex and violence, there is quiet passion and tenderness. The setting also expands beyond California to Britain, where Paul goes on a work-related project. There he meets the volatile Rufus who has risen the hard way from college "rent-boy" to television star. When Tarquin takes Grant as his new slave, he finds himself in the exciting world of show jumping There is danger as well as friendship in the horse business. There one Master punishes his treacherous prize student by bending him to his darker desires. Full of vivid characters and stimulating man-sex sequences, DOMINATION will raise your expectations even higher than SUBMISSION did.
Domination
Pairing: M-M
April 23, 2018
Word Count:
87000
Character Identities:
Bisexual, Gay
Summary: In AD 107, after a grueling campaign against Rome's fierce enemy, the kingdom of Dacia, Gaius Fabius returns home in triumph. With the bloody battles over, the commander of the Lucky IV Legion now craves life's simple pleasures: leisurely soaks in fragrant baths, over-flowing cups of wine, and a long holiday at his seaside villa to savor his pleasure slaves. On a whim, he purchases a spirited young Dacian captive and unwittingly sparks a fresh outbreak of the Dacian war; an intimate struggle between two sworn enemies with love and honor at stake. Allerix survived the wars against Rome, but now he is a sex slave rather than a victor. Worse, the handsome general who led the destruction of his people now commands his body. When escape appears impossible, Alle struggles to find a way to preserve his dignity and exact vengeance upon the hated Romans. Revenge will be his, that is, if he doesn't lose his heart to his lusty Roman master. Dominus is a plot-packed erotic m/m historical fantasy that transports readers back to ancient Rome during the reign of the Emperor Trajan (98-117). This is the first of four books in an alternate history saga—a tumultuous journey filled with forbidden love, humor, sex, friendship, political intrigue, deception and murder.
Dominus (Dominus Book 1)
Pairing: M-M, M-M-M
April 21, 2014
Word Count:
98000
Character Identities:
Gay
Summary: Troubled residents come and go at the Care House where River Caulfield is a caregiver, working towards fulfilling his dream of becoming a nurse. When Silver arrives, a patient found on a roadside near death after suffering terrible abuse, River finds his previous personal detachment is compromised. Seeking to help the mysterious and enigmatic young man locked inside his own mind and memories, River finds his professionalism slipping as Silver begins to open up and live again. But as their relationship begins to blossom, the roots of Silver's past abuse and the abuser who forced him into such a mental state sends forth new shoots of darkness enveloping them in dangers threatening not only Silver's sanity, but their very lives. With River's devotion and help, will Silver finally be able to break away from his past? The answer lies in the words of a priest, a painting and a long walk through a churchyard harbouring the secrets of the enigma that is Silver.
Enigma
Pairing: M-M
December 3, 2011
Word Count:
17500
Character Identities:
Gay
Summary: Special Agent Cameron Asada has spent four years deep undercover in an attempt to deal a death blow to the Sapphire Guild, the largest drug cartel on Alpha. The things he's done in the name of his mission weigh heavily on his soul, and Cam is reaching the point where he's not sure he recognizes the man he sees in the mirror anymore. Things come to a head when Cam finally gets the break he's been waiting for: an invitation to work for the boss himself as a psionic interrogator. While working at the boss's estate, Cam meets Miko, a powerful psion trapped behind a wall of silence. It doesn't take long for Cam to realize that Miko is a slave, handed around to the boss's associates as a reward for a job well done. Miko's plight tugs at Cam's heartstrings, forcing Cam to examine just how many lines he's willing to cross in the name of serving the greater good. Will Cam risk his life and his career to help Miko? Or is the trail of broken minds and bodies he's left in his wake worth the possibility of victory over the Guild? (~17,500 words)
Facing the Mirror
Pairing: M-M
November 20, 2013
Word Count:
47000
Character Identities:
Bisexual, Gay
Summary: As a lifelong passion continues to fade, another love deepens… two stand-alone m/m stories of love, lust, and friendship in ancient Rome. February: Home from the first war against the kingdom of Dacia, Gaius Fabius ignores his obligations in Rome and returns to his secluded seaside villa in southern Italy. Under the pretense of a holiday trip, his best friend and secret lover, Lucius Petronius, surprises him with an unexpected visit. Later that evening, the lusty masters share the delights of Gaius's blond pleasure slave, Nicomedes. December: With whispers of an embezzlement scandal floating through the capital, Lucius Petronius and his beloved concubine, Bryaxis, celebrate the raucous winter solstice festival of the Saturnalia with Luc's family. After a joy-filled evening of food, gifts, and stories, Lucius and Bryaxis reverse roles in the master chamber.
February and December: Dominus Calendar Series I
Pairing: M-M, M-M-M
August 17, 2016
Word Count:
107000
Character Identities:
Bisexual, Gay
Summary: Second Place in the 2016 Rainbow Awards for Category: Gay Historical! In this sequel to Dominus, Gaius Fabius Rufus, the victorious general of Rome's brutal Dacian Wars, finds his loyalties and his affections pulled in different directions. Should he return to Rome and secure his claim to the imperial throne, or remain at his seaside villa and protect his pleasure slave, the fierce Dacian prince, Allerix? Retaliation for the murder of his beloved friend beckons him home, but his desire for justice could put both him and Allerix in mortal danger. As Gaius's deceptions multiply, another tragedy strikes. Will the Lion of the Lucky IV Legion be forced to sacrifice his besotted heart to achieve his aspirations for supreme power? Every moment since Allerix's violent capture has tested the young prince's fortitude and cunning. If he can kill the triumphant emperor who decimated his Dacian nation, revenge and immortality will be his glorious, everlasting rewards. But to realize his scheme for vengeance, he must deceive the Roman master whose body he lusts, the handsome, arrogant man whom he has grown to adore and admire. Can two former enemies—the conqueror and the conquered—find trust and true love, or are the consequences of war destined to tear them apart? Can Gaius and Allerix survive the perilous games of Rome? Dominus is a plot-packed erotic m/m historical fantasy set in ancient Rome during the reign of Emperor Trajan (AD 98-117). Games of Rome is the second book in this alternative history saga—a tumultuous journey of forbidden love, humor, sex, friendship, political intrigue, deception, and murder.
Games of Rome (Dominus Book 2)
Pairing: M-M, 4+ or Other
November 18, 2015
Word Count:
100000
Character Identities:
Bisexual, Gay, Lesbian
Summary: All is fair in love and war. Or is it? On the world called Ana-Darasa, the gods of war engage in a desperate search for their lost hearts while waging a battle against the Good Mother for supremacy. But theirs is not the only struggle as dominant men, powerful rulers, and demigods clash, fiery passion erupts, and destinies are shaped on the battlefield and in the bedroom. In a war between pride and love, no victory is ever simple. BLURB All is fair in love and war. Renaldo has lived happily by that proverb his entire life. But he has finally met his match, and he's about to discover how unfair love and war can be. When demigod and warlord Lord Renaldo takes a beautiful stranger captive during an ambush, he is delighted to have found a distraction that will keep him entertained during the upcoming siege. Little does he know, Casto is keeping more than just one secret from him. Slowly, Renaldo gets sucked into a turbulent roller-coaster relationship with his mysterious prisoner, one that begins with hatred and soon spirals into a whirlwind of conflicting emotions. And when it seems that things can get no worse, an old enemy stirs right in the heart of his home. Determined to keep Casto by his side, Renaldo has to find a balance between the capricious young man and his own destiny as a ruler and god to his people.
Gods of War: Casto
Pairing: M-F, M-M, M-M-M
June 21, 2016
Word Count:
50000
Character Identities:
Gay
Summary: Khy is a prisoner and a slave. His life consists of days of drudgery and nights of agony. He has no memory of anything else, yet he knows there must be more beyond the fog that shrouds his mind. When his Master is called away on urgent business and Khy is left alone, a moment of unexpected clarity has him running for freedom. Jaedin is done running, both from war in the north and from his lover's tragic death. He's settled in the tiny village of Rosefire, and has finally achieved an uneasy truce with his grief. Jaedin's hard-won peace is shattered when he places himself between Khy and the band of brigands hunting him. During the scuffle, Khy panics and works the leythe to set loose a spell. When the dust settles, Khy has fled and Jaedin finds himself haunted by something far darker than his own past. In order to regain his peace—and his sanity—Jaedin sets off in search of the young man who has cursed him. What he finds threatens not only his own personal equilibrium, but the balance of the leythe itself. To protect the leythe, Khy must face his tormentor and fight to free himself from the man who considers him both pawn and prize. To protect the man he loves, he must do it alone. (~50,000 words) Note: Human Choices is a stand-alone story that takes place in the same world as Human Frailties, Human Strengths.
Human Choices
Pairing: M-M
July 4, 2014
Word Count:
42000
Character Identities:
Bisexual, Gay
Summary:
The monster lurking in the deep. Demons who consider humans a delicious meal. Aliens with no respect for human boundaries. Humans and their extreme selfishness. These stories explore the darkest side of sexuality.
"Hunger" is a collection of Adara Wolf's m/m short stories, many of them originally exclusive to Patreon. They are a mix of sci-fi and fantasy short stories that lean heavily on darkness and kink. These are not happy stories; do not expect HEAs.
Most of them feature dark themes with potentially triggering content, so please read at your own discretion.
Hunger and Other Tales of Erotic Horror
Pairing: M-M, M-M-M
December 23, 2020
Word Count:
30000
Character Identities:
Bisexual, Gay
Summary: As a prince, Ahmiki knows that his purpose in life is to serve their city and help its people find prosperity. Until the night that he is named as the living representative of the god Teska'atl, to be sacrificed at the end of the year. Ahmiki has to endure one year of humiliating rituals, unpleasant ceremonies, and a fraught political landscape. At least he can take some comfort in the handsome and strangely unbowed servant who has been assigned to him… Note: This 30k novella is a dark romance and does not include a happy ending.
In Life, In Death
Pairing: M-M
April 28, 2018