Word Count:
15500
Character Identities:
Gay, Polyamorous
Summary: When Dominick has to attend a six-day dragon mating ceremony, he wants to avoid speaking to anyone for fear his severe stutter will send possible suitors running. However, Lysander and Zachary, both from different cultures with a thing for redheads, refuse to let him hide. Worse, they actively pursue him, even after Dominick mucks up their first encounter. Against the backdrop of a ceremony that takes testing endurance, strength, and acoustics to new heights, differences between languages, customs, and expectations create an obstacle course where any misstep could send the men home… alone.
An Invitation To Love
Pairing: M-M-M
February 13, 2020
Word Count:
78000
Character Identities:
Ace, Demisexual, Gay, Pansexual, Polyamorous
Summary: In the final installment in the SoulShares series, author Rory Ni Coileain weaves together the myriad threads of this compelling paranormal romance in a climax that crosses time and space. Sometimes Fae love stories aren't what you expect. The Marfach—devourer of magick, long-imprisoned mortal enemy of the Fae race—is free of its Antarctic prison. The Demesne of Purgatory—Fae, humans, a Fade-hound puppy, a Gille Dubh, and a darag—is all that stands between the monster and the power it needs to destroy both the Fae Realm and the human world. The only clue they have as to how to kill the unkillable is a cryptic note from the Loremasters: "Osclór, Nartú; Tobar, Soladán; Nidantór, Breathea; Glanadorh, Coromór, Farthor; Scian-omprór, Nachangalte; Crangaol, Síofra; Gastiór, Laoc, Caomhnór; Fánadh, Ngarradh." Opener, Strength; Wellspring, Channel; Unmaker, Judge; Cleanser, Equalizer, Sentry; Blade-bearer, Unbound; Tree-kin, Changeling; Binder, Warrior, Guardian; Wanderer, Sundered. As they rebuild Purgatory from the rubble the Marfach left behind, they have to stand together, using everything they know—everything they are to their partners, lovers, husbands. Everything SoulSharing has made them. And not everyone who enters the final battle will leave it.
Back Door Into Purgatory
Pairing: M-M, M-M-M
October 2, 2019
Word Count:
15000
Character Identities:
Bisexual, Gay
Summary: Attending his daughter's holiday dance recital should be easy for pro hockey player Patrick Barnes. Showing up in a tutu, however, wasn't exactly part of the plan. And yet the holidays get even more interesting when he bumps into Lee, the man he let get away in high school. Ballet instructor Lee can't believe who just walked into his studio. He also can't believe how quickly the flare of attraction between he and Patrick resurfaces, despite the decade that's gone by since they last spoke. In high school, they let opportunities get away. Now, almost twenty years later, is it possible they'll have a chance to pursue the spark that has come back to life after just one conversation? Holidays are a time for giving, and neither Patrick nor Lee are about to take this particular gift for granted.
Ballerina Dad
Pairing: M-M
December 11, 2017
Word Count:
65400
Character Identities:
Gay
Summary: A second-chance M/M romance novel. Mateo de la Cruz was still fairly new to L.A. when he decided to go to West Hollywood for his birthday. The club he found was full of guys who wanted to dance with him. After a salsa with Sam, he wasn't sure if it was the birthday shots or the dance that had him so dizzy. And the next thing he knew, he was waking up at Sam's apartment. Sam Lee hadn't taken anyone home for a long time. He wouldn't have this time either, except that the kid was so messed up and Sam wanted to keep him safe. Or was that really the reason? After a strangely comfortable day, and an unforgettable night, they didn't see each other for nearly a year. Then Mateo tracked Sam down again, to see if they could figure out why neither of them had been able to move on. And once they'd figured that out, it was time to figure out their next moves. Adult situations, themes, and language, with a happy ending.
Beat
Pairing: M-M
February 1, 2013
Word Count:
99.927
Character Identities:
Gay, Straight
Summary: It's a fine line with power, it can be positive or it can be negative, depending on the person wielding it. Paden had been thrown off his planet of Eiravia, given the name of Darius, and left to forget his race and his family. Years have passed since then and he has made his way back to Eiravia and the man he loves. With Finnal's help, and that of his growing clan, he will make Eiravians feel pride again. His growing power is becoming known throughout the universe and he is slowly being talked about in hush tones as the Jewel, a shining star who can create wonders from changing a race to fixing a planet. Nothing much is known about him from the outside world, only the rare few that have the opportunity to understand his fears, hopes, and loves truly understand. Throughout the story, one man's journey is interwoven into Darius's. Vega is a cornerstone to the clan. He is a man who helps him work out issues and chase the shadows away. He helps him become something that is talked about in tales by firesides.
Beyond the Norm
Pairing: M-M
April 19, 2017
Word Count: Information not available
Character Identities:
Gay
Summary: Jonathan Bills is a happy guy. He walked away from family commitments he knew he could never live up to, he's got his dream job as a personal chef, and he has amazing friends. So if he's getting a little too old for the kind of relationship he really wants, then he's going to work on being content with what he has. Until an old flame turns up when he least expects it, and in his inner circle of all places, where Jon would never expect to see the man. When Rush Devlin goes to his first get together with the group from the Playground, he's shocked to run into Jonathan, the volatile one who got away so many years ago. He's confused by the changes Jon has made in his life, but he's also impressed. Rush is also older and wiser these days, and it turns out that Jon is just the kind of lover he's been hoping to find, and to take care of. They blew up in spectacular fashion years ago, so how will Rush convince Jon that they're perfect for each other now, and that he's not looking for a much younger man to fill his needs?
Cabernet & Encores
Pairing: M-M
July 1, 2022
Word Count: Information not available
Character Identities:
Gay
Summary: It takes two to tango… or waltz. Hollywood electrician Todd Stewart is thrilled when he gets the opportunity to work on his favorite show, America's Next Top Dancer. What he doesn't expect is making a connection with Nathaniel Mayer, a contestant on the show and a dancer he's got a major crush on. In creating a partnership that works, they must navigate the challenges of crazy schedules, fame and post-show commitments. Todd and Nate are determined to keep their run going long past the season finale.
Dancing for Him
Pairing: M-M
January 22, 2020
Word Count:
67000
Character Identities:
Gay
Summary: WAR IS COMING… the angels of Osestra and the demons of Exilum are preparing for the final battle to be played out in Manna, the human realm, and one young man is caught in the middle. Vern Swain may be the key to everything… Vern is a country boy dreaming of seeing his name up in lights. He runs away to become a star. His journey is just beginning, but it takes him in unusual directions…right in the path of his guardian demon. Teague, son of Xaphan is a demon of Exilum charged with ruining Vern's life, but he just can't do it. He's confronted by his family, and forced to choose sides. War is coming, but who's fighting for Manna?
Demon or Angel
Pairing: M-M
April 22, 2019
Word Count:
62000
Character Identities:
Bisexual, Gay
Summary: For a relationship to work, it is not just love which is demanded. Direction is, too. Garrett has never really settled. With loud opinions and a strong character, he makes people both admire and fear him in equal measure. Tim and Derrick weren't prepared for the hurricane they were letting into their home. Openly polyamorous, Garrett wouldn't be the first–nor the last–person they let into their bed. A relationship between a ballet dancer and two bakers with a past they thought they'd left behind could work, but only if they took the time to figure out what each of them needs. Direction is the 5th book of the Demands series. Although they can be read as stand-alones, characters from previous books will make multiple appearances throughout the series. Content Warning: This book includes mentions of eating disorders, physical parental abuse, and fatphobia.
Direction
Pairing: M-M, M-M-M, 4+ or Other
January 3, 2022
Word Count: Information not available
Character Identities:
Bisexual, Gay
Summary: Jamie Cosgrove is doing his best to recover from a break-up after years with an abusive boyfriend. All his usual coping strategies have failed, and he's fallen back on things that make him feel safe: drumming, food, and his friend Trevor. The trouble is, two of those are still secrets, even from those closest to him. Cian Toomey has it all. He has loving relationships with his partners and a fulfilling, creative career. The one thing he's missing is someone to go home to at night. When sudden changes occur at one of his jobs, he's faced with a choice to find something new or move in with his partners in a different city. Well-meaning but pushy friends seem to think Cian and Jamie are the answers to each other's prayers. They couldn't disagree more. A series of random events thrusts them into each other's lives, and they find they have more in common than they thought. But when all of Jamie's carefully constructed walls crumble at once, both of them will have to depend on the support of their friends and family to strengthen their fragile bond.
Drumbeat
Pairing: M-M, 4+ or Other
September 1, 2018
Word Count:
140500
Character Identities:
Gay
Summary: Silver has been freed from sexual slavery and settled down with River, his lover and former patient, yet cracks begin to form when it becomes increasingly obvious that the stress of constantly having to care for Silver, begin to tell on River. When River's parents die, leaving him to care for his 12 year old brother it, at first, seems that the introduction of the lively twelve year old into the mix was going to do them all the world of good. However, when spiteful relatives involve Social Services, the previous flaws nearly rip them all apart. Faced with the dilemma of keeping either Ben or Silver at home and sending the other to stay with Sam, a personal friend, River chooses responsibility for his brother over his love and concern for Silver. Things come to a head when a series of misunderstandings lead Silver to believe River doesn't love him anymore and that everyone is secretly ashamed of him because of his past. After running away, Silver reasons the only place he can fit in is with his own kind and he sets out to search of a new "home." At the Theatre de la vie he meets Tony, a club owner with big ideas, who 'looks after' a group of young men who dance and "entertain" patrons of the club. There, among others, Silver finds Ariel, an ephemeral little minx with a knack for getting into trouble, Alex, the big hearted mountain of muscle, and Asher. With Asher, a former sex slave like himself, Silver finds a kindred spirit and soon finds himself falling for the beautiful, broken boy. Together, Ariel and Asher show Silver a whole new way of looking at the world, a transformation echoing the sleeping chrysalis of his soul, and soon his inner self emerges as the beautiful butterfly he was always meant to be. Yet as happy as he is with his new friends, Silver eventually realises he truly misses River and intends to return to his side, but a dark figure from his abusive past returns to threaten both a possible reunion and the very ones who would protect Silver. River learns of the danger, and hurries to add his own support of Silver and reaffirm their love, but with so many doubts and unspoken regrets between them, is it too late for a chance at happiness together? At the emotional climax to this suspenseful story of love and loss, Silver and River reach conclusions that will either save them both or drive them apart forever.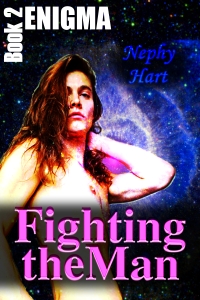 Enigma II - Fighting The Man
Pairing: M-M
May 6, 2012
Word Count:
135000
Character Identities:
Gay
Summary: Silver is trying hard to settle down again with Ben and River after the events at the Theatre De La Vie, but he isn't the same person anymore and River is having a hard time dealing with the changes. One of the hardest things he has to cope with is Ariel, Silver's new best friend, who makes Silver act like a teenager and causes trouble wherever he goes. When that trouble touches Ben, it sparks off a chain reaction that almost ends in tragedy. In the meantime, Ariel has his own fallout to deal with. After finally finding someone to whom he might give his heart, he very nearly loses him by…well by being Ariel. With his family life in tatters and his best friend lurching from one disaster to the next, Silver needs to be stronger than he's ever been. The problem is he's not feeling very strong at all. In fact, there are times when he thinks it would be so much better if he just went back to that place inside his head where he was safely shut away from the world, and that place is getting closer all the time.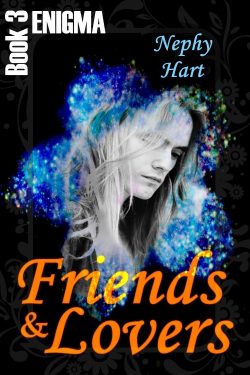 Enigma III - Friends And Lovers
Pairing: M-M
December 6, 2016
Word Count:
68,000
Character Identities:
Gay
Summary: Mahiro became a professional figure skater for one reason—to be near the object of his lust from the time he was a teenager, Alex Breschi. But he never advanced far enough for Alex to notice him. Now Alex is retired from skating and working as a thriller author, while Mahiro gracefully bowed out of competition years before to become a successful app developer and practicing Dom in New York City. Reality and fantasy collide at a penthouse play party when Mahiro meets his idol. Alex is researching a book, and he wants to learn more about the lifestyle. In fact, he wants to be trained as a submissive. By Mahiro. Mahiro knows it's a terrible idea. He's hardly objective, and Alex is a novice. Still, all those years of longing shatter his reserve, and he cannot refuse to have the man of his dreams in his hands.  Alex will certainly notice him now, and since Alex is returning to Russia in a few months, Mahiro can have some fun without divulging his past… or his obsession. What does he have to lose? Just his heart.
Florentine
Pairing: M-M
August 19, 2020
Word Count:
117000
Character Identities:
Bisexual, Pansexual, Polyamorous, Straight
Summary: Having slipped through Mannon's fingers, Heir to the Firstborn Aria and her two Companions – Waterborn Aven and Fireborn Owyn – have left Forge behind and are on the road to the Earth tribe lands. There they'll find the heart of the resistance. At least, that's what they've been told by Memfis, Owyn's adoptive father and Companion to Aria's father, Heir to the Firstborn Milon. They will also find Aria's Earthborn Companion, and take another step toward fulfilling the cryptic Vision of the Dove. The Earth tribe lands are nothing like they were led to believe. The Healing centers have been destroyed, and Mannon's men are out in force, with orders to bring the Waterborn to Mannon. To evade the guards, Aria, Aven, Owyn and Memfis follow a young healer back to her home – a healing center hidden in the cliffs overlooking the sea. There, they find the surviving healers, the Chieftess of the Earth tribe, and the Senior Healer. They are offered sanctuary, and the Senior Healer offers to complete Aven's training as a healer. The Chieftess offers Owyn more – a link to his unknown past. But not everything is what it seems, and their safe haven may not be as safe as they thought. Memfis goes off to seek visions, and doesn't return. Then, in an instant, Aria and Aven both vanish, leaving Owyn racing against treachery and time to find them and uncover the truth…. A truth that might destroy their hopes for a future.
Forged in Fire (Heir to the Firstborn, Book 2)
Pairing: M-F, M-M, M-M-F
October 22, 2019
Word Count: Information not available
Character Identities:
Bisexual, Gay
Summary: In one tragic night Steven loses everything: his lover, his dreams, and his sight, but he gains the compassionate, caring dominant he has always longed for. He starts to rebuild with Nick, a fellow survivor of the tragedy, and together they discover new heights of love and ecstasy, and the real magic they can create together. Nick must teach Steven not only how to have a healthy and consensual BDSM relationship, but how to navigate the ways of magic. You see, Nick is secretly a mage, and the longer they're together, the more obvious it becomes that Steven is one, too. But as Steven begins to wield his new--and terrifyingly strong--powers, he draws the attention of evil beyond our world. The ancient enemies of the faerie courts have banded together under a cruel, calculating leader, and Steven is the only one standing in his way. Only Steven can defeat this threat... And he doesn't have the first clue where to start.
Heart's Master
Pairing: M-M
December 15, 2016
Word Count:
60000
Character Identities:
Gay
Summary: NFL football player Isaiah Blackwell lost his husband three years ago and is raising their teen son alone. He lives his life as quietly as his job allows, playing ball to support his family but trying not to draw unwanted attention. His quiet life is shaken up when a mutual friend introduces him to Victor, a visiting principal ballet dancer who is everything Isaiah is not. Brash and loud, Victor Aleksandrov has applied for political asylum to avoid returning to Russia, where gay men are targeted and persecuted. He's been outspoken about gay rights in his home country, and if he doesn't get asylum, going back to Russia is a death sentence. Their one-night stand turns into a tentative friendship, a relationship they both agree is temporary…until Victor's denied asylum. Isaiah can't offer Victor a happily ever after, but he can propose something that'll keep Victor in the US and safe...marriage. He just doesn't expect his new husband to dance away with his heart.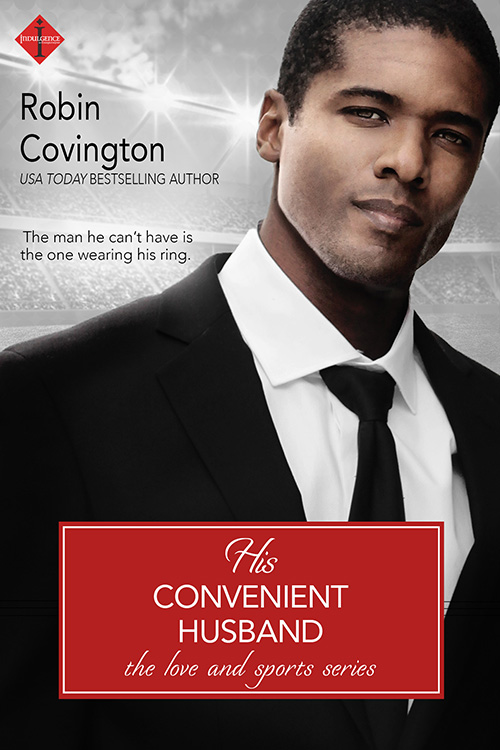 His Convenient Husband
Pairing: M-M
October 9, 2017
Word Count:
69k
Character Identities:
Gay, Pansexual
Summary: Tony award-winning musician Reese Matheson's life resembles a natural disaster, and caregiver Jude De La Torre is caught in the eye of the storm. Can the love these two opposites find together survive caring for an ornery octogenarian with wayward balls and a meddling family insistent upon tradition? A public break-up is not what Reese expects upon returning from the successful run of his musical in London. All he wants to do is spend time with his beloved grandfather and musical mentor, who suffers from Alzheimer's. Reese knows he doesn't have much time left before the elder Matheson doesn't remember him. In classic "Hurricane Reese" form, he moves into the cottage by the sea, displacing Jude, the intriguing caregiver he'd hired two years before. When Grandpa proves too much for Reese to handle on his own, Jude comes to his rescue, taming Grandpa… and the Hurricane as well. Soon all Reese can think about is how to get Jude out of his scrubs and into his bed. Permanently. Will Hurricane Reese destroy everything in its wake, or will this gay odd couple learn to harmonize together?
Hurricane Reese
Pairing: M-M
January 30, 2018
Word Count:
61000
Character Identities:
Gay
Summary: The perfect boyfriend, a lead role on a Netflix show, a too energetic dog who won't leave his side… Joshua can't be happier. He has it all, every little thing a Broadway actor can dream with. He's even going to be an uncle in a couple of months. Or not. Because Rob, the perfect boyfriend whose sister is about to give birth, has to leave. He finds out his sister had lost her job, and when the baby is born, he can't leave her alone. He's the only family she has, and Joshua isn't about to make him choose. Even if it leaves a void in his chest he's not so sure how to deal with. He still wraps up the season, because he's professional if anything. But he can't stay in New York, pretending nothing is wrong. Something is wrong. And so going to LA and spending the summer with his best friend seems like a good idea. But then he has to go on tour to promote season two of his show. He doesn't even consider he can meet Rob. Although they have a panel in Austin, it is a big city It's been months, but it might've as well been years. The good thing about being a single parent was Rob didn't have much time to think about anything else. About Joshua or the life in New York City he'd given up and wasn't trying to get back to. But Joshua is back in his life now. It seems he's back to stay, too. Intellectually, he knows Joshua isn't the kind of person to back away. He's loyal, and he always pours his heart into everything he does. If only it wasn't so difficult, to get rid of the uncalled for guilt. To balance his role as Jules' parent and the one he wanted but couldn't be for Joshua.
Liberated
Pairing: M-M
April 2, 2018
Word Count:
75000
Character Identities:
Demisexual, Gay
Summary: A dancer who cannot dance and a doctor who cannot heal must find in each other the strength to love.  History books will call it The Great War, but for Benjamin Holm, that is a misnomer. The war is a disaster, a calamity, and it leaves Benjamin profoundly wounded, his mind and memory shattered. A year after Armistice, still struggling to regain his mental faculties, he returns to Paris in search of his closest friend, Elias. Benjamin meets Louis Donadieu, a striking and mysterious dance master. Though Louis is a difficult man to know, he offers to help Benjamin. Together they search the cabarets, salons, and art exhibits in the newly revitalized city on the brink of les années folles (the Crazy Years). Almost despite himself, Benjamin breaches Louis's defenses, and the two men discover an unexpected passion. As his memory slowly returns, Benjamin will need every ounce of courage he possesses to recover Elias's story. He and Louis will need even more than that to lay claim to the love – and the future – they deserve.
Lost & Found
Pairing: M-M
October 4, 2019
Word Count:
56K
Character Identities:
Gay
Summary: New York attorney Teague Whitaker is so close to making equity partnership he can taste it. He's spent two years cultivating a relationship with the Avenstone Group and he's finally landed them, bringing in a big-money deal in a big-money industry. Jason Kovacs is…from Jersey. He's been a barista, a bike messenger, a third-shift stocker at D'Agostino. He tries out new jobs and quits them all the time, not because he hates them, but because he doesn't love them. But that changes when he lands a job dancing at The Wiggle Room. When Teague bellies up to the bar, Jason can tell he's had a bad, bad day. Jason also knows money when he sees it, so he swoops in on the polished hottie, hoping to make bank. Stunned by the unexpected loss of his career-making deal, Teague is there to drink. He's looking for a distraction, and chatting up the buff and pretty boy that just swiped the cherry from his whiskey sour is a damn good start. Neither expects sparks to fly with one unplanned kiss, but that's just the beginning of the unexpected for Teague and Jason. They're from the same city, but they're living in two different worlds. Their relationship may be unconventional, but if they can meet in the middle—halfway between Wall Street and Jersey—they just might make it work.
Mergers & Acquisitions
Pairing: M-M
April 13, 2021