Word Count:
37500
Character Identities:
Gay
Summary: When a young girl implores Edgar Finch to marry her older brother because "Charlie is unhappy," Edgar is at first amused. But Charlie is nephew to the horribly abusive Lord Fitzhannon, whom Edgar has set himself against, and the lad is suffering under Fitzhannon's cruelty. Marriage is not in Edgar's plans, but he'll save the lad if he can—and marriage may be his one shot. Charlie is nineteen, wild and wounded, and extraordinarily beautiful. The marriage of convenience to Edgar is just what he needs to get free of his awful uncle, and to protect his innocent little sisters. A rocky alliance between Edgar and Charlie grows into something more companionable, from reluctantly relying on one another to trusting and warm. But Edgar's heart is set on revenge against Fitzhannon, who is responsible for the death of the only man he ever loved. Nothing must get in his way. He would rather not drag his young husband down with him, much less develop feelings for the brat. Now, if only Charlie would have the good sense not to fall in love with him...
37,500 words
A "Marrying Men" story. These pseudo-historical tales feature men marrying one another in various worlds and ways. Happy ending are to be expected.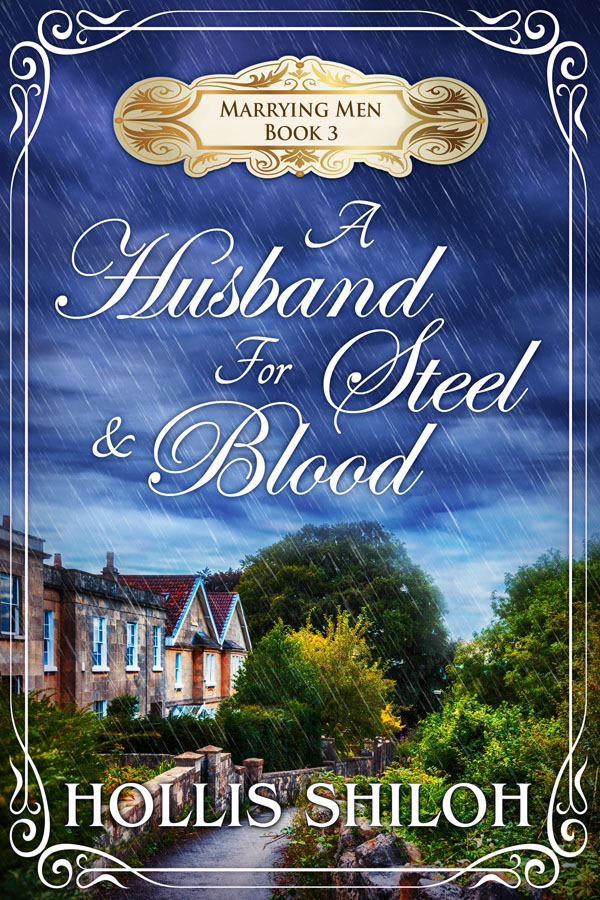 A Husband for Steel and Blood
Pairing: M-M
September 14, 2018
Word Count:
115,000
Character Identities:
Lesbian
Summary: Life hasn't been easy for Aeley since she arrested her brother, and her role as a political leader leaves her feeling isolated and lonely. Days before her brother's trial, she meets Lira, a quiet and modest scribe who makes Aeley want more than just a professional relationship. When she attends the trial and leaves with a marriage contract, Aeley doesn't know what to do. She must choose one of two brothers, marrying into a family she doesn't know. Then she discovers that Lira is part of the same family—a sister to Aeley's suitors and the family's disgrace. And not at all opposed to an intimate relationship. Except random acts of violence against her people test Aeley's ability as a leader, and a web of lies and deceit threaten not only her chance at happiness, but her life...
A Question of Counsel
Pairing: F-F
October 18, 2019
Word Count:
12000
Character Identities:
Gay
Summary: The Caribbees, 1661 Sir Henry Polglase—Polly to his friends—cannot deny his desire for Titus Kandel. But there's a grave complication. Titus is a slave, and Polly is a slave trader. It seems unlikely Titus will ever forgive him, but Polly trusts to his luck, letting fate take a hand in the future he hopes they can make together. For hearts as well as fortunes can be won—or lost—on the turn of a card. A Scoundrel in Silk is the second installment in the Chevaliers & Charlatans series. Find out what the crew of the Audacious got up to before they became the Pirates of Port Royal!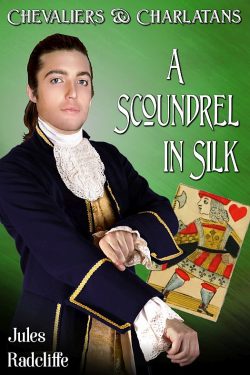 A Scoundrel in Silk
Pairing: M-M
March 8, 2018
Word Count:
67000
Character Identities:
Bisexual, Gay
Summary: A tale set in Stuart England, where the king's life depends on his most loyal of subjects. Anthony Redbourn, Earl of Crofton, delights in his reputation as a charming rogue. Life is never quiet at the court of King James I, especially with his good friend and secret lover, Sebastian Hewel, by his side. As an actor with the celebrated King's Men, Sebastian has his own admirers, but neither man has eyes for anyone else. When a plot against His Majesty is uncovered it threatens Anthony and Sebastian's charmed lives, and they are dragged into the political intrigue and the race to save the king from danger. Fear that a traitor is linked to the King's Men leaves Sebastian and Anthony with no choice but to stage a very public dissolution of their friendship, so Anthony can be free to be the patron of a new rising actor, and Sebastian can be the prodigy of another noble. It is a dangerous game they are playing to expose the plotters and still find a way to meet in secret, as Anthony is adamant that they will not sacrifice the love they have fought so hard to win. They will do whatever it takes to protect the king's life, and their commitment to each other.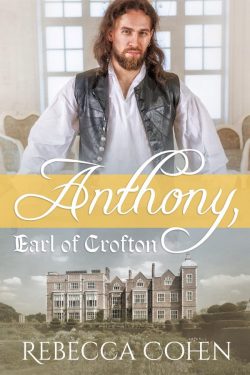 Anthony, Earl of Crofton
Pairing: M-M
April 25, 2019
Word Count:
105000
Character Identities:
Bisexual, Gay, Polyamorous
Summary: A Lambda Literary Awards Finalist for Bisexual Fiction (2019) London, 1906 Lucien Saxby is a journalist, writing for the society pages. The Honourable Aubrey Fanshawe, second son of an earl, is Society. They have nothing in common, until a casual encounter leads to a crisis. Aubrey isn't looking for love. He already has it, in his long-term clandestine relationship with Lord and Lady Hernedale. And Lucien is the last man Aubrey should want. He's a commoner, raised in service, socially unacceptable. Worse, he writes for a disreputable, gossip-hungry newspaper. Aubrey can't afford to trust him when arrest and disgrace are just a breath away. Lucien doesn't trust nobs. Painful experience has taught him that working people simply don't count to them. Years ago, he turned his back on a life of luxury so his future wouldn't depend on an aristocrat's whim. Now, thanks to Aubrey, he's becoming entangled in the risky affairs of the upper classes, antagonising people who could destroy him with a word. Aubrey and Lucien have too much to hide—and too much between them to ignore. Rejecting the strict rules and closed doors of Edwardian society might lead them both to ruin… but happiness and integrity alike demand it.
Behind These Doors
Pairing: M-M, M-M-F
June 22, 2018
Word Count:
84000
Character Identities:
Bisexual, Gay
Summary: Karl Vinter joins the staff at Crofton Hall as the new under butler. He's too busy to bother with relationships, but he's more than happy to explore a friends with benefits arrangement with gardener, Val Blake. He couldn't imagine a more perfect way to settle into is his new life at Crofton Hall. Pity pesky things like feelings start to get in the way. Meanwhile, Ben Redbourn, 16th Earl of Crofton, is trying to find the perfect way to propose to Ashley, his boyfriend. He's going to need all the help he can get, especially after at least one misstep and that he's never given Ashley any indication he wants to get married. This is the third Modern Crofton novel, featuring Benjamin Redbourn, the 16th Earl of Crofton and descendant of Anthony Redbourn, 1st Earl of Crofton from my historical series, The Crofton Chronicles.
Below Stairs at Crofton Hall
Pairing: M-M
June 1, 2022
Word Count:
55000
Character Identities:
Gay
Summary: A pampered prince. An independent-minded rebel. Forbidden love at a time of war. Spoiled Prince Amyar wants to see the world beyond the palace walls, but his trip to Tanshar to negotiate with the rebels goes horribly wrong. His only hope for survival and thwarting a coup is a sexy rebel fighter who has no love for the prince's family. Rouden wants independence from the royal family that has ruled his homeland of Tanshar for generations. He's a former harem boy who came home to be with his family and find true love. He's totally devoted to the rebel cause, but he goes on the run with Prince Amyar when the movement turns out to not be all it seems. While the battle rages, Prince Amyar and Rouden may have to sacrifice everything to do the right thing and be together. This is the third book in the Tales of the Thasali Harem series, but each book can stand alone. This gay erotic science fiction story includes graphic sex and is intended for adults only.
Blue Waters Run Deep
Pairing: M-M
January 20, 2020
Word Count:
55000
Character Identities:
Gay
Summary: In a world where humans are genetically designed, altered and sold for pleasure and breeding, a young prince of the powerful Cassian Dynasty decides to take a mate and sire heirs. Not wishing to saddle himself with royal and meddlesome in-laws, and a wife he would have no desire to bed, Prince Edward goes to Heritage Breeders, and finds far more than just a warm body to carry on his lineage. Percy is the result of a master DNA architect designing himself his own personal slave and breeder. Yet when his creator and Master dies, leaving Percy alone at the mercy of the callous stable masters and the new owner of Heritage, he fears his future. Afraid he'll be bought by a wretched old man or a deviant monster, Percy is terrified when he is dragged from his cell and presented to the most prestigious client Heritage has ever welcomed...a Cassian Royal. Prince Edward is immediately infatuated with the shy, nervous and enchantingly beautiful Percy, and claims him for his own. Yet not everyone is pleased by a royal purchasing a breeder, especially one like Percy, and tensions rise both in Heritage and in the palace. Torn between need, duty, a king's command and the innermost desires of their hearts, Edward and Percy are set on path that is anything but easy. Can Percy trust Edward with his heart as he does his body? Can Edward keep an angry king and unseen enemies away from the young slave who is steadily stealing his heart? And what happens when Nature takes its course, and Percy's true purpose is fulfilled?
Bred For Love
Pairing: M-M
April 21, 2015
Word Count:
113000
Character Identities:
Bisexual, Gay
Summary: A twist of fate changed both their destinies. The wyrbears, once a long-lived species, were being lost to the forest in their prime. A people borne of a curse, their abilities not a gift but something wrongly taken, they nonetheless live in harmony with their animal spirits. But over time the curse they lived under changed, mutated, and now what once was a refuge from the world when they became too weary is culling mathan in their prime. Ewen mhic Friscalach, the leader of his peoples, lost his father too early and is now a widower with four children. The vow he made as a youth to break the curse afflicting wyrbears has been buried by grief and responsibility. Roi mhic Alric, a priest of Cerridwen and seer, watched his fellow priests slaughtered and his temple desecrated. The only thing that kept him going the last three horror-filled years was the vision Cerridwen had granted him of his emancipation. If freedom came at the cost of his life, well, he was more than ready for the Otherworld. A fated meeting upon a bloody field of battle. A wrong done long ago. Their choices could save a people… or send them into extinction. Either way, their love will be legend.
Caledonia Destiny
Pairing: M-M
July 9, 2018
Word Count:
58000+
Character Identities:
Gay, Questioning
Summary:
On a lush, tropical island inhabited by rogues, thieves and villains, where men take the law into their own hands, a father and son are thrust into tumultuous events that will change their lives forever.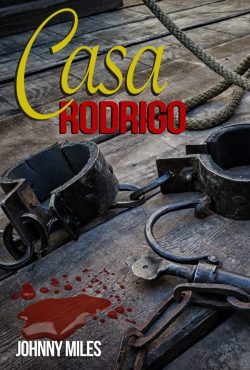 Casa Rodrigo
Pairing: M-M
December 1, 2018
Word Count:
104000
Character Identities:
Gay
Summary: The Victorian East End lives in fear of the Ripper and his mission to kill rent boys. Silas Hawkins, nineteen and forging a life on the streets could well be the next victim, but when he meets Archer, his life changes forever. Young, attractive and rich, Archer is The Viscount Clearwater, a philanthropist, adventurer and homosexual. When Archer suspects the Ripper is killing to lure him to a confrontation, he risks his reputation and his life to stop the madman's murders. Every man must play his part, including Silas. A mashup of mystery, romance and adventure, Deviant Desire is set in an imaginary London of 1888. The first in an on-going series, it takes the theme of loyalty and friendship in a world where homosexuality is a crime. Secrets must be kept, lovers must be protected, and for Archer and Silas, it marks the start of their biggest adventure - love.
Deviant Desire
Pairing: M-M
March 7, 2019
Word Count:
87000
Character Identities:
Bisexual, Gay
Summary: In AD 107, after a grueling campaign against Rome's fierce enemy, the kingdom of Dacia, Gaius Fabius returns home in triumph. With the bloody battles over, the commander of the Lucky IV Legion now craves life's simple pleasures: leisurely soaks in fragrant baths, over-flowing cups of wine, and a long holiday at his seaside villa to savor his pleasure slaves. On a whim, he purchases a spirited young Dacian captive and unwittingly sparks a fresh outbreak of the Dacian war; an intimate struggle between two sworn enemies with love and honor at stake. Allerix survived the wars against Rome, but now he is a sex slave rather than a victor. Worse, the handsome general who led the destruction of his people now commands his body. When escape appears impossible, Alle struggles to find a way to preserve his dignity and exact vengeance upon the hated Romans. Revenge will be his, that is, if he doesn't lose his heart to his lusty Roman master. Dominus is a plot-packed erotic m/m historical fantasy that transports readers back to ancient Rome during the reign of the Emperor Trajan (98-117). This is the first of four books in an alternate history saga—a tumultuous journey filled with forbidden love, humor, sex, friendship, political intrigue, deception and murder.
Dominus (Dominus Book 1)
Pairing: M-M, M-M-M
April 21, 2014
Word Count:
41000
Character Identities:
Gay
Summary: A yuletide wedding brings tidings of comfort, joy… and peril. Eighteen months ago, Tarik Jaso, Duke of Arles, would have been thrilled if Sander Fiala, Duke of Roses, sank beneath the waves along with his stupid boat. That was then. Now, Tarik can't wait to head out on a private sail with Sander—a sail that will culminate in a highly public, politically significant wedding. Their union will be the first one between North and South Abarran royalty in centuries. If all goes to plan, it will usher in a new era of peace and cooperation between their countries. But as the big day approaches, their meticulous arrangements begin to fall apart. Can Sander and Tarik weather the storm of political opposition, familial objection, and outright betrayal to reach the altar at last? Duke the Hall is a 41,000-word M/M superhero rom-com featuring two dukes determined to tie the knot, relatives both helpful and annoying, spiteful thunderstorms, superhero sabotage, and hints that things are not all they seem. Note: Duke the Hall is not a stand-alone story. It's the sequel to Duking It Out and as such contains spoilers for the earlier book.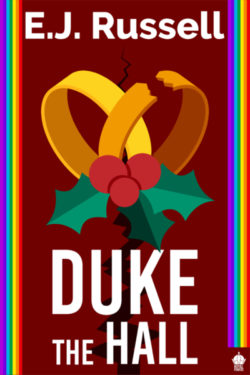 Duke the Hall
Pairing: M-M
November 17, 2020
Word Count:
46000
Character Identities:
Demisexual, Gay
Summary: Royal dukes from rival countries, shipwrecked on a deserted island. The grudge match of the century—or a love story of super-heroic proportions? Sander Fiala, Duke of Roses, is fourth in line to the South Abarran throne, even though his rogue power earned him the nickname "The Monster of Roses" and got him banished from the Castle. But right before he's about to set off on his annual birthday sailing trip, the Queen asks him to meet with the notoriously volatile North Abarran Duke of Arles. Tarik Jaso, Duke of Arles, expects the worst from people because—let's face it—people are the worst. His superpower bombards him with any and all electronic transmissions, which…yeah, people suck. So when he's attacked and wakes up in the cabin of a stranded boat, he knows he's royally screwed. Because the man looming over him—the man he'd gone toe-to-toe with right before the attack—is the infamous Monster of Roses. Tarik is positive the Monster is behind his kidnapping. Sander is sure the whole thing is Tarik's fault. As they work toward rescue, Tarik realizes that the disturbingly hot Sander is no monster, and Sander discovers that Tarik's temper masks a caring soul wrapped in a cantankerous (though undeniably sexy) body. For their burgeoning connection to endure, they'll have to duke it out with political factions, dark conspiracies, and centuries of traditions that keep them on opposite sides of the border. But first? They have to get off this damn island. Duking It Out is a 46,000-word M/M enemies to lovers, opposites attract, superhero rom-com, featuring Only One Bed, a grumpy duke who should know better than to jump to conclusions, a self-doubting duke who's good with his hands (heh), gossipy seagulls, competent assistants, a guaranteed HEA, and (unfortunately) capes.
Duking It Out
Pairing: M-M
July 6, 2020
Word Count:
63000
Character Identities:
Bisexual, Gay
Summary: Sequel to The Actor and the Earl The Crofton Chronicles: Book Two Sebastian Hewel will endure many things to maintain his role of Bronwyn, the wife of Anthony Redbourn, Earl of Crofton, so he and Anthony can be together. But when Queen Elizabeth demands a favour of Anthony, Sebastian's world is in danger of being fractured beyond repair. The Queen requests Anthony to seduce Lady Marie Valois, the beautiful daughter of a French noble, to discover the whereabouts of her father, who is wanted by the King of France. There is no way Anthony can refuse the Queen, but Sebastian having to watch his lover pretend to court another is more painful than he thought. However, when Lady Marie takes a fancy to Sebastian when he is dressed as himself at Crofton Hall, Sebastian find his roles reversed and a green-eyed Anthony to contend with. Things go from bad to worse with the arrival of Lady Marie's brother, Lord Nicholas Valois, who is not happy that his sister has been linked to a man like Anthony. But when Valois's head is turned by Lady Bronwyn and her acerbic wit, Sebastian has to survive the attentions of both siblings. And a very jealous Earl of Crofton. Third edition – previous editions published by Dreamspinner Press. Re-edited for publication.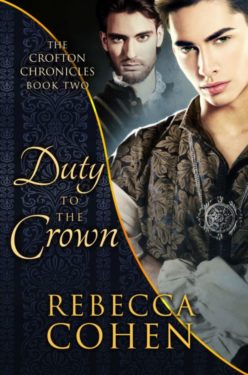 Duty to the Crown
Pairing: M-M
October 28, 2019
Word Count: Information not available
Character Identities:
Lesbian
Summary: A young bodyguard finds her special abilities are no match for a flirtatious delegate willing to gamble everything on the galaxy trade talks. Assigned to guard a diplomat at the galaxy trade talks, Security Officer Anais wants to shine during her first solo mission for the Chezeray Palace Conglomerate. An Elusive with the ability to make herself invisible, Anais knows her modified genes designate her servant class, but she yearns to be more than simply a protector to the beautiful delegate. Savea Blackmun arrives alone to the trade talks with the weight of her planet's future resting on her slim shoulders. Flirting with her pretty bodyguard reveals Anais' knowledge of the colony markets and Savea realizes there's much more to her protector than meets the eye. As their attraction grows, will the diplomat and the bodyguard reject society's rules to give in to desire instead?
Elusive Radiance
Pairing: F-F
June 7, 2016
Word Count:
41016
Character Identities:
Bisexual, Gay
Summary: Autumn has always been Zak's favorite season for hiking and camping. Not to mention breathing in all that crisp fall air and sitting around toasty bonfires. That all changed a year and a half ago when a rich prick high on prescription pills sideswiped Zak while he was out biking. Now his days are filled with pain and limited mobility. No more camping. No more trails. Zak's life as he knew it is gone forever. Back at his beloved stomping grounds, Zak is ready to say hello and goodbye one last time. But when a cry from the frigid Lake Superior waters throws him into the role of a rescuer, more than just his life hangs in the balance. Little did Zak know how much one person giving a damn mattered to him.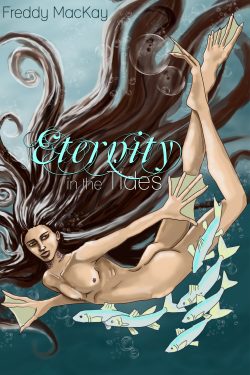 Eternity in the Tides
Pairing: M-M
February 26, 2016
Word Count:
95,000
Character Identities:
Gay
Summary: "We have his sisters. Involve your catamite, and they will die before the shortest day." A kidnapping, a threat and a deadly showdown force Lord Clearwater and his coachman, Andrej, on a secret mission to save two innocent girls. But where are they? The clue to the location is wrapped up in a Tennyson poem, and time is fast running out. Left at Clearwater House to crack the code, James finds himself with another ominous responsibility when Inspector Adelaide makes an arrest. With his master missing, it falls to the footman to crack the code, fight a court case, and save Archer's reputation. With only three days to find the answers, all evidence points to a location known only to Tennyson himself, and an enemy thought dead. But what if James is wrong? An interconnected double mystery, Fallen Splendour is the fourth in the Clearwater Mysteries series. The books are best read in order.
Fallen Splendour
Pairing: M-M
July 19, 2019
Word Count:
86000
Character Identities:
Gay
Summary: Lynx shifter Trace Wilson's fun-loving exterior hides a heart scarred by severe domestic violence—a heart that might not ever trust another male, fated mate or not. When Trace moves to Seattle to take his place as trainer and council representative to the Glacier Rim Tribe, he discovers his mate is the vampire prince Sasha Tolstoi, leader of the Konstantin Coven. It's not something Trace is ready to accept. Not now, maybe not ever. But if there's one thing Sasha knows how to do, it's how to be patient, especially when his fated heart is also his perfect sub. When an outside force threatens the fragile bond slowly forming between them—and nearly kills Trace—Trace's instincts shift into high gear. Sasha is powerful, and that means he has enemies, among them several rival covens and an uncle determined to force Sasha into a marriage with a vampire princess. But why involve the lynx Trace in their maneuvering? Finding the culprit won't be easy, and it will mean building trust—a slow and difficult prospect for someone who's suffered as much as Trace. Finding a way to move beyond the past, and to love, before those out to finish Sasha can destroy either, is a race the two fated hearts have to win.
Fangs with a Heart
Pairing: M-M
May 22, 2017
Word Count:
47000
Character Identities:
Bisexual, Gay
Summary: As a lifelong passion continues to fade, another love deepens… two stand-alone m/m stories of love, lust, and friendship in ancient Rome. February: Home from the first war against the kingdom of Dacia, Gaius Fabius ignores his obligations in Rome and returns to his secluded seaside villa in southern Italy. Under the pretense of a holiday trip, his best friend and secret lover, Lucius Petronius, surprises him with an unexpected visit. Later that evening, the lusty masters share the delights of Gaius's blond pleasure slave, Nicomedes. December: With whispers of an embezzlement scandal floating through the capital, Lucius Petronius and his beloved concubine, Bryaxis, celebrate the raucous winter solstice festival of the Saturnalia with Luc's family. After a joy-filled evening of food, gifts, and stories, Lucius and Bryaxis reverse roles in the master chamber.
February and December: Dominus Calendar Series I
Pairing: M-M, M-M-M
August 17, 2016