Word Count:
72000
Character Identities:
Gay
Summary: 6 Days Series, Book Two Mixologist Nick Valentine never thought love was in the cards, but after a scorching Valentine's Day kiss from bouncer Davis "FatBoy" Newman, he's beginning to think it's possible. After four weeks of dry spell, Nick's losing patience—it's time FatBoy stop acting the gentleman and just throw him over the bar or Nick may just change his mind. All FatBoy wants is a shot at winning Nick's heart. As long as meddling bosses, an Irish hurling team and a bar riot don't ruin his chances forever, he might just get lucky and take the man of his dreams, home.
6 Days To Get Lucky
Pairing: M-M
March 9, 2018
Word Count: Information not available
Character Identities:
Gay
Summary: Exiled to Earth for perhaps the worst failure in Irasolan history, General Teer must assimilate or die. Earth is too warm, too wet, too foreign, but he does the best he can even though human males are loud, childish louts whom he can't imitate successfully. When a grieving seaplane pilot strikes up a strange and uneasy friendship with him, he finds he may have been too quick to judge human males. They are strange to look at, but perhaps not as unbearable as he thought.
A Christmas Cactus for the General
Pairing: M-M
December 23, 2014
Word Count:
85788
Character Identities:
Bisexual, Pansexual
Summary: Kris Starr used to be famous. Rock and roll. Sold-out shows. Literal magic. Empathic talents and screaming fans. But he has a problem or two. He's having a hard time writing new music. It's Midwinter, which means he's surrounded by depressing holiday cheer. And he's in love with Justin, his manager, who has a talent for rescuing almost- or once-famous bands ... and who's hiding secrets of his own. Justin Moore, on the other hand, is very good at keeping those secrets -- he's had to be for years. One secret involves a demonic inheritance that would make him a target of suspicion. Another involves his past. And the third involves Justin's feelings for Kris Starr, rock and roll icon and now his client ... and a powerful empath.
A Demon for Midwinter
Pairing: M-M
March 10, 2018
Word Count:
24000
Character Identities:
Bisexual, Demisexual, Gay
Summary: A HISTORY OF TROUBLE A Beacon Hill Sorcerer Collection A collection of brand-new short stories, featuring characters from The Beacon Hill Sorcerer Series by bestselling author SJ Himes. Red Wine and Blood The Blood Wars raged for centuries across Boston. Witness a brief glimpse into the brutal history of the Wars with Ignacio Salvatore and the vampire he loves, Ashwin Metcalfe, in 1897. A History of Trouble Angel was joking when he asked O'Malley if someone resurrected a mammoth. Little did he know that was exactly what someone did. Experience the untold story of what happened that unfortunate night at the Boston Public Museum. A Dragon in the City What happens when Eroch goes adventuring in Beacon Hill without Angel? Chaos, pure chaos. Fae's Gold Daniel is helping the newly-resurrected fae Ruairi Brennan become accustomed to modern-day living. A boring trip to the bank quickly escalates, and Daniel calls Angel for help. The day goes downhill from there but ends in a comfy meal in a pub for an ancient fae warrior and a necromancer's apprentice. This is an collection, featuring vignettes and short stories from the universe of The Beacon Hill Sorcerer series. For full enjoyment, the Beacon Hill Sorcerer Series Books 1 through 3 should be read before reading this collection.
A History of Trouble
Pairing: M-M
February 25, 2019
Word Count:
21534
Character Identities:
Bisexual, Gay
Summary: Josh has stepped back into the closet for a guy, but how long can he stay there? Life in a college town suits Josh Cassidy. He has good friends and neighbors, and the bookshop café he runs with his family is thriving. As the winter holidays begin, Josh finds himself enamored with police officer Alex Curiel, an old friend who has recently moved back to town. The trouble is, Alex isn't ready for the world to know he's attracted to men. At Alex's request, Josh agrees to closet their relationship, though the secrecy quickly becomes a burden. When Josh realizes he is falling for Alex, his ability to hide his feelings from the world begins to slip, and he's forced to decide if love is enough to keep him hiding behind closed doors. A Hometown Holiday is a 21.5K sex-buddies-to-lovers MM novella. It features a bookshop owner with a fondness for jazz music, a closeted cop who could be Mr. Right if only he'd give himself a chance, and the warm, fuzzy HEA that both guys deserve.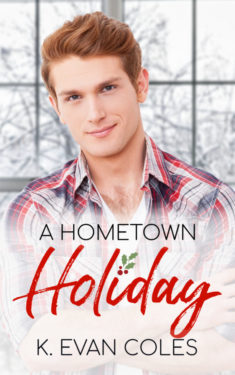 A Hometown Holiday
Pairing: M-M
December 12, 2018
Word Count:
45,894
Character Identities:
Gay
Summary: Ben Haggerty is devastated when he returns home from work to discover his lover of eight years has gone off to complete his master's degree at another college -- and left no forwarding address. Not only has Ben chosen Rick over his beloved family, but he's supported his boyfriend both financially and emotionally the entire time. Unable to remain in their shared apartment, Ben moves and spends a miserable holiday season alone. With the New Year, however, he's determined to make a fresh start, so he manages to obtain Rick's address and sends him a card asking if Rick ever plans to return. Somehow, the card winds up in the wrong mailbox. Jason Prescott is a genius, having obtained his first master's degree at twenty-one and now working on his second. When he receives a card in error, he returns both the card and a card of his own to be courteous, expressing his hopes Ben can get in touch with his boyfriend. This begins a correspondence that leads to friendship, and ... the start of something more? Jason introduces Ben to his family and reunites him with his own. But will Jason, who's even smarter than Rick, be satisfied with someone as ordinary as blue-collar Ben feels himself to be? Or will Rick, realizing what he's let slip through his fingers, manage to persuade Ben to take him back?
Always, Ben
Pairing: M-M
March 13, 2020
Word Count:
16000
Character Identities:
Gay
Summary: A different kind of home invasion... When Adam Tyler's sister announced she was pregnant, Adam decided to move from Portland, Oregon, to Phoenix, Arizona, to fully embrace the uncle experience. However, he didn't count on the move being delayed until three days before Christmas--and three days before his sister's due date. And he definitely didn't count on finding a scorpion in his bedroom. Cue the panicked calls to exterminators. A different kind of knight to the rescue... Garrett Strong doesn't consider himself at all remarkable--his ex certainly didn't think so--and Garrett's pest-control business is circling the drain. Although Adam is his first new client in months, that isn't the only reason Garrett goes above and beyond for him. He feels a real connection to the younger man and intends to do everything in his power to make sure Adam feels safe and welcome in Phoenix--venomous intruders notwithstanding. An Everyday Hero is a short and sweet opposites-attract, age-gap rom-com featuring a fish-out-of-water geek (who still manages to get a bit soggy), a stand-up blue-collar guy (who can't see his own worth), unexpected additions to the holiday festivities (some less welcome than others), and more than one serious discussion about the true meaning of the word hero.
An Everyday Hero
Pairing: M-M
December 1, 2018
Word Count: Information not available
Character Identities:
Gay
Summary: Daryl Greer isn't a bodyguard. He's Hercules Security's "odd-job" specialist, as wild and dangerous as he is competent. Fiercely independent, he resents his older brother Matthew's view that he spends his life "playing G.I. Joe". When he's sent to rescue a kidnapped scientist, Dr. Emerson Winfield, from a terrorist organization, Daryl finds himself attracted to the snarky, outspoken man even though Emerson is the kind of rich, successful person Matthew claims could never be interested in a hick like Daryl. For his part, Emerson doesn't care about Daryl's lack of polish; he's more interested in the incredible chemistry between them. He sets out to prove to Daryl that they can make a relationship work despite their differences. But Daryl's defensiveness about his career drives a wedge between them -- and if he doesn't find a way to deal with his issues, Daryl might lose Emerson forever.
Bloody but Unbowed
Pairing: M-M
November 18, 2016
Word Count: Information not available
Character Identities: Information not available
Summary:
Silent night, holy hell. Thaddeus and Sarasija are spending the holidays on the bayou, and while the vampire's idea of Christmas cheer doesn't quite match his assistant's, they're working on a compromise. Before they can get the tree trimmed, they're interrupted by the appearance of the feu follet. The ghostly lights appear in the swamp at random and lead even the locals astray. When the townsfolk link the phenomenon to the return of their most reclusive neighbor, suspicion falls on Thaddeus. These lights aren't bringing glad tidings, and if Thad and Sara can't find their source, the feu follet might herald a holiday tragedy for the whole town. This holiday novella can be enjoyed alone or as part of the Hours of the Night Series.
Bonfire
Pairing: M-M
November 15, 2016
Word Count: Information not available
Character Identities:
Gay
Summary: From the frying pan into the fire. After a critic's review attacks both Chef Liam Walker's culinary skills and his personal life, Liam can no longer take the heat of the cutthroat New York City restaurant scene. He needs to get out of the kitchen—at least long enough to cool down and regroup. At the Overlook Resort in North Carolina, Liam meets owner Carter Galloway. Carter has a passion for the hospitality business to rival Liam's own, and it's not hard to see where their shared interests—and attraction—could lead. But Carter has no interest in a fling, and Liam has no intention of walking away from the career he fought so hard for. If they want a taste of happiness together, they'll have to find the courage to break the bonds threatening to pull them apart.
Breaking Bonds
Pairing: M-M
June 1, 2017
Word Count: Information not available
Character Identities:
Bisexual, Gay, Questioning
Summary: Can a vacation for two to Antigua turn this "bromance" into the real deal? Spencer Abrams has dated a string of hot women. Sure, it's never worked out but that's because he hasn't met the right one. It has nothing to do with how close he is to his gay best friend. He's straight. Isn't he? When an off-hand comment sends him tumbling into the realization he's in love with his best friend, he turns a romantic vacation meant for his ex into a getaway with Devin—and a chance at the love that's always been right in front of them.
Bromantic Getaway
Pairing: M-M
December 27, 2020
Word Count:
52,914
Character Identities:
Bisexual, Gay
Summary: It may be cold outside, but inside, the temperature is rising. When grad student Kevin Taggert goes home with his best friend for Thanksgiving, the last thing he expects is to drool over the guy's dad. Forty-eight-year-old Drew Freeman would love a relationship, but he never expected to find it with his son's best friend. When a last-minute change of plans leaves Drew and Kevin alone in a cabin the week before Christmas, the heat between them is too much to deny. Although they promise it'll only last the week, every day that passes brings them closer together. When Christmas Day arrives—along with Drew's son—can they salvage the relationship and the holiday?
Cabin Fever
Pairing: M-M
November 24, 2020
Word Count: Information not available
Character Identities:
Gay
Summary: When Garland Heatherford is named heir to his uncle's vast fortune, he isn't pleased by the honor, and with good reason. The last five heirs all met with most untimely deaths – four of them from drowning. Although loathe to accept his inheritance, Garland nevertheless travels to the "cursed" town of Bath, North Carolina, to meet his aged uncle, hoping to avoid the fate of his predecessors. But Garland has something in his favor the other heirs didn't: his lover, Geoffrey Wainwright. The sight of the decaying hulk of Heatherford House dismays both men, yet they have little choice but to enter a world where a miasma of horror lies beneath a veneer of breeding, and madness and death seem to lurk in every corner. Ruling over all is the presence of sinister Roderick Heatherford, who has managed to outlive five young, healthy heirs despite his allegedly poor health. When an unexpected illness strikes Garland and he begins to sleepwalk, lured from bed by singing only he can hear, Geoffrey resolves to protect Garland from every danger – even if it costs him his own life.
Call of the Night Singers
Pairing: M-M
November 18, 2016
Word Count:
13000
Character Identities:
Bisexual, Demisexual, Gay, Pansexual
Summary: A Baal's Heart short, following the events in Fated: Blood and Redemption Plagued by terrible dreams, Jon begins to distance himself from Baltsaros and Tom. Perhaps a little holiday cheer is just the thing to help the three of them find common ground again.
Careened: Winter Solstice in Madierus
Pairing: M-M-M
December 22, 2015
Word Count:
18700
Character Identities:
Gay, Lesbian, Pansexual, Transgender
Summary: The previous winter, Leon followed his twin sister Sara to a new town where she could be with her partner, Amber. There, Leon's boyfriend Nick, friends Jeff and Daniel, and their nine-year-old daughter Abby, swiftly swept him up into their lives, a newfound family. After a year of growing their relationship, Leon is ready to take it to the next level. Nick, however, has been stalling. When Ben, Abby's best friend, is suddenly abandoned, Leon is excited to finally care for the children he's always wanted. Haunted by the mistakes of his past, Nick attempts to reconcile his feelings of inadequacy as a parent with Leon's wishes. Against the backdrop of winter holidays filled with traditions from around the world, it is up to Leon to decide if he's willing to stand by Nick, or if he should find his happiness elsewhere. Catch a Falling Snowflake, the fourth story in the Snow Globes holiday series, can be read as a stand-alone, but greater enjoyment will come with reading about these characters in the order written.
Catch a Falling Snowflake
Pairing: F-F, M-M
November 23, 2020
Word Count:
74000
Character Identities:
Gay
Summary: After the disastrous ending of his first serious relationship, Gideon Wallace cultivated a protective—but fabulously shiny—outer shell to shield himself from Heartbreak 2.0. Besides, romance is so not a priority for him right now. All his web design prospects have inexplicably evaporated, and to save his fledgling business, he's been compelled to take a hands-on hardware project—as in, his hands on screwdrivers, soldering irons, and needle-nosed pliers. God. Failure could actually be an option. Journeyman electrician Alex Henning is ready to leave Gideon twisting in the wind after their run-ins both on and off the construction site. Except, like a fool, he takes pity on the guy and offers to help. Never mind that between coping with his dad's dementia and clocking all the overtime he can finagle, he has zero room in his life for more complications. Apparently, an office build-out can lay the foundation for a new relationship. Who knew? But before Alex can trust Gideon with the truth about his fragile family, he has to believe that Gideon's capable of caring about more than appearances. And Gideon must learn that when it comes to the heart, it's content—not presentation—that matters.
Clickbait
Pairing: M-M
December 5, 2016
Word Count:
125,090
Character Identities:
Gay
Summary: In 2002, Mark Vincent, onetime senior special agent, ran into John, a troubled little boy, at a local McDonald's. Concerned, although it wasn't his business, he gave the kid his business card and left. Three years later, Mark is director of his department at the WBIS and married to Quinton Mann, the former CIA spook who now writes spy novels. They've settled into a life of quiet domesticity and are even considering adopting a cat. All this changes when John, now using another name, barrels into Mark's life with a secret no one expects and on the run from an organization that wants him despite the collateral damage. What will Mark, the man known as "the best" in the intelligence community, do when he learns what this secret is? Will it affect his relationship with Quinn? And how complicated are things going to get when they decide to get involved?
Complications
Pairing: M-M
June 19, 2018
Word Count:
72,681
Character Identities:
Bisexual, Gay
Summary: A sweet geek and an experienced Dom: someone's about to learn their lesson … When chemistry teacher Neil Greene gets an unexpected delivery at Pendleton High, he's mortified when his fellow teacher and crush sees the contents that hint at the adventurous love life he's dying to explore. Curious but inexperienced, Neil has no idea how to live out his fantasies until the hot lit teacher offers a helping hand. Alexander Ford likes to be in charge in the bedroom and he's happy to tutor Neil in all things naughty. But when Neil asks him to pretend to be his date for the Sweetheart's Game at Pendleton Bay's Love Fest, Neil may be the one teaching Alexander about love.
Date in a Pinch
Pairing: M-M
February 11, 2021
Word Count:
41000
Character Identities:
Gay
Summary: A yuletide wedding brings tidings of comfort, joy… and peril. Eighteen months ago, Tarik Jaso, Duke of Arles, would have been thrilled if Sander Fiala, Duke of Roses, sank beneath the waves along with his stupid boat. That was then. Now, Tarik can't wait to head out on a private sail with Sander—a sail that will culminate in a highly public, politically significant wedding. Their union will be the first one between North and South Abarran royalty in centuries. If all goes to plan, it will usher in a new era of peace and cooperation between their countries. But as the big day approaches, their meticulous arrangements begin to fall apart. Can Sander and Tarik weather the storm of political opposition, familial objection, and outright betrayal to reach the altar at last? Duke the Hall is a 41,000-word M/M superhero rom-com featuring two dukes determined to tie the knot, relatives both helpful and annoying, spiteful thunderstorms, superhero sabotage, and hints that things are not all they seem. Note: Duke the Hall is not a stand-alone story. It's the sequel to Duking It Out and as such contains spoilers for the earlier book.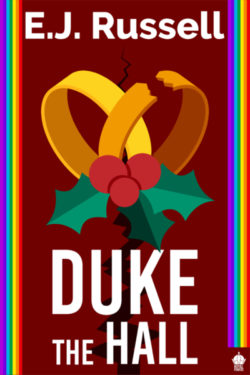 Duke the Hall
Pairing: M-M
November 17, 2020
Word Count:
87,543
Character Identities:
Bisexual, Gay
Summary: A bad boy mechanic and a kinky accountant: can an indecent proposal lead to love? Though Forrest Patton looks like a tweedy, uptight accountant, he's anything but. Underneath the fussy bow ties and love of color-coded spreadsheets lies a man searching for someone to peel back the layers and fulfill his shameful fantasies. Eavesdropping at the diner in town leads him to wonder if the local mechanic might just be the man for the job. Jarod Keener likes it rough, and he makes no secret of that. But he never expects to be approached with an offer to trade accounting advice for some dirty, risky fun. Always up for a challenge, Jarod dives in headfirst but Forrest doesn't trust anyone to give him the humiliation he needs once feelings start to get in the way. When a secret about Jarod's family upends everything, Forrest will have to decide if he's willing to give Jarod a chance to show him that he can have love and the kink he longs for. Embracing His Shame includes: mild humiliation play, small-town gossip, and two men falling in love despite their best efforts.
Embracing His Shame
Pairing: M-M
May 21, 2021