Word Count:
85000
Character Identities:
Gay
Summary: In a future where the United States has split along party lines, Agent Matt Tennimore's job is to get people out of the Confederated Red States, whether they're captured special ops agents from his own country or gay CRS citizens who've petitioned for asylum. He never expected to have to retrieve his high school crush, aka the guy who ostracized him for being gay. Rescuing James Ayala isn't going to be easy: he's crawling with tracking nanos and has a cybernetic brain implant that's granted him psychic powers he isn't sure how to control. That's the good news. The bad? The implant is compromising James's mental stability. So they're on the run, avoiding surveillance by AI aircraft and hiding from enemy militia. Then James confesses he tormented Matt in high school because James wanted him. Matt can't resist the temptation James offers, but he wants so much more than sex, assuming they ever make it home alive. Is James really a good bet when he's got a ticking time bomb in his brain and there's a question of how much he's actually changed? 85,000 words
18% Gray
Pairing: M-M
August 1, 2011
Word Count:
124,200
Character Identities:
Gay
Summary: For Wall McCormack, actions speak louder than words. He's giving and protective, loyal to his friends, and devoted to his job. While confident and powerful enough to conquer any challenge, his greatest strength lies in his calm nature. Until an unexpected assignment sends his world into a loud and colorful chaos he never could have anticipated. Rejection. It's something Dylan Vaughn has known his entire life. But he's a tough nut to crack and refuses to break. Armed with a sharp tongue and brutal honesty, he pushes through life and at anyone who attempts to take him on. Except for the quiet guardian who piques his interest and dares him to want…more. When Dylan's past comes back with a vengeance and jeopardizes their growing connection, Wall will stop at nothing to protect the younger man and remain by his side. But convincing Dylan that someone accepts the real man behind the cocky facade might prove to be Wall's greatest challenge yet. With his freedom on the line, Dylan must trust the strength of their bond and confront the forces threatening their future. Only then will he realize the dream of acceptance is real and finally have a place to call home.
A Chosen Man
Pairing: M-M
September 26, 2018
Word Count: Information not available
Character Identities:
Gay
Summary:
Three hundred years ago, a group of heroes imprisoned a dark god and his lieutenants in a hell dimension known as the Void.
Since then, the people of Maghe Sihre have lived in relative peace. Now, a secret war brews at the edge of civilization. Tadgh Dooley, a young man from Earth, is burdened with a dangerous and impossible power. He has the ability to warp the fabric of reality, to make his wishes come true. One wish binds him to the spirit of a demon cat. Now he is a shapeshifter, a werecat. The armies of evil see him as a weapon. They will not rest until they control him. A mysterious force transports Tadgh to Maghe Sihre and, in doing so, ruptures the Void. Worse, each time he uses his ability, the Void cracks open a little further. Prisoners start to escape. If Tadgh can't control his power, he risks shattering the Void completely, unleashing the dark god on an unprepared world.
A Fallen Hero Rises
Pairing: M-M
December 10, 2013
Word Count:
111200
Character Identities:
Gay
Summary: After surviving ten years in prison, Cameron Pierce is attempting to put the past behind him. He tries to adjust to his newfound freedom with a place at the halfway house and a job. But one lesson he learned in prison keeps him guarded: hope is a dangerous thing. Hunter Donovan, Assistant State Attorney, is a man of justice who loves a challenge. After a lifetime of putting his career first, a milestone brings him to a harsh realization—he's lonely. Hunter's world changes when he meets Cam. The wary young man intrigues him and awakens a desire unlike anything he's ever experienced. When Cam's past resurfaces and threatens to rip them apart, their budding relationship is challenged and Cam's hope for a future begins to dim. These outside forces hunting Cam will stop at nothing to send him back to prison. But they'll have to get past Hunter first. ---------- NOTE: Word count: 111,200. This story is a romantic suspense/mystery novel and the second installment in The Men of Halfway House series. Although characters reappear from book one, this story can be read as a stand-alone.
A Hunted Man
Pairing: M-M
April 28, 2014
Word Count:
145000
Character Identities:
Gay
Summary: A story of healing and confronting demons… Detective Aidan Calloway is rock-solid strong. He's a man of justice—loyal to his friends, family, and job—even if it requires bending a law…or two. He shields himself behind an abrasive, fearless facade, until a phone call one night chips his armor and throws his perfectly planned, hollow life into a tailspin. Jessie Vega is the epitome of optimism. His carefully crafted attitude of hope and positivity protects him from a past filled with too much pain. When a ghost from a dark time resurfaces and nearly breaks him, he must tap into his inner strength or risk losing everything he's worked so hard to build. But Jessie can't do it alone. He must fight to break through Aidan's ironclad defenses to reveal the heart of the man hiding beneath the tough surface and mend his damaged spirit. Only then can they truly heal and become strong enough to battle the demons that haunt them and threaten their chance to finally be together. ---------- ***This book contains scenes and subject matter some readers may find distressing. It is only intended for adult readers.*** Word count: 145K Although part of a series and events from prior stories are referenced, this book can be read as a stand-alone.
A Mended Man
Pairing: M-M
April 28, 2016
Word Count:
115,000
Character Identities:
Lesbian
Summary: Life hasn't been easy for Aeley since she arrested her brother, and her role as a political leader leaves her feeling isolated and lonely. Days before her brother's trial, she meets Lira, a quiet and modest scribe who makes Aeley want more than just a professional relationship. When she attends the trial and leaves with a marriage contract, Aeley doesn't know what to do. She must choose one of two brothers, marrying into a family she doesn't know. Then she discovers that Lira is part of the same family—a sister to Aeley's suitors and the family's disgrace. And not at all opposed to an intimate relationship. Except random acts of violence against her people test Aeley's ability as a leader, and a web of lies and deceit threaten not only her chance at happiness, but her life...
A Question of Counsel
Pairing: F-F
October 18, 2019
Word Count:
117500
Character Identities:
Gay
Summary: Cole Renzo thinks his greatest challenge is to behave for the remainder of his term at Halfway House. Until he meets his new boss, Ty Calloway, a man who ticks off every box on Cole's list of interests. A sought-after restorer and customizer of exotic and collectible cars, Ty had enough confidence to command what he wanted in life, until one fateful night changed everything. Almost two years later, he's slowly rebuilding his life with great control. He's defied the odds and works tirelessly to be the man he once was—but he still feels broken. Cole's candor and unfiltered personality awaken Ty's barely-remembered desire to greet each new day with a smile, while Ty's unwavering acceptance of Cole's quirks and brash humor makes Cole feel as if he fits in for the first time in far too long. When a nemesis threatens Ty's personal restoration and the things he holds dear, Cole is determined to protect their relationship, even if that means sacrificing everything he's worked so hard to achieve. But Ty will have to let his guard down, surrender control, and admit he needs Cole first, even if that puts himself at risk of breaking beyond repair. ---- Word count: 117,600 This is book 3 in The Men of Halfway House series. Although part of a series, this book can be read as a stand-alone.
A Restored Man
Pairing: M-M
February 17, 2015
Word Count:
120100
Character Identities:
Bisexual, Gay
Summary: Two men. One sweet dream of family and forever. Gabriel "Bull" del Toro loves his fast-paced globe-trotting job, but aches for an honest relationship and the trust that comes with it. After a few too many heartbreaks, he's nearly given up hope of finding that special someone. Until Ben. Born deaf, Ben is used to working twice as hard for what he wants, but risking a newfound friendship on an impossible dream is scary. After all, there's one lesson he's learned: everything is temporary—freedom, friends, even family. Neither man expects the undeniable spark between them or for every moment together to fuel that connection. For the first time, a happily ever after is within reach, but they must trust that the dream of acceptance, family, and a place to call home is more than a sweet fantasy. It can be forever. ———— A Sweet Man is an interconnected standalone within The Men of Halfway House series. It is a story about the power of love, the meaning of family, and never giving up on a dream. It includes wounded hearts, an age-gap romance, and enough cake and sweetness to give you a toothache.
A Sweet Man
Pairing: M-M
June 16, 2020
Word Count: Information not available
Character Identities:
Gay
Summary: Years ago, the true king of the vampires sacrificed his throne and his fated love for the common good. But it wasn't enough… Rune knows the Adini Treasure is real, and he wants it. With the treasure, he'll have the power to crush his enemy—the Adi 'el Lumi—forever. Isaac longs for love but is sick of waiting for it.  When he witnesses the murder of a strange vampire with an even stranger map, he isn't sure what he's found. But he isn't letting it go. Not even for the swoon-worthy vampire prince who comes to claim it. When a witch's calling card leads Rune to a snarky vampire with secrets and a sassy human with a treasure map, he takes them on a perilous hunt into the forgotten vampire cities. His worst fears and darkest desires await him. With everything at stake, he'll have only one chance to either fulfill his destiny… or save Isaac, his fated love.
A Vampire's Honor
Pairing: M-M
February 11, 2020
Word Count:
124000
Character Identities:
Gay
Summary:
A story of two men and the boundless love that forever changed them.
Vannguard Shaw has spent the last ten years serving a life sentence and adjusting to the ache of solitude. He accepts his fate, a sacrifice for the only man he ever loved and the one person who saw beyond his rough edges. Drayton grew up with a trust fund and pre-planned future, but an unexpected encounter one night forces him to abandon everything and start from scratch. He is now a self-made man and developer of one of the most sought after electric exotic automobiles in the world with a fortune greater than that of his birthright. Yet, he'd surrender it all—again—for the only man who's still ever-present in his heart. After a decade and entirely too much distance between them, Vann is suddenly released back into a world that has been nothing but cruel. Drayton never lost hope they would once again reunite and pick up where they left off, but Vann's stubborn nature and repeated encounters with a heartbreaking world prove to be a challenge. Vann needs to tap into his fighting spirit's reservoir of strength and hope life doesn't punish him for taking a chance. Only then will he realize his own value and feel worthy enough to finally have Drayton's heart. And their chance at forever.
----------------
This is book 5 in The Men of Halfway House series. Although part of a series, this is a full-length stand-alone novel.
Main Characters: Drayton and Vann Release date: May 2, 2017 Series: The Men of Halfway House No. in series: 5; can be read as a stand alone Category: Contemporary Gay Romance Word Count:  124,300 words Formats available: e-book and print Drayton first appears in book 3, A Restored Man. Vann is first mentioned in book 4, A Mended Man.
A Worthy Man
Pairing: M-M
May 2, 2017
Word Count: Information not available
Character Identities:
Bisexual, Gay
Summary:
A witch doesn't always wear black, sometimes he wears snark and blood.
Sam is well known for his attitude and now that he's a vampire, he's not taking crap from anyone. Not his mentor Gabe, his rival Seiran, or even his roommate Constantine. He wants to be left alone to be the brooding monster the media promised he could be. But war is on the horizon between vampires and humans. Sam barely has control of his bloodlust, especially when he's not even certain how to stalk the night without becoming a revenant. When his cibo, a blood donor meant to control the beast, arrives to help, Sam finds Luca irresistible, but tied to another powerful vampire. Sam's mentor begins to unravel as the vampires start to rage. Sam can either join the puppets of the darkness, or find his own way. When the magic of vampires and witches collide, Sam hopes the firestorm of his newly awakened powers can save them all.
Absolution
Pairing: M-M, M-M-M
August 23, 2019
Word Count:
239350
Character Identities: Information not available
Summary: To save the five culling worlds from his evil master, Seker, Owen Adler was forced to sacrifice himself, leaving his beloved husband, Jacek Tarasek, to survive alone on an alien planet. Haunted by dreams of his late husband, Jacek continues on toward a distant island—and, perhaps, the salvation he seeks. During a fierce lightning storm, Jacek tumbles down a sinkhole and wakes to finds himself the captive of a strange man in the thrall of an even stranger god. In this seeming Eden, Jacek might at last find contentment—if only he can put the past behind him. But the past has a way of finding him, no matter where he hides from it. In a botched escape attempt from his paradise prison, Jacek falls under the power of an old enemy, determined to take everything from Jacek, including the precious treasure he believes he's lost. Abundance of Light is the fourth and final book in The Dark Brethren Series, but can be enjoyed as a stand-alone story.
Abundance Of Light (The Dark Brethren Series Book 4)
Pairing: M-M
December 5, 2017
Word Count:
120000
Character Identities:
Bisexual, Gay
Summary: They say it's a bad idea to fall for your best friend. But since when do I say no to bad ideas? Adam: It's not like I wanted to fall in love with Ben. When we first met in college, I thought he'd be like every other hot jock who'd made my life hell in high school. It's not my fault he turned out to be sweet, funny, and insanely talented. We moved to New York after college to break into the music business and of course Ben got signed by a major label—they'd be stupid not to want him. But even though he's a famous popstar now, he still wants to be friends with a nobody like me. Honestly, if he didn't want me falling for him, he should have been less goddamn perfect. Well, except for the part where he's straight. Did I forget to mention that? In my defense, responsible decision-making has never been my strong suit. Case in point—collapsing on stage, guitar in hand, after discovering my then-boyfriend, now-ex was cheating on me, and downing a bottle of bourbon in response. But I'm cleaning up my act—no more hiding in the closet and no more bad life choices. But that also means no more waiting around for the day Ben magically decides he likes di…sgustingly sappy guys with secret crushes on him (aka me). So why did Ben have to pick now to make me question everything I thought I knew about us? "I've never wanted anything as much as I want you right now. When I see you, something inside me lights up." Ben: It's not like I planned this. I was on tour when Adam collapsed back in New York and he wouldn't even let me come home early to visit him. But that's Adam for you—brilliant, breathtaking, and pathologically afraid of vulnerability. All I wanted was to be there for him—and him coming out didn't change that in the slightest. Yeah, I couldn't help seeing him a little differently. And no, I couldn't quite explain why I was suddenly noticing the curve of his back, the freckles on his cheeks, or wondering what his lips tasted like. But whatever weird awakening I was having, Adam needed support, not more confusion. And then I kissed him. Whoops. And I know it's fast. I know it's unexpected. I know my label would be livid if they found out I was dating a guy. But I also know—deeply and inexplicably—that this could be something real. I just have to convince Adam of the same thing. Beautiful, broken Adam who looks at the world through 14 layers of irony. Adam, who'd rather get an appendectomy than admit that he needs someone. Adam, who still doesn't know all of my secrets. So do I convince him to risk everything—on me? Adam's Song is Book 1 in the 8 Million Hearts series. While each book can be read on its own, they're even more fun to read together. Adam's Song is a 120,000 word m/m romance full of snark, sweetness, and a healthy serving of steam. Friends-to-lovers and hurt/comfort themes. No cheating, no cliffhangers, and a guaranteed HEA.
Adam's Song
Pairing: M-M
June 4, 2017
Word Count:
56000
Character Identities:
Lesbian
Summary: New Hopeland was built to be the centre of the technological age, but like everywhere else, it has its dark side. Assassins, drug dealers and crooked businessmen form a vital part of the city's make-up, and sometimes, the police are in too deep themselves to be effective. But hey, there are always other options … For P.I. Cassie Tam, business has been slow. So, when she's hired to investigate the death of a local VR addict named Eddie Redwood, she thinks it'll be easy money. All she has to do is prove to the deceased's sister Lori that the local P.D. were right to call it an accidental overdose. The more she digs though, the more things don't seem to sit right, and soon, Cassie finds herself knee deep in a murder investigation. But that's just the start of her problems. When the case forces Cassie to make contact with her drug dealing ex-girlfriend, Charlie Goldman, she's left with a whole lot of long buried personal issues to deal with. Then there's her client. Lori Redwood is a Tech Shifter, someone who uses a metal exoskeleton to roleplay as an animal. Cassie isn't one to judge, but the Tech Shifting community has always left her a bit nervous. That wouldn't be a problem if Lori wasn't fast becoming the first person that she's been genuinely attracted to since splitting with Charlie. Oh, and then there's the small matter of the police wanting her to back off the case. Easy money, huh? Yeah, right.
Honorable Mention: Rainbow Awards 2017 - Lesbian Sci-Fi Category
Addict
Pairing: F-F
May 8, 2017
Word Count:
105,980
Character Identities:
Bisexual, Gay, Genderfluid, Questioning
Summary: Olympic-size dreams come at a price. Openly gay college swimmer Ian Harrington feels like he's fighting against a current of tragedy. He's grieving the loss of his parents and best friend, and now he's dealing with a toxic coach and judgmental brother. But he won't let that stop him from chasing his dream: Olympic gold. Ricky Chavez has just about everything he wants in life: a great career, a supportive family, and a side gig as drag queen Rosie Riveting. The only thing he's missing is a partner to share it all with. When the two men connect after Rosie's performance, they're immediately drawn to one another. But it's never that simple. Ricky isn't the type of man to hide, and with Ian's coach breathing down his neck, he can't openly love a drag queen without making waves. They'll have to brave deep waters to make it to the finish line.
Advance & Retreat: The Midwest Series Book 4 - Ian & Ricky)
Pairing: M-M
July 14, 2020
Word Count:
117000
Character Identities:
Bisexual, Gay
Summary:
Brent Weyland was the life of the party until an injury ended his hockey career. Now he's retreated alone to a lakefront house, trying to make sense of a life and body that don't feel like his anymore. Jon Norquist was happily married right up until he wasn't. Now a single father in his forties, he's trying to figure out what comes next. In the meantime, he pours his heartache and regret into the lyrics he sings for the wine bar crowd a couple of nights a week. When a friend coaxes Brent out for a night of wine and music, he puts Brent and Jon on a collision course. Their chemistry is instantaneous. Jon gives Brent's battered body a much-needed remedial lesson in pleasure. And Brent gives Jon a reason to smile again. Multiple reasons, actually. Neither man wants anything serious, but love has a habit of showing up whether it's welcome or not. No matter how hard they try, the two can't help having feelings for each other, even as life continues to throw them curveballs. But they've both got baggage to unpack and hurt to move past, and if they can't leave their pasts in the past, they might just miss out on an amazing future.
Aftermath
Pairing: M-M
March 29, 2021
Word Count:
115000
Character Identities:
Demigender, Gay
Summary: Blurb: I don't like labels and I'm happy that way, but it's taken a long time to get here. A jerk of a father, too many bullies to name, and a string of dipshit boyfriends whose interest in me rarely made it past the skirts I sometimes wear. Suffice to say, my faith in men runs a little thin. The last thing I need is a gruff, opinionated, fiery, closeted, Paralympian jock messing with my hard-won peace. Miller Harrison is a wrinkle in my life I could definitely do without. I have a job that I love at Auckland Med., a boss who understands me, and a group of friends who accept me as I am. I should walk away. But Miller knows a thing or two about living life against the grain, and that hope I thought I'd buried a long time ago, is threatening to surface.
Against the Grain
Pairing: M-M
December 8, 2020
Word Count:
105000
Character Identities:
Gay
Summary:
The Larkspur Mysteries Book 3
"Despite your adversities, Mr Blaze, you remain unbroken because of who you are, not what you can or cannot do."
Mrs Norwood, October 1890
Shakespeare, the Bible, Edgar Allan Poe… What could a series of random quotes have to do with a masked ball and eight unsolved murders? Archer, Lord Clearwater, is hosting a masquerade at Larkspur Hall, and Prince Albert Victor is the guest of honour. The vitally important event is miles away from London, where Jimmy Wright has enlisted the help of Dalston Blaze and Joe Tanner in solving two mysteries: Who has been sending Archer cryptic notes, and who has murdered eight men on Bodmin Moor? Dalston finds himself the only one who can solve both riddles, but self-doubt, his concerns for Joe, and his newly found admiration for Jimmy Wright are obstacles he must overcome if he is to prevent Lord Clearwater's downfall. But what if the killer isn't after His Lordship? What if the plan is to assassinate the prince? Or worse, someone much closer to Dalston's heart? Agents of the Truth is the third novel in
The Larkspur Mysteries
, and the stories are best read in order. The Larkspur Mysteries follow on from
The Clearwater Mysteries series
, and both feature gay main characters, and are set at a time when homosexuality was illegal. They are a combination of MM/romance, mystery and bromance, and are inspired by historical fact.
Agents of the Truth
Pairing: M-M
February 2, 2022
Word Count:
149,000
Character Identities:
Bisexual, Gay
Summary: The star of the University of Virginia theater department, Aidan Emery is lusted after and admired for living out and proud. He uses his talent and good looks to his advantage and never sleeps with the same guy twice. But his glamorous patina has been carefully honed to hide the pain he carries inside. Aidan wasn't always such a player. He starts college naively romantic, hungry for the attention he can't get from his workaholic father and mentally ill mother. Unfortunately, that leaves him ripe pickings for predatory professor Rodney Montgomery. Rodney's flattering regard seduces Aidan into a dysfunctional relationship that destroys his innocence. Life looks up for Aidan when he finally breaks free of Rodney's pull and moves to New York City to make it as an actor. Meeting sweet fellow actor Patrick Jaymes seems like the start of a fairy tale. But before Aidan can rebuild his life into happily ever after, family secrets rip him wide open, leaving him easy prey when Rodney decides he's not willing to let Aidan go.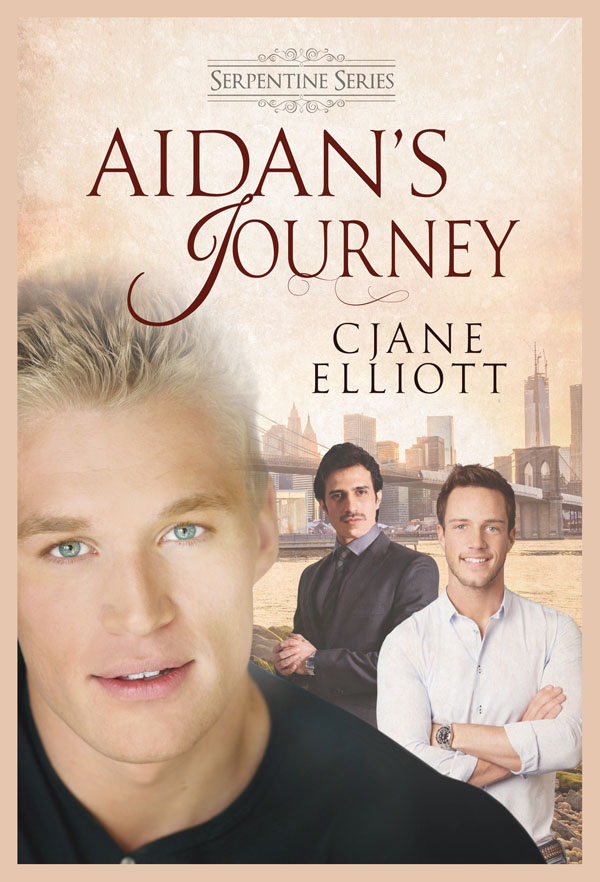 Aidan's Journey
Pairing: M-M
October 15, 2014
Word Count:
117000
Character Identities:
Gay, Polyamorous
Summary: A rookie, his teammate, and his best friend from a rival team. What could possibly go wrong? Seattle Snowhawks rookie Justin Reid has it bad for his teammate Shawn Kelleher. It's just his luck that Shawn's got a crush too… on Justin's best friend, Vancouver Narwhal center Keith Adams. When Shawn lets it slip at the worst possible moment that he wants Keith, Justin is hurt, but what can he do? He steers Keith in Shawn's direction and lets chemistry do the rest. What Justin doesn't know is that while Keith is into Shawn, he's also secretly wanted Justin since forever. After some stumbling, they realize there's something very hot and very mutual going on between all three of them. It's fantasies coming true left, right, and center, and it just doesn't get any better than this. Except this scorching hot triad is anything but simple. Not while the closeted son of a hockey legend is fighting to make his own name in the shadow of his deeply homophobic father's legacy. Not in the midst of grueling schedules and a team's fraternization rules. Throw in pesky emotions showing up where they aren't wanted, and it's a play that's doomed from the start. Shawn, Keith, and Justin all fought their way into professional hockey. Is what they have together worth fighting for too? Or will fear let heartache win this game? ASSIST is approximately 117,500 words. It's book 2 of the Pucks & Rainbows series, and can be read as a standalone.
Assist
Pairing: M-M, M-M-M
December 26, 2019