Word Count:
47, 083
Character Identities:
Gay
Summary: Warwick, whose name has a second W that's silent, also has a new neighbor who is anything but. The constant creak of bedsprings and headboard banging against the common wall has Warwick in 11-A wondering if the activity in 11-B is an occupation and not merely an enjoyable hobby. When Warwick finally meets noisy neighbor Dom, though fun, heat, and music ensue, uncertainty and questions remain. Some things are easily explained away by the sort of happenstance and misunderstanding silly sitcom plots are based on, but a painful past connection, a difficult future, and a lie in the present set up roadblocks Warwick and Dom struggle to get over. Can Warwick and Dom create a second verse to their love song, or will the tune end before it really begins?
11-B: The Noisy Neighbor
Pairing: M-M
July 3, 2021
Word Count:
12241
Character Identities:
Gay
Summary: Following a horrific break up with his fiancé, Luke Bennet spends two years as a social hermit, only going to work and talking with Tina, Gina, and Rita, three friends from high school. Refusing to let him wallow any longer, they intervene and talk him into going on twelve blind dates to get him back in social circulation. The Trio have not only planned the dating venues but also chosen the perfect guys to lure Luke from his isolation. Will he find love through these dates? Or will he run for cover again?
12 Blind Dates
Pairing: M-M
July 16, 2022
Word Count:
22500
Character Identities:
Gay
Summary: "Help raise money to improve our habitat! For a small donation, we'll name a fish after your ex and feed it to the bears on Valentine's Day!" For Garrett Mitchell, who just found out his butthead of an ex-boyfriend cheated on him, that donation is money well spent. And Tristan Waverly was just unceremoniously dumped by a man who is absolutely worthy of being tossed to hungry bears, so he's more than happy to buy a fish. As the bears chow down, though, everyone's wondering the same thing—is it a coincidence, or are both fish named after the same guy? There's only one way to find out. But when Garrett and Tristan come face to face, suddenly the last man either wants to think about is Kevin. 2 Dead Fish Named Kevin is a light, fluffy, and short Valentine's Day romance (22,500 words)
2 Dead Fish Named Kevin
Pairing: M-M
February 14, 2023
Word Count:
47053
Character Identities:
Gay
Summary: It's the last straw when three prudish pigs play a nasty trick on the set. So where else would Wolf go to plan the perfect payback, but Harry's Behind the Scenes Bar, Baths & Grill? Soaking wet when he arrives at the back door, Harry's dragon-magick fireplace soon gets Wolf's fur mostly dry. Shifting to his human, silver-hair-to-his-bare-butt self, he's almost done when the door opens again. And what to his wondering eyes does appear but a trio of boorish boar brothers—without a single reindeer!—all in a row from short to not-very-tall: Guy, Gresham and Grant Graham. Wolf's idea is so brilliant, it's definitely dawn coming up like thunder, "outer China 'crost the Bay." (Wolf really likes Kipling). A maybe mean, surely sneaky, snake-in-Eden idea. Payback is a dish best served hot...and hard. Join the fun as payback plays out. There's help from Tom Thumb, fine food, expensive bottles of Harry's Dragon's Own Special Reserve wine (the only thing which gets a shifter drunk), Death by Chocolate, Lady Flame, a private tour of the baths. Plus rooms of straw and sticks and bricks, and an Easter Egg, which might be hiding in Manhattan. Fair warning: there's a lot of huffing and puffing as part of the plan. Just not at doors. 47,053 words in the story
3 Boars & A Wolf Walk Into A Bar...
Pairing: M-M, M-M-M
December 11, 2019
Word Count:
11,948
Character Identities:
Gay
Summary: A superhero, a ghost, and an angel walk into a bar. Dario, the ghost, feels a sense of déjà vu. He died in a bar, and it seems like he might be reliving that terror over and over again. This time, however, there's an angel at his side, Dondre, and that brings some comfort. After a few too many drinks, Dwight, the superhero, reveals his animosity toward angels. He's angry angels get all the credit when someone survives a deadly incident. People think angels are real, while most believe superheroes are only found in fiction. When a wave of deadly crime sweeps across the country, Dario and Dondre become the prime suspects. Who is setting them up? All signs point to Dwight, the disgruntled superhero. Can the ghost and the angel prove themselves innocent? Will someone else die? And what of Dwight? Is he friend or foe?
3-D: Superhero, Angel, Ghost
Pairing: M-M
October 27, 2021
Word Count:
27000
Character Identities:
Gay
Summary: Troy Pettifer, a broken-hearted chocolate shop worker, isn't sure what to do next when Richard Belden, a controlling but handsome sadist, walks into his life and gets him on his knees. Troy's friends start fixing him up with vanilla guys. Richard is nursing his own heart that was broken by a man who betrayed him and the entire BDSM community, but, for Troy to fulfill desires he didn't even know he had, he's going to have to embrace the beautiful leatherman within.
5 Easy Chocolate Pieces: A BDSM Love Story
Pairing: M-M
July 18, 2015
Word Count:
24000
Character Identities:
Gay
Summary: Life as we know it will never be the same. Flying saucers are spotted all over the world. But after one crashes into the San Francisco Bay, they disappear. Not far from the crash, Mitch rents his spare room to Claytone and quickly develops a crush. But what he doesn't know is that Claytone will soon turn his world— and heart, upside down. Claytone's final revelation will reach even further; it will change life on planet Earth— forever.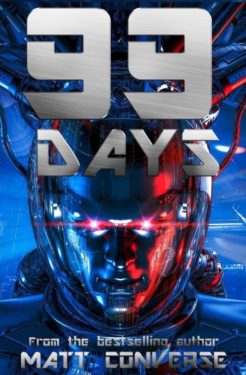 99 Days
Pairing: M-M
May 27, 2021
Word Count:
33588
Character Identities:
Gay
Summary: Bain never thought he'd escape the prison he'd lived in for the last five years. He spent his days chained up like an animal, and his nights…they were better not spoken about. Until one day Antonio came stumbling into his darkness, lighting a fire in his soul and giving him a chance at a new life. Antonio loved his position as a Bellator, and he loved his brother Luc; it was Luc's friends he could do without. When he came upon an emaciated and beaten boy at his brother's best friend David's house, he knew he had to get him out of there. Risking his place on his team, his relationship with his brother, and even death was something he'd never regret. After all, Bain was Antonio's sodalis vitae, and soulmates were forever. The small problem of Bain being a member of the Tenebrix, the Bellators' mortal enemies, was nothing compared to what could happen if David found out where he was. But Antonio won't let anything—race, being hunted by his own kind, or Bain's fears—keep him from finally claiming his mate. This novella is a standalone in The Bearer of Truth world and takes place three years before Shadowing the Light. Antonio and Bain do appear in The BoT series as side characters, but you do not need to have read those books to read this one or vice versa.
A Blaze in the Dark
Pairing: M-M
February 7, 2019
Word Count:
11428
Character Identities:
Gay
Summary: In 1805, Charles Denham's comfortable life in Regency London with his long-term partner Avery Mallory is disrupted by the sudden death of his father. As the heir to a modest country estate in Gloucestershire, Charles returns home to care for his bereaved family and take up his new responsibilities. Overwhelmed with grief, rather than leaning on Avery, Charles rejects his love and becomes fixed on the idea of taking a wife for reasons of family duty alone. With this plan in mind, during early winter, he travels the short distance to Bath only to find that Avery and his family have already arrived at the resort. Will Charles follow through with his ill-conceived plan for a hasty betrothal by Christmas? Or will he come to his senses and resume his relationship with the nicest man in England? 
A Christmas Engagement
SALE
Pairing: M-M
December 24, 2022
Word Count:
33500
Character Identities:
Gay
Summary: The Christmas Eve Dance six years ago was the scene of angry words and heartbreak. This Christmas, it's time for forgiveness and second chances. Hunter Cavendish fled his hometown six years ago and has avoided returning ever since. Now an up-and-coming designer, he succumbs to family pressure and agrees to come home for Christmas. But the fates must be conspiring against him, because the very first person he runs into is Aaron McBride—the man he's never been able to resist. The man who broke his heart. Aaron McBride loves his small town, loves the gift store he owns, and absolutely adores Christmas—it's his favorite time of the year. That is, until this year. This year he's forced to work alongside the infuriating and entitled Hunter Cavendish on the Christmas Eve Dance decorating committee. There's no way he's going to fall under the spell of his charms again—absolutely not. But the Christmas spirit weaves its magic, bringing the two of them together and providing the perfect opportunity for apologies, fresh starts, and falling in love again. So long as they can put the past behind them… A Christmas Reunion is a cute, feel-good holiday romance featuring enemies-to-lovers, forced proximity, second chances, lots of Christmas sweetness, and a well-deserved happy ending.
A Christmas Reunion
Pairing: M-M
December 1, 2020
Word Count: Information not available
Character Identities: Information not available
Summary: Jonah Beecham is a down on his luck cowboy, stuck in Vegas with no money, no job, no friends, and Christmas rapidly approaching. Although he'd been promised a job as a bullfighter, the job falls through, and he'll be sleeping in his truck for Christmas. In a fit of desperation, he drops a coin in an old-fashioned slot machine and wins enough to put gas in his truck… plus a little something extra. Rather than press his luck, he decides to leave the casino, but the universe isn't done with him yet. Zach Evans is a television writer from Los Angeles who loves all things cowboy. He's in Las Vegas to do some research at an end of year rodeo event. Too wary to approach any of the sexy cowboys he sees, he finally takes a chance when he bumps into Jonah. Spending the next week in Zach's bed might seem like Jonah's luck has changed, but when Jonah realizes he's falling for a man who lives in a city where none of his skills are employable, he's got a choice to make. Fear of the unknown will cost him Zach, but accepting that the universe has more luck in store for him might be more than he can handle.
A Cowboy's Christmas Luck
Pairing: M-M
December 10, 2018
Word Count:
71000
Character Identities:
Gay
Summary: Berlin 1933: When the parties stop...the dying begins The city that's been a beacon of liberation during the 1920s is about to become a city of deadly oppression. BBC foreign correspondent Simon Sampson risks his life in a bid to save thousands of gay men from the growing Nazi threat. This is the second in the Simon Sampson mystery series. The first, A Death in Bloomsbury, was hailed as 'a good old-fashioned John Buchan-esque mystery reworked for the twenty-first century'. Simon moves to Berlin where he meets British author Christopher Isherwood and his lover Heinz. He's also reunited with his banter-partner Florence Miles, better known to her friends as Bill. She's recruited him into the British intelligence services and he's got the task of hunting down communist spies. But when Simon is ordered to spy on an old college friend, his loyalties are brought into question. Who are his real enemies? And how much can he trust his masters?
A Death in Berlin
Pairing: M-M
September 28, 2022
Word Count:
311000
Character Identities:
Gay, Lesbian
Summary: Everyone has secrets… but some are fatal. 1932, London. Late one December night Simon Sampson stumbles across the body of a woman in an alleyway. Her death is linked to a plot by right-wing extremists to assassinate the King on Christmas Day. Simon resolves to do his patriotic duty and unmask the traitors. But Simon Sampson lives a double life. Not only is he a highly respected BBC radio announcer, but he's also a man who loves men, and as such must live a secret life. His investigation risks revealing his other life and with that imprisonment under Britain's draconian homophobic laws of the time. He faces a stark choice: his loyalty to the King or his freedom. This is the first in a new series from award-winning author David C. Dawson. A richly atmospheric novel set in the shadowy world of 1930s London, where secrets are commonplace, and no one is quite who they seem.
A Death in Bloomsbury
Pairing: F-F, M-M
November 10, 2021
Word Count:
85788
Character Identities:
Bisexual, Pansexual
Summary: Kris Starr used to be famous. Rock and roll. Sold-out shows. Literal magic. Empathic talents and screaming fans. But he has a problem or two. He's having a hard time writing new music. It's Midwinter, which means he's surrounded by depressing holiday cheer. And he's in love with Justin, his manager, who has a talent for rescuing almost- or once-famous bands ... and who's hiding secrets of his own. Justin Moore, on the other hand, is very good at keeping those secrets -- he's had to be for years. One secret involves a demonic inheritance that would make him a target of suspicion. Another involves his past. And the third involves Justin's feelings for Kris Starr, rock and roll icon and now his client ... and a powerful empath.
A Demon for Midwinter
Pairing: M-M
March 10, 2018
Word Count: Information not available
Character Identities:
Lesbian
Summary: One ice queen who likes solitude. One firebrand crashing into her life. One snowstorm trapping them together. Ambitious journalist Amy Kelly has her big break at her fingertips. She's lined up an interview with Morgan Leithe—THE Morgan Leithe, the self-made billionaire who mysteriously vanished from the public eye three years ago. Amy only has to travel to the tiny New Zealand town Morgan's hiding in, nab that interview, and have it published before her big performance review. Wham, bam, thank you ma'am—that promotion is basically in the bag. But Amy didn't plan for the bone-chilling blizzard sweeping through the sleepy little town, and she definitely didn't plan to have to wait out a snowstorm with a woman whose piercing blue eyes seem to see right through her... Betrayed by those closest to her, brilliant philanthropist Morgan Leithe has made a new life for herself far away from the glitz and glamour. She'll keep everyone at arm's length to make sure that no-one can hurt her again. She's sworn off romance. All that she needs in life is a good book, her dogs by her side, and solitude. Life in her cosy mountain cottage is peaceful and quiet, just the way she wants it. But now a tenacious younger woman with sparkling eyes is awakening something in her that she's tried her hardest to bury. Four days. That's how long she'll have to wait before the snowstorm lifts and the stranger with the heart-stopping smile can leave for good. Four days of just the two of them, a crackling fire, and the wild New Zealand scenery around them. She can keep this professional, right?
A Dog Named Bella: A Lesbian Romance
Pairing: F-F
April 6, 2021
Word Count:
67500
Character Identities:
Gay
Summary: Silver fox Curtis is everything baker Andrew could want in a sub, and their chemistry is off the charts. But as a wealthy and successful gallery owner, Curtis intimidates Andrew and challenges his dominant nature. Can Andrew get used to a sub with a much higher social status? British noble Curtis Morris has all but given up on finding his perfect Dom when he walks into a bakery and meets Andrew Granger—smoldering hot, new to Miami, into the lifestyle, and with kinks that align perfectly with Curtis's own. Andrew grew up poor and doesn't know if he can handle a sub with so much more money, even if he's insanely attracted to Curtis. To make matters worse, Curtis's preferred club, Whisper, is far beyond Andrew's financial means. Still, Andrew doesn't want to lose Curtis to his own hang-ups, not when Curtis is far from the elitist snob Andrew expected. But Andrew keeps messing up, and with Curtis's rich ex visiting with the hopes of winning him back, he and Curtis will need all the help they can get to make their romance of opposites work out.
A Dom and His Gentleman
Pairing: M-M
June 24, 2019
Word Count:
110000
Character Identities:
Gay
Summary: XAVIER Former Navy SEAL Xavier Thierry knows he is good at his job… protect the client. You do the job but never get too close—that's his motto. When the friend he owes for saving his life asks for a favor, he doesn't hesitate to say yes, no questions asked. But babysitting some pampered brat is nowhere on his to-do list. Until he first lays eyes on him… Cris. And he's nothing like Xav expected. He wasn't sure when this man stopped being a job, but the rules blur once Cris ends up in his arms. How can Xavier let him go when he's the only one who chases away the darkness? CRIS Cris Whitcomb thought he finally found his happily ever after… But the fairytale soon became a nightmare, one that left him with only one choice—to push away those he loves to protect them. His chosen family refuses to be pushed away. Their solution, call in someone trusted to watch over and protect him… Xavier. But what happens when your future walks in on the worst day of your life? Maybe sometimes you have to go through the bad to get the best... One who knows the pain of loneliness, another haunted by memories he can't run away from... Maybe they are exactly what each other needs… TRIGGER WARNING: This book contains scenes of domestic violence in flashbacks.
A Family Of His Own
Pairing: M-M
July 28, 2019
Word Count:
70000
Character Identities:
Bisexual, Gay
Summary: Mal's first priority is giving his six-year-old son the best Christmas ever, a goal made trickier by a recent move to New England after losing his job. As a single dad, he's not looking for romance—especially not with a blond California boy ten years his junior. After being ridiculed at the family business, Luca sets out to prove himself by opening an eco-friendly gift-wrapping store in a small town with a hard-on for Christmas that's about as far from LA as he can get. Out of his comfort zone in snowy Maine, love is the last thing on his mind. But the magic of the season has other ideas. As Mal and Luca collide on wintery streets, will they let their first Christmas in Lighthouse Bay lead to happily ever after?
A Gift-Wrapped Holiday
Pairing: M-M
November 22, 2022
Word Count:
30000
Character Identities:
Gay, Transgender
Summary: Steffen is embarrassed about the top surgery scars bisecting his chest but wants to gain muscle. So why not lift in the middle of the night when the gym is empty? That's the plan, at least until a friendly, muscled gym bro, Ryan, shows up night after night, giving him training tips and advice. For Ryan, lifting weights started as a way to wind down from his mentally-taxing job. Now it's practically his religion and he spends more time at the gym than his house. Training Steffen is a great excuse to avoid going home. Not that he has anyone to go home to. A friendly wager between them sparks something more. But can each man bulk their heart up enough to embrace love? This 30,000 word novella is a low-stakes steamy M/M romance with a trans masc main character and a happily ever after. Each book in the T-Guides series stands alone and they can be read in any order.
A Gym Rat's Guide to Love
Pairing: M-M
October 1, 2021
Word Count:
86611
Character Identities:
Bisexual, Demisexual, Gay, Transgender
Summary: Prince Edmund of Thalassa and Prince Arden of Aither are eagerly anticipating their upcoming wedding, but the danger to their kingdom hasn't lessened. They have a plan, but they won't be able to carry it out alone: they need a strong wielder of each Element, whom they can trust implicitly, to carry out the magic. Rhys is a commoner and wielder of Earth magic. He and his sister have made a living from the use of their magic for years and have become highly respected in scholarly circles, though he prefers a more simple life with his plants. When a message from Prince Arden reaches them asking for their help, they don't hesitate. They stop only to request that Gaz, a strong Fire wielder and the man Rhys has long been enamored of, accompany them on the journey to Thalassa's royal palace. What no one knows is that Gaz was once known as Prince Gareth of Thalassa and is Edmund's younger brother, long believed dead. He fled his home after his Fire Affinity made itself known and put him in danger, and he had no intention of ever going back. But he can't keep himself from going to his brother's aid, despite the risk of discovery and of the weight of his secrets potentially crushing his fledgling relationship with Rhys. Working against time, they must find a way to come together in a magical working the likes of which none of them has ever imagined, or their homelands will surely burn.
A Harmony of Fire and Earth
Pairing: M-M
March 11, 2019