Word Count:
85788
Character Identities:
Bisexual, Pansexual
Summary: Kris Starr used to be famous. Rock and roll. Sold-out shows. Literal magic. Empathic talents and screaming fans. But he has a problem or two. He's having a hard time writing new music. It's Midwinter, which means he's surrounded by depressing holiday cheer. And he's in love with Justin, his manager, who has a talent for rescuing almost- or once-famous bands ... and who's hiding secrets of his own. Justin Moore, on the other hand, is very good at keeping those secrets -- he's had to be for years. One secret involves a demonic inheritance that would make him a target of suspicion. Another involves his past. And the third involves Justin's feelings for Kris Starr, rock and roll icon and now his client ... and a powerful empath.
A Demon for Midwinter
Pairing: M-M
March 10, 2018
Word Count:
48000
Character Identities:
Gay
Summary: Deep love, hot kink. Secrets call for a shot of trust when true danger lurks in LA's hidden places. __________ Brian Harrison wants to keep everyone safe -- especially his beloved sub, Jackie Vasquez -- and he's convinced the only way to do that is to dig ever deeper in a forbidden investigation. Keeping his activities secret from the State Department means keeping them from his own boss, Luki Vasquez, and keeping secrets from Luki means Jackie can't know either. Meanwhile, Jackie keeps his own secrets as his kind heart and indomitable spirit drive him to find and help a mysterious homeless woman, who may be connected to a kidnapping. Both men dance around dangers lurking in LA's hidden places. Love continues to grow, adventurous kink heats up, and a marriage proposal still hangs in the balance. Can a willing shot of trust keep them together and alive when secrets collide?
A Shot of Trust
Pairing: M-M
April 24, 2020
Word Count:
41591
Character Identities:
Gay
Summary: Opposites attract when the timid bar owner asks out the resident bad boy. Brad Flynn's reputation doesn't change just because he has. Prison might not have been fun, but he'd made the most of it. Since his release, he's tried to make the most out of his freedom as well. His handyperson business is taking off, but his clientele is in the nearby towns. When local bar owner, Kendrick Ashby, calls him to fix a leaky roof, he doesn't expect the attraction he feels to go anywhere. Kendrick's violent past doesn't make asking him out on a date a simple task. Can Brad be brave enough to start over?
A Tarnished Strength
Pairing: M-M
February 26, 2021
Word Count:
51000
Character Identities:
Bisexual, Gay
Summary:
Can a night of passion lead to a happily ever after?
Yakuza captain Hayato's life is a mess. His boyfriend broke up with him, changed the locks, and kept all his stuff. He can't crash at his brother's because his girlfriend is moving in. And just when Hayato thinks things can't get worse, he accidentally gets blackout drunk and wakes up in the arms of a clingy underling.
Masuo believes he and his boss made a deep connection, but when he's blown off the next morning, he feels lied to. Assigned to run a failing pachinko parlor, Masuo is determined to turn it around to prove himself to everyone…especially his sexy superior.
When Hayato realizes he's falling for the young parlor manager, he is more than ready for fun. But as Hayato's tragic past comes back to haunt him, Masuo wonders if he's ready to carry all Hayato's baggage.
Can the unlikely pair learn to accept each other and find their way to happiness even while new challenges arise, or is their love destined to fall like balls through a pachinko machine?
Buy Addicted to Lust to find love in crime today!
Addicted to Lust
Pairing: M-M
September 1, 2021
Word Count:
105,980
Character Identities:
Bisexual, Gay, Genderfluid, Questioning
Summary: Olympic-size dreams come at a price. Openly gay college swimmer Ian Harrington feels like he's fighting against a current of tragedy. He's grieving the loss of his parents and best friend, and now he's dealing with a toxic coach and judgmental brother. But he won't let that stop him from chasing his dream: Olympic gold. Ricky Chavez has just about everything he wants in life: a great career, a supportive family, and a side gig as drag queen Rosie Riveting. The only thing he's missing is a partner to share it all with. When the two men connect after Rosie's performance, they're immediately drawn to one another. But it's never that simple. Ricky isn't the type of man to hide, and with Ian's coach breathing down his neck, he can't openly love a drag queen without making waves. They'll have to brave deep waters to make it to the finish line.
Advance & Retreat: The Midwest Series Book 4 - Ian & Ricky)
Pairing: M-M
July 14, 2020
Word Count:
117000
Character Identities:
Bisexual, Gay
Summary:
Brent Weyland was the life of the party until an injury ended his hockey career. Now he's retreated alone to a lakefront house, trying to make sense of a life and body that don't feel like his anymore. Jon Norquist was happily married right up until he wasn't. Now a single father in his forties, he's trying to figure out what comes next. In the meantime, he pours his heartache and regret into the lyrics he sings for the wine bar crowd a couple of nights a week. When a friend coaxes Brent out for a night of wine and music, he puts Brent and Jon on a collision course. Their chemistry is instantaneous. Jon gives Brent's battered body a much-needed remedial lesson in pleasure. And Brent gives Jon a reason to smile again. Multiple reasons, actually. Neither man wants anything serious, but love has a habit of showing up whether it's welcome or not. No matter how hard they try, the two can't help having feelings for each other, even as life continues to throw them curveballs. But they've both got baggage to unpack and hurt to move past, and if they can't leave their pasts in the past, they might just miss out on an amazing future.
Aftermath
Pairing: M-M
March 29, 2021
Word Count:
61725
Character Identities:
Bisexual, Gay
Summary: Just when Trevor accepts being bisexual, his life is turned upside down when he discovers he's a new dad. Two years after Peter lost his fiancée, he's convinced love isn't in his future. At least until sexy new father Trevor and his very opinionated infant son step into his life. As their relationship begins to blossom and grow, the baby's disapproving grandparents decide to intervene. Will Trevor and Peter have the strength to overcome the obstacles they face to have another chance with love?
Another Chance With Love
Pairing: M-M
July 31, 2020
Word Count:
110000
Character Identities:
Gay
Summary: Welcome to another place in time...where one can be swept away into lands and eras long forgotten. This collection of short stories was birthed because a sworn "I don't like historicals" reader fell in love with what have become some of her favorite books by most of her favorite writers. Surprisingly, they were all historicals. Determined to make others feel the love, these authors were asked to contribute small tastes of how amazing historical storytelling can be. Along with a foreword written by Alex Beecroft, enjoy these original short stories that make up "Another Place in Time". Office Romance by Tamara Allen The post-war economy is at a standstill, much like Foster Wetherly's life until he's forced to do battle with irritatingly confident—and competent—fellow ex-doughboy Casey Gladwin for a position in their shrinking department at Manhattan Security Mutual. Introducing Mr. Winterbourne by Joanna Chambers Lysander Winterbourne appears to lead a charmed life. Handsome, amiable, and a renowned sportsman, he is the darling of London society. As far as Adam Freeman is concerned though, Lysander is just another spoiled aristocrat. A wealthy mill owner, Adam has no time for the frivolous world of the ton, but when his younger brother becomes engaged to Althea Winterbourne, he reluctantly agrees to be introduced to society–with the Winterbourne clan's golden boy as his guide. Resigning himself to a few days of boredom, Adam is surprised to learn that there is much more to Lysander than his perfect surface. But will Adam have the courage to introduce Lysander Winterbourne to his own secret self? The Ruin of Gabriel Ashleigh by KJ Charles Lord Gabriel Ashleigh is a ruined man. Last night he lost everything at the card tables to his brother's worst enemy, notorious gambler Francis Webster. Tonight, he's going back for one more game. Ash thinks he has nothing left to lose. But Francis sets the stakes, and they're higher than Ash could have imagined… Two Regency bucks. One game of cards. Everything to play for. Unfair in Love and War by Kaje Harper Many men lost brothers overseas in the summer of 1944. Warren Burch was one of them. For months he still clung to his big city life in Philadelphia, but finally he's made the difficult choice to return to his home town. Warren's polio-stricken leg won't let him serve, so the least he can do is be there for his mother, when brother Charlie never again will. Arriving home means a whole new life, constrained by the rhythms and prejudices of a small town. Fortunately, it's made more interesting by the mysterious and attractive young man next door. Carousel by Jordan L. Hawk When a child goes missing, is it a simple case of a young runaway, or are more sinister forces at work? "Carousel" is part of the Whyborne & Griffin series and takes place between the events of Stormhaven and Necropolis. It can be read as a standalone. Deliverance by Aleksandr Voinov This is a re-vamped, re-edited, improved version of "Deliverance". It's about William Raven, a templar, who thought he'd escaped his past. (Same character as in "The Lion of Kent".)
Another Place in Time
Pairing: M-M
October 1, 2014
Word Count:
44945
Character Identities:
Gay
Summary: Eos is after her wings and Kenner's mate, Como, holds the key to finding them. Como brings his dreams to life on canvas. His art has mentally protected him most of his life and now Kenner wants to take over that job. How can Como open up and explain everything to his mate when he doesn't understand most of it himself? Como knows he must try, but fear has always ruled him and right now he's fearing he might lose Kenner before he could even claim him. Kenner knew Como was a gifted artist. However, he also knew he had hidden secrets that if not told could mean both their lives. Kenner needed to gain Como's trust before it was too late because if Eos got her hands on those wings it would mean the lives of all Shifters on Haven and around the world.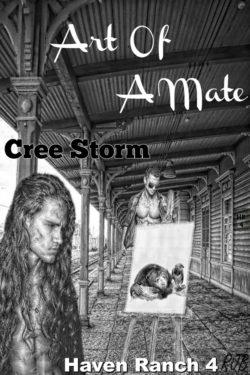 Art of a Mate
Pairing: M-M
July 11, 2018
Word Count:
98500
Character Identities:
Gay
Summary: The tall pines, the thick mist, the birdsong above his head...Barrett loves everything about living outside the remote mountain town of Lake Honor, but especially the peace and quiet. His days as a forest ranger are filled with unpredictable adventure, so home is the one place he knows he can count on. But even home has been a surprise of late, as his next door neighbor and good friend has suddenly passed away, and the house has been sold to someone new. He's not sure this change will be good. When the new neighbor, Ambrose, arrives, Barrett realizes that the man is a loner, like himself, and clearly not looking for a friend. Which is a pity, because Barrett finds him fascinating and incredibly good looking. Ambrose didn't move to the outskirts of nowhere to make a friend. But Barrett, his new neighbor, is kind and generous, and has soft brown eyes he can't stop thinking about. As he slowly warms up to Barrett, fate finds a way to push them together when danger and sabotage strike. Barrett saves Ambrose's life, and their bond is cemented. Ambrose isn't sure about letting in someone new, but Barrett hasn't proven to be anything but a good person. And a handsome one at that. As their lives entangle, and their relationship grows, neither man can ignore the attraction between them. But their pasts are complicated; an ex-boyfriend reappears, an estranged parent tries to get in contact, and Barrett's nephew falls ill. On top of that, the sabotage of forest ranger equipment grows more dangerous and Barrett is pulled into the investigation. Both men want to take their relationship slow, even with all the drama swirling around them. Ask Me For Fire is a love story drenched in atmosphere, suspense, and heartfelt connections. Tropes: forced proximity, slow burn, grouchy loners Content warnings: explicit sex; some violence and danger (mostly minimal and/or off-screen); mental health issues including anxiety and depression; abusive and manipulative family; neglectful family and past relationships
Ask Me For Fire
Pairing: M-M
September 1, 2022
Word Count:
62,000
Character Identities:
Gay
Summary: Tal finally had it all…until the man he loved abandoned him. Once, Tal Oryan was an elite warrior, fighting for the kingdom at the side of the powerful general who loved him. Then Tal loses everything in a haze of pain and betrayal after his hand is severed in battle. Now labeled a "cripple" and cast out from the warrior life he's known for so long, he has no choice but to return to his past, a place of horror and guilt. He can no longer stay in the capital after High General Ramidine Swal, the man who once claimed him, never shows up after Tal is wounded. Worst of all, the priceless sword Ramidine once gifted to Tal is gone. Now Tal struggles to find a new purpose as the traumatic events in his past demand the most brutal of sacrifices… Ramidine Swal is known as The Golden General, feared, revered, and the right-hand man to the prince. But when he returns from a desperate victory to Tal, the wounded warrior he was forced to leave behind, he discovers that Tal has fled the capital. Ramidine soon learns of a twisted cover-up and a betrayal so dark it threatens not only the future peace but the very man he loves. Ramidine is not a man to be stolen from, and certainly not someone so precious as Tal. He is determined to find Tal and set things right, no matter the distance and no matter the cost. Tal will be his again.
Atone
Pairing: M-M
June 10, 2022
Word Count:
121000
Character Identities:
Gay
Summary: A child's memory. A journey's end. Lance doesn't remember the time before Ulfr found him. It's a dark pit in his mind that he avoids at all costs. And yet, despite his best efforts, pieces start to fall, and echoes from the past begin to ring. However, he has little time to comprehend their meaning, since the Captain of the Imperial Army herself has come to collect him and bring him to the capital city of the Nifdem Empire. Whisked away to the gilded streets and glittering court of the Hill of Tarran, and then to the snowy reaches of Swenen, Lance and Gust will learn the answers to questions they've had from the start. And be forced to acknowledge their roles in the survival of the empire and the ripple effects of their actions. But such knowledge can come at a steep price. As allies and enemies begin to step from the shadows, Lance will learn the truth of his past and the price of his redemption, and all the pain that comes with them. While Gust will have to decide what he's willing to sacrifice to safeguard the one he loves.
Avenging Lance
SALE
Pairing: M-M
September 29, 2020
Word Count:
78000
Character Identities:
Ace, Demisexual, Gay, Pansexual, Polyamorous
Summary: In the final installment in the SoulShares series, author Rory Ni Coileain weaves together the myriad threads of this compelling paranormal romance in a climax that crosses time and space. Sometimes Fae love stories aren't what you expect. The Marfach—devourer of magick, long-imprisoned mortal enemy of the Fae race—is free of its Antarctic prison. The Demesne of Purgatory—Fae, humans, a Fade-hound puppy, a Gille Dubh, and a darag—is all that stands between the monster and the power it needs to destroy both the Fae Realm and the human world. The only clue they have as to how to kill the unkillable is a cryptic note from the Loremasters: "Osclór, Nartú; Tobar, Soladán; Nidantór, Breathea; Glanadorh, Coromór, Farthor; Scian-omprór, Nachangalte; Crangaol, Síofra; Gastiór, Laoc, Caomhnór; Fánadh, Ngarradh." Opener, Strength; Wellspring, Channel; Unmaker, Judge; Cleanser, Equalizer, Sentry; Blade-bearer, Unbound; Tree-kin, Changeling; Binder, Warrior, Guardian; Wanderer, Sundered. As they rebuild Purgatory from the rubble the Marfach left behind, they have to stand together, using everything they know—everything they are to their partners, lovers, husbands. Everything SoulSharing has made them. And not everyone who enters the final battle will leave it.
Back Door Into Purgatory
Pairing: M-M, M-M-M
October 2, 2019
Word Count:
95000
Character Identities:
Gay
Summary: It's good to be the Boss. That's what I thought my whole life. Now I am the Boss. I'll shoulder that responsibility with my beloved husband beside me. As long as I have Finch, I can handle whatever life throws at me. But what they say is true: Be careful what you wish for. My Family has been decimated. My allies are few. I'm holding onto power by a thread. And the truth is, my husband is more vulnerable than ever. He's always been a lost soul, and now he's suffered yet another crushing loss. I can't protect him from Fate's cruel blows. But I'm determined to protect him from our enemies, no matter what it takes—as soon as I get my own house in order. Because I'm starting to wonder if there's a traitor in the Morelli Family… If I can't even trust my own men, how can I keep my beloved safe?
Beloved by the Boss
Pairing: M-M
August 26, 2020
Word Count:
25000
Character Identities:
Gay
Summary: From the outside looking in, John leads a boring life by day as a professor at a small liberal arts school in San Francisco. His nights are saucy, sinful even, when he services clients as a sex worker. He's damned good at it, too, for reasons far surpassing simple technique, whether he's entertaining super-hunky coeds or fulfilling the fantasies of married men on the down-low. Because John has a secret. It's not that he's thirty-five and feeling washed-up or that he's got a crush on one of his clients. His secret could be he's buried his rural, Southern roots, or that Paul, his first lover and preacher from back home, still preoccupies his thoughts. Maybe it's the terrors he faced in conversion therapy as a teenager…but it's none of those things. John's secret is the Fountain, a mysterious well of energy within him he cannot control. Paul knows about the Fountain. So do John's parents. Despite their best efforts to protect their dogma, it will all come out now that Paul has called John home to Georgia. To Bethesda.
Bethesda
Pairing: M-M
November 5, 2019
Word Count:
60000
Character Identities:
Gay
Summary: Sonny Lakes is as lost as a person can be. After being discharged from the US Army following a traumatic event, he's sent home, where unbearable nightmares and deep despair lead him to attempt to take his own life, a choice that puts him on the path to a new home in a new town where no one knows him. But as Sonny tries to settle in, mysterious vandalism and harassment begin to take over his life, destroying the anonymity he craves. Abe Ellis has lived his whole life in Sweetshade, Texas, and that kind of loyalty lends itself well to being a small-town cop. His quiet life changes when a handsome newcomer moves into town and unlikely events begin to unfold. As Abe and his partner Nate begin looking into the crimes, Nate grows increasingly suspicious of the stranger with no history, no enemies, and few friends, to whom Abe is so drawn. Can Sonny's faith in himself be restored in time to find the love and stability he seeks? Can Abe count on his instincts and trust the young man with his safety and his heart? Sweetshade is a small town, as calm and inviting as the name suggests. But even places like that can hide sinister secrets and dangerous threats. Warning: PTSD, suicide attempt
Blind Faith
Pairing: M-M
January 1, 2020
Word Count:
44764
Character Identities:
Gay
Summary: Nothing in life comes for free....Rey had never felt as if he fit in anywhere. Even learning he had two brothers didn't really change that. However, having Dustin and Winter brought into his life helped ease his loneliness. The day Rey was told that these two men were his life mates was scary, yet amazing. Finally he would not have to go through life only able to count on himself...he would have his hippo and shark shifter mates to help him every step of the way....but it would definitely come at a cost. Dustin hurt for his mate. He knew the little red panda shifter was sad and felt like an outcast in Haven. That couldn't be further from the truth, but he didn't know how to help him through it. Going to Winter, the two men came up with a plan. However soon that plan was put on hold. They had all been warned that it was up to them to help save the paranormal/shifter world. However, being forced to go to the one Island no one ever entered, was not something any of them had planned out or thought through. It was just a fact that there was no choice if their destiny was to be fulfilled. The question was would they even make it to the Island alive and even if they did, would they live to tell about it.
Blue Rey
Pairing: M-M-M
January 17, 2017
Word Count:
60000
Character Identities:
Gay
Summary: Standoffish Aiden is content keeping people at a distance and ensuring his boundaries are impenetrable. There's safety in not opening up, but there's also a loneliness he doesn't realise exists until he meets Riley, a new member of the LGBTQIA+ adventure group Outback Boys. Fascinated by the new guy, Aiden is quick to discover his flirtation skills are rusty and his sweet-talking is cringeworthy. But sweet and clumsy Riley doesn't seem to mind so much. Even though Riley doesn't quite know how to handle Aiden's intensity, he's willing to step out of his comfort zone and see how their tentative friendship unravels. Between a surf lesson that resembles a kangaroo on acid and paddle boarding that is trickier than walking a tightrope, Aiden and Riley discover love may be a possibility after all. Happiness relies on honesty and openness, though. And with both men holding on tightly to past struggles, their future together is at risk. Can the two Aussies bounce back and heal themselves and each other, or are some wounds too raw to recover from? Outback Boys is a sweet and sexy M/M romance series complete with bruised butts, rope burn, and overworked muscles… all in the pursuit of adventure, of course!
Trigger Warning: Contains themes (discussions) of mental illness and suicide.
Bounce
Pairing: M-M
March 27, 2021
Word Count:
102700
Character Identities:
Bisexual, Lesbian, Questioning, Pansexual, Polyamorous, Straight
Summary: I never wanted to be queen. But I won't let just anyone take my place. Or my men. To defeat the Unseelie, our allies need their long-lost magic, and that means someone has to become queen. I had to leave both of my lovers behind in the human realm, and I can't return to them until I find someone worthy of the throne. Of course, nothing is ever easy, and I embark on a desperate plan to save the Fae by helping my fellow heir. Along the way, I'm drawn to another potential lover, even though we both know he should be off-limits. To become queen, Una needs one final consort, and she chooses one of my handsome, powerful guards. Suddenly, I'm not willing to surrender him. But who am I to stand in the way of our future queen? Note: 18+ only. In the six-book Our Fae Queen series, Glori will find limitless love with multiple Fae. Steamy group scenes in later books involve MFM, FMM, and MMFMMM. All intimate encounters are consensual. Mayhem. Magic. Romance. Expect unusual shapeshifters, new love and friendships, surprising betrayal, and two uncertain heirs finding their way in Bound to the Queen, the exciting third book of this new adult Why Choose romance and a turning point for Glori.
Bound to the Queen
Pairing: M-M-F, 4+ or Other
July 30, 2021
Word Count:
212000
Character Identities:
Ace, Bisexual, Gay, Straight, Transgender
Summary:
On the Right Track
A scandal tore apart the boy band, Vocal Growth, leaving Ru in disgrace. Hiding out in a midwestern suburb, he comes face-to-face with a high school student he hopes can look beyond his past. Can a former pop star find romance with the boy next door? ♥♥♥♥
Unicorns and Rainbow Sprinkles
Dane joined a boy band to escape a rough childhood, only to have it all fall apart when the band broke up. When he lapses into the depths of his eating disorder, fellow bandmate, Tommy, sends a friend to help, filling Dane's life with glitter, sprinkles, and unicorn magic. Will Dane's unwanted guest become his savior? ♥♥♥♥
Tommy's Song
The band fell apart and everyone turned to Tommy, but when he caves to the pressures of celebrity life, who will save him? Lost in the depths of alcoholism and drug addiction, Tommy finds his friends hurt and distant, his family at war amongst themselves, and himself locked away in a rehab facility. His biggest supporter is a girl he barely remembers, who hides a few secrets of her own. Can Tommy work through his past to find a future?
(This novella has never before been released!)
♥♥♥♥
Double Exposure
Tory spends his life snapping pictures, hiding behind the lens, and trying to see the world like everyone else. Autistic and with a strong dislike for being touched, he is surprised when a boy he admires kisses him. Confused by the feelings, Tory is launched into the chance to step out from behind the camera, explore who he is, and find love and acceptance.
Note: Stories feature teens in love with boy band stars or other teen celebrities and real life issues. Sweet romance, teen romance, LGBTQIA+ on the spectrum for teen readers. Novels are re-edited and expanded, previously published under the pen name Sam Kadence. See the look inside for possible content triggers.
Boys Next Door
Pairing: M-M
November 24, 2021