Word Count:
63000
Character Identities:
Gay
Summary: Does Fate Grant Wishes? Ryan O'Shaughnessy, owner of the Top o' the Morning Coffeehouse, is convinced of it. Besides brewing the best coffee in Rothcote and baking delicious pastries and cakes, he helps Fate with her errands, never minding that it's always someone else's turn to catch a bit of happiness. Not until he meets a man who takes his breath away. Detective Sergeant Ben Hobart has made a career of helping others. He never asks help for himself. Not even when a bad breakup leaves him with only his cat for company. Until he sets foot into Ryan's coffeehouse to investigate a break-in and finds what's missing from his life. Fate may grant wishes, but she doesn't hand them out for free. Can Ben let go of the past? And will Ryan find the courage to make a wish of his own? A sweet, sexy mm coffeeshop romance with a touch of magic and a cat.
A Box of Wishes
Pairing: M-M
October 20, 2022
Word Count:
11428
Character Identities:
Gay
Summary: In 1805, Charles Denham's comfortable life in Regency London with his long-term partner Avery Mallory is disrupted by the sudden death of his father. As the heir to a modest country estate in Gloucestershire, Charles returns home to care for his bereaved family and take up his new responsibilities. Overwhelmed with grief, rather than leaning on Avery, Charles rejects his love and becomes fixed on the idea of taking a wife for reasons of family duty alone. With this plan in mind, during early winter, he travels the short distance to Bath only to find that Avery and his family have already arrived at the resort. Will Charles follow through with his ill-conceived plan for a hasty betrothal by Christmas? Or will he come to his senses and resume his relationship with the nicest man in England? 
A Christmas Engagement
SALE
Pairing: M-M
December 24, 2022
Word Count:
71000
Character Identities:
Gay
Summary: Berlin 1933: When the parties stop...the dying begins The city that's been a beacon of liberation during the 1920s is about to become a city of deadly oppression. BBC foreign correspondent Simon Sampson risks his life in a bid to save thousands of gay men from the growing Nazi threat. This is the second in the Simon Sampson mystery series. The first, A Death in Bloomsbury, was hailed as 'a good old-fashioned John Buchan-esque mystery reworked for the twenty-first century'. Simon moves to Berlin where he meets British author Christopher Isherwood and his lover Heinz. He's also reunited with his banter-partner Florence Miles, better known to her friends as Bill. She's recruited him into the British intelligence services and he's got the task of hunting down communist spies. But when Simon is ordered to spy on an old college friend, his loyalties are brought into question. Who are his real enemies? And how much can he trust his masters?
A Death in Berlin
Pairing: M-M
September 28, 2022
Word Count:
311000
Character Identities:
Gay, Lesbian
Summary: Everyone has secrets… but some are fatal. 1932, London. Late one December night Simon Sampson stumbles across the body of a woman in an alleyway. Her death is linked to a plot by right-wing extremists to assassinate the King on Christmas Day. Simon resolves to do his patriotic duty and unmask the traitors. But Simon Sampson lives a double life. Not only is he a highly respected BBC radio announcer, but he's also a man who loves men, and as such must live a secret life. His investigation risks revealing his other life and with that imprisonment under Britain's draconian homophobic laws of the time. He faces a stark choice: his loyalty to the King or his freedom. This is the first in a new series from award-winning author David C. Dawson. A richly atmospheric novel set in the shadowy world of 1930s London, where secrets are commonplace, and no one is quite who they seem.
A Death in Bloomsbury
Pairing: F-F, M-M
November 10, 2021
Word Count: Information not available
Character Identities:
Gay
Summary: A Switched at Birth Romance  Tristan was devastated when his sister died. His only consolation was her newborn daughter. He promised to take care of her like she was his own, but he's broken that promise. After growing up in foster care, Nathaniel's finally built the life he's always wanted. Now one case of human error could tear it all apart. An unthinkable mistake that could never be rectified. Two men. Absolute strangers until tragedy and unforeseen circumstances bind them together. They must now find a way to co-parent and make the best of a bad situation. With no shared history to help them and two little girls caught in the middle, they now have no choice but to make it work. What could possibly go wrong? Can two men put their differences aside for the sake of their children? They both have difficult choices to make, or what they love most will be taken away. Are there bonds stronger than blood?
A Family For Keeps (Stories Of Us Book 1)
Pairing: M-M
August 12, 2018
Word Count:
110000
Character Identities:
Gay
Summary: XAVIER Former Navy SEAL Xavier Thierry knows he is good at his job… protect the client. You do the job but never get too close—that's his motto. When the friend he owes for saving his life asks for a favor, he doesn't hesitate to say yes, no questions asked. But babysitting some pampered brat is nowhere on his to-do list. Until he first lays eyes on him… Cris. And he's nothing like Xav expected. He wasn't sure when this man stopped being a job, but the rules blur once Cris ends up in his arms. How can Xavier let him go when he's the only one who chases away the darkness? CRIS Cris Whitcomb thought he finally found his happily ever after… But the fairytale soon became a nightmare, one that left him with only one choice—to push away those he loves to protect them. His chosen family refuses to be pushed away. Their solution, call in someone trusted to watch over and protect him… Xavier. But what happens when your future walks in on the worst day of your life? Maybe sometimes you have to go through the bad to get the best... One who knows the pain of loneliness, another haunted by memories he can't run away from... Maybe they are exactly what each other needs… TRIGGER WARNING: This book contains scenes of domestic violence in flashbacks.
A Family Of His Own
Pairing: M-M
July 28, 2019
Word Count:
70000
Character Identities:
Gay
Summary: Tom Morton is a gay Catholic parish priest in a northern English town. Tom's closeted life is turned upside down when the man he fell in love with comes back into his life. Caught between duty and desire, Tom finds himself confronting the powerful Bishop, Derek Worrell—a dark figure from Tom's past, and the man who has pledged to rid the Church of its troublesome gay clergy.
A Particular Friendship
Pairing: M-M
November 28, 2021
Word Count:
23K
Character Identities:
Lesbian
Summary: Environmental science student Creena Arbre likes warm baths and fluffy slippers. Oh, and she also wants to save the planet. When a once-in-a-lifetime job on a tropical island comes up, she eagerly packs her parrot flip-flops and sets off. Expecting cocktails with tiny umbrellas and singing at dawn, Creena isn't at all prepared to be stranded in the middle of the ocean on an island supposedly haunted by tree spirits! During her time on the island, Creena finds hidden strengths she didn't know she possessed, and unusual ways of making friends. She even makes a scientific discovery about trees the world would love to know. If she feels a little chilly at night, that's only to be expected—everyone wants someone to snuggle with at the end of the day. And if she starts talking to the turtles, it's no different than any pet owner—right? Despite Creena's strength and resilience, the cracks start to show. Right on cue, redhead Gelly Grint zooms in on a rescue boat, bringing the promise of home, food, and everything Creena has missed. They soon get acquainted, and the island starts to look like a lover's paradise. What of Creena's research? Can she do what she came for? Some promises can never be broken.
A Pinky Promise
Pairing: F-F
June 2, 2022
Word Count:
51000
Character Identities:
Bisexual, Gay
Summary: Opposites attract and when the macho construction worker meets the sexy guy from the supermarket it changes both their lives. Kevin is bisexual. He knows the truth: He's had girlfriends and craves experience with men. He'd never tell anyone his sexy or romantic fantasies. And could never imagine coming out to his dad or his mates. They are all blue-collar workers like him. He's a super romantic and sweet guy who just hadn't found anyone to fall in love with until... Opposites attract. Out, loud, and proud: Perry is at a stage in his life when he doesn't need a boyfriend just casual fun. He avoids hookup apps. Luckily, there are plenty of other ways to meet guys. Some of those are not things you'd admit to your coworkers in the supermarket. When you don't want a boyfriend, fate will send along the perfect candidate. Sometimes several to choose from. This time lady luck has sent a couple of guys for Perry to choose from: Kevin and Kevin's brother. Unlikely circumstances bring Kevin and Perry together. The chemistry between them inevitable means they can't keep their clothes on. And they must make physical connections involving hands and mouths. There is a great deal of kissing and man loving man in this story. No cheating and a happy ending. Kevin & Perry's story is another low angst, feel-good, gay romance in the Sky High Scaffolders (Our Secret Wedding) series. A first-time gay romance. *** This can be read as a standalone title. *** Audiobook available 51,000 words of sexy, feel-good romance.
A Secret Boyfriend
Pairing: M-M
Word Count:
44,000
Character Identities:
Gay
Summary: ometimes loves shines a light. Devlyn Collins lives with his mum and stepdad in the north of England. He goes out with his mates, drinks a bit too much and works for his Uncle Sid. The trouble is, he's begun to think he wants more. Henry Ward is a man with a secret—he's a multi-millionaire who owns a landed estate on the edge of Exmoor, thanks to a massive win on the lottery. He's also a man with a mission, determined to restore Secoombe Hall and village and find out how he shares a history with the place. He's too busy for love. Christmas brings these two men together when Henry offers Sid and Dev silly money for a last-minute job of putting up Christmas lights. Dev doesn't expect to meet an attractive man in this small village and Henry expects them to be just strangers, passing for one night only. But events conspire to bring Dev back to the village…and keep him there for Christmas. Will this be just a holiday romance, or could it develop into something more?
A String of Lights
Pairing: M-M
December 8, 2020
Word Count:
11930
Character Identities:
Gay
Summary: Kenneth Taylor has bright plans for a future as an engineer. In the summer of 1957, as soon as he returns home to Bristol from two years of National Service in the Royal Signals, a furious row with his dad means he's thrown out of the house, and his prospects are in jeopardy. He finds lodgings in the hilltop, bomb-damaged suburb of Kingsdown, determined to be independent and juggling night school with his humdrum day job. He soon meets Gino, the good-looking son of a local café owner and is thrilled when the attraction proves to be mutual. As their romance blooms, Kenneth finds unexpected encouragement from an apparition in the mirror who inhabited the house in the late 18th century. When the ghostly vision of Kit also appears to Kenneth in his dreams, it seems they have much in common when Kit reveals his dilemma at a similar age, concerning his growing attachment to a young man, Ned. Past and present intermingle as Kenneth faces parallel and difficult decisions. But can he trust Kit? Or is it all merely a trick of the light?
A Trick of the Light
Pairing: M-M
October 1, 2022
Word Count:
56000
Character Identities:
Lesbian
Summary: New Hopeland was built to be the centre of the technological age, but like everywhere else, it has its dark side. Assassins, drug dealers and crooked businessmen form a vital part of the city's make-up, and sometimes, the police are in too deep themselves to be effective. But hey, there are always other options … For P.I. Cassie Tam, business has been slow. So, when she's hired to investigate the death of a local VR addict named Eddie Redwood, she thinks it'll be easy money. All she has to do is prove to the deceased's sister Lori that the local P.D. were right to call it an accidental overdose. The more she digs though, the more things don't seem to sit right, and soon, Cassie finds herself knee deep in a murder investigation. But that's just the start of her problems. When the case forces Cassie to make contact with her drug dealing ex-girlfriend, Charlie Goldman, she's left with a whole lot of long buried personal issues to deal with. Then there's her client. Lori Redwood is a Tech Shifter, someone who uses a metal exoskeleton to roleplay as an animal. Cassie isn't one to judge, but the Tech Shifting community has always left her a bit nervous. That wouldn't be a problem if Lori wasn't fast becoming the first person that she's been genuinely attracted to since splitting with Charlie. Oh, and then there's the small matter of the police wanting her to back off the case. Easy money, huh? Yeah, right.
Honorable Mention: Rainbow Awards 2017 - Lesbian Sci-Fi Category
Addict
Pairing: F-F
May 8, 2017
Word Count:
105000
Character Identities:
Gay
Summary:
The Larkspur Mysteries Book 3
"Despite your adversities, Mr Blaze, you remain unbroken because of who you are, not what you can or cannot do."
Mrs Norwood, October 1890
Shakespeare, the Bible, Edgar Allan Poe… What could a series of random quotes have to do with a masked ball and eight unsolved murders? Archer, Lord Clearwater, is hosting a masquerade at Larkspur Hall, and Prince Albert Victor is the guest of honour. The vitally important event is miles away from London, where Jimmy Wright has enlisted the help of Dalston Blaze and Joe Tanner in solving two mysteries: Who has been sending Archer cryptic notes, and who has murdered eight men on Bodmin Moor? Dalston finds himself the only one who can solve both riddles, but self-doubt, his concerns for Joe, and his newly found admiration for Jimmy Wright are obstacles he must overcome if he is to prevent Lord Clearwater's downfall. But what if the killer isn't after His Lordship? What if the plan is to assassinate the prince? Or worse, someone much closer to Dalston's heart? Agents of the Truth is the third novel in
The Larkspur Mysteries
, and the stories are best read in order. The Larkspur Mysteries follow on from
The Clearwater Mysteries series
, and both feature gay main characters, and are set at a time when homosexuality was illegal. They are a combination of MM/romance, mystery and bromance, and are inspired by historical fact.
Agents of the Truth
Pairing: M-M
February 2, 2022
Word Count:
18000
Character Identities:
Bisexual, Pansexual
Summary: Alfie Adams comes at life sideways. After unexpectedly losing his job in television, and having the script he's worked so hard on unceremoniously dropped, Alfie turns up at his oldest friend, Jam's, birthday party drunk, pretty sure his world has ended, and that he's about to hit rock bottom with a bone-cracking thud. But it's funny how Jam's little brother, Benji, seems to know exactly what Alfie needs. For the past twelve months Alfie has thrown himself into his job and tried hard not to think about beautiful punk-loving Benji—tried not to see how the sweet kid he used to look out for, and who used to trail so adoringly after him, has grown up into a big lad with an even bigger heart. As Alfie sobers up, he begins to see things with a new perspective, and Benji has his full attention. If only Alfie can admit what it is he wants.
Alfie Adams Comes At Life Sideways
Pairing: M-M
October 4, 2019
Word Count:
30500
Character Identities:
Gay
Summary: Caleb has been cursed for two hundred years. He is doomed to watch every man he has sex with forget him as soon as they part company. Each of his lovers then meets their true love within hours of leaving his presence. As rumours about his strange ability spread, more and more men come to his bed, hoping to find love—just not with him. When Ethan's best friend makes him an appointment with the mysterious Caleb, Ethan is sceptical but curious. Despite a shaky start, Ethan and Caleb connect sexually and emotionally then soon begin to wonder if Ethan has the power to break the curse by being the only one to remember Caleb after he leaves. Whether Ethan remembers Caleb or not, with a warlock standing between them, the road to happiness is going to be tough.
Always Forgotten
Pairing: M-M
May 23, 2019
Word Count:
67000
Character Identities:
Bisexual, Gay
Summary: A tale set in Stuart England, where the king's life depends on his most loyal of subjects. Anthony Redbourn, Earl of Crofton, delights in his reputation as a charming rogue. Life is never quiet at the court of King James I, especially with his good friend and secret lover, Sebastian Hewel, by his side. As an actor with the celebrated King's Men, Sebastian has his own admirers, but neither man has eyes for anyone else. When a plot against His Majesty is uncovered it threatens Anthony and Sebastian's charmed lives, and they are dragged into the political intrigue and the race to save the king from danger. Fear that a traitor is linked to the King's Men leaves Sebastian and Anthony with no choice but to stage a very public dissolution of their friendship, so Anthony can be free to be the patron of a new rising actor, and Sebastian can be the prodigy of another noble. It is a dangerous game they are playing to expose the plotters and still find a way to meet in secret, as Anthony is adamant that they will not sacrifice the love they have fought so hard to win. They will do whatever it takes to protect the king's life, and their commitment to each other.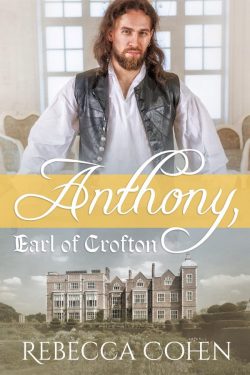 Anthony, Earl of Crofton
Pairing: M-M
April 25, 2019
Word Count:
98000
Character Identities:
Gay
Summary: "Deception. The lie that tells the truth." A damaged painting tempts Lord Clearwater to a final battle with his arch-enemy, and it's not a summons he can ignore. Archer must free his homicidal brother from incarceration and reinstate him to the title. He will be left humiliated and penniless, but free to live his life with Silas with no threat of exposure. The alternative is death. Drawing inspiration from a work of art, Clearwater manipulates a series of illusions to stay one step ahead of the endgame. While James, Tom and Silas race to solve clues and reach Archer before the fatal deadline, the assassin, Dorjan, remains hot on his heels ready to kill. The sixth book in The Clearwater Mysteries series brings back popular characters from previous adventures in a fast-paced, twisting mystery that can have only one of two possible endings. Or perhaps one of three. After all, deception is the lie that tells the truth. (There will be more stories in this series.)
Artful Deception
Pairing: M-M
June 1, 2020
Word Count: Information not available
Character Identities:
Gay
Summary: For all the Celtic Myth short stories, see my website. Paul Webster has come out the army after a twenty-two year stretch with a trick hip and no idea what to do with his life. He takes a few weeks walking along the Welsh coast to get his head on straight. Kevin Davies is a veterinary nurse and an artist. He's getting lonelier and lonelier in his cottage on the edge of the sea, kept company by his cats and a friendly flock of crows. What happens when the two men hunker down together to wait out a wild March gale? A 11,500-word short story in the Reworked Celtic Myths collection. This time, there are crows.
As the Crows Fly
Pairing: M-M
April 13, 2021
Word Count:
92000
Character Identities:
Gay, Straight
Summary: Banyak & Fecks is a prequel to The Clearwater Mystery series of romantic gay novels. However, it is not a mystery. It is a story of how a Ukrainian refugee and the son of an Irish immigrant come to meet in the East End of London in 1884. It is a story about friendship. 1881. Andrej's family are dead or missing, and his village in Ukraine decimated. Aged thirteen, he walks west to find a boat to take him to London. Three years later, homeless, starving and having resorted to prostitution, he finds safe passage and arrives in London alone but determined. 1884. Silas' mother has died, leaving him to fend for his twin sisters in the hellish world of the Westerpool slums. Silas only knows the work of a thief and trickster and at sixteen, heads to London to make his money. What he finds is poverty, starvation and the Greychurch workhouse. About to give up, he encounters a giant Ukrainian, proud, handsome, and renting his body in the alleys of the East End. Silas (Banyak) and Andrej (Fecks) make an unlikely pair, but their friendship is all they need to survive life in London's notorious East End. When disaster robs them of their home, they have no choice but to live rough and work the streets. Lodging houses, rope houses, arrest, violence and prostitution, they face it together. But when the Ripper starts slaughtering Greychurch rent boys, Banyak and Fecks have only their friendship to ensure their survival.
"A colourful and enchanting tale. Beautifully written. Marsh does an excellent job of evoking the look and feel of a different age."
Olivier Bosman author of the DS Billings Victorian Mysteries
'Banyak & Fecks' ends the day before the first Clearwater Mystery, 'Deviant Desire' begins. It is a story of friendship and platonic love set in Greychurch, the imaginary Whitechapel of the Clearwater world. Extensively researched, readers are taken from the Russian steppe and the Wirral slums to the squalor of the East End in the late 1880s. [Genre: Historical Bromance] ['The Clearwater Mysteries.' Historical MM Romance, mystery and adventure.]
Banyak & Fecks
Pairing: M-M
November 29, 2020
Word Count:
12000
Character Identities:
Gay
Summary: Finn's rugby career was brought to a premature end by a crunching tackle, shattering his confidence and leaving him shy and insecure about his sexuality, despite his size. But understanding how it feels to lose courage in the face of a shaky future, he volunteers at a homeless shelter. One night he gives up his shoes to a homeless man. Of course, that's the night he finally gets an opportunity to talk to Sam, the cute twink he's been crushing on. Shoeless, breathless, not at his best – it's no wonder Sam mistakes Finn for another man down on his luck. Previously published in the anthology 'A Taste of Honey'
Barefoot
Pairing: M-M
April 29, 2019