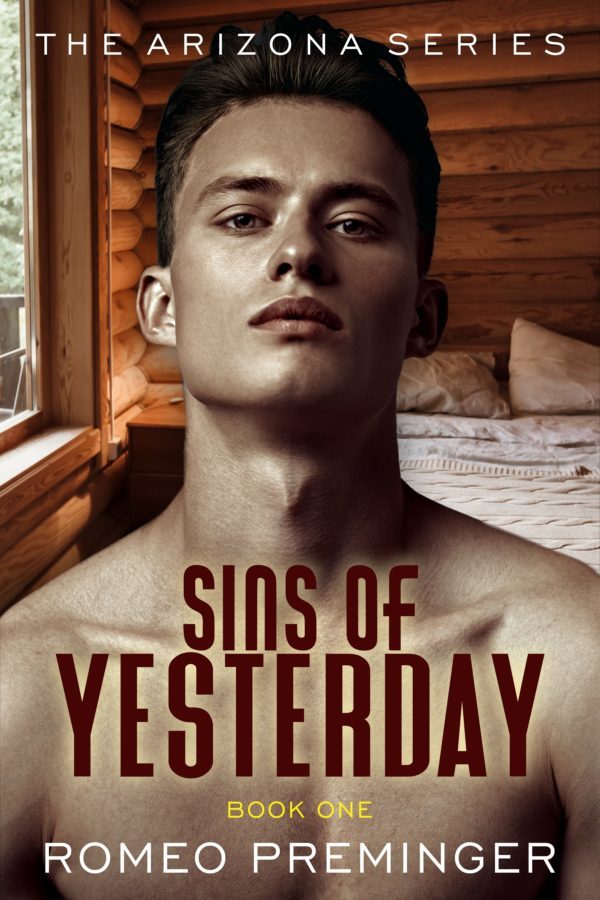 Genre: Contemporary
LGBTQ+ Category: Gay
Reviewer: Maryann
About The Book
The first book in Preminger's Southern Gothic, family secrets epic: the Arizona series.
It's 1984, and fifteen-year-old Arizona is doing his best to take care of his younger brothers and sister while their daddy drives a truck cross-country and spends his paycheck on booze and gambling. In small town southeastern Louisiana, his family is known as the lowest of the low, and they say it's on account of a family curse that's so ugly, no one would dare speak of it.
Then Arizona's daddy loses his job, and things go from bad to worse. He baits Arizona into a fight, and their brawl results in him and his brothers and sister being split up by Social Services. Arizona is determined to make a better man of himself and take care of his siblings, but he's up against a world controlled by adults, small town prejudices, and unfathomable family secrets that will change everything he thought he knew about himself.
The Review
The Sins of Yesterday follows the life of Arizona Fanning, a caring young man who did his best to raise his brothers, Duke, little Douglas and sister Dolly.
Gus Fanning was just no good, and was never around. Arizona became responsible for his siblings with the help of Grandma Tilley. But there was nothing Arizona would not do for his family. He did well in school, and knew at an early age that he was gay and even had a boyfriend, Preston Montclair.
When tragedy hit the Fanning family, Arizona felt the fear of Gus Fanning wanting to split up him and his siblings, and it brought Arizona trouble. But that trouble it turned Arizona's life around.
Arizona is taken in by his wealthy, step-Granddaddy, Gaston Polydore Bondurant. He likes his Granddaddy but even so, there's animosity lurking in Whittington Manor. 
On the day of Arizona's sixteenth birthday, he's reunited with his half-siblings, but it turns into a hurtful situation. He approaches is Granddaddy about his half-siblings and can't comprehend why they couldn't live at the Manor. In a storm of anger, he's saved by Nicolas Bondurant.
Nicolas is Gaston's younger brother and lives secluded on the Whittington property. Arizona finds a connection with Nicolas. Arizona loves reading, and he shares books by Fyodor Dostoyevsky that he's read with Nicolas.
Nicolas, in turn, educates Arizona with his knowledge of Dostoyevsky and other gay authors.  With all they have in common a strong bond grows between them.
Eventually, with Arizona's love of reading and hopes of being a teacher or writer, he ventures far from Louisiana to attend Middleton Academy in New England. It's not easy – the wealth and privilege are stifling for Arizona. He stays to himself, but never fails in his studies.
He has a run-in with one student but holds his own. He also makes a new friend in Jonathan Gutierrez. Jonathan tells Arizona about Brown University and the Gay Student Alliance. They decide to take a day trip to Boston, and it's an eye opener for Arizona. He meets boys and girls, gay and lesbian, and talked with those of different ethnicities.
As life goes on for Arizona, new doors will open, but there's bound to be more devastation that cannot be ignored.
Romeo Preminger brings 1984 to life, along with the flavor of Le Moyne Parish, Louisiana, and the "poor section" known as John's Island. Sins of Yesterday is an epic story of twisted family drama, suicide, forbidden love, tragedy, guilt, heartbreaking moments, and psychologically dark times. It's also about the failure to figure out what's right before it causes destruction.  There's prejudice, not only in the world of rich and poor, but among the students and faculty as well. 
I wasn't so much shocked with all the bizarre situations in this novel as I was angry. Especially with Gaston Polydore Bondurant – he did the right thing by Arizona, but he was still very much a coward. Arizona sees that in Gaston, but he has a good heart and tries to spare Gaston's feelings. But Gaston still carries a secret that causes hurt and destruction in the family. And not just for the Bondurants but for the Fannings too.
At times, I felt Arizona was more of an adult than the adults. But through it all, Arizona finds a way to keep hope and persevere.
Besides Arizona who is an outstanding character, I also really liked Nicolas. Nicolas and Arizona had such a dynamic connection.   
With this first book in the "Arizona Series" Romeo Preminger educates the reader with about gay authors, literature, and activists, such as Harvey Milk and Frank Kameny.  
"Sins of Yesterday" was a real page-turner – I couldn't put it down and had to know what was going to happen to Arizona next. Romeo Preminger has two more "Arizona" novels lined up:  "Daddy's Boy" and "Ties that Bind". I can't wait to see what the future novels have in store for Arizona!
The Reviewer
Hi, I'm Maryann, I started life in New York, moved to New Hampshire and in 1965 uprooted again to Sacramento, California. Once I retired I moved to West Palm Beach, Florida in 2011 and just moved back to Sacramento in March of 2018. My son, his wife and step-daughter flew out to Florida and we road tripped back so they got to see sights they have never seen. New Orleans and the Grand Canyon were the highlights. Now I am back on the west coast again to stay! From a young age Ialways liked to read.
I remember going to the library and reading the "Doctor Dolittle" books by Hugh Lofting. Much later on became a big fan of the classics, Edgar Alan Poe, Mary Shelley, Bram Stoker and as time went by Agatha Christie, Ray Bradbury and Stephen Kingand many other authors.
My first M/M shifter book I read was written by Jan Irving the "Uncommon Cowboys" series from 2012. She was the first author I ever contacted and sent an email to letting her know how much I liked this series. Sometime along the way I read "Zero to the Bone"by Jane Seville, I think just about everyone has read this book!
As it stands right now I'm really into mysteries, grit, gore and "triggers" don't bother me. But if a blurb piques my interest I will read the book.
My kindle collection eclectic and over three thousand books and my Audible collection is slowly growing. I have both the kindle and audible apps on my ipod, ipads, and MAC. So there is never an excuse not to be listening or reading.
I joined Goodreads around 2012 and started posting reviews. One day a wonderful lady, Lisa Horan of The Novel Approach, sent me an email to see if I wanted to join her review group. Joining her site was such an eye opener. I got introduce to so many new authors that write for the LGBTQ genre. Needless to say, it was heart breaking when it ended.
But I found a really great site, QRI and it's right here in Sacramento. Last year at QSAC I actually got to meet Scott Coatsworth, Amy Lane and Jeff Adams.