Author: Deanna Wadsworth
Book: The Rhubarb Patch
Series: The Men of Gilead, Book #1
Page/Word Count: 301 pages
Categories: Gay Romance, Contemporary Romance
Release Date: July 24, 2017
Publisher: Dreamspinner Press
Cover: Anne Cain
Buy Links: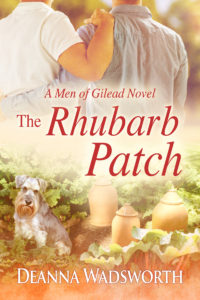 Blurb:
City boy, sci-fi novelist, and recovering pushover Scott Howe doesn't know what to expect when he inherits his grandmother's house outside the quaint village of Gilead, Ohio—but it isn't an enormous bald man in nothing but tighty-whities and orange rubber boots shouting at him to keep his weed whacker away from the rhubarb patch.
Scott has never met anyone like Phineas Robertson: homesteader, recluse… Republican. A tender—if unlikely—friendship grows over the summer while Phin and his schnauzer, Sister Mary Katherine, teach Scott about life in the country and the grandmother he never knew. Opposites attract, but widower Phin worries his secret will send Scott running faster than his politics, and Phin isn't convinced he deserves a second chance at romance.
Scott is convinced—rural life, and his one-of-a-kind older neighbor, are the future he wants. Before he can settle in, his mother drops a bombshell that strains their already tenuous relationship, and a cousin who believes he is the rightful heir to the property puts Scott in danger. It'll take a lot of compromises, and even dodging a few bullets before they're out of the weeds, but nurturing something as special as true love always takes hard work.
Grandma Helen's Rhubarb Crumble: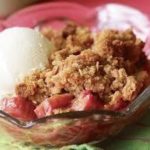 Preheat oven to 350
For crust:
1 1/2 cup oats
1 cup brown sugar1/2 teaspoon salt, 1 1/2 cup all purpose flour, 1 cup shortening (I use coconut oil), 1/4 teaspoon baking soda
1/2 teaspoon salt1 1/2 cup all purpose flour, 1 cup shortening (I use coconut oil), 1/4 teaspoon baking soda
1 1/2 cup all purpose flour1 cup shortening (I use coconut oil), 1/4 teaspoon baking soda
1 cup shortening (I use coconut oil)1/4 teaspoon baking soda
1/4 teaspoon baking soda
Combine until crumbly then pat half of mixture into 13×9 pan
For filling
5 cups rhubarb
1/2 cup sugar
3 Tablespoons cornstarch
1/4 cup water
Combine in a pan and cook until clear then add 1 teaspoon vanilla
Pour over crust and sprinkle the other half of the crumbly crust on top.
Bake 20 to 25 min

4✨s – What a slow burning, emotional read this was. I loved every second of it!
(Okay, I loved almost every second of it… you will not like Scott's mom or her homophobic boyfriend) I hesitate to bring it up, because it was such a small piece and had no real relevance to the story. But any woman who takes the side of her boyfriend, over her son… is just garbage to me. I have two kids, both boys… let anyone call them "fags" or treat them the way she allowed Joe to treat him and his brother Davis, and they'd be swallowing some teeth and then finding a new place to live. Not in this story… He gets away with it AND the mom continues to pout and make everything about her, always. It made me sick to my stomach, honestly. I didn't like it at all….
OTHER THAN THAT…
I loved Phin and Scott. Scott had moved to a little rural town, inheriting his grandmother's house after she'd passed. He wasn't close to her, due to his mother keeping them apart for her own vindictiveness (yes, again with the mother and her reasoning was just ridiculous)….but, he moves in next door to Phin and his little dog, Katie; Phin seems like a crazy man when they first meet, but I swear, I think I fell for him a little bit too…. He's so sweet and patient and he had such a big heart. You could see it in everything he did. He taught Scott a lot, not just about country life and gardening, but he also gave him time and space to really find himself. They started with friendship, which I feel like they both needed.
Phin was lonely but content, or pretending to be content living life as a widow and being alone; until he met Scott's grandma. I feel like she definitely knew what she was doing when she left Scott the house, two birds and all that because, Phin needed him just as much as Scott needed Phin.
Of course, not everyone is happy about it and some relatives take it upon themselves to take it out on Scott. I was surprised at some of the twists in it, but Phin's secret, I literally saw it coming from miles away. I knew it and I kept waiting on him to reveal it and I was so happy with the way Scott handled it. And seriously, Phin has a dirty mouth and I love it. It was a side to him that I wasn't expecting lol, way to go, author!
So, of course, these two have things to work out and several obstacle in their way, before they make it to their happily ever after.. when it's all that much sweeter when they did.
I really hope Davis gets a story and I really, really hope that someone knocks some sense into their mother and then knocks her boyfriend out or something. Seriously… I can't let that go… it was awful. If you like slow burning reads with the sweetest man, ever and a magical happily ever after, you should most definitely read this book. 4 stars from me!
About Deanna Wadsworth:
Deanna Wadsworth might be a bestselling erotica author, but she leads a pretty vanilla life in Ohio with her wonderful husband and a couple adorable cocker spaniels. She has been spinning tales and penning stories since childhood, and her first erotic novella was published in 2010. She has served multiple board positions at her local RWA chapter and is the current President 2017 for Rainbow Romance Writers of America. When she isn't writing books or brainstorming with friends, you can find her making people gorgeous in a beauty salon. She loves music and dancing, and can often be seen hanging out on the sandbar in the muddy Maumee River or chilling with her hubby and a cocktail in their basement bar. In between all that fun, Deanna cherishes the quiet times when she can let her wildly active imagination have the full run of her mind. Her fascination with people and the interworkings of their relationships have always inspired her to write romance with spice and love without boundaries.