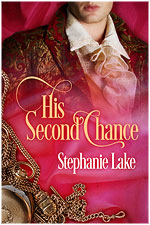 Stephanie Lake is the pen name for a husband/wife team who enjoy writing historical M/M (gay) romance with happy endings and steamy middles. We hope you read and enjoy the Second Chance series, His Midshipman, His Second Chance, and His Pirate. We'd love to hear from you, so check out our website for contact info at: https://sites.google.com/site/stephanielakeauthorcom/home
Stephanie and Lake joined forces with Jules Radcliffe, another author of queer historical fiction, to produce a monthly newsletter with news and updates on what we're doing, plus competitions, and giveaways. http://julesradcliffe.us10.list-manage.com/subscribe?u=076191e5c5ec5e9c6bfd29696&id=c42fdeb897
Read an interview with Stephanie and Lake by Super Hot Romance author, Shannon Nydia at: https://sites.google.com/site/stephanielakeauthorcom/home/about-us
Read an interview with David and Randall and, For a Fortnight, an epilogue to His Second Chance at: https://sites.google.com/site/stephanielakeauthorcom/his-second-chance
This author has been favorited by 1 user.
Contact Information:
Email Address: SLake255@gmail.com
Books By Stephanie Lake
Word Count: Click here to reveal24000 (Click here to hide)

Character Identities: Click here to revealBisexual, Gay, Straight (Click here to hide)

Summary: Fire Captain Thom MacDougall thought his life was perfect, until Lisa Moretti's kitchen caught fire. Thom and Fire Captain CC O'Brian have been happily married for three years. They started as friends-with-benefits, and when CC finally admitted he was bisexual, he committed for good, and the two captains married. Everything was ideal. Until Lisa. CC just can't get the sexy Italian out of his thoughts. Recently divorced and enjoying her new townhouse and sexual freedom, Lisa is devastated when a fire wrecks her kitchen. The firemen cheer her up, and Lisa has a fling with two of the younger guys on the fire crew, eventually falling for one of them—Foster Cody. Having just had her world view expanded by Foster's unquestioning affection, Lisa thinks she can handle the two hot-as-hell captains if Foster is by her side. A foursome is on the table, and the night promises to be scorching.
Thom's Desires
Pairings:
M-F, M-M, M-M-F, 4+ or Other
Word Count: Click here to reveal544000 (Click here to hide)

Character Identities: Click here to revealBisexual, Gay (Click here to hide)

Summary: As a baron's youngest son, Hector Somerville has no real prospects. He will not inherit, and he's overshadowed by two perfect brothers. While searching for ways to improve his situation, Hector finds respite in an invitation to a country estate-and has a second chance at rekindling his illicit affair with Viscount Wentworth, captain of HBMS Dragon. The upcoming fortnight could be everything Hector dreamed of since their disastrous parting. Wentworth has forsaken love, and yet, memories of guilt and heartache resurface. He loved a boyhood friend once, Hector's older brother William, until the man left him, trampling his heart in the process. Years later, he wonders if he ever fell out of love. Is his heart bound by William, or can he create a life with Hector?
His Brother's Viscount
Word Count: Click here to reveal13000 (Click here to hide)

Character Identities: Click here to revealGay (Click here to hide)

Summary: A chance encounter with a handsome midshipman leaves Viscount Randall Blair planning a future for two. Randall never knew how fast and hard love could hit until he found the right person: David. The only problem is how to convince the young sailor that they are perfect together. His Midshipman is a stand-alone short story. Randall and David's story continues in His Second Chance, a novel by Stephanie Lake.
His Midshipman
Word Count: Click here to reveal48000 (Click here to hide)

Character Identities: Click here to revealGay (Click here to hide)

Summary: Rhain Morgan is desperate to leave London and move his ailing sister to a climate that will save her life, so he books passage to their Caribbean plantation on the only available ship, captained by Alastair Breckenridge. Rhain fights his attraction to the alluring captain who looks and acts like a pirate, but the man's fairness wins Rhain over. The trip that once seemed endless is now too short. For years, Alastair held people away from his heart, until Rhain. Finally admitting his feelings to himself, he tries to convince Rhain to stay on board, but it's all in vain. Despite his own burgeoning feelings for Alastair, Rhain wants to prove himself and refuses to let go of his dream of making a home for his sister and himself on their plantation. But as Alastair's ship sails away, Rhain is left alone to make the best of disastrous circumstances and overwhelmed by regret, nurses his broken heart. When all seems lost, could they dare hope for a second chance to set things right and love again?
His Pirate
Word Count: Click here to reveal8500 (Click here to hide)

Character Identities: Click here to revealGay (Click here to hide)

Summary: Driven from his childhood home because of his mixed blood, Florian Feakes has made a life for himself on the Melcombe estate. He contents himself with nurturing park grounds and his own small, hidden garden. Until a new groom is hired. He understands the meaning of the heated looks Everett Wedmore sends his way, but knows nothing good will come from such an association. Everett, surprised at how difficult Florian is to find, decides to invite the handsome gardener to go to the local summer fair with him. Things don't work out exactly as planned... Florian's Garden is a short but very sexy story of eight thousand words. This release contains five thousand words of bonus material, including sneak peeks from Jules Radcliffe's Pirates of Port Royal series and Stephanie Lake's Second Chances series.
Florian's Garden
Word Count: Click here to reveal27000 (Click here to hide)

Character Identities: Click here to revealGay (Click here to hide)

Summary: The Seventh Viscount of Torring, Randall Blair is more than disgusted with unfaithful lovers. When his last lover announces his engagement to the current reigning belle, Randall decides to suppress his true nature and follow suit. He is determined, once and for all, to forget the dark sailor who slipped in and out of his life five years before. Lady Prudence Wedgewood has, for a member of the fair sex, unquestioned beauty, and shows a surprising wit, which will entertain Randall, even if her well-proportioned body does not arouse his desires. The marriage should at least be, bearable. Lieutenant David Wedgewood has always been beyond discreet with his unnatural attraction to men. An attraction, which years ago, nearly set Randall's bed aflame for a blissful, torrid week. The Blair and Wedgewood wedding plans unfold flawlessly, until Lady Prudence's brother returns: Randall's long lost sailor. David returned for only one reason: to save his beloved sister from a marriage destined to bring nothing but pain. Marriage to a sod! He will kill Randall if that's what it takes to stop the wedding. And he is willing to seduce Randall, to prove that this marriage can only end in disaster and heartbreak.
His Second Chance