Selina Kray is the nom de plume of an author and English editor. Professionally she has covered all the artsy-fartsy bases, having worked in a bookstore, at a cinema, in children's television, and in television distribution, up to her latest incarnation as a subtitle editor and grammar nerd (though she may have always been a grammar nerd). A self-proclaimed geek and pop culture junkie who sometimes manages to pry herself away from the review sites and gossip blogs to write fiction of her own, she is a voracious consumer of art with both a capital and lowercase A.
Selina's aim is to write genre-spanning romances with intricate plots, complex characters, and lots of heart. Whether she has achieved this goal is for you, gentle readers, to decide. At present she is hard at work on future novels at home in Montreal, Quebec, with her wee corgi serving as both foot warmer and in-house critic.
If you're interested in receiving Selina's newsletter and being the first to know when new books are released, plus getting sneak peeks at upcoming novels, please sign up at her website: www.selinakray.net
This author has been favorited by 1 user.
Contact Information:
Email Address: selinakray@hotmail.ca
Books By Selina Kray
Word Count: Click here to reveal114,000 (Click here to hide)
Character Identities: Click here to revealGay, Straight (Click here to hide)
Summary: Sing a song of sixpence A stage full of fright One two-faced blackbird Won't last the night When a phantom presence lures Hieronymus Bash into a deadly game, threatening to kill one of the players at his beloved Gaiety Theater each day until famed actor Horace Beastly returns to the stage, London's premier consulting detective is on the case. The trouble? Horace Beastly is Hiero's alter ego and the true object of this murderous obsession. When the current star of the show is struck down, Hiero has to risk everything by stealing back the spotlight. After a golden summer together, DI Tim Stoker would do everything in his power to protect the man he loves. But a specter from his own past proves an unexpected, and perhaps fatal, distraction. Scheming prima donnas, grudge-fuelled critics, and an axe-wielding theater ghost are all out for blood. Will Hiero and Tim unmask this menace before the final curtain call, or are they past the point of no return?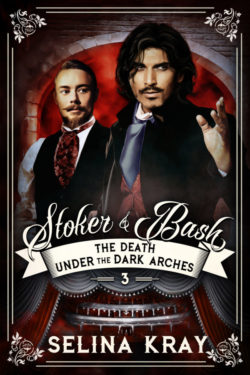 Stoker And Bash: The Death Under the Dark Arches
Selina Kray ...
Pairing: M-F, M-M
October 26, 2020
Word Count: Click here to reveal110000 (Click here to hide)
Character Identities: Click here to revealGay (Click here to hide)
Summary: When will She open Rebecca Northcote's box? Finding lost poodles and retrieving stolen baubles is not how DI Tim Stoker envisioned his partnership with his lover, Hieronymus Bash. So when the police commissioner's son goes missing, he's determined to help, no matter what secrets he has to keep, or from whom. When a family member is kidnapped, Hiero moves heaven and earth to rescue them. Even if that means infiltrating the Daughters of Eden, a cult of wealthy widows devoted to the teachings of Rebecca Northcote and the mysterious contents of her box. The Daughters' goodwill toward London's fallen women has given them a saintly reputation, but Hiero has a nose for sniffing out a fraud. He will need to draw on some divine inspiration to rattle the pious Daughters. Like weeds gnarling the roots of Eden's fabled tree, Tim and Hiero's cases intertwine. Serpents, secrets, and echoes from Hiero's past lurk behind every branch. Giving in to temptation could bind them closer together—or sever their partnership forever.
Stoker and Bash #2: The Fruit of the Poisonous Tree
Selina Kray ...
Pairing: M-M
October 30, 2018
Word Count: Click here to reveal55,000 (Click here to hide)
Character Identities: Click here to revealBisexual, Gay (Click here to hide)
Summary: A telltale knock on a quiet winter night is a sound no husband wants to hear. Sébastien Osaki has spent the past three years surviving the loss of his beloved Henry. When Seb lands in Amalfi, Italy, for their would-have-been tenth-anniversary trip, he's haunted by the memory of the man he loved. Following Henry's notebook leads him to some breathtaking coastal views but also right back to his despair. Seb's there to get his groove back, not let the past wrong-foot him at every turn. Enter Andrea Sorrentino, chauffeur, part-time pet whisperer, a Bernini statue in a soccer tee and tight shorts. From the moment Andrea picks Seb up from the airport, he knows just how to soothe Seb's case of the sulks. But Seb isn't sure he's ready for Mr. Right Now, let alone a potential Mr. Right, in a part of the world where all roads lead back to Henry. Can sun, sea, and eating your weight in pasta mend a tragedy-stricken heart? Will wine-soaked Amalfi nights and long walks through lemon groves work their magic on Seb's wounded soul? Or will he slink back into the shell of his grief once his grand Italian adventure is over?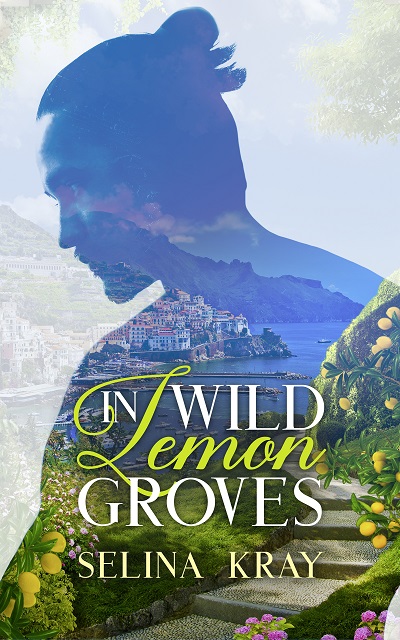 In Wild Lemon Groves
Selina Kray ...
Pairing: M-M
February 8, 2018
Word Count: Click here to reveal110,000 (Click here to hide)
Character Identities: Click here to revealGay, Transgender (Click here to hide)
Summary: At Scotland Yard, DI Timothy Stoker is no better than a ghost. A master of arcane documents and niggling details who, unlike his celebrity-chasing colleagues, prefers hard work to headlines. But an invisible man is needed to unmask the city's newest amateur detective, Hieronymus Bash. A bon vivant long on flash and style but short on personal history, Bash just may be a Cheapside rogue in Savile Row finery. When the four fangs of the Demon Cats of Scavo—trophies that protect the hunters who killed the two vicious beasts—disappear one by one, Stoker's forced to team with the very man he was sent to investigate to maintain his cover. He finds himself thrust into a world of wailing mediums, spiritualist societies, man-eating lions, and a consulting detective with more ambition than sense. Will this case be the end of his career, or the start of an unexpected liaison? Or will the mysterious forces at play be the death of them both? And just who is Hieronymus Bash?
Stoker & Bash: The Fangs of Scavo
Selina Kray ...
Pairing: M-M
June 7, 2017