According to Holly Day, no day should go by uncelebrated and all of them deserve a story. If she'll have the time to write them remains to be seen. She lives in rural Sweden with a husband, four children, more pets than most, and wouldn't last a day without coffee.
Holly gets up at the crack of dawn most days of the week to write gay romance stories. She believes in equality in fiction and in real life. Diversity matters. Representation matters. Visibility matters. We can change the world one story at the time.
This author has been favorited by 3 users.
Contact Information:
Email Address: authorhollyday@gmail.com
Books By Holly Day
Word Count: Click here to reveal20000 (Click here to hide)
Character Identities: Click here to revealGay (Click here to hide)
Summary: Jeremiah Pace hasn't left his house in thirteen years. He doesn't trust anyone, least of all shifters. School was a nightmare, and despite never interacting with anyone in the village, the bullying continues in his adult life. Someone is putting ads in the paper, encouraging people to drop by his house for one service or other, but Jeremiah never opens his door. Zeeb Hemming is a lone wolf and the new chief of police. He's only been in Stoneshade for six weeks when he learns about the ads and goes to knock on Jeremiah's door. Not because of what today's ad said, but to get to the bottom of what's going on. Human or not, Jeremiah deserves to live life in peace. The moment Zeeb nears Jeremiah's house, he knows he's his mate. But he can't have a human mate. Jeremiah pleads with Zeeb not to stir anything up. Yes, the ads are bad, but things can always get worse. Zeeb is furious someone is mistreating his mate and is willing to skin anyone who has any connection to the ads alive. But how is he to convince Jeremiah to trust him when he talks to Zeeb through a gap in the window instead of opening the door to his house?
Willow Road
Holly Day ...
Pairing: M-M
December 17, 2022
Word Count: Click here to reveal21000 (Click here to hide)
Character Identities: Click here to revealGay (Click here to hide)
Summary: Lex Gray was in love once. He was young and gave his heart to Cash Udolph, who he believed would be with him forever. When his world fell apart, Cash was nowhere to be found. Lex left Warwood, the tiniest village ever placed on a map, and swore never to come back. Seventeen years later, he's there to attend his grandmother's funeral. Lex needs to get out of Warwood, but driving in the middle of the night might not have been his best idea. A naked man jumps up on the road only to turn into a wolf before his eyes, and Lex slams the brakes hard enough to slide off the road. When Cash is called in to sort a situation with a human, he never expected the human to be his Lex. He's been given a second chance, but Lex wants to leave as soon as possible. Can Cash convince Lex to allow him back into his life before the tow truck gets there?
Returning to the Werewolf
Holly Day ...
Pairing: M-M
November 5, 2022
Word Count: Click here to reveal86000 (Click here to hide)
Character Identities: Click here to revealBisexual, Gay (Click here to hide)
Summary: Celebrate World Naked Gardening Day with five gay romance novellas! The Naked Gardening Day stories are a collaboration between Holly Day, Nell Iris, A.L. Lester, K.L. Noone, and Amy Spector. They comprise five MM romance novellas featuring being naked in a garden somehow, somewhere, to mark World Naked Gardening Day on the first Saturday of May. Contains the stories: Perfect Rows by Holly Day: Everything would've been perfect if Grayson hadn't been forced to share his garden with Cam. Grayson wants to grow vegetables, and he has a plan for how to do it. Cam loves flowers in perfect rows, but Grayson is incapable of growing things in lines. Most days end in conflict, at least until Grayson realizes he can shut Cam up by kissing him. But will they ever be able to agree about the garden? Strike a Pose by Nell Iris: Didrik would do anything for his BFF Filip, including taking naked pictures for a charity calendar of his dad Johan, the stunning man responsible for Didrik's gay awakening. Now a widower, Johan is ready to move on. As they start the project, the attraction between them grows. Their connection is easy, but not without challenges. Will they get their happily ever after? The Death of Digby Catch by Amy Spector: When August Catch arrives at the Arachne's Loom estate to collect his late Uncle Digby's things, he is thrown together with Theo Webb, the heir to the Webb family fortune. The attraction is instant. When Theo begins to suspect Digby may have been murdered, he and August will need to work together to discover the killer, and not let the thing growing between them be a distraction. The Hermit of Aldershill Manor by K.L. Noone: Charlie's ready to start a new job and life at Aldershill Manor. As a historian, he's thrilled to dive into the archives. And he can run from a messy break-up. And explore lovely gardens, too. Lionel does not like tourists, conversations, or social niceties. But he loves his job: helping beauty grow. When he finds the new historian caught in a storm, he offers shelter, which might bloom into more. Warning! Deep Water by A.L. Lester: Spring 1947. England has just come through the worst winter in living memory. Peter's been drifting since he left the army a year ago. George is lonely, despite the busy horticultural nursery he owns. Peter's decision to take a swim in the irrigation tank presents them both with the chance to reach out and help each other. Can two misfits find a way to fit together with someone after all?
Naked Gardening Day Box Set
Holly Day , Nell Iris , A. L. Lester , Amy Spector...
Pairing: M-M
November 5, 2022
Word Count: Click here to reveal58000 (Click here to hide)
Character Identities: Click here to revealGay (Click here to hide)
Summary: Devin Jace lives in a huge mansion together with six other people, five of them turn furry, and one needs to drink blood to survive. Sometimes, he suspects it's all a dream. Four years ago, he had no idea supernatural beings existed. It wasn't until he was snatched off the street and forced to live as a blood slave he realized vampires are real and don't sparkle. Three years ago, Mars O'Ceallaigh was part of the team who saved a badly scarred and severely traumatized Devin. As the only vampire on the team, he got to work undercover. To keep up the facade, he tasted Devin's blood. Not a day has gone by since without him thinking about it, both the taste of the blood and Devin. But he wants Devin to be happy, and since he knows vampires are his worst nightmare, he does his best to keep out of his way. When the team learns Devin's captor has escaped prison, Mars is convinced he will come for Devin. Devin might fear Mars, but there is someone he fears more, so when Mars swears to keep him safe, Devin trusts him. Mars more than enjoys being by Devin's side at all times, but will spending every minute of every day with him be enough to keep him safe?
A Vampire Chew Toy
Holly Day ...
Pairing: M-M
October 8, 2022
Word Count: Click here to reveal33700 (Click here to hide)
Character Identities: Click here to revealGay (Click here to hide)
Summary: Time and time again, Ryu the Ravenous has petitioned to be allowed to move to the human realm, but every application has been denied. As a black dragon of near royal blood with plenty of gemstones in his treasure cave, many females want him for a mate. Ryu doesn't want a female mate, though, and when he's badly burned in a conflict between tribes, he sees his chance to escape. Egil Olsen is running The Book Dragon's Lair, a bookstore on Dragon Row, while Draken the Dreadful, his mate, is away fighting a war on the other side of the veil. The relief of not having Draken around is great. For the first time in years, Egil doesn't have to watch every move he makes. When word reaches him that Draken is on his way home after having been injured, he considers running away. The dragon stepping over the threshold to The Book Dragon's Lair isn't Draken, though. He claims to be, but Egil knows his mate, and while all dragons are dangerous, the male standing before him is nowhere near as cruel as his mate. Ryu never wanted to be a book dragon. Books don't sparkle, but if it's the price he has to pay to be in the human realm, he will pay it. He'll take over Draken the Dreadful's treasure, and he hopes he can take over his mate, too. Egil doesn't want to be mated to a dragon, but without a mate, he'd be homeless and without a job. A few hours after having met Ryu, Egil thinks being mated to him might not be too bad, but how will they be able to fool the people around them into believing Ryu is Draken? And what will happen if the real Draken comes back?
The Book Dragon's Lair
Holly Day ...
Pairing: M-M
August 6, 2022
Word Count: Click here to reveal43000 (Click here to hide)
Character Identities: Click here to revealGay (Click here to hide)
Summary: Nick Adore has been in hiding for six years. He does his best to pass himself off as human and only wants to be left alone. But one day, he walks in on a robbery. Instead of quietly walking away, he reveals himself as a blood witch, and now the werewolf king demands to see him. Conri Biast is king. He has been the king of Norbridge for eleven years, but someone is trying to take him down. For months, he's known there's a blood witch in his territory who refuses to pay his respects, and that puts him on the top of his list of suspects. But when he goes to confront the witch, things don't turn out the way he'd planned. The witch is his mate. Nick doesn't want to be anywhere near Conri. Being close to kings always ends with him getting hurt, but he finds himself sucked into the power struggle. Conri doesn't know who he can trust, but he knows he needs Nick by his side. Together, they're strong, but are they strong enough to keep the throne?
The Blood Witch
Holly Day ...
Pairing: M-M
March 26, 2022
Word Count: Click here to reveal28000 (Click here to hide)
Character Identities: Click here to revealGay (Click here to hide)
Summary: Derek Herman is living a nightmare. Long before he was born, the planet was taken over by a mind-controlling alien race, and everyone is affected except for him. Derek does his best not to draw attention to himself, but it's not going well. Ocren Starburst is obsessed with his human neighbor. Every time he sees Derek, he wants nothing more than to grab him, hold him, and keep him forever. And four years of chasing him up the stairs in their apartment building has resulted in Derek refusing to even acknowledge his existence. That is, until Derek accuses Ocren of breaking into his apartment. Derek found a button on his living room floor, the same kind of button Ocren wears on his police uniform. And while Ocren hasn't broken in, he knows the button means someone has. Ocren's race has kept their shape-shifting abilities secret for years, but now his other form wants out to slaughter everyone that dares to get too close to Derek. And staying in control proves hard when threats toward Derek increase. Will they be able to keep Derek safe without Ocren losing control of his dragon self?
How to Soothe a Dragon
Holly Day ...
Pairing: M-M
November 13, 2021
Word Count: Click here to reveal47000 (Click here to hide)
Character Identities: Click here to revealGay (Click here to hide)
Summary: In a world where all supernatural beings are either dominant or submissive, Shiro Amano doesn't have many choices. As a submissive, any dominant walking into his bakery can order him around. He hates it. All he wants is to live his life in peace and bake pastries he can spike with emotions far away from obnoxious alphas. Pitch Rhys wants a mate, but he won't settle for anything but a true mate. As a powerful wolf shifter, he has subs flocking around him, but his true mate is hiding in the kitchen of a bakery and refuses to see him. He can order him to, of course, but since he threatened Pitch with a knife when he allowed his power to leak, he doesn't think it's the way to go. Instead, he's settling to see how many pastries and cups of coffee he can consume in a day. Two years ago, Shiro escaped an abusive relationship, and he's not looking for a new one, but when word gets out Shiro is an unmated sub, dominants are invading the bakery. Pitch does his best to scare them off so he can woo Shiro at his own pace, but things escalate too fast. Will Pitch be able to get Shiro to trust him before it's too late? Can he convince him he wants nothing more than to make him happy and keep him safe?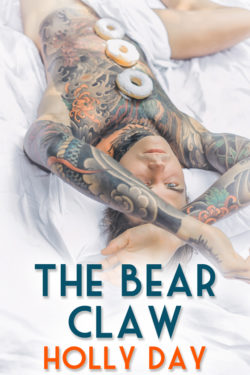 The Bear Claw
Holly Day ...
Pairing: M-M
August 21, 2021
Word Count: Click here to reveal33000 (Click here to hide)
Character Identities: Click here to revealGay (Click here to hide)
Summary: Carlo Russo is having the worst day. Not only has he lost his job, caught his boyfriend cheating, and had one too many shots with his best friend Grace, now he's seeing aliens too. Big, black, tail-equipped aliens. After a futile struggle, he and Grace find themselves on a spaceship leaving Earth. Zenon Scoreceds Qhainqons doesn't know what it is about the earthling male. Their mission is to bring back ten females in hopes of them being able to provide their planet with children, but he wants the male. What he's going to do with the male, he doesn't know, but he's claiming him as his payment for going on the mission. Carlo doesn't approve of kidnapping, but the aliens aren't too bad, and once the language chip is installed, he finds it entertaining to talk to them. Zen in particular. They're standoffish and never show any emotion, but Carlo has no problem cuddling up next to Zen at night. All Zenon wants is to spend time with Carlo, but it's his job to get them all home in one piece. Will he be able to keep Carlo safe from all the dangers lurking along the trip? He has to because Carlo is his, and he's not letting him go.
There Will Be Aliens
Holly Day ...
Pairing: M-M
March 20, 2021