Davidson King, always had a hope that someday her daydreams would become real-life stories. As a child, you would often find her in her own world, thinking up the most insane situations. It may have taken her awhile, but she made her dream come true with her first published work, Snow Falling.
When she's not writing you can find her blogging away on Diverse Reader, her review and promotional site. She managed to wrangle herself a husband who matched her crazy and they hatched three wonderful children.
If you were to ask her what gave her the courage to finally publish, she'd tell you it was her amazing family and friends. Support is vital in all things and when you're afraid of your dreams, it will be your cheering section that will lift you up.
This author has been favorited by 11 users.
Contact Information:
Email Address: davidsonkingauthor@yahoo.com
Books By Davidson King
Word Count: Information not available
Character Identities: Click here to revealGay (Click here to hide)

Summary: The city of Haven Hart rests under the heel of Christopher Manos. He reigns over the most dangerous and deadliest citizens as the most powerful crime boss the city has seen in generations. Yet, for the last five years, the harshest edges of his nature have been tempered by the loving devotion of his husband, Snow, and the nephew Christopher adores like a son. His life is a balance of darkness and light until a birthday trip for his nephew, Simon, is interrupted by a hail of bullets and explosions, threatening to destroy it all. Snow has found a home, a family, and the love of one of Haven Hart's most powerful men. When Christopher and Simon are kidnapped, Snow risks everything to find his family. Utilizing specialized skills he learned on the streets and the finer points of running a city from his crime boss husband, Snow takes on roles he never dreamed he would--protector, leader, and avenger. No one threatens his family and lives. Experienced enough to know he can't do this alone, Snow calls in every favor he is owed, risking his life promising favors in return, all to save his family and the man he loves. The sins of the Manos crime family are escaping the dark recesses of the past and threatening the bright future of everything Snow and Christopher have built. Yet, even with the help of some unlikely and uniquely dangerous people, Snow finds himself wondering if their efforts will be enough to save the two most important people in his life. Will the loving family Snow has finally found be taken from him forever?
Snow Storm
Pairings:
Click here to reveal
M-M
(Click here to hide)
Word Count: Information not available
Character Identities: Click here to revealBisexual, Gay (Click here to hide)

Summary: A product of his past, Black spends half his time saving lives and the other half taking them. Every day, a hard choice must be made and he's the man to make it. Long ago, he vowed to never love again; one-night stands with a willing body was all he ever needed. But along came Quill, and Black's life is irrevocably changed. He never expects something as simple as Quill's persistence to alter the way he not only sees the world, but how he lives it. Quill has bad taste in men and equally horrible luck. Growing up wasn't easy, surviving is even harder. When his past and present collide, he's convinced he'll finally witness his own destruction. But when an unlikely antihero steps in to protect him, his life is turned on its head. He's spent months flirting with the man of his dreams and hoping he'd take notice. But it turns out, being on Black's radar isn't all it's cracked up to be, and his idea of protection varies greatly from Quill's. Unknowingly sharing the same goal—burying their own pasts deeper than the fires of hell can reach—they're both unaware that jumping into that fire will do more than ignite their feelings, it could lead to their own demise. Will Black and Quill be consumed by the flames, or from these ashes, will they find their own happily ever after?
From These Ashes
Pairings:
Click here to reveal
M-M
(Click here to hide)
Word Count: Information not available
Character Identities: Click here to revealGay (Click here to hide)

Summary: Disgraced detective turned private investigator, Ray Clancy, left the force with a case unsolved. Finding the killer was no longer his problem, but it still haunted him. How long would he survive the frustration of not knowing before he gave into the compulsion of his nature to solve the crime? Server, Andrew Shay, existed where he didn't feel he belonged, living behind the guise of a costume. Yet it paid the bills, and he refused to complain about the little things in life. One night he returned home from work to find his roommate dead and the killer still there. Afraid and alone, his life spiraled and he didn't know what to do. Could a detective at his core and a scared young man join forces to bring down the killer in their midst?
The Hunt
Pairings:
Click here to reveal
M-M
(Click here to hide)
Word Count: Information not available
Character Identities: Click here to revealGay (Click here to hide)

Summary: Finally working for a man he can trust has given Bill a new purpose. His boss, Christopher Manos, commands respect and absolute loyalty, and Bill has proven himself worthy of a seat at Christopher's table. Becoming best friends with Christopher's husband, Snow, has further proven his allegiance and cements a place for him in the Manos family. When Snow's life is in danger, Christopher places his full trust in Bill to destroy anything and anyone that poses a threat to his husband. But hunting and wiping out the enemy for the safety of everyone Bill cares about means partnering with the one person he has vowed to never see again. Mace wears a mask of vain cockiness and uses his model good looks to his full advantage. Known to many as Without a Trace Mace, he's a deadly assassin well known for wiping out whole families and getting away without a trace. With a dangerous past and an unknown future, Mace uses his veil of conceit to keep others at a distance, rarely trusting anyone. When his boss, Black--the one man he trusts above all others—gives him his next assignment, he learns his newest partner is none other than Bill, the man he'd do anything to avoid. With the safety of the Manos family on the line at the hands of a brilliant maniac, Bill and Mace begrudgingly put their differences aside to ensure Snow, and his loved ones, are protected from harm. With their lives in grave danger and the clock ticking towards zero hour, they navigate deathly perilous situations and uncertain outcomes, hoping they survive long enough to keep the Manos family safe. Bill and Mace's traitorous hearts draw them closer together no matter how hard they fight the inevitable. With the lives of their loved ones hanging in the balance, they find themselves in the middle of a dangerous dance. But when the music stops, will they both be left standing?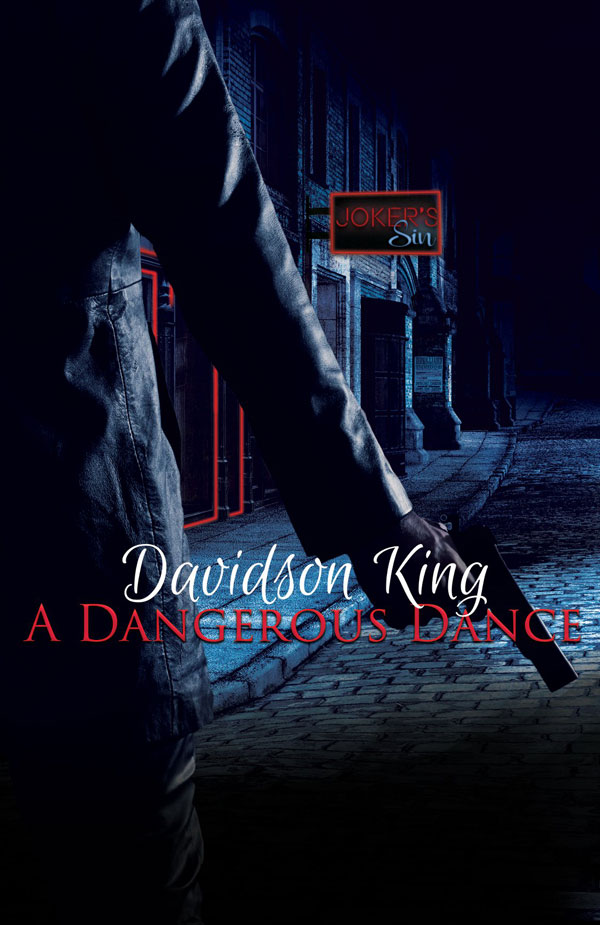 A Dangerous Dance
Pairings:
Click here to reveal
M-M
(Click here to hide)
Word Count: Information not available
Character Identities: Click here to revealGay (Click here to hide)

Summary: Riordan Darcy has spent the last fourteen years building a name for himself as a notorious assassin. He travels the world taking the lives of some of the worst humanity has to offer, leaving his signature on every victim. Riordan becomes unhappy and withdrawn from the world after a job goes horribly wrong and he makes the decision to get out of the life he was forced into, so long ago. When his meddling, older sister gives him a birthday gift that's impossible to refuse, his plans to leave his life of crime take a backseat when he's forced to protect the life of a veritable stranger. When professional hugger and TLC provider, Teddy Harris, is offered a month-long companionship contract, he's hard pressed to turn it down. Cuddler by day and a video game reviewer by night, Teddy's need to make people feel loved and cared for is what drives him. When he meets Riordan Darcy, professional challenge and personal temptation collide, making it nearly impossible for him to endure a whole month with the gorgeous, enigmatic man without falling head over heels in love. When a mole is discovered within Riordan's organization, relationships are compromised, and people's lives are in danger. Time isn't on their side, and they discover answers can't always be found by hugging it out when someone is hell-bent on eliminating each and every one of them. Can Riordan and Teddy survive long enough to fall in love, or will they die trying?
Hug It Out
Pairings:
Click here to reveal
M-M
(Click here to hide)
Word Count: Information not available
Character Identities: Click here to revealGay (Click here to hide)

Summary: After running from a past destined to kill him, Snow has been hiding on the streets. Tell nobody your name. Tell nobody your secrets. Trust nobody! These are the rules of the streets. His entire life changes when he saves an eight-year-old boy from a violent end. Christopher Manos is one of the most powerful crime bosses in the country. Don't ask anyone to do something you aren't willing to do yourself. Secrets can get you killed. Trust nobody! These are the rules he lives by. When his eight-year-old nephew disappears, he never expects the boy's savior to end up being his own. A man with a dangerous past and a man with a dangerous future find love amidst murder and mayhem. But with Snow's life being threatened at every turn, will Christopher's best be enough to prevent Snow Falling?
Snow Falling
Pairings:
Click here to reveal
M-M
(Click here to hide)