Word Count:
40000
Character Identities:
Gay, Pansexual
Summary: Byron is tall, handsome, well spoken, wealthy, and has outstanding taste in wine and food. You'll be impressed by his impeccable attire and eloquence in conversation, ranging from Baroque art to the newest advances in pharmacology. With his charming smile and elegant manners, Byron truly is the perfect date… and who doesn't love a man who appreciates opera? What's the catch, you ask? Just this: if Byron finds you suitable, he will subject you to utterly depraved forms of torture. No, I'm not talking about S&M. Byron will mutilate, rape, and then kill you. Don't think that you will survive the encounter, because you won't. He has a perfect record. Intrigued? Would you like me to arrange a rendezvous? It has to be in the next few days because he's leaving on a trip south to much warmer climes, and his calendar will be completely full. Yes? Very good. I will make a reservation for two under the name of Smith. Who am I? I'm Gloria, his personal assistant.
Better the Devil You Know
Pairing: M-M
October 1, 2015
Word Count:
123100
Character Identities:
Bisexual, Demisexual, Gay, Pansexual
Summary: Sheltered and lonely, Jon's life changes drastically when a strange ship sails into the harbour of his small port town one day. Trapped between the possessive pirate captain and his murderous first mate, he must learn to adapt or he will lose himself completely. An epic tale of love, treachery and revelation, this first instalment of the Baal's Heart series brings you into the lives of three men so bound together by jealousy and lies that they must sail to the very ends of the earth to find forgiveness.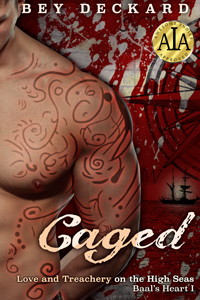 Caged: Love and Treachery on The High Seas
Pairing: M-M-M
February 11, 2014
Word Count:
13000
Character Identities:
Bisexual, Demisexual, Gay, Pansexual
Summary: A Baal's Heart short, following the events in Fated: Blood and Redemption Plagued by terrible dreams, Jon begins to distance himself from Baltsaros and Tom. Perhaps a little holiday cheer is just the thing to help the three of them find common ground again.
Careened: Winter Solstice in Madierus
Pairing: M-M-M
December 22, 2015
Word Count: Information not available
Character Identities:
Gay
Summary: This is a box set containing the first two novelettes in the F.I.S.T.S. series. Sarge, F.I.S.T.S. #1 Sometimes it's just about being in the right place at the right time… with the right person. Sarge is the short story of a burgeoning D/s relationship between two Space Marines stationed on an alien planet where an endless war drags on. Sergeant Wilkes is a hard man with a long, celebrated military career. Brawny, tattooed, and utterly submissive, Murphy is just an interesting diversion… until Sarge realizes he has found something truly rare. __ Murphy, F.I.S.T.S. #2 Sometimes when it seems like it's too late, the right person comes along and opens your eyes… Murphy is the continuing story of a D/s relationship between two Space Marines who found each other in the midst of hopelessness and misfortune. Sarge and his newly minted squad travel across the galaxy on a top-secret mission that could help win the war. However, to Murphy something about the mission stinks, and it's not just the planet they've landed on. __ Bonus content: The Missing Reel - Short deleted scene between Andrew Murphy and Sergeant Wilkes.
F.I.S.T.S. Handbook For Individual Survival in Hostile Environments
Pairing: M-M
June 1, 2015
Word Count:
117000
Character Identities:
Bisexual, Demisexual, Gay, Pansexual
Summary: With the captain's mind in shambles, Jon and Tom set out to find the passage home through the black mountain range, hoping to find a cure for Baltsaros's madness. However, when the men are forced to part ways, darkness takes root in the schism created; fate, lust, and vengeance become obsessions threatening to tear apart the fragile bonds holding the three together. Following on the heels of Sacrificed, Fated takes the pirates on a quest to find those responsible for the captain's bloody beginnings. But can they survive what awaits them where past and present meet?
Fated: Blood and Redemption
Pairing: M-M-M
April 11, 2015
Word Count:
135031
Character Identities:
Ace, Gay, Non Binary
Summary: Following the Prentish/Nemarri war, Kes is rejected by his homeland under the guise of religious purity laws. Though he's spared execution, the proud Nemarri's fate is only marginally more merciful than death when he is sold into sexual slavery at a prosperous pleasure house. Despite his stoic endurance, Kes knows he's reaching his breaking point, but there is nothing he can do—there is no path to freedom in the Holy Prentish Empire, only a lifetime of humiliating servitude. That is, until a beautiful young slave and his formidable master approach Kes in the marketplace and make an astonishing offer to take him home with them. The only problem: "home" is the accursed Horthmont Castle from the scare-stories of Kes's childhood. Thrown into a world of living myth, powerful magic, and ancient gods, Kes learns the secrets kept hidden by Horthmont's thick blackstone walls. There he discovers something he thought he'd never know again: hope for the future.
Kestrel's Talon
Pairing: M-M-M
May 23, 2016
Word Count:
127090
Character Identities:
Bisexual, Demisexual, Gay, Pansexual
Summary: Reunited once more, the crew of Baal's Heart must make the long and treacherous journey south to the towering spires of the Devil's Isles. The path through the mountain range is fraught with peril; mayhem and tragedy plague the pirate ship, but what the men find beyond the spires is the most shocking of all. In this sequel to the acclaimed Caged, the pirates are dragged into a dangerous new world by Captain Baltsaros's all-consuming obsession. In the midst of terror and chaos, Jon learns that the captain and first mate have been keeping secrets from him. But will the truth tear them apart?
Sacrificed: Heart Beyond the Spires
Pairing: M-M-M
October 15, 2014