Word Count:
4500
Character Identities:
Gay, Pansexual
Summary: In love, time is relative, until they run out… Regulations limit time digger Ish and time cop Kabal, born years and worlds apart, to two dates a year, making every date precious. But when Kabal announces his retirement at their tenth anniversary, what should have been a happy occasion might be their last night together. ___________________________ Previously appeared in Storm Moon Press' Sweethearts & Seduction anthology
A Time Traveler's Valentine
Pairing: M-M
February 14, 2017
Word Count:
58900
Character Identities:
Bisexual, Gay
Summary: It was just a one-time indiscretion after an intense disagreement with the love of his life, David Fulbright.  But little did Cal Anderson know it would change his life forever.  The fallout would take him on an unusual quest – sometimes wittingly, and sometimes not – across the ocean and even across time.  During that journey, he would learn that his love for David was his destiny in more ways than he could have ever imagined.  And a young man named Gunter from another place and time would be the one to show him how important that love is to him.  Join Cal as he takes an extraordinary journey to find redemption, and to be reunited with the man who was meant to be in his life.
A Triangle of Pink
Pairing: M-M
September 26, 2020
Word Count:
73,141
Character Identities:
Gay
Summary: Time travel. For mages, it violates their number one rule: what the Mother has written, let no one unwrite. The Mother writes the destinies of the creatures on the world of Karishian. If her writings were undone, it is feared that Creation itself could be undone. The dark mage Morgorth takes this rule to heart, but there are others who do not. Morgorth is about to claim a stone of power when it is stolen from him by a female mage he hasn't seen in decades. As they struggle for the stone, she activates it, and Morgorth is unwillingly plunged into another time and another place. It isn't long before he realizes what time he's found himself in and there are a few familiar faces. Most notable is a much younger version of Aishe. His mate. Living with a tribe who will be massacred, caring for a young lad who will become his mate, and fighting a battle against a mage who can travel from past to future at a whim—Morgorth's life has never been easy but now he must contend with the will of the Mother. Unable to change the future and the tragedies of Aishe's life, he must decide what his role in his mate's past will be, and ask himself one vital question: how does one defeat time?
Agate: Then and Now
Pairing: M-M
May 2, 2017
Word Count:
53000
Character Identities:
Gay
Summary: "There's no time. Remember, I love you." It all started with a discovery. A cave beneath a waterfall that held a crystal. Two boys—best friends—embark on a journey they're told will help all mankind. As the years go by, their friendship turns to love, and their adventure turns into a battle. Drew Langly is the keeper of the crystal. With his contact, the crystal allows them to jump to different timestreams and help, if they can, to further that society or fix anything that improves their lives. When he's ripped from the timestream, it's the beginning of what will change everything they've come to know about how the different timestreams function. Colby Adams is Drew's boyfriend, fellow traveler, and jump partner. When Drew is left vulnerable after a failed jump, he's there to help and try to figure out what went wrong. They soon discover another team of travelers is in trouble, but they've been warned against trusting them. The more they learn, the more they realize everything has been a lie. To rewrite a history that's been full of deceit, they'll need to put their trust, once again, in strangers. Can they rewind it all and begin again? Experience the history they were always meant to? With some unconventional help, maybe… Amos Ridge is the fifth book in the multi-author series, Beyond the Realm: Remember. Each book is set in its own world and can be read as a standalone novel. Join eight authors on eight very different, romantic, and magical stories as each one writes their own take on the same concept.
Amos Ridge
Pairing: M-M
October 20, 2020
Word Count:
56782
Character Identities:
Gay
Summary: History says a famous villain died on the gallows on October 1, 1788. But what is the real story? And how do two contemporary men fit into this re-telling of history? M/M erotica wrapped in mystery The reticent undercover detective Thomas Fitzgerald is already deeply in love…with a man who has just met him in an "alternate reality." Tight-lipped and uptight as he is, a confession is out of the question. And Burns, not quite the same man he fell in love with, is afraid that his caped hero may misunderstand his own "insta-love." How can two stubborn men find that elusive connection between then and now? This is where time-travel, enters the story—a unique wynd in Edinburgh becomes the bridge that connects past, present and even perhaps the future. Follow two lovers across a bridge spanning more than two centuries as they struggle to reconcile not just the convenient lies of history, but also the truth about their own conflicted relationship. This full novel is the conclusion to the six-novella Burns! Mystery series and can be read as a stand-alone. Please note that the title has changed, from A Rainbow Bridge.
Come Again, My Love
Pairing: M-M
January 2, 2017
Word Count:
90000
Character Identities:
Gay
Summary: Sir Gerard Fogg, knight in the Royal Guard of the kingdom of Algonwick, is in love with the King's only son, Prince Tristan Fysher. The two men carry on a secret, sexual affair and proclaim their undying love for one another, only to have it torn apart by an intruder from the future. A white supremacist named Malcolm, stumbling on a time portal between 2006 and their time of 1456, murders Tristan and escapes to the future. Sentenced to death for failing to protect the Prince, Gerard is freed by the King's advisor, Ranulf Godfrey, the one man who knows where to find the murdering Malcolm. The two men travel through time to 2006 to discover the castle they love in ruins and a handsome young researcher named Jon Calder cataloging the artifacts of Algonwick's forgotten age. Jon, who has never felt as though he fit in anywhere except the ruins of this castle, is the vessel within which resides the soul of the murdered Prince. As Gerard and Jon embark on a journey of sexual discovery more than 500 years in the making, the murderous Malcolm circles ever closer.
Destiny's Bastard
Pairing: M-M
January 5, 2014
Word Count:
87,045
Character Identities:
Lesbian
Summary: Katarina Daskalos is a survivor. She lived through being shunned from her family, escaped a life of homelessness, survived an IED in Afghanistan, overcame addiction, and the death of her beloved wife and child. Kat was succeeding at creating a new life teaching troubled, adolescent kids when she suddenly finds herself holding the fate of the human race in her hands after the Earth tries to rid itself of the human sickness plaguing it. Following a cataclysmic disaster which causes mass casualties all over the planet, Kat and her group of misfit teenagers must fight their way out of the wreckage and past subhuman creatures who were not fully killed. With the help of an unknown ally, Kat is startled to discover she now has powers she never thought possible and can use them to set things right as humanity begins again. Dubbed "The Karmanator" by her students, Kat is able to unleash a person's karma with the touch of a button. Using her new ability, Kat makes plans to gather survivors and find a safe place to start anew. Things do not always go as planned.
Earth's Karma (The Karmanator Book 1)
Pairing: F-F, M-F
March 11, 2020
Word Count:
96000
Character Identities:
Gay, Non Binary, Questioning, Straight
Summary: It might take the arrival of an alien being to remind an isolated man what it means to be human. With a stressful job, his boss breathing down his neck for profitable results, and an estranged wife and daughter, scientist Kurt Lomax doesn't think life can get much harder. Until a nonbinary extraterrestrial with an otherworldly beauty, captivating elegance, and a wicked sense of humor inconveniently shows up at his apartment. Vardam watched the destruction of their own world, and they don't want to see the same thing happen on Earth. They are lonely, and feelings soon develop between them and the supposedly straight scientist—feelings Kurt reciprocates, much to his confusion. The arrival of cheery interpreter Tom Soames—whose Goth appearance belies a gentle heart—is like a ray of sunshine in the somber lab. He acts as matchmaker for man and tentacled extraterrestrial, unwittingly instigating a national crisis when the news breaks out. But will a misunderstanding ruin Kurt and Vardam's chances for happiness together—along with the hope for peace between humanity and the Var?
Euphoria
Pairing: Includes NB
October 15, 2019
Word Count:
31368
Character Identities:
Gay
Summary:
While Shax recovers from a near fatality, his shipmates have been busy. He's rather proud of them for taking the initiative and finding them a lucrative cargo run. His pride turns to outright horror, though, when he finds out what sort of cargo. Frogs. The one thing in the universe that incites mindless panic in Shax. Unfortunately, he also soon discovers that a healthy fear of frogs doesn't prevent frog-driven disasters.
An unlikely series of overlapping mishaps hurls the Brimstone back to an even more unlikely point in history for a couple of demons and a fallen angel in a spaceship. Somehow they need to repair and refuel, and puzzle out how to get home. Time travel has never been so messy.
Fear Of Frogs: Brimstone 3
Pairing: M-M
February 22, 2014
Word Count:
51240
Character Identities:
Gay
Summary: Sterling Rossi thinks he's just made history as the world's first chrononaut. But if he's the first to travel back through time, who is the attractive blond he sees during his jaunt, and why is his team so keen to deny his existence? Sterling soon realizes there are more forces at work than he ever imagined and wonders just what's really happening, and who he can trust. As the truth unravels, Sterling has to go back in time to save his lover, while a creature from the fabric of time threatens to destroy the world.
Future Imperfect
Pairing: M-M
April 20, 2015
Word Count:
41130
Character Identities:
Gay
Summary: The experiment was not supposed to end that way.  Ganymede 72165, a service android, was to be sent back three hours in one of the earliest time travel tests in 2295.  But something went wrong and the device took him to 1995 instead.  Making matters worse, it was a one-way trip.   Ganymede was now stranded three centuries in the past.  Without the data stream in his head that helped him function in society, he must now find his way alone in a strange world, without letting those around him know the truth.  Then he experiences the kindness of a random stranger. Troy Sanders is a loner.  He has tried numerous times to find love, but all he seems to come up with are one night stands, flakes, and users.  At 45, he is pretty sure he is destined to be alone the rest of his life.  Until he runs into an unusual guy from out of town named Ganymede on his way home from work on Hallowe'en.   He's drawn to the man's quirkiness and takes him under his wing, since he seems to have no where to go.  It does not take long before Troy starts to develop feelings for his new friend.  But what secrets is his new friend hiding? As a service android, Ganymede was programmed not to become too involved with those he worked for.  But in this new situation, he begins to understand loneliness and other human emotions, all with the unwitting help of his new friend, Troy.  Can an android fall in love?  Troy may be the answer to that question for Ganymede.
Ganymede: Time for Love
Pairing: M-M-M
February 8, 2019
Word Count:
72000
Character Identities:
Gay
Summary: Soulmates across time. A sacrifice that could keep them apart forever. In present day, near the village of Ornes, France, Devon works on his master's thesis in history as he fantasizes about meeting a WWI American Doughboy. In 1916, during the Battle of Ornes, Stanley is a young soldier facing the horrors of the battlefield. Mourning the death of his friends from enemy fire, Stanley volunteers to bring the message for retreat so he can save everyone else in his battalion. While on his mission, mustard gas surrounds Stanley and though he thinks he is dying, he finds himself in a peaceful green meadow where he literally trips over Devon. Devon doesn't believe Stanley is who he says he is, a soldier from WWI. But a powerful attraction grows between them, and if Stanley is truly a visitor from the past, then he is Devon's dream come true. The problem is, Stanley's soul wants to finish his mission, and time keeps yanking him back to relive his fateful last morning over and over, even as his heart and body long to stay with Devon. Will Stanley have to choose between Devon and saving his battalion? Will time betray their love, leaving each alone? A male/male time travel romance, complete with hurt/comfort, French coffee, warm blankets, fireplace kisses, the angst of separation, and true love across time.
Heroes for Ghosts
Pairing: M-M
June 14, 2018
Word Count:
90,000
Character Identities:
Gay
Summary: Soulmates across time. A love that was meant to be. In present day, Laurie, tired of corporate life, takes a much-needed vacation at Farthingdale Dude Ranch. The very first night a freak blizzard combined with a powerful meteor shower takes Laurie back to the year 1891. When he wakes up in a snowbank, his only refuge is an isolated cabin inhabited by the gruff, grouchy John Henton, who only wants to be left alone. His sense of duty prevails, however, and he takes Laurie under his care, teaching him how to survive on the wild frontier. As winter approaches, Laurie's normal fun-loving manner make it difficult for him to connect with John, but in spite of John's old-fashioned ways, the chemistry between them grows. Sparks fly as the blizzard rages outside the cabin. Can two men from different worlds and different times find happiness together? A male/male time travel romance, complete with hurt/comfort, true confessions, a shared bed, fireplace kisses, the angst of separation, and true love across time.
Honey From the Lion
Pairing: M-M
September 21, 2018
Word Count:
92,000
Character Identities:
Bisexual, Gay, Straight
Summary: Miles Lawson goes to sleep dreaming of a future with his boyfriend Adam, but wakes to find he is married to Ana, an acquaintance from high school. When he learns he has been time traveling, Miles is consumed with finding a cure for his rare condition—and finding his first love. Traveling more frequently, Miles assembles the puzzle pieces of his life and, in doing so, alienates his wife. As he loses control, Miles must realize that sometimes fixing your past mistakes means changing your future. But will he be able to convince Adam he is telling the truth before it's too late?
In the Present Tense
Pairing: M-F, M-M
May 19, 2016
Word Count:
36000
Character Identities:
Ace, Aromantic, Bisexual, Demigender, Demisexual, Gay, Genderfluid, Genderqueer, Intersex, Lesbian, Non Binary, Questioning, Pansexual, Polyamorous, Straight, Transgender
Summary: INK (NOUN) Five definitions to inspire writers around the world and an unlimited number of possible stories to tell: 1) A colored fluid used for writing 2) The action of signing a deal 3) A black liquid ejected by squid 4) Publicity in the written media 5) A slang word for tattoos Ink features 300-word speculative flash fiction stories from across the rainbow spectrum, from the minds of the writers of Queer Sci Fi.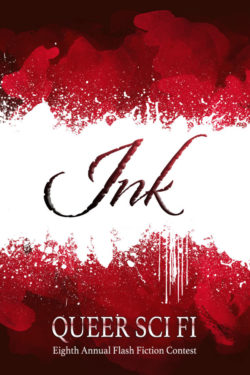 Ink
Pairing: F-F, F-NB, F-F-M, M-F, M-M, M-NB, NB-NB, Includes NB, M-M-F, M-M-M, 4+ or Other
August 10, 2021
Word Count:
36000
Character Identities:
Ace, Aromantic, Bisexual, Demisexual, Gay, Genderfluid, Genderqueer, Intersex, Lesbian, Non Binary, Pansexual, Polyamorous, Transgender
Summary: IN-NO-VA-TION (Noun) 1) A new idea, method, or device. 2) The introduction of something new. 3) The application of better solutions to meet unarticulated needs. Three definitions to inspire writers around the world and an unlimited number of possible stories to tell. Here are 120 of our favorites. Innovation features 300-word speculative flash fiction stories from across the rainbow spectrum, from the minds of the writers of Queer Sci Fi.
Innovation
Pairing: F-F, F-F-M, M-F, M-M, M-NB, Includes NB
August 8, 2020
Word Count: Information not available
Character Identities:
Gay
Summary: Can love follow someone through time itself? When non-caste dock worker Madoc meets Josh, a man from the future, he little realizes it will be the catalyst to change his world. Madoc is typical of his kind, with red hair and a fiery temper to match, and everything that makes sense to him is forbidden by the castes. Josh seems to be the perfect caste with his pale skin, dark hair and self-confidence, but his tales of another time fuel a fire in Madoc - a fire to change everything that's so wrong with his life. But the fight comes at a price. Too soon, Josh returns to his own time, and Madoc is left to follow his love as best he can. Will he find Josh in a brave new future of his own? Or will he have to accept that Josh was only ever a visitor? This bittersweet short story was originally published in 'Queer Dimensions' by QueeredFiction and has now been rewritten, expanded and published as a standalone book.
Just Visiting
Pairing: M-M
May 23, 2020
Word Count:
151000
Character Identities:
Gay, Non Binary
Summary: Queer British Lovecraftian historical romantic suspense set in 1920s London. Lew Tyler is dragged from 2016 to 1920 by an accident with border magic whilst he's searching for his missing friend. He's struggling to get to grips with life a century before he was born.  Detective Alec Carter is trying to solve gruesome murders in his patch of London, weighed down with exhaustion and a jaded attitude to most of his fellow humans after four years of war. In the middle of a murder investigation that involves wild magic, mysterious creatures and illegal sexual desire, will Alec and Lew work out who is safe to trust? Sergeant Will Grant, Alec's right-hand man, is drawn to the mysterious Fenn. Is Fenn a man or a woman? Does Will care? And Fenn…Fenn has a secret. They live beyond the border between 1920s London and the magical Outlands and they need to get home. Are they prepared to achieve that by double crossing Alec, Will and Lew? Two couples hold the fabric of reality in their hands. Will it make them or break them? Buy London Calling now if you like murder, time-travel, grumpy detectives, the blues, magic, gay romance, m/enby romance, tea and not-quite-elves. It features Lost in Time, Shadows on the Border & The Hunted and the Hind (which are also available in audio and on sale at Authors Direct!)  "Wow, what a read… time-travel, fantasy, murder, MM-romance… everything I like, rolled in to one!"
London Calling Box Set
Pairing: M-M, M-NB
March 4, 2022
Word Count:
36934
Character Identities:
Gay
Summary: Bowie's life has been turned upside down in one evil act. When dying, his grandmother tells him he is a Time Keeper in charge of keeping history as is but needs Marty of the Defense Troopers to fix it. Discovering Trek is his mate and they are after the same evil man, can Bowie learn his gift in time to save everyone from the enemy... because they are coming whether Bowie's are ready or not.
Mating Through Time
Pairing: M-M
February 27, 2020
Word Count:
11000
Character Identities:
Gay
Summary: What if you staged the best haunted house in the history of the holiday, but nobody came? Brady is prepared with mounds of treats, stellar special effects, and an extraordinary welcome for the throngs of trick-or-treaters he expects in his first year at his new place—a gloriously gothic house with the reputation for really being haunted! But the trick's on Brady: Halloween is almost over and not one person has knocked on his door. Once a top Interdimensional Law Enforcement agent, Rej was busted down to Creature Control after a run-in with his arch-nemesis. When he tracks a non-sentient construct across the dimensional barrier, he's sure he's about to confront Gorvenath again. But the person who bursts onto the porch in a swirl of tuxedo coattails is a monster of a very different sort—but is he Gorvenath's accomplice or his victim? Monster Till Midnight is an 11,000-word gay romance featuring a hopeful samhainophile, a suspicious LEO, gratuitous candy corn, and a relationship that threatens to be really, really, really long distance.
Monster Till Midnight
Pairing: M-M
October 26, 2018