Word Count:
20043
Character Identities:
Bisexual, Lesbian
Summary: A New F/F Fantasy Romance from the author of Cynthia and Eve. Book 1 of 'The Fae Souls'. When I first arrived at the mansion, I couldn't remember anything. My name, how I'd got there or who the people were around me. I knew I was a woman, and the pink dress and brown ankle boots I wore felt vaguely familiar, but nothing more. It wasn't long before I was told my name was Celina. I was given a suite to stay in and encouraged to prepare for the mysterious Prince Eldran's masquerade party. I found everything I needed in my suite, other than the answers I sought. Fragments of memory hinted at dark experiences, at love and loss, but there was no context and I was uncertain about my history and what the future might hold for me. A stranger at the time, Sorcha found me alone as I sought solace in an empty room. I discovered she too had missing memories, and in her I found a person to talk to. A friend and more, but did we have a chance? A Masquerade in Time is a romantic novella of just over 20,000 words, which contains strong steamy content and language.
A Masquerade in Time
Pairing: F-F
June 26, 2017
Word Count:
14000
Character Identities:
Gay, Questioning
Summary: Jesse is a pastor just sent to a small town Bible college in the midwest. David is an in the closet Bible college student coming to terms with his sexuality.
When they meet, he finds that Pastor Jesse has a secret too. As Jesse helps him come to terms with his sexuality and comforts him after a series of horrible events, their feelings toward one another cannot be denied any longer. But when a former boyfriend turns up at David's in the middle of the night confessing his true love, he is left with an impossible decision. Pursue a relationship with the man who was there for him when he needed someone or run back into the arms of the boy he once loved. Join Daniel Elijah Sanderfer for the re-release of this inspirational tale of coming out and falling in love.
A Prayer For Love
Pairing: M-M
November 8, 2019
Word Count:
14000
Character Identities:
Gay
Summary: Reverend Jesse Dixon has always been "the helper." He's the living definition of the expression beauty for ashes. He's experienced a lot of heartbreak in his forty-some years on this earth, including the suicide of his first lover. But he didn't let it define his life or make him bitter. Steven is the exact opposite. Abandoned as a baby on the steps of a west-end church; he grew up in a house for orphan and wayward boys. When a tragic accident happens that takes the life of the home's overseeing Reverend, the church finds itself placing an ad for a new one. One who can handle the challenges of running the church and the boy's home. Steven is eighteen and the former Reverend and he had an arrangement that permitted him to keep living at the home, despite the fact he's too old to be adopted. However, that security come into question when he learns the church has hired a new Reverend, Jesse. At first, he doesn't know what to make of the man. But he decides for fun and games he'll make Jesse sweat a little by shamelessly flirting and teasing him. But Jesse resists his flirtations for the sake of his calling. The last thing on his mind is taking advantage of someone he's mentoring. But just how long can the good Reverend resist Steven's teasing before something happens between them? Join Daniel Elijah Sanderfer for the long-awaited sequel to his best-selling novella, A Prayer For Love.
A Prayer For Love 2
Pairing: M-M
May 1, 2020
Word Count:
20000
Character Identities:
Lesbian
Summary: Emily Williams has always felt driven to follow her dreams. Her art studies took her across the country, but she can't forget the girl she left behind. When she learns that Danica has been in a devastating car accident, she's glad to be returning home for Christmas. She has to see Danica again. Danica Swanson has tried to move on since Emily left but with limited success. The town of Myrton hasn't offered many dating prospects, but she found a job as a barista that made her happy. That was until the crash put her life in jeopardy and left her with little choice but to give up her job. Danica still misses Emily, but she has a lot to deal with as she recovers from her injuries. Meanwhile, Emily wants to give her dream of a relationship with Danica another chance. Can they find a way to rekindle their flame or have they lost each other for good? A Touch of Christmas Magic is a steamy lesfic second chance romance of around 20,000 words. It features sapphic love and adult language, with a pinch of holiday magic.
A Touch of Christmas Magic
Pairing: F-F
November 24, 2019
Word Count:
124000
Character Identities:
Gay
Summary:
A story of two men and the boundless love that forever changed them.
Vannguard Shaw has spent the last ten years serving a life sentence and adjusting to the ache of solitude. He accepts his fate, a sacrifice for the only man he ever loved and the one person who saw beyond his rough edges. Drayton grew up with a trust fund and pre-planned future, but an unexpected encounter one night forces him to abandon everything and start from scratch. He is now a self-made man and developer of one of the most sought after electric exotic automobiles in the world with a fortune greater than that of his birthright. Yet, he'd surrender it all—again—for the only man who's still ever-present in his heart. After a decade and entirely too much distance between them, Vann is suddenly released back into a world that has been nothing but cruel. Drayton never lost hope they would once again reunite and pick up where they left off, but Vann's stubborn nature and repeated encounters with a heartbreaking world prove to be a challenge. Vann needs to tap into his fighting spirit's reservoir of strength and hope life doesn't punish him for taking a chance. Only then will he realize his own value and feel worthy enough to finally have Drayton's heart. And their chance at forever.
----------------
This is book 5 in The Men of Halfway House series. Although part of a series, this is a full-length stand-alone novel.
Main Characters: Drayton and Vann Release date: May 2, 2017 Series: The Men of Halfway House No. in series: 5; can be read as a stand alone Category: Contemporary Gay Romance Word Count:  124,300 words Formats available: e-book and print Drayton first appears in book 3, A Restored Man. Vann is first mentioned in book 4, A Mended Man.
A Worthy Man
Pairing: M-M
May 2, 2017
Word Count:
75,000
Character Identities: Information not available
Summary: Angels Daniel and Jefferson from Ghost Writer; Snowed In Goose and Patrick; Nine Minutes In Heaven; and Ghosts of Honor recruit a band of heavenly hosts to spread comfort and joy this holiday season after a rough year for all. The five stories in this book intertwine as the angels visit old friends and new, including characters from the authors' best-selling stories Guilt and Innocence, An Arm and a Leg, Monsters, Let's Hang Out, 21 Smiles, and Transitions, among others. Which couples have wed? Who is set to play Tiny Tim and Dopey the Dwarf? Who gets to see his lover for the very first time? Which duos are raising children? Which pair welcomes a new one, and which couple has gone their separate ways? Can Daniel and Jefferson spread enough holiday cheer to bring everyone a merry yuletide season and hope for the new year?
All About Angels
Pairing: M-M
December 9, 2020
Word Count:
12000
Character Identities:
Gay, Lesbian
Summary:
"At first, I tried to pretend that I wasn't different. That these urges I felt were no more than just sinful lust of the flesh. But when I'm near him I can't help but close my eyes and bask in his essence; so fresh, like the smell of the Earth rising after the rain. How can I silence the desires of the flesh? I find myself dreaming of him at night. I find myself craving to taste him, and his body tells me that he desires the same. But I am so afraid."
Johanan is a sweet Amish farm boy with a secret. He and his best friend Amos share a bond beyond what would constitute as "just friends," a love that dare not speak its name. One day after the church picnic, they sneak away, and what originally was intended to be horseplay transforms into a forbidden moment of passion. But when they are discovered by their fathers locked in a kiss, it results in a confrontation and the end of their innocence. They are forbidden to see one another again, and their sacred bond is deemed an abomination.
Will Amos and Johanan ever see one another again, or will they remain forever separated by the punishment for their sin?
Join Daniel Elijah Sanderfer for this heart wrenching inspirational tale of how love can prevail even after all is lost.
Beautiful Abomination
Pairing: F-F, M-M
September 23, 2019
Word Count:
20000
Character Identities:
Gay
Summary: Persuasion, the action or fact of persuading someone or of being persuaded to do or believe something All my life, I was persuaded to blindly believe in things; that they would get better, that I would never fit in, that the way I felt deep down inside was wrong; that the love I felt was a mistake and a sin. But, whats a coming of age boy to do when all he desires is to kiss his best friend. Growing up in the Blue Ridge Mountains, everything you do whether good or bad is looked upon with judgemental eyes. Just like the mountains that overshadow the valley below, they hide the secret bygones and people I used to know. From tragedies that can tear families apart, to secret kisses stolen in the dark. Join best-selling author Daniel Elijah Sanderfer for this heartwrenching coming of age story about coming to terms with feeling different and about the bygone persuasions of the first time he kissed a boy.
Bygone Persuasions
Pairing: M-M
July 1, 2019
Word Count:
120,000
Character Identities:
Gay
Summary: After years of lying, scheming, and dangerous manipulation, Vin Vanbly finally gets what's coming to him: love. How can he survive unstoppable, uncontrollable love when his very nature demands he control everything? Clues about his one true love—tantalizingly hinted at in each of the books in The Lost and Founds series—come together in four life-changing stories. In No Kings, a sex hookup with a parking lot stranger reveals more about Vin's life as a Lost King and his destiny than he could have dreamed. In King Fitch, Vin meets the last king in his long legacy, one final King Weekend before he withdraws from the world to an anonymous Latin American jungle. The Lost Ones recounts a terrifying kidnapping by street thugs from Vin's past. In King Malcolm the Restorer, Vin's mysterious relationship with his older brother—and the soul-crushing secret which drew them together—is finally revealed. Through it all, Vin Vanbly struggles to survive. But what if he is destined for more than mere survival? Is he finally ready to embrace the truth and remember who he was always meant to be? Once there were a tribe where every man was the one true king and every woman the one true queen…
Come Back To Me
Pairing: M-M
August 23, 2016
Word Count:
66000
Character Identities:
Bisexual, Gay
Summary: Trace Black hasn't forgotten the tragic death of his parents and birth pack. His only focus since then was looking after his twin brother, Casey. Now that Casey has found his fated mate and started a family of his own, Trace has given everyone the cold shoulders, preferring the comfort of solitude. But one alpha who rescued him from being attacked by beta wolves changed everything for Trace, as he once again faces the monster who killed his family. Unfortunately, that same monster is also his fated mate. A decision made in the heat of anger and vengeance changed Antonio de la Llama's life, and not for the better. Now an alpha jaguar shifter and fire mage, Antonio spent the next four-hundred years unable to control the evil that burned within himself, thus granting him the name, Diablo. But one encounter with his fated Omega and Diablo has found more reason than ever to prove to Trace that he's not the same monster who killed his family. That the strength which comes with love is greater than anger. But can Trace put his own anger for the alpha in the past? An alpha who's trapped in the flames of hell, and the omega who's destined to set him free. Can these two troubled souls who're still trapped by their past learn to let go, so they can face the future together? Will Trace be able to forgive the alpha who stole everything from him, and will Diablo find a new kind of strength worth holding onto? TRIGGER WARNING: This MPREG novel contains sexual and verbal adult content specifically made for adults 18 and up! This novel also contains a lot of action and violence, death, snarky ice wolves, sexy belly dancing, steamy fire play in the bedroom, and cute babies. *** This is book 2 in the series, but can be read as a standalone story – no cliffhangers ***
Diablo
Pairing: M-M
January 24, 2019
Word Count:
113,000
Character Identities:
Gay
Summary:
ελπίδα. Elpída. Greek. Meaning hope Hope. v. /ˈhōp/ to want something to happen or be true and think that it could happen or be true
Michael and Christy attended prom, graduated high school, and Michael leads the USATF tryouts. With Oxford University on the horizon, his future looks bright, and he believes life has returned to normal after Christy's rescue. He couldn't be more wrong.
Christy has been free from a life of slavery for more than a year and has made remarkable progress due in no small part to the love he found with Michael. But the recent prosecution of a past abuser has shattered the life he so painstakingly built out of nothing but a mountain of horror. He now faces the daunting task of building a new life—yet again. Twelve-year-old Thimi has been missing since Christy left Greece and, unbeknownst to everyone, has hidden out in a vacant mansion in Glyfada. Learning of Christy's survival is the only thing that brings him out of hiding. People, open spaces, even the most common of sounds frighten him beyond reason. A mere ghost of a boy, Thimi arrives in the US with no knowledge of the outside world—the only constant in his life a purple marble. Lost, shattered, and afraid, only hope gives them the strength and courage they need to begin anew.
Child abuse casts a shadow the length of a lifetime.
~Herbert Ward
Elpída
Pairing: M-M
May 30, 2017
Word Count:
36000
Character Identities:
Gay
Summary: [video width="1280" height="720" mp4="https://www.queeromanceink.com/wp-content/uploads/2019/01/Everlonging-Desires.mp4"][/video] Dustin is a sweet country boy who tends bar at the local gay bar in Shenandoah, Virginia. Every night, a mysterious man stops by after work to drown his sorrows. Skyler is a smoking-hot cowboy who works a hard job at the local factory. After a drunk driver took the life of his beloved fiance, Jimmy ten years ago, he isolated himself from the rest of the world. Since meeting Dustin two years ago, desires he thought were long dead have been re-awakened, but he's been too afraid of getting hurt again until now. Maybe Dustin is just what he needs to heal his grieving heart and satisfy his everlonging desires.
Everlonging Desires
Pairing: M-M
August 5, 2019
Word Count:
35000
Character Identities:
Gay
Summary: When 23 year-old Jeremy Trask wanders into Martin Lewis' photography studio one bleak October day and requests photos for a modeling portfolio, neither man is prepared for the immediate and intense attraction between them. What follows is a series of progressively intimate encounters that leads them on a scintillating erotic journey together. But Jeremy has a secret. Will his revelation destroy the bourgeoning intimacy between them? Or will Martin rise to the challenge of loving a 'less than perfect' man?
Exposure
Pairing: M-M
June 24, 2011
Word Count:
60000
Character Identities:
Bisexual, Gay
Summary: Cyrus Winters, an omega wolf and an ice mage is dangerous to others. After running away from his birth pack at an early age, Cyrus traveled from place to place in hopes of finding a pack that would accept him. But once they realized that he was no ordinary omega wolf, they quickly turned their backs on him. Alone and shunned as a monster, Cyrus has kept himself hidden at the top of the Wichita Mountains where nobody would reach him. That is, until he hears the song of his fated mate. Dorian Lovell once had the family he'd always dreamed of, but after the death of his son, his whole world fell apart. When he begins having dreams about a white wolf at the top of a mountain, howling for him, Dorian realizes that he may have found his fated mate. Joining his friend Tobias' pack in the Wichita Mountains, Dorian sets out to find the wolf from his dream; but once he meets Cyrus, he quickly realizes that mating with the frosty omega won't be as easy as he thought it'd be. An omega with a heart of ice, and an alpha who's destined to thaw him out. With a threat to Cyrus' life approaching, the two must learn to come together as one. Can Dorian's pack accept the gifted omega, and can Cyrus trust his life and future to his new pack, and the alpha the fates paired him with? TRIGGER WARNING: This book contains sexual and verbal adult content, MPREG, violence, bloody gore, death, and talks of loss and heartache. No babies were harmed in the making of this book. *** This is Book 1 in the series, but can be read as a standalone story – no cliffhangers ***
Frostbite
Pairing: M-M
October 24, 2018
Word Count:
90000
Character Identities:
Gay
Summary: Meet Louis, the straightest student to ever fall in love with the new boy at school.  If you ask me, I'm a rock star. Just the right amount of awesome, cute, and only slightly delusional. I attend the best high-school, in Paris no less, I've got the coolest best friend, the fiercest girlfriend, and more importantly, I'm absolutely, a hundred percent straight. So no, Michael, the new British student, with his dark curls and sweet smiles, doesn't interest me whatsoever. I'm too busy anyway. I don't have the time, or the need, to think about him at all. Not his hair, his British accent, or the way he makes me feel at times, when I'm alone and everything morphs into his handsome face… Did I mention everything's perfectly fine? This is not the year I'm going to lose control, and possibly everything that matters to me, just because of one disorienting, unnerving, life-shattering English guy. In this coming-of-age love story, Louis, a snarky student at an International High-School in Paris will struggle to admit the truth to himself and his loved ones as he wrestles with his sexuality. Will he find the courage to accept who is he before it's too late? I Want To Kiss You In Public is a story about love, friendship, truth, and heartbreak, packed with funny dialogue, and comes with its own Spotify Rock Playlist. It contains soft drugs and alcohol consumption as well as cursing.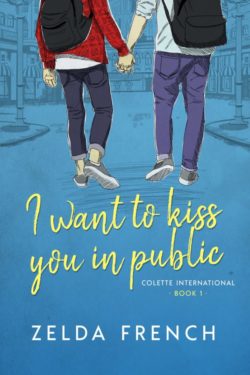 I Want To Kiss You In Public
Pairing: M-M
June 16, 2020
Word Count:
35, 600
Character Identities:
Gay
Summary: Summer fireworks were undeniable, but Warwick needed time to deal with his past, so in fall, he and Dom went their separate ways. Even though fate intervened with an unplanned reunion on a flight to Europe that ended in a kiss, Warwick still took the planned break once back in England. With his head clear by winter, Warwick knows what he wants -- Dom. Dom feels the same, but his opera diva mother, who swears by romantic fables and love mythology, claims the third time is no charm. In fact, a third reunion, according to her, is always cursed. As the three embark on a Christmas concert tour, the prophecy seems to be coming true. Sfortuna, bad luck, follows them from city to city. Is Warwick and Dom's relationship really doomed before it begins, or will mythology and Christmas spirit provide a way around the jinx?
Jingle Bells and the Jinx
Pairing: M-M
December 11, 2021
Word Count:
100,000
Character Identities:
Gay
Summary: English attorney Alistair Robertson can't quite believe an astonishing tale of kingship and transformation he hears at Burning Man, the annual counter-culture art festival in the Black Rock desert. Who are the Found Kings? Is "being kinged" as magical as it sounds? Determined to find the mysterious garage mechanic named Vin who helps men "remember who they were always meant to be," Alistair catches his quarry amid the extravagant sculptures, fire worshipers, mutant cars, and lavish costumes. After searching for three years, he'll finally get to ask the question burning inside him: "Will you king me?" Wandering together through the desert, Vin Vanbly and Alistair explore Burning Man's gifting culture and exotic traditions, where they meet the best and worst of their fellow burners. Alistair's overconfidence in Vin's manipulative power collides with Vin's obsessive need to save a sixteen-year-old runaway from a nightmarish fate, and the two men spiral into uncontrollable, explosive directions. In this fourth adventure of The Lost and Founds, beneath the sweltering summer sun and the six billion midnight stars, one truth emerges, searing itself on their hearts: in the desert, everything burns.
King John
Pairing: M-M
September 10, 2015
Word Count:
105
Character Identities:
Gay
Summary: Adopted from Thailand and never one to fit in with the local bubbas, life has been rough around the edges for Mai Kearns, even before he came out of the closet. Now, almost ten years past the torture of high school, Mai still can't catch a break: he and his parents stand to lose their beloved farm. How will a "King Weekend" help change Mai's fate? What has narrator Vin Vanbly been up to for the four weeks he's been sneaking around Mai's hometown? At the urging of a ransom note from 'The Lost Kings,' Mai embarks on an impossible treasure hunt chasing mystic poetry, Fibonacci Hopscotch, ancient prophecy, the letter 'x,' and a confounding, penguin-marching army. The stakes are high: if Mai fails, the Lost Kings will permanently claim him as their own. Finding the treasure may unlock the secret to saving his family farm. But can this angry farmer risk opening his broken heart before the weekend is over? Mai Kearns has 40 hours to get very, very curious in this second installment of The Lost and Founds.
King Mai
Pairing: M-M
July 13, 2013
Word Count:
105,000
Character Identities:
Gay
Summary: In a trendy San Francisco art gallery, out-of-towner Vin Vanbly witnesses an act of compassion that compels him to make investment banker Perry Mangin a mysterious offer: in exchange for a weekend of complete submission, Vin will restore Perry's "kingship" and transform him into the man he was always meant to be. Despite intense reservations, Perry agrees, setting in motion a chain of events that will test the limits of his body, seduce his senses, and fray his every nerve, (perhaps occasionally breaking the law) while Vin guides him toward his destiny as 'the one true king.' Even as Perry rediscovers old grief and new joys within himself, Vin and his shadowy motivations remain enigmas: who is this off-beat stranger guiding them from danger to hilarity to danger? To emerge triumphant, Perry must overcome the greatest challenge alone: embracing his devastating past. But can he succeed by Sunday's sunrise deadline? How can he possibly evolve from an ordinary investment banker into King Perry?
King Perry
Pairing: M-M
February 28, 2012
Word Count:
11000
Character Identities:
Gay
Summary: Ricky is about to face the hardest thing he has ever had to, in a way no parent ever should. Can Taylor be his rock in these times of despair and manage to keep himself together for Ricky or will the weight of grief prove too difficult for them to bear? Join Daniel Elijah Sanderfer for the fourth book in his best-selling Kiss the Rain series.
Kiss the Rain 4
Pairing: M-M
November 22, 2019