Word Count:
82298
Character Identities:
Gay
Summary: "You are only a prisoner when you surrender." The second novel in The Iron Warrior series continues the edgy pairing of Gristle and Wynn. The former soldier's young lover has been too shamed to admit he'd been raped when he'd been ambushed and almost killed by two villainous druids. Throughout a series of adventures, the men are kept from a healthy partnership by Wynn's harboring his secret and by Gristle's own jealousies and superstitions. The two lovers find adventures both perilous and humorous in their trip from Derry to the seacoast of Ireland, then on to Wales and finally to Tara, the scene of Wynn's recent capture. Into the uneasy relationship steps another warrior…Dub, the Wise Man (Ollamh) of the high king of Ireland, who had befriended and healed Wynn in the earlier book. Weakened by jealousy, the unconquerable Gristle lowers his guard, and he is savagely attacked. Now Wynn must join with his old mentor Dub in trying to save his life. And even if Gristle can be saved, how can the lovers ever be happy under the shroud of suffocating jealousy and buried shame?
Warrior, Stand Tall
Pairing: M-M
January 1, 2018
Word Count:
81000
Character Identities:
Gay
Summary: Shirzah holds a position of honor as a Preparator of the Dead in the great Necropolis of Abdon. His skills assist souls in their journey to the next life, a worthy occupation. But when a body comes into his care bereft of its soul and heart, Shirzah finds himself launched into a chaotic web of murder, intrigue, and fearsome events that force him out of his comfortable, pleasant existence, and give him no choice but to seek out a former friend, lost years ago to the service of the gods. The priest Set-Imbe holds power now, as a priest of the Fourth Rank. Kept to the Pantheon grounds by binding oaths, trained to serve the god Toth, still Seti is delighted when his old friend Shirzah seeks him out, ending eight long years of loneliness and separation. Their joyful reunion nearly overshadows the reason behind Shirzah's visit, all the more so when their old friendship bursts into a new flame of forbidden passion. Frightened by the strength of his attraction to Seti, Shirzah nearly abandons his attempt to secure the priest's help. But the horror of desecrated bodies drives him forward into a whirlwind of events. A demon terrorizes the town of Abdon, feasting upon souls. And a purely inner demon torments Shirzah, as he realizes the strength of his love for Seti, a thing forbidden by his entire society.  And what of the gods? Once, they walked the streets of Abdon, but they haven't been seen in decades. Even the highest ranking priests have had no contact with their deities beyond vague, fuzzy visions once in a while. Where are they now, when a demon is feasting upon their followers? Shirzah and Seti discover an underlying web of corruption powered by death and greed in their quest to defeat the demon and free their missing gods. Will they succeed in saving Abdon and its people? And more, will Shirzah overcome his fears of the love he feels for Seti?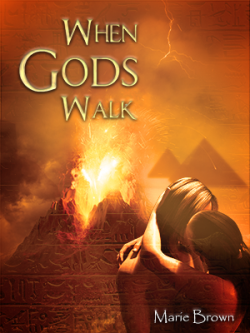 When Gods Walk
Pairing: M-M
August 5, 2012