Word Count: Information not available
Character Identities:
Bisexual, Gay
Summary: Declan Devine is the soon to be Alpha of the Asphalt Bay Pack. He's a total playboy that refuses to settle down. He enjoys having his pick of any partner with no regard for what's between their legs. Well, until his father decides to force him into a mating before becoming Alpha. With no time to search for his true mate, Declan chooses the next best candidate. Liam "Lykos" Cassidy is a very powerful demigod. The result of a joining between the sea god Poseidon and a wolf shifter. Favored by his uncle Zeus, Lykos has extra special abilities given to him by Zeus himself. As a "Fixer" for the Paranormal Council he uses his abilities and knowledge to solve any problems that arise. Bordering on psychotic with some of the things he does, he's a force to be reckoned with. Will Lykos finally have someone to call his own despite his frigid personality? Will Declan reject the gift given to him by fate for the sake of duty? Or will everything go the way fate decided it should?
An Alpha for the Demigod
Pairing: M-M
August 3, 2016
Word Count:
97,641
Character Identities:
Ace, Bisexual, Lesbian
Summary:
A quest for power. A growing evil. Can a scholar of magic keep an incredible discovery from the forces of chaos?
Wizard and bookworm Athala Dohn pursues her research with a fiery passion. So when she uncovers evidence of an ancient spell buried deep within the city, she won't rest until she's the one who makes the find. Determined to outwit potentially-deadly magical protections, Athala brings help: a Conscript, Elise Bresch, and a barbarian, Ragan Ermolt. Together they enter the sewers completely unprepared for what awaits… With undead skeletons, giant rats, and even a dragon in their path, Athala never expected a set of metal bars to thwart her. But when a corrupt man imprisons and tortures her and her friends, the scholar realizes her curiosity may have unleashed destruction upon all of Neuges. Athala has one chance to escape captivity and claim the spell before the Age of Mortals slips from humanity's grasp.
Ancients
is the first book in the Heroes by Necessity saga of sword and sorcery fantasy novels. If you like magical Dungeons and Dragons inspired worlds, multifaceted and diverse characters, and pulse-pounding action, then you'll love Riley S. Keene's epic tale.
Buy Ancients today!
Ancients
Pairing: F-F
November 30, 2017
Word Count:
121000
Character Identities:
Gay
Summary: A child's memory. A journey's end. Lance doesn't remember the time before Ulfr found him. It's a dark pit in his mind that he avoids at all costs. And yet, despite his best efforts, pieces start to fall, and echoes from the past begin to ring. However, he has little time to comprehend their meaning, since the Captain of the Imperial Army herself has come to collect him and bring him to the capital city of the Nifdem Empire. Whisked away to the gilded streets and glittering court of the Hill of Tarran, and then to the snowy reaches of Swenen, Lance and Gust will learn the answers to questions they've had from the start. And be forced to acknowledge their roles in the survival of the empire and the ripple effects of their actions. But such knowledge can come at a steep price. As allies and enemies begin to step from the shadows, Lance will learn the truth of his past and the price of his redemption, and all the pain that comes with them. While Gust will have to decide what he's willing to sacrifice to safeguard the one he loves.
Avenging Lance
Pairing: M-M
September 29, 2020
Word Count:
8844
Character Identities:
Gay
Summary: (This is NOT a standalone!! It contains events that take place in The Four Horsemen therefore it is recommended that you read The Four Horsemen first!) Azazel has been imprisoned for a thousand years because of his actions against one of the Four Horsemen. While time flows differently in heaven and his thousand year sentence equates to only ten years on earth it doesn't make it any easier on him. When the time comes for him to be released he's no longer sure of himself and where he stands in the world. Loki is the god of mischief. He enjoys playing pranks and being a general annoyance to everyone. Until one day a prank goes too far and his father banishes him to the human realm as punishment. Loki cannot return to Asgard until he's learned his lesson when it comes to pranks and the effect they have on people. Fate always has a plan and this time she's got an ace up her sleeve. Azazel thinks he's doomed to be alone for all eternity. Loki just wants to go home. But in the end they'll realize, you can't outrun Fate. (Warning: Contains sexual content, Man on Man action, and explicit language. Not recommended for those under the age of 18.)
Azazel
Pairing: M-M
March 17, 2017
Word Count:
95877
Character Identities:
Ace, Bisexual, Lesbian
Summary: A bargain must be struck before the Age of Mortals can be truly realized. For Elise, Ermolt, and Athala, the price is high. Not only do they have to find the dragons that have been hidden for centuries, but they have to kill them. ​ Their first stop is Jalova, home of Teis, God of the Sky, and their enemies the overseers, a group of thieves led by Merylle Callac, former High Priest of Teis. ​ Merylle wants help them, and her terms are simple - she wants revenge of her former God. Elise and her companions are more than willing to comply. ​Will Elise, Athala, and Ermolt be able to slay Sirur with Merylle's help, or will they face the wrath of Meodryt for their failure?
Bargain
Pairing: F-F
March 31, 2018
Word Count:
99.927
Character Identities:
Gay, Straight
Summary: It's a fine line with power, it can be positive or it can be negative, depending on the person wielding it. Paden had been thrown off his planet of Eiravia, given the name of Darius, and left to forget his race and his family. Years have passed since then and he has made his way back to Eiravia and the man he loves. With Finnal's help, and that of his growing clan, he will make Eiravians feel pride again. His growing power is becoming known throughout the universe and he is slowly being talked about in hush tones as the Jewel, a shining star who can create wonders from changing a race to fixing a planet. Nothing much is known about him from the outside world, only the rare few that have the opportunity to understand his fears, hopes, and loves truly understand. Throughout the story, one man's journey is interwoven into Darius's. Vega is a cornerstone to the clan. He is a man who helps him work out issues and chase the shadows away. He helps him become something that is talked about in tales by firesides.
Beyond the Norm
Pairing: M-M
April 19, 2017
Word Count: Information not available
Character Identities:
Gay
Summary: Death, be not proud… The conclusion of the war between Elizabeth Bathory and the Guardians of Gaia draws closer, but the theriomorphs and their allies are caught between vampires loyal to Elizabeth Bathory's daughter, Anna, and humans controlled by Elizabeth and her sire, Thrace. With the forces of evil now pressing on them from two sides, the theriomorphs need help, and they need it fast! And soonest our best men with thee do go... It has been five hundred years since Antonio de Barajas, one of the oldest surviving theriomorphs, lost his mate at the hands of his worst enemy. But Gaia never revealed the whole truth about Raphael's fate, and Antonio is shocked when Raphael arrives to train Evan St. John and Adam Carson as true Dark Guardians. Yet the man who returns after so long is not the same man Antonio once loved. The hard and lonely life as Gaia's hunter has changed Raphael almost as much as his lost memories of Antonio and the love they once shared. Thou art slave to fate, chance, kings, and desperate men... Antonio must work with the stranger who wears his lover's face, and while Raphael is welcomed by most of the team, one member sees his return as a threat to his own place in Antonio's life. But Thrace has allied himself with terrorists who possess a weapon of mass destruction. Now the theriomorphs and Dark Guardians must work together in a race against time to discover Thrace's plan. Even as Antonio and Raphael are irresistibly drawn to one another, Antonio risks losing far more than his heart this time. If he and his team fail in their mission, millions will die, for Thrace will stop at nothing to destroy Gaia once and for all.
Blood Bathory: Be Not Proud
Pairing: M-M
August 6, 2018
Word Count:
56,000
Character Identities:
Gay
Summary: Melony Toyo is a grad-student minding her own business, walking to her car after work. She is attacked by a vampire and left for dead, only she sprouts fangs of her own and bites into the vein of a second vampire checked her pulse. She awakens to discover she is Born, a breed of beings springing forth from the human population. She is left to navigate this visceral new life with few allies. As Melony's unique qualities come to light, many will scramble to take possession of her! Rachelle Jameson is a master vampire, second only to her older brother in their clan. She finds herself drawn to the young half-Asian girl with a mysterious power. The centuries old master vampire will move heaven and earth to protect the only woman she has allowed herself to fall for. Together with some very crazy, and musically inclined shape-shifters, Melony and Rachelle will fight to preserve that which they love. Just when Melony thinks she has a handle on her new reality, her world is further turned on its head. What dark mysteries will her awakening reveal? Fans of Lost Girl, Charmed, The Vampire Diaries, and The Mortal Instruments will love this clever new series!
Born Succubus
Pairing: F-F
August 2, 2018
Word Count:
136000
Character Identities:
Ace, Gay, Pansexual
Summary: With his career firmly established and his reputation as a successful PI growing, Hades should have the perfect life with his human lover, his faithful ferryman, his dogs and the parts of his family still speaking to him. But murder and chaos are never far away for death lords as his nephew Dionysus and his oldest friend Charon are drawn into the maelstrom. Includes: Books, Bulls & Bacchanals: Brandywine Investigations #4 Midwinter Dancing: Brandywine Investigations #4.5 Pack Up The Moon: Brandywine Investigations #5 Please note: Books, Bulls & Bacchanals has been re-edited for this edition.
Brandywine Investigations: Family Matters
Pairing: M-M
February 28, 2018
Word Count: Information not available
Character Identities:
Bisexual
Summary: When humans forsake the temples, the gods need to find other employment. Hades opens Brandywine Investigations after his divorce and his subsequent move to the modern world. If he was hoping for boring infidelity cases and lost dogs, he's sorely mistaken as murder and mayhem find his agency and his extended family at an astonishing rate. Includes: Canines, Crosshairs & Corpses: Brandywine Investigations #1 No Enemy But Time: Brandywine Investigations #2 Dragons, Diamonds & Discord: Brandywine Investigations #3
Brandywine Investigations: Open For Business (BI 1-3)
Pairing: M-M
April 27, 2016
Word Count:
102716
Character Identities:
Bisexual, Gay
Summary: Though some struggles have ended in victory, ease and contentment are not the fate of the gods of war. Instead they must contemplate the sometimes terrible and frightening nature of their powers—and the effect those powers have on the people they love. After their campaign in Ummana, the gods of war return to the Valley with their ranks finally complete. Sic is the eighth Emeris to join Renaldo and Canubis in their war against the Good Mother. Even so, they must wait for their powers to manifest, and trials lay ahead. It is only when a tragedy befalls Aegid, Kalad, and Daran that Sic learns the extent of his abilities as a Luksari. What he achieves will change Daran forever—and set him up for trauma that leaves him doubting his relationship with Aegid and Kalad. Daran must affirm his commitment to his lovers and his new status among them through blood and violence. Even though Renaldo and Casto's relationship has improved, they're still struggling now and then, which could prove to be more dangerous than they think—because the Good Mother is already plotting her next move.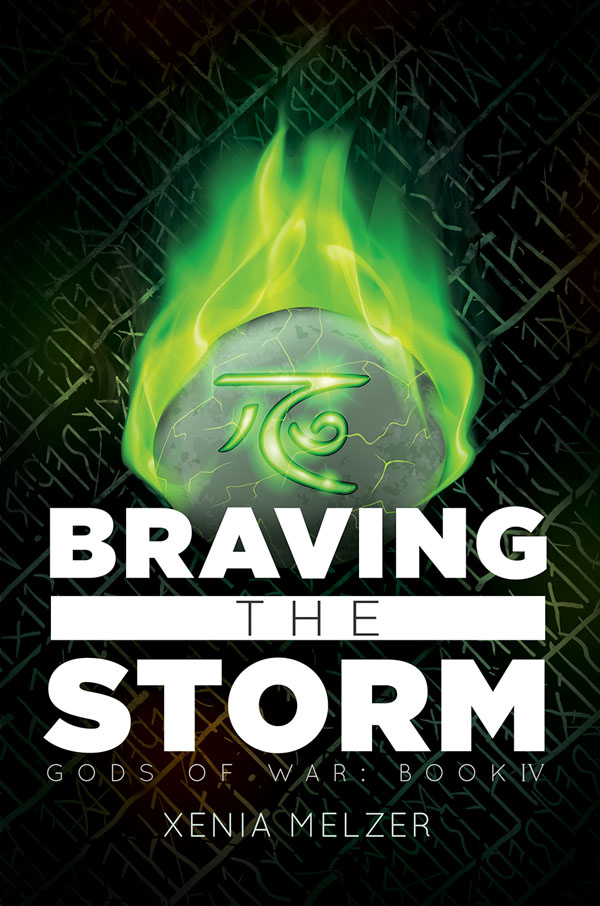 Braving the Storm
Pairing: M-M
November 21, 2017
Word Count:
104,000
Character Identities:
Bisexual, Gay
Summary:
Caelan wants his throne back. The bargain has been struck, and it's time to return home. But the situation is worse in Erya than he previously suspected. Betrayal runs deep in the streets of Stormbreak, and finding people he can trust will be treacherous. He has no choice, though. He's fighting for his birthright, and maybe even a little revenge if he can get it. Will the gods come between him and the crown? Or worse, him and Drayce? Breath of Life is the second book in the six-book Godstone Saga fantasy series and is not a standalone. The story contains explosions, gods with secret plans, hidden romance, a prince set on revenge, magic, and lots of delicious angst.
Breath of Life
Pairing: M-M
November 12, 2021
Word Count:
9500
Character Identities:
Gay, Transgender
Summary: Can the winter in his heart be thawed? Hades has lost track of the passage of time beyond sorting the deceased into their eternal homes. With each arrival of another soul, the agony they experienced in their final moments seeps into his ichor. It is a painful, isolated existence within Hades's palace, but far safer than returning to the Underworld beyond its doors.
By Pain of Death
Pairing: M-M
May 6, 2022
Word Count:
14,151
Character Identities:
Gay
Summary: Dear Author, As Crown Prince to the human nation, I could have anyone I choose but to end the war between the humans and the griffons, I must marry the youngest son of the Griffon King. The night before I'm to be married, I meet a man who captures my attention at first glance but before I can talk to him, he disappears. How am I supposed to marry someone I've never met when I've finally found someone who's captured my interest? But I suppose it's for the best because no matter what, I'm determined to end this war… I just hope my betrothed is someone I can grow fond of… Photo Description: Photo 1: A tall man with short, dark brown, roman-cut hair, piercing eyes of indeterminate color, and high cheekbones in an oval, masculine face with pouty lips is walking towards the viewer. He wears a tilted gold crown with two red stones visible on front. He has a brown, thigh-length fur coat with a black fur collar, a dark brown scarf, and leopard-patterned gloves. His long black pants partially cover the top of his silver-studded black boots. Photo 2: A golden-tanned man with black pants hanging hip level and a muscular, shirtless back is facing away from the viewer with a black background. He has short, straight, ginger hair with brown and gold highlights. His left hand grasps a long silver sword at the hilt near the left side of his head, across his broad shoulders, and cut off from the picture to his right with his right arm hanging down. This story was written as a part of the M/M Romance Group's "Love's Landscapes" event. Group members were asked to write a story prompt inspired by a photo of their choice. Authors of the group selected a photo and prompt that spoke to them and wrote a short story. This story may contain sexually explicit content and is intended for adult readers. It may contain content that is disagreeable or distressing to some readers. The M/M Romance Group strongly recommends that each reader review the General Information section before each story for story tags as well as for content warnings.
Charon's Dilemma
Pairing: M-M
August 25, 2014
Word Count:
97000
Character Identities:
Bisexual, Gay
Summary: The Final Confrontation Caelan is done being a pawn of the gods. He's been herded and molded by the liars and manipulators. He's put the lives of his family in danger again and again. And he is done. It's time to face the mad Goddess of the Hunt in the last place any of them want to go—the Ordas. If they're lucky, the special assistance he's called in will arrive in time. But no matter what, Caelan will protect his family…at any cost. City of Blood is the sixth and final book of the Godstone Saga series and is not a standalone. The fantasy with a modern twist contains danger, secrets, broken gods, desperate kisses, dragons, possessive boyfriends, magic, lots of delicious angst, and one last round of a deadly game.
City of Blood
Pairing: M-M
July 1, 2022
Word Count:
25,056
Character Identities:
Gay, Transgender, Genderfluid
Summary: PHOTO DESCRIPTION: Two half-snake men, one a green anaconda and one a brown python, sit coiled together on rocks with their eyes half-lidded. The anaconda is sitting higher than the python. The python man is holding the anaconda man at the waist, and one hand lower on the scaly lower half. He has a tattoo on his upper right arm. The anaconda man is holding the python man's face, while he looks down with tenderness. He has a tattoo on his left shoulder. See the photo here STORY LETTER: Dear Author, That dark-headed man, who is looking up at his lover, is me. We have been through a lot of heartache and trials, but we have finally made our relationship permanent. As two different types of snake shifters, we had to overcome some major obstacles. Our families put us through a lot of headaches trying to keep us part, but we overcame it all. Can you tell us how we managed to overcome those differences and our families to get us to where we are now, happy and so deeply in love? Triggers: rape, incest Sincerely, Ashley STORY INFO: Genre: paranormal Tags: snake shifters, shifters non-wolf-cat, angels/demons/gods, mythology, magic, corporate espionage, reunited, soulmates/bonded Word Count: 25,056
Coil Me Up
Pairing: M-M
October 13, 2015
Word Count: Information not available
Character Identities:
Ace, Bisexual, Lesbian
Summary:
A long forgotten god. An abandoned Temple full of undead. Can the Favor of Isadon really bring the dead back to life?
The Age of Mortals temporarily forgotten, Elise Bresch and Ragan Ermolt regroup to focus on returning their friend and companion, Athala Dohn, from the Nether. Or wherever Meodryt's fateful bite sent her. Following instructions that are little more than campfire tales leads them to Marska, a long-abandoned city full of rumors - and bandits. Finding the fabled Temple of Isadon - a relic of centuries past - is easy, but getting inside proves to be a bit tougher. Elise and Ermolt refuse to leave empty handed; their goal is to retrieve the Favor of Isadon, a magic relic of the forgotten God of Death, and use it to bring Athala back. But the guardians of the Temple - including the fearsome Champion - refuse to just let them take it. Will Elise and Ermolt overcome the trials of Isadon's Temple, or will the long-dead God of Death gain two new servants?
Crossroad
 is the fourth book in the Heroes by Necessity saga of sword and sorcery fantasy novels. If you like magical Dungeons and Dragons inspired worlds, multifaceted and diverse characters, and pulse-pounding action, then you'll love Riley S. Keene's epic tale.
Crossroad
Pairing: F-F
March 31, 2019
Word Count:
105000
Character Identities:
Bisexual, Demisexual, Gay, Lesbian, Polyamorous
Summary: Coulta was born with a curse, one that forces him to obey the commands of those with authority over him. At only five years old, his father gives him up into service of a powerful lord, hoping to give Coulta a better life. But it was a mistake. Varin turns Coulta into an assassin, someone who can't stop himself from killing even the most innocent person he was commanded to murder. Despite the pain of a life out of his control, Coulta does have hope; hope that he will one day meet the person his mother claimed would free him of his curse. Wildas is the Crown Prince of Phelin. He has known nothing but luxury and comfort, not the pain and suffering of a cursed killer. He has no idea that his life is in danger, that assassins are lurking in the shadows of the next city he will visit on behalf of the Crown. Nor does he know that his very soul is tied to one of those assassins, a tie that not even death could ever break. Together they will discover that even chance encounters have meaning, and that their own personal struggles are nothing compared to what is to come when their kingdom is launched into a civil war that puts all of lives in danger. Only by relying on each other will they have any chance of survival. Content Warning: Contains bisexual characters and polyamorous arrangements.
Curse of Blades
Pairing: 4+ or Other
June 1, 2018
Word Count: Information not available
Character Identities:
Ace, Bisexual, Lesbian
Summary: To fulfill her destiny, Athala Dohn must slay the dragon of the God of Night. There's just one small problem: everyone is trying to stop her. The city of Jirda is under the control of an interloper known as the Prophet. They have convinced the people of Jirda that Athala and her companions are the enemy, and they've sworn to stop Elise, Ermolt, and Athala from carrying out Ydia's plans to bring about the Age of Mortals. Athala has never heard of the Prophet before coming to Jirda. But she has a sinking suspicion she knows who they are. With a whole city against them, will Athala and her companions have any chance of taking on the dragon Undyt, or will the Prophet's darkest desires be filled? Destiny is the third book in the epic Heroes by Necessity series, a Dungeons-and-Dragons inspired take on the fantasy genre, overflowing with rich world building, diverse characters, and heart-pounding adventure
Destiny
Pairing: F-F
July 31, 2018
Word Count:
103456
Character Identities:
Gay
Summary: Years ago, Ushna barely weathered the crushing loss of his Twin Flame. But losing Tristan just might destroy him. In the wake of birth and betrayal, Ushna takes the God Ashur to Tristan in a last desperate bid to save Tristan's life—and is helpless to do anything but watch as Ashur instead buries him in a grave. Though he has no desire to go on living, having now lost Brian and Tristan, Ushna has no choice. Not only do their children need him, the mysterious Simurgh has come out of hiding and forces him to continue on—for there is much to do and little time to do it, especially with treachery and danger closing in on them from every side. Author's Note: Sumeria's Sons is a paranormal urban fantasy that slowly unveils the lost myths and legends of the modern day Lycan people. This series does eventually features a poly relationship and includes mpreg.
Dragon's Eye
Pairing: M-M, M-M-M
October 23, 2020