Word Count:
16000
Character Identities:
Gay
Summary: Librarian Gavin MacCauley isn't expecting any surprises this holiday season. It's the usual rush of helping patrons, and knitting items to donate to the local hospital. But his world is turned upside down by the cutie who walks into knitting club looking to learn how to crochet a scarf. Jonathan Mercier has just moved to town and is desperate to find a new craft for his traditional, handmade gift for the aunt who adopted him. When his elderly neighbor strong-arms him into attending the library's knitting and crochet club, he falls hard for the kind (and hot!) librarian running the class. But with Christmas coming, and time running out to finish the gift, will these two find the time for each other?
A Christmas Yarn
Pairing: M-M
December 11, 2019
Word Count:
20000
Character Identities:
Gay
Summary: (Previously published in the Silver and Gold Anthology from Less Than Three Press) Evan Andrews is a graduate student content with spending his days in a library reading poetry. His existence is rocked when hot, sexy, and much too old for him Marc Romano stumbles into his life. The guy has everything, plus he loves dogs. Evan is immediately smitten. Marc didn't expect to be older than the professors when he decided to go back to college. He immediately puts his foot in his mouth around Evan, and if weren't for his dog Kilo playing matchmaker, that would have been the end of that. Sparks fly between Evan and Marc, but will those sparks ignite, or will their difference in age extinguish the flame?
A Corgi Named Kilowatt
Pairing: M-M
August 14, 2019
Word Count: Information not available
Character Identities:
Gay
Summary: Finally working for a man he can trust has given Bill a new purpose. His boss, Christopher Manos, commands respect and absolute loyalty, and Bill has proven himself worthy of a seat at Christopher's table. Becoming best friends with Christopher's husband, Snow, has further proven his allegiance and cements a place for him in the Manos family. When Snow's life is in danger, Christopher places his full trust in Bill to destroy anything and anyone that poses a threat to his husband. But hunting and wiping out the enemy for the safety of everyone Bill cares about means partnering with the one person he has vowed to never see again. Mace wears a mask of vain cockiness and uses his model good looks to his full advantage. Known to many as Without a Trace Mace, he's a deadly assassin well known for wiping out whole families and getting away without a trace. With a dangerous past and an unknown future, Mace uses his veil of conceit to keep others at a distance, rarely trusting anyone. When his boss, Black--the one man he trusts above all others—gives him his next assignment, he learns his newest partner is none other than Bill, the man he'd do anything to avoid. With the safety of the Manos family on the line at the hands of a brilliant maniac, Bill and Mace begrudgingly put their differences aside to ensure Snow, and his loved ones, are protected from harm. With their lives in grave danger and the clock ticking towards zero hour, they navigate deathly perilous situations and uncertain outcomes, hoping they survive long enough to keep the Manos family safe. Bill and Mace's traitorous hearts draw them closer together no matter how hard they fight the inevitable. With the lives of their loved ones hanging in the balance, they find themselves in the middle of a dangerous dance. But when the music stops, will they both be left standing?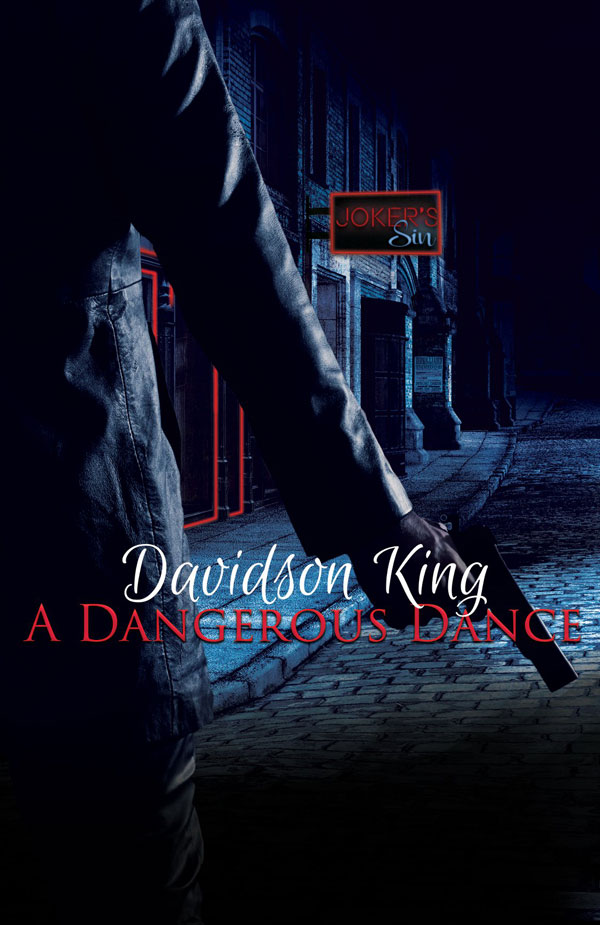 A Dangerous Dance
Pairing: M-M
July 15, 2018
Word Count:
61k
Character Identities:
Gay
Summary: Mob enforcer Ceaton Mercer has killed a lot of people in a lot of different ways—he stashed the last two bodies in a toolshed belonging to a sweetheart marine researcher in an idyllic island community—but he's really not such a bad guy. Over time he's found a home of sorts, and he even learns he's found a place in the hearts of the people he works with… at least enough so that they won't put a bullet in his head because he's outlived his usefulness to the boss. But he never thought he'd find one day could change his life, and he's about to discover how wrong he is. Because in a single day, he meets the man who looks to be the one, the love of his life. It's an improbable idea—a man who deals in death finding love—but it's like it's meant to be. That single day gets weirder and troubles pile up, forcing Ceaton to take a hard look at his dreary life and accept that one day can change everything, especially himself. His future might be brighter than he expects—if he can stay alive long enough to find out.
A Day Makes
Pairing: M-M
April 29, 2017
Word Count:
85788
Character Identities:
Bisexual, Pansexual
Summary: Kris Starr used to be famous. Rock and roll. Sold-out shows. Literal magic. Empathic talents and screaming fans. But he has a problem or two. He's having a hard time writing new music. It's Midwinter, which means he's surrounded by depressing holiday cheer. And he's in love with Justin, his manager, who has a talent for rescuing almost- or once-famous bands ... and who's hiding secrets of his own. Justin Moore, on the other hand, is very good at keeping those secrets -- he's had to be for years. One secret involves a demonic inheritance that would make him a target of suspicion. Another involves his past. And the third involves Justin's feelings for Kris Starr, rock and roll icon and now his client ... and a powerful empath.
A Demon for Midwinter
Pairing: M-M
March 10, 2018
Word Count:
~67000
Character Identities:
Gay
Summary: Sometimes the perfect man can be found in the most unexpected place…. Martin Carmichael owns a security firm and is part owner of Club Whisper. He's a Dom in search of the right guy, and when his car breaks down on a lonely stretch of road, he thinks he might have found him. Artist Collin Malloy is talented, easygoing, but somewhat insecure. Still, he has a big heart and is quick to offer help when he sees Martin in need. To thank him, Martin invites Collin to dinner, where the attraction between them becomes harder to resist. But what will become of their budding relationship when Martin reveals that he likes his men bound, submissive, and in pain? Is it something Collin can accept… and possibly enjoy exploring? Even if he can, Collin has a secret of his own—a secret he doesn't even realize he's keeping.
A Dom and His Artist
Pairing: M-M
April 10, 2018
Word Count:
67500
Character Identities:
Gay
Summary: Silver fox Curtis is everything baker Andrew could want in a sub, and their chemistry is off the charts. But as a wealthy and successful gallery owner, Curtis intimidates Andrew and challenges his dominant nature. Can Andrew get used to a sub with a much higher social status? British noble Curtis Morris has all but given up on finding his perfect Dom when he walks into a bakery and meets Andrew Granger—smoldering hot, new to Miami, into the lifestyle, and with kinks that align perfectly with Curtis's own. Andrew grew up poor and doesn't know if he can handle a sub with so much more money, even if he's insanely attracted to Curtis. To make matters worse, Curtis's preferred club, Whisper, is far beyond Andrew's financial means. Still, Andrew doesn't want to lose Curtis to his own hang-ups, not when Curtis is far from the elitist snob Andrew expected. But Andrew keeps messing up, and with Curtis's rich ex visiting with the hopes of winning him back, he and Curtis will need all the help they can get to make their romance of opposites work out.
A Dom and His Gentleman
Pairing: M-M
June 24, 2019
Word Count:
72000
Character Identities:
Gay
Summary: Life is perfect for Richard and Dean. Richard is a wealthy and successful businessman who also owns a BDSM club, and Dean is a bestselling author and sub to Richard. They're young, happy, and in love. The future is bright…. Until tragedy strikes and an accident claims Dean's beloved sister. Dean also finds himself the guardian of a three-month-old infant, and soon he's trading in his leather fetish gear for diapers and drool bibs. But little Emily is all that remains of his family, so how can he abandon her? It's not what Richard signed up for. As much as he tries to be supportive, he never wanted kids and misses having his partner to himself. Suddenly the life he imagined for them is gone, and he's not sure their relationship can survive the upheaval. But fate isn't through with Dean, and when misfortune strikes again, will he be able to turn to the man he loves? A final crisis will determine if they can pull together as a family or they must face facts and part ways.
A Dom and His Writer
Pairing: M-M
October 23, 2017
Word Count:
45572
Character Identities:
Gay
Summary: How do you stay standing when the ground is torn from beneath your feet? Becket and Christian are taking the first, tentative steps towards the committed D/s relationship they both crave when the world literally explodes around them. In a frightening reversal of roles, Becket has to deal with his own vulnerability and Christian must find the strength to take care of his Dom. With the help of their friends at The Edge, the two men come to realise that dominance and submission cannot be switched on and off. Events that could have ended in tragedy provide the catalyst that affirms their trust in each other, but there are still questions to answer. Is the safe path always the right one to take? Is control simply a state of mind? One thing's for certain, life's too short for compromise. Reader Advisory: This book is best read in sequence as part of a series.
A Double Edged Sword
Pairing: M-M
July 18, 2014
Word Count: Information not available
Character Identities:
Gay
Summary: A Switched at Birth Romance  Tristan was devastated when his sister died. His only consolation was her newborn daughter. He promised to take care of her like she was his own, but he's broken that promise. After growing up in foster care, Nathaniel's finally built the life he's always wanted. Now one case of human error could tear it all apart. An unthinkable mistake that could never be rectified. Two men. Absolute strangers until tragedy and unforeseen circumstances bind them together. They must now find a way to co-parent and make the best of a bad situation. With no shared history to help them and two little girls caught in the middle, they now have no choice but to make it work. What could possibly go wrong? Can two men put their differences aside for the sake of their children? They both have difficult choices to make, or what they love most will be taken away. Are there bonds stronger than blood?
A Family For Keeps (Stories Of Us Book 1)
Pairing: M-M
August 12, 2018
Word Count:
110000
Character Identities:
Gay
Summary: XAVIER Former Navy SEAL Xavier Thierry knows he is good at his job… protect the client. You do the job but never get too close—that's his motto. When the friend he owes for saving his life asks for a favor, he doesn't hesitate to say yes, no questions asked. But babysitting some pampered brat is nowhere on his to-do list. Until he first lays eyes on him… Cris. And he's nothing like Xav expected. He wasn't sure when this man stopped being a job, but the rules blur once Cris ends up in his arms. How can Xavier let him go when he's the only one who chases away the darkness? CRIS Cris Whitcomb thought he finally found his happily ever after… But the fairytale soon became a nightmare, one that left him with only one choice—to push away those he loves to protect them. His chosen family refuses to be pushed away. Their solution, call in someone trusted to watch over and protect him… Xavier. But what happens when your future walks in on the worst day of your life? Maybe sometimes you have to go through the bad to get the best... One who knows the pain of loneliness, another haunted by memories he can't run away from... Maybe they are exactly what each other needs… TRIGGER WARNING: This book contains scenes of domestic violence in flashbacks.
A Family Of His Own
Pairing: M-M
July 28, 2019
A Fluid State
Pairing: M-M
Word Count:
42,000
Character Identities:
Gay
Summary: James McKinney has always lived life alone. He doesn't have a family, at least none that he remembers. He's always dreamed of having a house of his own, a place he can call home. Finding the right house, ready to work to make it his home, nothing can put a damper on his happiness, or can it? Trey Andral, returning home from college, notices someone moving into his old friend's house next door. Miss Hattie is still waving to him from the bedroom window, even though he knows she's gone. He also knows he can't not help the new guy make the house his own. Trey has always been able to see and hear spirits, but what's normal to him is terrifying to most others. When the spirits seem intent on contacting James, Trey has no choice but to share his secret, risking their friendship. If they work together, maybe they can figure out what the clues the spirits are giving them mean. And maybe they can find family in each other.
A Ghost of a Chance
Pairing: M-M
August 14, 2020
Word Count:
30000
Character Identities:
Gay, Transgender
Summary: Steffen is embarrassed about the top surgery scars bisecting his chest but wants to gain muscle. So why not lift in the middle of the night when the gym is empty? That's the plan, at least until a friendly, muscled gym bro, Ryan, shows up night after night, giving him training tips and advice. For Ryan, lifting weights started as a way to wind down from his mentally-taxing job. Now it's practically his religion and he spends more time at the gym than his house. Training Steffen is a great excuse to avoid going home. Not that he has anyone to go home to. A friendly wager between them sparks something more. But can each man bulk their heart up enough to embrace love? This 30,000 word novella is a low-stakes steamy M/M romance with a trans masc main character and a happily ever after. Each book in the T-Guides series stands alone and they can be read in any order.
A Gym Rat's Guide to Love
Pairing: M-M
October 1, 2021
Word Count: Information not available
Character Identities:
Gay
Summary: When does never turn into happily ever after in the search for love? Top accountant of Manzanita Imports in Sacramento, Ted Abbott stopped participating in the love game after he turned thirty quite a few years ago. He's not tempted by the cute young new hires or the product reps his loyal staff suggest he ask out on a date. Chicago contractor Matt Patterson is on the verge of giving up too. He's worked his way up from apprentice carpenter to co-owner of a thriving business. At forty-something, he's considered a lucky catch for anybody looking for a sugar daddy, which he knows only too well. The chance of them meeting is nil until Matt's uncle who lived in Sacramento dies and leaves his estate to his nephew. After they meet in a dilapidated bar called The Roost, could their paths actually merge and become one?
A Handful of Joy
SALE
Pairing: M-M
December 1, 2021
Word Count:
21534
Character Identities:
Bisexual, Gay
Summary: Josh has stepped back into the closet for a guy, but how long can he stay there? Life in a college town suits Josh Cassidy. He has good friends and neighbors, and the bookshop café he runs with his family is thriving. As the winter holidays begin, Josh finds himself enamored with police officer Alex Curiel, an old friend who has recently moved back to town. The trouble is, Alex isn't ready for the world to know he's attracted to men. At Alex's request, Josh agrees to closet their relationship, though the secrecy quickly becomes a burden. When Josh realizes he is falling for Alex, his ability to hide his feelings from the world begins to slip, and he's forced to decide if love is enough to keep him hiding behind closed doors. A Hometown Holiday is a 21.5K sex-buddies-to-lovers MM novella. It features a bookshop owner with a fondness for jazz music, a closeted cop who could be Mr. Right if only he'd give himself a chance, and the warm, fuzzy HEA that both guys deserve.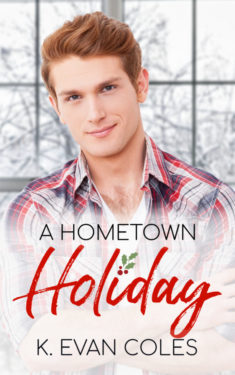 A Hometown Holiday
Pairing: M-M
December 12, 2018
Word Count:
21000
Character Identities:
Gay
Summary: Ethan Carson can't bring his father back, but he can give his widowed mom a perfect Christmas. He's spent all his savings on her wish list and found an epic tree. But when he starts to decorate with the family heirlooms, he finds her favorite ornament, the one his father bought on their honeymoon, is broken. The last time glassblower, Nico Kazan celebrated Christmas his boyfriend died. He woke up in the hospital alone and guilt-ridden. When Ethan, the object of his secret crush, asks him to recreate a broken Murano ball, the last thing he wants is to recreate a symbol of love—not when he knows love doesn't last. With Christmas orders coming in, only Ethan can convince Nico there's more to life than money. And only the magic of Christmas can open a heart sealed up tight. It'll take more than skill to recreate the Murano ball. It'll take a Christmas miracle.
A Hundred Promises of Love
Pairing: M-M
December 8, 2017
Word Count:
111200
Character Identities:
Gay
Summary: After surviving ten years in prison, Cameron Pierce is attempting to put the past behind him. He tries to adjust to his newfound freedom with a place at the halfway house and a job. But one lesson he learned in prison keeps him guarded: hope is a dangerous thing. Hunter Donovan, Assistant State Attorney, is a man of justice who loves a challenge. After a lifetime of putting his career first, a milestone brings him to a harsh realization—he's lonely. Hunter's world changes when he meets Cam. The wary young man intrigues him and awakens a desire unlike anything he's ever experienced. When Cam's past resurfaces and threatens to rip them apart, their budding relationship is challenged and Cam's hope for a future begins to dim. These outside forces hunting Cam will stop at nothing to send him back to prison. But they'll have to get past Hunter first. ---------- NOTE: Word count: 111,200. This story is a romantic suspense/mystery novel and the second installment in The Men of Halfway House series. Although characters reappear from book one, this story can be read as a stand-alone.
A Hunted Man
Pairing: M-M
April 28, 2014
Word Count:
6,609
Character Identities:
Gay
Summary: When former tagger Eric hears a cute fellow student named Joel protesting to a woman that he's gay, Eric goes to his rescue and gives him a big kiss and hug in a City College hallway. Even though sparks fly between them, Eric doesn't expect any reward for saving the guy from being hit on in public, so he's surprised when undercover cop Joel asks him to become his pseudo-boyfriend. How bad can it be for a former high school dropout, who's been to juvie more times than class, to pretend he's a cop's lover?
A Kiss in Time
SALE
Pairing: M-M
November 4, 2020
Word Count:
70200
Character Identities:
Gay
Summary: Bob Anderson knew it was not quite normal to be relieved that the woman he'd proposed to turned him down. He thought he was ready; he was thirty-six, it was time to choose a partner and take the next step. He wanted her as much as he'd ever wanted a woman. It was not quite normal to be sitting in a bar asking himself whether he'd ever wanted a woman at all. Jade Derecha wasn't out to pick anyone up. He wasn't out to meet anybody. He only went to sit with the guy in the suit because he looked so tragic. And then the guy put that ring box on the table without a word, as if it had a story to tell. Jade opened the box; thought wistfully about how good that ring would look on his own graceful hand; and put it on. By the end of the night, Bob was calling himself Robert, because he wasn't the person who'd always been called Bob. Only one other thing in his life had changed. That one thing changed everything else. Because he woke up beside Jade and realized there was so much more to want.
A Little Turn
Pairing: M-M
October 8, 2020