Word Count:
100641
Character Identities:
Gay
Summary:
2018 Top Ten Gay Romance brings together the best-selling short stories published by JMS Books that year.
From first love to true love, from submission to sensual, from heat to sweet and everything in between, the couples in these stories are sure to keep you turning the pages as you fall in love with them.
With stories by Addison Albright, Laura Bailo, Kris T. Bethke, Sarah Hadley Brook, Nell Iris, Shawn Lane, K.L. Noone, Deirdre O'Dare, J.M. Snyder, and J.D. Walker, this head-over-heels collection goes beyond bedtime reading. Whether happily ever after or happy for now, there's an ending for everyone in here!
Contains the stories:
The Contingency Plan by Addison Albright
No Rulebook for Flirting by Laura Bailo
Hero Worship by Kris T. Bethke
Motorcycle Man by Sarah Hadley Brook
Unexpected Christmas by Nell Iris
Hitting It Big by Shawn Lane
Leather and Tea by K.L. Noone
Doggone Love by Deirdre O'Dare
Commanding Officer Thomas by J.M. Snyder
No Snarkasm in Love by J.D. Walker
2018 Top Ten Gay Romance
SALE
Pairing: M-M
December 29, 2018
Word Count:
27000
Character Identities:
Gay
Summary: Troy Pettifer, a broken-hearted chocolate shop worker, isn't sure what to do next when Richard Belden, a controlling but handsome sadist, walks into his life and gets him on his knees. Troy's friends start fixing him up with vanilla guys. Richard is nursing his own heart that was broken by a man who betrayed him and the entire BDSM community, but, for Troy to fulfill desires he didn't even know he had, he's going to have to embrace the beautiful leatherman within.
5 Easy Chocolate Pieces: A BDSM Love Story
Pairing: M-M
July 18, 2015
Word Count:
32000
Character Identities:
Bisexual
Summary: Tekokwa runs. He runs from his past, he runs from his future. He runs from himself. He runs so far from civilization that he should be the only human around, but instead he finds himself living with Kwaotli, a mysterious young man who is one contradiction upon another. He's a spoiled lordling one moment, a humble weaver the next. He tells stories like nobody Tekokwa has ever known, and yet won't share his own. And above all, his moods swing: from fun and carefree to manic and angry. Despite everything, Tekokwa can't defend himself against Kwaotli's advances. Kwaotli seems determined force Tekokwa to face himself, to let out the darkness that Tekokwa has tried so hard to suppress all his life. A Coward, A Warrior is a 30k novella with no happily ever after.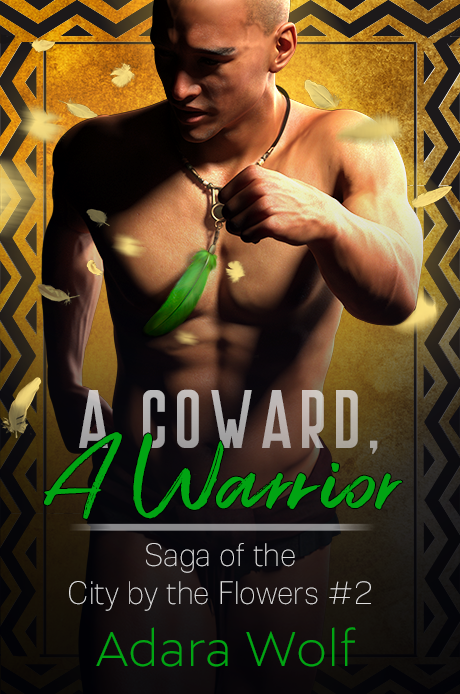 A Coward, A Warrior
Pairing: M-M
August 27, 2018
Word Count:
~67000
Character Identities:
Gay
Summary: Sometimes the perfect man can be found in the most unexpected place…. Martin Carmichael owns a security firm and is part owner of Club Whisper. He's a Dom in search of the right guy, and when his car breaks down on a lonely stretch of road, he thinks he might have found him. Artist Collin Malloy is talented, easygoing, but somewhat insecure. Still, he has a big heart and is quick to offer help when he sees Martin in need. To thank him, Martin invites Collin to dinner, where the attraction between them becomes harder to resist. But what will become of their budding relationship when Martin reveals that he likes his men bound, submissive, and in pain? Is it something Collin can accept… and possibly enjoy exploring? Even if he can, Collin has a secret of his own—a secret he doesn't even realize he's keeping.
A Dom and His Artist
Pairing: M-M
April 10, 2018
Word Count:
67500
Character Identities:
Gay
Summary: Silver fox Curtis is everything baker Andrew could want in a sub, and their chemistry is off the charts. But as a wealthy and successful gallery owner, Curtis intimidates Andrew and challenges his dominant nature. Can Andrew get used to a sub with a much higher social status? British noble Curtis Morris has all but given up on finding his perfect Dom when he walks into a bakery and meets Andrew Granger—smoldering hot, new to Miami, into the lifestyle, and with kinks that align perfectly with Curtis's own. Andrew grew up poor and doesn't know if he can handle a sub with so much more money, even if he's insanely attracted to Curtis. To make matters worse, Curtis's preferred club, Whisper, is far beyond Andrew's financial means. Still, Andrew doesn't want to lose Curtis to his own hang-ups, not when Curtis is far from the elitist snob Andrew expected. But Andrew keeps messing up, and with Curtis's rich ex visiting with the hopes of winning him back, he and Curtis will need all the help they can get to make their romance of opposites work out.
A Dom and His Gentleman
Pairing: M-M
June 24, 2019
Word Count:
64000
Character Identities:
Gay
Summary: Leeland Drake and Jonathan White are a committed BDSM couple and have just moved in together. Leeland has only one year left in college, and everything seems perfect… until Leeland's uncle asks him to stand in for an injured UFC fighter. Leeland wants to help his uncle, but he remembers all too well from his years competing in martial arts how strenuous life as an athlete can be. He doesn't want to risk his relationship with Jonathan. After some discussion, they decide Leeland will go pro for a year. As if the training and strict diet weren't bad enough, the pressure skyrockets when Leeland encounters homophobic fighter Tommy Adams—especially when they end up facing each other in the championship Between the bigoted rants of his opponent, the scrutiny of the media, the pressure from his sponsor, and a fire in his uncle's gym, Leeland is close to breaking down. Only Jonathan's support and love keep him focused enough to set foot in the octagon once more—and maybe even walk away a winner.
A Dom and His Warrior
Pairing: M-M
September 25, 2018
Word Count:
72000
Character Identities:
Gay
Summary: Life is perfect for Richard and Dean. Richard is a wealthy and successful businessman who also owns a BDSM club, and Dean is a bestselling author and sub to Richard. They're young, happy, and in love. The future is bright…. Until tragedy strikes and an accident claims Dean's beloved sister. Dean also finds himself the guardian of a three-month-old infant, and soon he's trading in his leather fetish gear for diapers and drool bibs. But little Emily is all that remains of his family, so how can he abandon her? It's not what Richard signed up for. As much as he tries to be supportive, he never wanted kids and misses having his partner to himself. Suddenly the life he imagined for them is gone, and he's not sure their relationship can survive the upheaval. But fate isn't through with Dean, and when misfortune strikes again, will he be able to turn to the man he loves? A final crisis will determine if they can pull together as a family or they must face facts and part ways.
A Dom and His Writer
Pairing: M-M
October 23, 2017
Word Count:
45572
Character Identities:
Gay
Summary: How do you stay standing when the ground is torn from beneath your feet? Becket and Christian are taking the first, tentative steps towards the committed D/s relationship they both crave when the world literally explodes around them. In a frightening reversal of roles, Becket has to deal with his own vulnerability and Christian must find the strength to take care of his Dom. With the help of their friends at The Edge, the two men come to realise that dominance and submission cannot be switched on and off. Events that could have ended in tragedy provide the catalyst that affirms their trust in each other, but there are still questions to answer. Is the safe path always the right one to take? Is control simply a state of mind? One thing's for certain, life's too short for compromise. Reader Advisory: This book is best read in sequence as part of a series.
A Double Edged Sword
Pairing: M-M
July 18, 2014
Word Count:
47832
Character Identities:
Gay
Summary: A Hampton Road Club story. Angelo wonders if the Hampton Road Club will offer him a new beginning and whether he can love two men at the same time. Angelo escaped his family's farm to be with his first and only love in Los Angeles. He meets up with him at Walter's speakeasy, but their reunion is short-lived when Angelo discovers that his lover is embracing the Roaring Twenties with as many men and as much hooch as he can. With nowhere to stay and no job prospects, Angelo faces an uncertain and scary future. Ex-prizefighters Bruce and George enjoy their employment at the Hampton Road Club for more than one reason. They can indulge in their passion for sadomasochism and search for the boy who will be the submissive they keep forever. Unfortunately, none of the men at Hampton Road are good prospects. When they run into a forlorn Angelo in the alley outside a speakeasy, their protective instincts kick in. But will they want to do more than just protect Angelo? And will the shy and inexperienced man embrace a lifestyle he never knew existed?
A New Beginning For Angelo
Pairing: M-M-M
July 10, 2018
Word Count:
73000
Character Identities:
Bisexual, Gay, Lesbian, Polyamorous
Summary: It's been five years since James, Tate and Sebastian moved in together to enjoy a three-way BDSM relationship and James is turning fifty. After enjoying a surprise party and thoughtful gift, the health crisis of a close friend necessitates a trip to Montreal, followed by a snowy Christmas getaway in Mont Tremblant. Soon, an unexpected event challenges the dynamics of the relationship. Will the sudden appearance of family members, old friends, and new acquaintances cause insurmountable problems or present an opportunity to demonstrate the real meaning of togetherness?
A Numinous Light
Pairing: M-M, M-M-M
March 27, 2015
Word Count: Information not available
Character Identities:
Gay
Summary: LA's heat holds danger and mystery for a Dom and his sub aiming for love and a new life together. Anxious to leave London and its horrors behind, Brian Harrison and Jackie Vasquez move to Los Angeles. Brian hopes working for Luki, managing a small Vasquez Security branch, will leave him more time to live, love, and play with sub Jackie. But Los Angeles awakens old trauma for Jackie, and follows that with a brand new hit. While Jackie struggles back to health after a crippling accident, Brian strives to find his balance as Jackie's lover and Dom. Meanwhile, the more Brian defies the order not to investigate the disappearance of the previous branch manager, the deeper and darker the mystery gets. Can the couple fan the lusty flames still burning between them, rekindle romance, and rise together in time to stand against looming dangers just ahead?
A Shot at Living
Pairing: M-M
December 27, 2019
Word Count: Information not available
Character Identities:
Gay
Summary: New trauma threatens the love of a Dom and his sub. Investigating crime may threaten their lives. After a crash left him with new mental and physical scars, Jackie Vasquez has finally regained his focus, flair, and bright outlook. Though he's letting Brian Harrison's marriage proposal simmer, it's not for lack of love. He's set his sights on putting his life right first -- a new job and a fresh start at graduate school. But Los Angeles -- the city of devil winds -- has new trauma in store for him. Another accident leaves him with the stump of a leg and defeated spirits, adrift despite Brian's devoted attentions. While Brian copes with his own emotional trauma, he hopes to break through Jackie's apathy, but work at Vasquez Security takes more and more of his time and attention. Specifically "the Espen case," which his boss -- Luki Vasquez -- has forbidden him to pursue. Help comes on all fronts from friends and family for both Brian and Jackie, but even as it does, danger mounts from outside. Can the two men find their way back to love as well as passion and fulfillment in their D/s roles? Can they survive the confrontation with danger that seems to loom closer and darker every time LA's hot winds blow?
A Shot at Perfect
Pairing: M-M
January 24, 2020
Word Count:
50,000
Character Identities:
Gay
Summary: Kink and wedding vows can't stop danger, but love gives a Dom and his sub courage to fight. After too much time apart from his lover and sub, Brian Harrison is thinking kink, a cowboy hat, and one more marriage proposal. When Jackie Vasquez finally says "yes" to a wedding, he also says, "why wait?" But their vows and the toasts to the happy couple have hardly faded when a phone call reminds them that trouble still awaits. Despite his best intentions, Brian broke the law in his efforts to stop a powerful criminal from harming those he loves. He could go to prison, or he could risk his life going undercover to help bring one of Europe's most nefarious citizens to justice. Friends and smart thinking can help him do the right thing. But only love can supply the courage he and Jackie need to prevail against schemes and guns and, if they're lucky, stay alive to enjoy a honeymoon.
A Shot of Courage
Pairing: M-M
July 30, 2020
Word Count:
45,000
Character Identities: Information not available
Summary: A Dom learns to love while Scotland Yard claims his time and a sociopath lays a trap for his sub. This is book 2 Vasquez Inc, a spinoff series from the popular Vasquez and James series. Jackie Vasquez knows he needs to submit to a Dom he can trust—just as much as he needs to manage his own life. He found the right Dom in Brian Harrison, and then romance beckoned them both beyond bindings and safewords. They take the first steps toward a life together in London, where Brian is pursuing his dream career at Scotland Yard, and Jackie is working toward a master's degree. Their private hours deep in the night brim with both heat and beauty as Brian's artful vision for bondage makes a masterwork out of Jackie, body and soul. But time together becomes scarce as a series of horrific gaslight crimes keeps Brian at work and out of reach for Jackie much of the time. Though Jackie is faithful, he isn't the type to sit and wait for his lover's attentions. His self-assured ways and his geocaching hobby lead him to a dangerous discovery—all is not as it seems at the University. Trapped in the Gaslighter's web, he'll need to use every trick he knows to stay calm and buy time. But will Brian unravel the knot of mystery in time to save the man he loves?
A Shot of Fear
Pairing: M-M
November 21, 2019
Word Count:
45,000
Character Identities:
Gay
Summary: Gay American Dom with a fabulous sub juggles romance and bondage with Scotland Yard police work. Book 1 in the the Vasquez Inc series, spinoff from Vasquez and James. When Brian Harrison first met Jackie Vasquez at a Hawaiian wedding, Jackie was sixteen and troubled. Six years later they meet again; Brian's career at Scotland Yard is budding with promise, while Jackie's student days at the University of Nebraska are rolling toward a strong finish. Magnetic mutual attraction pulls them insistently toward one another, but the ocean separating their lives makes for a simmering romance. When the waiting ends and they get together for a weekend in Denver, Dom Brian and sub Jackie both know they've tapped into something scalding hot, and much deeper than sharing an artful session. Shibari, lust, and love are all on the agenda -- but for Brian, so is his police career, and a strange series of crimes seems poised to threaten their romance -- and maybe their lives.
A Shot of J&B
Pairing: M-M
November 1, 2019
Word Count:
48000
Character Identities:
Gay
Summary: Deep love, hot kink. Secrets call for a shot of trust when true danger lurks in LA's hidden places. __________ Brian Harrison wants to keep everyone safe -- especially his beloved sub, Jackie Vasquez -- and he's convinced the only way to do that is to dig ever deeper in a forbidden investigation. Keeping his activities secret from the State Department means keeping them from his own boss, Luki Vasquez, and keeping secrets from Luki means Jackie can't know either. Meanwhile, Jackie keeps his own secrets as his kind heart and indomitable spirit drive him to find and help a mysterious homeless woman, who may be connected to a kidnapping. Both men dance around dangers lurking in LA's hidden places. Love continues to grow, adventurous kink heats up, and a marriage proposal still hangs in the balance. Can a willing shot of trust keep them together and alive when secrets collide?
A Shot of Trust
Pairing: M-M
April 24, 2020
Word Count: Information not available
Character Identities:
Bisexual, Gay
Summary: Officer Hector Castillo, a sniper on Houston's elite SWAT team, is content living alone as a perpetual bachelor. But when he opens up his small apartment to a friend in need, their close quarters awaken long suppressed desires Hector can't help but acknowledge. Miguel Delgado's unfortunate detour down a road he never intended to travel ends in a big wake up call, but he vows to get himself back on track. Though he's always looked up to Hector, Miguel isn't a kid with hero-worship anymore, and his schoolyard protector has matured into a strong and caring man – who happens to look damn sexy in his SWAT uniform. Though their physical attraction to each other is undeniable, Hector and Miguel try hard to resist and protect their friendship. Until one night changes everything… A Sniper's Devotion is a loving and sexy, friends to lovers erotic romance. Hector and Miguel's story is part of the Cuffs, Collars and Love series, but it is a stand-alone novel.
A Sniper's Devotion
Pairing: M-M
November 7, 2017
Word Count:
70000
Character Identities:
Demisexual, Gay
Summary: Reed Matthews lives a quiet and structured life in the small town of Edgewood. Going on his sixth year as the principal of a Catholic high school, Reed thrives on routine, but one unplanned excursion for Chinese takeout is enough to send his meticulously-constructed world into a tailspin. After growing up in foster care, Dominic O'Halloran decided to enter seminary in his early twenties, and he's dedicated his adult life to creating space for the LGBT community. Weeks after answering the call from St. Paul's and moving to Edgewood, Dominic finds himself face-to-face with the one person he's never been able to leave in the past--his childhood best friend. Dominic and Reed find themselves entangled in decades old unresolved feelings and a complicated, new emotions. Reed is terrified of losing his soul, and Dominic is worried about losing his heart. But all it takes is one make-believe kiss for them to realize they'd throw everything away for another chance at happiness.
A Taste of Sin
Pairing: M-M
March 20, 2019
Word Count: Information not available
Character Identities:
Bisexual, Gay
Summary: How is this ever going to work... Ordered by the Empress to find out if the lover of a friend is having an affair, Alitus investigates. As Minister of Imperial Intelligence, Alitus has access to every camera and remote in the empire. Which is a problem, because Wulf's affair is with Alitus. As a Better, an enhanced human, Alitus can touch no one -- his pheromones are addictive. Isolated and under scrutiny, he keeps his affair with Wulf secret, because Wulf belongs to another, a powerful man allied with the empress. When the man asks the empress to investigate, Wulf's relationship with Alitus could be exposed. Complicating matters, the empress reveals her immortality, and requires Alitus to prove his loyalty. Her test throws him straight into Wulf's arms, right in front of the empress and Wulf's lover. Hiding what he and Wulf are to each other has taken discipline and denial. Now, it will take a miracle...
Alitus
Pairing: M-M
July 23, 2021
Word Count: Information not available
Character Identities:
Bisexual, Gay
Summary: Zain was just a dog walker. It was an unconventional job for a werewolf, even a brand new one, but he liked dogs and they liked him. It only seemed to make sense… right up until the point a vampire called him in to take care of his human pup. When his life collided with Liam and Caleb's, none of them were prepared for the directions it could take. Especially Zain. But between the sexy pup and the vampire's creativity, the power struggles pitting dominance against submission — and acceptance — the two might be too intriguing to just walk away from… When M.A. Innes, bestselling author of sweet taboo romance, and R. Phoenix, author of playful dark erotica, paranormal romance, and horror team up, you should leave your expectations at the door. The duo responsible for Almost Strangers, a sweet contemporary romance with more than a few taboo themes, has collaborated again to bring you something from the other side of the force. That said, here are a few notes from Raissa: This is not an alpha / omega / beta tale, at least not in the usual sense (designation at birth, slick, heats, mpreg, primary focus on the werewolf part, etc.). Alas, "Alpha" in this universe is completely different and refers more to status. I hope you'll give it a shot anyway, but please don't expect A/B/O dynamics! (Though there are plenty of Big Os in here. Just saying.)
Alpha
Pairing: M-M, M-M-M
April 25, 2018