Word Count:
69034
Character Identities:
Gay
Summary: Matthew Doner is starting over. After a five-year prison term that alters every aspect of his life, he receives a bequest from his aunt with the stipulation that he use the money to make things right. Breaking free of the long-standing role he's played and inspired by the few who support him, he decides to create a safe place where people like him can find purpose and start a new life. Julian Capeletti likes challenges. He is confident, brash, stubborn, and just what Matt needs. Desperate for work after a downturn of luck, he accepts the job to renovate Matt's crumbling building. Over the course of a year, romance simmers between them as they restore the house. But there's a bigger renovation that must take place in their hearts. To become better men, they need to learn to trust each other even with secrets and painful memories they fear may rip them apart.
-------------------------------------------------------------------------
69,034 words. 2nd edition. Revised and expanded.
A Better Man
Pairing: M-M
January 16, 2014
Word Count:
124,200
Character Identities:
Gay
Summary: For Wall McCormack, actions speak louder than words. He's giving and protective, loyal to his friends, and devoted to his job. While confident and powerful enough to conquer any challenge, his greatest strength lies in his calm nature. Until an unexpected assignment sends his world into a loud and colorful chaos he never could have anticipated. Rejection. It's something Dylan Vaughn has known his entire life. But he's a tough nut to crack and refuses to break. Armed with a sharp tongue and brutal honesty, he pushes through life and at anyone who attempts to take him on. Except for the quiet guardian who piques his interest and dares him to want…more. When Dylan's past comes back with a vengeance and jeopardizes their growing connection, Wall will stop at nothing to protect the younger man and remain by his side. But convincing Dylan that someone accepts the real man behind the cocky facade might prove to be Wall's greatest challenge yet. With his freedom on the line, Dylan must trust the strength of their bond and confront the forces threatening their future. Only then will he realize the dream of acceptance is real and finally have a place to call home.
A Chosen Man
Pairing: M-M
September 26, 2018
Word Count:
111200
Character Identities:
Gay
Summary: After surviving ten years in prison, Cameron Pierce is attempting to put the past behind him. He tries to adjust to his newfound freedom with a place at the halfway house and a job. But one lesson he learned in prison keeps him guarded: hope is a dangerous thing. Hunter Donovan, Assistant State Attorney, is a man of justice who loves a challenge. After a lifetime of putting his career first, a milestone brings him to a harsh realization—he's lonely. Hunter's world changes when he meets Cam. The wary young man intrigues him and awakens a desire unlike anything he's ever experienced. When Cam's past resurfaces and threatens to rip them apart, their budding relationship is challenged and Cam's hope for a future begins to dim. These outside forces hunting Cam will stop at nothing to send him back to prison. But they'll have to get past Hunter first. ---------- NOTE: Word count: 111,200. This story is a romantic suspense/mystery novel and the second installment in The Men of Halfway House series. Although characters reappear from book one, this story can be read as a stand-alone.
A Hunted Man
Pairing: M-M
April 28, 2014
Word Count:
145000
Character Identities:
Gay
Summary: A story of healing and confronting demons… Detective Aidan Calloway is rock-solid strong. He's a man of justice—loyal to his friends, family, and job—even if it requires bending a law…or two. He shields himself behind an abrasive, fearless facade, until a phone call one night chips his armor and throws his perfectly planned, hollow life into a tailspin. Jessie Vega is the epitome of optimism. His carefully crafted attitude of hope and positivity protects him from a past filled with too much pain. When a ghost from a dark time resurfaces and nearly breaks him, he must tap into his inner strength or risk losing everything he's worked so hard to build. But Jessie can't do it alone. He must fight to break through Aidan's ironclad defenses to reveal the heart of the man hiding beneath the tough surface and mend his damaged spirit. Only then can they truly heal and become strong enough to battle the demons that haunt them and threaten their chance to finally be together. ---------- ***This book contains scenes and subject matter some readers may find distressing. It is only intended for adult readers.*** Word count: 145K Although part of a series and events from prior stories are referenced, this book can be read as a stand-alone.
A Mended Man
Pairing: M-M
April 28, 2016
Word Count:
117500
Character Identities:
Gay
Summary: Cole Renzo thinks his greatest challenge is to behave for the remainder of his term at Halfway House. Until he meets his new boss, Ty Calloway, a man who ticks off every box on Cole's list of interests. A sought-after restorer and customizer of exotic and collectible cars, Ty had enough confidence to command what he wanted in life, until one fateful night changed everything. Almost two years later, he's slowly rebuilding his life with great control. He's defied the odds and works tirelessly to be the man he once was—but he still feels broken. Cole's candor and unfiltered personality awaken Ty's barely-remembered desire to greet each new day with a smile, while Ty's unwavering acceptance of Cole's quirks and brash humor makes Cole feel as if he fits in for the first time in far too long. When a nemesis threatens Ty's personal restoration and the things he holds dear, Cole is determined to protect their relationship, even if that means sacrificing everything he's worked so hard to achieve. But Ty will have to let his guard down, surrender control, and admit he needs Cole first, even if that puts himself at risk of breaking beyond repair. ---- Word count: 117,600 This is book 3 in The Men of Halfway House series. Although part of a series, this book can be read as a stand-alone.
A Restored Man
Pairing: M-M
February 17, 2015
Word Count: Information not available
Character Identities:
Bisexual, Gay
Summary: Officer Hector Castillo, a sniper on Houston's elite SWAT team, is content living alone as a perpetual bachelor. But when he opens up his small apartment to a friend in need, their close quarters awaken long suppressed desires Hector can't help but acknowledge. Miguel Delgado's unfortunate detour down a road he never intended to travel ends in a big wake up call, but he vows to get himself back on track. Though he's always looked up to Hector, Miguel isn't a kid with hero-worship anymore, and his schoolyard protector has matured into a strong and caring man – who happens to look damn sexy in his SWAT uniform. Though their physical attraction to each other is undeniable, Hector and Miguel try hard to resist and protect their friendship. Until one night changes everything… A Sniper's Devotion is a loving and sexy, friends to lovers erotic romance. Hector and Miguel's story is part of the Cuffs, Collars and Love series, but it is a stand-alone novel.
A Sniper's Devotion
Pairing: M-M
November 7, 2017
Word Count:
120100
Character Identities:
Bisexual, Gay
Summary: Two men. One sweet dream of family and forever. Gabriel "Bull" del Toro loves his fast-paced globe-trotting job, but aches for an honest relationship and the trust that comes with it. After a few too many heartbreaks, he's nearly given up hope of finding that special someone. Until Ben. Born deaf, Ben is used to working twice as hard for what he wants, but risking a newfound friendship on an impossible dream is scary. After all, there's one lesson he's learned: everything is temporary—freedom, friends, even family. Neither man expects the undeniable spark between them or for every moment together to fuel that connection. For the first time, a happily ever after is within reach, but they must trust that the dream of acceptance, family, and a place to call home is more than a sweet fantasy. It can be forever. ———— A Sweet Man is an interconnected standalone within The Men of Halfway House series. It is a story about the power of love, the meaning of family, and never giving up on a dream. It includes wounded hearts, an age-gap romance, and enough cake and sweetness to give you a toothache.
A Sweet Man
Pairing: M-M
June 16, 2020
Word Count:
124000
Character Identities:
Gay
Summary:
A story of two men and the boundless love that forever changed them.
Vannguard Shaw has spent the last ten years serving a life sentence and adjusting to the ache of solitude. He accepts his fate, a sacrifice for the only man he ever loved and the one person who saw beyond his rough edges. Drayton grew up with a trust fund and pre-planned future, but an unexpected encounter one night forces him to abandon everything and start from scratch. He is now a self-made man and developer of one of the most sought after electric exotic automobiles in the world with a fortune greater than that of his birthright. Yet, he'd surrender it all—again—for the only man who's still ever-present in his heart. After a decade and entirely too much distance between them, Vann is suddenly released back into a world that has been nothing but cruel. Drayton never lost hope they would once again reunite and pick up where they left off, but Vann's stubborn nature and repeated encounters with a heartbreaking world prove to be a challenge. Vann needs to tap into his fighting spirit's reservoir of strength and hope life doesn't punish him for taking a chance. Only then will he realize his own value and feel worthy enough to finally have Drayton's heart. And their chance at forever.
----------------
This is book 5 in The Men of Halfway House series. Although part of a series, this is a full-length stand-alone novel.
Main Characters: Drayton and Vann Release date: May 2, 2017 Series: The Men of Halfway House No. in series: 5; can be read as a stand alone Category: Contemporary Gay Romance Word Count:  124,300 words Formats available: e-book and print Drayton first appears in book 3, A Restored Man. Vann is first mentioned in book 4, A Mended Man.
A Worthy Man
Pairing: M-M
May 2, 2017
Word Count:
67000
Character Identities:
Bisexual, Gay
Summary: "You don't ever have to keep anything you feel locked up, Clay. I'm your Dom, and whatever you need from me, I'll gladly give to you."   – Sergeant Logan Pierce Police Officer Clay Foster is finally at peace and happy with his life. He enjoys his career as a member of Houston's SWAT team, and he loves submitting to his Dom in the bedroom. His life is perfect, until one cruel act destroys Clay's bubble of happiness. Shattered trust forces Clay to reevaluate his career, his relationship, and himself. Sergeant Logan Pierce is the leader of Houston's elite SWAT team. On the force, he's the best at what he does. In private, the most important thing in his life is taking care of his submissive, Clay. Clay is his whole world, and Logan will do whatever is necessary to keep him safe. Even if that means going up against Clay's stubbornness in order to help him heal. Can Logan and Clay work together to rebuild their happiness? Can they find their way back to the shared passion of Dominance and submission? Or will their love and relationship end before it's truly begun? An Officer's Submission is Book Four in the Cuffs, Collars, and Love series. If you love romance that is epic, emotional and erotic, you'll want to give this series a read!
An Officer's Submission
Pairing: M-M
March 15, 2017
Word Count:
61923
Character Identities:
Bisexual, Gay
Summary: At Pearl's Hair and Nails, no one questions Tate Robinson about his high heels, crop tops, and lipstick, because he's the boss and he can wear what he damn well pleases. The shop is his life, and he doesn't need anything more. Until a man walks in with his adorable daughter, and Tate has to untangle her helmet-hair…and his growing feelings for the single dad. Reece Evans has been on his job for years, has his own place, and now has custody of his eight-year-old daughter. But he doesn't trust himself to avoid screwing up. Adulting is not his strong suit—or so he's been told. And now a sexy beautician, who also happens to be his new downstairs neighbor, has Reece wanting and reaching for more than he thinks he's capable of. As Tate and Reece move past their own fears about relationships, Reece's ex issues a threat that could destroy everything. Will Reece's worries about other people judging him undermine his budding romance? And will Tate's fear of rejection make him push Reece away? Or have the sweet single dad and his precocious daughter curled too tightly around his heart to give them up? ***Please be aware that this book contains references to drug addiction.***
Curl Around My Heart
Pairing: M-M
July 24, 2018
Word Count:
96800
Character Identities:
Bisexual, Gay
Summary: The truth hurts. But in the end, honesty wins. Or does it? Warren Prescott loves a challenge. He knows how to play the game and adapts when necessary to succeed in his cutthroat world. Tired of pining for a man he's wanted for months, Warren intends to seal the deal. Until that man throws him an endearing curveball… Be honest. Gian Benedetti doesn't play games. Success has cost him the personal connections he craves, and he doubts he'll take another chance on a relationship. Until the attractive, younger man with the brazen personality and confidence stirs his interest. Except…someone else is playing games. And threatening everything Gian has worked hard to achieve. Warren won't rest until he uncovers the new player and gets his forever with Gian. But they'll soon face a hard truth— Honesty may be what brings them together… Or it could be the one thing that tears them apart. ----- Honestly Yours is an age-gap standalone romance. It features a snarky younger man with a giant crush on a good-hearted, affectionate, bisexual older man. Expect some banter, a little mystery, a few twists, a dash of angst, curious parents, animal trivia, and a whole lot of love…and hugs (so many hugs).
Honestly Yours
Pairing: M-M
May 12, 2022
Word Count:
75000
Character Identities:
Gay
Summary: Tag Team Partners in the Ring. Secret Lovers Behind the Scenes. Tré Montgomery loves working with his best friend, Brandon Wilkes. As a professional wrestling tag team, they wow crowds across the country. While Tré craves more from his talented and gorgeous partner, life taught him that confessing his feelings threatens not only friendships, but careers. Brandon is one of the best when it comes to connecting with an audience of thousands. But when he tries to connect with the only man he truly wants, that ability fizzles out. Hiding his true desires behind a front of playful teasing, he hopes Tré will either catch on or make it clear he's not interested. When subtlety fails, Brandon makes a decision that threatens to tear his relationship with Tré apart. If they want to stay together, both men will have to bring the confidence they display in the ring into their private lives. Will they brave the risks to go from tag team partners to lovers? Or is their shot at love destined to go down for the count? Christine Ragland is a lifelong fan of professional wrestling. When she's not writing, Christine can be found watching her favorite classic matches or traveling to live wrestling events.
In His Corner
Pairing: M-M
April 10, 2018
Word Count:
424
Character Identities:
Gay
Summary: Nightclub manager Julian Cullen runs Reservations with impeccable precision and a deep sense of pride. But repressed memories from his abduction two years ago surface, leaving him struggling emotionally. Julian vows to reclaim his previous life but doesn't factor in the biggest distraction of all: the handsome cowboy hanging around the club intent on gaining his attention. Entrepreneur Beckett St. Clair built an industry-leading survivalist training company through hard work and dedication. The tough as nails outdoorsman can navigate any situation or so he thinks…When a chance encounter with a guarded night club manager leaves him tumbling head over heels into uncharted territory. One man is lost to his past, the other dreams of a future. Both men will soon find out love is never easy…it's complicated.
It's Complicated
Pairing: M-M
December 7, 2021
Word Count: Information not available
Character Identities:
Gay
Summary: Micah Grayson lives in his baby mama's guesthouse. It's unconventional and awkward, but he's happy for a chance to reconnect with his teenage son. He doesn't have time for other distractions—no matter how sexy, independent, and compassionate that distraction might be. Besides, he's not good enough for more than a fling—no one would ever take him home to meet their parents. Adrien Darling has book smarts, but no street savvy—at least that's what his family says. And after a heart-breaking betrayal by the man meant to love and protect him, Adrien believes them. But then a gorgeous guy with a defeated look in his eyes walks into Adrien's coffee shop and makes him want to take a chance. After years of living on the outside as two misfits looking in, both men are afraid to reach for more. But in each other's arms, Micah and Adrien find out what it's like to live on the inside. As their tender bond grows and blossoms, old insecurities bubble to the surface. Will their commitment crumble under the pressure? Or will the two find the strength to fight for each other.
Living on the Inside
Pairing: M-M
January 29, 2019
Word Count:
99000
Character Identities:
Gay
Summary:
Life made him dangerous. Love made him lethal.
Killian Marks is a third-generation hitman. After hunting monsters for over twenty years, he lives under no illusions of happily ever afters and fairy tales. Until he meets a man who threatens to disarm him, by giving him hope for a future and showing him there's more to life than just death. For Nick, living in shadows is second nature. He's all too familiar with the dark side of humanity and knows how delicate life can be. Each new day is a gift, even though it means doing it alone. But he'll risk his survival for the one man who awakens something deep within and leaves him yearning for more. Nick wants to solve the mystery behind the dark, brooding man, while Killian craves the life and light emanating from Nick. They soon discover they have more in common than either could have anticipated. With both their lives and hearts at stake, they must confront the ghost from Nick's past intent on tying up a loose end. Only then will they truly find peace, and discover the shades of life in between.
**This is a stand-alone novel.**
---------------- Word count: 99K
Quick summary:
Shades
 is a stand-alone novel, gritty in parts and romantic in others. There's an assassin with a moral code, a snarky sidekick, a hint of suspense, a bit of violence…and a few surprises. Behind it all, there's a love story that will thaw a killer's heart.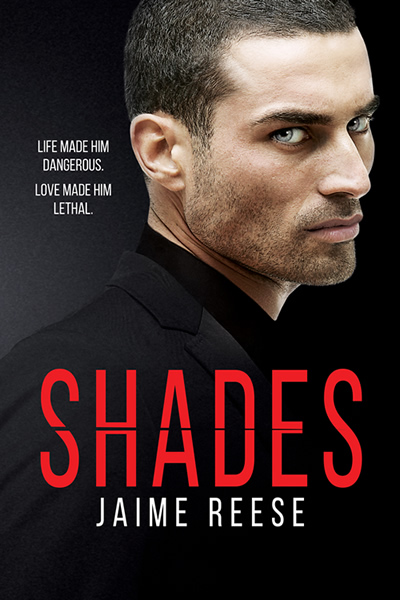 Shades
Pairing: M-M
May 23, 2018