Word Count:
69034
Character Identities:
Gay
Summary: Matthew Doner is starting over. After a five-year prison term that alters every aspect of his life, he receives a bequest from his aunt with the stipulation that he use the money to make things right. Breaking free of the long-standing role he's played and inspired by the few who support him, he decides to create a safe place where people like him can find purpose and start a new life. Julian Capeletti likes challenges. He is confident, brash, stubborn, and just what Matt needs. Desperate for work after a downturn of luck, he accepts the job to renovate Matt's crumbling building. Over the course of a year, romance simmers between them as they restore the house. But there's a bigger renovation that must take place in their hearts. To become better men, they need to learn to trust each other even with secrets and painful memories they fear may rip them apart.
-------------------------------------------------------------------------
69,034 words. 2nd edition. Revised and expanded.
A Better Man
Pairing: M-M
January 16, 2014
Word Count:
124,200
Character Identities:
Gay
Summary: For Wall McCormack, actions speak louder than words. He's giving and protective, loyal to his friends, and devoted to his job. While confident and powerful enough to conquer any challenge, his greatest strength lies in his calm nature. Until an unexpected assignment sends his world into a loud and colorful chaos he never could have anticipated. Rejection. It's something Dylan Vaughn has known his entire life. But he's a tough nut to crack and refuses to break. Armed with a sharp tongue and brutal honesty, he pushes through life and at anyone who attempts to take him on. Except for the quiet guardian who piques his interest and dares him to want…more. When Dylan's past comes back with a vengeance and jeopardizes their growing connection, Wall will stop at nothing to protect the younger man and remain by his side. But convincing Dylan that someone accepts the real man behind the cocky facade might prove to be Wall's greatest challenge yet. With his freedom on the line, Dylan must trust the strength of their bond and confront the forces threatening their future. Only then will he realize the dream of acceptance is real and finally have a place to call home.
A Chosen Man
Pairing: M-M
September 26, 2018
Word Count:
61k
Character Identities:
Gay
Summary: Mob enforcer Ceaton Mercer has killed a lot of people in a lot of different ways—he stashed the last two bodies in a toolshed belonging to a sweetheart marine researcher in an idyllic island community—but he's really not such a bad guy. Over time he's found a home of sorts, and he even learns he's found a place in the hearts of the people he works with… at least enough so that they won't put a bullet in his head because he's outlived his usefulness to the boss. But he never thought he'd find one day could change his life, and he's about to discover how wrong he is. Because in a single day, he meets the man who looks to be the one, the love of his life. It's an improbable idea—a man who deals in death finding love—but it's like it's meant to be. That single day gets weirder and troubles pile up, forcing Ceaton to take a hard look at his dreary life and accept that one day can change everything, especially himself. His future might be brighter than he expects—if he can stay alive long enough to find out.
A Day Makes
Pairing: M-M
April 29, 2017
Word Count:
111200
Character Identities:
Gay
Summary: After surviving ten years in prison, Cameron Pierce is attempting to put the past behind him. He tries to adjust to his newfound freedom with a place at the halfway house and a job. But one lesson he learned in prison keeps him guarded: hope is a dangerous thing. Hunter Donovan, Assistant State Attorney, is a man of justice who loves a challenge. After a lifetime of putting his career first, a milestone brings him to a harsh realization—he's lonely. Hunter's world changes when he meets Cam. The wary young man intrigues him and awakens a desire unlike anything he's ever experienced. When Cam's past resurfaces and threatens to rip them apart, their budding relationship is challenged and Cam's hope for a future begins to dim. These outside forces hunting Cam will stop at nothing to send him back to prison. But they'll have to get past Hunter first. ---------- NOTE: Word count: 111,200. This story is a romantic suspense/mystery novel and the second installment in The Men of Halfway House series. Although characters reappear from book one, this story can be read as a stand-alone.
A Hunted Man
Pairing: M-M
April 28, 2014
Word Count:
145000
Character Identities:
Gay
Summary: A story of healing and confronting demons… Detective Aidan Calloway is rock-solid strong. He's a man of justice—loyal to his friends, family, and job—even if it requires bending a law…or two. He shields himself behind an abrasive, fearless facade, until a phone call one night chips his armor and throws his perfectly planned, hollow life into a tailspin. Jessie Vega is the epitome of optimism. His carefully crafted attitude of hope and positivity protects him from a past filled with too much pain. When a ghost from a dark time resurfaces and nearly breaks him, he must tap into his inner strength or risk losing everything he's worked so hard to build. But Jessie can't do it alone. He must fight to break through Aidan's ironclad defenses to reveal the heart of the man hiding beneath the tough surface and mend his damaged spirit. Only then can they truly heal and become strong enough to battle the demons that haunt them and threaten their chance to finally be together. ---------- ***This book contains scenes and subject matter some readers may find distressing. It is only intended for adult readers.*** Word count: 145K Although part of a series and events from prior stories are referenced, this book can be read as a stand-alone.
A Mended Man
Pairing: M-M
April 28, 2016
Word Count:
117500
Character Identities:
Gay
Summary: Cole Renzo thinks his greatest challenge is to behave for the remainder of his term at Halfway House. Until he meets his new boss, Ty Calloway, a man who ticks off every box on Cole's list of interests. A sought-after restorer and customizer of exotic and collectible cars, Ty had enough confidence to command what he wanted in life, until one fateful night changed everything. Almost two years later, he's slowly rebuilding his life with great control. He's defied the odds and works tirelessly to be the man he once was—but he still feels broken. Cole's candor and unfiltered personality awaken Ty's barely-remembered desire to greet each new day with a smile, while Ty's unwavering acceptance of Cole's quirks and brash humor makes Cole feel as if he fits in for the first time in far too long. When a nemesis threatens Ty's personal restoration and the things he holds dear, Cole is determined to protect their relationship, even if that means sacrificing everything he's worked so hard to achieve. But Ty will have to let his guard down, surrender control, and admit he needs Cole first, even if that puts himself at risk of breaking beyond repair. ---- Word count: 117,600 This is book 3 in The Men of Halfway House series. Although part of a series, this book can be read as a stand-alone.
A Restored Man
Pairing: M-M
February 17, 2015
Word Count:
80,000
Character Identities:
Gay
Summary: Sparks fly when Chance meets tall, sexy Xav at a Wilmington bar and they have the hottest one-nighter of their lives. But Chance doesn't do repeats, Xav seems detached, and they go their separate ways without a word. Later, when closeted Assistant District Attorney C. Evan "Chance" Fairchild meets Dare's Landing's newest deputy sheriff, Xavier "Xav" Constantine, Evan isn't only wary. He's irritated as hell. Xavier is a former FBI agent turned deputy sheriff who is hot on the trail of a South American child prostitution ring. Evan is fighting to put an end to rampant cocaine trafficking and chafing under the thumb of an election-hungry boss. When someone tries to kill the eleven-year-old witness who holds the key to both their investigations, they're forced to work together as they put their lives on the line to protect him. As Chance and Xav collide in the heat of a sweltering North Carolina summer, dodging bullets and chasing bad guys isn't the only action going on.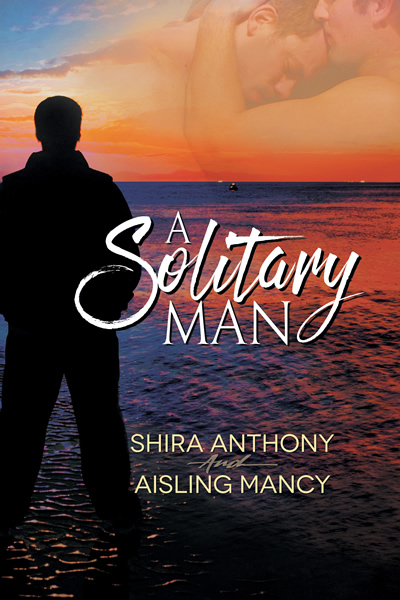 A Solitary Man
Pairing: M-M
November 6, 2015
Word Count:
120100
Character Identities:
Bisexual, Gay
Summary: Two men. One sweet dream of family and forever. Gabriel "Bull" del Toro loves his fast-paced globe-trotting job, but aches for an honest relationship and the trust that comes with it. After a few too many heartbreaks, he's nearly given up hope of finding that special someone. Until Ben. Born deaf, Ben is used to working twice as hard for what he wants, but risking a newfound friendship on an impossible dream is scary. After all, there's one lesson he's learned: everything is temporary—freedom, friends, even family. Neither man expects the undeniable spark between them or for every moment together to fuel that connection. For the first time, a happily ever after is within reach, but they must trust that the dream of acceptance, family, and a place to call home is more than a sweet fantasy. It can be forever. ———— A Sweet Man is an interconnected standalone within The Men of Halfway House series. It is a story about the power of love, the meaning of family, and never giving up on a dream. It includes wounded hearts, an age-gap romance, and enough cake and sweetness to give you a toothache.
A Sweet Man
Pairing: M-M
June 16, 2020
Word Count:
124000
Character Identities:
Gay
Summary:
A story of two men and the boundless love that forever changed them.
Vannguard Shaw has spent the last ten years serving a life sentence and adjusting to the ache of solitude. He accepts his fate, a sacrifice for the only man he ever loved and the one person who saw beyond his rough edges. Drayton grew up with a trust fund and pre-planned future, but an unexpected encounter one night forces him to abandon everything and start from scratch. He is now a self-made man and developer of one of the most sought after electric exotic automobiles in the world with a fortune greater than that of his birthright. Yet, he'd surrender it all—again—for the only man who's still ever-present in his heart. After a decade and entirely too much distance between them, Vann is suddenly released back into a world that has been nothing but cruel. Drayton never lost hope they would once again reunite and pick up where they left off, but Vann's stubborn nature and repeated encounters with a heartbreaking world prove to be a challenge. Vann needs to tap into his fighting spirit's reservoir of strength and hope life doesn't punish him for taking a chance. Only then will he realize his own value and feel worthy enough to finally have Drayton's heart. And their chance at forever.
----------------
This is book 5 in The Men of Halfway House series. Although part of a series, this is a full-length stand-alone novel.
Main Characters: Drayton and Vann Release date: May 2, 2017 Series: The Men of Halfway House No. in series: 5; can be read as a stand alone Category: Contemporary Gay Romance Word Count:  124,300 words Formats available: e-book and print Drayton first appears in book 3, A Restored Man. Vann is first mentioned in book 4, A Mended Man.
A Worthy Man
Pairing: M-M
May 2, 2017
Word Count: Information not available
Character Identities: Information not available
Summary: As the fiercest Defense Agent at the THIRDS, Destructive Delta's Ash Keeler is foul-mouthed and foul-tempered. But his hard-lined approach always yields results, evident by his recent infiltration of the Coalition. Thanks to Ash's skills and the help of his team, they finally put an end to the murdering extremist group for good, though not before Ash takes a bullet to save teammate Cael Maddock. As a result, Ash's secrets start to surface, and he can no longer ignore what's in his heart. Cael Maddock is no stranger to heartache. As a Recon Agent for Destructive Delta, he has successfully maneuvered through the urban jungle that is New York City, picking up his own scars along the way. Yet nothing he's ever faced has been more of a challenge than the heart of Ash Keeler, his supposedly straight teammate. Being in love isn't the only danger he and Ash face as wounds reopen and new secrets emerge, forcing them to question old loyalties.
Against the Grain
August 3, 2015
Word Count:
83150
Character Identities:
Bisexual, Gay
Summary: Marshals: Book One Deputy US Marshal Miro Jones has a reputation for being calm and collected under fire. These traits serve him well with his hotshot partner, Ian Doyle, the kind of guy who can start a fight in an empty room. In the past three years of their life-and-death job, they've gone from strangers to professional coworkers to devoted teammates and best friends. Miro's cultivated blind faith in the man who has his back… faith and something more. As a marshal and a soldier, Ian's expected to lead. But the power and control that brings Ian success and fulfillment in the field isn't working anywhere else. Ian's always resisted all kinds of tied down, but having no home—and no one to come home to—is slowly eating him up inside. Over time, Ian has grudgingly accepted that going anywhere without his partner simply doesn't work. Now Miro just has to convince him that getting tangled up in heartstrings isn't being tied down at all.
All Kinds Of Tied Down
Pairing: M-M
July 4, 2014
Word Count: Information not available
Character Identities: Information not available
Summary: Former Special Forces medical sergeant Russell "Red" McKinley knows a thing or two about wounds, like the fact some can take a lifetime to heal, if they heal at all. The scars Red carries run deep, and living with PTSD often means battling the memories of his past. Injuries he received while working an executive protection case with fellow Kings and co-owners of Four Kings Security, have once again forced past heartaches to the surface, but Red is determined not to let it derail his blossoming romance with sweet and sexy fashion photographer Lazarus Galanos. Laz can't deny there's something special developing between him and Red, but Laz has wounds of his own. He's hesitant to jump into a new relationship after his recent explosive breakup. Experience has taught Laz to doubt his judgement when it comes to men. Guys who seem too good to be true, usually are, and no one appears more perfect than Red. When an attempt is made on Laz's life, Red is determined to keep him safe. Laz may not be a client, and Red is still off duty, but Laz is one of their own, and nothing means more to the Kings than family. While an investigation is underway, Red and Laz are growing closer, but can they find a way to help each other heal and take a chance on love, or will their fears and insecurities cost them more than their future together?
Be Still My Heart
July 26, 2018
Word Count: Information not available
Character Identities:
Gay
Summary: Note: This edition of Because of Jade is out of publication. It will soon be re-released in a new bundle, coming from Changeling Press. Watch for the new listing summer 2019. Vasquez and James series finale Luki Vasquez receives the news he's still cancer free after five years, and he wants to celebrate with his whole family. He and his husband, Sonny James, take a road trip south, intending to gather at the home of his nephew Josh, Josh's wife Ruthie, and Jade—a little girl who was still in the womb when she and her mother helped Luki beat lung cancer. Halfway to their destination, Luki learns Josh and Ruthie have met a tragic death. The horrible news lays Luki low, but he pulls himself together in time to be the family's rock and see to the dreaded business of tying up loose ends. The most important business is Jade, and when Luki and Sonny head home, they take Jade with them. Luki and Sonny must combat self-doubt and fear and help each other learn to parent an unexpected child—and they must also nourish the love that has kept them whole for the past ten years. A relative's spurious claim to Jade threatens the new family, and even if they prevail in court, they could lose their little girl unless they can rescue Jade from evil hands and true peril.
Because of Jade
Pairing: M-M
May 23, 2014
Word Count: Information not available
Character Identities:
Gay
Summary: Where the Crazies Run the Asylum...
The hum of a tattoo machine was Brian "Berzerker" Anderson's favorite sound in the world. He'd won a coveted spot at Twirled World Ink with a legend in the business, Gib Phelps. Creating beauty with his large, scarred hands was his happy place—the place where he fit in the world. Although, nothing could remain perfect forever, his boyfriend of over a year decided to move on and up without him in tow. He had two choices return to living with his friends and co-workers or take an offer too tempting to pass up.
Landon Phelps grew up in an unusual home as the only child to Legendary Tattoo Artist Gib Phelps and mother, Peaches. He always felt a bit out of place when he became a boring accountant instead of following in his parents' footsteps. Boundaries were in place early on; he didn't date the employees of Twirled World Ink. Sometimes rules were meant to be broken. Bezerker was his idea of perfection, large, husky and tattooed; the thick, grab-worthy beard was a bonus. So when the boyfriend became the ex, Landon decided it was time to get his man.
With the help of the matchmaking Twirled Crew, can Landon finally get Berzerker to see him as more than a friend and the employer's son?
Berzerker
Pairing: M-M
November 27, 2016
Word Count: Information not available
Character Identities: Information not available
Summary: When a series of bombs go off in a Therian youth center, injuring members of THIRDS Team Destructive Delta, and causing a rift between agents Dexter J. Daley and Sloane Brodie, peace seems unattainable. Especially when a new and frightening group, the Order of Adrasteia, appears to always be a step ahead. With panic and intolerance spreading and streets becoming littered with the Order's propaganda, hostility between Humans and Therians grows daily. Dex and Sloane, along with the rest of the team, are determined to take down the Order and restore peace, not to mention settle a personal score. But the deeper the team investigates the bombings, the more they believe there's a more sinister motive than a desire to shed blood and spread chaos. Discovering the frightful truth behind the Order's intent forces Sloane to confront secrets from a past he thought he'd left behind for good, a past that could not only destroy him and his career, but also the reputation of the organization that made him all he is today. Now more than ever, Dex and Sloane need each other, and, along with trust, the strength of their bond will mean the difference between justice and all-out war.
Blood & Thunder
August 4, 2014
Word Count:
60600
Character Identities:
Gay
Summary: The heart wants what the heart wants. Diesel Gannon doesn't mind attending a BDSM party or two, but he draws the line at inflicting pain. That might seem odd because he has a dominant personality, but it's just not who he is. He's seen enough war and pain to last a lifetime. Out on medical leave, and as a favor for a friend, Diesel heads to the Triple R to check on Triton. A man who is far, far too young for him. Triton Scott has been running from abuse his whole life. First his father and now his boyfriend and the guy's thug brother. He wants an older man who will treat him right, like Diesel Gannon, but the big bear that rescued him from a cave-in thinks he's too young to know his own mind. So what if there's a sixteen year age gap between them. Since when does love have an age limit? When Diesel leaves the Triple R and heads home to Oregon, Triton is at a loss and makes a really bad decision. Things take a turn for the worse and a hero is the only thing that stands between good and evil. What the killers don't know is that when they mess with someone in the small town of Fern, Oregon, the men who live there will F you up.
Bringing It Home
Pairing: M-M
January 18, 2020
Word Count: Information not available
Character Identities:
Gay
Summary: Welcome to Brawlers Bar… They said men only get better with age, all distinguished and all that BS, but Archer "Bulletproof" Woods hadn't gotten better. At fifty-six he was still as much an asshole as he'd been in his twenties and thirties, hell, maybe he was worse. Being a bouncer at a bar called Brawlers suited him just fine and he even tolerated the rest of the crew who'd taken up residence in his house when they'd had nowhere else to go. He was big, growly and homely that kept the parade of men passing through Brawlers at arm's length for the past decade. One night changed all that. What he'd thought was happily ever after turned into a nearly five year nightmare. Gregory Charles appeared to have it all, a successful business, sophistication, and a perfect marriage. His friend and best employee, Landon, begged him to come out to a friend's bar to celebrate Landon's engagement. What could it hurt? A night without contemplating the hell that would come down on him the moment he served his husband with divorce papers would do him good. That is until he met the brooding older man staring into a whiskey straight ignoring everyone around him. Watching for trouble was his job and Gregory screamed mistake as soon as the long, lean and handsome man sat down beside him. But he also knew when someone was in over their head and Gregory needed someone to watch his back. That someone was Bull, only time would tell if he'd have to fight Gregory as much as the man after him.
Bull
Pairing: M-M
May 16, 2017
Word Count: Information not available
Character Identities:
Gay
Summary: It all started with a glimpse. - A chance encounter left an impression and Wolfgang Brandt was hooked. When Caleb turns eighteen in two months, Wolf is going to be at that birthday party come hell or high water. He doesn't care if he has to fly across the world to be there. But then things go south and Wolf is left reeling when Caleb goes missing. He will do everything in his power to bring him home. The world isn't big enough to contain his rage. - Caleb Robertson wants Wolf, an older man, a sexy warrior. Is it any wonder he's drawn to the soldier since he's been around military men his whole life? Not to mention, he's going to enlist or join the police academy when he turns eighteen. He just hasn't decided which one. But all that will need to wait when someone snatches him off the streets and he has to find a way to get back home. -One man's will to survive and one man's devotion to find him come together in this next explosive story when Phoenix and the military might of Infinity team up. Will it be enough to stop a psychopath? Trigger warnings: Violence, human and sex trafficking. *Bulletproof is not a standalone novel. To get the full enjoyment out of the story and characters, reading from book one is strongly recommended. **Out for Justice, Code of Honor, and Cobalt Security series are loosely connected.
Bulletproof
Pairing: M-M
March 22, 2020
Word Count: Information not available
Character Identities: Information not available
Summary: Calvin Summers and Ethan Hobbs have been best friends since childhood, but somewhere along the line, their friendship evolved into something more. With the Therian Youth Center bombing, Calvin realizes just how short life can be and no longer keeps his feelings for his best friend a secret. Unfortunately, change is difficult for Ethan; most days he does well to deal with his selective mutism and social anxiety. Calvin's confession adds a new struggle for Ethan, one he fears might cost him the friendship that's been his whole world for as long as he can remember. As partners and Defense Agents at the THIRDS, being on Destructive Delta is tough at the best of times, but between call-outs and life-threatening situations, Calvin and Ethan not only face traversing the challenges of their job, but also working toward a future as more than friends.
Catch a Tiger by the Tail
February 5, 2016
Word Count:
92124
Character Identities:
Gay
Summary: Ex hacker Seth O'Leary enjoys the hell out of being part of an elite team of operatives known only as Phoenix. In fact, he's pretty much made it his whole life. When things go horribly wrong with his deadbeat boyfriend, Seth is surprised to find help coming from an unexpected source. The man he's secretly fantasized about for years finally takes notice. Asher Grayson, code name Frost, is everything that Seth wants in a man but the player is gun shy about relationships. What will it take to capture the man's icy heart? Phoenix operative, Frost, thought he had it all figured out. Scratch an itch with the newly single and hot Seth O'Leary and the craving would be over. Best laid plans and all that, Seth gets under his skin like nobody ever has and without warning Frost finds he can't seem to walk away so easily. Which is completely out of character for him. He doesn't 'do' relationships because of his past. So, the question remains, will he let long-ago events drive him away from the best thing that has ever happened to him? Mix in tragic turn of events and ruthless acts of violence, and you've got a recipe for disaster. With evil forces hell bent on destruction, the pair are on a collision course that leaves them reeling. Will Frost get a chance to step up and be the kind of man Seth can respect or will a madman end any chance for a happily ever after? *Collide is book two in Reese Knightley's Out for Justice series. To get the most out of the variety of characters and storyline you may want to first read Ricochet, book one. Author trigger warning: Violence.
Collide
Pairing: M-M
November 10, 2018