Word Count:
78,200
Character Identities:
Bisexual, Gay
Summary: Izzorah has always been a Kin, part of a human-like race of fierce, rugged felines. Now he's a brand-new immortal too. When he learns the truth about his fiancé's immortality--and his own--the familiar world he knew vanishes. He must pass a test designed by the immortal king to reveal his gifts and weaknesses. Pass and he's accepted into a warrior society he wants no part of. Fail and he's cast out, away from the man he loves. As if that's not bad enough, his lover is also the king's ex, and the king refuses to part with anything--or anyone--he loves. Fair test? Not in this immortal lifetime...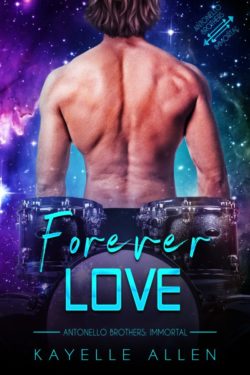 Forever Love
Pairing: M-M
May 13, 2021
Word Count:
54247
Character Identities:
Bisexual, Gay, Pansexual
Summary: For millennia, they fight side by side. Now one king faces a lonely quest. As Light and Shadow, King Pietas and General Cyken share every battle, as well as a fierce and passionate love. But, torn apart by the king's rage, Cyken ends their stormy relationship. When General Cyken falls in love with another man, Pietas undertakes a perilous quest on the dangerous world of Felidae to prove he is the better choice for Cyken. If he succeeds in his quest, it will either bring Cyken back, or drive him even closer to his new love. Pietas must try, for he cannot walk into eternity alone. He must have a shadow to balance his light...
Ring of the Dragon
Pairing: M-F, M-M
April 16, 2021
Word Count:
139,317
Character Identities:
Gay
Summary: Luc is the most powerful man in an intergalactic empire of 22 planets—but he's alone, life after life. Izzorah survives by hiding both his illegal status and his blindness for fear of banishment. Luc's immortal blood can heal Izzorah's sight—but what will it take to heal Luc's heart? Luc might risk violating the highest law among the immortals by sharing his blood, but that means revealing what he is, and risks baring every damning secret, every twisted fact, and twelve thousand years' worth of dirty hidden lies. With no guarantee their love can survive that kind of truth... An immortal alpha male. An illegal, near-blind rock musician. And twelve thousand years' worth of dirty hidden lies...
Surrender Love
Pairing: M-M
February 20, 2021