Word Count:
45572
Character Identities:
Gay
Summary: How do you stay standing when the ground is torn from beneath your feet? Becket and Christian are taking the first, tentative steps towards the committed D/s relationship they both crave when the world literally explodes around them. In a frightening reversal of roles, Becket has to deal with his own vulnerability and Christian must find the strength to take care of his Dom. With the help of their friends at The Edge, the two men come to realise that dominance and submission cannot be switched on and off. Events that could have ended in tragedy provide the catalyst that affirms their trust in each other, but there are still questions to answer. Is the safe path always the right one to take? Is control simply a state of mind? One thing's for certain, life's too short for compromise. Reader Advisory: This book is best read in sequence as part of a series.
A Double Edged Sword
Pairing: M-M
July 18, 2014
Word Count:
47570
Character Identities:
Gay
Summary: Nigel wouldn't mind if Asher called him Daddy if the age-gap didn't bother him so much. Nigel Blackburn has lived a full like as a private investigator. His job means he travels solo a lot, which is something he enjoys. He's a grouchy, stubborn dragon shifter who is better off alone. The last thing he wants is a mate and certainly not one so young. It doesn't matter that he finds little bobcat shifter, Asher Burkhart, sexy. But all Nigel's dragon wants to do is protect, which is good because danger drives into town. A Little Unsteady (Wingspan #4) is a continuation of Solid Ground (Wingspan #3). For the best reading experience, read them in order.
A Little Unsteady (Wingspan 4)
Pairing: M-M
October 9, 2020
Word Count:
41591
Character Identities:
Gay
Summary: Opposites attract when the timid bar owner asks out the resident bad boy. Brad Flynn's reputation doesn't change just because he has. Prison might not have been fun, but he'd made the most of it. Since his release, he's tried to make the most out of his freedom as well. His handyperson business is taking off, but his clientele is in the nearby towns. When local bar owner, Kendrick Ashby, calls him to fix a leaky roof, he doesn't expect the attraction he feels to go anywhere. Kendrick's violent past doesn't make asking him out on a date a simple task. Can Brad be brave enough to start over?
A Tarnished Strength
Pairing: M-M
February 26, 2021
Word Count:
76071
Character Identities:
Gay
Summary: As construction on the Charm wraps up, multi-media artist Wyatt McBride creates special metal and glass designs to add the finishing touch. When his brother accepts an overseas military duty, he takes in his teenage nephew, Collin. Things go upside down when loses a dear friend to AIDS, has to deal with teenage angst, and loses his heart to a brilliant but shy teacher. To keep his mind out of the past, Keegan Donaghue comes to Shore Breeze to take a position as a high school science teacher and part-time forensics detective for the sheriff's department. A special student connects him to the local artist, but he's still running from his past. Addiction and abuse remain there, lurking in his mind, along with mild PTSD panic attacks. Cryptic troubling emails from his ex don't help the situation. Shy of relationships and opening their hearts to trust, these two men learn to weave their lives together amidst the turmoil of their daily lives. Neither one expects everything to go according to fate.
According to Design
Pairing: M-M
August 30, 2016
Word Count:
50655
Character Identities:
Gay
Summary: 'Old actors never die' shouldn't be literally true. Carrington Loveless III, skim-blood vampire and senior officer of Philly's paranormal police department, has long suspected that someone's targeting his squad. The increasingly bizarre and dangerous entities invading their city can't be a coincidence. So when a walking corpse spouting Oscar Wilde attacks one of his officers, Carrington's determined to uncover the evil mind behind it all. As a rare books librarian, Erasmus Graham thought he understood some of the stranger things in life. Sharing a life with Carrington has shown him he didn't know the half of it. They've survived attack books and deadly dust bunnies together and got through mostly unscathed. Now his world and his vampire's appear ready to collide again. Books are missing from the Rare Book collection—old tomes of magic containing dangerous summonings and necromancy. He's certain whoever has been stalking the Seventy-Seventh is composing their end game. It's going to take a consolidated effort from paranormal police, librarians and some not-quite-authorized civilians to head off the impending catastrophe.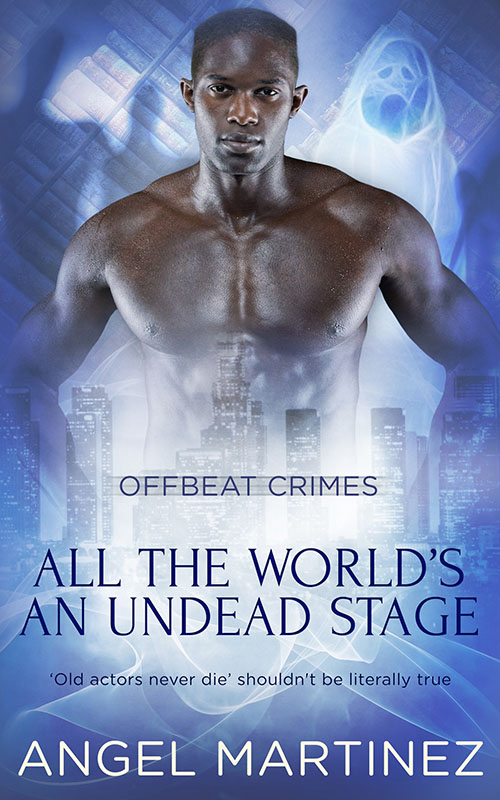 All The World's An Undead Stage
Pairing: M-M
January 2, 2018
Word Count: Information not available
Character Identities:
Bisexual, Gay
Summary: He never wanted a sexy vampire for a fated mate, but that doesn't stop him from falling in love. There's only two things Tim knows for sure. One is farming. The other is how to be a bigot. But he only wants to hang on to one of those things. Just when he thinks he has let go of the past and opened his heart and mind to other people, along comes a vampire who will rock his new lease on life on its foundation. What do you do when your life changes in the blink of an eye? That's the question Keaton had been asking himself, and he still hadn't found an answer to it. He has yet to figure out if the change is good or bad. It seems good when the Alpha of Saint Lakes gets him a job working with animals on a farm. Even better when he meets his fated mate. He finds out his fated mate doesn't like him because he's a vampire. And Keaton has an even bigger problem. One in the form of a senator's henchman. He has two choices: Become a kidnapped experiment or betray the Saint Lakes clan.
Bad Mate
Pairing: M-M
February 15, 2023
Word Count: Information not available
Character Identities:
Bisexual, Gay, Lesbian, Polyamorous, Straight
Summary: Love is complex. Love is beautiful. Love is diverse. Love is for all. Beautiful Skin is an anthology of short stories from a diverse group of authors who believe love, in all its many colors, shapes, and forms, is simply stunning. This collection features tales from genres such as contemporary, erotica, paranormal, interracial, M/M, F/M, M/F/M, and M/M/M romance. Allow us to take you on a journey that will enthrall your mind and leave you desiring more from these authors. Fifty percent of the proceeds from this anthology will go to a charity with a great initiative: aiding in the fight against sickle cell. Please be advised that all stories are intended for a mature audience of readers who are 18+ years. Featuring: Angela Roe, Remmy Duchene, Isabel Raven, T.B. Bond, Nichelle Gregory, BLMorticia, Theresa Hodge, ML Preston, BA Tortuga, Eloreen Moon, Kait Gamble, Sara York, Kiarra M. Taylor, Sade Rena, Katy Swann, Hadley Raydeen, Kendra Mei Chailyn, Kharma Kelley, AM Cosgrove
Beautiful Skin: A People of Color Anthology
Pairing: M-F, M-M, M-M-F, M-M-M
August 23, 2018
Word Count:
61000
Character Identities:
Gay
Summary: Is it possible for a demon to be a good man, or are all who have fallen for temptation evil at the core? Tristan, Machidiel and Alastor are bound together by love, but their lives are running far from smooth. Thanks to Tristan's demonic bargain with an incubus, they have no choice other than to accept that their lives are never going to be the same again. To fulfil his obligations to the demon Tristan has two choices—remain with the incubus as his trainee or find a mortal to take his place. Neither option is appealing. The three lovers struggle to release Tristan from his bargain, but find bigger problems on the horizon when a human caught up in the mess is taken prisoner by the Demon King himself. With no help forthcoming from either angels or demons, the three lovers are on their own with a seemingly impossible mission before them—rescue the mortal from the Underworld. Mac, meanwhile, has problems of his own. The archangels are voting on whether to ban relationships between angels and demons, and if the new law is passed he must choose between his wings and his lovers. The three of them believe their love is strong enough to see them through the hard times ahead, but if they aren't careful the repercussions of Tristan's bargain could tear their ménage apart forever.
Between Good & Evil
Pairing: M-M-M
November 28, 2014
Word Count:
71500
Character Identities:
Gay
Summary: When an angel and a demon fall for the same mortal man there is only one solution…share him. Halloween night at the Inferno club always draws a crowd. When Tristan spots a stunningly gorgeous man dressed as a demon across the dance floor he sets out to draw his attention, little realising he has already gained the notice of another. The demon disappears into the throng of revellers, but with the heavenly handsome Machidiel in his arms, Tristan doesn't mind. Even though Mac warns him they can never have more than a one-night stand, Tristan longs to see the man who gave him the best sexual experience of his life again. One year later, Tristan opens his door to find Alastor, the demon from the Inferno, who claims they have a date tonight. Alastor may be the one man who can make Tristan forget Mac. Little does he realise Mac isn't as far from his reach as he believes. When Mac reappears he has a proposition for Tristan and Alastor, one that means breaking rules and potentially getting him stripped of his wings. A ménage formed between an angel, a demon, and a human means the sex is hotter than hell itself, but only time will tell if the relationship they have forged together is made in Heaven or Hell.
Between Heaven & Hell
Pairing: M-M-M
October 31, 2014
Word Count:
63000
Character Identities:
Gay
Summary: With one of his lovers imprisoned in the Underworld, Mac has no choice except to go where most angels fear to tread. With Tristan imprisoned in the Underworld, the ménage is broken. Angels are forbidden to enter the demonic domain and while Mac has been breaking rules in recent months, he doesn't have the power to enter the Underworld. Alastor is still unsure about his position in the relationship following recent revelations, but he cannot walk away when he is the only real link between his two lovers. Splitting his time between Mac and Tristan, he hopes they can soon find a way to reunite the two men in his life. As time moves on, Alastor realizes he is struggling to satisfy Tristan's thirst for sex. His lover needs more than he can give him and craves Mac in his bed. Mac still believes he can complete his mission to save his two lovers, but with one of them out of his reach, it is going to be far from easy. During their time together they have made plenty of enemies, including one who would seek to separate them forever, even if it means biding his time until Alastor and Tristan are at their most vulnerable, when even the love of an angel can't save them.
Between Life & Death
Pairing: M-M-M
January 16, 2015
Word Count:
42516
Character Identities:
Gay
Summary: Never let go of the one you love. After recent traumatic events, Olly is finding it hard to get his head around what happened. While he tries to deal with a maelstrom of emotions, renovations at The Edge are in full flow, alongside preparations for tenth anniversary celebrations. Joe, his Dom, recognizes Olly's delicate state of mind and does his best to reassure him. A trip to the New Forest with their friends, Aiden and Heath, helps the healing process. Returning home, Olly and Aiden focus on preparations for the party. When Aiden is called away, Olly takes a walk to clear his head, keeping his eye on a brewing storm. To his horror, he discovers Mark Vickery, an old enemy, has landed on the island by boat and is out for revenge. With Olly missing and the storm raging, Joe, Heath and Aiden set out on a rescue mission that unfolds in a way none of them expected. Can the storm wash away the past or will Olly and Joe's future be destroyed by a twist of fate?
Binding the Edges
Pairing: M-M
January 10, 2017
Word Count:
16670
Character Identities:
Gay
Summary: Can a ghostly hound tell the difference between love and fear? Will man's best friend save the day? Garrick and Tristan thought they were done with hauntings when they rid themselves of the evil ghost of Gabriel Blackthorne. But it seems that their connection to the supernatural runs deeper when howls in the night and glimpses of glowing red eyes gradually manifest into sightings of a mysterious black dog. The ghostly hound seems to be protecting Tristan, but from what? A group of friends visiting for the weekend provide a welcome distraction, but one of them would like to be more than friends with Garrick. Frankie sees Tristan as nothing more than a temporary inconvenience and does everything in his power to tempt Garrick away. Rejected by Garrick, Frankie goes to extreme lengths to get his attention, using Tristan as his pawn in a very disturbing game. How do you demonstrate the difference between love and fear when bondage and submission are parts of the equation? Will the Black Dog fulfil its role as protector or will Tristan pay the ultimate price for love? Reader Advisory: This book contains an established MM D/s relationship, with plenty of hot kinkiness. Outside of this dynamic, the story also features non-consensual kidnap and physical violence.
Black Dog
Pairing: M-M
January 14, 2013
Word Count:
70000
Character Identities:
Gay, Genderfluid
Summary: How did a grumpy Dragon shifter like Trace end up fated mates with two vampires who always call him Daddy? Trace Anguis has a secret. A big one. He's not exactly a long-haul trucker. Or he's not only that. He's also a vigilante who provides justice for victims and their families. He's made a lot of enemies over the years, and one is hellbent on exacting revenge. It's one of the reasons he would never take a mate. But Fate has other plans, namely giving him two vampire mates who don't listen even if it would save their life. Trace might be a grumpy, older dragon shifter, but he's determined to keep up with his much younger fated mates.
Blackwing
Pairing: M-M-M
April 28, 2021
Word Count:
30020
Character Identities:
Gay
Summary: Willem's father never approved of his artistic talents, his choices in life, or the fact that he's gay. When the only thing Horst leaves to Willem is the family cat, he thinks it's his father's last insult from the grave. That is, until the cat starts talking to him. Though Willem's lost his boyfriend, his home, and his job, Kasha, who claims to be a magic cat, reassures him that all will be well. All he needs is Willem's trust and a good pair of boots. But giving boots to a talking cat has unexpected consequences when odd events ambush Willem at every turn, such as the appearance of a handsome stranger in his arms at night. While he begins to suspect Kasha's plans might be dangerous for all involved, how can he distrust such a charming kitty in cowboy boots?
Boots
Pairing: M-M
December 6, 2016
Word Count:
96902
Character Identities:
Bisexual, Gay
Summary: Jake Chivis is the descendant of Fire Elementals with a gift for psychometry, the ability to see memories from touching objects. After a bad break up and trouble at work, Jake gave up his career as a detective in Detroit and moved to England to join a research program studying Elemental gifts at University College London. It seems like the perfect way to escape his past and start over, and this time he's not falling into the trap of dating a co-worker. At least, that's the plan, until he meets Doctor Ilmarinen Gale. Mari Gale is blond, sexy, relentlessly academic and comfortable in his own skin in a way Jake envies. After a handful of embarrassing encounters, Jake is ready to resign himself to staying under the radar, but when a colleague's brother goes missing, Jake and Mari must work together to find him. As they dig into the inexplicable disappearance, Jake is impressed with Mari's competence and his unique skills, and even more impressed by his ability to wrap Jake around his finger. Together the unlikely pair discover murder, betrayal, secrets and just how high Mari can fan Jake's flames.
Breathing Betrayal
Pairing: M-M
June 7, 2016
Word Count:
104,000
Character Identities:
Bisexual, Gay
Summary: Mari Gale's life has been a whirlwind since meeting Jake Chivis. A new job prospect and his mother's health preoccupy him, so when Jake invites him on a date he's ready to cut loose. Their night out turns into a nightmare when a fire breaks out in the basement of the bar and they barely escape. Soon Jake learns that the horrific accident is being investigated as a possible homicide, and it's not the only case. Detective Inspector Cordiline of the London Met hints at spontaneous human combustion but as far as Jake knows, SHC doesn't exist. When Mari looks into a group called Birthright he finds a connection to the victims of the fires and Jake risks himself to go undercover at the shadowy organization. The race is on to determine the truth before Jake becomes the next target.
Burning Boundaries
Pairing: M-M
July 4, 2017
Word Count:
56928
Character Identities:
Gay
Summary: With permission to begin construction and repairs on the Southern Charm, Sullivan "Sully" Tarleton can't wait to start bringing the old hotel back to new life. He and his crew jump on the tear-down until he overhears his friends talking about picking up the accountant at the airport. Volunteering since he needs to head that way, he doesn't know the changes this accountant will bring to his life. Suffering from severe OCD and additional issues after growing up with a hoarder parent, Chandler Braddock prefers to keep his surroundings neat, perfect, organized, and minimal. A reason he enjoys working with numbers. They would always balance out, match up to others, and able to track. Often refusing to leave his New York office, he gives in when his best friend, Samuel, requests his presence in Florida. Even when he is met by a sexy, messy carpenter, he doesn't want to give up his orderly life.
By the Numbers
Pairing: M-M
May 30, 2014
Word Count:
103,507
Character Identities:
Bisexual
Summary: A love worth the wait. When Riley Porter-Wright comes out as bisexual and confesses his feelings for Carter Hamilton, it severs their friendship. Carter's rejection forces Riley to move on and he's shocked to learn Carter's marriage has fallen apart. Overwhelmed by his failure as a husband and father, Carter misses Riley, but feels guilty for disappearing after Riley's coming out. After Riley extends an olive branch, the former friends agree to repair their relationship. Slowly, Carter pieces together a new life, admits his attraction to men and confesses his feelings for Riley. Leery of Carter's initial rejection, Riley turns his focus to a new man, Will Martin. Disappointed, Carter fosters new friendships with men like Jesse Murtagh and Kyle McKee, while also navigating new waters with his ex-wife, Kate, as their children learn their parents are dating other people. As they rebuild their friendship, both Carter and Riley draw strength from each other, hoping the choices they've made are for the best. Wake, the prequel to Calm, was published in May, 2017.
Calm
Pairing: M-M
September 12, 2017
Word Count:
50630
Character Identities:
Gay
Summary: Even the best-planned experiment can have unpredictable consequences. Max Allenby loves his job as a chemist with Armacom, developing new protective materials. He harbours a secret crush for the CEO, the stern and distant Blake Winters, which makes dealing with his harridan of a boss, Dr. Ella Preston, bearable. Blake Winters is a lifestyle Dom. He spotted Max when he first joined Armacom, but has kept his distance from the talented, young scientist. When his Head of Security, who also happens to be Max's older brother, tells him about Max's feelings, Blake decides its time to make the pretty young man his. Blake proposes a dating experiment to Max. For three hours a night over five nights, Max will give Blake his complete submission. Max is conflicted but decides to take the plunge and get a taste of a lifestyle he secretly craves. Each date night introduces Max to a new level of submission. He loves every minute but is also conflicted—unable to believe a man like Blake wants him as anything more than a temporary plaything. Blake understands that experiments do not always turn out as expected. He takes steps to convince Max of his feelings and to reassure him that his submissive streak is a strength, not a weakness.
Chemical Bonds
Pairing: M-M
May 17, 2016
Word Count:
54663
Character Identities:
Gay
Summary: Destiny rewards those who embrace it. Chris and his alien soul matches, Lasar and Nary, are ready to deepen their new bond as mates. It's also time for Chris to begin his training as a Nasha, or sub, and for Nary to embrace his new role as Ahna, or Dom, to Chris. As three in the soul match they are unique. Not only have Alasharians never matched with a human, they've never matched as three. What makes them special also puts them in danger. The Supreme Soul Healer warned Chris that many changes were ahead, ones even more startling than the original invasion. They must keep their bond a secret until they know who they can trust. Lasar and Nary are invited to a pleasure party by the Alasharian's leader, the Nall, and are forced to bring Chris and his cousin, Morgan. But a terrifying turn of events sets in motion what might be the beginning of the end for them all, unless they can resist the Void.
Cherished by Two
Pairing: M-M-M
April 25, 2017