Word Count:
119,600
Character Identities:
Gay
Summary: Hi, my name is Trevor. I'm a wolf shifter. I say that like I know what I'm talking about. I don't. I was simply running off a ton of steam one day when I was about eleven and bam! Okay, not quite that easy or fast but it happened when I was young and stupid. I'm also gay. I say that like I know what I'm talking about with that too. I simply don't. I'm grown up now and living in the big city which has me too busy to much care about either one of those things. I get out and run my wolf when I can, trying like hell to stay out of the local pack's territories. Belonging to a "family" just sounds like too much work. I honestly don't have time for such things. Besides, I was told when I was young the color of my wolf was all wrong. Too silver I guess. Metallic. I thought it looked cool in the full moon. "An Alpha would kill ya soon as look at ya." My grandpa used to say. Course he wasn't my real grandpa. Just an old man who lived down the street. But he was a shifter too and I thought he knew it all. He probably knew diddly shit either but a guy can't be too careful. So romance? Way off the radar. But then someone started killing wolves. Started leaving lined up broken bodies all in a nice little row next to the high school in my home town and it got me to thinking. If a shifter is killed in his or her wolf state, does he/she stay that way? Were these dead wolves like me? I had to see what I could do. Kind of like a super hero. Oh yeah. Probably forgot to tell you this. I can turn invisible. Yep, Ghost Wolf to the rescue.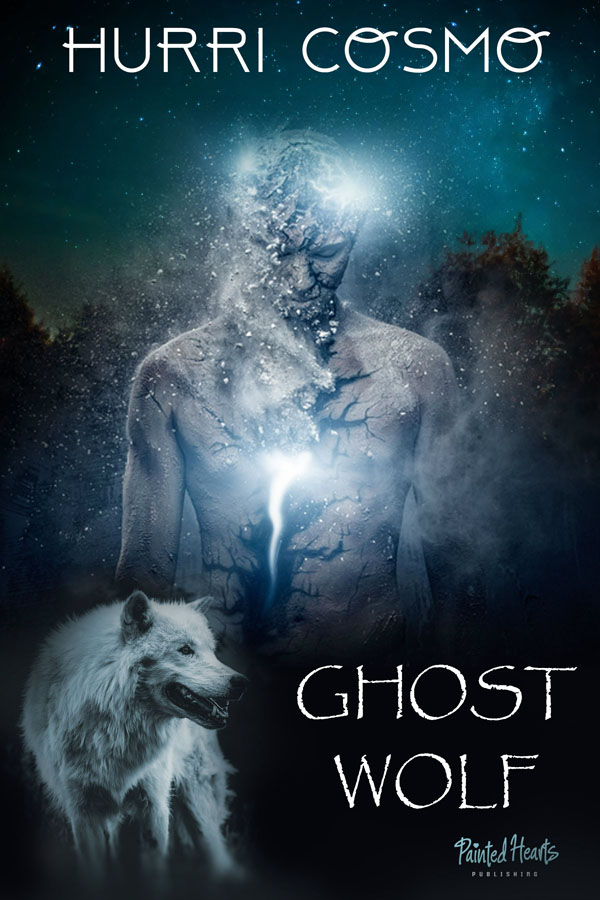 Ghost Wolf
Pairing: M-M
January 18, 2018
Word Count:
44,000
Character Identities:
Gay
Summary: Hawk is alone, hiding from the world, living in a tiny, rickety cabin his grandfather built. He has few supplies and fewer yet of the skills needed to survive on his own, but because of what he did, because of what his father caused him to do… well, there's just no other choice. But then one day "Ghost" shows up. A large lone wolf who begins to "take care of" Hawk. He brings him game, he protects him from predators, and he even pulls him from a raging river. He is Hawk's only friend and Hawk begins to talk to ghost as if he is human and can understand. Except Ghost isn't human. Yes, Ghost has filled a void in Hawk's life, and he is very grateful, but he is a wolf and Hawk needs the company of a human. In fact, Hawk is desperately lonely, to the point he even tells Ghost he longs for the touch of a man, the first time he has ever said such a wicked thing out loud. Then one full-moon night a large, beautiful naked man breaks into the cabin and grabs Hawk, looming over him like he wants to eat him alive. At first Hawk is terrified, but then he realizes the stranger has Ghost's amazing golden eyes...
Once Upon a Wolf
Pairing: M-M
April 11, 2019
Word Count:
79,000
Character Identities:
Gay
Summary: I belong to a Demon Lord. His name is Roman. He's tall, strong, has dark hair, a deep sexy voice and, let me tell you, absolutely f-ing gorgeous. Yep. I even wear his ring. Third finger, left hand. Except – its's not a wedding band. Far from it, actually. It simply means I'm his submissive. Well – it doesn't really mean that either, although I wish it did. No. The ring's function is only to give me "sight". Being human, once I had it on, I could suddenly see Roman's stupid lost legions; very nasty scary things that would as soon kill me as look at me. And because I wear the ring, guess what? It's now my job to recapture all those creatures for him. Yay me, right? At least I get to be close to Roman… sometimes. But, to tell you the truth, I was tricked into putting this damn ring on by Cathy, some random woman I met at a park, who unfortunately likes Roman, too. A whole lot. She brazenly flirts with the demon every chance she gets and right in front of me, too. Crap, it pisses me off. In fact, she brags she was the one who found me, got the ring on me and then offered me up to Roman like I was a T-bone steak or something. Well – honestly – that part's okay. However, there's something else going on. Something big. Because there's another gorgeous Demon Lord in our little earth realm and he will stop at nothing to capture Roman's loose legions for himself. Not only that, seems he's out to capture me, as well. Not exactly sure why... Anyway. My name is Micah and things just got... weird.
Roman - Demon Rising
Pairing: M-M
February 20, 2020
Word Count:
60,000
Character Identities:
Gay
Summary: Trace has had a run of bad luck. He lost his job, his boyfriend of two years was cheating on him, and his apartment building burned right to the ground with all his worldly possessions. So Trace heads for the ranch owned by his aunt Lois. But before he arrives, Lois is in a terrible car accident that nearly takes her life, and Trace finds himself in charge of the ranch kitchen. Sounds simple enough and it's the least he can do for his recuperating aunt. Then Sawyer happens. Sawyer is his aunt's sexy straight ranch manager. Meeting the man should have been okay, except it was in the middle of his aunt's kitchen at five in the morning and Trace was nearly naked. Then the next day Trace proceeded to set his aunt's house on fire and the brooding Sawyer comes to the rescue. Not to mention Aunt Lois's "accident" was actually attempted murder and it seems those same people want Trace dead, too. Looks like Trace's luck followed him. How can Trace figure out who's trying to kill him AND keep Sawyer from finding out he's hot for the cowboy? He probably can't. But he's going to try.
Then Sawyer Happened
Pairing: M-M
March 8, 2017