The Rebuilding Year #1
by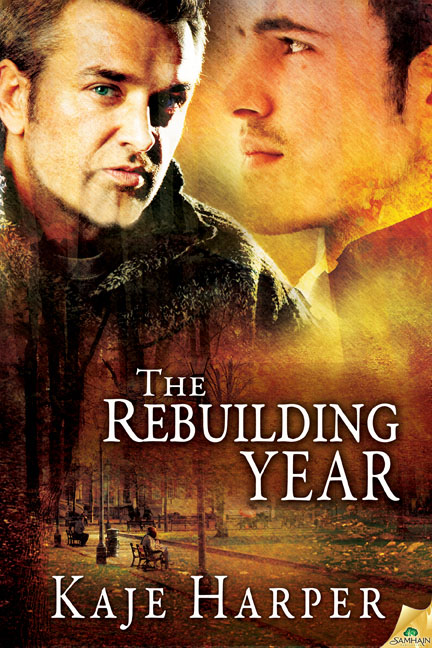 It took losing nearly everything, to discover what they can't live without.
A few excruciating minutes pinned under a burning beam cost Ryan Ward his job as a firefighter, the easy camaraderie of his coworkers, his current girlfriend, and damn near cost him his left leg. Giving up, though, wasn't an option. He fought and won the battle back to health, over a painful year. Now, choosing a new profession, going back to school, and renting a room from the college groundskeeper should be simple.
Until he realizes he's falling in love with his housemate, and things take a turn for the complicated.
John Barrett knows about loss. After moving twice to stay in touch with his kids, he could only watch as his ex-wife whisked them away to California. Offering Ryan a room seems better than rattling around his empty house alone. But as casual friendship moves to something more, and emotions heat up, the big old house feels like tight quarters.
It's nothing they can't learn to navigate, until life adds in unhappy teen kids, difficult family members, and mysterious deaths on campus. Rebuilding will be far from easy, even for two guys willing to open their minds, and hearts.
(This is a rerelease of the 2012 Samhain novel, with only minor editing.)
This book is on:
3 To Be Read lists
10 Read lists
Published:
March 6, 2012
Publisher:
Independently Published
Cover Artists:
Genres:
Pairings:
M-M
Heat Level:
3
Romantic Content:
4
Ending:
Click here to reveal
Character Identities:
Bisexual
Protagonist 1 Age:
26-35
Protagonist 2 Age:
36-45
Tropes:
Coming Out / Closeted, Families/Raising Kids, Find Love and Come Out, Friends to Lovers, Hurt / Comfort, Out for You
Word Count:
87,000
Setting:
Wisconsin
Languages Available:
English
Series Type:
Continuous / Same Characters
Excerpt:
He was heading back to the bar when a vaguely familiar voice said, "Hey, Ryan, you can park it here if you like."
He glanced around. The face was immediately familiar, the strong chin, hollow cheekbones, prominent nose. His rescuer from day one. But damned if he could remember the guy's name. Oh well. He held out his hand. "Hey, thanks again. That makes twice you've rescued me."
"My pleasure this time," the man said, his voice deep. "I hate drinking alone." Ryan eased himself into the chair and set his cane on the floor. "Me too." He took a long pull on the beer. When was the last time you didn't drink alone? He couldn't remember. Back before, anyway. He sipped again, slowly.
"So how's class? They working you hard?"
"Not yet." The workload was heavy but not unmanageable. He just had to adjust from doing-things mode to studying-things mode. He hadn't been a student in a long time.
READ MORE
"And how's the head?"
He shrugged. "It's fine. My dad always says I have a thick skull. Sometimes that's a good thing."
"Yeah, my dad said that too." The other man raised a glass. Ryan realized he was drinking whiskey. "Must be a dad thing. Although I've never said it to my boy."
"You have a son?" Lately, Ryan had realized that the only thing he regretted about his no-strings dating history was that no serious relationships meant no kids. No chance of kids. His brother Drew had two small boys, out in California.
"Yeah, one boy. He's fourteen. And a girl, Torey, she's twelve."
"That's nice."
The man took a swallow of his drink, and then chased it with a sip of beer from a mug. "Would be nicer if they weren't a thousand miles away. Nicer if they were actually going to visit within the next decade."
Ryan realized that the man was a little drunk. "Divorced, huh?"
"Yeah." The older man slumped down in his chair and stretched out his legs, long and lean in battered black jeans and old cowboy boots. "Let's talk about something more pleasant. Like the Bubonic Plague."
Ryan laughed. "Yersinia pestis. Still present, by the way, in the gopher population of the southwestern United States. Cases in cats, periodically, and in humans now and then. Hooray for modern antibiotics."
"You're kidding." The other man sat up and looked startled.
"No, really. I studied up on that kind of stuff before my med-school interview. It's out there. It's just that with modern antibiotics, the bacterial diseases are less of a threat. It's the viruses that get us now. Influenza, HIV, stuff like that."
"Okay," the guy said. "That's about all the optimism I can take for one night."
"Sorry." Ryan was enjoying talking to someone who wouldn't think of the nineties as ancient history. Hell, he was just enjoying talking to someone. "Tell me about your job. What does a groundskeeper actually do?"
"Well my official title is Landscape Maintenance Architect," the man drawled. "But that just means the same thing for more glory and less pay. Basically I keep the outdoor parts of the campus tidy, healthy and esthetically pleasing. Fortunately, my predecessor held the job badly for thirty years, and changed nothing. Which means I have lots of scope for improvements, and won't run out of work. I bamboozled the hiring committee with my credentials, and they gave me a budget and a pretty free rein. It's not half bad."
Ryan wanted to ask about those credentials. Not many gardeners he knew used terms like esthetically pleasing. Then again, how many gardeners did he know? "They had a committee to hire a groundskeeper?" he asked.
"Oh please. They're a college. They have a committee to decide what day to celebrate Christmas...
COLLAPSE